2012 L'Etape du Tour and La Marmotte Tips
It's In The Numbers!
And the numbers seldom lie. We have done quite a few Etapes and Marmottes here at Cyclefit and each and every one has very felt very hard at the time. External factors such as weather, lack of sleep, mechanicals, poor nutrition all have add into the drama on the day. Look at Issoire to Saint Flour last year - only 16.34 m/km of climbing but the unseasonal weather resulted in 2/3 of the bunch being under-dressed and therefore unable to finish! Some variables however can be controlled with good planning and therefore improve performance (see below); but some courses have significant and sometimes disguised structural challenges that only come out when you drill down on the numbers.
And Which is The Hardest of Them All?
Look at the table above and right. One of the hardest of recent years is going to be this year's 2012 Act I - Albertville to La Toussuire. The Etape is relatively short at 150km but the combined vertical gain of 4650ms gives a sharp 30.6 metres of vertical climbing per kilometre travelled! This is even more than the classic Marmotte route which unwinds with a relatively sedate 29.77 m/km. This makes Act I of the 2012 Etape structurally very difficult. The first 14.5km is gently uphill to the base of the wondrous HC climb of the Col de la Madeleine, swiftly followed by Col du Glandon, Col de la Croix de Fer, the Col du Mollard and then the denouement climb to the ski station in La Toussuire!
What's 1 or 2% Between Friends?
On the positive side there is lots of climbing on this Alp-Etape but most of it is is at a reasonable gradient - sixes and seven percent gradients prevail instead of the nines and tens found on the Tourmalet (average 7.4% below). and more generally the climbing on Pyrenees Etape is steeper even though there is less of it and it is spread over a lot more road.
If the weather is good then the day will be merely brutal. Add in some rain and cold and it will be difficult to stay warm, hydrated and fuelled. The Tourmalet is a funny mountain but with no belly laughs. It has been included in four out of the last five Etapes for good reason - it breaks people. Read the link below to hear how it bent Jules but snapped Phil:
2008 Etape Story
TdF
STAGE

11 - Albertville La Toussuire - Les Sybelles 148 km
Col de la Madeleine (2 000 m) - 6.2 % - HC
Col de la Croix de Fer (2 067 m) - 6.9 % - HC
Col du Mollard (1 638 m) - 6.8 % - Cat 2
LA

TOUSSUIRE

- 6.1 % - Cat 1
TdF
STAGE

16 - Pau Bagnères-de-Luchon 197 km
Col d'Aubisque (1 709 m) - 7.1 % - HC
Col du Tourmalet (2 115 m) - 7.4 % - HC
Col d'Aspin (1 489 m) - 4.8 % - Cat 1
Col de Peyresourde (1 569 m) - 6.7 % - Cat 1
Cyclefit Guide to Climbing
Focus on the process of climbing. 
Feed before the climbs – heart-rates will be too high to metabolise food properly
Start the climb slower than feels right
Nobody ever finished an Etape feeling under-geared - use the smallest you can get
Don't aim for high cadences if you have big legs
Pick intermediate goals on longer climbs – i.e the next km post
Do not look at the signs showing the gradient

THE MANTRA

– Focus on a repeated phrase. Your mantra must be repeated in time to your pedalling – "let the climb come to you" . "Don't stop 'til you get to the top".
Posture – engage glutes by standing on the pedals and rotating hips forwards
Stand on pedals every 5-10 mins.
Pulling up on the pedals is a myth that wastes energy.
Destroy your heart-rate monitor, eat your Garmin
Become a trappist monk (women allowed) - no conversation from fellow-riders!
DO

NOT

wave or smile at the camera
Cyclefit Nutrition Tips
Follow a high carbohydrate diet the preceding week before the Etape, along with a small taper in any riding / exercise. A minimum of 500grams carbohydrate per day should be consumed – that's 2000kcal of just carbs!
The evening before Etape, pasta and more pasta, and keep well hydrated
Don't over eat! This may lead to stomach distension, constipation and fatigue on Etape day.
Etape day, stop eating a minimum of 2 hours before, wait until you start event before taking on any further food or drink.
Pre event meal – as the start is early, aim for 2 grams Carbohydrate per kilogram body weight. Therefore 80kg rider will need 160grams low glycaemic carbohydrates and keep fibre and residue to a minimum.
How much you can consume during the ride is all dependent on substrate oxidation rates. The harder you ride, the larger the dependency on carbohydrates. Aim to take 1gram high GI carbs per kilogram of body weight every hour of the ride.
An 80kg rider, riding for 9 hours should aim to consume 720grams carbs during the event.
Do not over eat, and keep fats to a minimum. Avoid having a 'meal'. The aim is to consistently graze through out the event. Have a nutrition and fluid plan.
Sweat rates vary and practicalities of taking on fluid have to be considered. A minimum of 500mls electrolyte drink should be taken every hour. Aim for 7-8% concentration sports hypotonic drink. That's 40grams powder per 500mls water.
Avoid going into the red too much. The aim is start the ride with glycogen stores full. If you are riding close to maximum and not consuming any additional food or drink, you will become glycogen depleted within 1-2hours, it will be tough if not impossible to finish.
Start taking on high GI carbs and small amount protein straight after the event and every 1-2 hours to start replenishing carbohydrates stores and limit preceding days fatigue
Act I 2012

Act II 2012

P & J in 2008 Etape - click image for story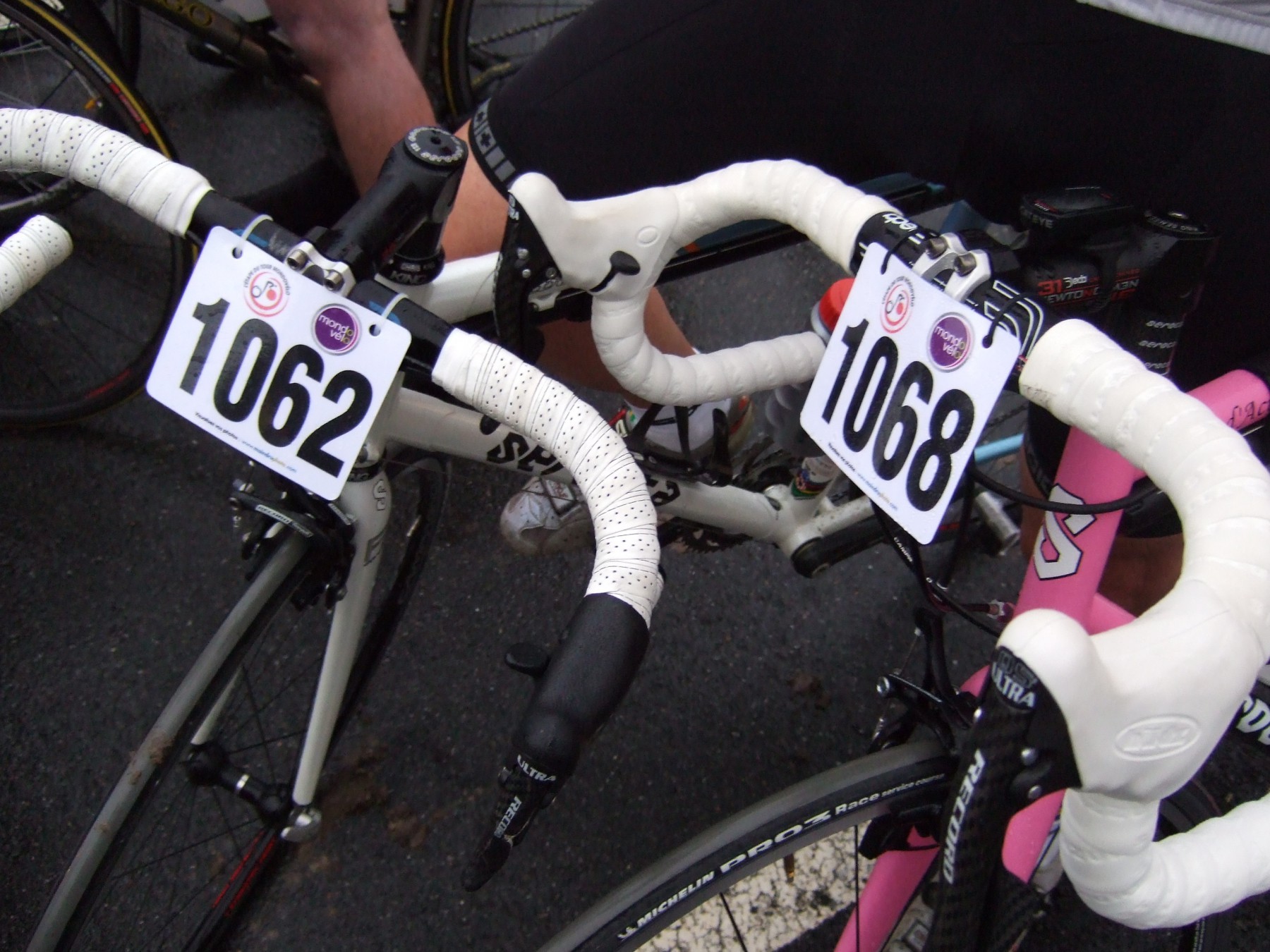 2008 - The Desolation - Hautacam - Zero°

2009 - 3 Sips from Anarchy - Ventoux - 38°

2010 - Back to Tourmalet - 35 degrees°

Cyclefit Hydration Tips
Avoid body water losses; a 2 percent loss of water (1.6litres in an 80kg person) will cause a significant drop in performance. This is very little when you consider we are made up of about 70% water.
Keep hydrated with an electrolyte drink. Aim for a 7-8 percent solution (that's about 40grams per 500mls / 1-2 scoops).
Check sweat rates after various rides recording body weight before and after rides, and create a fluid strategy for the etape (1kg is almost equal to 1000mls).
The more electrolyte drink taken per hour, the less reliance on additional food / carbohydrate is needed. Take 2 × 500mls bottle of electrolyte drink (7% concentration) per hour, will provide ~75grams carbohydrate. In a 70kg cyclist this will be optimal amounts of carbohydrate energy substrate utilization and therefore no additional food / carbohydrate will be required.
Alternative strategy may be 500mls water and 500mls electrolyte drink and additional food to maximise carbohydrate utilization.
Avoid only drinking water, this may affect fluid-electrolyte balance and in extreme cases cause hyponatraemia which can be fatal.
Drink sufficient amounts of water / fluids the preceding days leading up to the Etape. As you take on more carbohydrate, it is likely your water requirements will also increase during glycogen storage.  
Experiment before the Etape with suitable electrolyte drinks. For example excessive amounts of fructose based drinks may delay gastric emptying and cause gastric discomfort.
Some individuals with high sweat rates may benefit from additional electrolyte re-hydration solutions.
Although fluid intake is vital to avoid early fatigue, excessive water / electrolyte drink should be avoided.
 Athletes following healthy diets, often adhere to low sodium / salt intake and may be prone to early cramping in events; this may be avoided by consuming small amount of salty based foods and small amounts of salt.
High intakes of salt and salt substitutes should be avoided in individuals with raised blood pressure.
When passing urine, if it's pale yellow, you are hydrated – avoid over hydrating.
Good Luck!