Cobbler's Children, Butcher's Dogs and Prophets In Our Own Homes
So I have filled out a bit?
Mixed Metaphors
This is a hard one to write. And I can only imagine very tedious to read.
I have daily access to some of the most respected sports health professionals in London, if not the UK. I work in an environment that is dedicated to researching and perfecting what is possible between a human and a bicycle and yet, and yet. And yet it has so far proved impossible to get myself back on a bicycle where I belong. See previous blog
I am not exactly selling the dream here I know but maybe I am by proxy selling private health. What is painfully obvious is that the distribution of scarce NHS resources has little to offer anyone suffering from anything not covered by a government target.
Touch Your Toes
After five months of wrangling and Dr Dave Hulse intervening by speaking to my GP I finally get an appointment with a Spinal specialist at John Radcliffe in Oxford. I get there for 9 for a 9:30 appointment. I actually walk into my appointment at gone 11:30. But my MRI and Xrays are somewhere else along with my self-managed expectations. A cursory touching of toes and side-bends and we are quickly onto a conversation about the possible treatments eligible for me:
1. Psychological counselling to learn how to deal with the pain
2. Drugs
It was a long and subdued drive home. Without private health it is a battle to break-out of the NHS desire to relentlessly shuffle you around the system lest they actually have to do anything useful.
Well Trodden Path
We work with clients who are injured or have pain daily so having our own issues to manage helps with empathy and also experience.
And Cyclefit only exists because of mine and Jules' half arsed attempts to get ourselves sorted after injury fifteen years ago - Cyclefit History but this time I am six-months in and confounding all the big brains we have access to.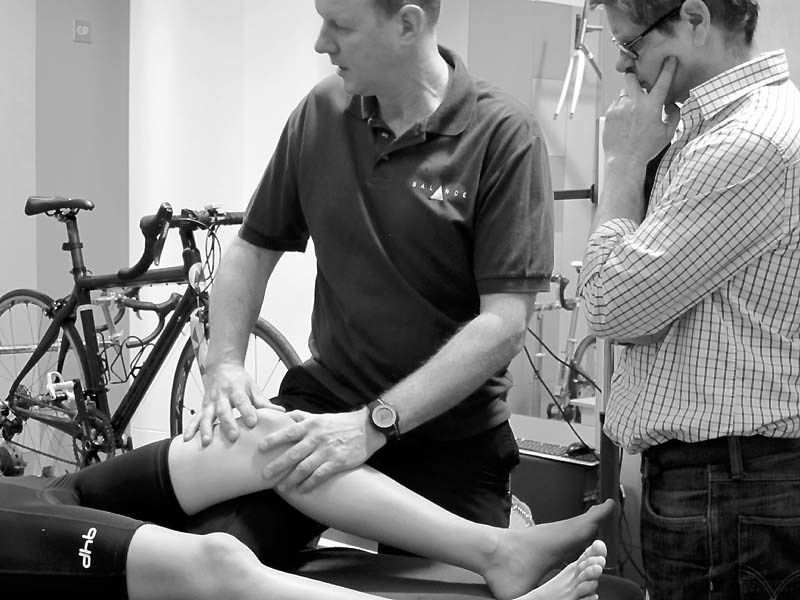 Graham and Phil working together
Graham's Eye View
It is interesting because Graham - a friend and colleague I have huge respect and a ten year history with - wants to get me mobile and strong. This is an Olympic physiotherapist used to working with elite athletes doing what he does best (and better than almost everyone). But much as I trust, respect and have the longest professional relationship (outside of Jules) with Graham. Mobility has just never felt appropriate when I try and complete the range of exercises he has given me? Our colleague friend and ex cycling team physician Dr Dave Hulse gives me a list of questions that need to be answered:
1. Why post-crash was there no tenderness or swelling around L1?
2. Why was there a change in state and feel of the L1 area a few weeks after the crash?
3. Why all the continuing ongoing pain in the lower-back and front of hip now?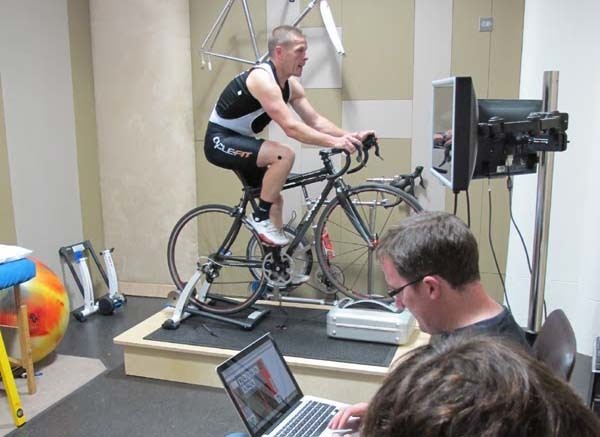 Dr Dave Hulse and Jules
The consultants meanwhile have their own conundrum. The first one I saw at East Middx hospital straight after maintains it was an old injury. The consultant at the Royal Berkshire insists it is a new injury that wedged twice - one at the time of impact and a second time when I was standing teaching a Trek course in Milton Keynes a few weeks after the crash? And does any of this bollox matter?
Alex needles Phil's hip
The Fact Is..
That I can't ride. I can commute for 15 minutes from the station. any longer and the right side of my lower back burns ferociously.
I don't have a universally accepted and cogent diagnosis that convinces ex-surgeon Dave Hulse. And in my own mind I dont really know which way to point?
In essence I am marking time. Waiting for nature to heal me enough so I can ride or for the NHS do something, anything? The safe money should go on the former obviously.
So here is my self-management plan:
1. Instinctively I agree with Graham that mobility and strength are the cornerstones of rehabilitation. So I try and do some of his stretches and exercises within the bounds of pain. But in truth the ranges I am working in are pitiful.
2. I am seeing Alex Fugallo to manage the symptoms and keep a general hold on my physiology and ranges. On a positive note I respond very well to aggressive needling (acupuncture with a grudge) around the L1 injury and down into the lower-back and hip. The pain when Alex hits a sensitive bit is bloody fantastic - deep satisfying neural throbbing that slowly ebbs as the muscle gives up its long battle to make life miserable.
3. Keep pushing NHS to answer Dr Dave's questions. We are six months in but daily calls to various Dr's secretaries trying to organise a consultant to sit with me and my MRI's in one room at the same time. Probably more chance of finding Higgs Bosun in my underpants but there we are.
Butcher's Dog
Jules has scrapped the epics and now going for smorgasbord of trials by exercise. A lifetime of cycling is a questionable background for a triathlon but he is dogged in his approach. He is being coached by power-mathmetician Garth Fox
and the results are evident. He has got that lean hungry look back that he used to have and keeps taking his shirt off alot. Maybe that is what triathletes do? I am more than a little envious that I am missing out on this adventure. But we did get to ride to the station together on our folders recently. Rock and roll.
Goodbye Bill Peterson -
We make no claim that we knew Bill well. But his influence, scope, and intelligence informed the whole fitting community. It is no exaggeration to say that Bill was the Father of cycling footbeds and foot control. He was also the main innovator behind eSoles and many other orthotic brands. We always found Bill to be generous with his time and skills. We had the pleasure of being taught by him on several occasions and found him a gifted teacher.
Read Bill Peterson Obituary on Velonews:"http://velonews.competitor.com/2012/05/news/cleat-position-and-footbed-pioneer-bill-peterson-dies_217260"