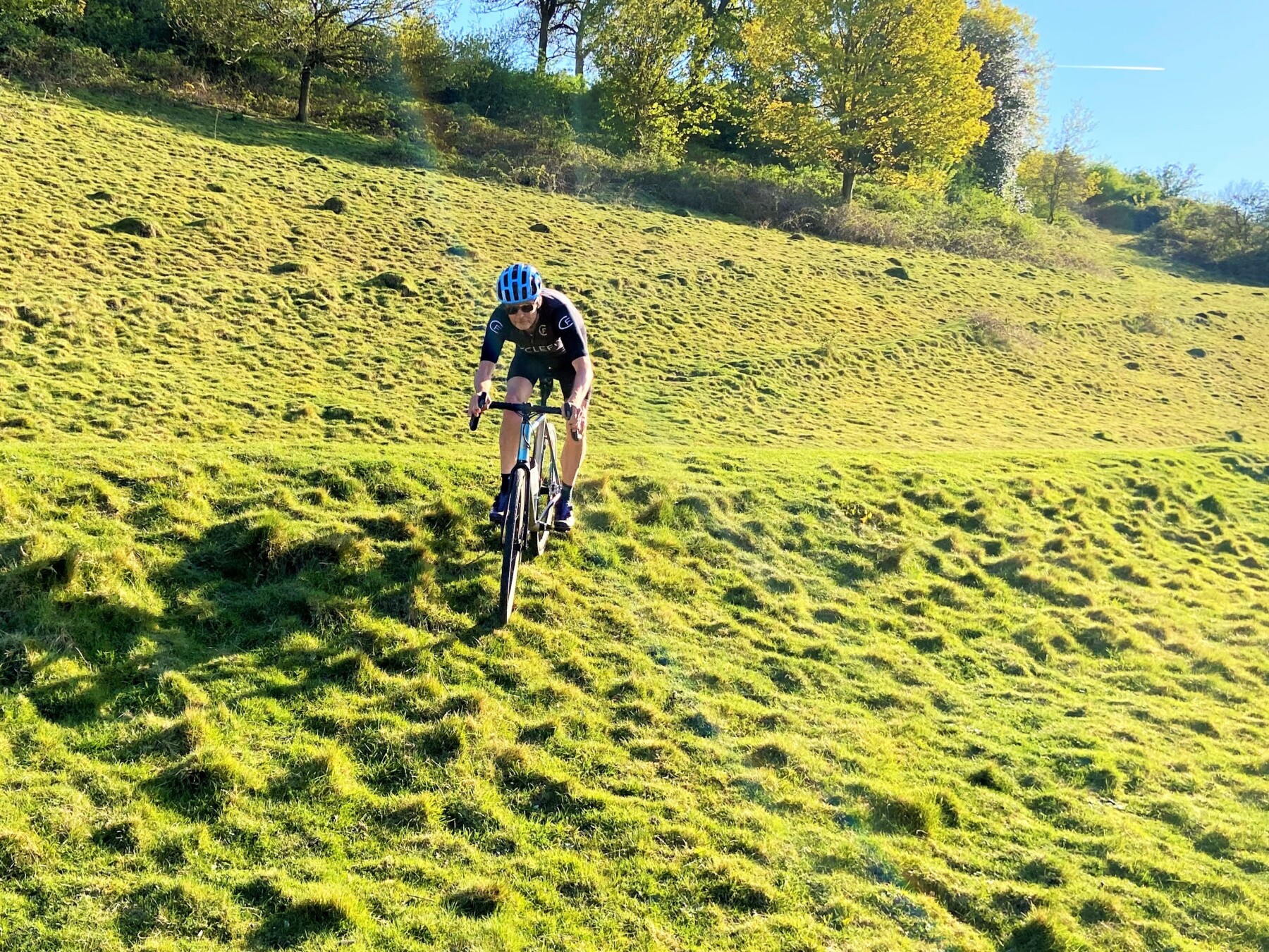 Off the road, off the track. Hell off grid!
"Machines are machines and they do what they do, but it is people that count with custom bicycles"
22 Drifter Review
We felt pretty close to No22 from afar, before we even spoke to them. We knew few of the guys (Scott, Frank) who went to 22 from the ashes of the esteemed Serotta Bicycle Company from Saratoga Springs back in 2014. Mike and Bryce, No22 founders, took some of the machines out of Saratoga as well as a few of the key people. Machines are machines and they do what they do, but it is people that count with custom bicycles, especially when they are made out of the planet's most gifted and yet intractable material – titanium. Experience is everything with titanium, it is no metal for a novice. No22 maybe a fairly young company in custom bicycle terms – Richard Sachs, Pegoretti, Passoni, et al, but the roots here are deep and they are strong. Scott and Frank, et al, took half a decade's worth of gun-metal wisdom with them to Johnstown and the award-winning little factory. We remember very well working, in particular, with Scott at Serotta - he was intensely perfectionist – there cannot be many people in the world with his depth of knowledge around custom frame building?
"its got the stuff to take you off road, off track, hell off-grid."
Hard to beat that go-anywhere feeling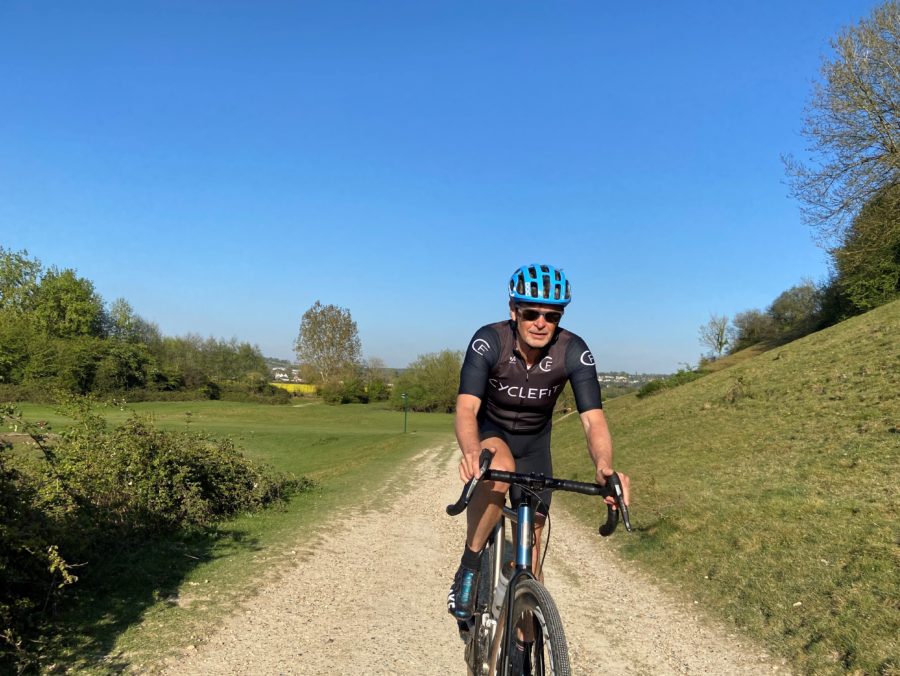 Every ride feels like a potential journey
Nine into 22
No22 has nine permanent craftspeople at the Johnstown workshop, and every frame goes through at least six pairs of their hands and takes on average forty people-hours to fabricate. The company motto is Contemporary Performance, Artisan Precision – which I love by the way. And by that they mean that no components of the frame are bought off the shelf - they have a general presumption that every tiny part of the frame will be designed and made in-house, including the gorgeous drop-outs. This is a philosophy that certainly permeated Serotta – it was one of Ben's obsessions and also at Seven with Rob Vandermark. You kind of have to be a control-freak to run a great custom-house. You just do.

Drifter's No1 @ No22
The Drifter is No22's most popular model - that absolutely chimes with me, and it is the model I would choose for personal use – clearances for 700 x 45 or 650b x 50 is bang on-trend for how we all seem to ride at the moment. The Drifter also comes with a full set of mudguard braze-ons, which makes complete sense to me. This is a full-dress winter bike as well as mountain bike and all-day road-bike. No less is tolerated these days by many of us. There is also a Drifter-X which is slightly lighter and sharper (higher BB, shorter chain-stays etc) but gives away tyre clearance and versatility. Heart says Drifter-X and head says Drifter. If you gravel-race or want to sub-in for crits as well, then Drifter-X is an out of the box jewel. No22 are very function led – spend 2/3 of your riding on the road and the other 1/3 on 'tame' tracks and trails and they will steer you to The Great Divide. Spend half or even 2/3 on trails and tracks (that's me) and The Drifter rapidly hoves into your field of vision.
Post-Serotta?
No22 will hate this next paragraph – I sense they are understandably psychologically fatigued by Serotta references? So Mike and Bryce, please skip to the next section – there is nothing to see here. The rest of you can stay where you are.

The Drifter reminds me a little of a Serotta Legend SE in some regards – well let me qualify that - it reminds me of what a 2020 Serotta would have looked like. No22's tubes are fairly radically shaped, which gives a profile silhouette that is reminiscent of a Serotta Legend – in contrast to Seven, whose general ethos is to keep the tubes as round as possible. No philosophy is wrong or right – just different. The Drifter is a fully CNC'd butted frameset – a similar method that was used by Serotta by the way - all of the complex machining work is completed in-house at No22. Impressive. The butting process not only removes between 100-150 grams of weight from the seven tubes but also facilitates the ride to be tuned by allowing larger diameter profiles in critical areas. CNC butting means that notions of double or triple-butting, that we often hear are redundant, as the reduction in tube-wall thickness is graded in a more subtle and sophisticated way. The frame architecture standards on display here are very high indeed – T47 bottom-bracket, 44mm headtube, elegant internal cable-routing and minnow-scale micro-beaded welds, showing that Frank lost none of his talent as he travelled north up the I90 from Saratoga Springs to Johnstown.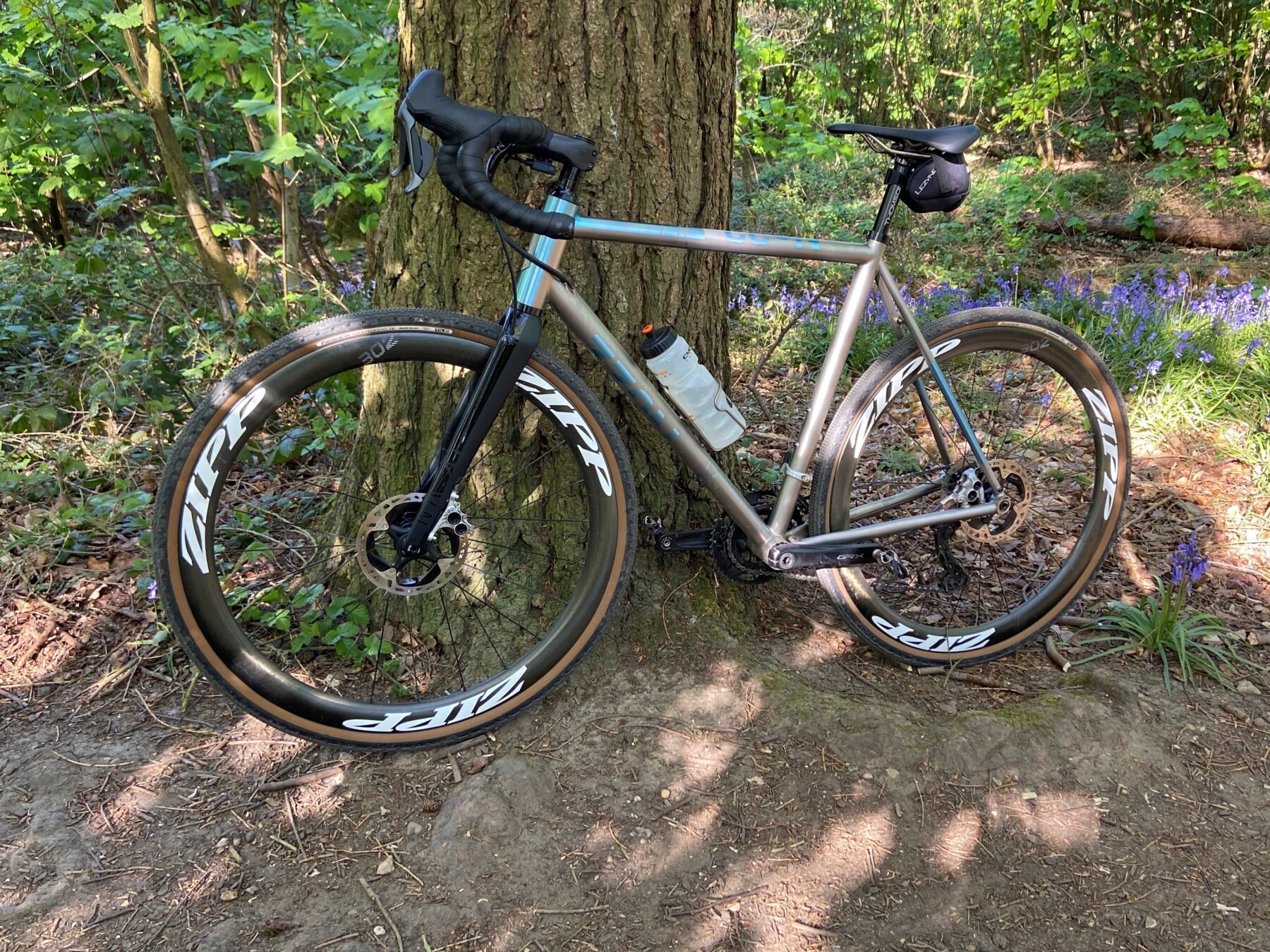 Design your own adventure.
Out In The World (remember that?)
I had been spending a bit of time recently on our own test Open WI.DE. which is outfitted with 650b x 2.2 Schwalbe G-One Bites, so this is a great time to bring another mixed use bike home as a comparator. This is also my first experience of Shimano's GRX gravel groupset using 48x31 gearing on the front and 11-34 on the back.

I am ¾ sold on the 22 before I even push the bike out of the Cyclefit door. I love titanium, I love bikes that are made by small teams barricaded in a workshop, somewhere in the mountains. And I am that target cohort who will wring every moment of joy possible from something that flies under the 'gravel genre' flag. The stock 56cm Drifter geometry is almost perfect for me – I would probably think about a size 54cm rather than 56cm if this was my own bike, or I could spend a few hundred dollars and design my own frame from the hubs up. I do realise that I have been spoilt!
My typical ride is 1-2 hours, and I shoot for a 75/25% trail/road split, but if I am honest it normally ends up being 50/50% as I hear my phone buzzing in my pocket and naturally assume that it is Mrs Cavell recalling me to The Mothership, to take a rat out of the water-tank, or similar. At that point I generally make a dive for tarmac, and point both wheels homeward. The gravel genre was invented just for me. I like a few miles on the road followed by twenty minutes in splendid isolation on a remote track through a forest. The Chilterns is full of these kinds of possibilities and my favourite routes normally involve traversing the Hambleden Valley, trying to avoid the valley road from the river heading North. Oh yes, the Drifter? Sorry. We bond after fifty yards and are lifelong-friends after five miles, and a quick ride up through Marlow Common to Rockwell End on top of the ridge. This bike will probably probably clock up 100,000 kilometres in its adventurous life, and the prevailing purpose of using this level of quality of titanium, is that kilometre one and kilometre one hundred thousand and one, feel exactly the same. Titanium does not corrode or fatigue or change its properties in any way like other materials. Herein is where the magic resides. Well I can tell you on kilometre ten I feel like I have been riding the Drifter my whole life, diving through single-track down through Quarry Wood leaning hard into turns, relying on 35mm Gravelking's, to sort out my chaos, I am immensely calm and smiling. The Hope discs are phenomenally strong and re-assuring - possibly more than Shimano and SRAM in terms of sheer power? The ride quality itself on the trail is joyous and hits a perfect harmony of feedback, drive and metallic recoil. Sure, it doesn't have the binary hit of the Open WIDE's top-grade carbon, but neither should it. It is generally never a good idea to make one material impersonate another one. There is nothing remotely fragile or vulnerable about the 22 - and it is that sense of incredible competence that is never far under the radar.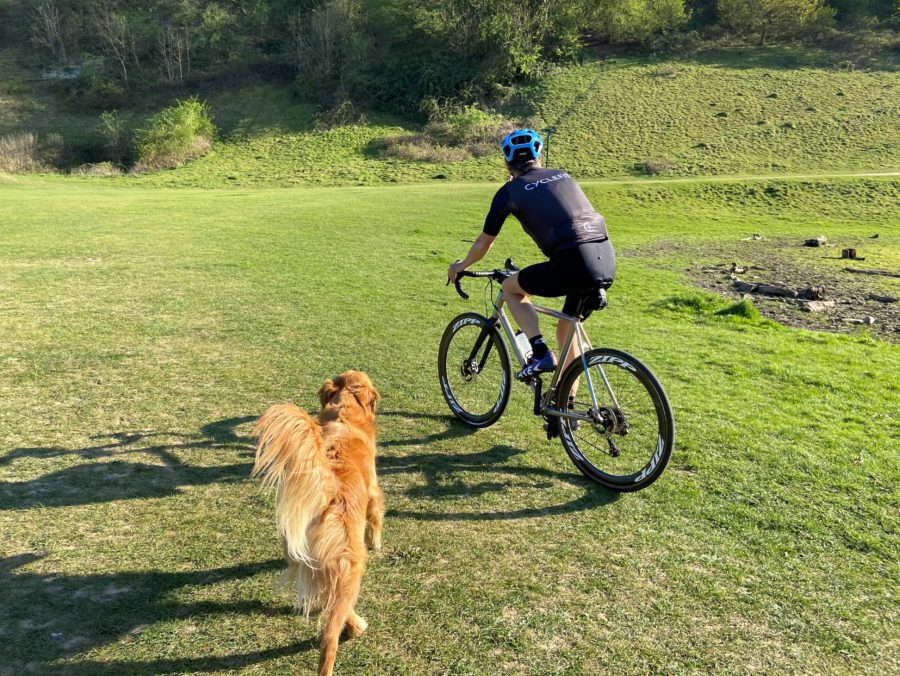 Right Raff C. Next stop Istanbul!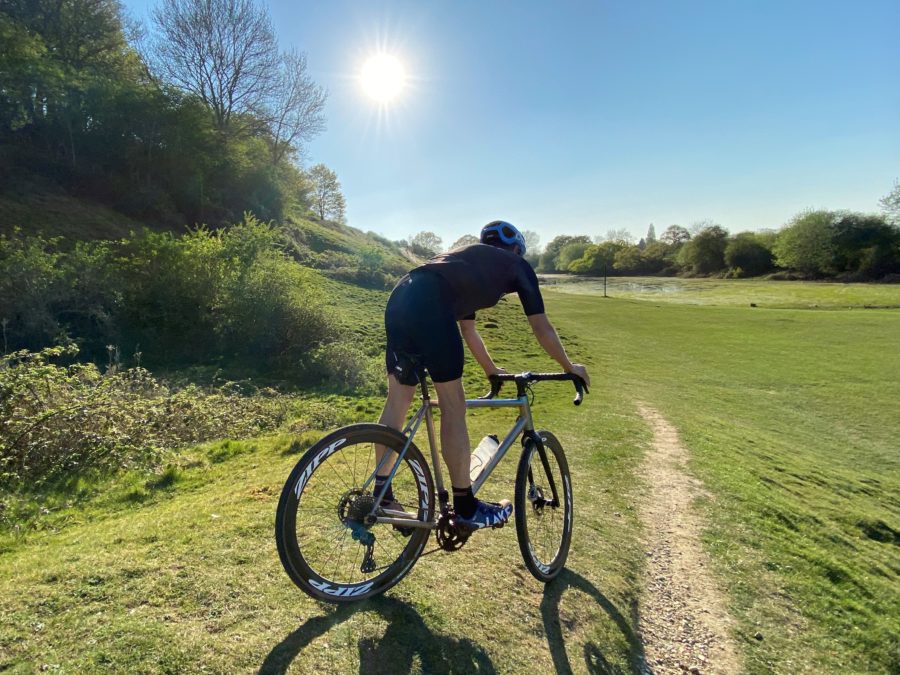 Even my Lake 332's are colour-matched!
What's Not To Like?

There are a few things I want to mention in a constructive way.
1. I liked the Zipp 302 wheels - I am not sure I need deep section when I am slaloming around blue-bells, but they add class and look pretty in the pictures. But I do wish the were tubeless compatible.
2. The back-end of the bike is more compliant than the front. 12mm thru-axle, deep-section carbon wheel, 44mm headtube, No22 hi-modulus fork and only 35mm of tyre to calm it all down. Fine most of the time - not enough in the dry chalk-blasted tree roots of Quarry Wood (to be fair I was on a teenage-cut downhill trail)! Easyish fix - I need more tyre or a 650b with a 50mm G-One Bite.
3. Shimano GRX is fine - I hate the look of the crank and would pay almost anything to upgrade to the 810GRX. Also the GRX shifters are great in terms of control, but they do cut into your hands without gloves. Am I nit-picking? Also I still prefer the common-sense ergonomics of SRAM.

The Drifter
The Drifter is a very classy bike. Happy to ride all winter with mudguards, followed by Paris-Brest-Paris, throw in a Trans-Continental, couple of Cyclo-X races and back in time for tea. A thoroughbred that goads you to turn every ride into a journey – you just know its just got the stuff to take you off road, off track, hell off-grid!
No22 22% offer ends close of business USA Time 17th April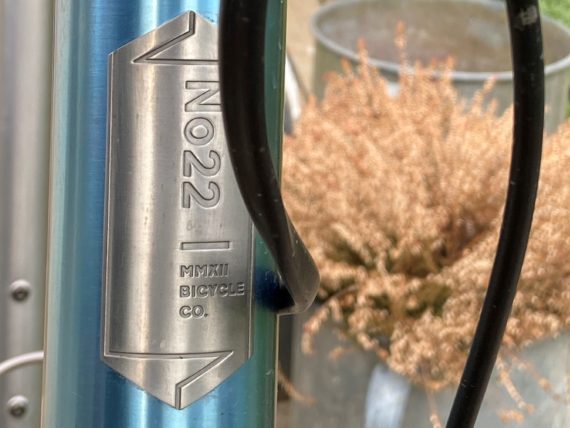 No22, from Johnstown New York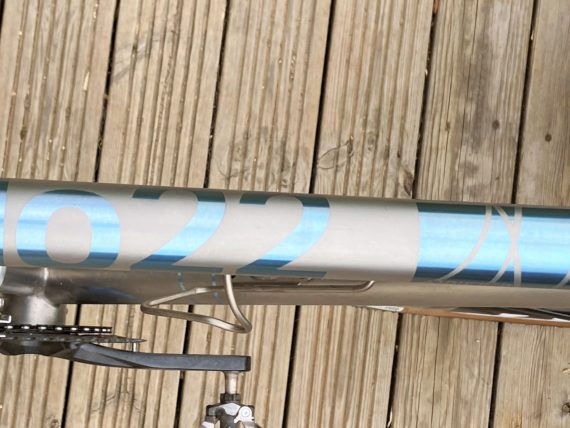 No22 specialise in anodising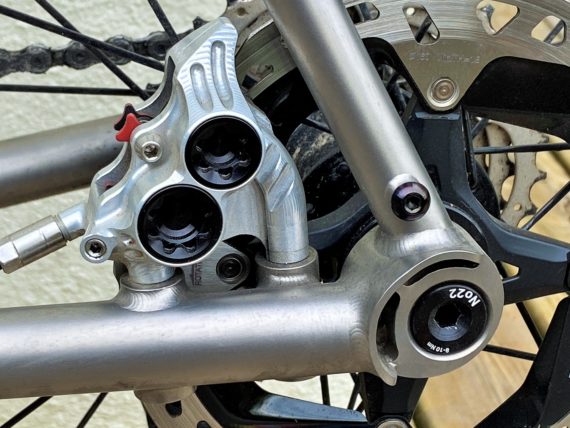 Custom ti drop-outs, Hope Discs