"The new generation of committed Zwifters have made that age old trade that has tantalised philosophers for years - liberty for security"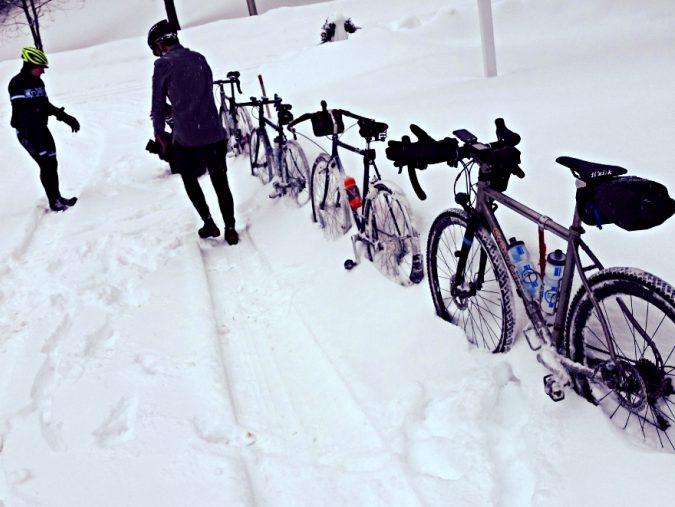 Once the mercury heads towards Zero, our top tip is to head off road! And a Seven bike is the perfect vehicle.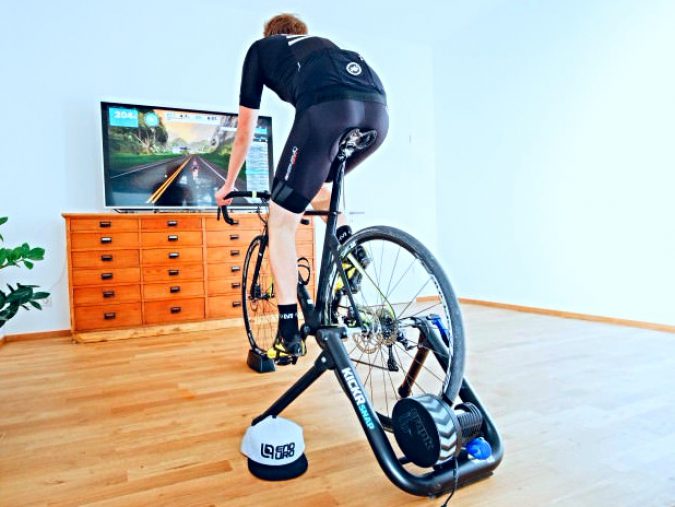 Or you can hang out in your bedroom and do Facebike?
Winter Riding & The New Zwift Generation
The new generation of committed Zwifters have made that age old trade that has tantalised philosophers for years - that of liberty for security. Sure they will never get cold, fall off, let their watts fall below their maximum potential, or get stuck in a country lane with the third puncture of the ride, with the second spare tube a distant memory. But neither will they: improve their handling skills, feel the call of the wild, improve their immune system by dint of fresh air, or get the deeper fitness only real-world riding yields.
In short, they are not riding hard and fast on a couple of centimetre contact patch with questionable grip in a natural quest to become a rounded bike rider.
I remember riding home through Richmond Park in 2002, when I lived in East Molesey. It was icy cold and dark and therefore just perfect timing to break a chain. After a Frankie Boyle diatribe, I eventually sat halfway up Test Hill balancing numb hands, chain-splitter with truly ineffective illumination, until the broken link was removed, and the chain re-joined and normal power restored. The ride home through the moonlit park was a triumph if you consider the consequences of not effecting a workable repair with the resources available in my seat-pack. A cold walk out, followed by a humiliating and expensive cab ride home! Winter riding can be a challenge but it is one that every roadman and roadwomen should strive to rise to. Here are our immutable rules for staying good humoured and functioning through the winter months.
It's All About Tyres!
This is the big one. The general rule is go up in size and down in pressure. I had a client in last week with a 110 psi on a 23mm tyre on an extremely cold/wet day. It must have felt like he was riding round on castors.
25c is the minimum and 28 or 32c preferable. On a clincher drop the pressure to 80-90 or even less if the weather goes south towards zero. Reducing tyre pressure has two major effects – increases the contact patch of the tyre or footprint. And secondly makes the tyre-wall more compliant, which acts as your front-line shock absorber. Kicking off bumps at 40mph on wooden tyres is a truly grim thing.
Or look at the joys of tubeless tyres – the major advantage being a great contact patch and rolling resistance, coupled with the charm of knowing that 80% of punctures will be dealt with underneath the radar of consciousness. Avoid cheap unbranded tyres for obvious reasons – they will be rubbish, wooden feeling and almost certainly a horror show in the wet. You have been warned. Staff Favourites - Continental GP 4-Seasons (28c) or Schwalbe Durano or One. Barna can fit these for you this week at Covent Garden

No, It's All About Mudguards
It's funny - but not in a humorous way - that one tends to get wet when it's raining from the ground up and not the sky down. A full set of mudguards and riding is suddenly bearable / enjoyable. Winter mudguards can be the only thing between you, hypothermia and no friends. So don't skimp on the real-estate or insist on exotic materials. You want plastic and as much as you can fit underneath your fork crown and seat-tube. Fit them now and live in peace with your bike. Personally we quite like SKS - a utilitarian choice.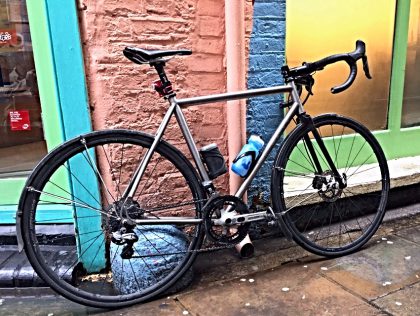 Jimmy's Seven Axiom SL Disc with Conti GP4-Seasons & SKS Mudguards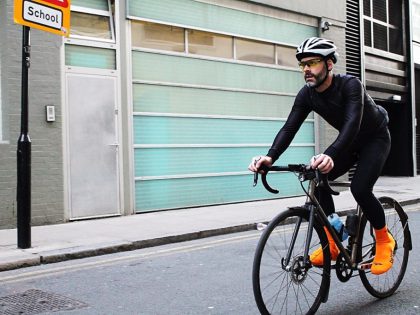 Not at all a staged winter riding picture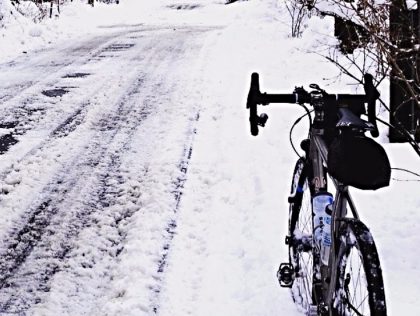 And some folk take their Seven's further afield than Jimmy!
New Thinking - Stay Cosy
Old school thinking was to dress on the cool side for the prevailing conditions - the thinking being that one should use the training effect to keep warm. I have to say that is total rubbish. Dress to stay warm, even if the temperature plummets. But stay away from waterproofs unless it actually starts to rain. However breathable manufacturers say their products are, it is still easier to get cold from the inside out in a waterproof membrane. Also treat overshoes like a consumable. A long winter season could see you get through a couple of pairs of neoprene – but it is money well spent. We think a traditional overshoe is better at keeping your feet warm than a winter-boot. But the biggest aid to keeping your feet warm is a decent mudguard. The only thing worse than cold feet is cold hands. Spend as much as you need to on this vital piece of cycling apparel. It pays to have several pairs for different temperatures and precipitation levels, and one bail-out pair that wouldn't look out of place on a dog-sled.
Adapt Your Position
More layers means your range of movement may be restricted. A winter set up might be a bit more upright than a summer one. We always suggest setting your bikes up appropriately to the season.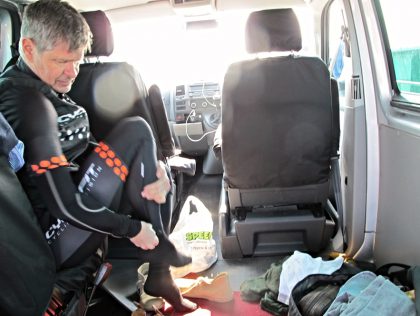 Choosing the right layer-balance is crucial for a cold day in Belgium 2014!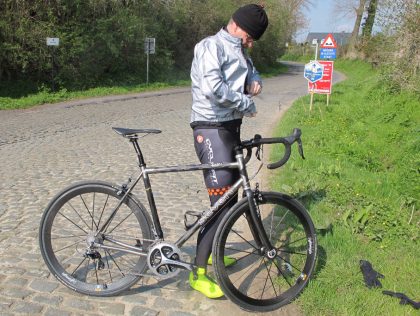 Phil makes a school-boy error with the water-proof. It's not raining!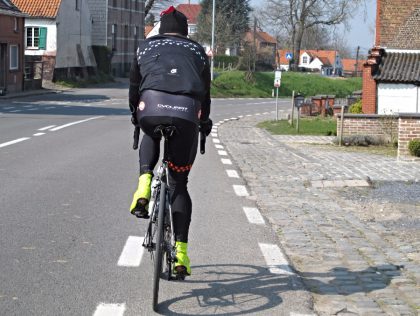 Crisis averted, the he has seen sense and reverted to the versatile gilet.
Spinning Discs
There was a debate about disc-brakes but it is largely historical – and in case you missed it, discs won. Caliper brakes hit peak-innovation a number of years ago and will soon be the preserve of the paranoid weight conscious. Discs are especially suited to winter riding for a number of reasons – braking is stronger and modulation more predictable. Discs also allow wider tyres and mudguards (back to points 1,2&3). And most significantly for us – your rims and entire bike stays cleaner, even in medieval conditions. Sheer joy.
Winter Geometry
Winter is better enjoyed by a bike that has a lower bottom-bracket and longer wheelbase. These two twin-gods are well worth worshipping because a lower BB will subtly reduce your overall centre of gravity, which necessarily increases your perception of control and therefore confidence. Increasing the wheelbase is a binary proposition that instantly gives you increased stability – a get out of jail card on a potholed, slimy descent. You will never, ever go back to a standard BB heights until the clocks go forwards.
Titanium - The Four Seasons Metal
Hi-modulus carbon can be too stiff and reactive for winter roads, and steel has a propensity to rust. But titanium is the perfect winter material due to a few compelling properties – firstly it is completely inert and therefore will never rust, corrode or deteriorate in any way. And secondly, titanium is naturally incredibly springy, which helps smooth braking and acceleration forces when you are pushing on. A well designed and fabricated titanium chassis is also deliciously compliant on the very worst road surfaces. It is a very well kept secret. Have you ever noticed that the titanium pilot is the most composed on the worst road-surfaces? Now you know why – we call it titanium ride-by-wire. Every single one of us at Cyclefit has a titanium all-surface bike. Please read our Top 5 Tips for Buying a Titanium Bike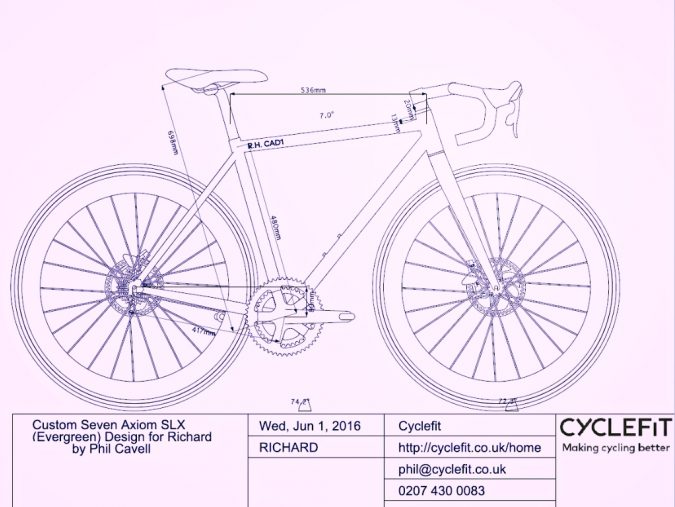 80mm bottom-bracket, 41.7mm chainstays. A true 4-season Seven Axiom / Evergreen SL in the planning.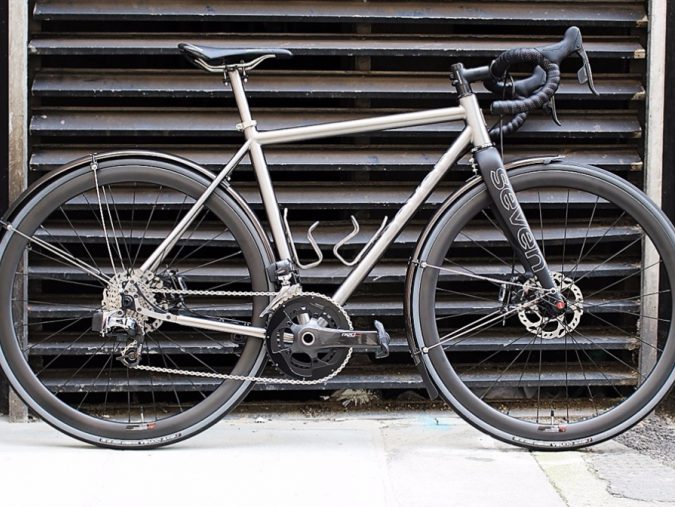 And how it looks ready for winter.
Three Degrees Cut-Off - GET OFF ROAD!
Not a musical reference - go off-road when it's below 3 degrees. Less chance of ice, harder work-out, keeps you warmer, improves bike handling, no cars. This was the one tip that we all came up with and were completely unified about. There is no need to ride in freezing temperatures on the road. Gravel bikes, cyclo-cross, 29'r...etc - there are just so many ways to dive off road now and still make good progress and have a beautiful adventure. We consider ourselves London's Cross/Gravel experts and would love to talk to you about your adventure project. Please call to make an appointment to come in for a coffee and chat. Gravel Bikes - Blip or Trend?

"You tend to get wet when it's raining, from the ground up and not the sky down."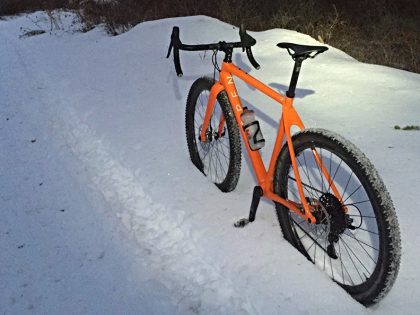 Open U.P. Completely at home in this environment. Note the 650b x 2.1MTB wheels and tyres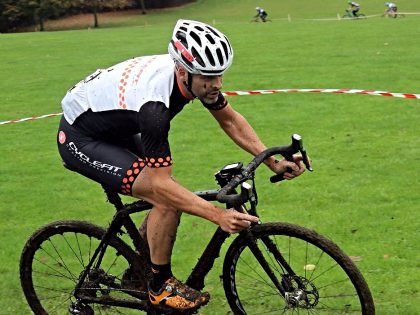 You don't need to race cyclo-X to justify a cross bike. The Trek Boone is a devastating tool.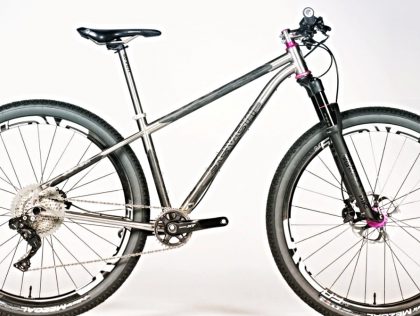 If suddenly getting off-road is no longer a means to an ends, but an end in itself - go for a 29r. Hugely effective and amazingly good fun!