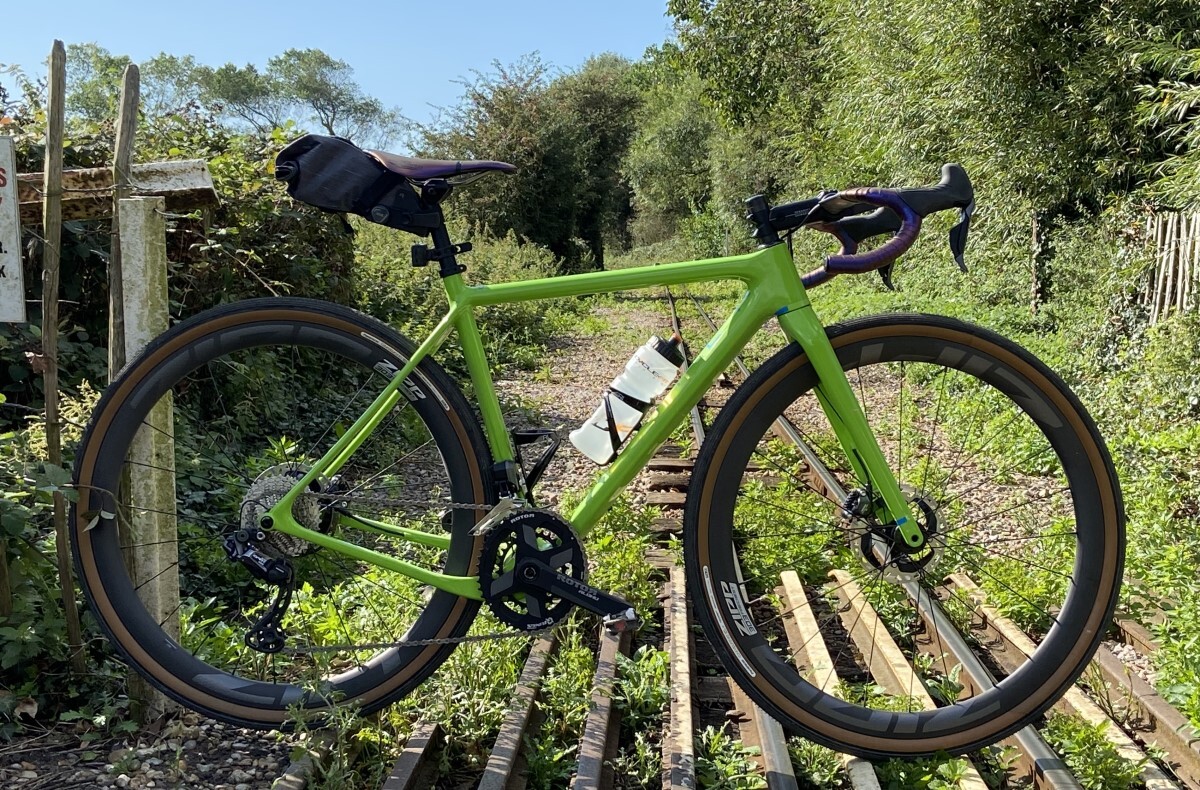 Custom build for fast road and gravel rides
Here's my 2020 summer gravel project. Its my second Open U.P. having built, ridden and sold one of the original orange versions. That bike had SRAM 1 x11 mechanical gears and Lauf forks and did find it's way out to the Silk Road Challenge with its new owner, I'm glad it went to a good home.
I used the weak excuse that we needed a bike in the shop in the green for customers to see; Phil pretended he agreed to stop me whinging and Andy sent over my new ride from Switzerland.
I used the N-1 argument to justify this build, maybe this is the bike that does it all? My Trek Emonda had sat on the shelf un-ridden by me for months as most of my 'leisure' riding (I don't include commuting through London in this) involved forays on bridleways and through the woods on my old Seven Evergreen Pro or Trek Top Fuel MTB.
This bike needed to fulfill the role of those three bikes and as the Open U.P. frameset weighs in at just over 1000 grams it was a good place to start and when combined with the option to run both road and MTB wheels I had my riding requirements covered.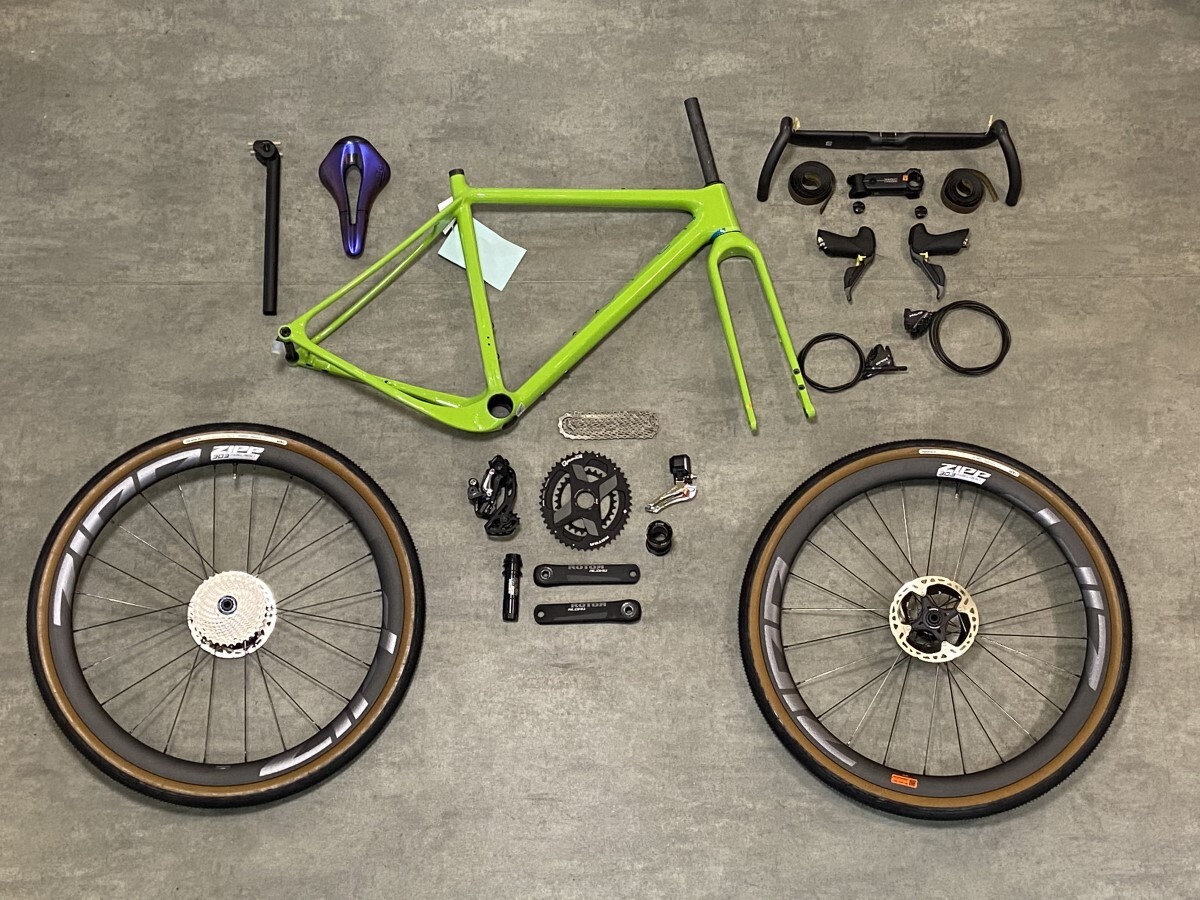 Carefully selected components for a dream ride
Gearing

As I planned to use the bike on the road and hopefully get back to the Alps or Majorca one day I specced a double chainset so the jumps betwen the gears were not too ig and any cadence changes could be managed. The gears and disc brakes are Shimano's GRX Di2, the levers are flatter than the road version for the hand platform and they curve up a little more to prevent your hands slipping off should you hit a bumb. the barke levers are also redesigned to work better with a flared bar and the Di2 buttons have a much more positive 'click'.

The GRX rear mech can handle up to a 46T cassette (the cassette on the bike is a 34t)and has a clutch to maintain chain tension so that it doesn't come off over rough terrain; on the front I installed a Rotor Aldhu crankset with a 46t/30t Q-Rings. The Rotor system is modular, so chainring sizes can be selected and powermeters installed at a whim, the GRX has only one gearing option (48t/33t) which is a little too big for steep climbs off-road and only a Stages Powermeter can be installed. In between is a C-Bear bottom bracket with ceramic bearings.
Regarding the gearing the lowest gear in my combination (30t/34t) is a smidge harder than the popular 42t chainring and 50t rear cog that we use on the SRAM AXS 1 x builds, the 46t/11t gearing on the top end is a smidge smaller than the SRAM 42t/10t. FYI the top gear on a standard compact road set up of 50/11 is a ratio of 4.55, my 46t/11t is smaller at 4.18 which is equivalent to the 50t/12t gear, the second cog in which is a hefty gear and I never ride in that unless I'm going down a very big hill...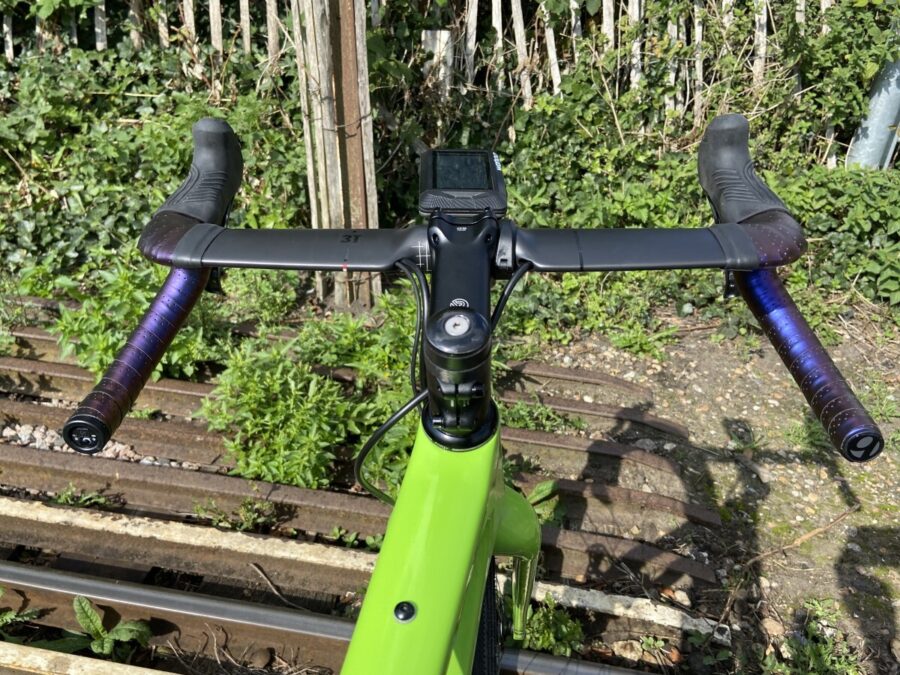 3T Aeroghiaia aero carbon gravel bars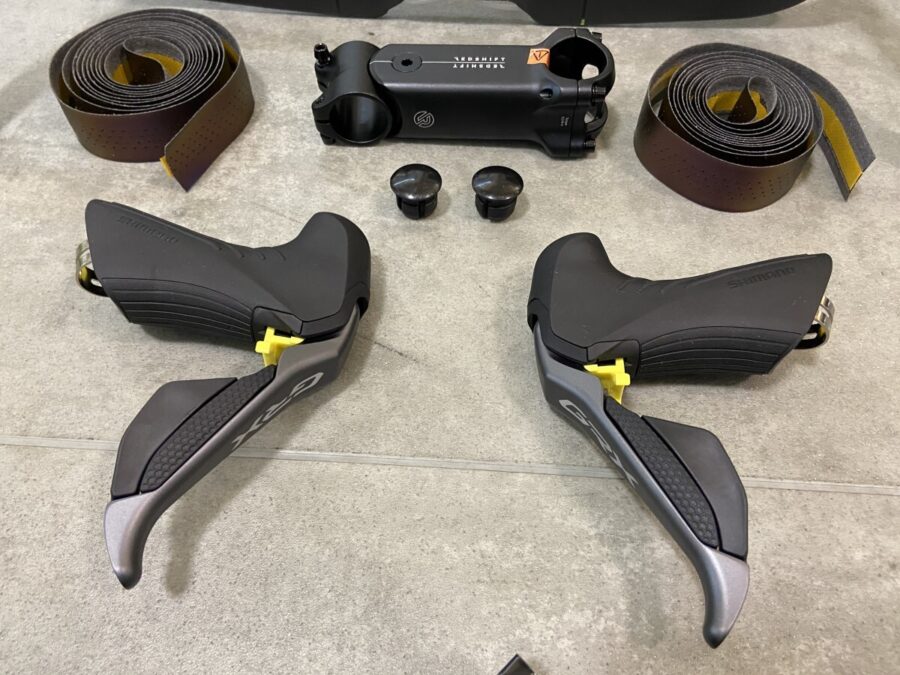 Shimano GRX Di2 levers and Redshift Shockstop stem
Brakes

I kept with the GRX they work very well with the GRX levers as you would expect, i did consider using Hope RS4 hubs but they don't get on well with the Shimano GRX plus a 180 rotor is required to get the correct fit on an Open fork. Shimano XTR rotors were fitted instead of the GRX version as they are lighter and prettier.

Wheels and Tyres

As most of my rides are 70% road I opted for the 700c Zipp 303 Firecrests with Panaracer Gravel King Semi Slick tyres in 47mm. The wheels rolled like a 29er over rutted surfaces and were fast with just enough tread to lean the bike confidently through sketchy corners. The internal width of the 303 Firecrests is 25mm which provided a big air chamber allowing me to run a low tyre pressure for better traction and a smooth ride.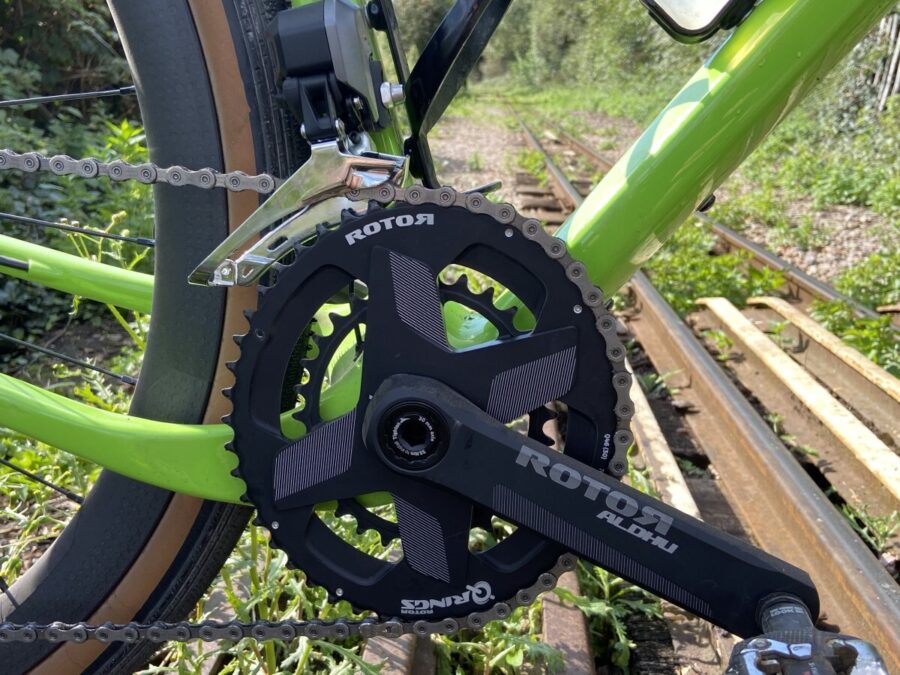 Rotor Aldhu cranks with 46/30 tooth Q-Rings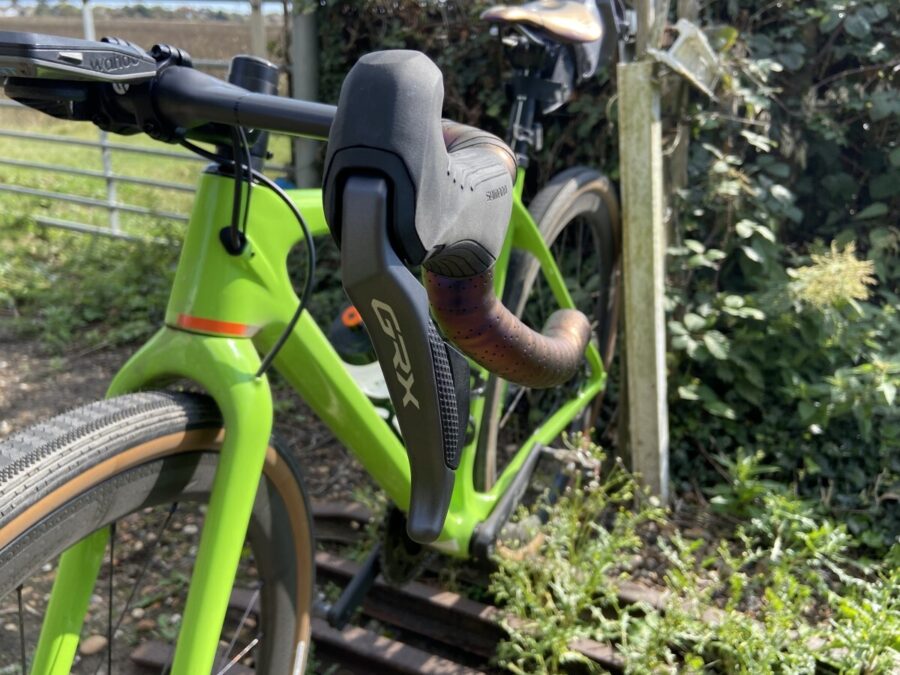 New lever shape and raised hoods on the GRX levers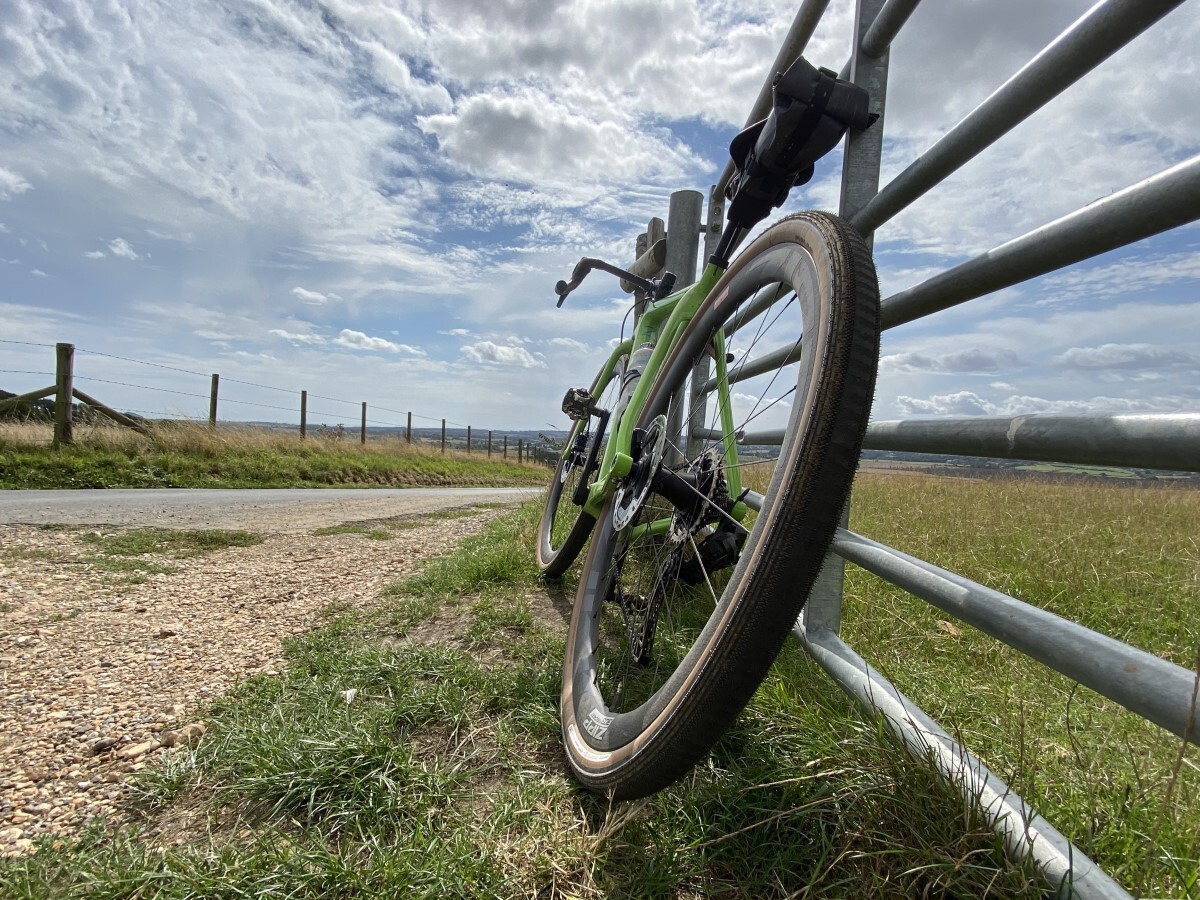 Handlebars, stem and seatpost

The aero gravel handlebars by 3T - the Aeroghiaia - just had to be tried out and I can confirm the shape of the drops is very comfortable and I could sit in them longer than normal; function does follow form in this case but the flat aero tops aren't any good for fitting bar bags, or lights, or computer brackets... but I did invest in a stem mounted bracket to fit the Wahoo and GoPro and didn't go out at night or for too long.

The stem is a Redshift Shockstop suspension stem that has elastomers inside and a pivot near the steerer to provide several millimetres of travel. This stem is a game changer and made the off-road sections much more comfortable and also made riding over rougher sections easier as it didn't feel like my hands would come off the hoods. I used it commuting along the rough roads of Deptford a few times and it even helped out there, less hand numbness! I highly recommend.

The seatpost is a 3T Zero 25 Pro (I would have preferred the carbon option but it wasn't available at the time), the seat clamp is turned around to provide a steeper seat angle for me as the Open frames all have a 72 degree seat angle, even on the small frames which can cause bike fit issues for smaller riders (like me). The clamp is easy to adjust and also holds fast. Nice quality.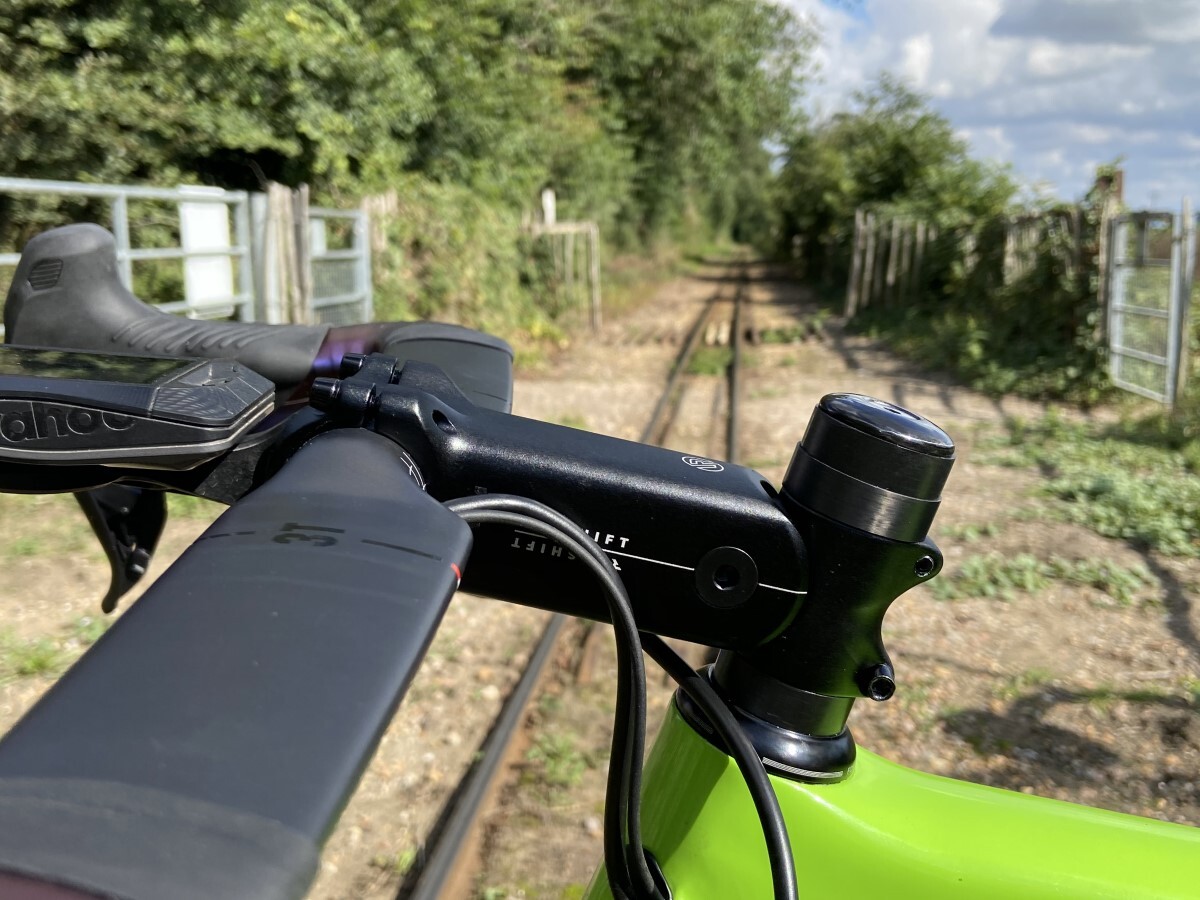 Redhshift suspension stem and 3T Aerobars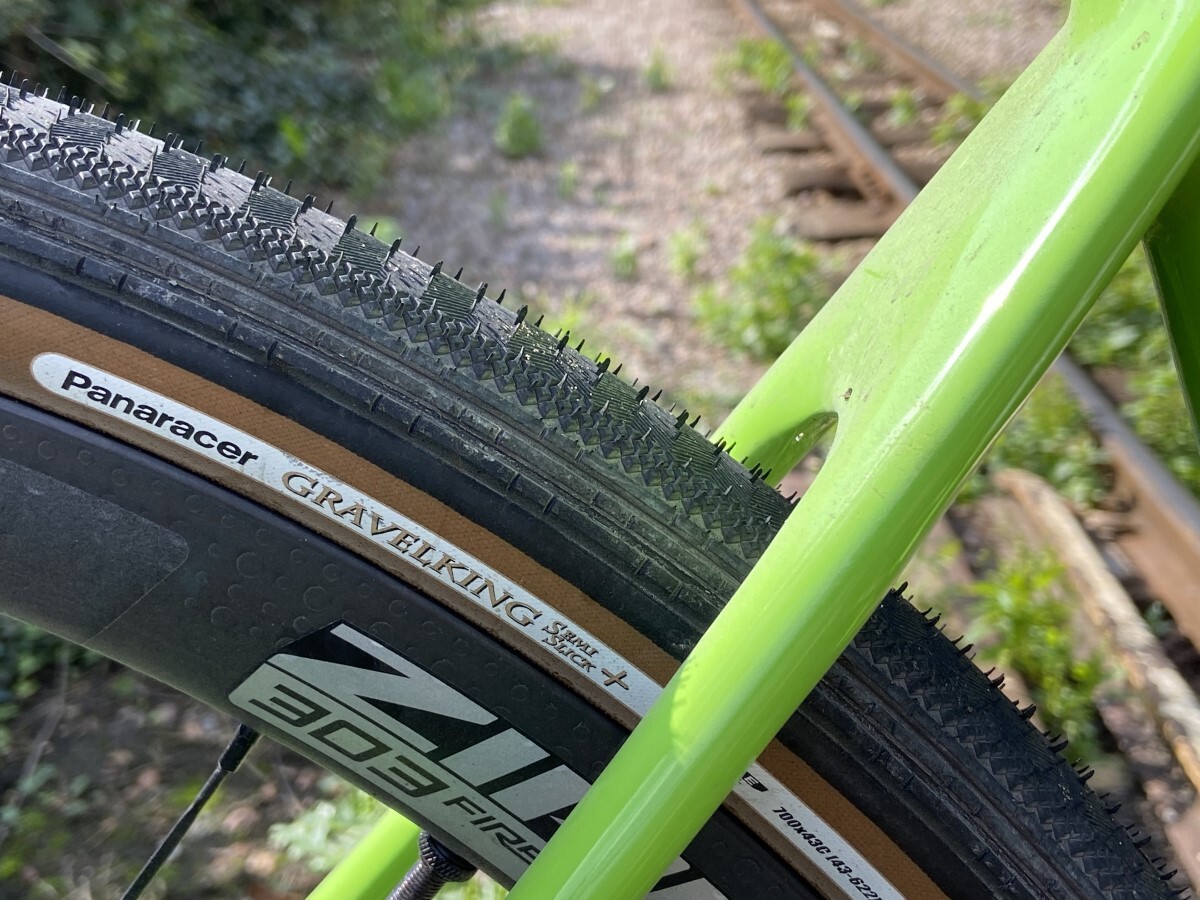 Zipp 303 s Firecrest wheels and Panaracer Gravel King + Semi Slick tyres
Saddle and handlebar tape

I had the pleasure of using San Marco's Limited Edition Irridescent Shortfit Racing saddle and matching tape, the colour worked really well with the green frame and I am a big fan of their saddles. the tape however was too slippery for gravel riding and a little too thin; it needed more padding underneath.

Seatpack
I have to give a mention to the EVOC BOA seatpack. Thanks to the BOA fastener wrapping tightly around the seatpost this is the most secure fitting piece of luggage I have ever used, no rattling or swinging about. My bag was the medium sized version and contained a waterproof jackets and tubeles kit and co2 inflators with room for much more.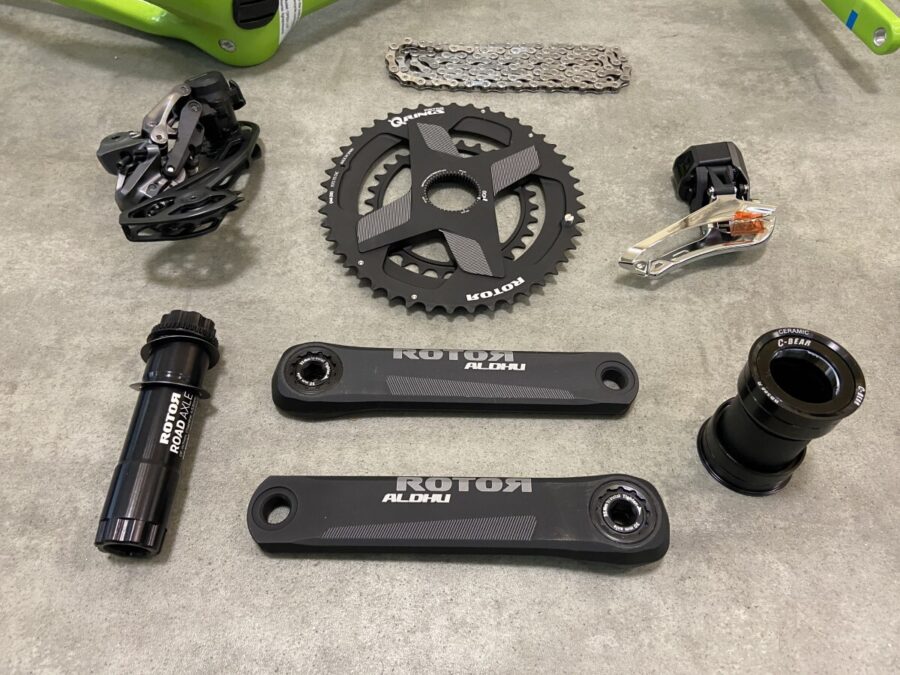 Rotor Aldhu chainset, C-Bear ceramic Bottom Bracket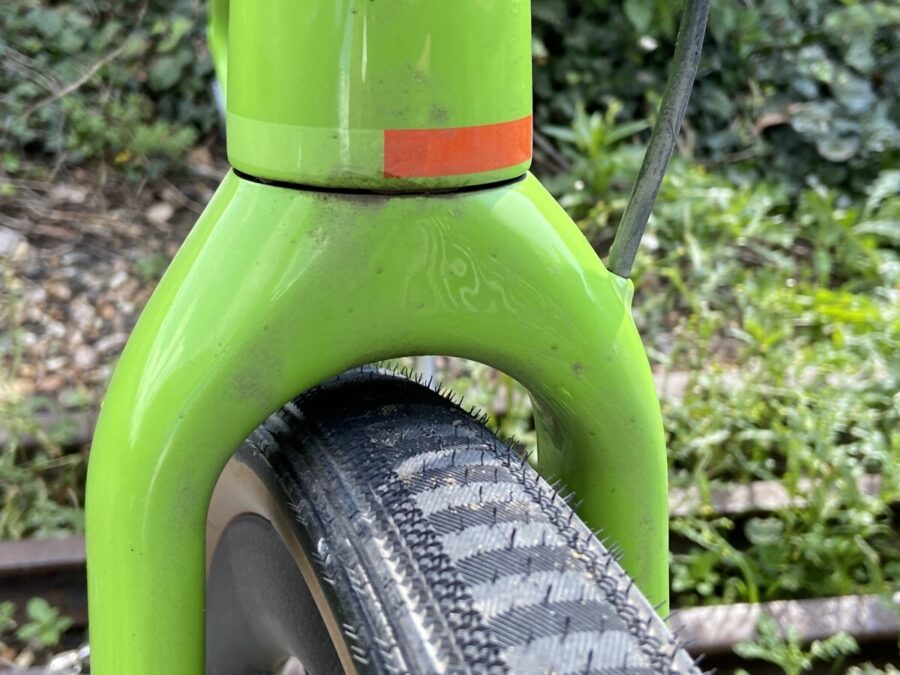 47mm tyres for road and gravel
Technical Spec
| | |
| --- | --- |
| Frameset | Open U.P. Gravel Plus, U-Turn Fork |
| Wheelset | Zipp 303 Firecrest 700C |
| Chainset | Rotor Aldhu cranks, Rotor Q-Rings |
| Bottom Bracket | C-Bear |
| Tyres | Panaracer Gravel King Semi Slick 47mm x 700 |
| Handlebars | 3t Superghiaia Aero carbon gravel bars |
| Stem | Redshift Shockstop -6/+6 |
| Handlebar Tape | Selle San Marco Iridescent |
| Saddle | Selle San Marco Iridescent Shortfit |
Seatpost
3T Zero/25 aluminium
Gear Levers
Shimano GRX ST-RX815 Di2
Brake Calipers
Shimano BR-RX810 GRX
Disc Rotors
Shimano XTR RT-MT900 160mm
Rear Mech
Shimano GRX RD-RX815 Di2 long
Front Mech
Shimano FD-RX815 GRX Di2
Cassette
Shimano Ultegra CS-8000 11-34
Chain
Shimano CN-HG701-11