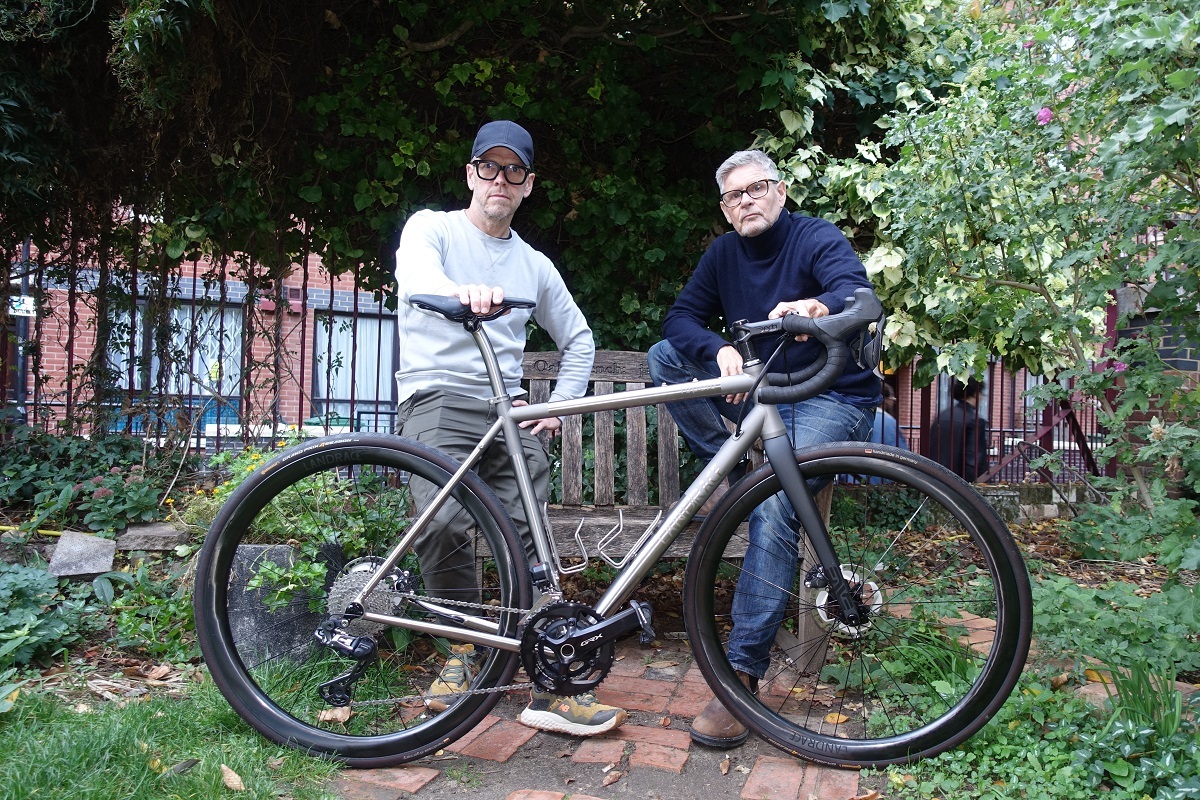 Cyclefit Timeline:
Twenty-two years ago, both of us were a facing negative prognosis from our respective injuries, that we would probably never recover enough from our racing injuries to be competitive racers again. The fiercely traditional cycling community was also unhelpfully either misguided or mute – we were on our own. The biggest problem with being first to anything, is that you have no pathfinders to follow and illuminate the way ahead. But we did have each other and a fierce determination to learn, research and if necessary pioneer our way to clarity, a plan of action and then front line competition. We quickly adopted a code of ethics that helped us in those early days and still helps us still some two decades plus later:
"Human's didn't evolve to ride bikes" – We remind ourselves of this every day.
"The coalition of the willing" - to share and learn together – surgeons, osteopaths, physios, podiatrists, injured riders, massage therapists, bike-builders, academics – etc.
"Always be collegiate" – One of us would never have had the horse-power to even start this quest, never mind finish it. Two minds are better than one and three are generally better than two.
"Share your recipes" – We determined always to be chefs that share their recipes. Owning knowledge is never as much fun as sharing it. Besides we had so much to learn from our generous teachers.
"Never be defined by technology" - To be honest this rule came a bit later (around the time our friends invented Retul). But the intelligence around fitting has always wowed us more than technology. In that sense we have always wanted to be masters of technology and never enslaved by it.
"I don't know" Never be afraid to say the magic words "I don't know". There is no shame in not knowing, only in pretending you do.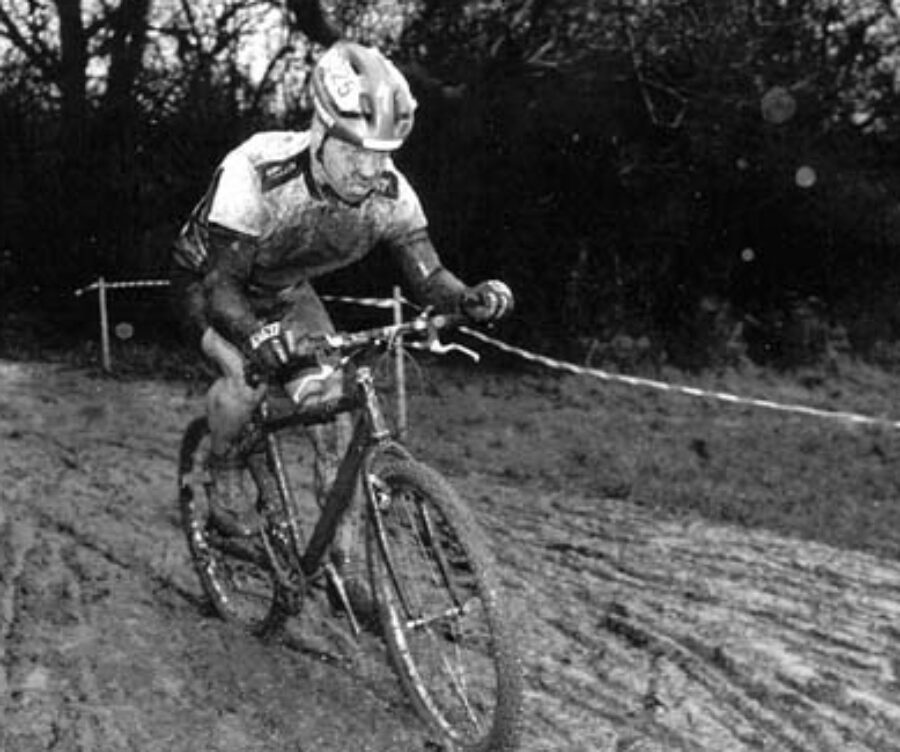 Julian, Bedford Park (1992)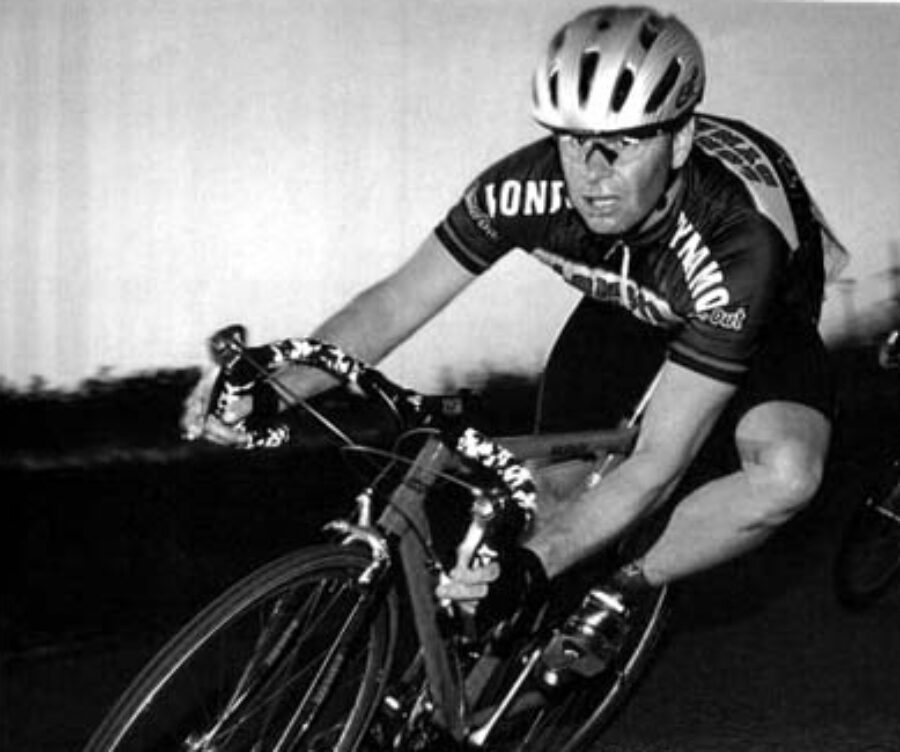 1995 – Broken Men
A full racing life of: criteriums, road-racing, cyclo-x and mountain biking, all comes to an abrupt halt because Julian and Phil's injuries. No amount of surgery, physio, pharmaceuticals, prehab/prehab gets them back on the start-line. And for good reason – they are not thinking about 'Underlying Cause'
"We have always wanted to be masters of technology, not slaves to it."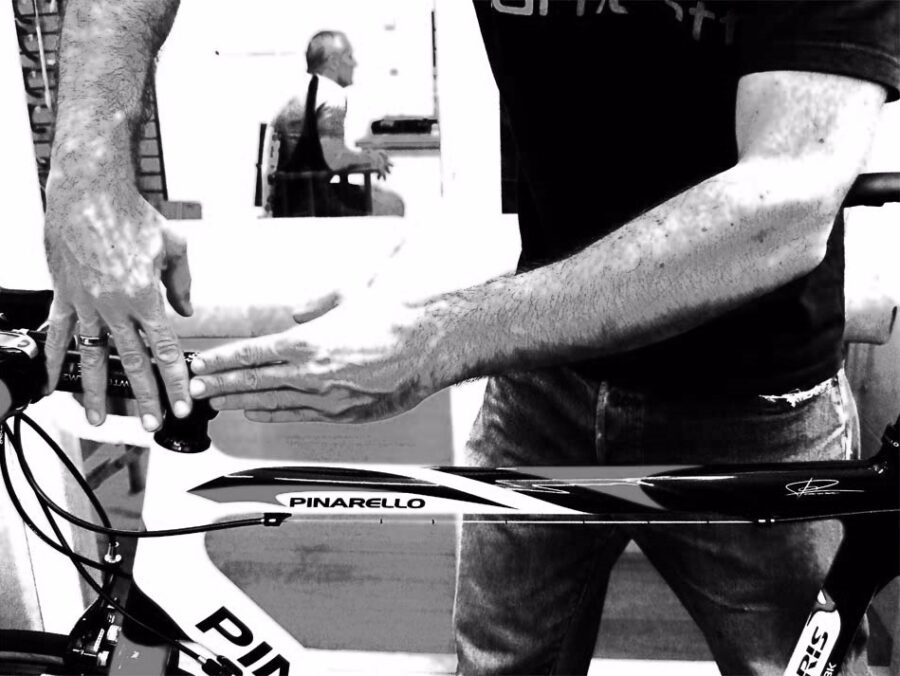 A common sight racing in the 1980's. Everything we have raged against for two decades.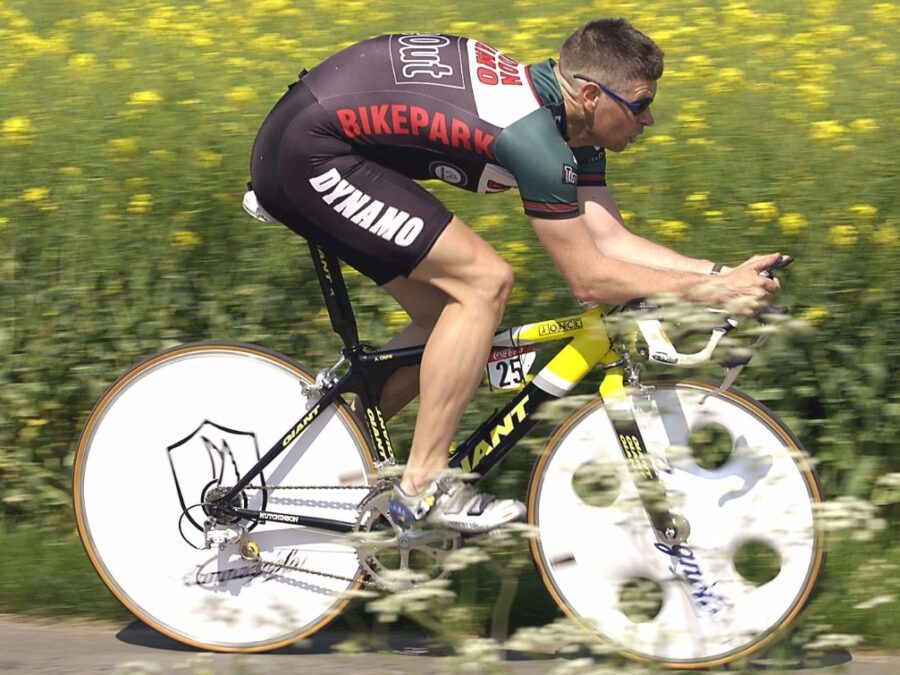 Just because you can fold your body in two doesn't mean you should. Phil was later to learn this.
1997 – Bring The Bike to The Body Stupid!
Julian's design-oriented brain makes the leap first. The body 'receives' the position from the symmetrical bike. Evaluate and document the body's constraints and then bring the bike to the body not the body to the bike! The two went on endless sports anatomy and massage classes to better understand the cyclist's body's function and constraints.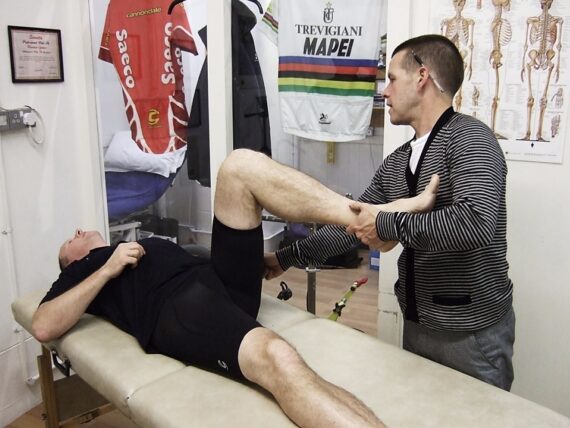 We learnt very early that the body must come before the bike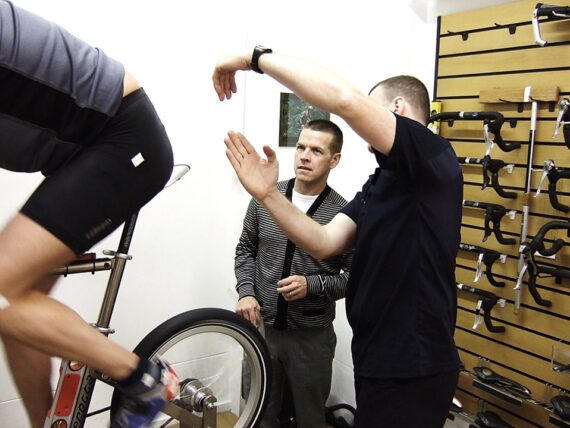 Jules works with Physio Legend Graham Anderson from Balance back in the early days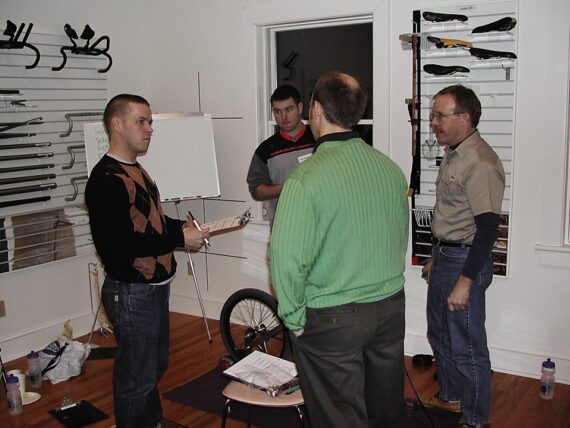 Jules learning at Serotta School in New York 2001
2000-2001 – Meeting Legend Ben Serotta
Phil meet Ben Serotta when he reviewed The Serotta Ottrott for Cycle Sport Magazine in San Diego. Ben tells of his own frustration synchronising the human body with his own custom bicycles. Ben's response was to consult with a doctor colleague before starting The Serotta School of Bike Fitting in 1997. Jules and Phil attended the School in New York and graduated the Advanced Class.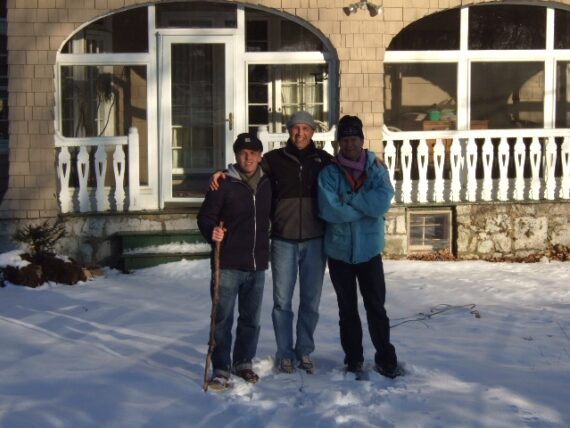 Jules and Phil meet and start working with legend Ben Serotta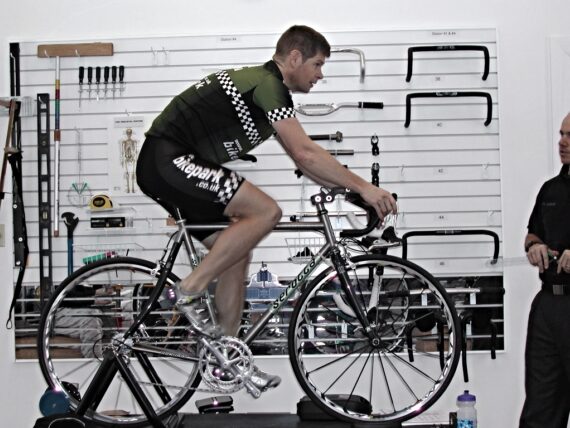 Phil deconstructed, Advanced Serotta Class (2001 New York)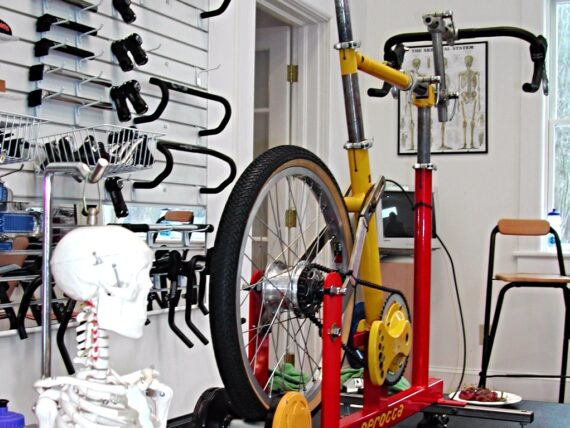 Serotta were obsessed with the same things as us. The relationship between the body and the bike
2001-2002 – Fit The Foot First
The Serotta Elements and Advanced Classes and Jules and Phil's own research and study were huge milestones in authoring the Cyclefit process. But the pair wanted to go further and for them the mixing piece of the puzzle was foot control. They commissioned private courses from Paul Swift (inventor of LeWedge). Paul flew to London in 2001 to work one-on-two with Jules and Phil for an extended period teaching them foot-canting mechanics and leg-length compensation.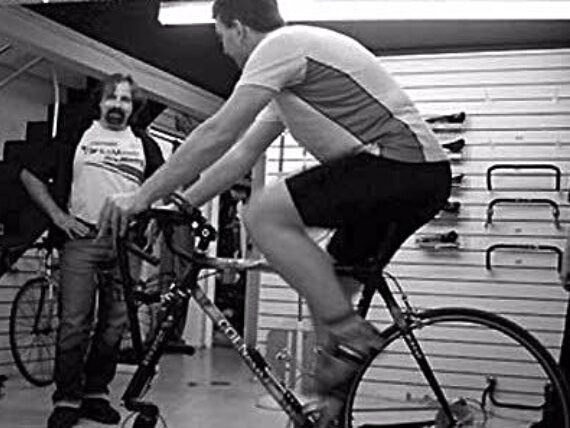 Paul Swift (LeWedge inventor) in London with Phil and Jules 2001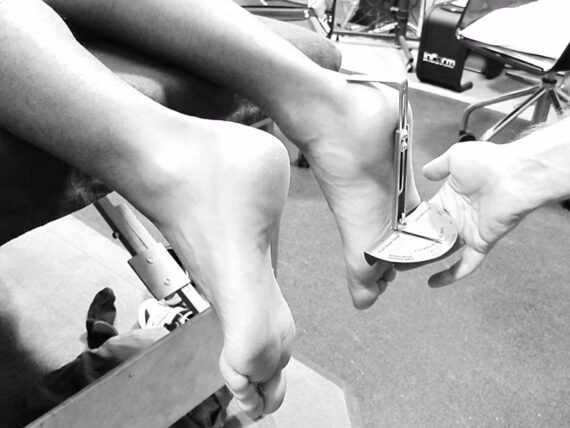 We take 12 measurements of every foot - including forefoot tilt (pictured)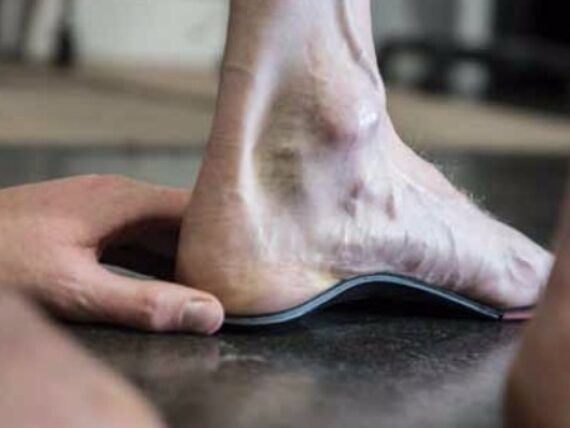 Our foot obsession persists to this day
2002 – Links to Sports-Medico Community
We knew right from the start that cycle-fitting was only one component of the complete picture. We pursued from day one any medical professional who had an interest in working with cyclists and their injuries and niggles. Now we have a huge professional network that we cross-refer with and share knowledge and opinions. But special mention should go out to a few who it has been a pleasure to work with for many years - Graham Anderson from Balance Physiotherapy, Alex Fugallo now at Beyond Health and cycling Doctor Dr David Hulse. We are proud that around a 1/3rd of delegates at International Cyclefit Symposium are from the sports medical world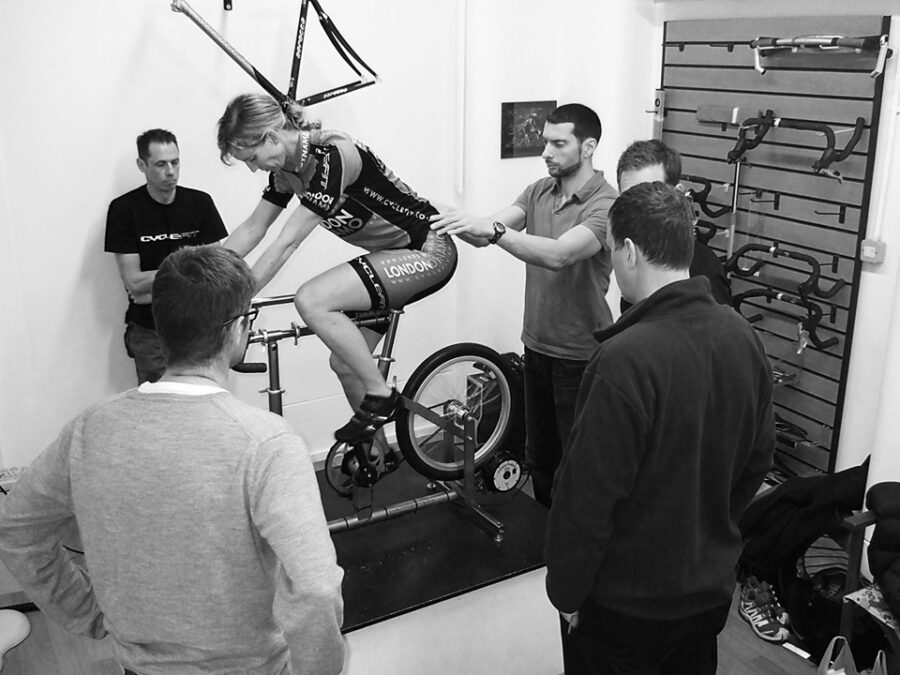 Alex Fugallo (osteo), Phil, Graham Anderson (physio) sharing knowledge with each other at Cyclefit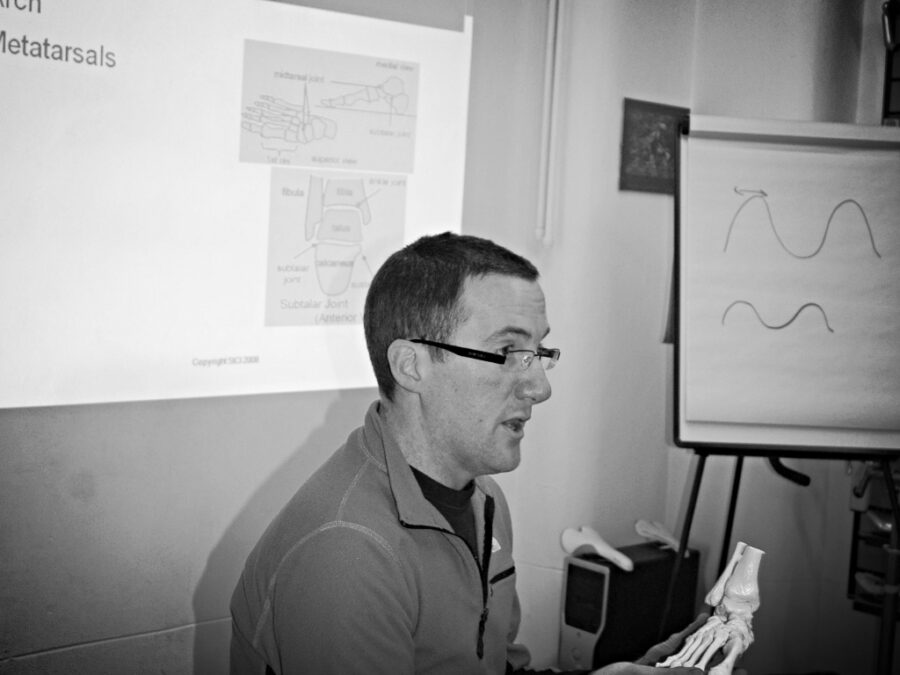 Dr Dave Hulse teaching at Cyclefit School. Dave was an early collaborator.
2002 – 2003
Cyclefit opened in Covent Garden as Europe's first centre devoted to modern bike-fitting and cycling-analysis. To some we were snake-oil peddlers, or at best a solution to a non-existent problem. But to others we were the rational missing piece of a puzzle that was causing them injury, lack of performance or discomfort. Early adopters included professional road-racer, Nicole Cooke and professional triathlete, Andrea Whitcombe. But we also had Joff, who had been thwarted in his first attempt to ride around the world on his home-made penny farthing and hundreds of members of the cycling public looking for an improvement in their relationship with their bike. By the end of 2003 Jules and Phil had a six-week waiting list for the first available appointment!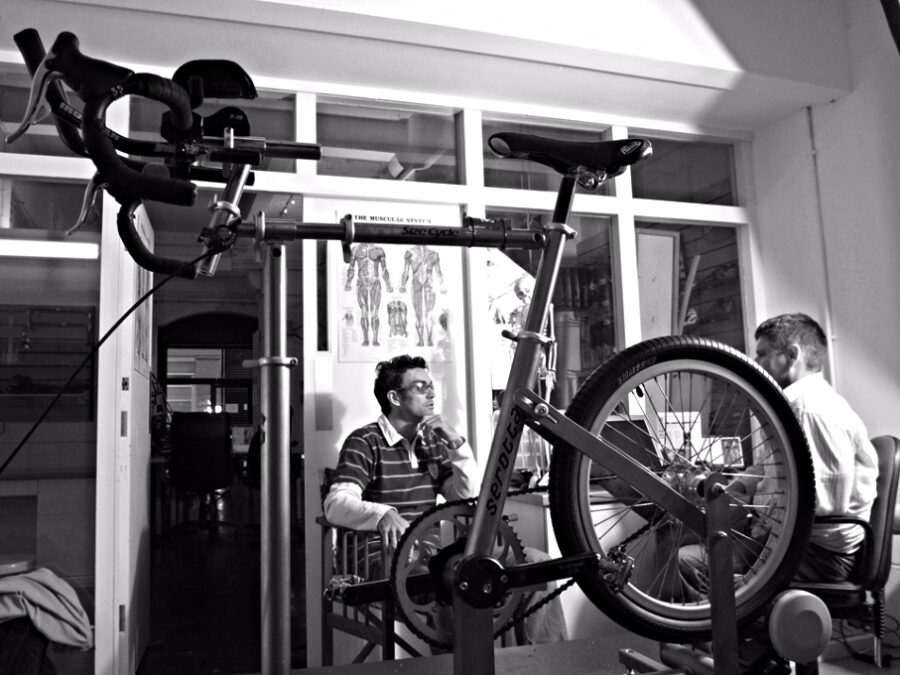 Phil works with Marcel Wust 2004 - a Cyclefit today still starts with a thorough interview. A Cyclefit is a 'consultation' in the truest sense.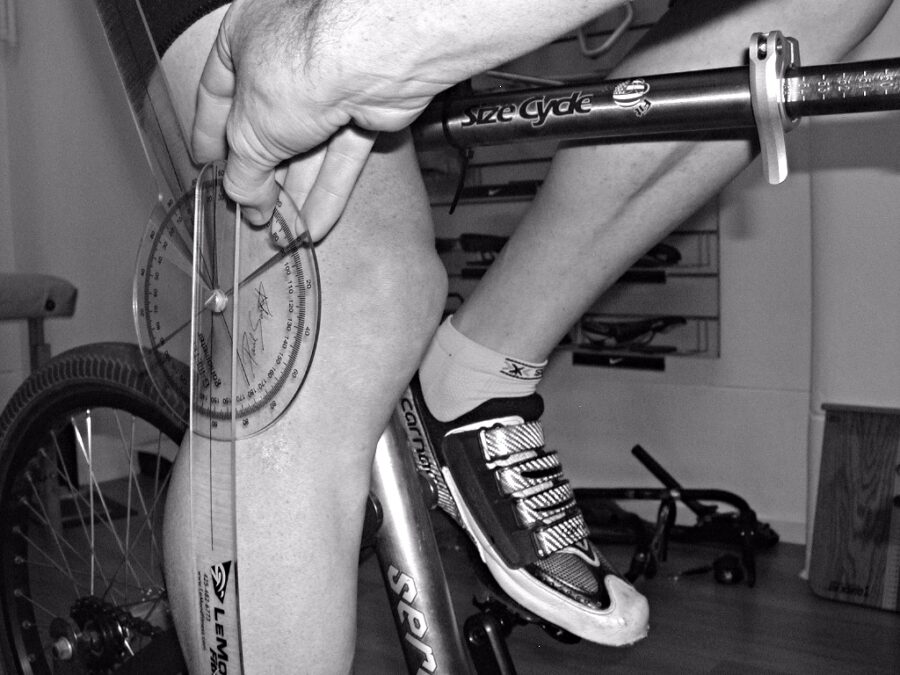 Our Serotta Size-cycles were in daily use from 2001-2011. Cutting edge in their day.
2004 – Foot-Obsessed
We were convinced that we needed to stabilise the foot in the shoe before we stabilised the foot on the pedal (we still believe this by the way). This led us to becoming the first company in the UK to offer custom moulded cycling insoles and a long partnership with Sidas Podiatech from France. Cycling Weekly were so impressed they gave our Cyclefit custom footbeds and immediate 10/10. We are now on our 8th design iteration of Cyclefit conformable insole.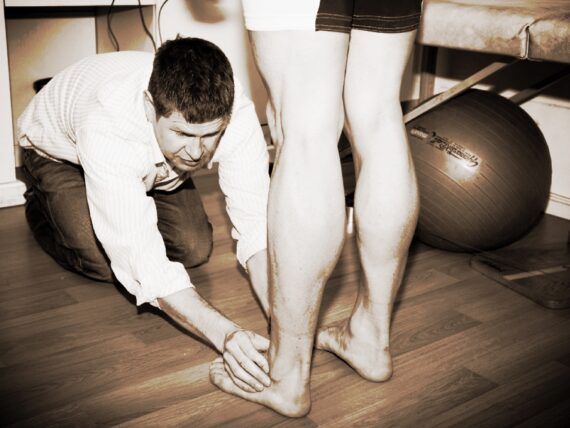 Twenty years staring at cyclist's feet. Phil many years younger!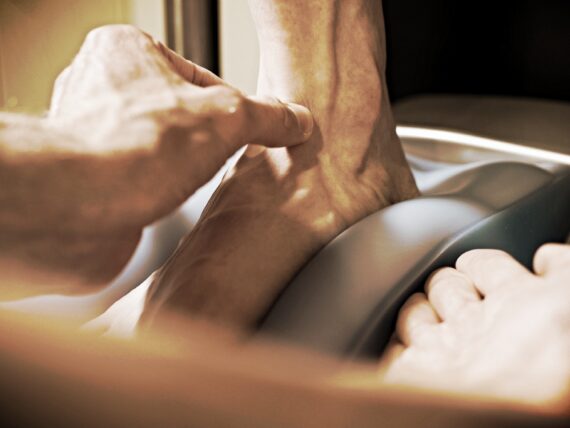 Cyclefit was the first company in the UK to make custom moulded cycling footbeds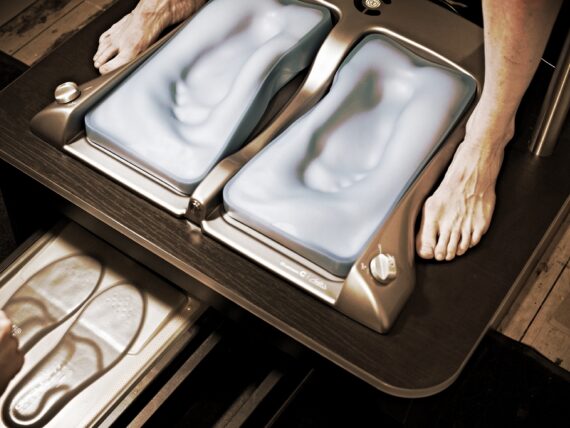 We are now on our 8th iteration of Cyclefit Conformable footbed. Jules tweaks the recipe every 18 months
2004 – Snake Oil Pedlars and Early Adopters
In the early days we were considered to be a solution to a problem that didn't exist. But to many who were overcoming injury, discomfort or a performance plateau, we were also worth a try. Early adopters were triathlete Andrea Whitcombe, multiple National MTB Champion Jenny Copnall and Pro rider Nicole Cooke. Nicole came to us on the comeback trail after a knee injury and subsequent surgery. Nicole was one of the most professional and inclusive riders that we have ever worked. An inspiration in the way she approached her craft and interacted with those around her. She pushed us to think deeper and work harder on her behalf. We were honoured to be remembered when she won Olympic gold at Beijing.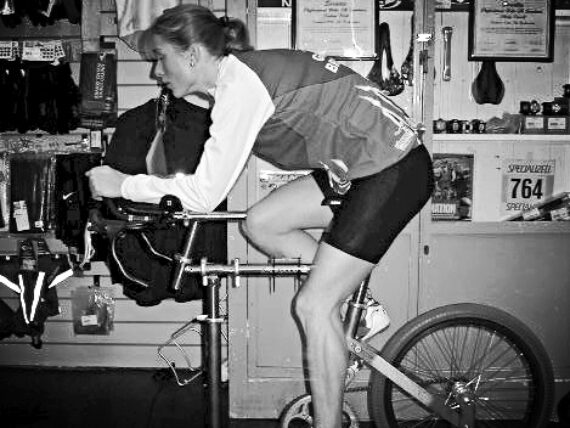 Andrea came to Cyclefit before we even built the studio!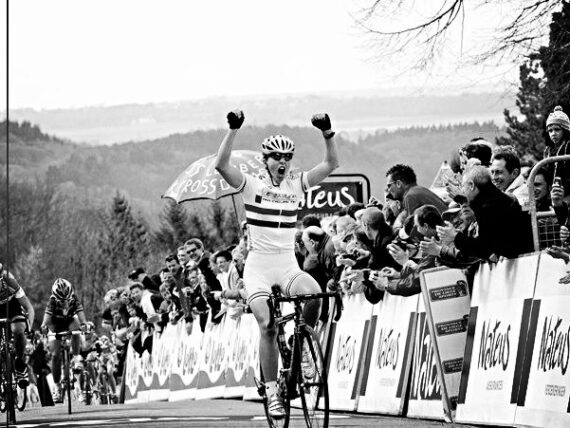 Nicole was one of the first pro riders that we ever worked with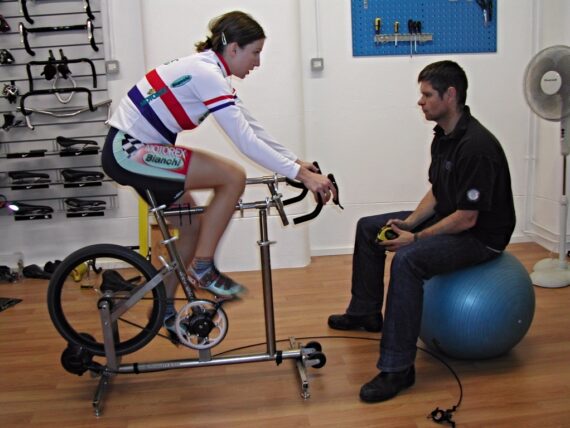 Phil works with Jenny Copnall in the brand new fitting studio 2003
2004-2005 – Motion Analysis and SpinScan Pedal Analysis
Cyclefit was the first company in the UK to use motion analysis and SpinScan pedal analysis for commercial cycle-fitting. The human eye works at 12 frames per second. Motion capture can run up to 60 frames per/sec, so by slowing things down we can often see more nuance in dynamic motion and thereby offer better feedback to the client. We originally used Silicon Coach software and changed to Dartfish in 2009 in both fitting studios. We still maintain that expensive tools are a useful adjunct to a professional fit. The best tools an experienced technician has are their brain and eyes. Tools will never in themselves replace the properly trained and experienced technician. Motion analysis does however provide excellent feedback about dynamic pedalling patterns and cycling posture. We think that Dartfish is the most precise and versatile software available. If you are interested in the difference between Cyclefit and Retul you can read our recent journal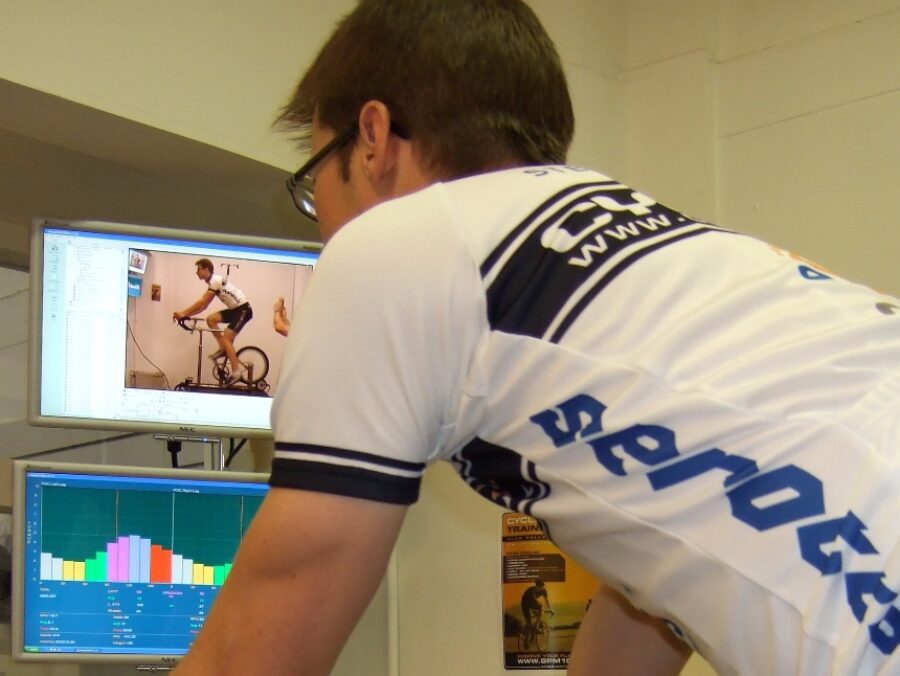 Ex-Cyclefitter and ace criterium rider Warrick Spence reviews a dashboard of early SpinScan and Silicon Coach motion capture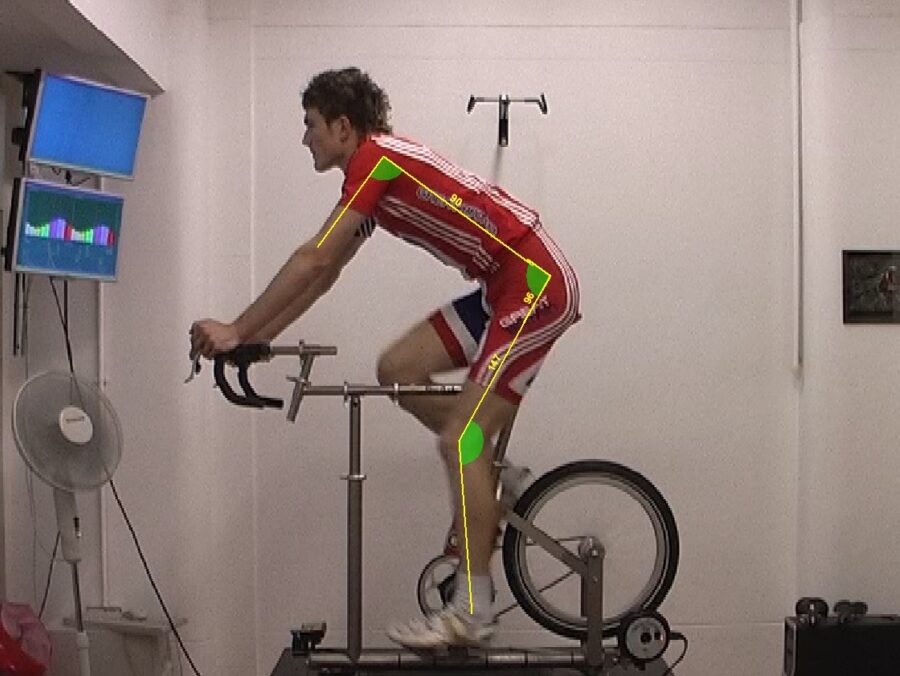 Everyone loved the feedback that SpinScan pedal analysis offers
2006 – International Master Bike Fitters Association
Jules and Phil become used to collecting air-miles to stay abreast of new developments in fitting and identification of best practice. The subject was so young and moving so fast that a handful of people held the future of fit in their hands. We were very fortunate to be counted among those early pioneers. Cyclefit with six other other international companies who were world renowned for bike-fitting excellence, started Master Bike Fitters Association over ten years ago. This group were christened The Sultans of Fit by Ben Serotta and included: Paul Levine (Signature Cycles), Paraic McGlynn (Cyclelogic), Ian Buchanan (Fit Werx), Chris Soden and Chris Jacobs (SICI)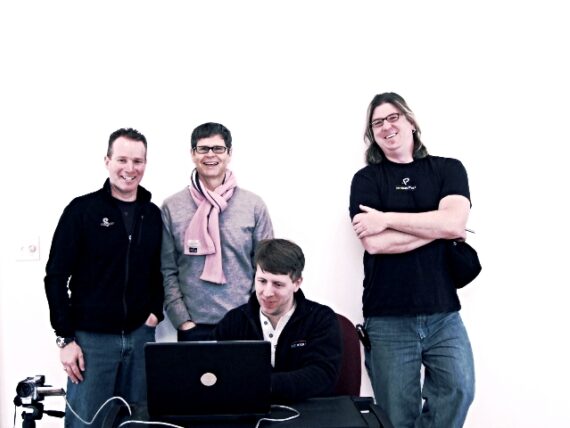 Phil with Paul Levine, Chris Soden and Ian Buchanan. Four of the original Sultans of Fit!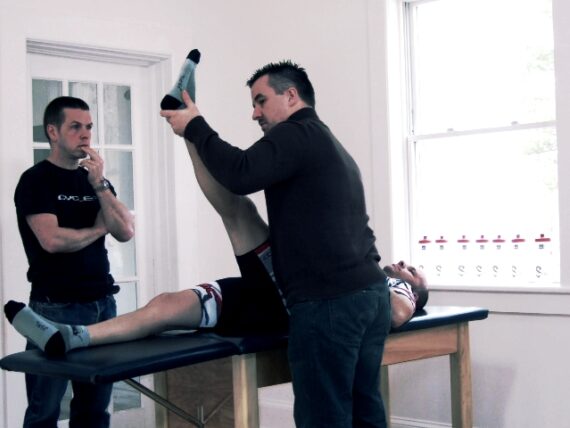 Jules and Paraic McGlynn thinking through Functional Movement Screening at Sultans of Fit Conference in New York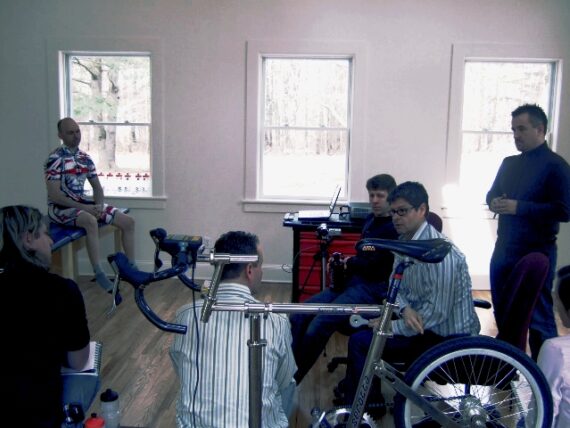 The Sultans of Fit made a determined effort to meet up once a year to push forward the subject on the basis of collective learning.
2008-2009 – Cyclefit Fit School
Cyclefit started the first European fitting school in 2009. Remember we always vowed to be chefs that shared our recipes? Over the last eight years Cyclefit has hosted courses in: bike-fitting, foot-mechanics and adjustment, pressure-mapping and motion analysis.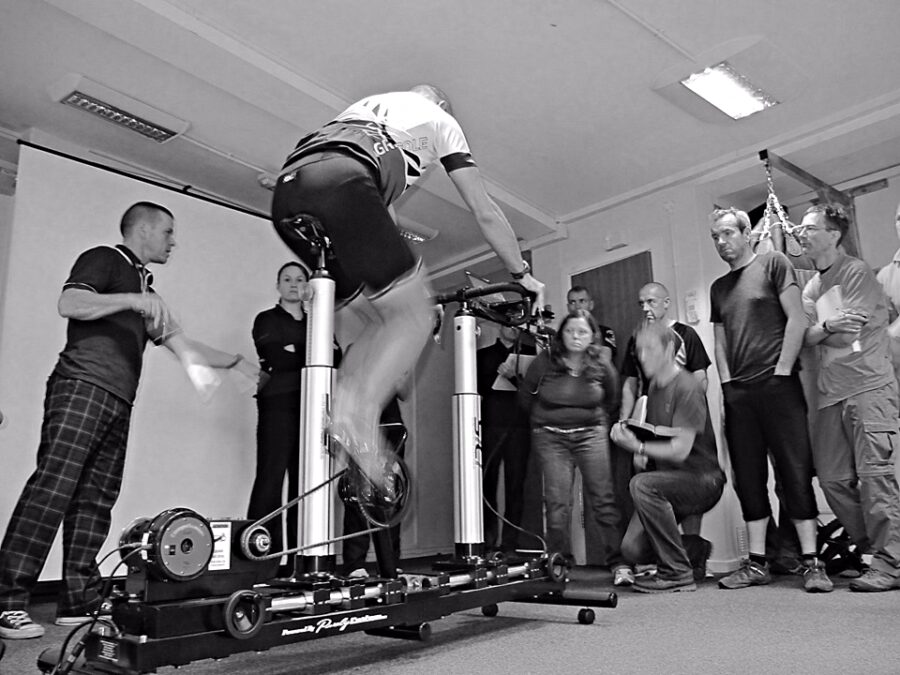 Jules instructs an early Cyclefit class
Day 2 of class and the pressure increases!
2010 – Trek Precision Fit School
Cyclefit has been working with Trek since 2009 to devise and deliver a practical fitting syllabus and Trek Precision Fit service in the UK and then from 2012 all over the world. Trek have a cutting-edge teaching facility at their head office in Milton Keynes. Trek classes have trained hundreds students at the time of writing and is therefore making a huge contribution to raising industry standards. Trek Precision Fit classes work well with Trek's customisable Project 1 product. Cyclefit is proud to represent Trek Project One road and tri bikes at Covent Garden.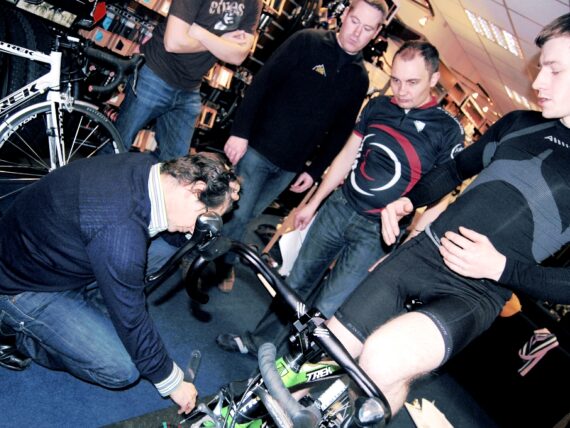 Phil teaching on first ever Trek Fitting Course in 2010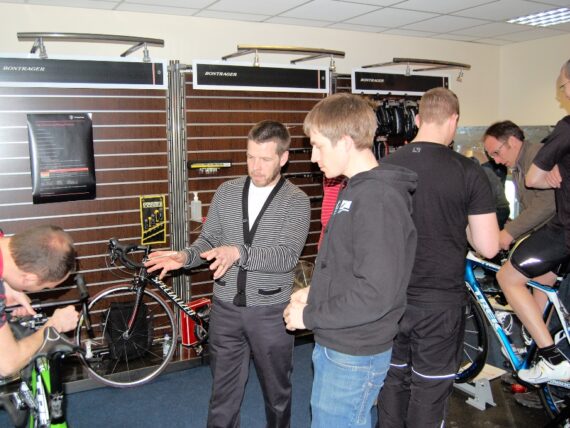 Jules teaching on first ever Trek Fitting Course in 2010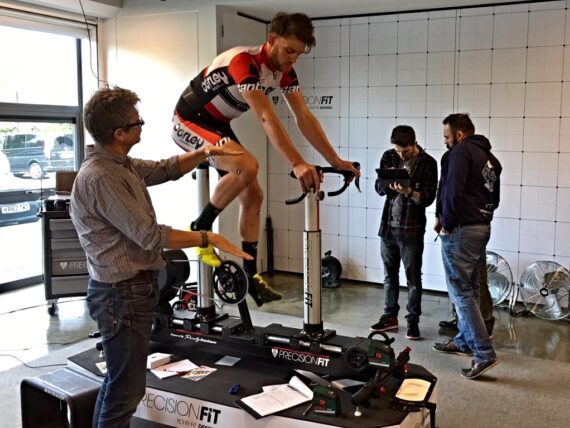 Phil teaching on a Trek level II Technology Course Dec 2016
2012 - 2017 – ICS - International Cyclefit Symposium
In January of 2012 Cyclefit organised and hosted the inaugural 2012 ICS - Speakers and delegates from all around the world met in London to discuss the science of bike fitting and cycling biomechanics. We have since run ICS2013, ICS2014 and ICS2016 past speakers now include: Keith Bontrager, Dr Jeff Broker, Phil Burt (Sky, Team GB), Graeme Obree (Legend), Prof Steve Peter (The Chimp Paradox, Team GB / Sky), Dr Scott Drawer (Team GB / Team Sky), Dr Andy Pruitt, Dr Mark Timmerman, Ben Serotta, Paul Swift, Graham Anderson, Paraic Mcglynn, Todd Carver, Prof Jim Martin, Prof Tom Korff. View ICS16 Gallery
2012 – Pressure Mapping
Cyclefit became the first fitting company in the UK to use saddle and foot pressure mapping by our good friends gebioMized from Munster in Germany. Pressure mapping is essential in world-leading fitting studios to put accurate contact metrics to pressure that clients are reporting.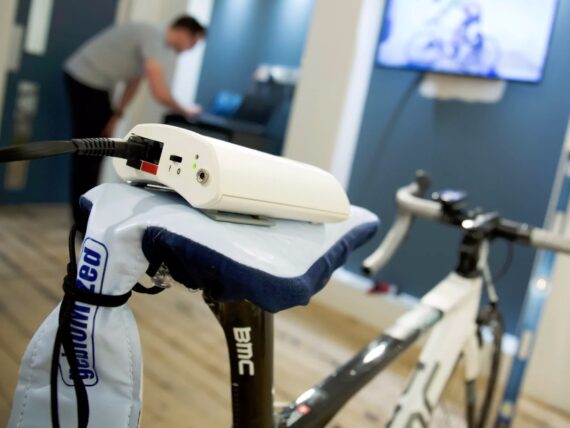 Cyclefit was the first company in the UK to use pressure mapping, from our friends gebioMized, Munster, Germany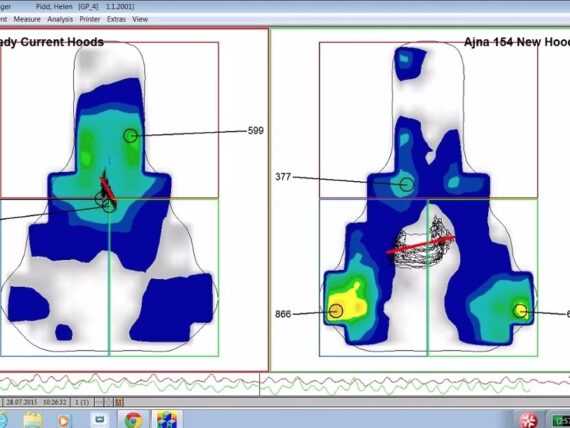 Helen Pidd from The Guardian tried our pressure mapping service before The Rapha Manchester to London ride. We were able to help - Read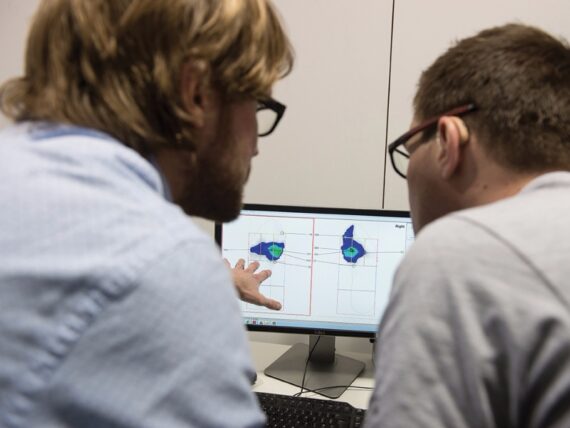 Here Cyclefit Podiatrist Mick Habgood pressure maps a client's feet
2012 – 2016 Cyclefit are Technical Partners to Trek Factory Racing / Trek Segafredo
As Team Radioshack becomes Trek Factory Racing at the end of 2012, Cyclefit is retained to provide professional cycling analysis to the team. Jules and Phil led a small team from Cyclefit to bring in client-centred, audit-led, best-practice to riders such as: Fabian Cancellara, Jens, Voigt, Frank and Andy Schleck etc. We maintained this support for TFR and later Trek Segafredo until 2016. It was a wonderful experience to be embedded within the team for all those years.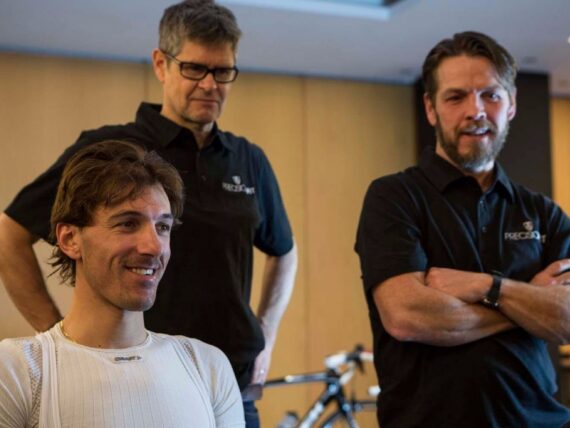 Every day had to be your best day when working for a legend like Fabian. No detail ever left unexamined. Inspirational!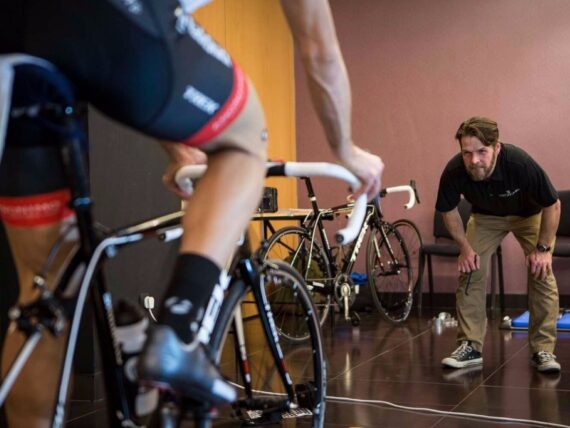 We would always take every available technology. But sometimes an eye and laser is all you need - Calpe 2015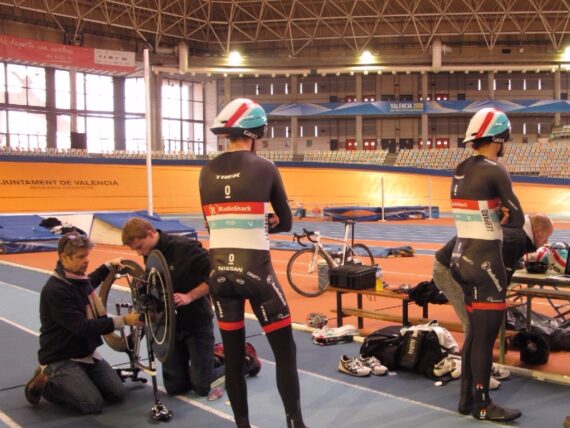 Track time is always precious. Here Phil is involved in testing positions and components and frames for minute CdA advantage at Valencia for Fabian Cancellara and Andy Schleck Dec 2012
2015 - Present Day -Technical Partners for Team Matrix
We were immensely pleased to be asked to support Matrix Pro Cycling elite women's cycling team in late 2014, going into their 2015 season. Cyclefit is fast approaching parity between men and women clients, because of an explosion in women's competitive and fast recreational cycling. Working with Team Matrix and latterly Team Drops has driven us harder to make women everywhere faster, more effective and comfortable on their bikes, whatever kind of riding they are doing.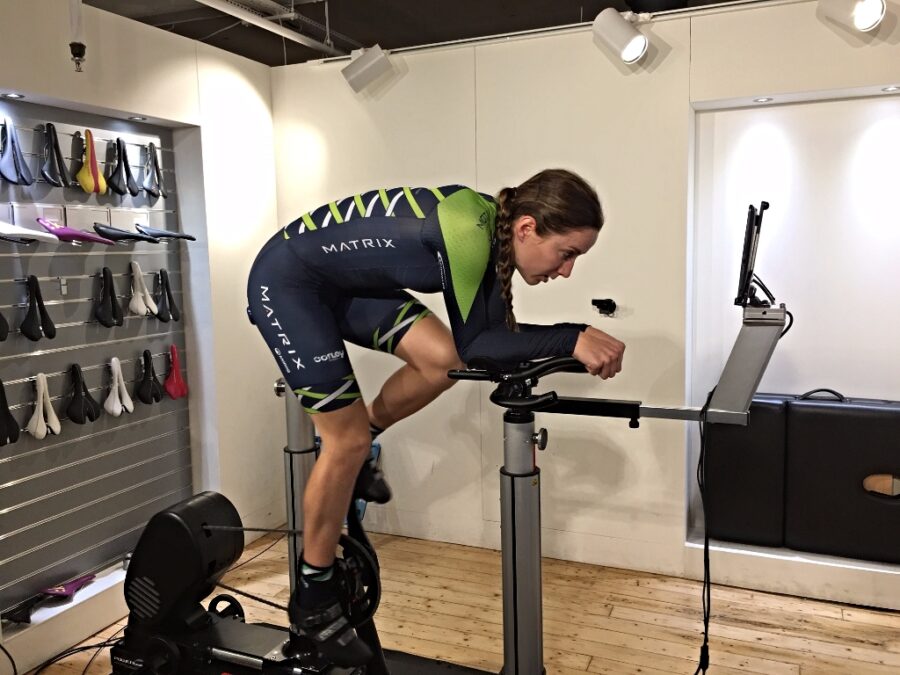 Elinor Barker works at Cyclefit Manchester on her TT position - Autumn 2016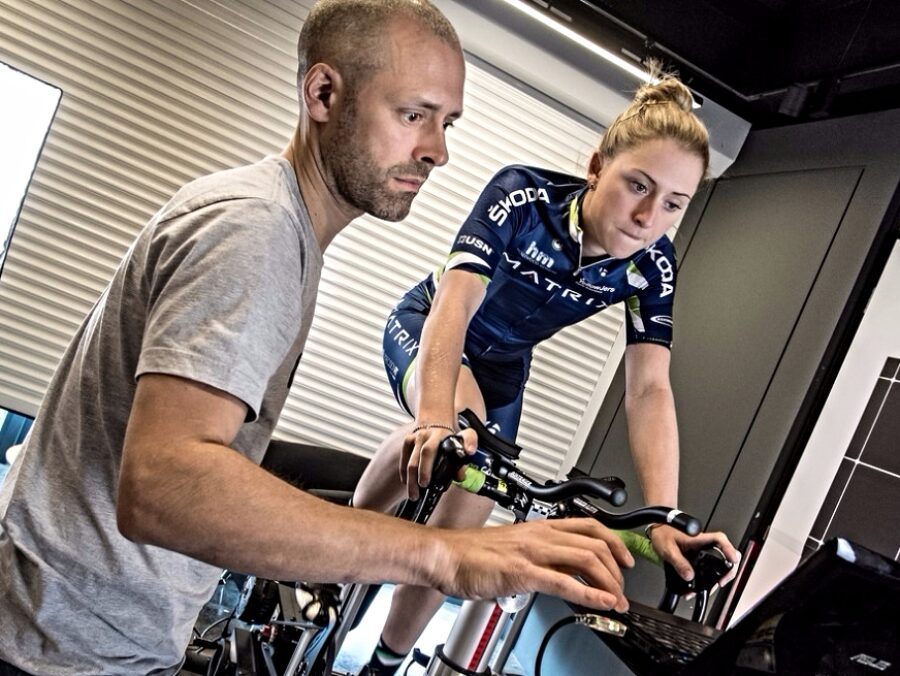 Jimmy Wilson from Cyclefit Covent Garden works with Laura Trott (Kenny) on her road position
2013 – 2016 Trek Technical Consultants
Cyclefit signs a three year Technical Consultancy with Trek Bicycles to lead the introduction of a world-wide syllabus for Trek Precision Fit and also provide cycling analysis and fitting for Trek's professional cycle teams, including Trek Factory Racing.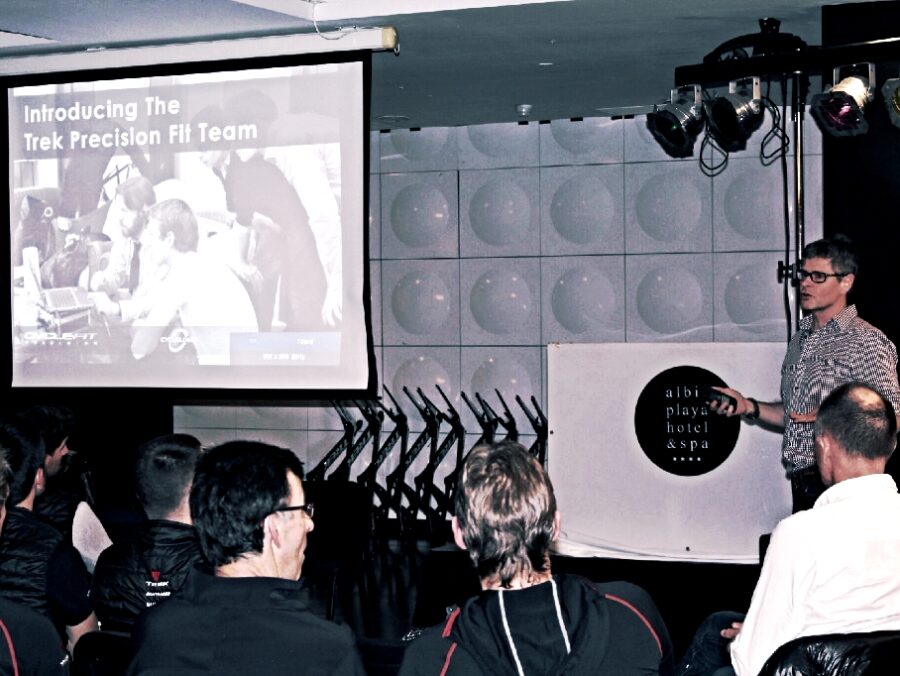 Phil gives a presentation to Trek Factory Racing 2014 (Jules on screen)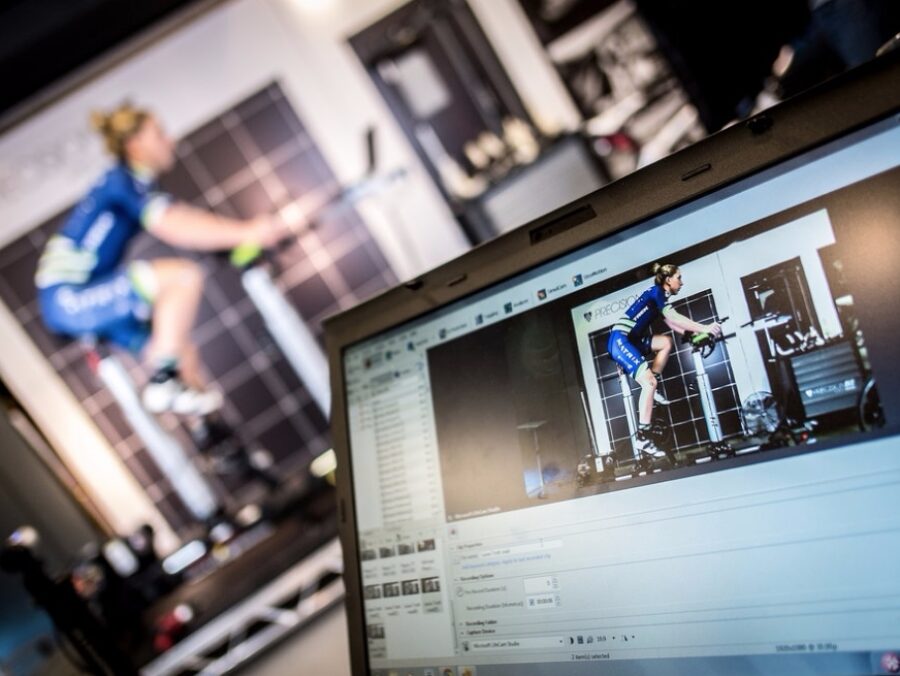 Cyclefit consulted on Trek's Precision Fit courses and also TFR team support
2016 - 2017 Technical Partners for Team Drops
We are thrilled to be Team Drop's Technical Partners. With a full squad of 18 riders and racing all around the world, we have been kept endlessly busy getting all the girls optimum road and TT positions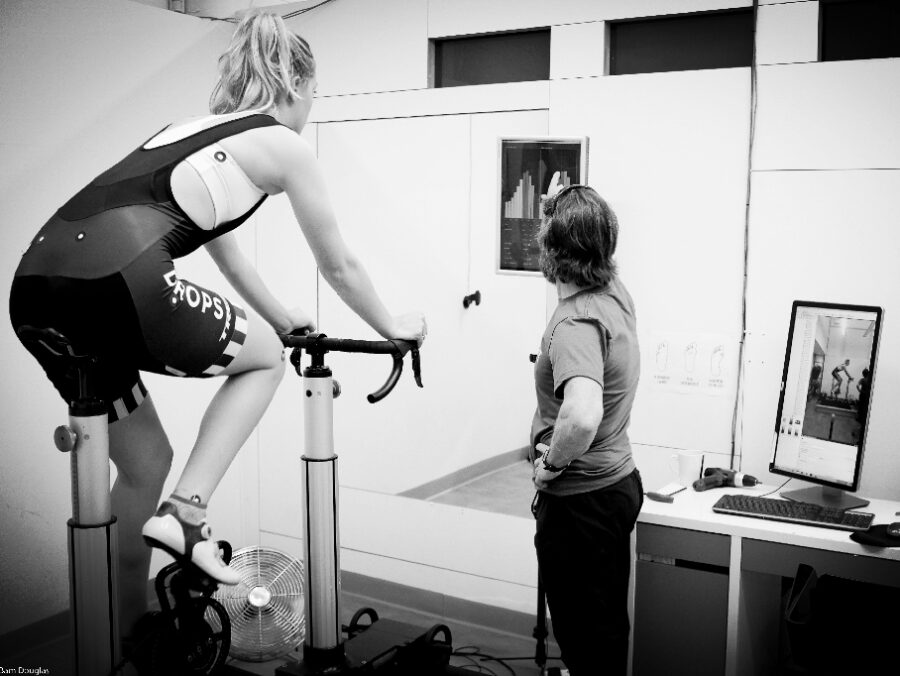 Jules works with Lizzie Holden before 2017 season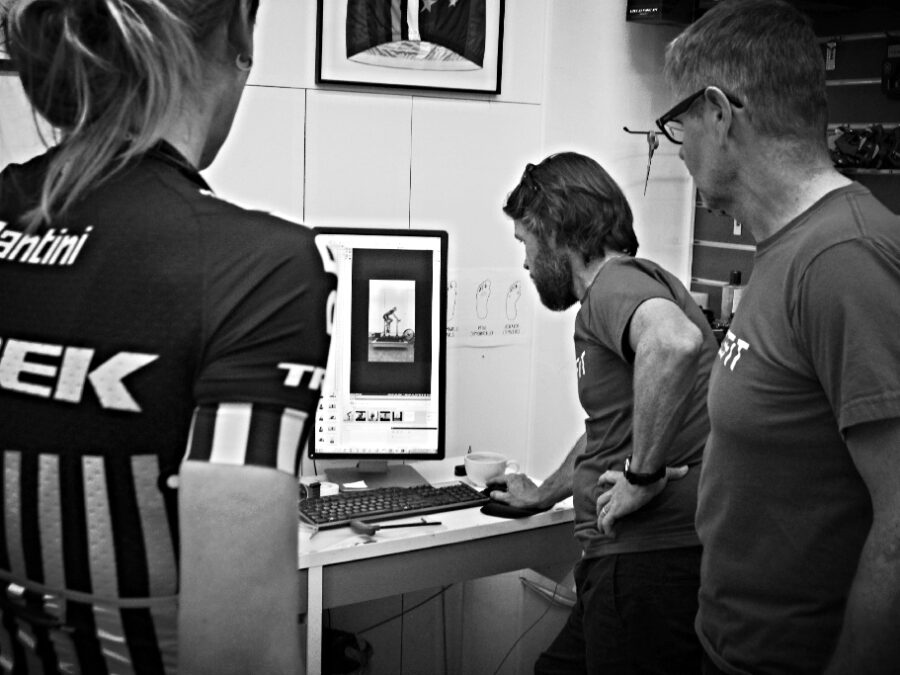 Often two minds are better than one. Just like 22 years ago!
2017 - Lecture at The Royal Society of Medicine
It was fantastic to be invited to speak at The Institute Sport Exercise and Health Conference at Royal Society of Medicine, Jan 2017, by organsiser Dr Courtney Kipps. Sharing a cycling injuries module with colleagues Dr David Hulse, Michael Crebbin (physio) and Dr Courtney Kipps, showed how bike-fitting can absorb responsibility for tracking underlying se in cycling and triathlon injuries.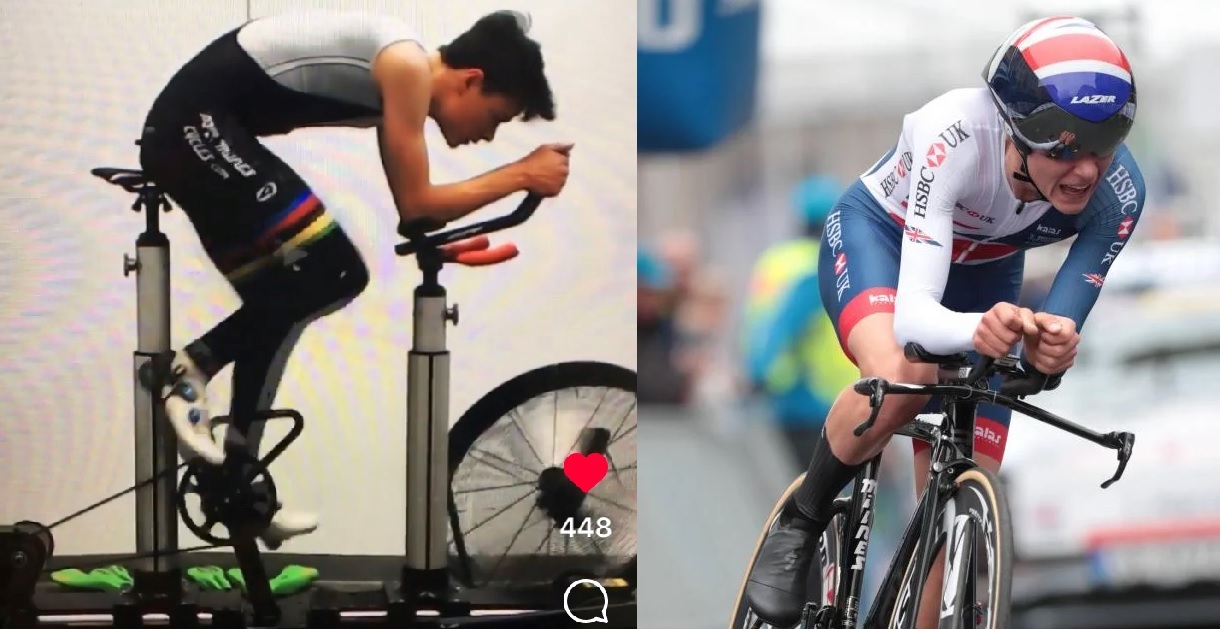 Tom Pidcock's TT Cyclefit with Julian was only a few days before the World Championships
September 2017 - Tom Pidcock wins Junior Worlds TT
Julian had been working with Tom Pidcock for a couple of years - but primarily his road and cyclo-x position. Tom came down to Cyclefit under a week before he flew out to Denmark to represent Team GB in Junior World Championships TT. Even so, Jules was convinced that he could win. He was right! Fun fact - Cyclefit worked with 10% of the 2022 Tour de France Peloton.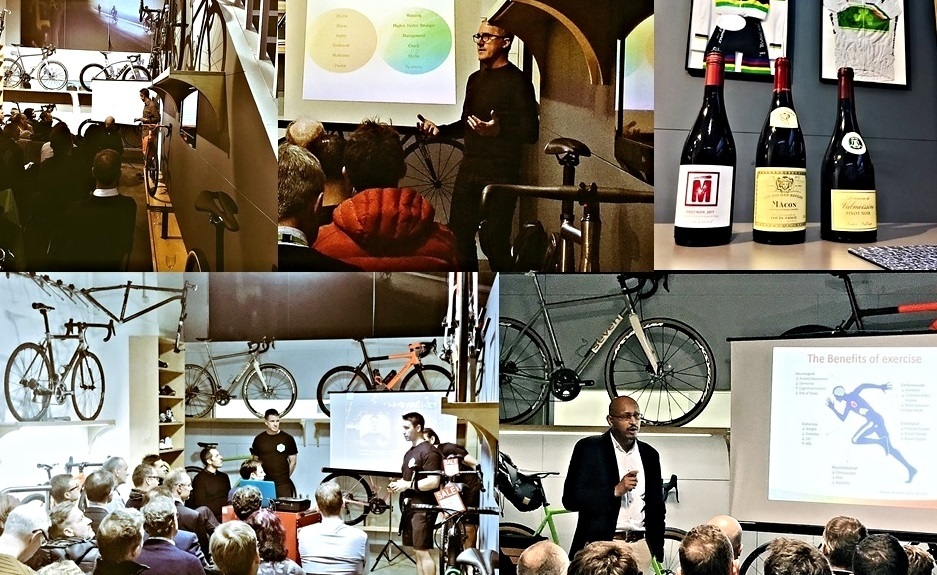 February 2018 - The Midlife Cyclist lecture Series
Phil started researching and writing The Midlife Cyclist in 2017 (during a sabbatical for back-surgery). Which informed and shaped a fascinating Midlife Cyclist Lecture Series. The series ran for two years and hosted truly breathtaking and ground-breaking speakers. And a good deal of very fine red wine was drunk!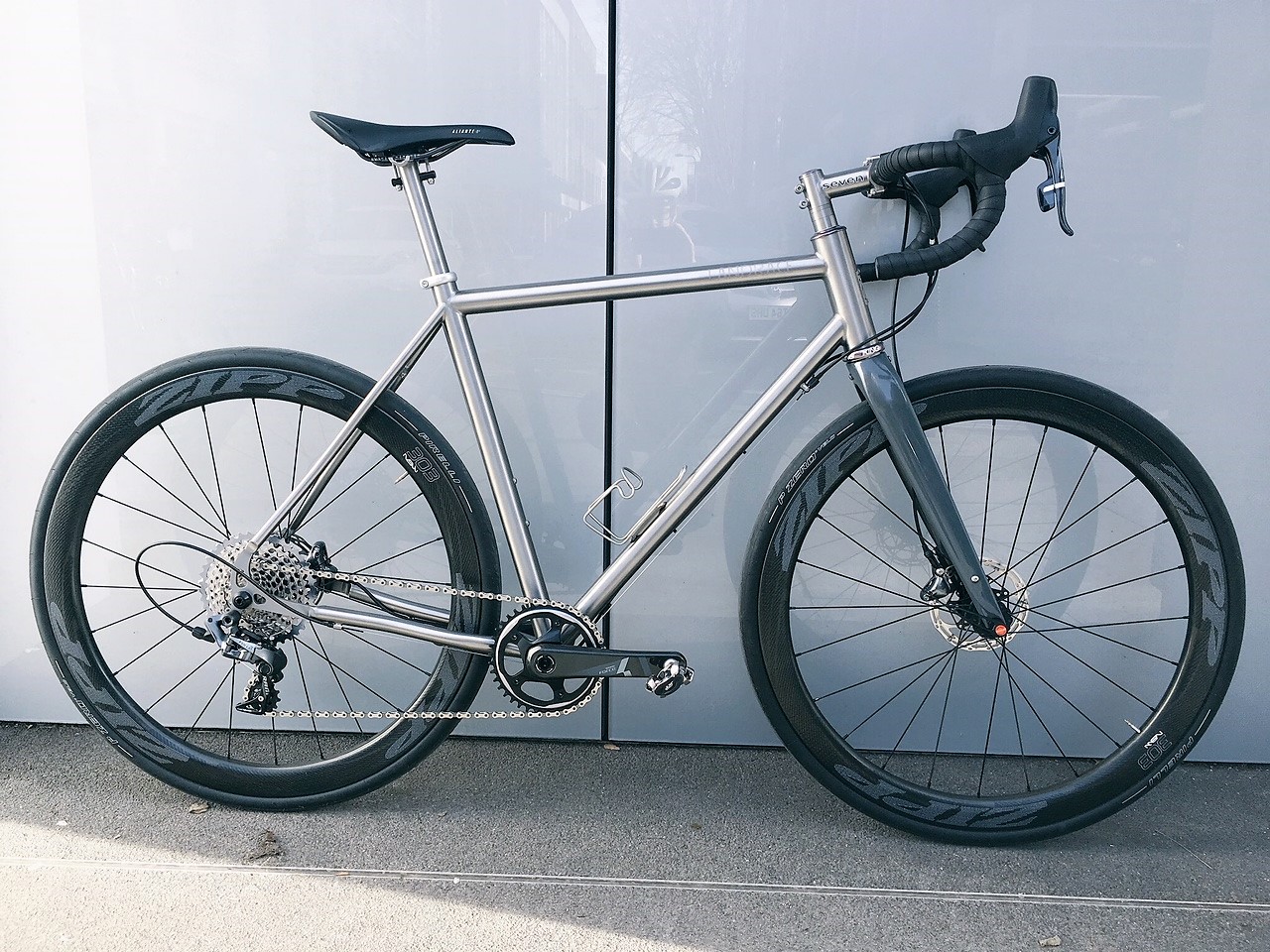 Our first prototype Landrace - 2018 - made by Seven Cycles in Boston
Landrace Bicycles by Cyclefit
The idea behind Landrace was to design and build a small and authentic range of bicycles. That would help people move efficiently in the world, over their chosen terrain, with a small footprint. Our first Landrace was made for us by our great friends at Seven in Boston and was made of US milled titanium. The pandemic put Landrace on hold as we all locked down. But now we are planning a UK built steel Landrace as well as US made titanium models.