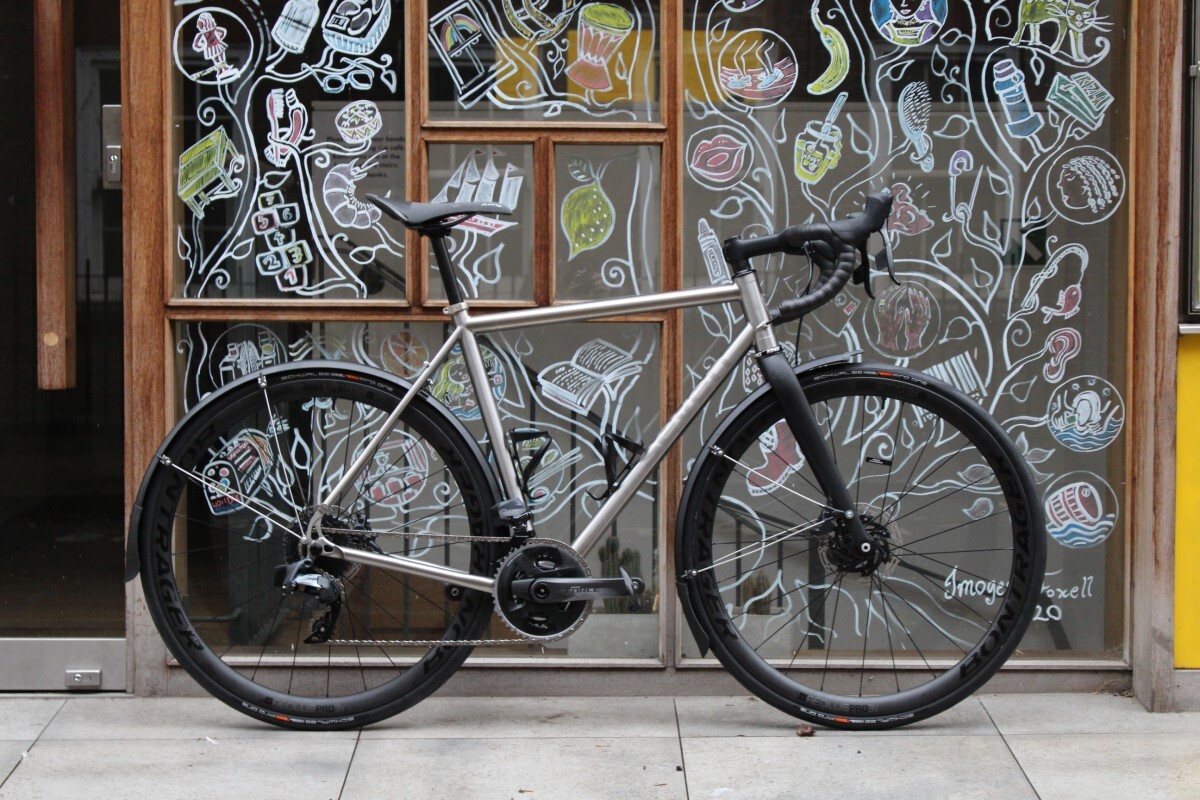 Firstly, apologies for the blurry pics, it was so dark outside when we took the photos but we needed to take them before the bike was sent off to its new owner.
This is a new mix on Seven's popular double butted SL frame incorporating internal brake hose routing and the 7/8" chainstays. Overall the bike is comfortable, quite and compliant. The tubing is selected based on the rider's weight by Seven Cycles to give their legendary magic carpet ride even over them roads of North Kent.
The groupset is SRAM Force AXS eTap Disc with Quarq powermeter, accurate and easy shifting with the large paddles even with your winter gloves on. The wheels are carbon Bontrager Aeolus Pro 3v's using DT Swiss hub internals and with an internal width of 25mm to fit wide tyres, in this case Schwalbe's Pro One's in 30mm. The large air chamber means increased air volume so more sealant can be put in for better puncture protection.
The cockpit is a combination of Bontrager Elite stem and carbon seatpost, the bars are Zipp Service Course SL short reach to compensate for the large SRAM shifters that would normally increase the reach.
Full SKS mudguards for rain protection; even when its raining if your bum is dry and you don't have spray in your face off the front wheel the experience is much better.
This bike was built using the owner's earlier fit data from a previous Cyclefit, we keep everything on file.
Overall, a very nice bike but not too nice to ride through the winter!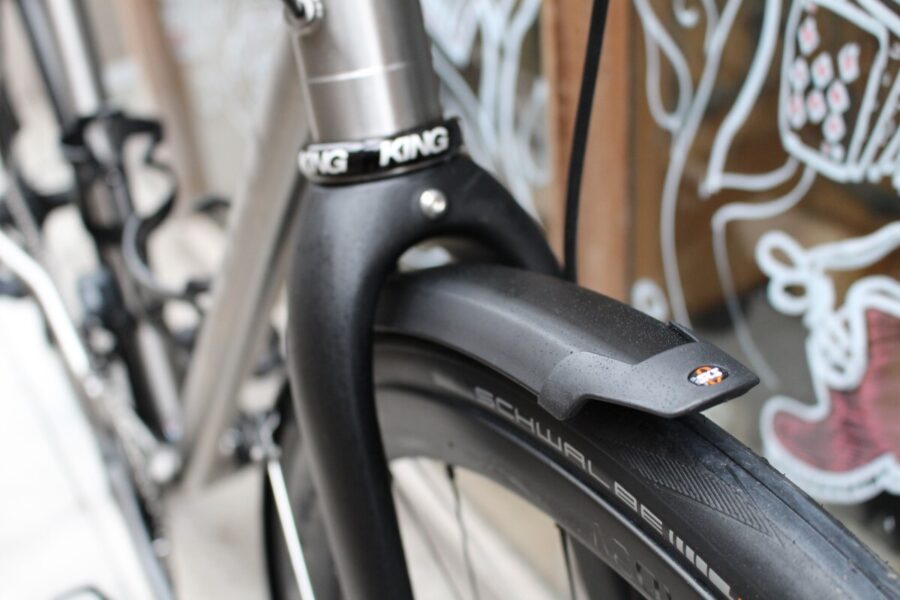 Seven's Matador fork and SKS mudguard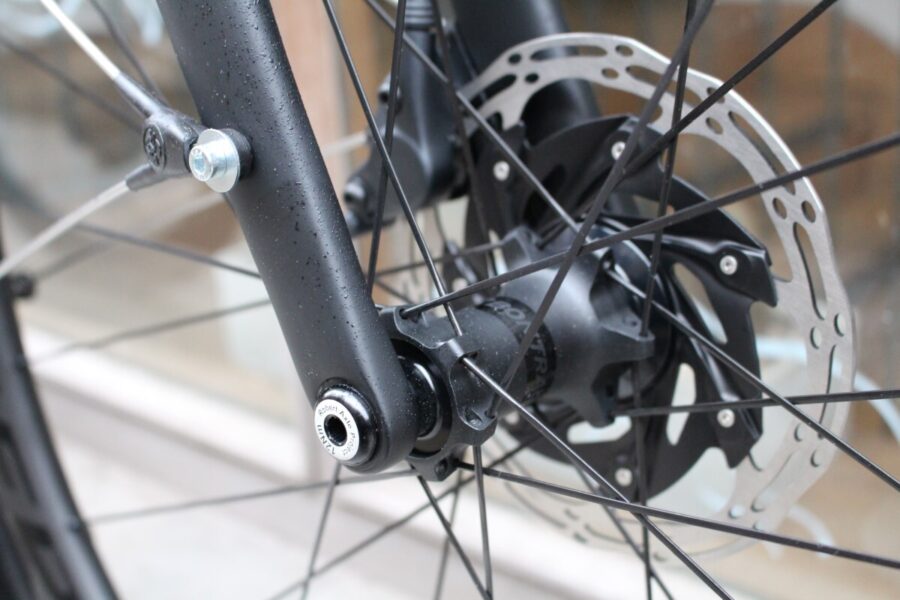 Mudguard braze-ons and DT Swiss hub
"Popped out for 45 mins in rain, flooded roads, mud and perfect conditions for a test drive of a winter bike, the conditions it was designed for! Fit was millimetre perfect and like getting on an old friend. Took a 5mm torque key and didn't even use it ! First impressions were fab - tons of grip on the tyres, super brakes, lighter, real spring in the frame, lots of range on gears, mudguards a blessing. It's a real magic carpet ride, super comfortable. It's a big step forward over classic Indyfab, as I wanted. Thank you so much, feel very privileged to get all your collective expertise and lucky to get the bike given the difficulty to get parts and frames."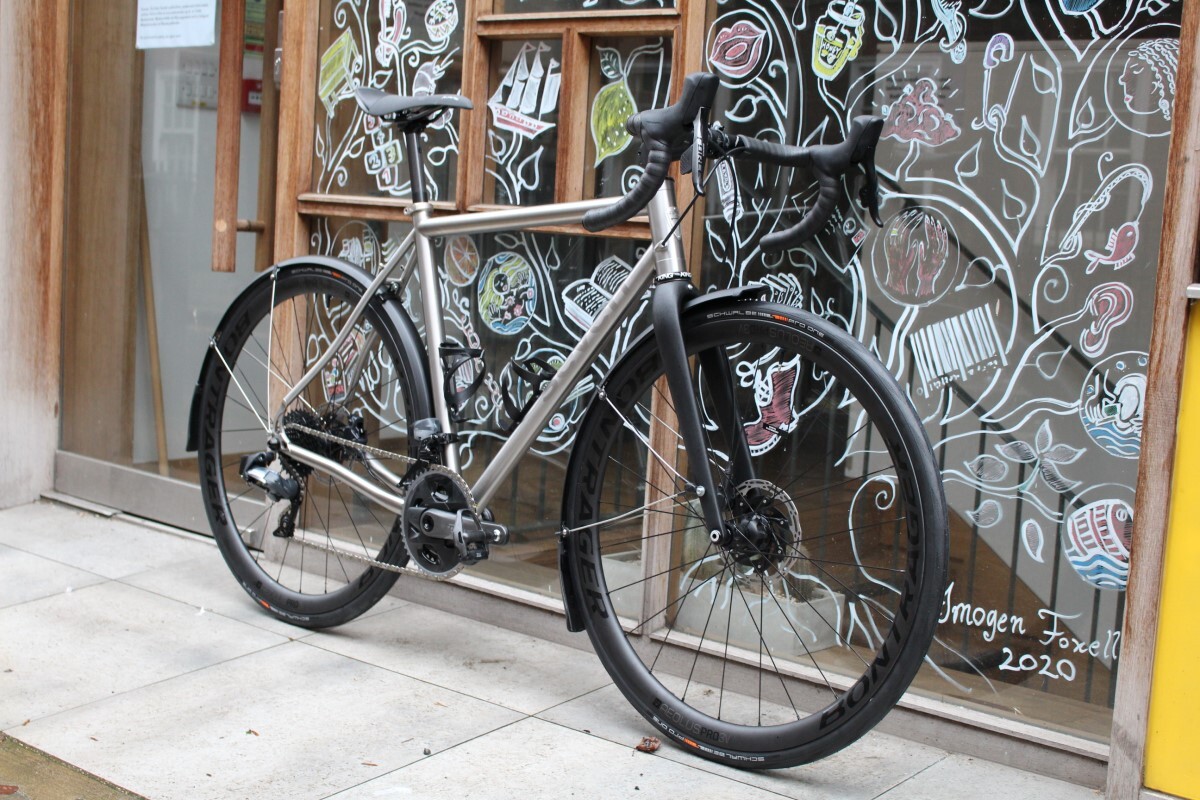 Undeterred by the rain on the horizon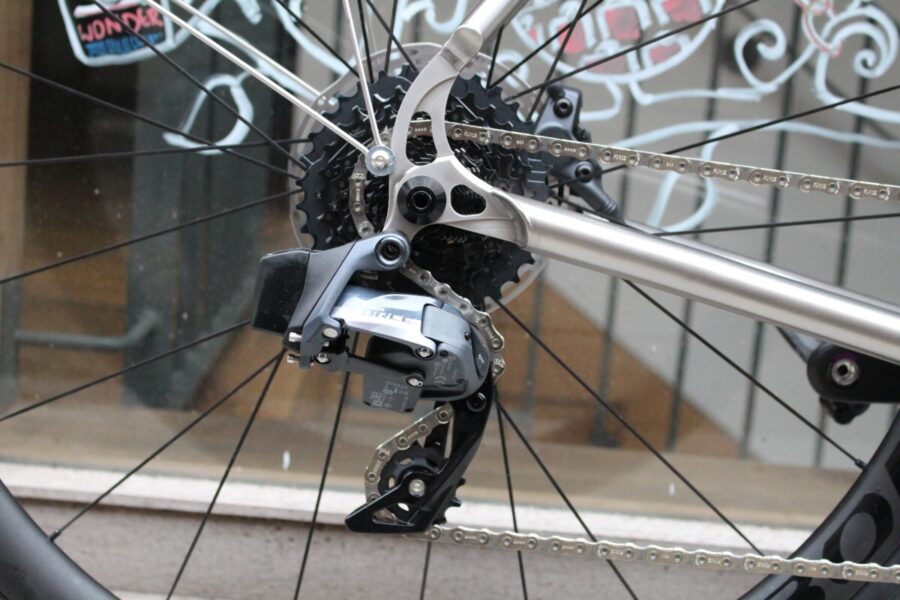 10 - 33 12 speed cassette
with 46-33 front chainrings for one-to-one gears for steep climbs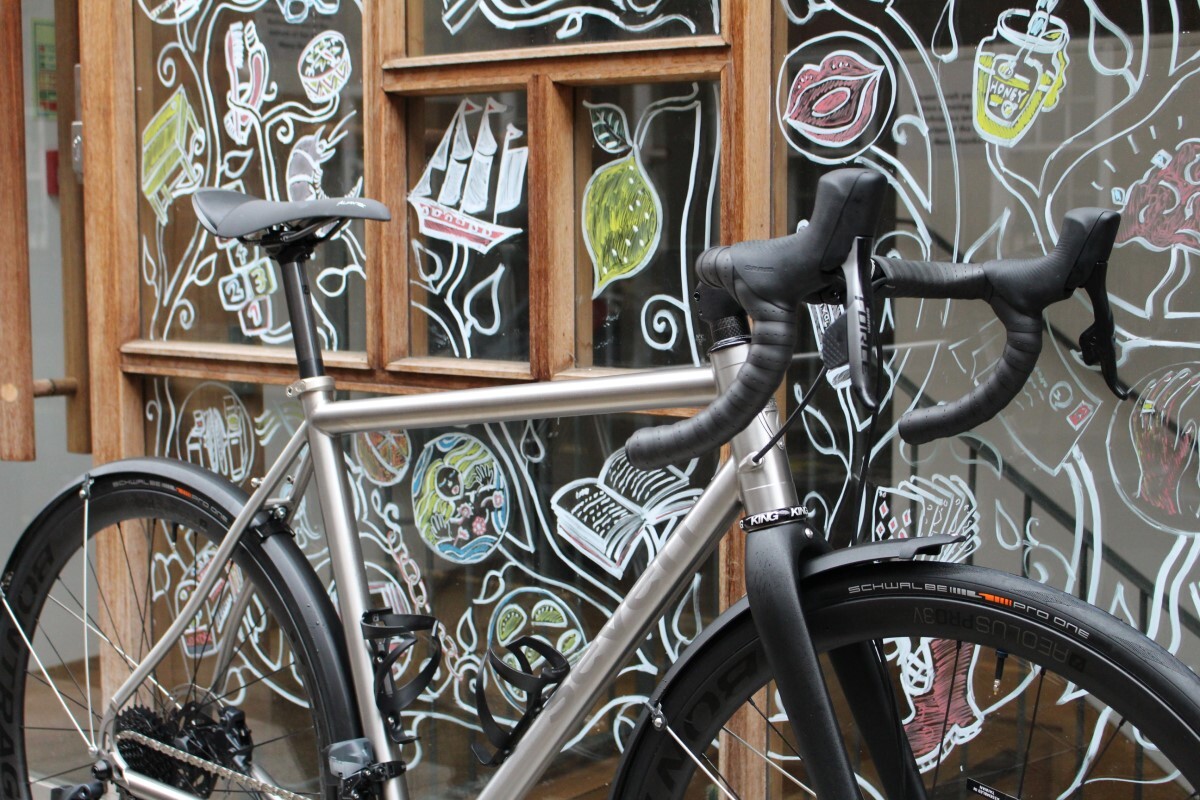 Rider tuned double-butted tube set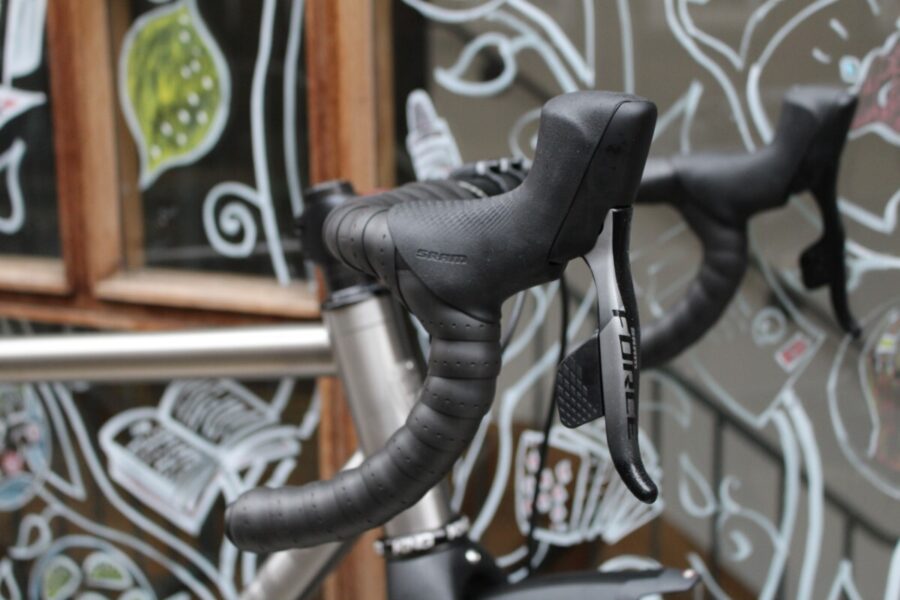 Easy to use SRAM shifters even with cold hands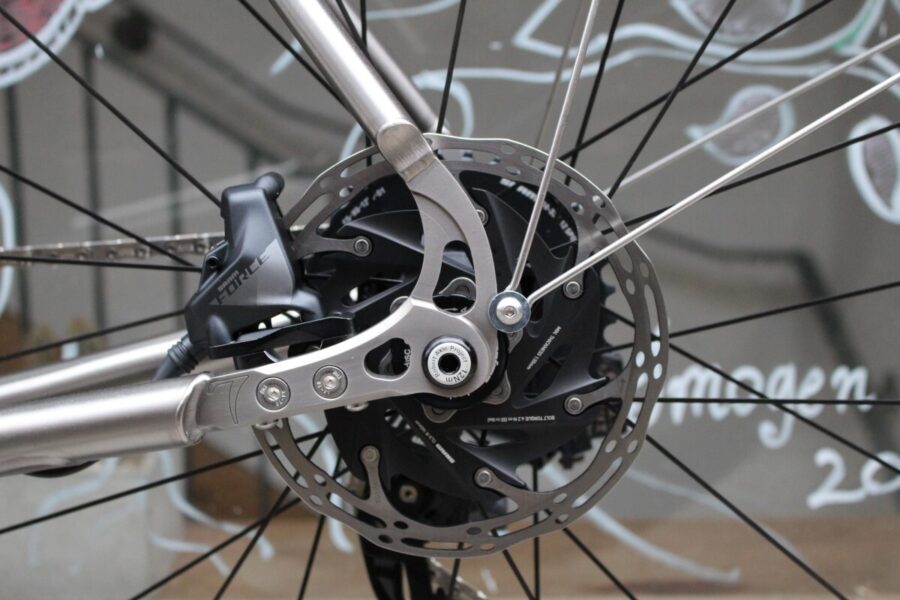 Seven's own beautifully machined asymetric drop-outs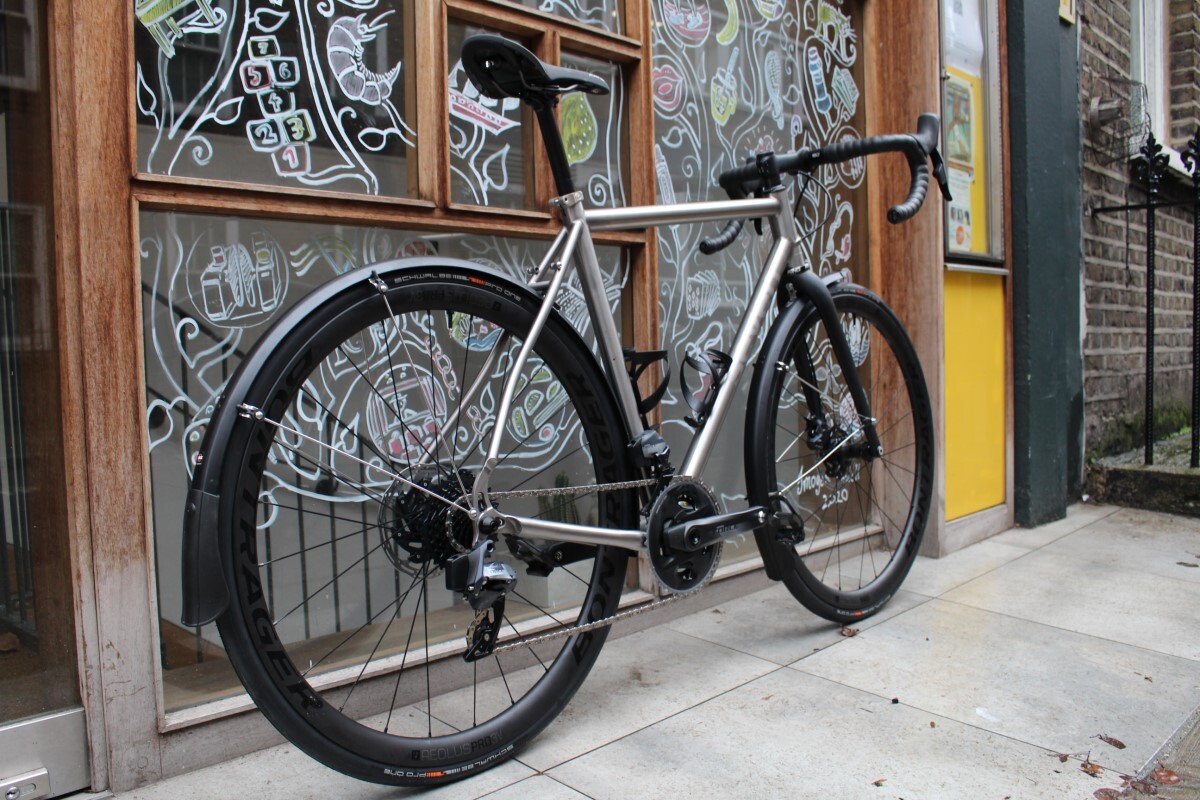 Full mudguards for a happy bottom