2016 Trek Domane SLR
How do you reinvent a bike that itself re-imagined how a race bike should feel? The Original 2012 Domane was shockingly good in concept and execution. Technology, geometry design, materials all blended to give every rider from Fabian Cancellara downwards, more efficiency, comfort and control. The heart of the original Domane was the Iso-Speed De-Coupler which effectively isolated the seated rider from ugly road surfaces.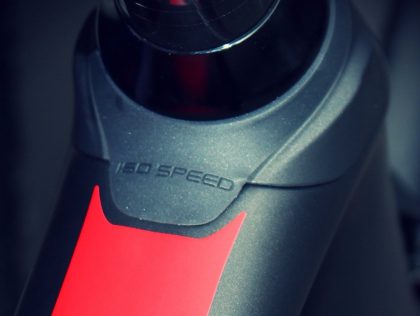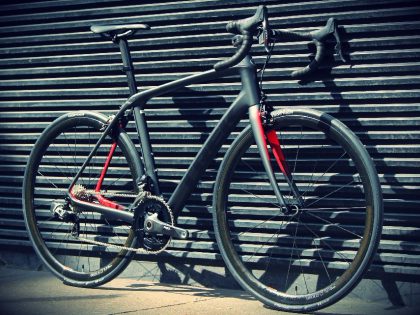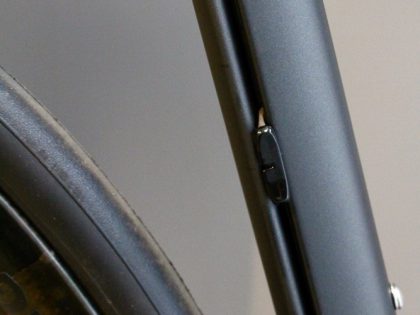 Silky smooth & adjustable rear end
"The lines and graphics of the 2016 bike are vastly superior. I loved the ride of my 2012 model but disliked the way it looked, which hastened our divorce."
2016 Trek Domane SLR - What's New?
New adjustable tension IsoSpeed means that every rider can dial-in their perfect compliance according to the road conditions, weight, mood etc.
Rear IsoSpeed can be made a huge 14% more compliant than 2015 Domane. Itself an industry leader in comfort and control.
Front IsoSpeed - A huge change for 2016. This fixes the most common critique of the original Domane, that the back-end is so plush that it makes the front end feel over-stiff! Front IsoSpeed uses the same decoupler principle, to facilitates steerer tube based vertical compliance of the front of the bike by 10% compared to a traditional road bike. need to know how? Watch our video opposite and Ryan Manders from Cyclefit Manchester will explain everything.
IsoCore Handlebar - A new Bontrager development, constructed with a continuous inner layer of thermoplastic elastomer immersed in proprietary OCLV carbon. the IsoCore handlebar improves damping of high-frequency vibration with a reduction of vibration by 20% over conventional carbon handlebars. It's like having Dolby Noise Reduction on your bike!
Disc Brake Option & Huge Tyre Clearance - Domane SLR is available in caliper and disc brake models. Both enjoy extra tyre clearance, which makes the ride super-stable on any terrain. You can now run 28c tyres on DomaneSLR and 32c tyres on Domane SLR Disc. The caliper Domane SLR features lightweight direct mount brakes while the disc-equipped bikes use12mm thru axles. Both versions include hidden mudguard mounts that have proves so popular with the previous Domane.
Trek Domane SLR 9 eTap
We have test Domane's available to ride in both Manchester and Covent Garden. Our test SLR 9 eTap just scrapes UCI compliance at 6.8kg, which is remarkable for a bike with 28c tyres.
We have been busy hitting every cobble we can in Manchester and London.
"Overall the ride of the 2016 Trek Domane SLR is superior and balanced enough to be classed as a revolution and not an evolution"
The Ride - Phil Cavell
I was early aboard the 2012 Trek Domane I was luck enough to be peripherally involved in early geometry discussions in Wisconsin as part of our work consulting upon Trek's nascent fitting programme in 2009. The discussions were ground-breaking and unusually the bike was even more ground-breaking than the vision! Click on the link and you will see how profound I thought that the bike was for Trek and the industry. Not only because of the IsoSpeed compliance, but because the geometry and ride were innovated to flatter 'normal' riders like me.
2016 - Evolution or Revolution?
Trek are in many ways the epitome of Wisconsin conservatism. Except when it comes to technical innovation and materials research, and then the are furlongs ahead of their more flamboyant major competition like Specialized and Cannondale.
And so it is with the 2016 iteration of their class-leading Domane.
Riding out on Trek's Domane SLR 9 eTap (£7600.00) is not the shock of the 2012 model. But it is remarkably improved in the two key areas it needed to:
*The front IsoSpeed decoupler built into the headtube clips off 10% of road-buzz and vibration compared to a normal road bike and also makes the entire ride more balanced. Heading off over the cobbles in Covent Garden and the entire bike rolls with added symmetry and balance in comparison to my 2102 5.2.
The lines and graphics of the 2016 bike are vastly superior. I loved the ride of my 2012 model but disliked the way it looked, which hastened our divorce.
Overall
Overall the ride of the 2016 bike is superior and balanced enough to be classed as a revolution and not an evolution. The rear isoSpeed is now cleverly adjustable and its softest setting (where I would run it) is a significant 14% more compliant than the outgoing model. That translates into beautiful riding composure over an impressive range of road surfaces. A set of Bontrager Aeolis 3's toughens and stiffens power transference in contrast to as set of Bontrager 28mm R3's which increase footprint and insulation. This recipe of ying and yang epitomises the 2016 Domane's obession that power and control must be bed-fellows rather than either side of a tug-of-war. Very, very clever and satisfying to ride fast in almost all circumstances.
Anything Else
Yes as a matter of fact. as a life-long Campagnolo user and racer for decades it was especially depressing when Campag fell from Ace to Joker post their supreme 10sp Record groupset circa 2010. They added the 11th sprocket at the expense of just about everything else. Shimano came out with Di2 and kicked them while they were down. I love Campag and always will but they have lost a huge amount of ground to the unstoppable force of Shimano.
But let me say this. Shimano should be very afraid because I think etap is better. the ergonomics, styling, specialness and function of eTap is much better for a lifelong campag user, and somehow I don't feel quite so disloyal as I do when I ride Shimano.
Once you get used to the funky right shifter for up and left shifter for down (takes 17 minutes) the you are away. I have always loathed Shimano's ergonomics and especially with Di2 when you have winter gloves on. It makes no sense having the up and down shifter so close together. The real beauty for me is the lack of cables and how clever I feel when I shift both levers to operate the front derailleur. Quite stunning.
My Advice to Campagnolo
My hope is this creates the competition Shimano badly needs and allows Campag to re-group and come again with something truly beautiful. My advice would be don't compete with Shimano orSRAM on technical prowess or performance. Just make something so beautiful we faint.