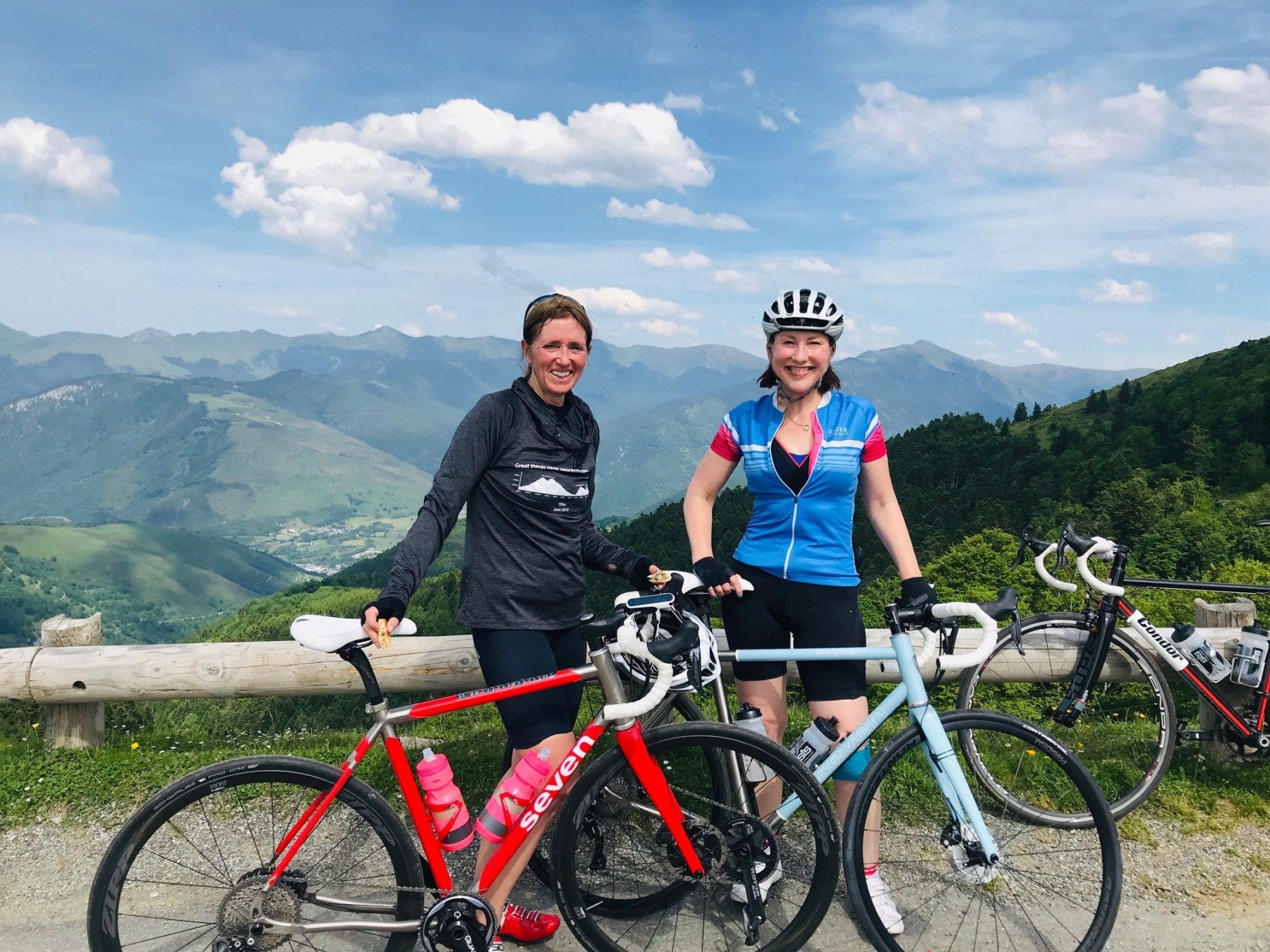 The picture at the top of this page shows two very happy cyclists who have climbed 3000m in one day in the Pyrenees.
Not an easy feat for anyone but it was made much easier by installing a drivetrain on both their bikes that refelected their fitness and aspirations to help them achieve their goals rather than standard 'compact gearing' that is found on most stock road bikes from the likes of Shimano and SRAM.
The groupset and bike manufacturers still have their heads in the sand when it comes to putting gears on bikes that will help normal people ride up long hills or mountains more comfortably, when I say comfortably I mean not in pain, not suffering, not wishing you were back at home, that's the reality of climbing a mountain.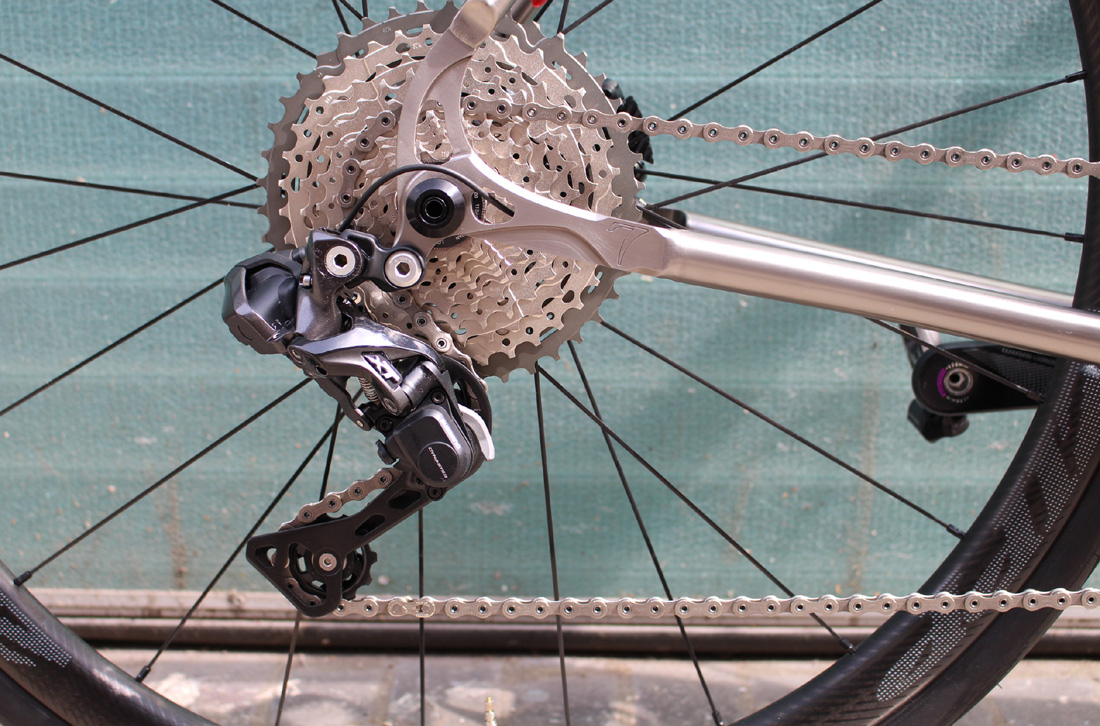 11-42 cassette with Shimano XT mountain bike rear mech
The two custom Seven bicycles pictured above both have 1 x 11 groupsets fitted, it offers a much easier gearing than a standard 2 x 11 set up, allowing a higher cadence on steep climbs with less power required to push the pedals around. It saves the quads, lower back, knees, everything. It makes the day much more enjoyable.
The gearing is based on the Shimano Di2 1 x 11 set-ups we put on the gravel bikes like the Open Ups and Seven Evergreens, the rear cassette is usually 11 – 46 toothed the front chainring is a 40 tooth in this case but can range from 38t up to 50t if required. The easiest gearing on most bikes currently is 34/34 that's a 1:1 ratio. Cat and Amanda's gearing offers around a 25% smaller gear for climbing and when on the flat and rolling the chain is in the middle of the cassette, most of us can't pedal hard enough to run out of gears, the average speed of most cyclists is around 27kph/18mph so most of the smaller cogs at the back are redundant.
The argument we hear against the 1 x11 option on road bikes is that the 'jumps' between the gears are too big and it will be difficult to maintain the correct cadence; there is an argument here if you ride in fast groups on the flat but for most of us it doesn't matter, oh, the other argument against is that the rear cog looks too big! Where the 1 x 11 does excel is in hilly area like the Chilterns or the North Downs; there is no longer a need to switch between the big ring and small ring for the ups and downs, the rider only change gear at the back. It is much easier and you are never on the wrong chainring.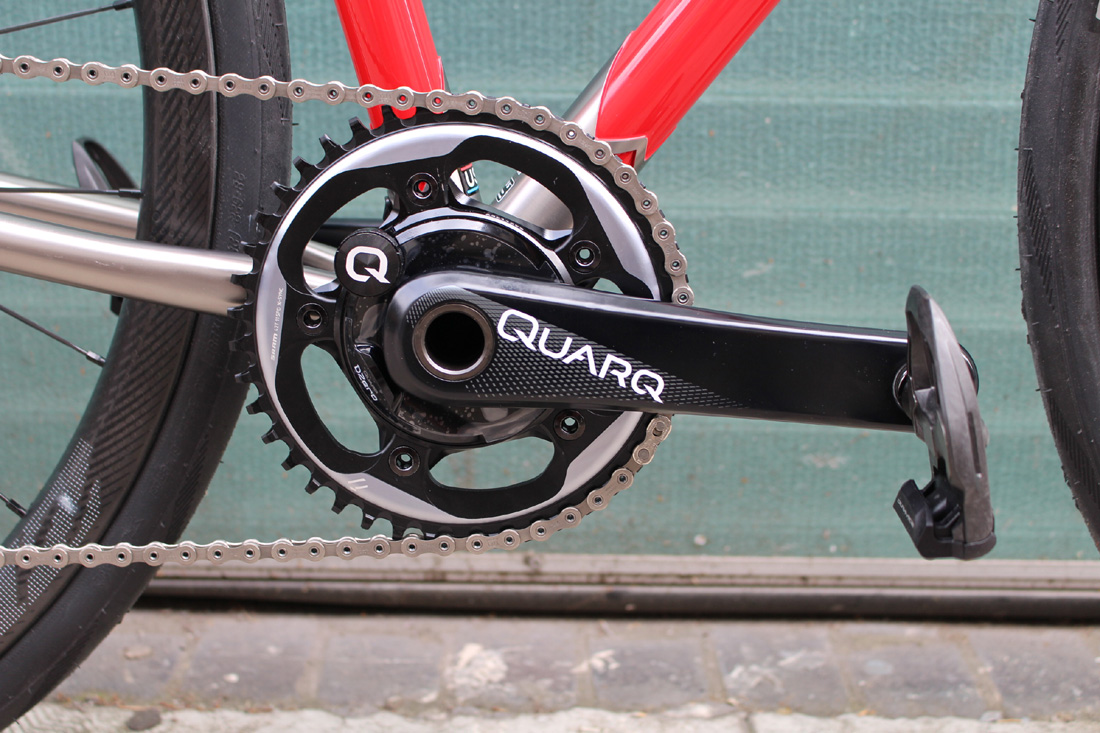 Quarq powermeter with single chainring
The invention of the 50/34 compact chainset several years ago meant that more people could ride up steeper roads than before; the standard gearing before that for the road bike was 53/39 tooth (in fact I remember riding through the Pyrenees on a touring holiday with a smallest gear ration of 42/26; I spent a lot of time standing up and if I stopped it was very hard to get going again).
It could be better though, keep the 34 chainring and put a 40t cassette on the back and fit a big ring with 46T, that would work better for us.
It's what SRAM claim to have done with their new AXS eTap groupset but they missed a great opportunity to gain to serve the people by still only offering a 1:1 gear ratio, the lowest being 33/33. Maybe its because the majority of people who work in the cycling industry are young, fit males and there is still that elitism there that the marketing companies claim there isn't. Actually, it is still there as the top-end Shimano groupsets (Dura Ace) have harder gears than their lower spec groupsets (Ultegra and 105) the biggest cog on a Dura Ace cassette is a 30t compared to the still mean 34t of Ultegra and 105; there philosphy is that if you can't pedal a bike you can't have the best equipment, go on a diet!
Both SRAM and Shimano make mountain bike groupsets so I struggle to understand why the bike shops have to do the thinking for them, and as for the bike manufacturers they are just cowards who dare not move away from a mediocre formula for fear of losing sales.
Going back to SRAM for a minute they can combine their new AXS eTap road levers with their mountain bike rear mech that can handle a 50T cassette but they decided not to let anyone have it yet, the parts are not available to order separately. SRAM currently offer a 1 x12 option but as the rear cassette only goes up to a 33T it is pretty much redundant.
Chainline
The chain runs smoother and with less resistance when it runs parallel to the bike, there is also less wear and tear; if the chain starts to run diagonally there is more friction. Most people most of the time ride in the 50t ring by default with a diagonal chainline as the gears are too easy on the flat in the 34t chainring. In some instances riders ride from 'big to big' as its known putting a lot of strain on the rear mech and probably needing an extra 10 watts of effort to move the chain. Apart from the unwnated friction it also increases wear and tear on the components.
The solution obviously is to fit a smaller big ring like a 46t or 48t that would suit most of us much better. Choosing your gearing for where you ride and your fitness is a much better solution.
Smaller, innovative companies like Rotor, Praxis and Easton offer chainsets with smaller chainring options.
If you feel that installing easier gears will help you enjoy your cycling more or if you want to convert to a 1 x 11 combo please contact us.
Shimano double chainset gearing options - 11 Speed, available in mechanical or Di2
Technical Spec
| | |
| --- | --- |
| Shimano Ultegra & Dura Ace chainset | 50/34 (Compact) , 52/36 (semi compact) |
| Shimano Ultegra cassette - largest available, a 34t can be used. | 11 - 34 |
Shimano Dura Ace cassette - largest available
11 - 30
SRAM AXS eTap Gearing options - 2 x 12 Speed - Wi Fli
Technical Spec
| | |
| --- | --- |
| SRAM AXS Compact chainset (Force, Red) | 46/33, 48/35, 50/37 |
SRAM AXS Cassette
10-33, 10-28, 10-26
1 x 11 gearing for Road and Gravel bikes
Technical Spec
| | |
| --- | --- |
| SRAM Force (mechanical) single ring chainset: | 38, 40, 42, 44, 46, 48, 50, 52, 54 tooth. |
SRAM Force PG-1130 cassette
11 - 42 (optimum for gravel riding). Other sizes: 11-26, 11-28, 11-32, 11-36
Shimano Di2 1 x11 options
Our 1 x 11 Shimano Di2 groupsets are usually specced with third party cranks from SRAM, Easton or Rotor, all three brands offer powermeter options if required. The most popular chainring size for gravel is 42 or 40 (depending on terrain). For road use chainring sizes up to 48T work well for most terrain. Shimano chainsets can be used with a Wolf Tooth chainring and Rotor caps to cover the bolt heads if desired.
We use Ultegra or Dura Ace Di2 road levers with an XT or XTR Di2 rear mech. The rear mechs are designed for mountain bike gearing so have a very broad range and a clutch to keep the chain taught and to prevent it dropping off the chainring.
Re the Open Cycles UP builds if a 650b wheel is going to be fitted a 1 x 11 or 1 x12 gear set up is compulsory as a front mech will hit the rear tyre.
Choose the gearing for your fitness and where you plan to ride, we can help you choose but changing the front chainring for specific events will give you options if you go to the Pyrenees for instance. For flatter terrain a closer ratio rear mech like an 11 - 40 would wotrk better as the jumps between the cogs would be closer and make it easier to maintain cadence.
Technical Spec
| | |
| --- | --- |
| Chainset: SRAM, Easton or Rotor chainring options: | 38, 40, 42, 44, 46, 48, 50, 52, 54 tooth. |
| Shimano XT 11 Speed Cassette | 11-40, 11-42, 11-46 |
Shimano XTR 11 Speed Cassette
11 - 40
SRAM AXS 1 x 12 gearing for Road and Gravel
If you want to run 12 speed this cassette is the only option from SRAM that makes any sense, no 10 -42 or 46 option available yet.
Technical Spec
| | |
| --- | --- |
| Chainset: SRAM, Easton or Rotor chainring options: | 38, 40, 42, 44, 46, 48, 50, 52, 54 tooth. |