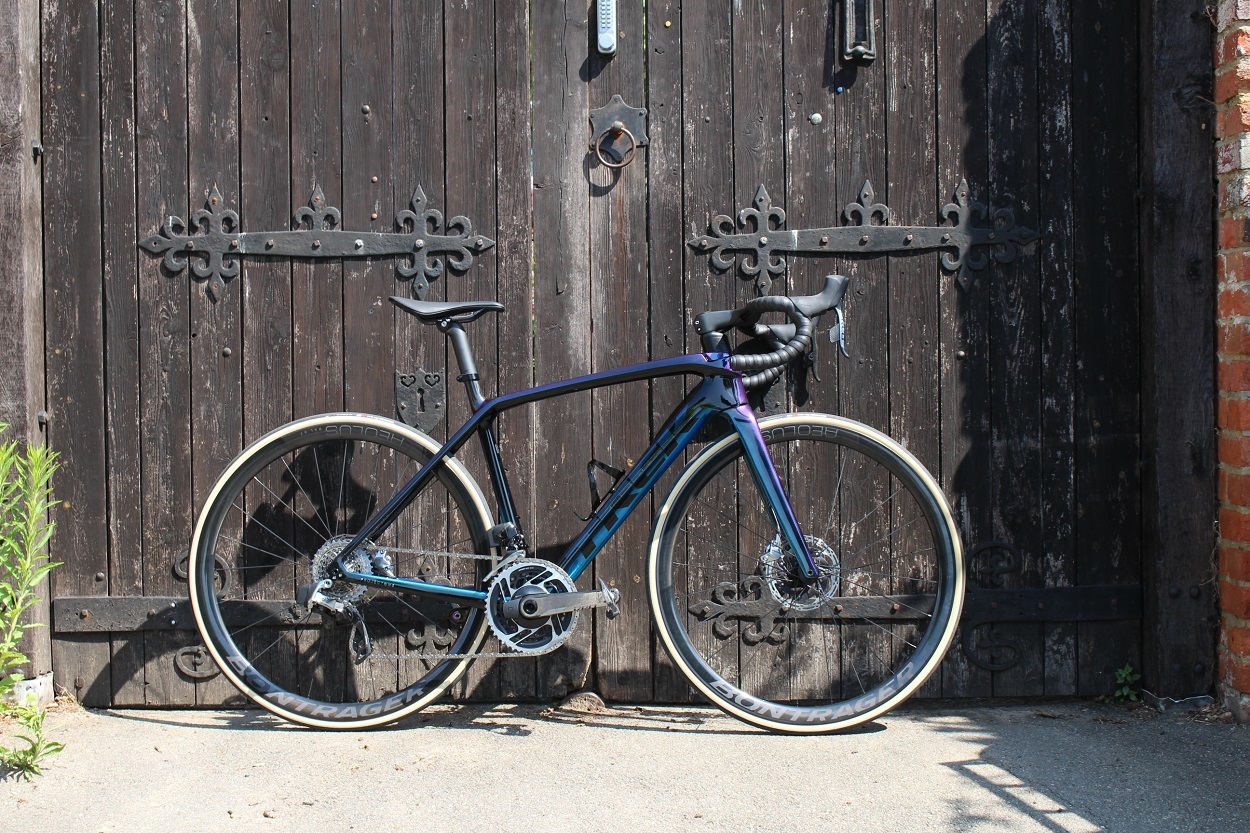 Trek Emonda SLR 9 eTap in Project One paint
"I got the rhythm, you got the rhythm."
A good way to perk up week twelve or is it thirteen of lockdown is to be given a new bike to review, this year I have already had the opportunity to ride a Supercaliber mountain bike at the Algarve Bike Tour and now I have in the back of my van a 52cm Trek Emonda SLR 9 Etap bicycle, big name small bike.
Life goes on and cycling has been the saviour of many this past three months helping to keep them fit and healthy and most of all maintaining their sanity. We all know the health benefits but I do believe that the pedalling is the key, the rhythm, the circles, the wheels whirring, human and machine, completely un-natural and addictive.
Cycling has a calming and cleansing effect and works better than any chemicals ever could, if more of the UK's population take up cycling because of this pandemic it can only become a better place, there isn't a down side, apart from rain.
I already had the old SLR version, it was already brilliant, sub 7kg beautiful lines and handling and very comfortable and it climbed like a demon, how could Trek improve on it? I thought I might have to pretend I liked it, pretend it was better, maybe I will…
I drove in to a deserted London on Saturday morning to pick up the bike, Barna – also an Emonda owner - had told me it was ready, he want very forthcoming with any info, possibly because it was the tale end of a Frantic Friday at Cyclefit and his biscuits had blown.
I opened up the shutters and turned on the lights (after giving the switchesa spray with anti viral solution) and was very pleasantly surprised. The bike has a luscious Icon paint finish, integrated aero bar and stem and new Aeolus RSL wheels, not too deep not too shallow. And it was light too, I compared it to my steel Landrace and it was over 2kg lighter at 6.9kg.
I set the bike to my position popped it in the van and headed home via Brick Lane Biegel Bake.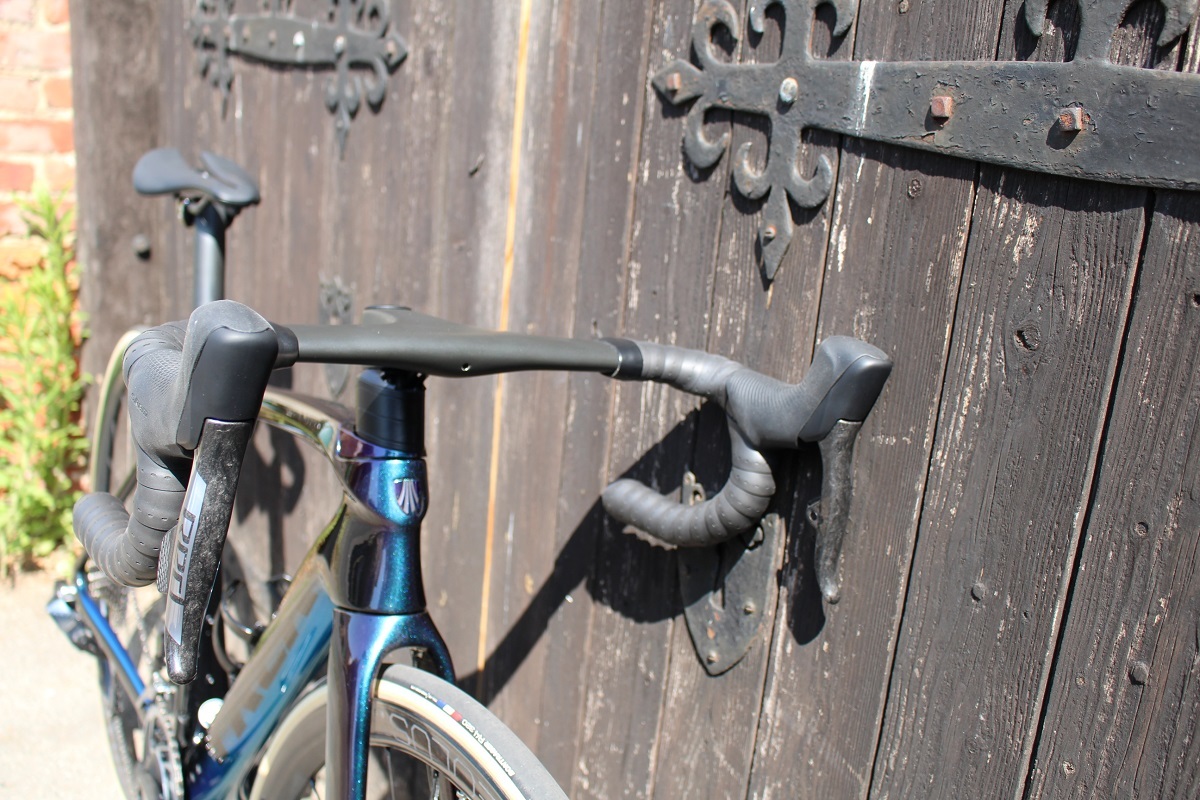 Fully integrated cockpit, seatpost, wheels and groupset
Trek has three frame platforms, the original was the Madone – named after he who can't be mentioned's favourite climb – which is now Trek's aero offering, the Domane which is the Endurance frame for long distance rides with front and rear Isospeed suspension and a slightly more upright frame geometry.
During our bike fits and depending on a rider's fitness and physiology we can generally guide them to the bike that suits their needs and their type of riding.
The three frames all have their own geometry platform, the Madone is H1.5 – long and low, the Emonda H2 is a little bit higher at the front and a shorter reach and the Domane is H3 much higher and much closer. There used to be an H1 option that was used by the Trek Teams which was even lower and longer (my old Emonda is H1 due to my short legs and proportionately longer torso) but that is no longer and was a literal stretch for most riders.
The new 2021 Emonda is now in H1.5 geometry like the Madone and it does give the bike much racier lines than the old H2 geometry and now that everyone knows about stretching and core fitness the increased reach and drop to the bars is more attainable.
Several of our customers fell so much in love with the new aero Madone even though it may not have suited them on paper it girded them to lose weight and go to Pilates classes so they could ride in comfort; and it isn't uncommon now for us to re-connect with customers who are now in their mid-fifties and are in better condition than when we first met them ten to fifteen years ago. With cycling the better you look after yourself the better the bike feels when you are on it.
So, new geometry what else can this new frame offer? it is already light, every body wants a light bike, when riding up a hill it is all about the sums: Power divided by Weight equals how easy it is to fight gravity. That box is ticked, what else have we?
The whole frame has been reshaped and most noticeably on the down tube that is now flat on its upper side, this is called a cam tail and the old version of the Madone had one before it went super aero. Without going into the physics it works like an aerofoil and makes the frame quicker, I'll leave it there.


The carbon in the new Emonda is 800 OCLV, a 100 more OCLV's (Optimum Compaction Low Void) than the old version that was 700 OCLV. Adding aero tube shapes will usually make a bike heavier – but not with the new OCLV 800 carbon aero tubes, the carbon is stronger so the tubes can be reshaped without adding extra weight.


Aerodynamics – also known as free speed - if your bike can slip through the air a lot easier you can maintain the same speed for less effort and that is exactly what the new Emonda can offer. Aerodynamics are important going up hill as well as on the flats, the new frame design, integrated bar and stem and hidden cables - and the wheels, we can talk about them later - make this bike 18 seconds quicker on an 8% climb and 60% quicker on the flat than my old version!


Well that's good news for you Etape and Haute Route riders you can save energy all the time, Trek are making it too easy for you.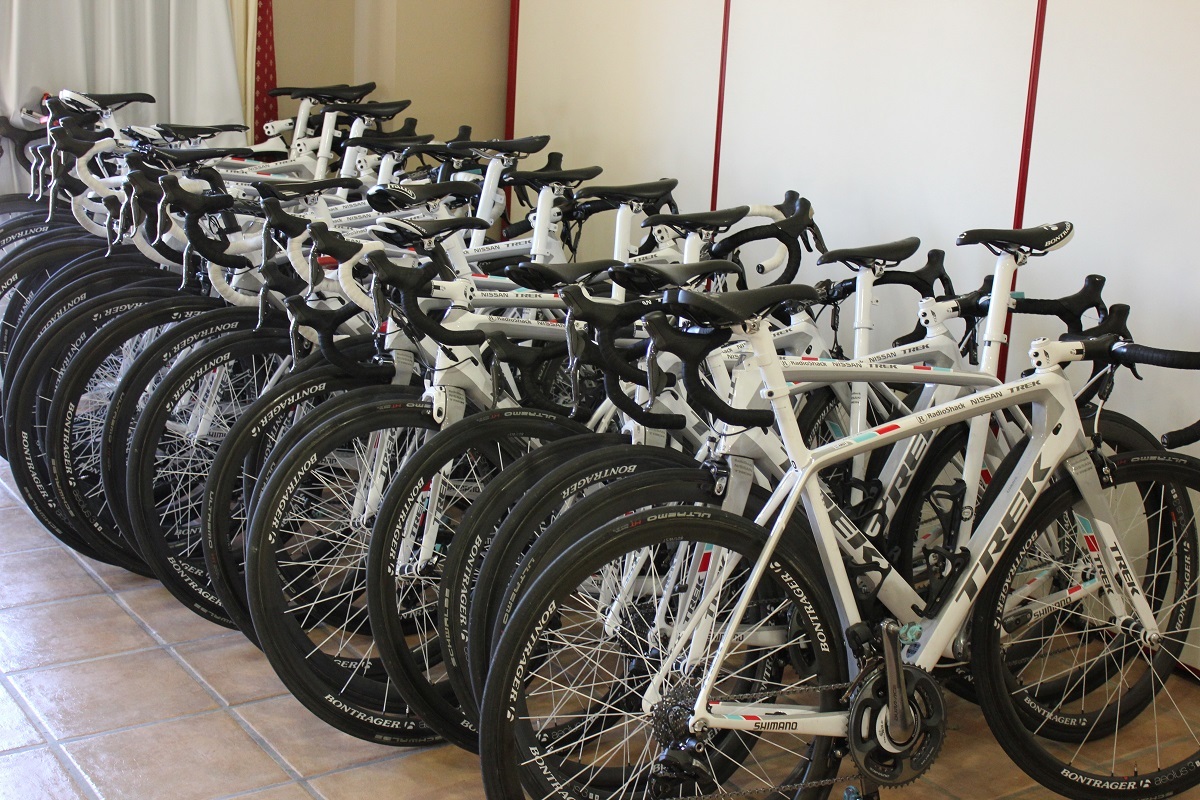 Trek Madone team bikes from 2014 - with aero Cam Tail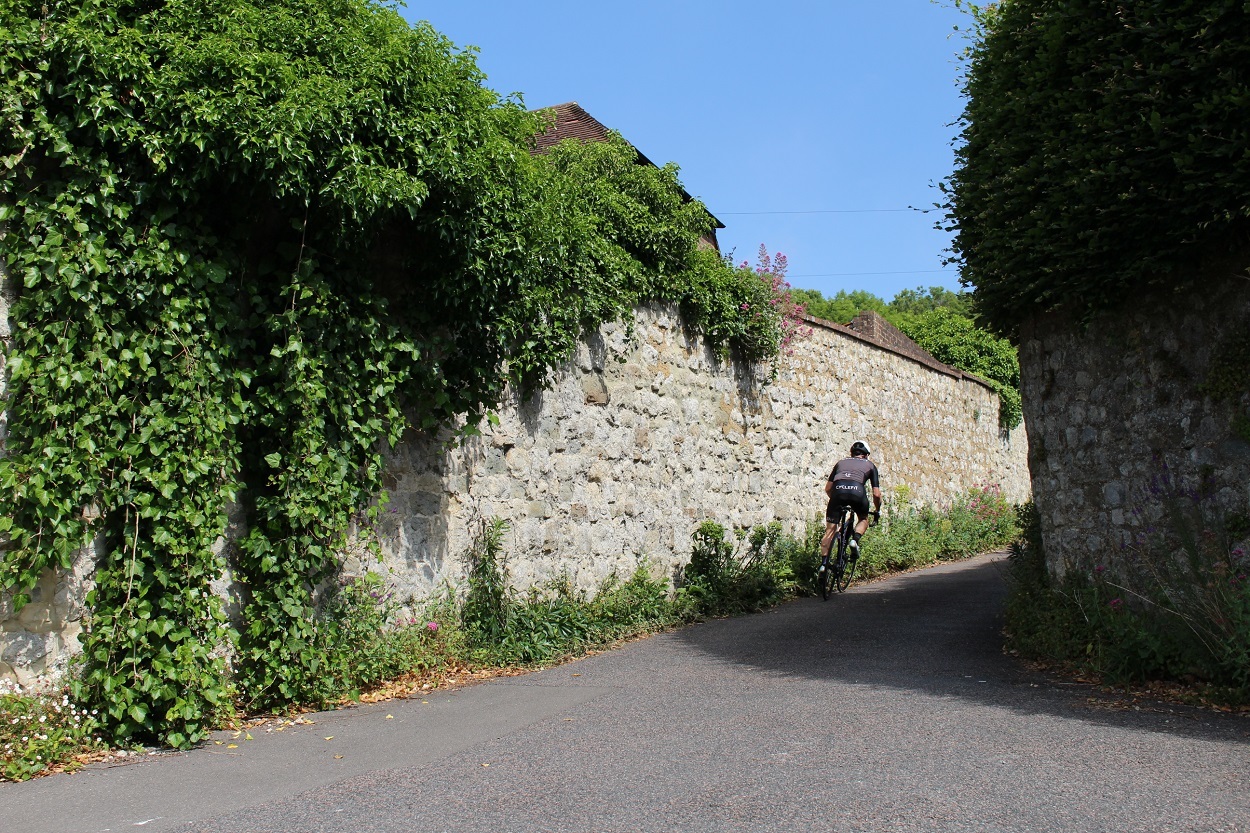 The Cockpit
The new handlebars and stem are now a one piece OCLV carbon and the tops of the handlebar have been flattened to slice through the air, the tops are not too deep and are comfortable in the hands and the combination weighs all-in at around 280 g depending on the sizing combo which runs from 38cm bar and 8cm stem to 44cm bar and 12cm stem with many iterations between.


Underneath the spacersa re no longer standard round affairs so the stem morphs in to the frame and houses the cables neatly. The frame also has the added feature that the bars are unable to rotate far enough to hit the top tube.


The new bar/stem combo can also be retro fitted to your old Emonda and could save around 5 watts – the new wheels can to, see below.


The drops are comfortable too, I thought they might be too deep for little me and are wrapped in Bontrager Super Tack Tape, on the flats and in the crosswinds on the Marsh I could keep low and aero in relative comfort. The cables are semi-integrated for wase of access and fit neatly under the handlebars.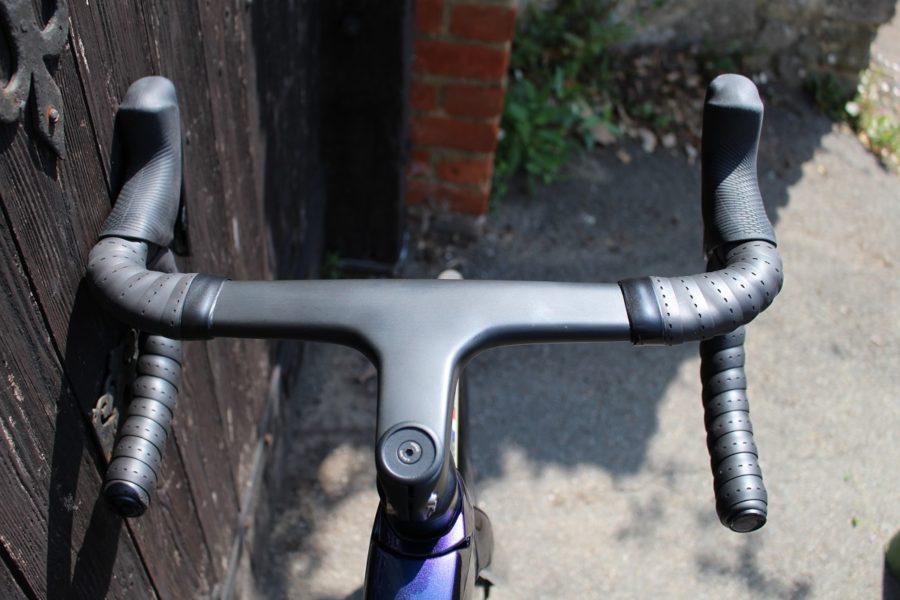 Flattened tops, comfortable and aero, 280 grams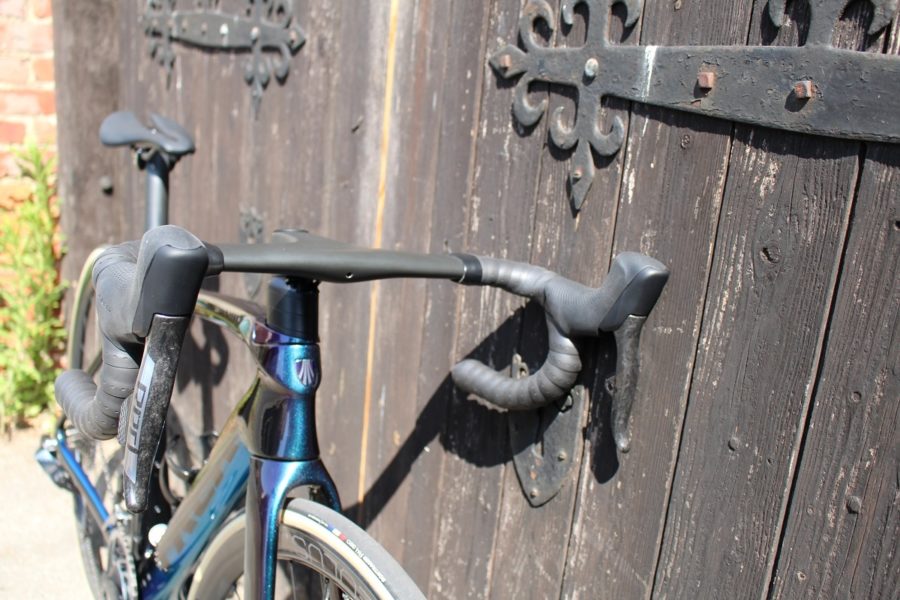 Blendr mount to fit computers and lights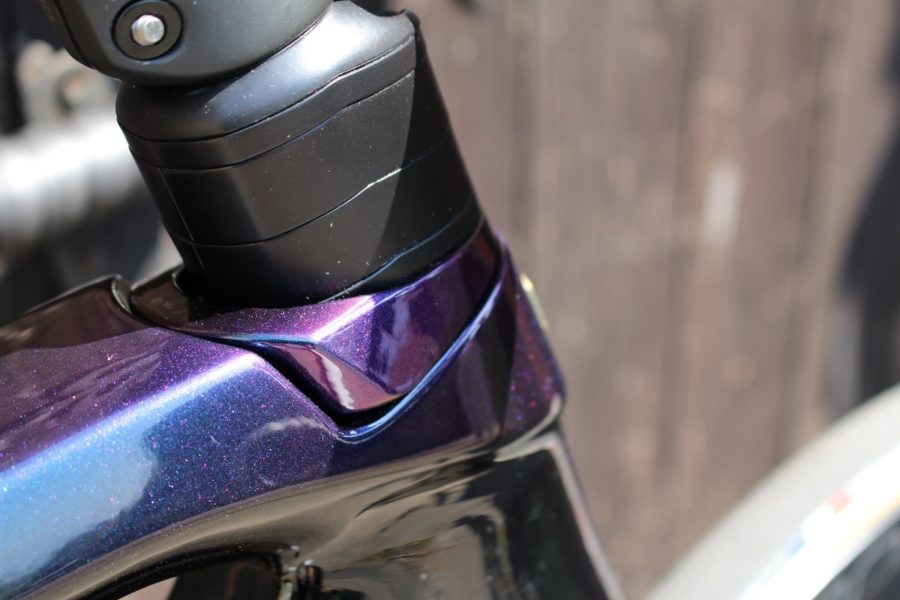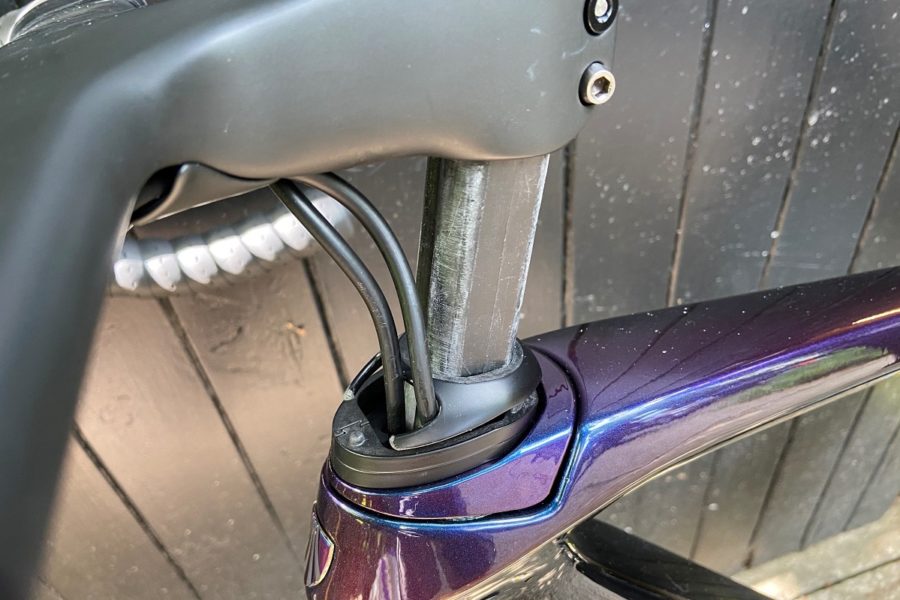 Brake hose routed through the spacers and head tube
The wheels
Now these are good, Trek's top-of-the-line Bontrager wheels are now known as the Bontrager Aeolus RSL 37's. RSL or Race Shop Limited is a sub brand at Trek, I like to think of it as a small room tucked away down dimly lit corridor where their top boffins design, test and tune the Bontrager wheels and components for Trek's racing teams and athletes. Then, when they have been thoroughly tested they let us weekend warriors get hold of them.
The new wheels herald a complete overhaul of the Bontrager carbon wheel range with the Aeolus RSL 's at the top, next in line are the Bontrager Aeolus Pro 37 wheels at £1,199.00 and the Aeolus Elite range that slips in at an affordable £799.00!
The new Bontrager Aeolus Elite 35 carbon wheel rims have an internal width of 19.5mm, only 0.5mm narrower than the Hunt Gravel wheels for instance so a tyre range from 25mm – 40mm (and maybe a bit more) can be used. So very versatile for road and gravel.
The Aeolus RSL 37's (£1,999.99) on the test Emonda are a direct replacement for the Bontrager XXX2 wheels the shallow rimmed carbon climbing wheel that is a big favourite at Cyclefit. Even though the rim section is deeper bringing with it the benefits of improved aerodynamics and momentum the RSL 37 weighs in at a measly 1325 g, 55 g lighter than their predecessor and 11% faster!
There is less hub too, with the middle part only a few millimetres wider than the 12mm thru axle which has also reduced the overall weight; and the internals are the same as the very reliable DT Swiss 240 hubs, the Ratchet EXP 36-freehub is very smooth and the pick-up is very quick; it also makes a very nice noise.
We have the new wheels available on our website ORDER HERE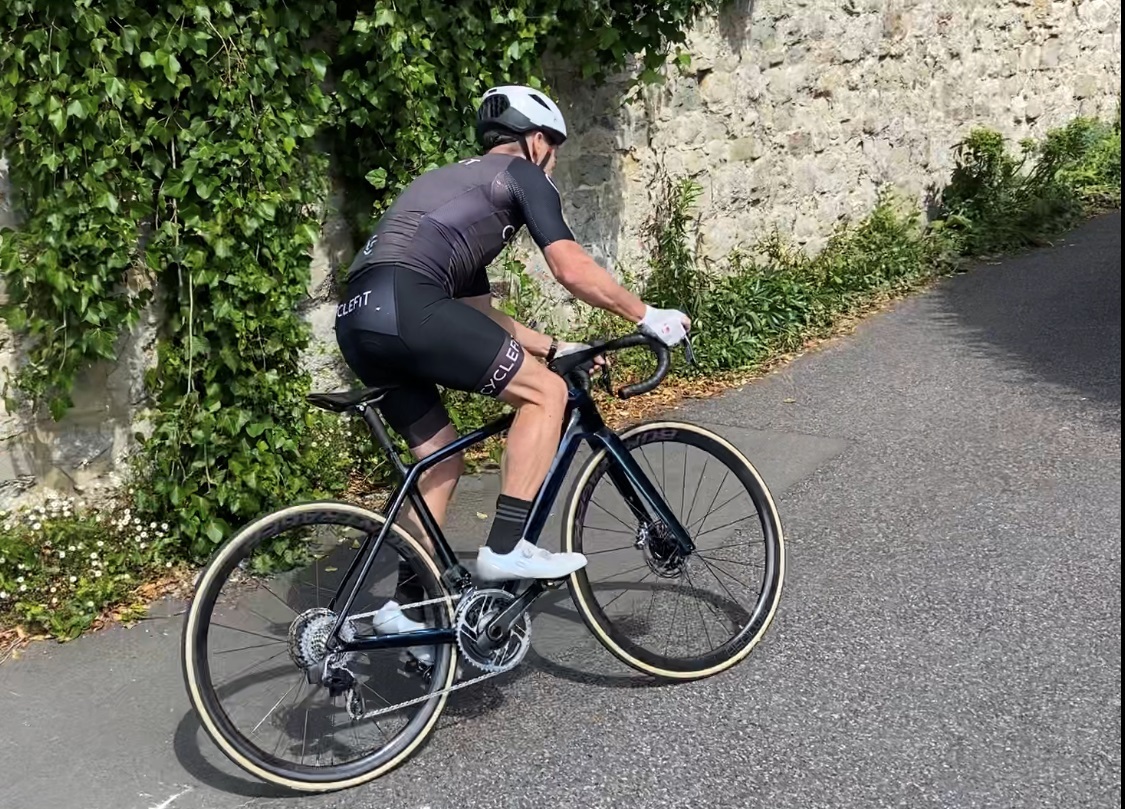 Trying to get to 288th on Strava
Bottom Bracket
The industry seems to be in agreement these days that it would be a good idea to have one bottom bracket standard to make life easier for everyone. For instance 12mm thru axles are the norm for road bikes now so that wheel manufcaturers know what spec to build to and that there wheels will it will fit any brand of frame without resorting to adaptor cups etc.


Trek's old BB standard was BB90 which accommodated a press-fit bearing and a GXP or Shimano crank axle (24mm), BB30 chainsets with a large diameter axle (30mm) plus SRAM's new DUB BB system at 29 point something could not be fitted. The BB90 saved weight off the frame but could become creaky over time if not maintained properly or if the frame was clamped into an indoor trainer and sweated on and torqued beyond all reason in Watopia.

With the upgraded 800 OCLV carbon building a lighter frame the larger diameter T47 bottom bracket can be fitted which has a heavier, threaded aluminium sleeve that the bearing can screw in to nice and tightly. Overall weight stays the same. The larger diameter BB shell also means there is more room to run the internal brake hose and use the larger diameter and fast approaching industry standard BB30 axle.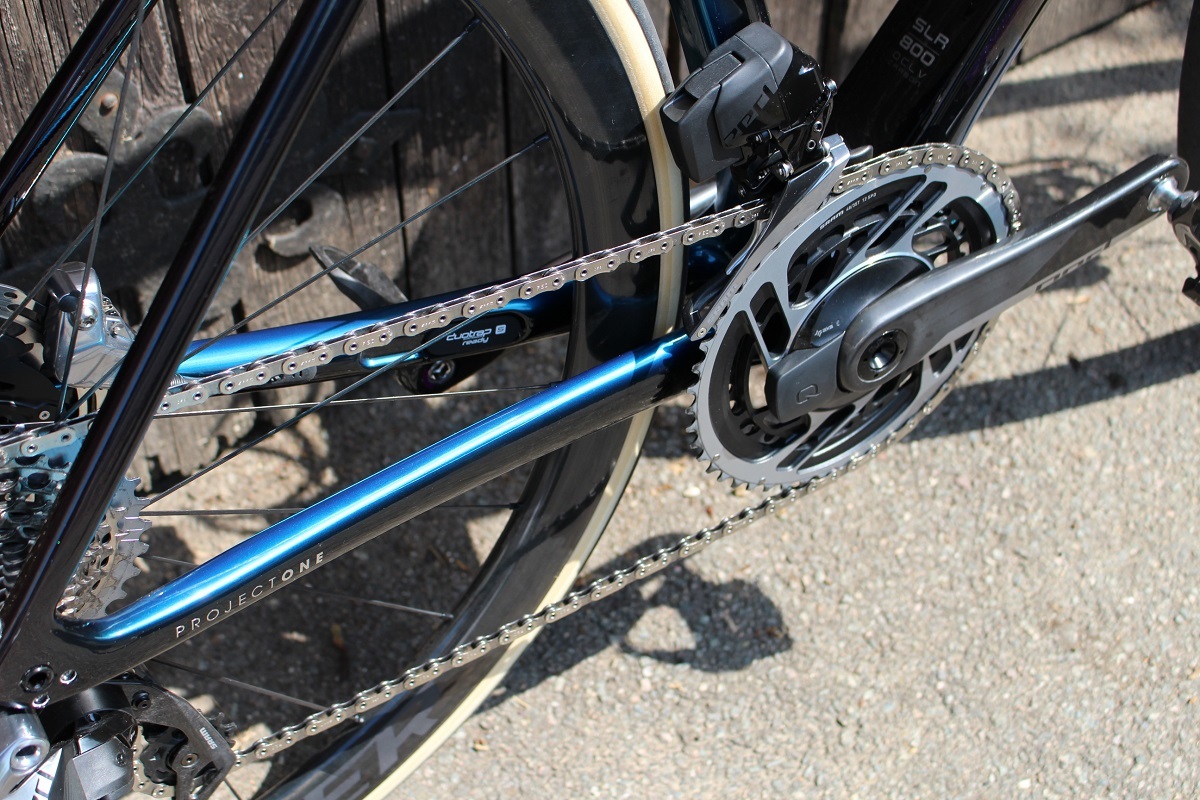 The beautiful and smoth SRAM Red eTap AXS drive train
The Groupset
SRAM AXS Red eTap – I always have to check if I get this in the right order, have i?. I have sold quite a few bikes equipped with SRAM AXS over the last year but never had the opportunity to use it.
It has twenty four gears that are controlled wirelessly, disc brakes and a Quarq powermeter. It is called an 'ecosystem' with all components full integrated and working in harmony.
The bike came with a 12 cog 10-33 cassette and 48/35 tooth chainset. I could manage this combo for local rides but would opt for the smaller chainset option of 46/33 chainrings if I ever had the opportunity to ride up a a mountain again.
Shifting is very smooth, gear changes easy, never a missed note and set-up easy using the App. the App lets you tailour the shifting for one, two or three shifts per press of the shifter and there is also a semi and fully automatic option. I kept is manual for my ride as I just wanted to think about the bike and how it felt and not try to second guess the gear selection.I like everything about it except bar the brake hoods, they are massive for my small hands and underneath where my second finger wraps under the hood there is hole with sharp plastic around the edge, it was bothersome I must say. I haven't had any feed back from customers though so it could just be me. Please ignore.
The Ride
I spent Saturday evening fiddling about with the bike in the garage and amazed myself by setting up the SRAM AXS eTap gears on the SRAM App and I also linked the powermeter to the Wahoo, well done me.
Sunday morning I headed out early to hit the local climbs that are generally short and steep, a short run in on the flat coast road and I was already aware how the bike could hold its speed better at around 34kmh. The Bontrager R4 320 cotton cased tyres gave the bike malleable texture and we hummed along; the gears were silent with no vibration from the drivetrain through the pedals, it was going to be a good couple of hours.
When I ride a Trek Emonda I approach climbs differently than on oher bikes, instead of gearing down at the bottom I like to go in to the climb a little too fast than is comfortable and then keep the same gear turning in the saddle, once I start to fatigue I stand on the pedals and then do a 'Lance' and ride out the saddle to the top, I havent the lever length to grind it out in the saddle. The Emonda deals with my measly watts easily and asks for more and I keep going until I hit the top and gulp for breath. It feels good to give myself a good rinsing at 56 years old, forever young, and a ranking of 289th all time on Strava can only spur me on.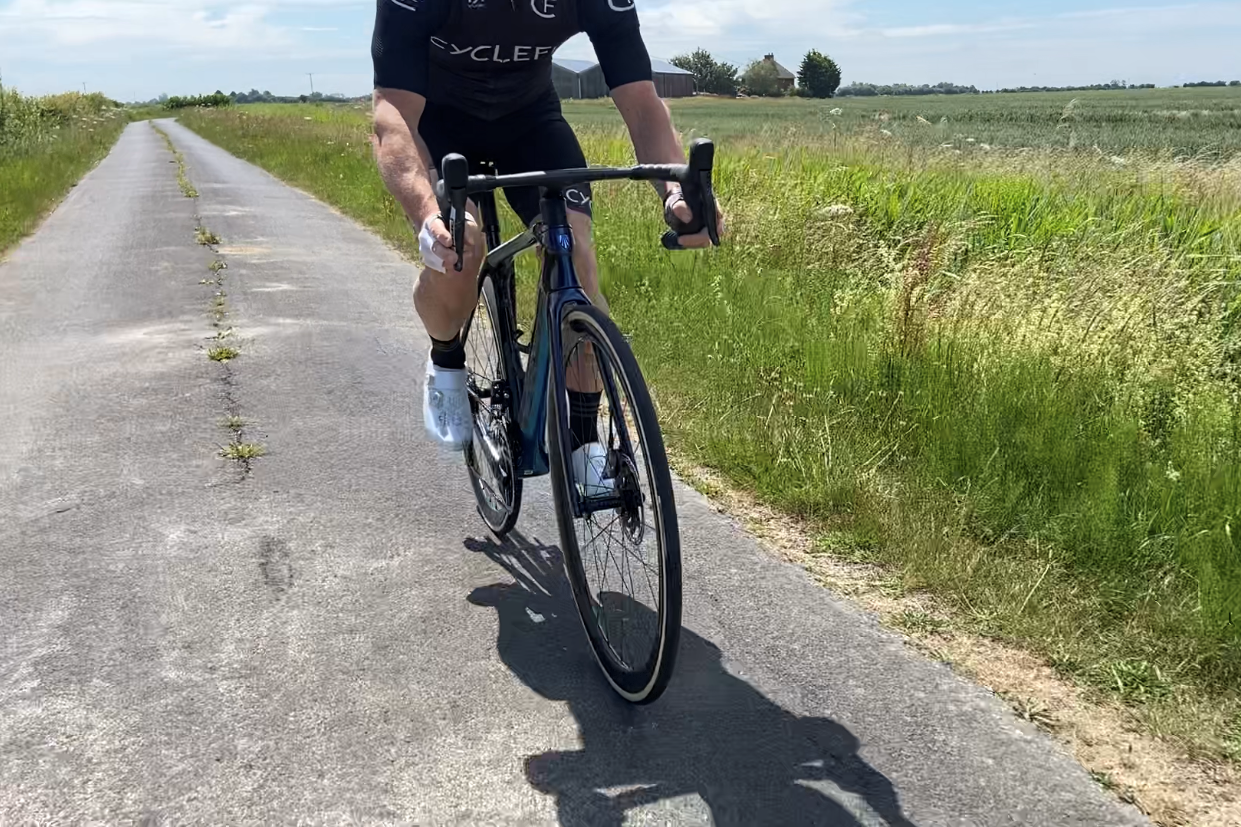 Cutting through the crosswinds
I'm two hours in and everything is working nicely, SRAM's one tap system works faultlessly and is very intuitive, nice smooth brakes, good modulation and no squeeking, the bike handles well, easily flipped around pot holes and tracks securely on descents; up and over Wye Hill in the sunshine, a couple more steepies and then I'm heading back via the Milk Shed to pick up some much needed full fat for my post ride coffee.
The Milk Shed is out on Romney Marsh near the aptly named St Mary in the Marsh, I have been riding in the North Downs sheltered from any wind but as I drop down on to the flat lands I am hit by the South Westerly wind that rolls up the English Channel.
I grind it out for twenty five minutes in to a head/cross wind in the drops on the Emonda and it steers straight and true slipping through the air with no tugging on the front wheel, pushing along, on the edge, head down elbows tucked in, feeling that pain in my old legs, I'm still alive, just need to remind myself again with a bit of hurt.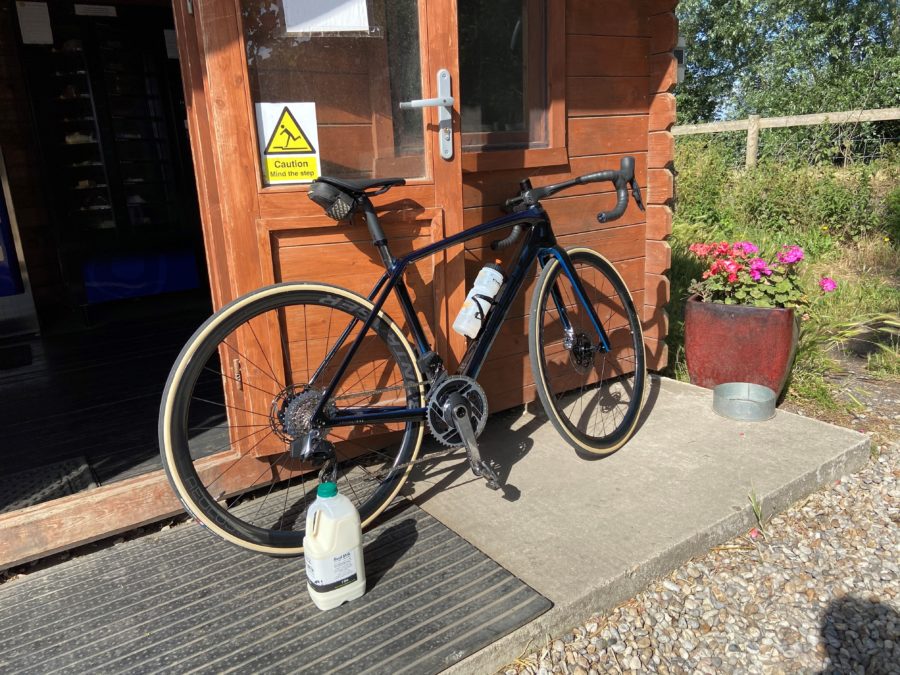 6.9kg plus 2kg = slowness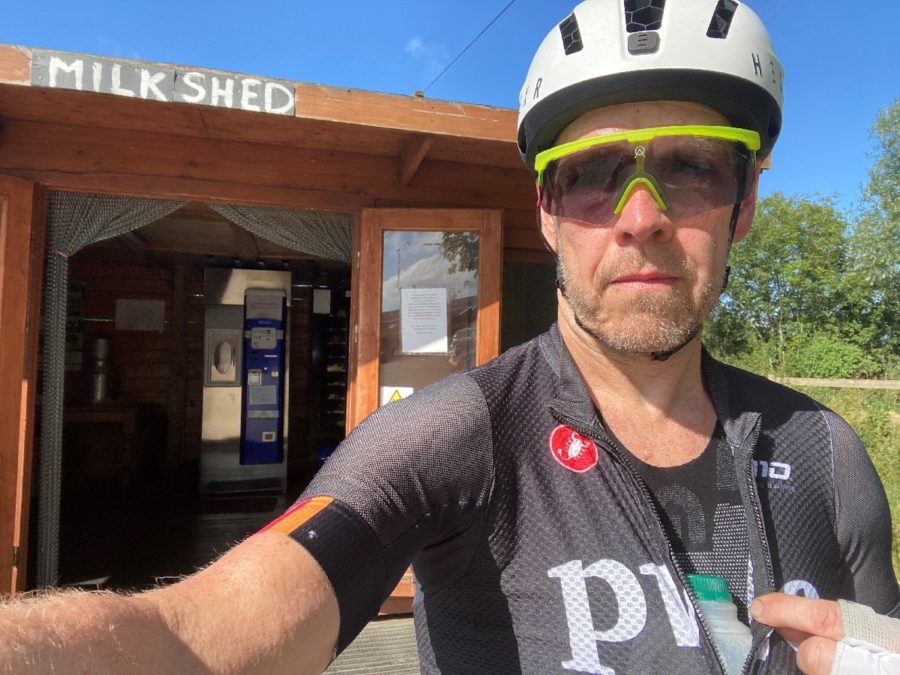 I put my £2.00 in the milk dispenser and slipped the 2 litre bottle in to my jersey, it was surprisingly heavy as it sagged down to my knees. Two litres of fluid weighs 2kg, my hands were heavy on the hoods and my arse uncomfortable on the saddle after five minutes, I laboured up the last climb home. I was now riding the combined weight equivalent of me and my steel bike last week or a heavier me just after Christmas at on my Emonda. A simple experiment and worth remembering when I am bored and open the fridge door and look for something to munch on.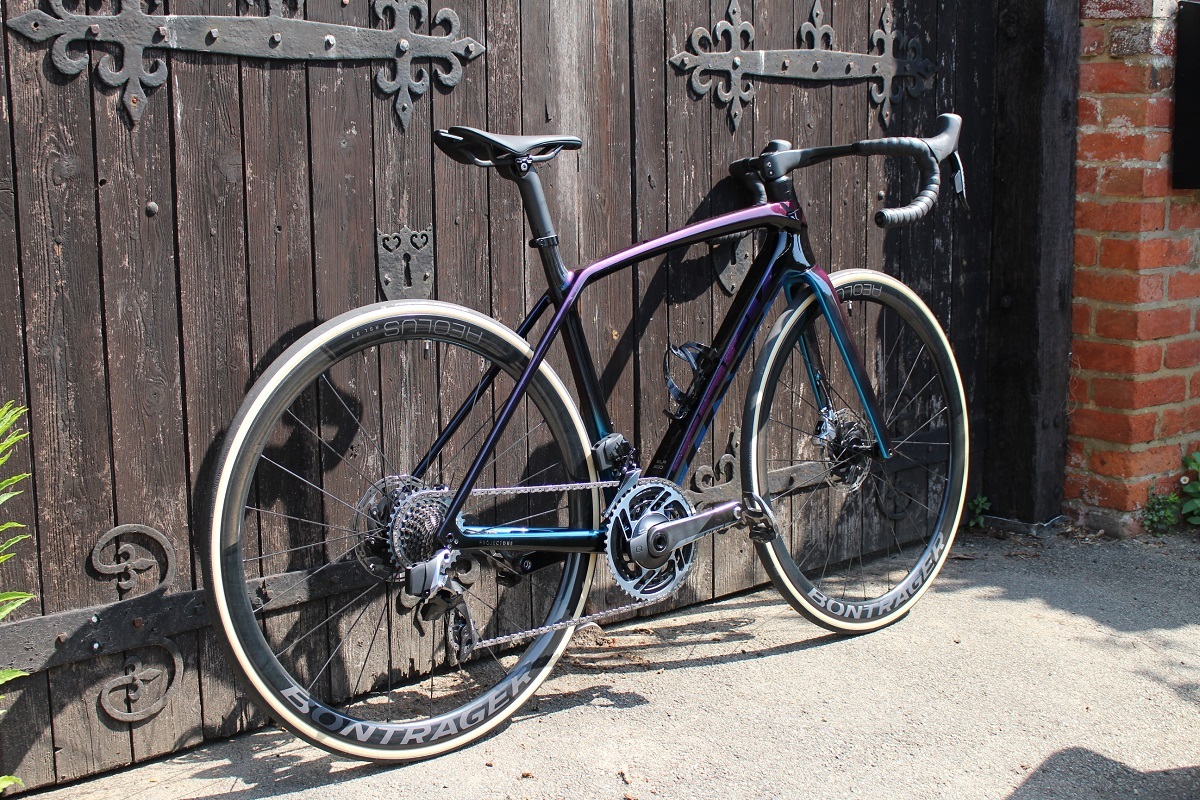 The new Emonda SLR is definitely an improvement on the earlier version, both are great bikes though.
The improved aerodynamics make this bike a much better all rounder for solo climbing, group rides and racing and the new H1.5 geometry encourages the rider to adopt a slightly more aggressive and functionally better posture. Visually it looks faster and the integrated bar and stem give the Emonda a much more modern look and a performance improvement.
If I was looking for a light weight, fast bike this fits the bill perfectly and it is now on my wish list, would anyone like to purchase an Olive Green Emonda in 52cm H1 geometry?