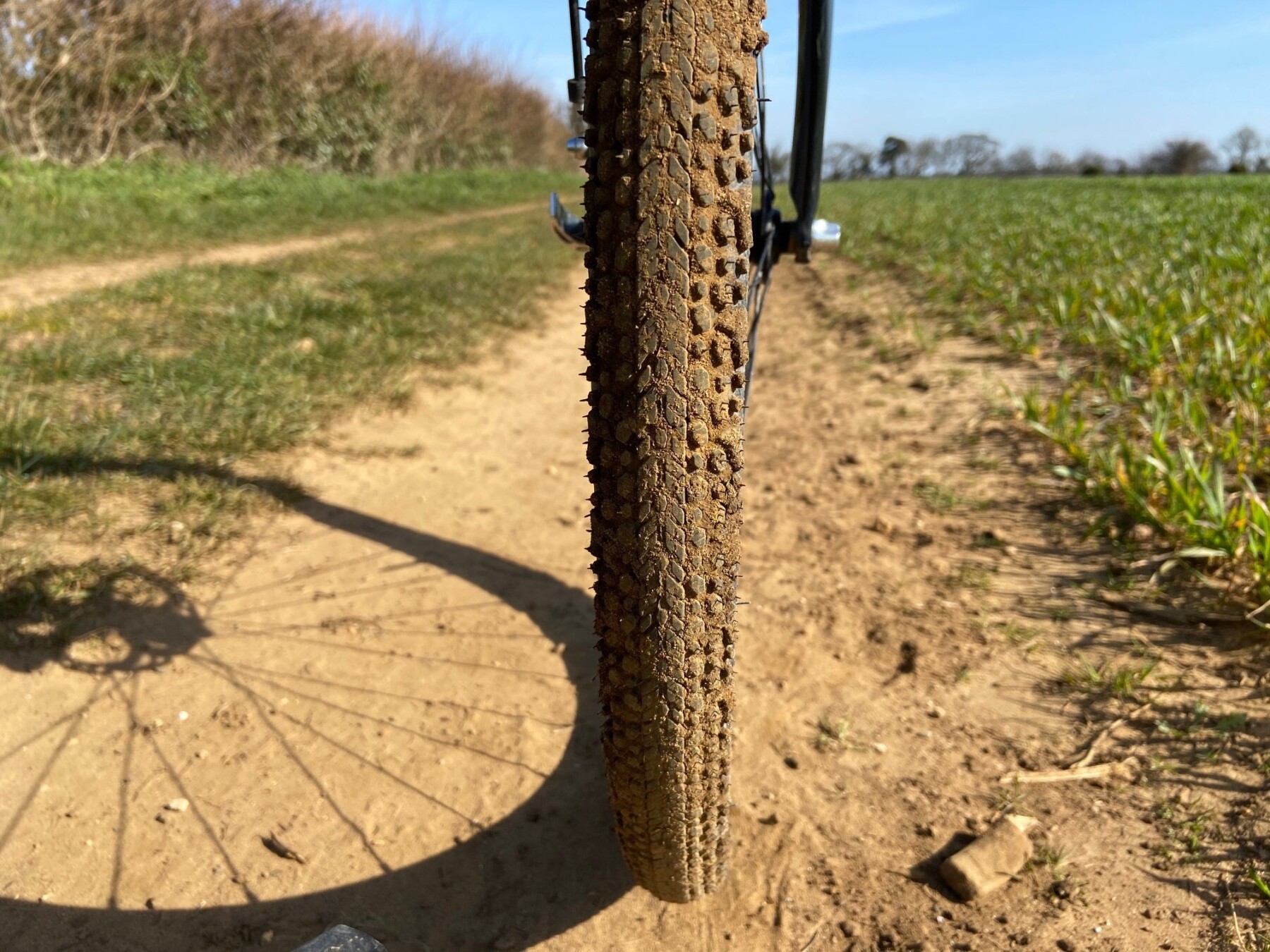 GROADing like there's no tomorrow
I never thought I would spend this much time in the shed, not until I retired at least and not sitting at a laptop, but now my shed has been commissioned as my home office, the bike and indoor trainer have been moved out, I have put in a table and a stall and put up a makeshift curtain fashioned from a dust sheet to keep the sun out as it faces due south. I'm not complaining about the sun that has been a welcome visitor this past few weeks. I have company from the dogs who like to potter in occasionally for some attention and a Green Woodpecker that spends the day tapping away at a dying Ash tree ready to lay its eggs in. I am assuming Mr and Mrs Woodpecker know how long they have to get the nest ready and how much they need to do each day before those eggs need to be laid. They can get their heads in the hole now but once they get to the softer middle of the trunk that has been softened by that awful fungus that causes Chalara Ash Dieback that is decimating our woodlands they should be settled in quite quickly. They know what they are doing, they don't need You Tube. According to the experts it will take them between two to four weeks to excavatae their nest, they should be in their hole by the time I get out of mine.

I won't mention the C word (not Cyclefit),
The good news is that Cyclefit is still able to function to an extent other than bike fitting and now that Barna and family have successfully managed to decorate and move house during a pandemic the workshop is back up and running. Mr and Mrs Woodpecker would be proud of them.
the woodpecker is just over halfway up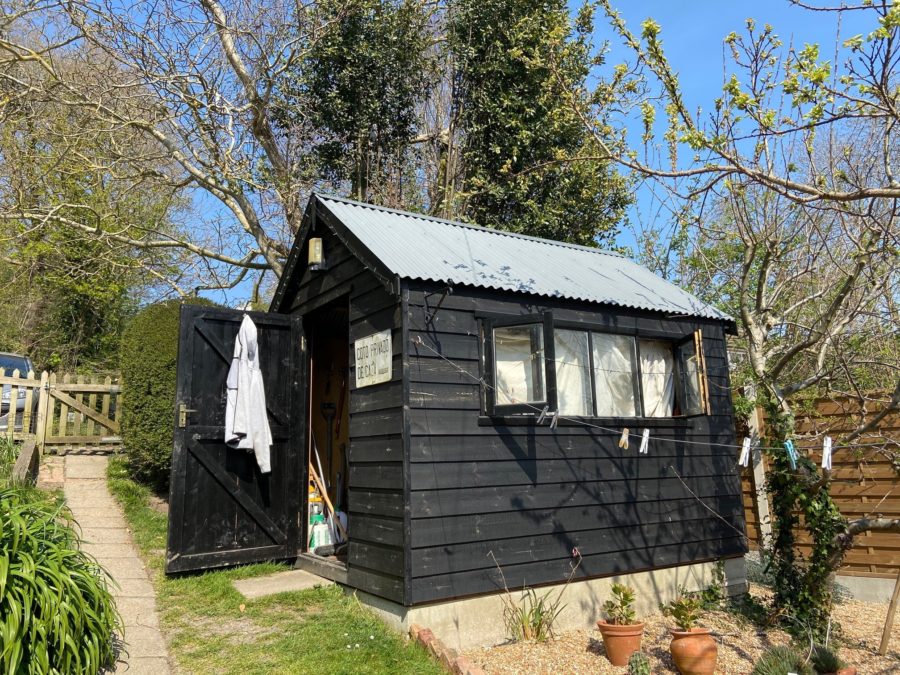 We are completing your bike orders as best we can and our little on-line shop is operating. Phil and I catch up on Zoom (that was a novelty to begin with) as he writes our new book for middle aged cyclists, I try and sell bikes and build them with Barna and in-between we ponder the future, and wash our hands.

That welcome sunshine does mean that many of us have been able to get out on our bikes to 'exercise' and from my feed on Strava a lot of you have been taking the opportunity to knock out some hefty rides, myself included relatively speaking.

I'm trying to keep in shape and make the most of not having to commute into London and using the spare time to ride, exercise, work on the garden and spend time with the family if they will have me.

I need a haircut.

One of the hens has started to lay.

The road next to the house is quiet, we can hear the birds.

We have finished series 3 of Ozark and tried The Lion King but became bored after 30 minutes, have we been to hasty or should we give it longer? Any box set recommendations would be greatly appreciated.
To keep myself entertained of an evening I study my Ordnance Survey map and plan short excursions from the shed, linking roads, byways and bridleways; I have opted for GROAD riding and breathed a little more life in to my six year old Seven Evergreen Pro with a new pair of Zipp Service Course Xplor handlebars and a San Marco Shortfit All-roads saddle. The new bars allow the levers to sit at more of an inward angle which improves hand comfort while riding on the hoods and the shallower drop and sweep of the bars makes riding in the drops more stable over rougher terrain and when descending. The top are ovalised providing a very comfortable and wide grip. I usually ride a 40cm handlebar but opted for a 42cm for better control, when I adjusted the levers I set them 40cm apart so when on the road my hand position would be the same as my road bike.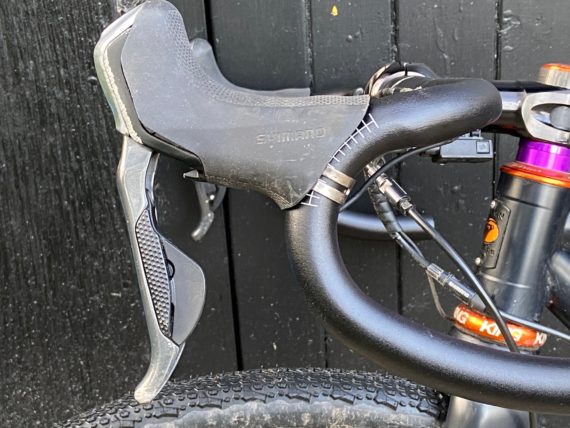 Eyeballing isn't frowned on, trust the markers if you dare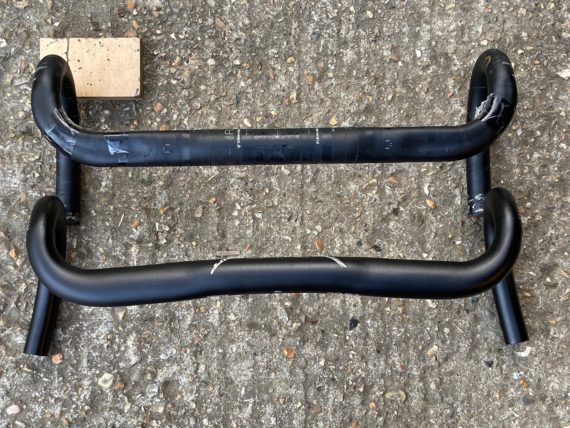 Shallow drop, shorter reach, longer sweep back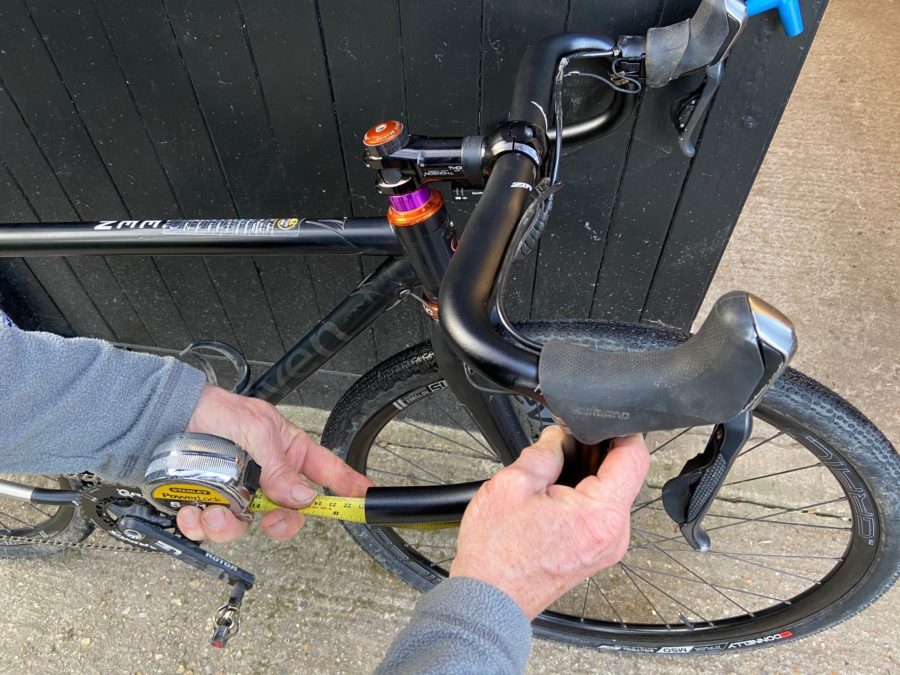 Level your levers by measuring from the end of the handlebar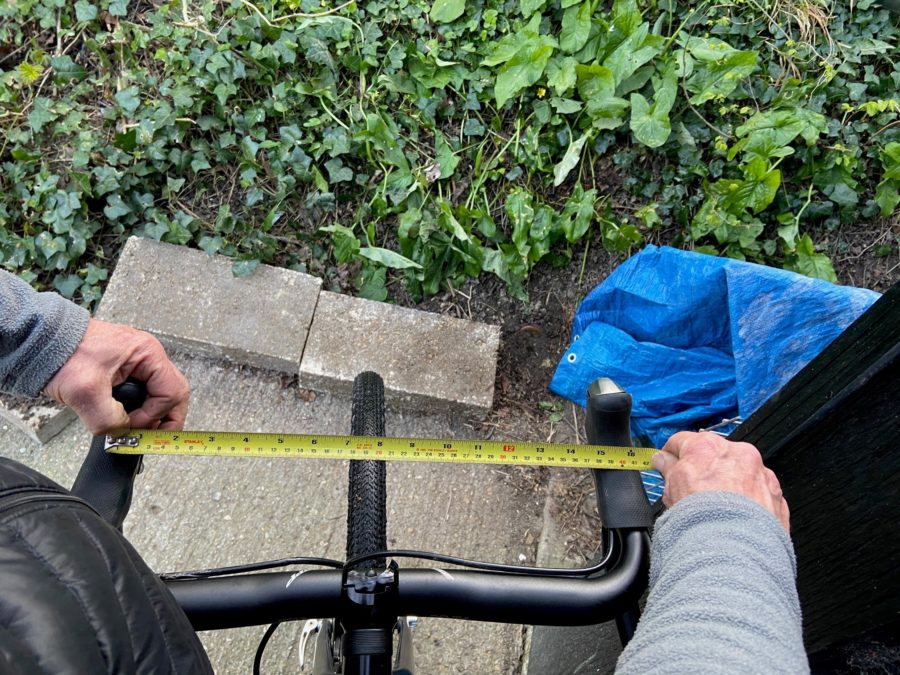 Lever width 40cm, bar width 42cm. Nice oval shaped tops for bumpy bits.
When my bike was built back in 2014 gravel riding was in its infancy and a 32mm tyre was about as wide as you could get, fortunately I have managed to squeeze in a pair of 40mm Donnelly Xplor MSO tyres that have a tread pattern perfect for dry trails and roads. They are attractive too if you like that sort of thing. The other addition is a Rotor Q-ring that does make rolling a bigger gear more comfortable, possibly more efficient and it definitely feels better when grinding up a climb. For some reason Rotor only offer a 40t or 44t option with no 42t like most gravel bikes have. I opted for the 44T and I'm surviving.
My other tweak for the week was to add a 2mm spacer to my right pedal to allow my foot to rotate out more, my weak VMO struggles to keep everything in a straight line. I can ride pain free now so hopefully with these extra rides im getting in it will get stronger and I can readjust in the future. Remember bike fitting is a process and not an event, especially when you are 55.While we have been under the radar we have been designing a new bike with Seven Cycles, a full titanium and more nuanced version of what I am riding now the OVRLAND XX.Without doubt the most sophisticated titanium frame on the market with butted tubes specific to ech frame and rider, internal cable routing, a dropped stay to fit 2 inch plus tyres and things that only Rob Vandermark knows about that makes these bikes so special
If you would like any upgrades to you bikes re the above you can order from our online store or drop us a line and we can install at HQ.

The woodpecker is still tapping, I'll watch him for a little longer.