Winter is The New Summer
In these days of specialisation winter bikes have transcended junk-clunkers living out their baggy-arse days delivering a thoroughly mediocre experience to their disappointed owner. Now winter bikes are generally better conceived and financed than the summer bike! And the reasoning (which we wholeheartedly support) runs thus: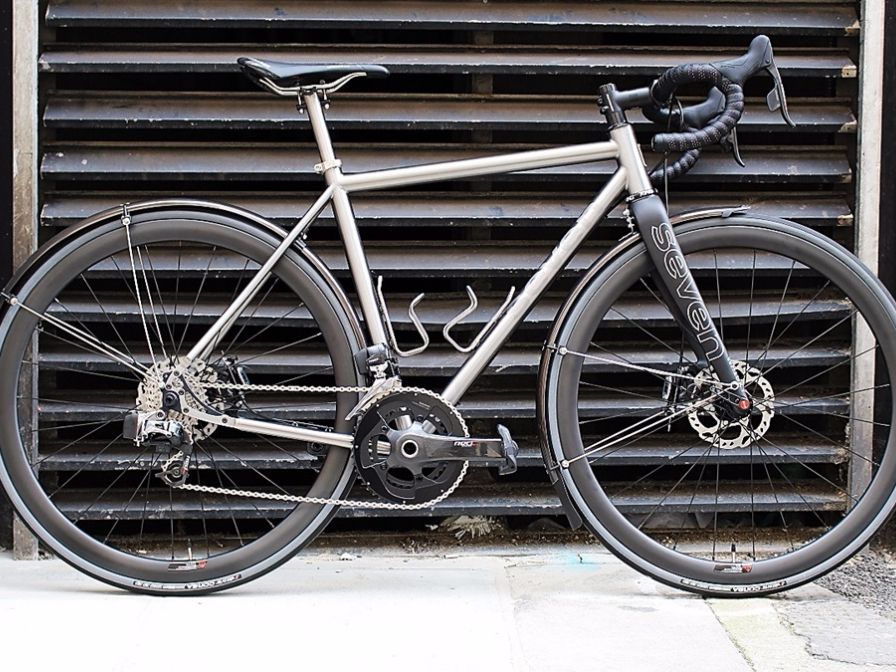 Winter bikes are for life, whereas summer bikes are generally for a few seasons at most.
Winter bikes are subjected to greater stresses under more demanding conditions. The materials and components need to be superb quality
Optimal control and comfort in winter conditions requires rider-specific geometry, well-conceived material choice, custom tubing and butting profiles and appropriate braze-ons for full mudguards etc.
Disc brakes are coming for race-bikes but absolutely de-rigour for the perfect winter bike.
In this article we review two examples of our perfect winter bike from our very favourite manufacturer, Seven Cycles from Water Town, Boston. One belongs to Covent Garden fitter, Jimmy and the other to a Cyclefit client, Richard.
Jimmy Wilson's Bike (Cyclefit Senior Fitter)
"When I started working at Cyclefit, I resolved to put the money where the miles were."
My first winter bike consisted of a 10 speed Ultegra groupset that I had raced and trained on for 4 seasons, a shop-soiled Kinesis TK4 frame in a colour I wouldn't have chosen, and a set of wheels donated (abandoned) by a customer. Bar stem, seat post and saddle came from the workshop bin. The only parts I bought new were the mudguards.
Frankenstein's Bike
I rode this Frankenstein bike for four winters. As bits fell off and wore out, I replaced them with items of similar quality and provenance. I spent hours and hours keeping it on the road. It was in the work stand at least once a week. Soon, none of the groupset components matched. The frame looked terrible as it accumulated scratches and the finish had been dulled by hundreds of post ride wipe-downs.

Sound familiar? Why do so many people follow this well-ridden rut when creating a bike they expect them to carry them the bulk of their annual miles?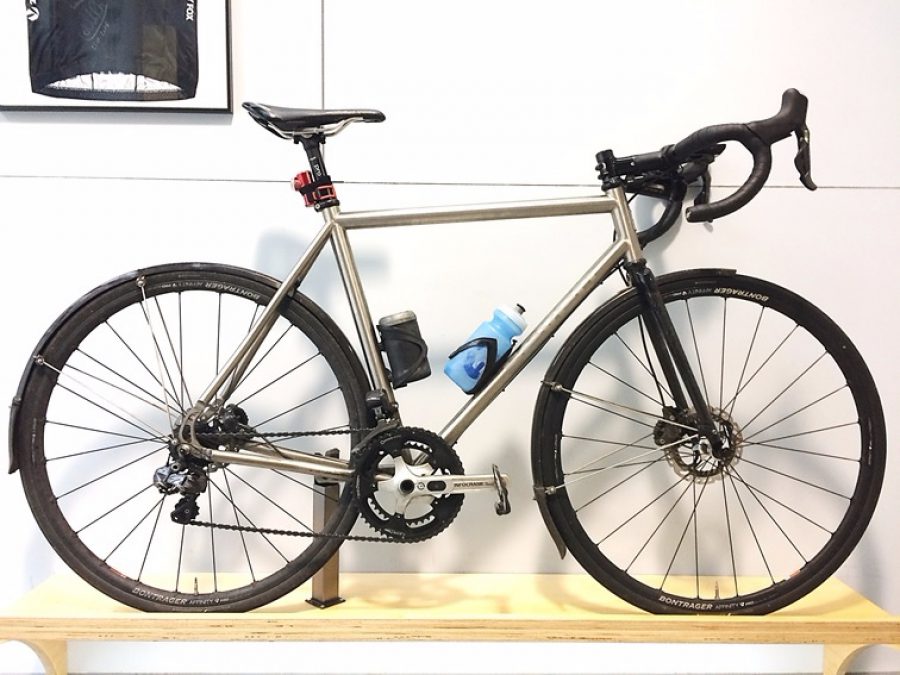 Jimmy spent many hours dreaming about his perfect winter bike - the only given - it had to be a Seven Axiom SL.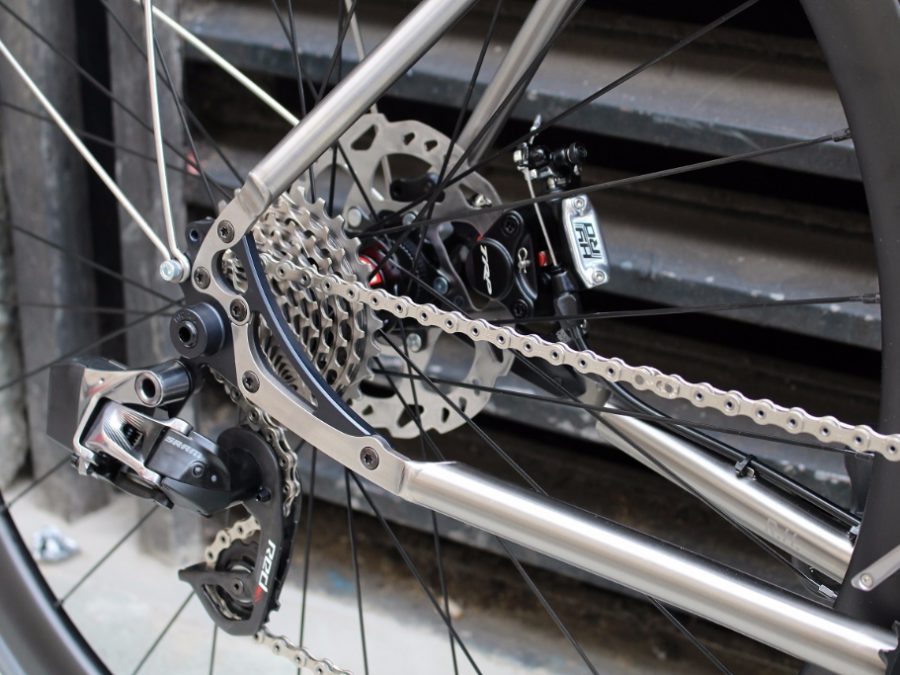 It is a pre-requisite for functional winter riding now. Two years ago it was a 50%/50% call. Now we try and convince everyone who is conceiving a winter project to Go Disc!
Money where the miles
When I started working at Cyclefit, I resolved to put the money where the miles were. My first Seven winter bike was an Axiom S. A custom Titanium frame with an Ultegra Di2 groupset and hand built wheels with Dura Ace hubs and HEDArdennes rims. Deda and Bontrager made up the rest of the bike. All new components but nothing over the top. I stuck with rim brakes as there was not a Di2 hydraulic disc option at the time.

This was an amazing bike. Super comfortable because of the frame and fit. Almost maintenance free because Di2 doesn't mind if it rains. There are no moving cables to get gritty and sluggish. The Dura Ace hubs were equally untroubled by 200 miles per week in all weathers, and Seven's titanium tubes have a brushed finish that is always only a wipe away, no paint equals to chips or scratches.
The only problem was that due to the amount of braking involved in the city portion of my commute (this bike gets me to work too), I got through a front rim in six months.
Once Shimano released their Di2/Hydraulic STIlever, I moved the Axiom S along and ordered a disc brake version. The geometry stayed the same, but the fork obviously had to change. I opted for a Wound Up Composites fork in order to accommodate mudguards and retain a 11/8" head tube. For me, this relatively spindly looking fork fits in better with the tube diameters used by Seven. It is also very comfortable and handles the power of the disc brake very well. New wheels too. Bontrager Affinity Pro have DT Swiss hub internals and are tubeless compatible. They served a bit of time previously on my cyclocross bike and have been 100% trouble free on the winter bike.
The rest of the bike came over from the rim brake frame so the Di2 bits are now approaching their third winter with no problems.
The most stark difference between the two Sevens is the brakes. Not just that the disc brakes are very predictable (they do the same thing regardless of conditions), but also they are psychologically more relaxing to use. The white noise made by pads sliding over a wet rim is actually just the sound of the rim wearing away without really slowing you down that much. I hated that.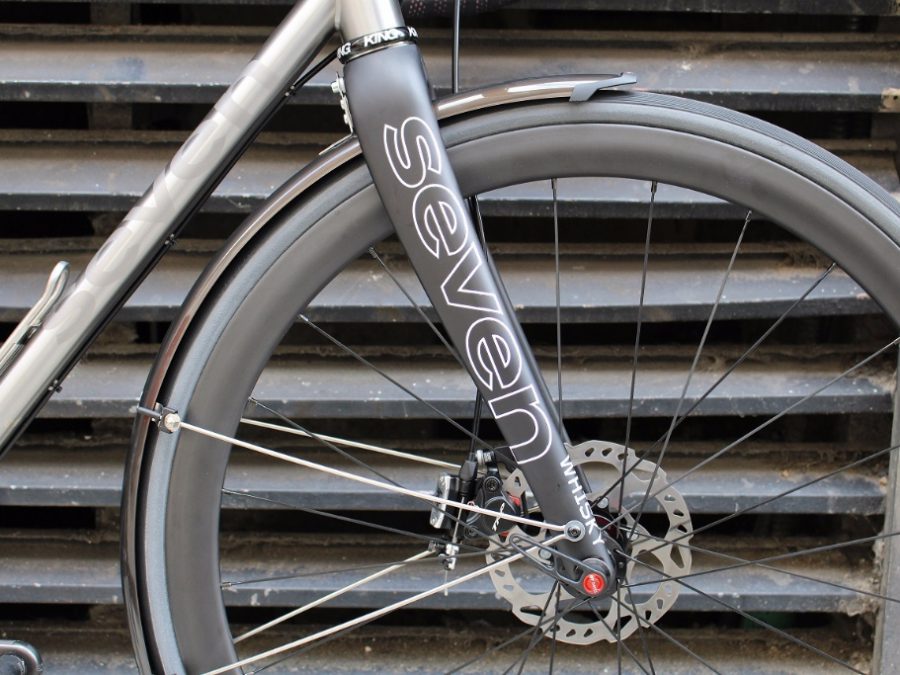 This exquisite bike we built for Richard is in our all time top-ten bikes we have ever made.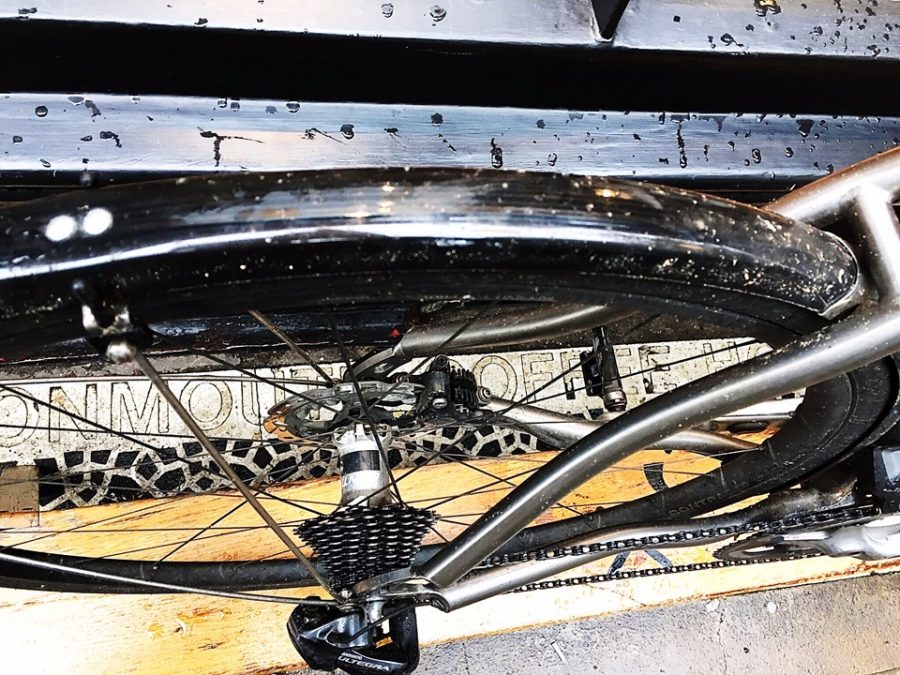 Mudguards, disc-brakes, titanium, custom, hand-built. What's not to like?
Winter Proof
The final upgrade was to switch to tubeless tyres. I have used tubeless for MTB and Cyclocross for several years but never on a road bike. From my experience with tubeless on the cross bike, I knew that most (if not all) of the punctures that would normally have been remedied by fitting a tube, were taken care of by the sealant already in the tyre. Changing tubeless tyres often reveals several "clots" of coagulated sealant clinging to the inner surface of the tyre at the site of a puncture I didn't even notice. Any hole in the tyre too big for sealant to handle can be plugged in a matter of seconds using a miniature version of a kit used for car and motor bike tyres. Road tubeless presents slight complications due to the higher pressures involved. The rim/tyre interface tends to be tighter and the tyre bead stiffer making the tyre harder to fit. Once set up, it is trouble free. I have stopped carrying spare tubes because I know that a hole too big for sealant would allow the tube to bulge through the tyre once inflated. (Also, I doubt I'd be able to remove a tubeless tyre with cold hands let alone re-fit it.) I just carry CO2 and a kit to plug any major holes. Bontrager AW2 TLR 28c tyres at 80psi rear and 75psi front, they love crappy Surrey roads surfaces and function really well on greasy city roads too.

So, I am pretty much winter proof on a bike that I actually commute on all year round and choose over carbon race bikes for long rides in the summer (I used it for the Prudential 100 this year). It's had a couple of incarnations and I am half thinking of going for a 1×11 drivetrain at some point, so I'm not done yet.
Still, the premise of putting the money the miles are remains. There is so much amazing and weatherproof equipment out there at the moment, that the Frankenstein approach seems totally ridiculous. How do you think his "monster" would have turned out if he'd had access to genetic engineering?