Trek Emonda Superbike 1 x 11 Super bike = Superman, woman, non-gender specific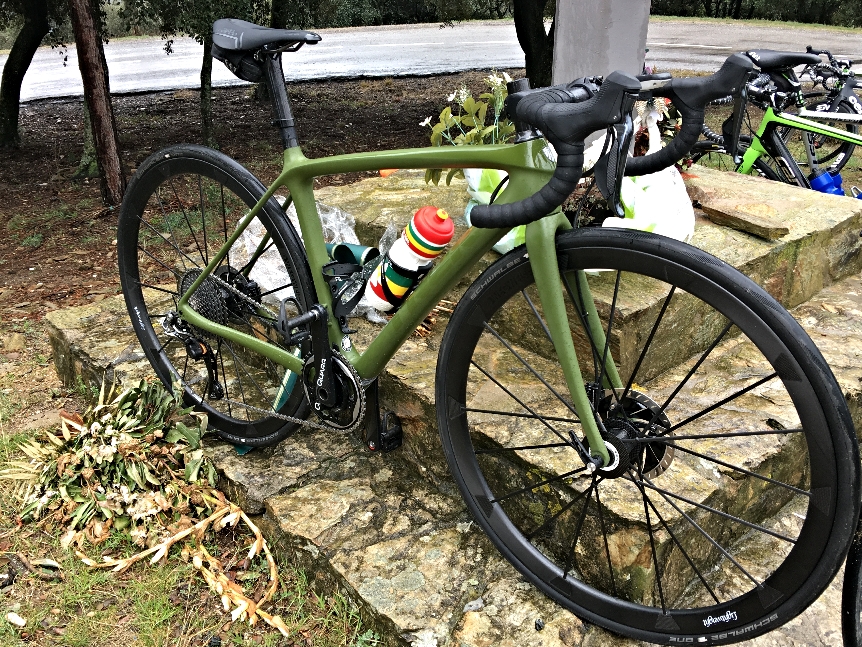 It is very hard to see how this bike could be better, or more beautiful?
Take a gun to a gun-fight
The goal was build a light weight road bike with enough gears to ride over several mountains in one day. Ensure that it looks so gorgeous that I can't stop keep looking at it.
Last July I rode l'Etape du Tour in the Alps but it was harder than usual by the bottom as I approached the last feed station at the bottom of the Izoard I was pedalling at a very slow 60rpm completely exhausted and wondering how I could get up and over it to the finish.
I made use of the complimentary ASO water hose and poured the cold water over my head and back and tried to return my body temperature to somewhere near normal, I found some shade and sat there for some time. I decided to break the final ascent down in to 500m manageable chunks and eventually set off in a silent world of pain. Never again. Least not like that. I vowed next year I would take a gun to a gunfight. I know of no better weapon available than Trek's Emonda SLR Disc. But before all that, let's me talk about me.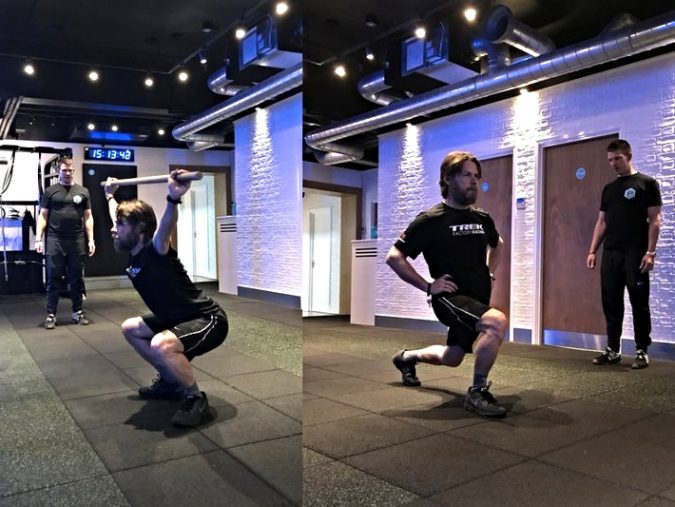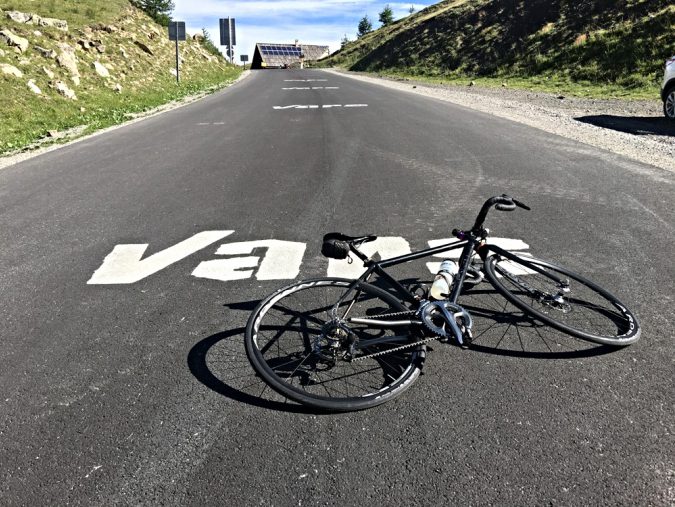 Should mean a lot less of this....
It's all about me!
Once recovered back home I swore I wouldn't enter such an event without correct preparation so I have started training regularly and have been lifting weights. Its been tricky though, the weather this winter has curtailed my commuting and I have spent many an hour in the shed watching my Avatar ride around watopia. Zwift has been a Godsend for many this winter and has kept us ticking over. I'm not sure the combination of Stage and Zwift is good for my bio-mechanics but I'll come to that later.
I have also started weight training twice a week to build strength and resilliance in the old body with Performance Pro. I'm not lifting heavy weights at the moment Tony (my personal trainer…) wants to improve my general condition and get me ready for the heavier loads. It's the 'personal' part of the training that makes the difference his gentle encouragement and teaching me the correct technique through the exercises makes the session much more productive. A gentle prod here, and a guiding hand there help me maximise the exercise benefits and I'm already feeling better on the bike.
I haven't a proper training plan though life isn't quite as predictable as I would like but I try and ride three to four times a week and fit in a vo2 max session and a race on Zwift very early on a Sunday morning, Phil listens on incredulously when I tell him about how I chased back on to the group and watts per kilos, it's the biggest buzz I get at the weekend other than watching my son play football a few hours later in the desolate surroundings of a school football pitch in Ramsgate or Faversham or some other God forsaken hell hole.
So that's me sorted but what about the bike?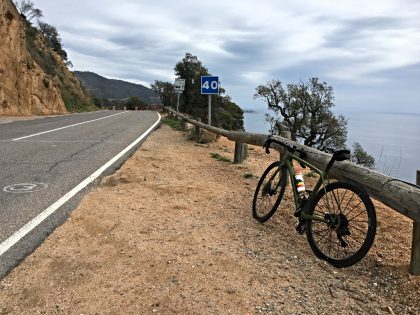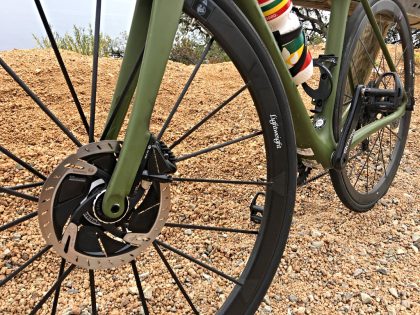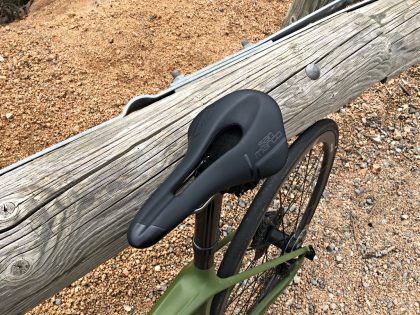 Another Year - Another Bike
Last year I rode my Seven Evergreen Pro a beautiful custom titanium and carbon custom frame; its around four years old now and technology has moved on a little regarding the components but it still rides beautifully and currently with mudguards fitted it is taking on the filthy winter roads. Its not the lightest bike in the world but shaving off a bit of weight from bike and body does make any ascent a little easier. See diagram. My gearing was also a little too hard for me 34 x 28t was my easiest gear but with my little legs and 165mm cranks at 60rpm I needed torque to get the gear over and that was sadly lacking, being able to ride as a higher cadence would be much more beneficial.
With all the above in mind I set to work designing the new bike and I have to confess it turned out better than I thought.
The frame:
Trek Emonda SLR Disc – weighing in at 660gm the Emonda SLR frame is a category leader and is also available in two geometry platforms. I opted for the H1 frame, it is longer and lower than a standard Emonda frame and suits my mis-proportioned body perfectly. I ordered the frame through Project One and painted it in matt Olive Vapour coat (the vapour coat saves xxxxgms from a standard paint finish) and fitted ceramic bearings in the bottom bracket to reduce friction and save a few watts.
The wheels:
Always a subject of lengthy debate but I thought I would try something a little different to the usual Enve 3.4 rim/Chris King hub combo, they are standard fare on many of the bikes we sell but dare I say it? A little common these days! So, I thought I would opt for the original super wheel makers craftsmanship and slotted in a pair of Lighweight's Wegweiser clincher disc wheels. Beautiful to look at, secretly hand crafted between two locations so that the recipe cannot be copied and weighing in at 1495gm. At £3,499.00 the Wegweiser's are financially a little more accessible than the original Melenstein wheels that are out of reach for many (including me) at £4,299.00.
The finishing kit:
Embracing the 'no Enve' theme I installed Zipp's carbon Service Course handlebars and stem. Partly on looks and weight but also on ergonomics. The handlebars have a shorter than normal 7.5cm reach which means I can use an 11cm stem and the drops are shallower than Enve's short and shallow bars so my hands aren't wallowing around down there and it is easier to stay in a lower position for longer. There is also a little sweep back across the tops and the slightly ovalized carbon makes climbing on the tops very comfortable. The stem is fat and stiff and looks gorgeous.
The Gearing:
Well this could be the controversial part, but it will make sense. Lots more people now cycle over bigger mountains and with less fitness than they should have. Cycling is a wonderful thing to do but not everyone likes training or has the time to do it. The component manufacturers aren't bothered about this; ten years ago Shimano and Campagnolo decided to get rid of their triple chainsets in favour of the compact chainset. Campag used to offer a climbing gear of 30 x 29 compared to their lowest of 34 x 29 now. Fortunately, the cogs are getting bigger at the back with Shimano (32) and SRAM (34) so the gears are getting easier but they could be better.
Over the last two years we have built many gravel bikes with 1 x 11 gearing that offer a wider range of gear options than a standard compact road set-up I rode an Open with SRAM Force that had a 42 chainring and an 11 – 42 cassette, giving a 1 to 1 easy gear and a high enough gear to ride on the road with 32mm road tyres. On a group ride through the North Downs I could sit on the steep climbs where others were standing as my gears were smaller (not my fitness better) and keep up in the group on the flats; the 32mm tyres and disc brakes also helped me handle the rough roads and steep descents. The set-up was much more appropriate for the type of riding many cyclists do than a 'racing' bike. I'm going off track a little here but for many a light, stiff frame with small gears is in appropriate, a moderately light, comfortable frame with easy gears is a much better solution. Cue 'Landrace'.
On the Emonda then I have installed a Shimano Di2 1 x 11 consisting of the following:
Shimano Dura Ace Di2 Disc levers – the right lever makes the gears harder, the left easier (like SRAM eTap).
Shimano XTR Di2 rear mech – this will travel up to a maximum of 42t teeth, the XT version can go up to 46 which is useful for very long dirt climbs but the jumps between gears is bigger.
Shimano XTR cassette (this is mountain bike kit by the way) – 11 – 42 teeth cogs. I'll probably change this to a 42 – 10 (this depends on freehub body) to get a little more top end on descents.
For the Etape du Tour 2018 I will change the chainring to a 40 tooth to give me a 0.95 gear ratio for the gravel section to maitain cadence, a 34 x 32 gear ratio is 1.06 for comparison.
Quarq powermeter – 165mm cranks with 42t chainring.
Down below
The last thing I added to the Emonda was a new San Marco short fit saddle and immediately rode 300km in three days without any problem and specifically reduced perineal pressure. I am very impressed, the pressure was distributed evenly, very comfortable and no nipping on my left side;now I need to buy three more for my other bikes.
The best carbon bike I have ever ridden.
My first ride was over Els Angels just outside Girona and immediately noticeable on the climb was how light the bike is, on each pedal stroke the bike shot forward and I had to hold on to keep up with it. Out the saddle the bike was stable and efficient, the stiff rear triangle (forget what is said earlier) and the Lightweight wheels transferred my meagre wattage without wasting any effort. Down the other side it just 'went' if that makes sense? I didn't have to think about it much, very stable on the fast straights and the Emonda tracked through the corners beautifully and those Shimano disc brakes are very smooth, no grabbing or squeaking, perfect braking in the wet. The bike steered true under heavy braking too, not pulling to the left thanks to the frame design and those laterally stiff Lightweight wheels. It was a highly sensual experience for a fifty four year old man and us midlifers we need as many of those as possible. The whole package was a pleasure, including the Schwalbe pro tyres, tyre selection makes suach a fifference to how a bike feels; the Schwalbes are much more polite than Continentals GP4000's they would let me know if I was losing traction and not just dump me on the road, the overall sensation of the road surface through my hands was delightful, purring along is a good adjective I think. Out on to the rolling roads at the bottom and I could ride comfortably at 25mph in the group with gears to spare, on a long descent two days later I reached 31mph at 105rpm. That's fast enough. Tick.
Leftism
The Quarq powermeter was a revelation, I've longed to see what both legs do in terms of effort having used a Stages left side only powermeter for several years. Ive always been sceptical about the Stages reading power from only one side, it makes the rider focus just on that leg. I was shocked to see that I had 60% left side 40% right! Was it my biomechanics or my technique? Had many hours of riding on Zwift made me focus more on my left leg? I knew I did, adding a little more of a flick with my left foot at the bottom of the pedal stroke would improve my watts per Kilo, my right leg was a passenger, the right leg with the smaller quads and tight hip flexor (pulling up mostly then?) … so I pushed a little harder with my right leg and evened out power (around 52%/48%) was my best but I'm working on it.
It didn't feel like an even effort but I am going to persist in the pursuit of symmetry; the bike is perfect i now need to sort the rider out.
If you would like to upgrade your bike to a 1 x11 Shimano Di2 coversion kit the price starts from £496.00 plus labour.