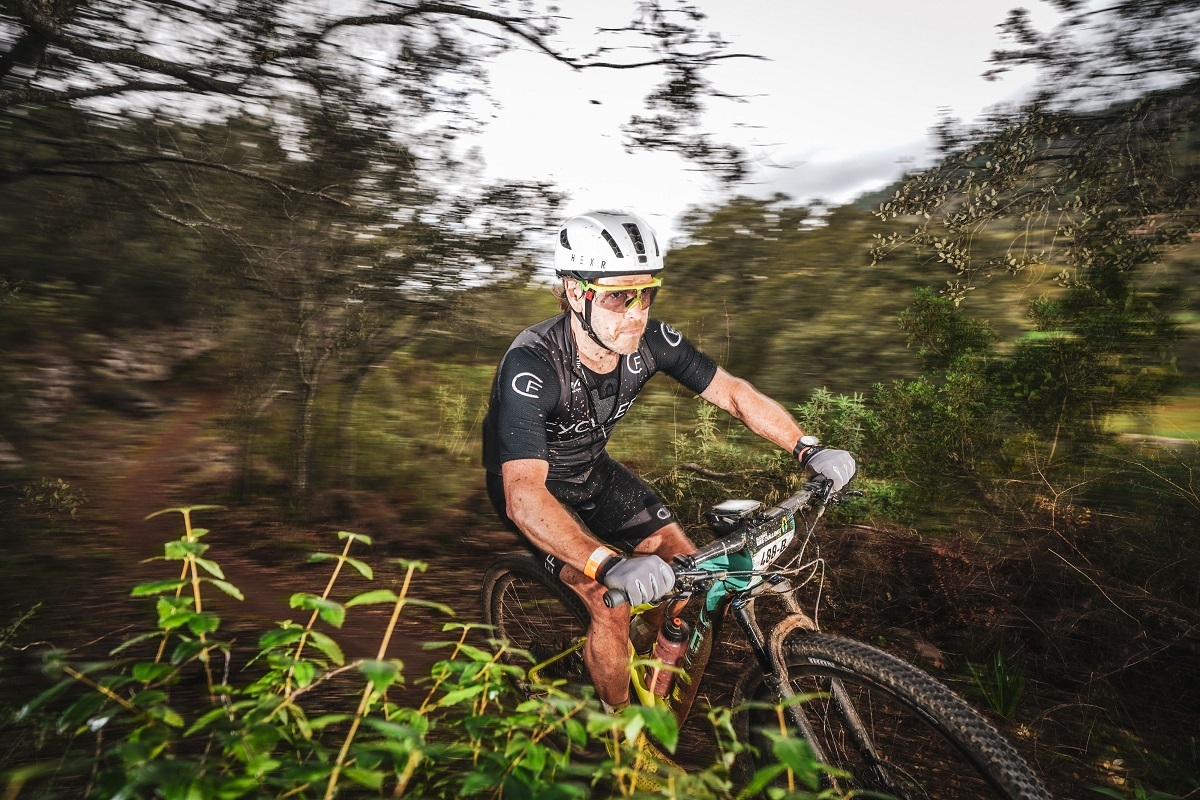 Every now and then i get a yearning, most days it is for a bar of chocolate mid-afternoon or a Pale Ale when i get home, most days. It's not a good combination at 55 years old if you are flogging yourself on the indoor trainer to reach four watts per kilo, vainly trying to prove to yourself that you aren't really old, age is just a number, mother nature can be ignored, I'm just a little out of shape (fat) and if you can hit that ratio all will be well with the the world. So to put myself off the oral stimulants over the winter and keep focused on the training I thought I should try something different on the bike, something big to ride and early in the season, something to keep my head out of the Quality Street tin at Christmas (that bit didn't work).
I found the Algarve Bike Challenge around mid December and promptly entered it, a three day stage race comprising of a prologue around the host village Tavira and two eighty kilometre stages with around 5,000 meters of climbing, I had always wanted to ride an MTB stage race and this fitted the bill perfectly.
Just around this time Trek launched their new cross county mountain bike the Supercaliber to succeed the old Top Fuel, it was lighter and stiffer and faster, you know, the usual; I had been enjoying riding my Top Fuel and then all of a sudden I wasn't, how could I ever ride a mountain bike again if it wasn't a Trek Supercaliber? I felt that yearning again, I was utterly seduced. After three decades in the bike industry a bike's astetics and function can still generate emotions. Not all bikes though, not a Pinarello F12, any Giant road bike or Wilier, or that Canyon gravel bike or a Cervelo PX5, just for instance.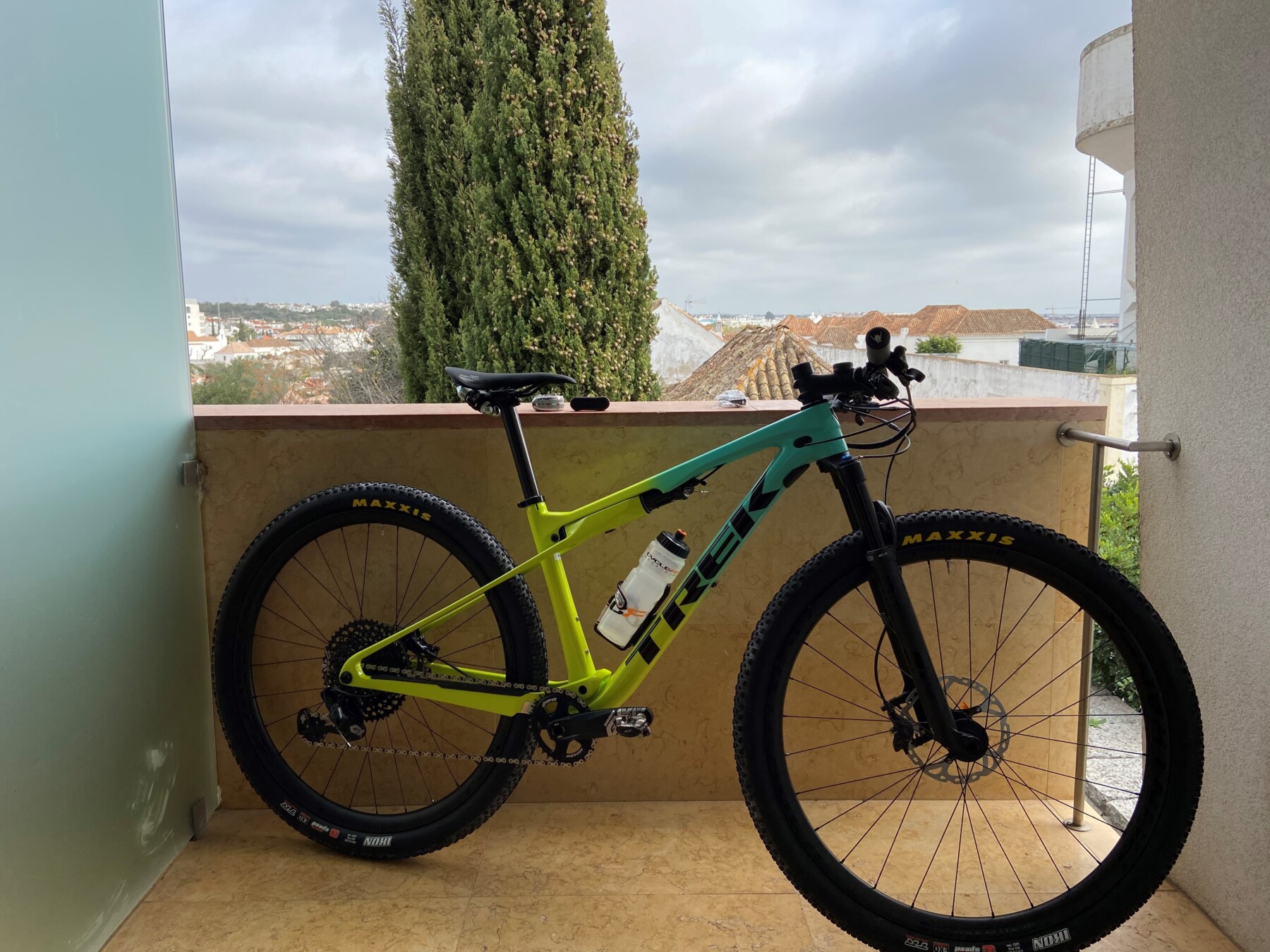 To cut a long story a little shorter I managed to procure a Trek Supercaliber 9.8 a few days before I left for Portugal thanks to Trek UK and Barna managed to build it the day before; my first test ride was up and down the shop twice and then it went straight in to the bike box. I set it up based on the Top Fuel position and switched over the cranks to my 165mm's with the Rotor 32T Q-Ring, fitted the new San Marco Allroads saddle with extra Gooch protection and changed the tyres.
The Supercaliber 9.8 (From £5,300.00) is assembled with SRAM's reliable, mechanical 1 x 12 GX Eagle groupset, carbon Bontrager bars and seatpost and the new carbon Bontrager Elite Kovee 30 wheels, for some reason the bike is specced with Shimano XT brakes and not SRAM, does it matter? Not really, they worked very well, that is the main thing when you are going down a hill. The Supercaliber weighs in at 10.46kg.
During the long winter evenings i did some research on setting up mountain bikes for marathon events and stage races, nothing much out there was of any use so I contacted Stoney's riding buddy Hugo in Marbella for some tips.
Hugo runs Marbella Cycle Centre that rents lots of road and MTB bikes and he rides regularly in the Spanish and Portuguese trails here's what he said:
"I've done several multi stage races and the ABC I've done all the series and I can assure you that you'll love it.
Tuff race specially the 2nd
day in terms of altitude and distance.
I'm not very friendly with Schwalbe tires due to bad experiences in the past, since I drive Maxxis I reduced punctures and cuts to almost nothing. I'm going to use Maxxis Ikon 2.25 with exo protection and Pepi's tire inserts, I'm 190cm and 82 kg, 1.8 bar back 1.6 bar front. I also don't carry any tubes with me or tire levers, out of my experience if I slash a tire that badly that the sealant doesn't work… then I use the Sahmurai tubeless kit and C02 gun, if that doesn't help then a tube wouldn't have helped either because of the size of the slash. The tire inserts help a lot in these things to keep the tire pressure low and reduce the risk of punctures or cuts. I also never carry a multitool with me, useless weight, be well prepared and shift carefully is my motto, 90% of the tools on those things are useless in the middle of the mountains anyway, why on earth would I need a Philips screw driver or a 6mm allen key, maybe a chain tool ill give you that… but when didi you ever break a chain on a 1X12 system??? Almost impossible. SO summing up… 25gr CO2 with the gun on it and samurai inside the bar ends all I have with me… since years.
Supercaliber… amazing bike, definitely right choice. Make sure the suspension set up is right there's a lot of standing climbing so the lock out needs to be working well.
As Andy probably told you I'm not a back pack kind of guy in races like this when there is every 25-30km a water/feeding zone, I prefer to travel light and save energy by saving weight. I will carry about 6 gels and 2 bars the first day and a 750ml bottle which I'll fill up in every station if needed. Second day 4 gels one bar and same bottle. NO CAMELBAK.
Lights for the prologue are not mandatory but bring a set of littles ones just in case they make a point of you having them, I never used any in the previous races I did, clear glasses and the street lights did the trick."
He's also known as 'Hardcore Hugo!'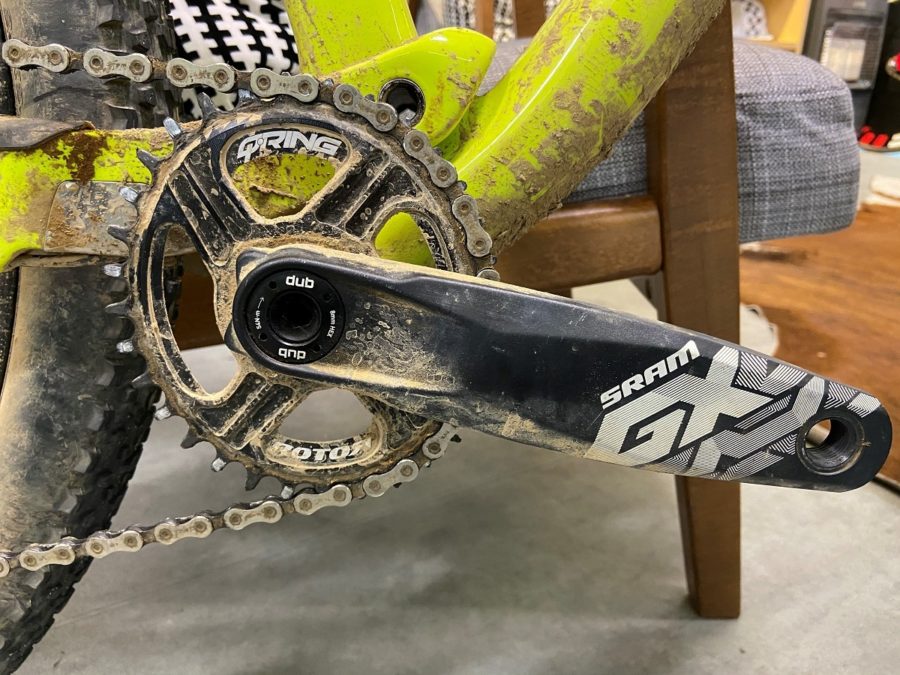 Rotor 32t Q-Ring and GX 165mm cranks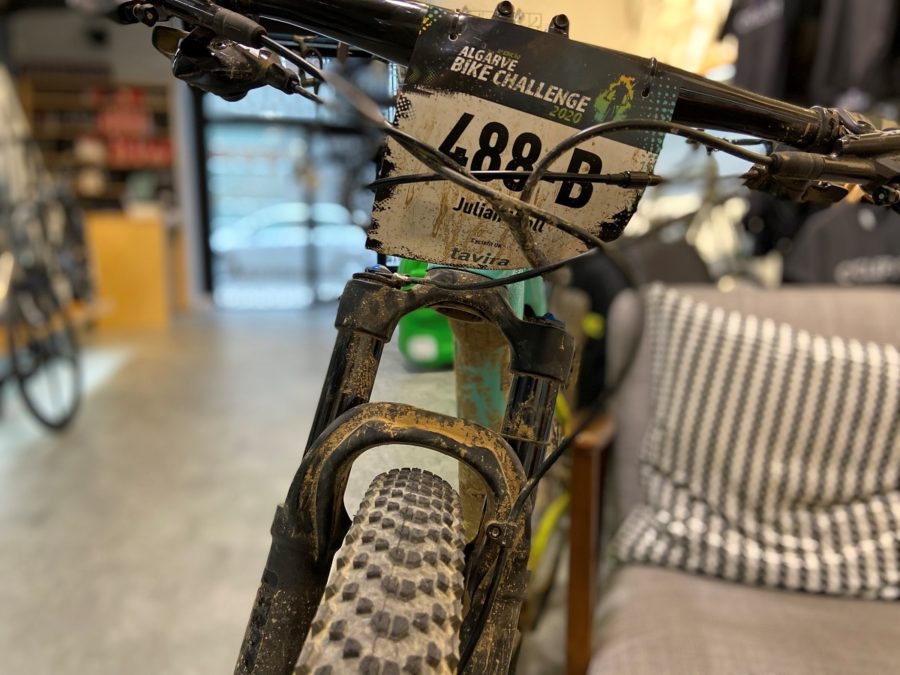 Maxxis Ikon tyres & Fox Performance 32 Step-Cast fork
So I followed Hugo's advice to the letter and all went well, I can highly recommend the Maxxis Ikon tyres they were lovely when combined wth the Pepis especially over the rocks in the river beds, nice compression and no fear of a pinch flat. On the downside they are very difficult to fit and I had to get Barna to use his strong mechanic's fingers and even he was swearing; getting the tyre off was impossible when I returned so in the end we had to cut them off before we returned the bike, what a waste.
But, no punctures and great traction, I have to emphasise thats.
Hydration wise we were fine with one bottle but two bottles would have meant we could have skipped the first feed station and possibly avoid the twenty minute queue for the single track descent.
Friday evening prologue
The first stage was a seven minute six man prologue around the streets of Tavira starting at 7pm, the suspension lock-out really helped as most of the short climbs were out the saddle, the Supercaliber was quickly turned back to suspension mode for the fast cobbley descents with steps, curbs and general street furniture. It was like the first lap of a cyclo-cross race. With so many up and downs combined with oxygen starvation towards the end I wasn't sure if I was locked or un-locked and I think I took the last descent to the finish with a fully rigid bike, at least that's how it felt!

Algarve Bike Tour Prologue 2020
Stage 2
Was 80km in the National Park with 3000m of climbing, I loved the first 50km, going upwards for the last 30km was a challenge, my biscuits were truly blown! It was mostly big open trails on the way out with more insteresting sections of sigle track on the return; we passed through fertile valleys and small old farms with their even ancient owners watching us ride by.

I didn't get to Stage 3 as I had to fly home early as I had a poorly child and a worried mum and it was impossible for me to justify being there any longer, apologies to big Julian for leaving him roasting, next year I'll do the whole thing!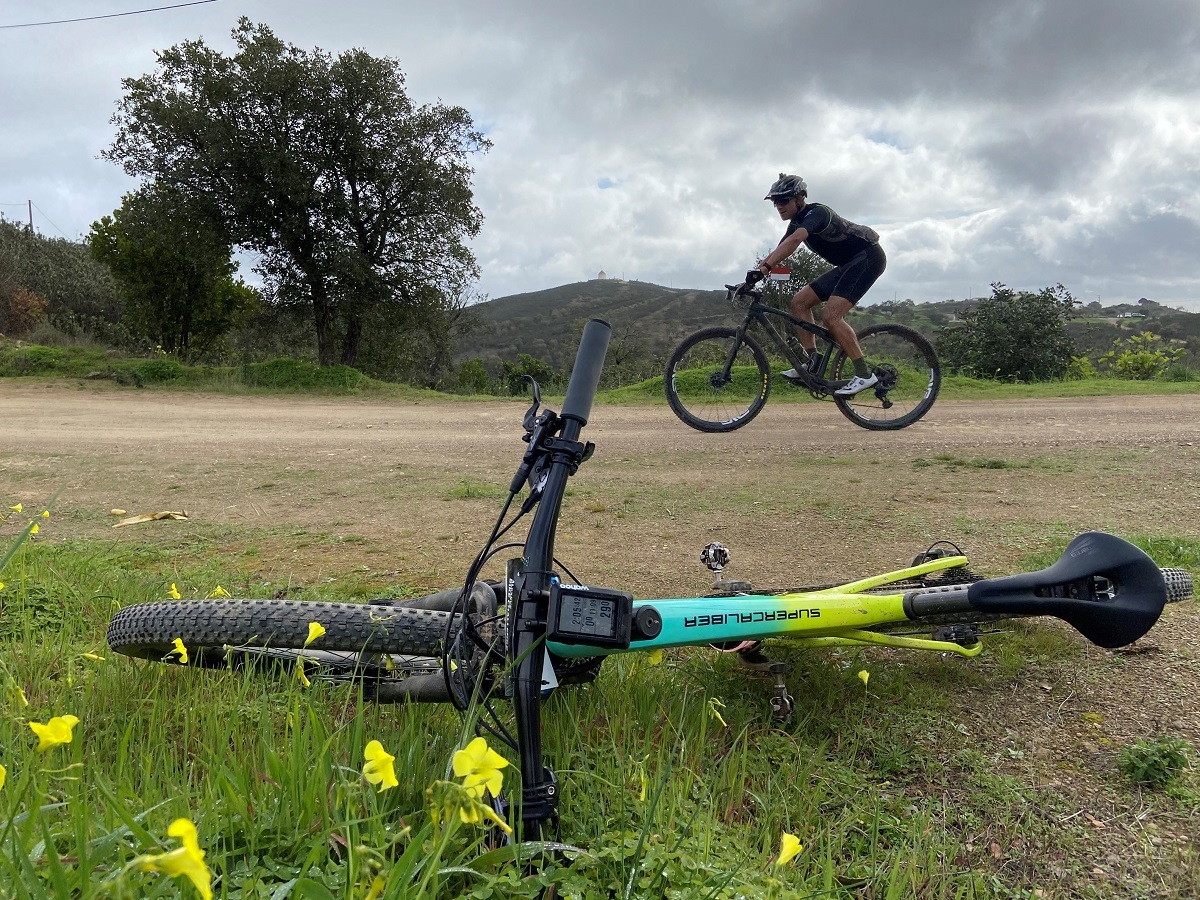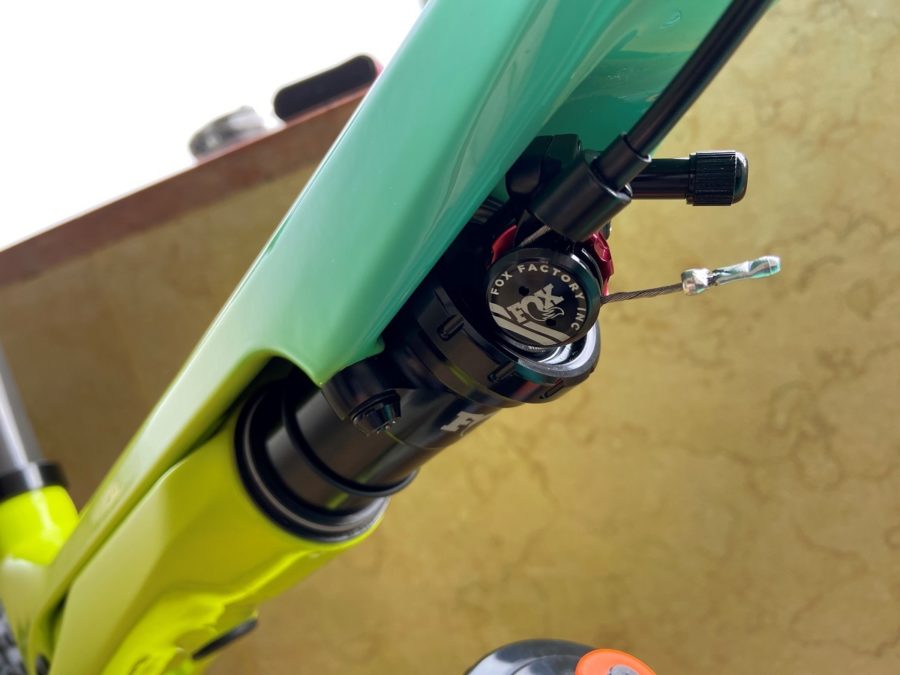 The rear Fox Performance shock is made specifically for the Supercaliber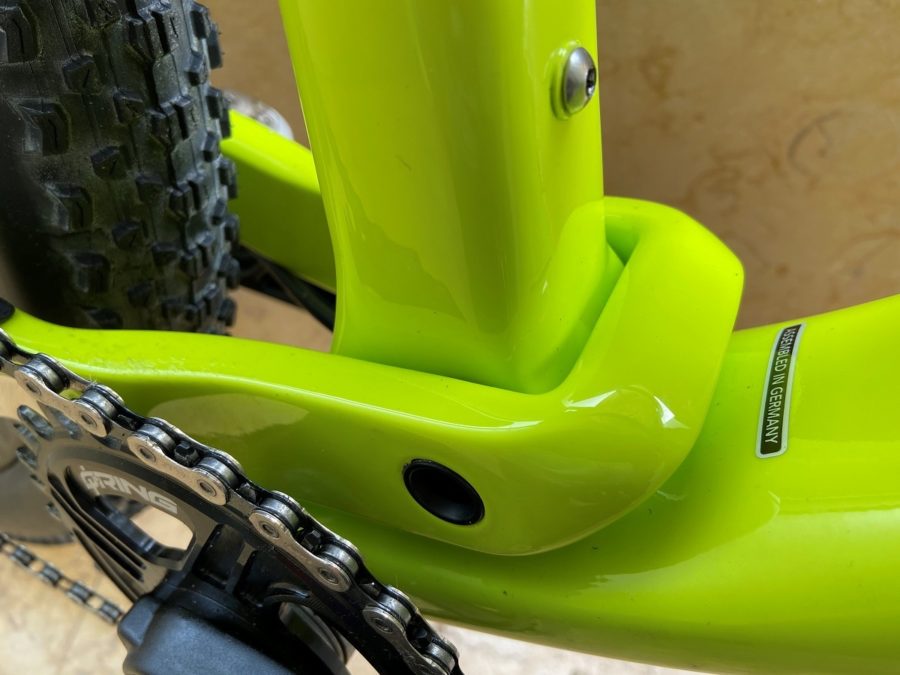 Single pivot by the bottom bracket, beautiful lines.
And so to the bike, the Supercaliber is a cross country racing machine, perfect for Beastway; it is the lightest full suspension bike in the Trek range with the least travel, 100mm on the front and 60mm on the back. It is the perfect machine for UK MTB races and anything around London though with less travel technical trails it would be a little more demanding than a bike with longer travel. However, if you like going up-hill fast and riding out the saddle this machine is perfect and would challenge any gravel bike on more open trails and be a lot more comfortable.
The 60mm of rear suspension provides enough comfort and also improves grip on loose climbs, there is nothing not to like and a big plus is that the fluo paint matched my shoes and Alba Optics glasses, that's what it is all about is it not?
Would the tester buy one? Yes, but there aren't enough to go round at the moment so no staff purchases available!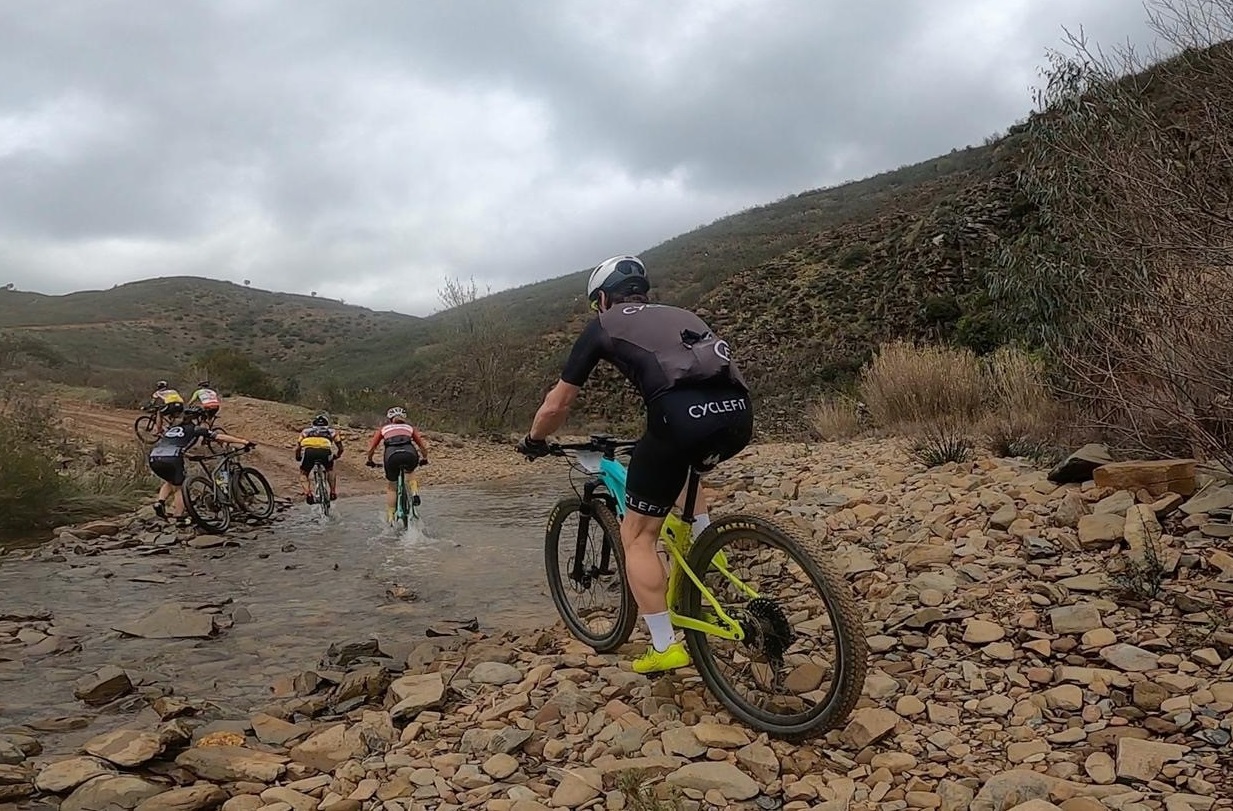 I sacrificed the white socks to match the HEXR helmet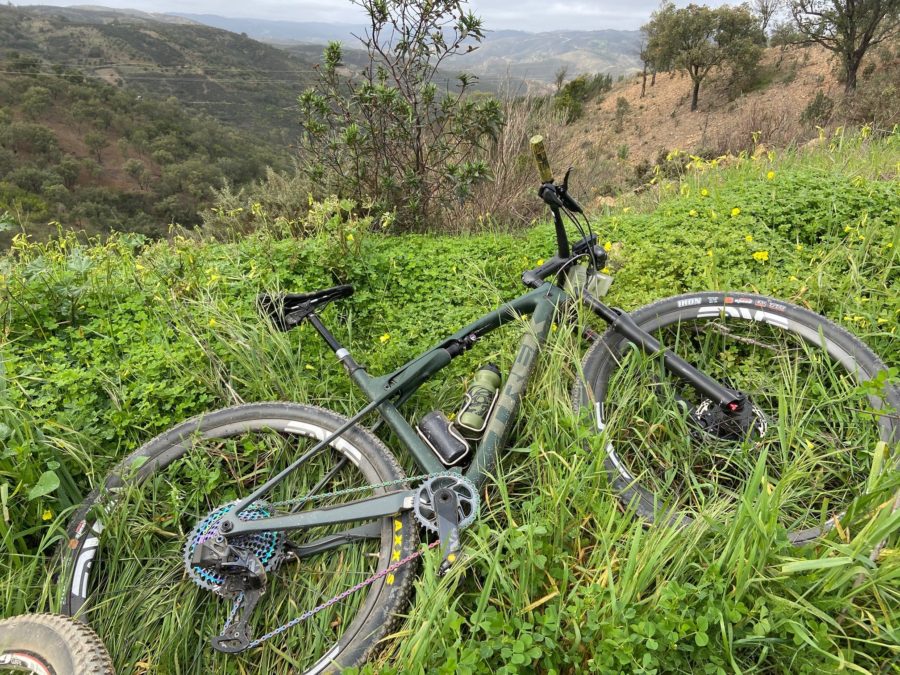 Trek Supercaliber 9.9 AXS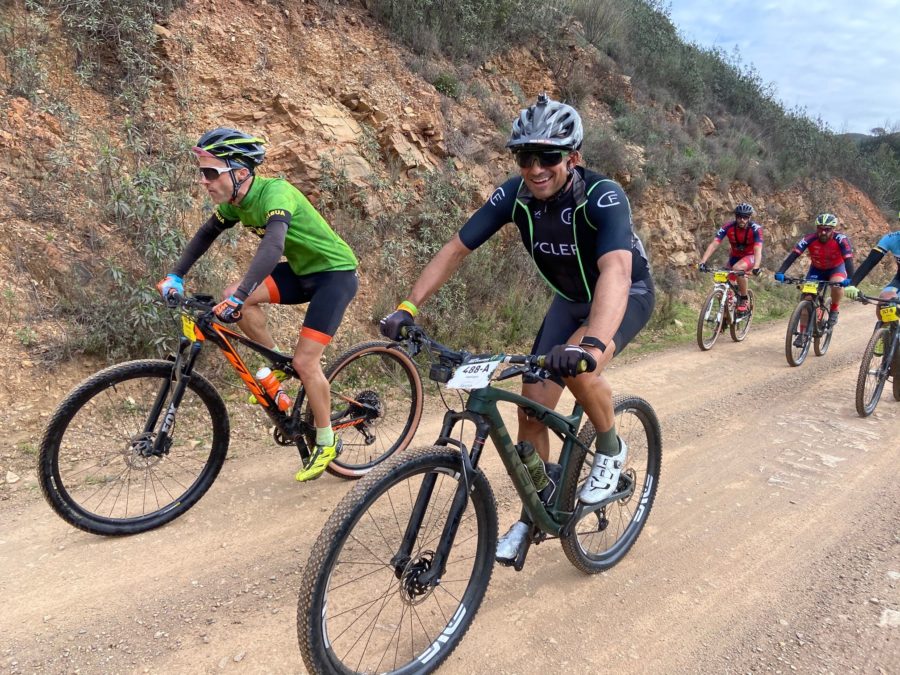 Big J enjoying his new rig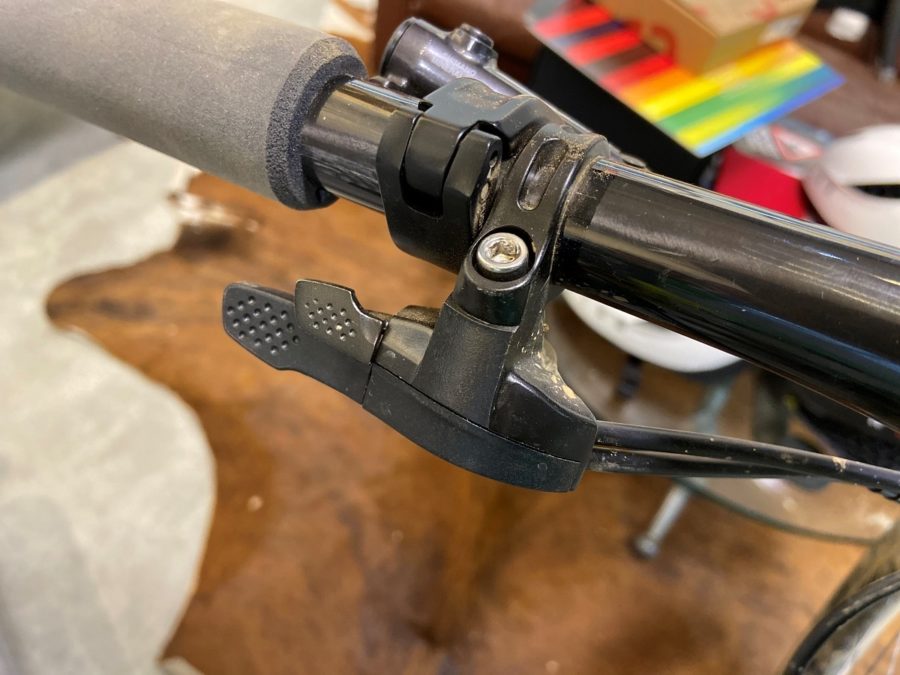 Lock-out for front and rear shocks.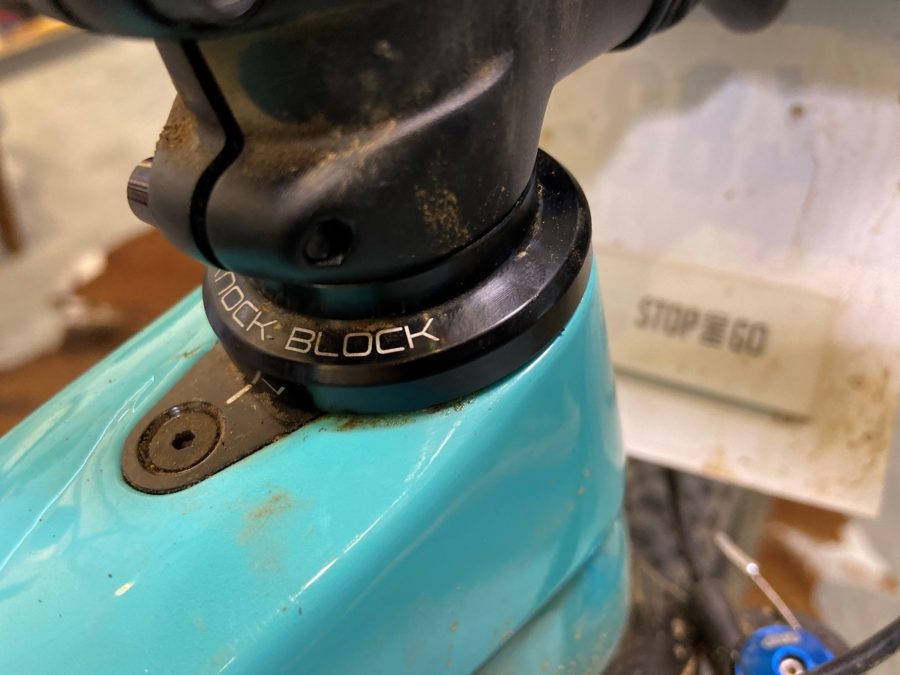 Trek' new chock Knock Block stem limits extreme rotation and protects the frame from the forks.
My co-rider Big J also used a Supercaliber 9.9 Project One and said (without prompting) that it was the best MTB he had ever ridden, and, like me his was straight out of the box and on to the course. Julian had added a few upgrades with Enve wheels and finishing kit, dropper post, Quarq powermeter and extra custom paint on the rear stays. He used SRAM'S Eagle AXS eTap wireless gears that worked faultlessly over the weekend.
Bikes are so much easier to use these days, it is the riding part that get's harder!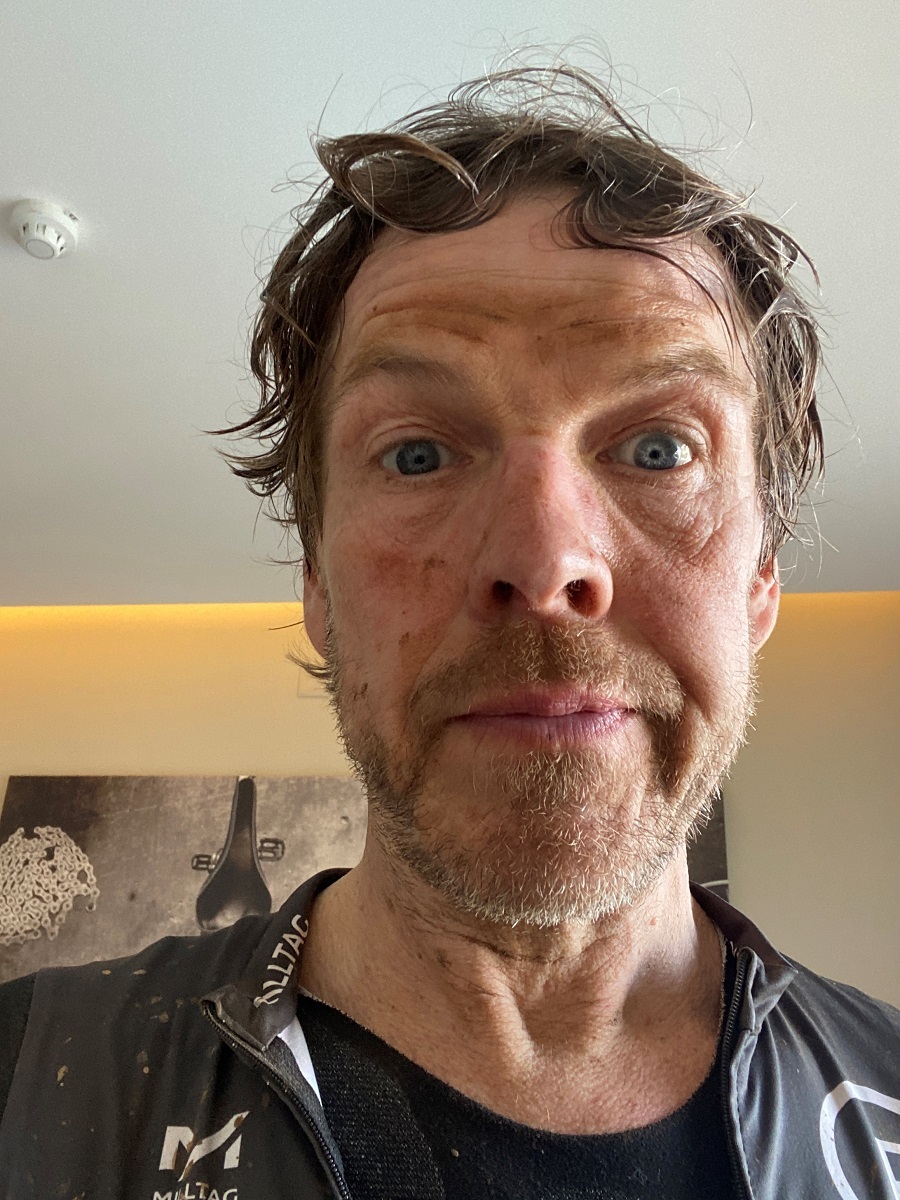 83km, 3,000m ascent. 7.5 hours, 55 years