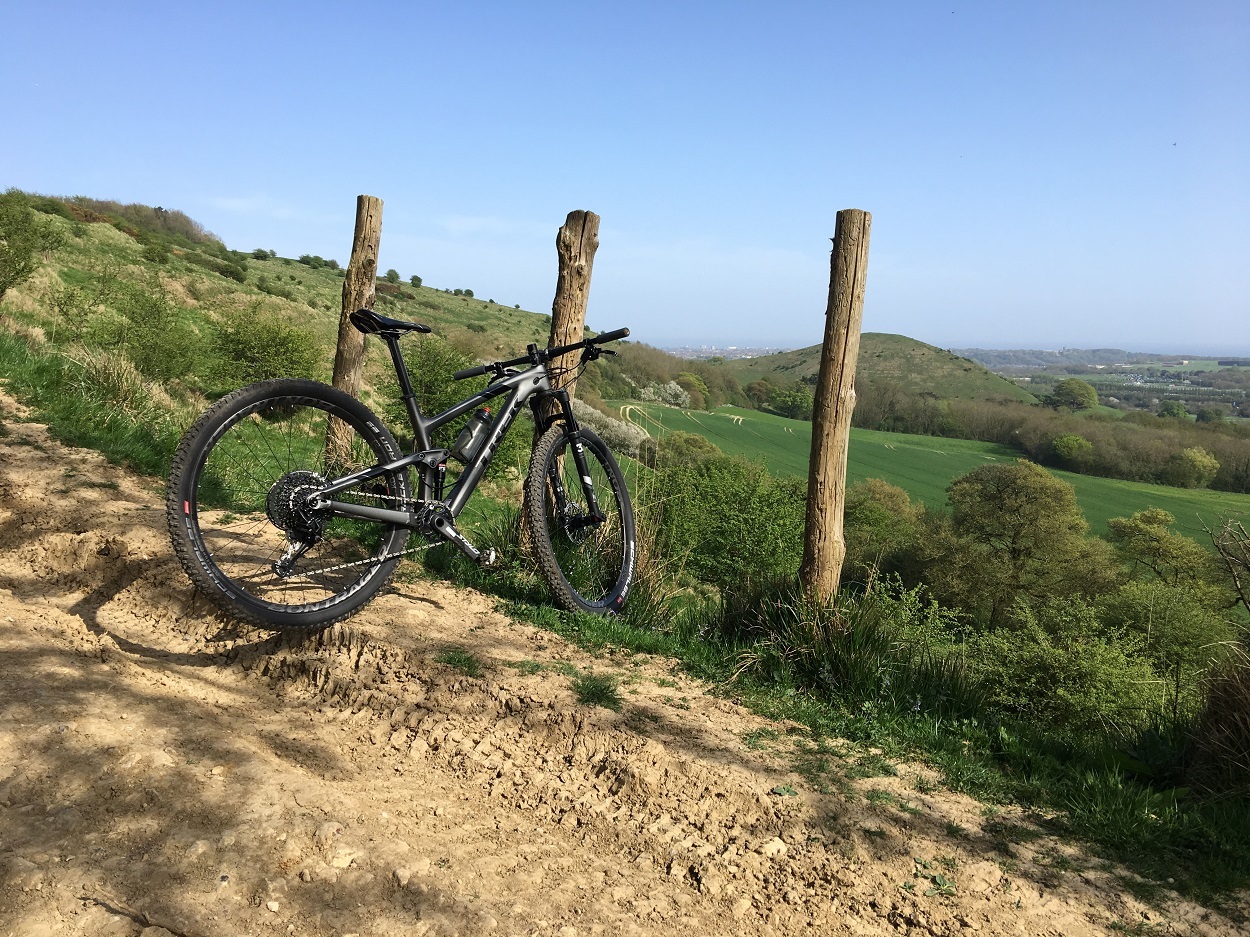 The Bike For A Post Muddy Fox Era
Those of you who may have read my recent blog will have noted that I am now the proud owner of a Trek Top Fuel 29er mountain bike. I like it so much I thought I should write something about it so if you ever considered coming over to the dark side of cycling and ride some trails this may even motivate you or put you off forever.
The Trek Top Fuel 9.8 is a full suspension cross country mountain bike made from carbon with twenty nine inch diameter wheels which should you have not ridden and mountain bike since your Muddy Fox was nicked are the new standard in mountain biking these days. They are obviously bigger than the old 26" standard but they do roll better however they gyroscopic forces do take a little more effort to control through twisty single track. That's why mountain bike handlebars are soooo wide these days (well one of the reasons) and if you are small they inevitably need chopping down.
Trek make a huge range of mountain bike models in hard tail frames and longer travel options for the more adventurous (younger riders) and also the more popular MTB E-bikes that can now propel you uphill (I'll be trying some of these out next week and will let you know how they ride).
I opted for the Top Fuel as I wanted to try out a modern full-suspension mountain bike, it needed to be light plus I wanted to race it and use it for longer endurance rides over mixed terrain.
(My bike is the 2018 model, the new 2019 version uses a Rockshox SID Fork and comes in a charcoal finish Top Fuel 2019 )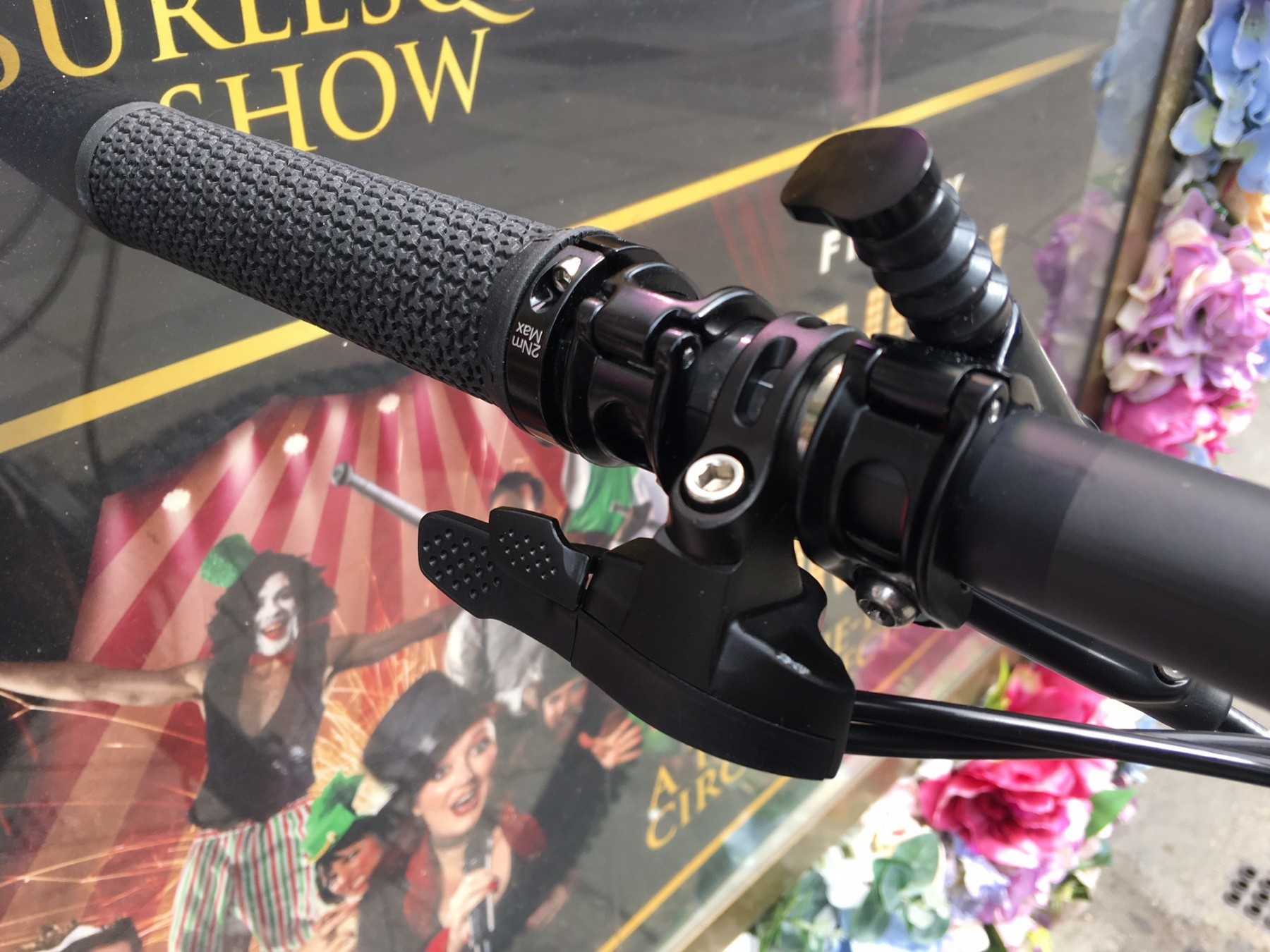 Suspension Lock-out levers and Dropper Post button on a Top Fuel 9.9 Project One
The Right Gear
The 9.8 comes with a SRAM GX Eagle 1 x 12 gear system that uses a 1 x12 gear system. The MTB 1 x 11 gear systems are designed for steeper longer climbs and the bike is equipped with a 32t front ring (this can be changed to a 34t if you so wish) and a 10 – 50 rear cassette, its bloody huge but i often use it. The gear shift is mechanical and clunky compared to Di2 but at the same time very reliable and robust, and not as expensive. There is also a slinkier SRAM XX1 version at the top of the range if you feel you might need it.
Stopping is provided by SRAM's hydraulic disc brakes, they were set up by Barna six months ago and have worked faultlessly since then, that's all you need to know!
Suspended Disbelief
The front forks are Fox 32 Float with a 100mm travel that have rebound and compression adjustment same for the rear shock that offers 100mm of travel. Suspension adds another dimension to your riding as there are invariable adjustments available based on your weight, the terrain and how you like the bike to feel under you. It took me around a month to get the bike feeling how I wanted. I was mostly racing short MTB races at Hog Hill that had a lot of short climbs and fast very bumpy descents and flat sections. The front forks I set up very plush and with a fast rebound the rear I kept firmer and slower for climbing in the saddle to avoid losing any power and also to maintain traction. The big game changed for me is the front and rear lock-out that allows both suspension units to be fixed rigid for road riding and climbing out of the saddle. Brilliant. Its like having a turbo on the bike.
Unlike many custom builds we provide a Trek mountain bike can be ridden pretty much straight out of the box. Almost.
The only changes I have made were to lengthen and lower the stem and reduce the handlebar width so my hands sat more comfortably and i could get through narrower gaps more easily on High Holborn. Once bar width was established and more robust new stickier grips were fitted after the original ESL grips split when I tried to move them. The right hand SRAM gear lever has two bolts that allow you to move the levers laterally, plus they can be rotated around the bars for fine tuning. If I'm honest its not the most ergonomic set-up and I do have to contort my thumb a little but its only a small issue.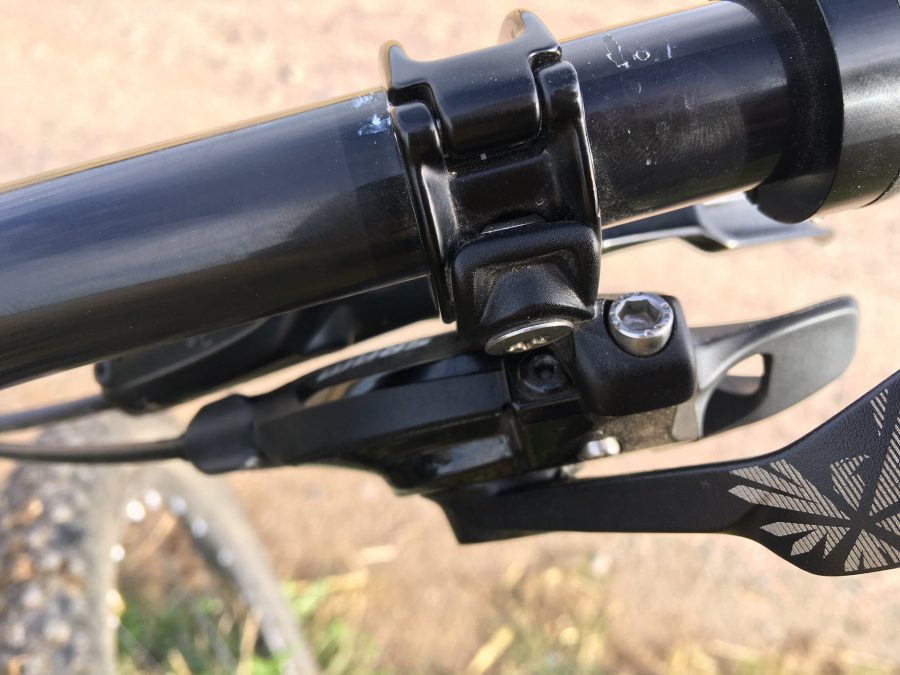 12 Speed SRAM gear shifters, with in-out and up-down adjustment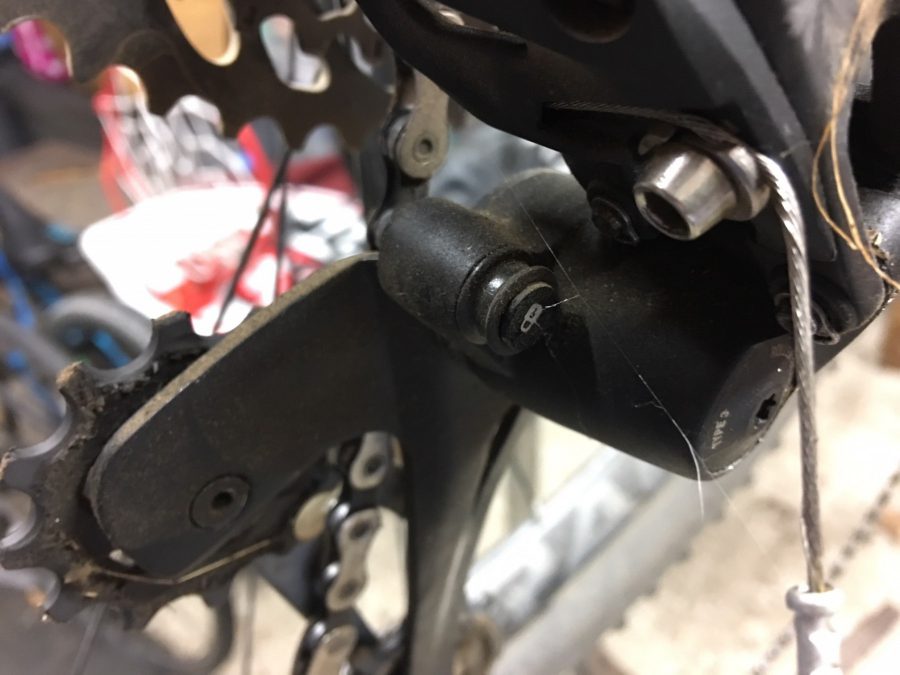 This little button disconnects the rear mech spring for easy wheel removal
A Post-Puncture Era?
I set up the Schwalbe Rocket Ron tyres tubeless and haven't had a puncture that I know of all summer and run the around 30 – 35 psi. The tread is fairly chunky but works well in all conditions, my first race was a mud bath, my second dry and bumpy and they coped admirably in both. With tubeless tyres and all that sealant the last thing I want to do is worry if I have too much or two little tread and have to change tyres before a race or ride.

So far, so good, the Top Fuel is a wonderful piece of technology, it is perfectly balanced and and the plush suspension inspires confident descending but unfortunattely there is a but; but my biggest issue was the CRANK LENGTH!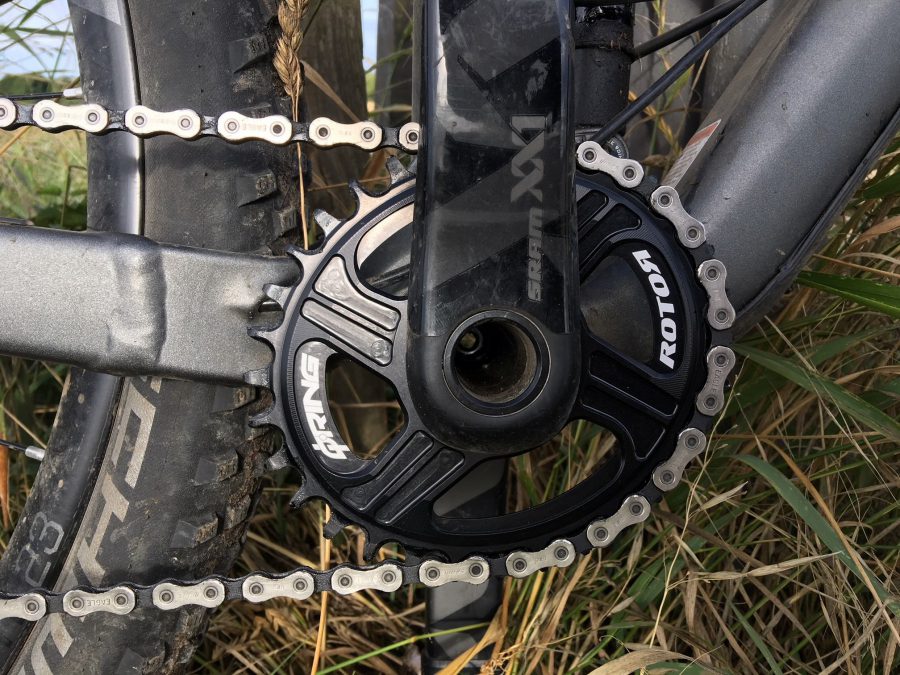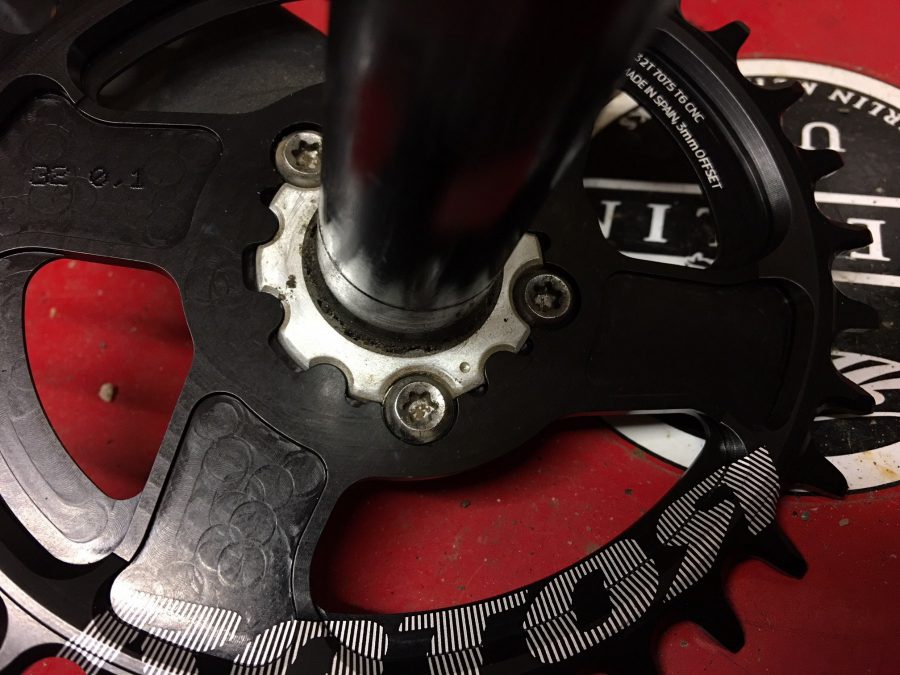 Lovely CNC work on the Rotor Q-Ring
A perfect Fit
Size wise I opted for a 17.5" frame (I ride a 52cm H1 Emonda for ref) which gave me a longer top tube than the 15.5" and a 29" wheel. The 15.5" Trek frame is equipped with smaller 650b (27") wheels. The stack height was pretty much the same, which for little people on 29" wheels and 100mm travel forks is a problem – especially for cross country racers – as you cant get the handlebars low enough. The higher handle bars do change the way ride though, you sit more upright and can actually engage the glutes better when climbing, wind resistance isn't really an issue in the woods. The higher handlebar position also improves handing on steeper descents when combined with a short stem to keep your weight back.
Any way back to the cranks, the bike comes with 175mm SRAM Stylo Carbon Eagle, 32T,
Short Cranks
I use 165mm cranks and after two rides tried to change them, big problem though SRAM doesn't make the same cranks in a 165mm option nor an Eagle version. I looked around of alternatives but anything in 165mm was heavier - and I don't do heavy on bikes - for down hill riding or in a BB30 configuration, this code refers to the bearing size, Shimano for instance is 24mm plus there is also GXP from SRAM and Trek have their own BB90 that is unique to their carbon frames. You can use Shimano and SRAM but not many MTB cranks as they all come in BB30 these days) so my options were limited I had to use a 170mm crank, it was better but my knee angle was still closed off and it was hard to get the gear over and pedal up-hill out the saddle.
Anyone For Boost?
Anyone heard of Boost? No, not the chocolate bar, it's a newish mountain bike standard standard of rear axle spacing so all the gears and brakes and suspension what-nots can be fitted in between the dropouts. Not a problem for most, but it is for titch, it increased the pedal stance width so your micro adjuster had to move his cleats out, it was better but still didn't feel 100%. I kept riding, kept pondering, mover the cleats back, still not great though. I wanted to ease the pressure on the knees at the top of the stroke,
Moved the saddle forward 5mm, better, but of course why didn't I think of it elliptical chain rings! I contacted our friends at Velotex to find the correct Rotor chainring for my chainset popped it on and results were amazing, no dead spot, the chainring eased my feet and legs over the top, no need for shorter cranks, climbing in the saddle had never been easier on the Top Fuel, shame the season was over!
Friends Reunited
My love for mountain biking has been rekindled after an on-off relationship for many years thanks to the Top Fuel, I love looking at it and riding it, so much so that I have managed to persuade Phil to join me on a regular Wednesday morning jaunt to Epping Forest over the quieter winter months, unless it starts raining that is and he pretends his back is aching.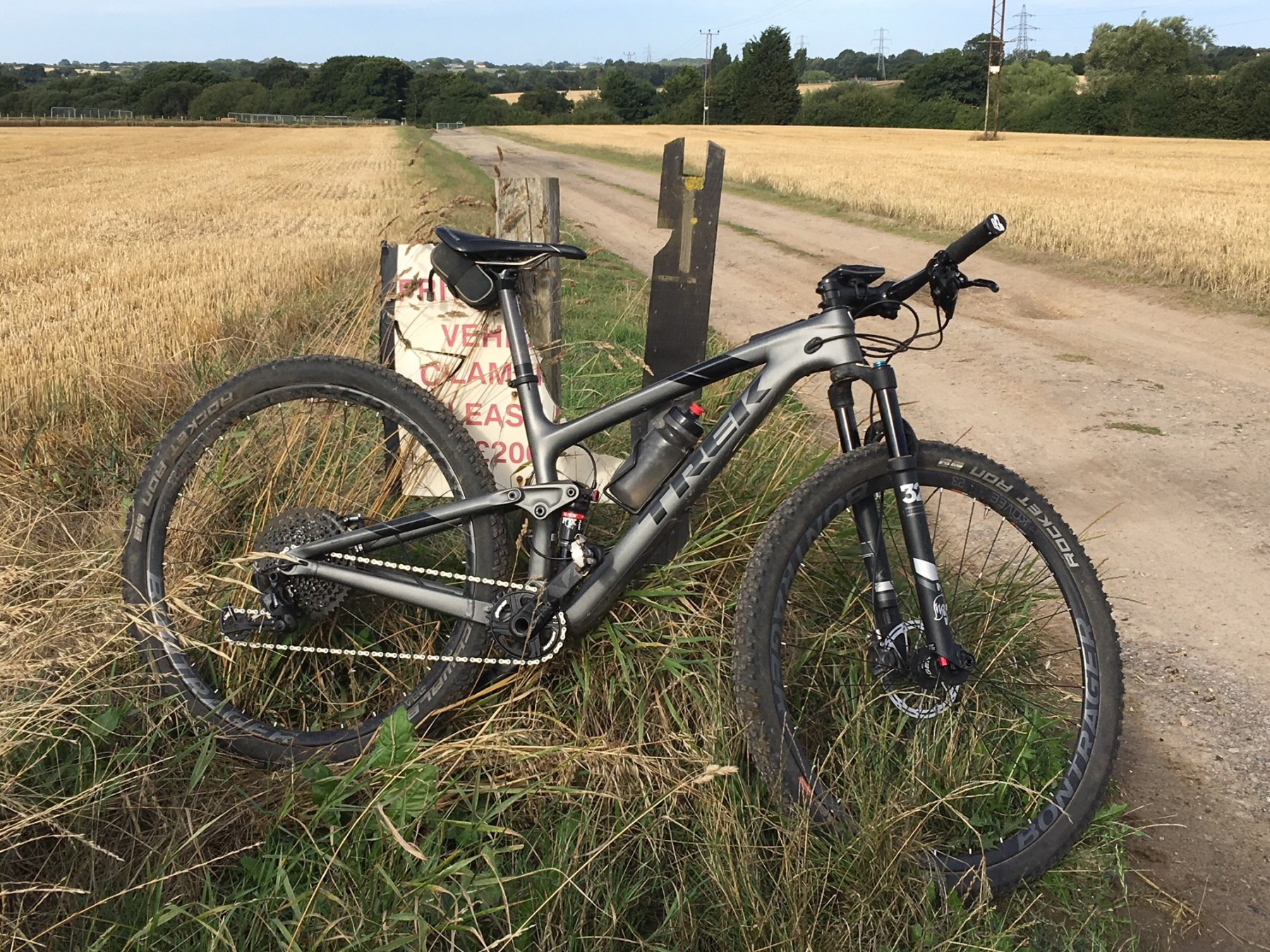 Also rides well on flat ground
Frameset
Frame OCLV Mountain Carbon main frame and seatstay, alloy chainstay, ABP, Full Floater, EVO link, E2 tapered head tube, Mino Link, MicroTruss, Control Freak internal routing, Carbon Armor, PF92, Boost148 and G2 Geometry on 29ers, 100 mm travel
Front suspension Fox Performance 32 Float, Step Cast, FIT4 2-position damper (with new push-to-unlock remote), E2 tapered steerer, Boost110, G2 Geometry w/51 mm offset on 29ers, 100 mm travel
Rear suspension Fox Performance Float, RE:aktiv XC 2-position damper (with new push-to-unlock remote), tuned by Trek Suspension Lab, 6.5"x1.5"
Wheels
Bontrager Kovee Elite 23, Tubeless Ready, 54T Rapid Drive, Boost110 front, Boost148 rear (15.5˝: 142x12 rear, 21T), tubeless strips included, valves sold separately
Tyres Shwalbe Rocket Ron 29x2.20
Drivetrain
Shifters SRAM GX Eagle, 12-speed
Rear derailleur SRAM GX Eagle, Roller Bearing Clutch
Crank SRAM Stylo Carbon Eagle, 32T
Bottom bracket PF92
Cassette SRAM XG-1275, 10-50, 12-speed
Chain SRAM GX Eagle
Components
Saddle Bontrager Montrose Elite, hollow titanium rails
Seatpost Bontrager Pro, 31.6 mm, 5 mm offset
Handlebar Bontrager Race X Lite, OCLV Carbon, 31.8 mm, 5 mm rise
Grips ESI Chunky
Stem Bontrager Pro, 31.8 mm, 7-degree
Headset FSA IS-2, 1-1/8˝ top, 1.5˝ bottom
Brake set SRAM Level TLM hydraulic disc
Weight 24.1lb/10.93kg
Price: £4,300.00