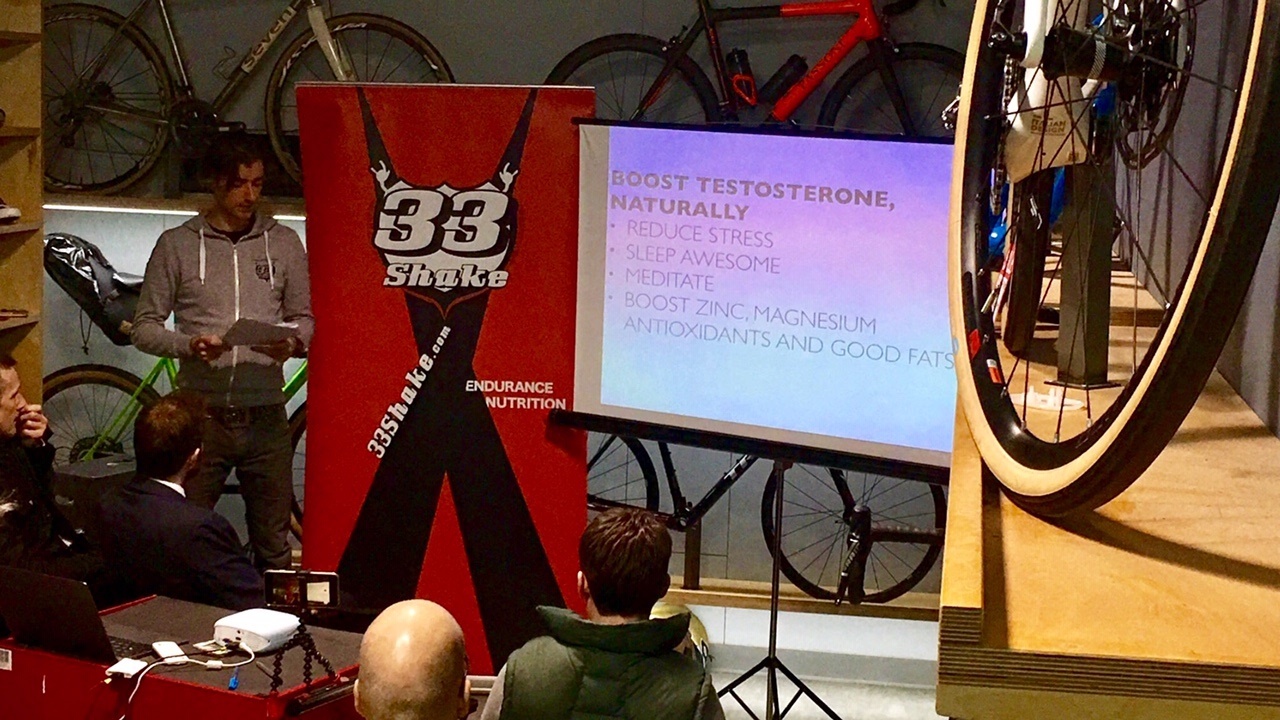 Warren, co-founder of 33 Shake lectures at Cyclefit, Feb 2018
"3Shake's Chia Energy Gels are markedly different and remarkably palatable"
33 Shake Product notes

The Shakes are for those times when you need to turn your performance and recovery up to 11. Elite nutrition in one simple, tasty hit for large training blocks/sessions and of course races. Use as breakfast pre-session (blended with milk, banana is a great option here), use as recovery post session.

The Gels are for all on-the-go fuelling requirements. New flip top cap makes one handed bike use easy, and you don't need to eat it all at once. Prepare in advance (blow into pack, fill with water, reseal and mix well) and then use like an ordinary gel on the move (they last 24 hours after preparing). They are prepared this way to keep the chia seeds whole - powdering them would allow us to premix the gels, but it would also kill 50% of chia's beneficial nutrients, so we don't do it.

This also allows a choice of mixers to create a choice of gels:

Add water - the classic
Add coconut water - added electrolytes
Add fruit juice - change flavour, increase carbs
Add coffee - world's best caffeine gel. Very handy to prep one this way at a mid-ride coffee stop, then deploy in the final hour before home
Chia Energy Gel:
Use for all on-the-go fuelling requirements. Mix with water, juice, coconut water or coffee. Or Baileys of course. Be sure to fully inflate pack before adding water, and add water to the neck. Mix well so water blends evenly with ingredients, and leave 10 mins. It will now last 24 hours. When 'empty' you can get all the contents out by simply blowing a mouthful of water back into the pack, resealing, shaking, and drinking.



Pre & Post Workout Shake:
Use before/after biggest sessions and races for a major power up and/or the best possible recovery hit going. For real post-ride luxury blend in blender with a banana and milk/milk alternative. Mid-race or on the go, soaking in a water bottle for 5-mins plus will also do - everything that matters is in the blend, so as long as you're getting it in the benefits are all there.
Ultimate Daily Greens:
Dead simple. One spoon a day in a glass of water or added into any smoothie, gives you a massive nutritional head start on any day. Prime purpose is boosting alkalinity in the body - when properly alkaline we function better and, basically, can't get sick. As a routine, doing this as the first thing when waking up also smashes overnight hydration for a double win.
Premium Protein:
Use after any training session. Blend with water and a few ice cubes for the simplest version, add milk/alternative milk to get fancy. Alternatively add to smoothies for a great grab & go pick me up.


Enjoy the experimenting and have a great Christmas.
CYCLEFIT33 is the discount code for Cyclefit News readers, 10% off all orders

"Performance-boosting power with good taste, while avoiding any potential gut disruption and sugar spikes"