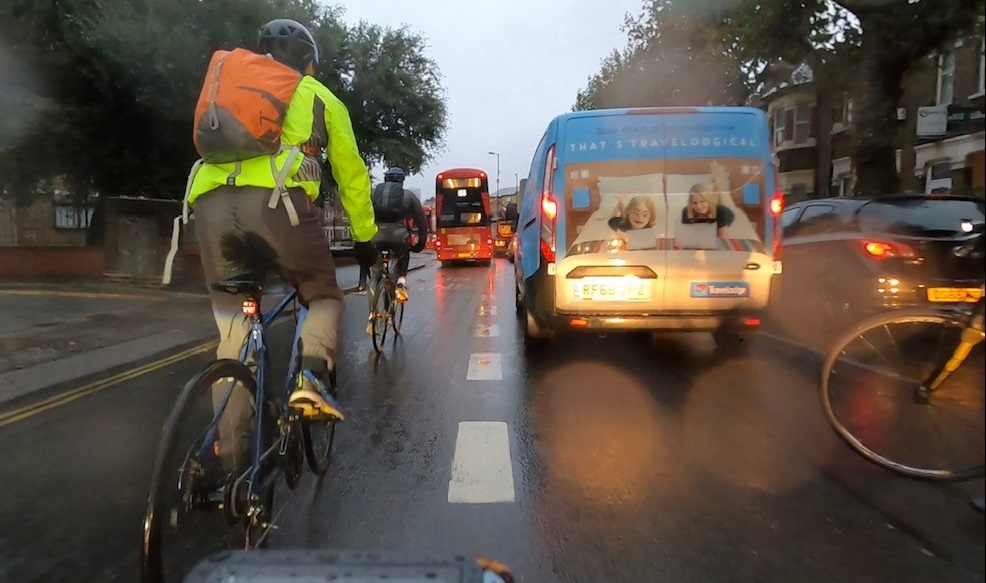 A wet commute but still quicker than car
For all of us the arrival of COVID19 caused a bit of a swerve to our normal routines; fortunately, as bike shops were allowed to remain open to serve the community we continued to commute in to central London with a few adaptations.
Park and Ride
Jules and Phil stopped using the train a couple of weeks before the first lockdown and instead drove to the edge of London and cycled in through the slow part as it was quicker and a lot less stressful. It took longer but there was less likely-hood that either of them might catch COVID but now on reflection, was the driving and cycling through London more likely to kill them than catching the train and getting COVID? Who knows, but at least it kept them fit, it took longer but it was a lot cheaper. Swings and roundabouts.
Its not the way we would have liked London's roads to empty and the air to sweeten but it was extremely pleasant while it lasted, and even the children who attend the Primary School on Macklin Street have probably increased their life expentancy by not having to breathe in vehicle pollution on their walk to and from school. As an aside we were recently informed that Cat Stevens was a pupil there.
Barna continued his ride in from Finchley and then moved to Watford in April and increased his daily ride to 30km each way; it was OK for the first few weeks - especially with very light vehicle traffic - but by May he needed to get the train in once a week, he became grumpy by Thursday, ate lots of pizzas and struggled to stand up by Friday afternoon and really didn't want to ride back to Watford no matter how many cakes we gave him.
Phil and Jules commuted three days a week each, Jules' commute is still around 50-55 minutes each way, Phil's was an hour each way. However, the increase in car traffic on the outskirts of London made Phil's journey un-tenable so he mixes the train and his bicycle to get to Covent Garden. Adding an extra day's riding would take us over the limit and riding would be become very slow. Three days is nice, four do-able with a Powerdot session, five and the weekend isn't long enough!
Three cyclists, three different bikes and three different routes but having looked through the article below there are some common themes:
No Fluo clothing for the boys only London black.
Electric gears and disc brakes
More is invested in the bikes than in their appearance - they are all old roadies who historically never spent money on their kit unlike this new wave of poseurs who spend more time mincing than pedalling.
Peace and Love - ride like Jesus would ride - but not in sandals.
Ride defensively, assume that:
The driver (or pedestrian) hasn't seen you
They are smoking weed
They are sending a text message
(it is usually at least two of the above)
Let us start with Barna.
Barna: Watford to Cyclefit - 30km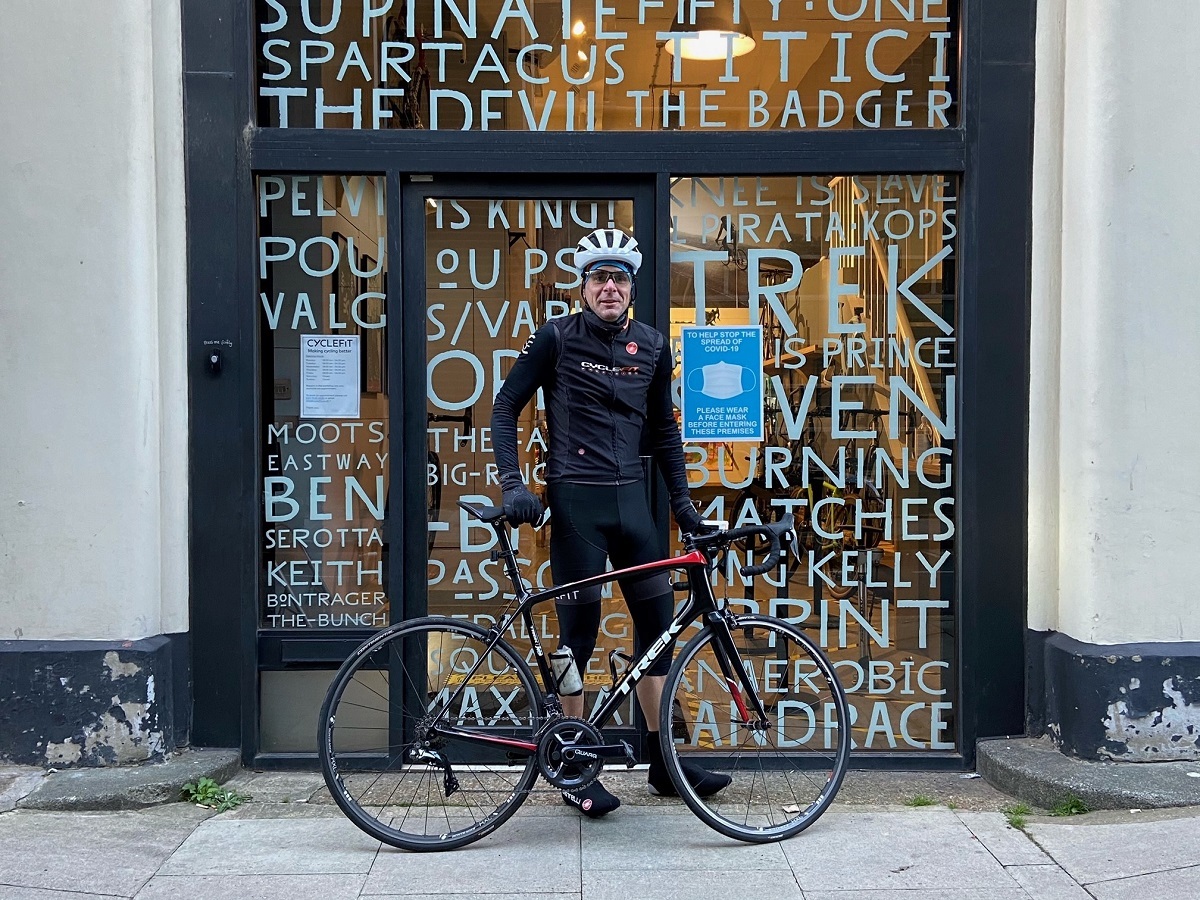 As luck would have it Barna rode his Trek Emonda SLR in to work on the day we took the photo as it was one of the few sunny mornings we have had in a while, he likes his Emonda because it is fast and light and occasionally he can tuck in behind a chipped electric bike and get home in an hour. His bike is equipped with a Shimano Ultegra Di2 groupset, Quarq powermeter (for when he used to do interval training) alloy bars and stem and a nice pair of Bontrager alloy wheels; he has a pair of Bontrager Aeolus xxx2 wheels at home for the weekends.
Most of the time and on murkier and damper days he rides his Trek Crockett, the Crockett is an aluminium cyclocross frame. It is disc and mudguard compatible and isn't very expensive which Barna likes, he uses Shimano Ultegra Di2 gearing and Continental 4 Season tyres with innertubes. The Crockett has a livelier geometry than a gravel bike and can run up to 36mm tyres. It's slower than the Emonda SLR as you would expect but its a tool for a job and it does it very well.
Cycle clothing
Mostly Cyclefit team kit from various seasons, whatever is going free! In the photo as the temperature was only 2 degrees when he left home he's wearing a long sleeved Megmeister vest, long sleeved jersey and gilet. Cyclefit shorts and knee warmers. Castelli winter gloves - which in our experience are the best on the market for warmth and still being able to control the bike - and a pair of Castelli overshoes. helmet obviously and a free headwarmer from Bioracer. And last but most important a snood to keep the draft out!
Commuting accessories
Bontrager re-chargeable Ion 200 lights
Deuter rucksack - now thirteen years old and going strong.
Barna's commuting tips:
Always watch the car two or three ahead as their movements and braking will affect the car directly in front of you.
Keep it mellow and avoid confrontation.
Fit mudguards, they make like much more pleasant.
Red lights - pedestrian crossings with nobody on them, the odd left turn if nobody around
Do you ever not use a cycle lane - yes when it isn't maintained
How many red lights on his journey? - 74! - he counted one day.
Barna's Tool Kit
A tube
A pump
No need for tyre levers he has fingers of iron and can even get a Continental Gatorskin tyre off a rim bare handed
Phil: Cookham to Cyclefit - 15km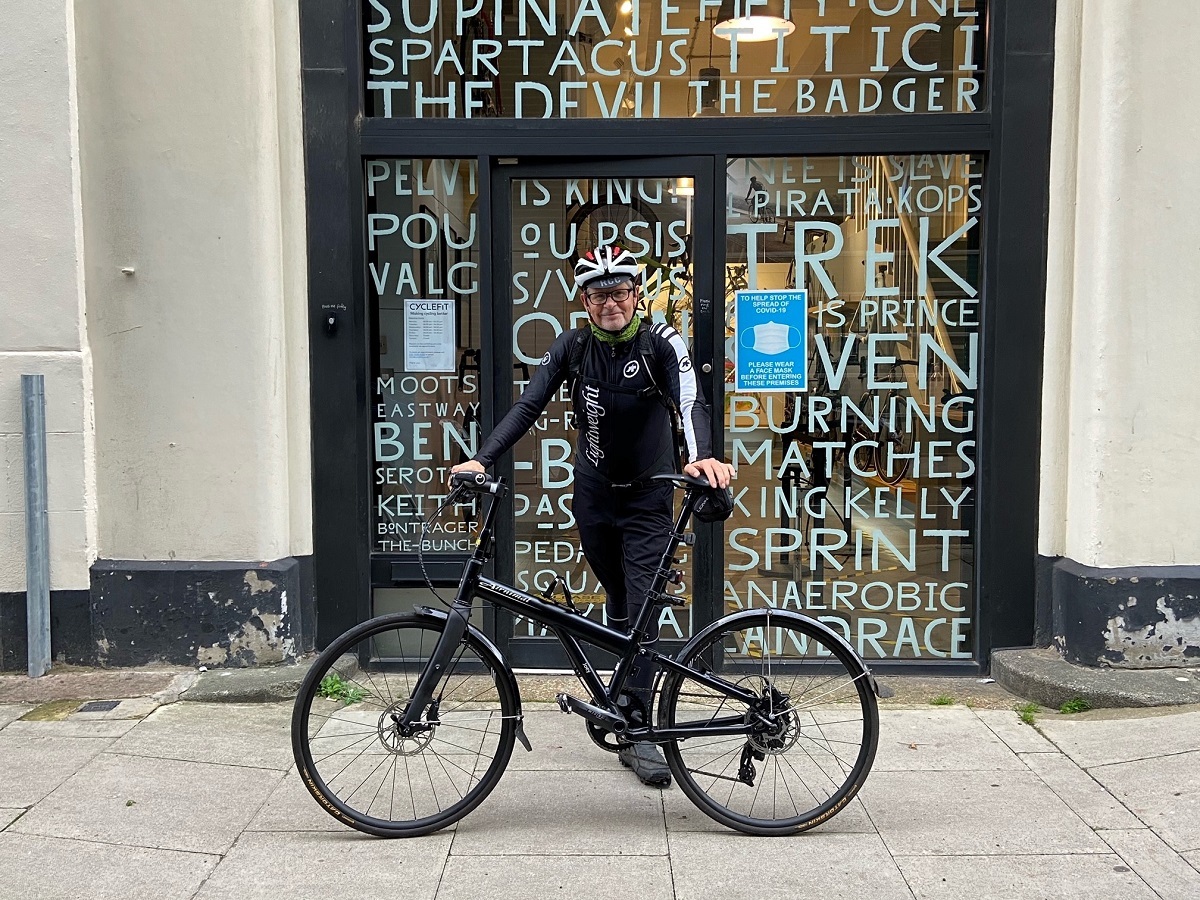 Phil has commuted by bike in London since I've know him which is an awfully long time and something I don't want to put down on paper. He's lived in Hackney, Hampstead, Ham and Wood Grim at one point. He made the move out of town several years ago like me as he's not a city boy; I often think it was the best and worst thing I have done in my life, its great for the kids but the daily travel takes its toll. Though I did dig out some photos of the kids from ten years ago last night and feel I made the right decision as their formative years were spent with dogs, horses, slowworms, mud, rain, sunshine, rock pools and chickens, they might not though! I digress.
Phil's commute
Phil's current COVID commute is seven miles from his house to the train station with a 20 percent climb that gets his old ticker revved up only a stone's throw from his back gate, then a three mile jaunt from Paddington to Cyclefit HQ.
Phil's commuter bike
He has recently upgraded is Airnimal folding bike (find out more about it here) and now runs a SRAM AXS etap 1 x 12 groupset, he uses disc brakes now too and has three lights on the back of his bike, I never thought he had a nervous disposition.
The bike folds easily but more importantly it is better over longer distances than Brompton and it climbs like a demon due to its stiff aluminium frame and short chainstays. On the train and off the train he folds and unfolds his bike like James Bond setting himself up for some sniping action.
Phil's cycling kit
He tends to rummage around in the 'sale bin' with Barna and manages to make do, note the Lightweight Assos jacket from 2013. His Castelli gloves are his oldest item and he has an original Rapha Merino vest with a hole in the front the size of a dinner plate, for mid season rides, "it's from the Vent Range" he says. And the snood, if you forget that when its chilly its worse than not having your footbeds in your cycling shoes.
Overshoes too for warmth and dryish feet - they never stay dry - and he wears baggy shorts to maintain some decency on the train.
Rucksack - by Rapha - a good five years old at least.
Phil's commuting tips:
Use your lights day and night especially the three on the back...
Fit mudguards, there is nothing worse than sitting on the train with a wet backside!
Match your boldness to your skill level, be chilled.
Don't assume the cycling provision on your route is the best for your safety - on Uxbridge Road he stays out of the cycle lane as cars and vans love to turn left on him; its safer to state your position on the road if even if it irritates the drivers, but then, just riding a bike does that anyway; I think you would get less abuse if you rowed up Uxbridge Road in an inflatable dinghy with your wife and kids.
Red Lights - in the old days Phil used to wear a bobble hat in the winter and jump red lights, but now a helmet is de rigeur and he doesn't jump red lights, he instead rolls forward slowly leaving a couple of seconds early so that he can get a head start on the traffic, get clipped in and up to speed and stable before they zoom past.
Phil's Tool Kit
It could be anything on any day
Jules: Eltham to Cyclefit - 20km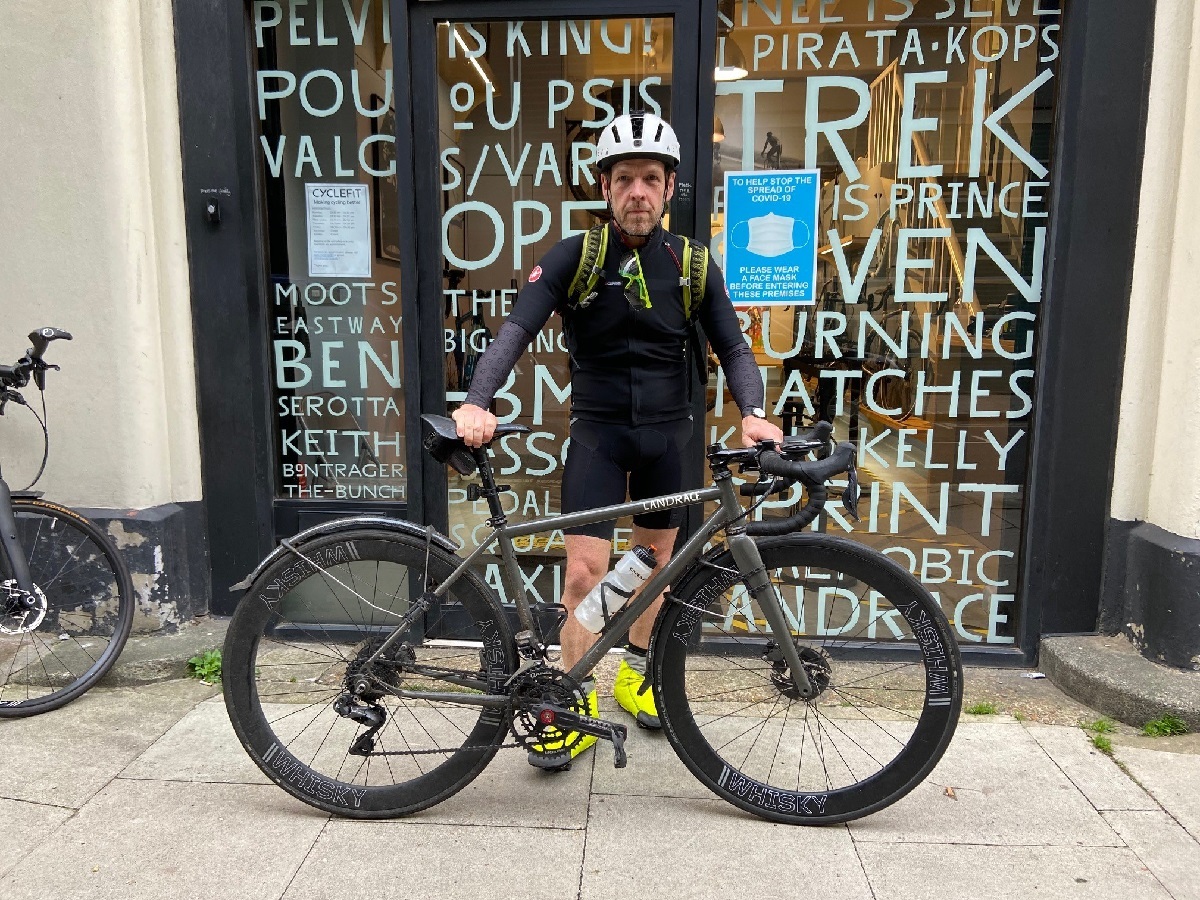 Jules started commuting in London in 1986 on an old sit-up-and-beg Sturmey Archer machine, he loved to race other cyclists up Rosemary Avenue and the rest is history. The problem was he used to crash a lot but over the years it began to dawn on him he slowly that more haste lead to less speed and lots of cuts and bruises and broken bikes. A London resident until 2001 Jules cycled in to London very day unless he had a particularly bad hangover or it was raining, after that the bike connected him to his rural idyll and Cyclefit from the train stations, an integrated transport system as its known.
As mentioned earlier COVID changed the routine and he now rides in three days a week from Eltham, it is a round 13 miles each way with a stiff little climb up Coombs Lane or through Greenwich Park on the way home to get him puffing. From Surrey Quays to Greenwich the roads are terrible and the traffic congested, after the respite of Blackheath it feels a little better and then clogs up again... "worst than the pre-COVID days" he says "yeh that cycle 2 work scheme has been a great success" he quipped.
Jules' commuter bike
Jules is riding a custom steel Landrace prototype that never came to fruition, unfortunately, if he had the option he'd be riding a Seven Axiom SL with Portland Mudguards and a pair of Barna's lovely handbuilt wheels. Something like the bike in our gallery. But for now he will make do as it's a a lovely ride even at 9.5kg. The groupset is Shimano Ultegra Di2, with a Rotor 2inPower powermeter that gives him his left right power percentage so he can focus keeping his lazy leg working. The wheels are another prototype using DT240 hubs and Whisky 50mm rims, they are a little bit of an over kill and terrible in crosswinds. The tyres are Schwalbe Pro One that are around two years old and this year he's only had two punctures, the front is a 28mm, the rear is a 25mm as he uses up random tyres from his garage. Like Barna and Phil he uses innertubes, he know what he's doing if he gets a puncture and it makes him more relaxed. His theory is that you spend more time riding than you do fixing punctures so why not have nice fast tyres all year?
Jule's Cycling Kit
He has stayed on brand like Barna and uses a mixture of Cyclefit kit from Castelli, Milltag and Bioracer and always gets to the sale bin first. In the photo he's wearing the Castelli Gabba (from 2104) as rain was forecast and it was fairly mild, the rain didn't appear and he got too hot, its a fine balance, and that's why he keeps three glove options in the van and spare kit to avoid getting too hot or cold. Shame it didn't work today. Helmet is by HEXR a 3D printed affair;"never a great fit he says", but now that HEXR don't need Cyclefit to credentialise their brand he feels he can tell the truth... but Phil's fits though so hard luck Jules you never paid for it anyway)
Fluo Yellow and reflective Bontrager overshoes to catch the driver's attention - watch him dance on those pedals!
Rucksack - Osprey Airspeed - a great bag and big enough to carry all sorts of things, in Fluo yellow for visibility.and a matching yellow bag for added visibility
Bontrager lights now going in to their third winter
Jules' commuting Tips
Start the week easy otherwise you will be worn out by Friday
Avoid confrontation with car drivers, don't say to a granny what you wouldn't say to the local drug dealer
Use cycle lanes when you can but if you feel safer not to, then use the road
Don't ride on the pavement (unless there are no pedestrians) and its safer to do so than remain on the road (basically use your judgement to preserve yourself and those around you) or if you can't get down the road past queueing traffic and you are getting really irritated by the idiots.
Always use your lights
Don't cycle too fast
NEVER go down the inside of a lorry or a bus at a junction because it might drive over you
Jule's Tool Kit
Lezyne mini pump
Spare tube
Two tyre levers
Lezyne SL7 mini tool
Uber account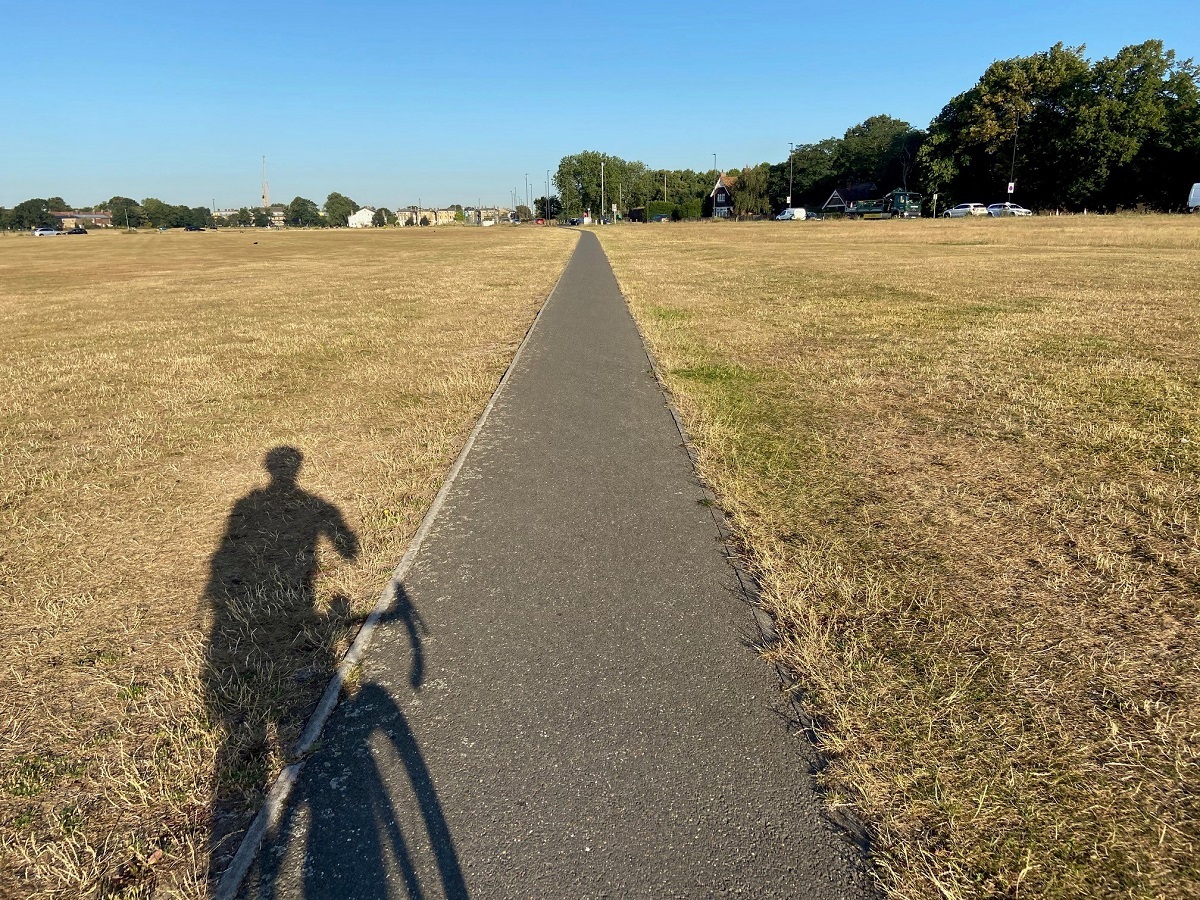 Blackheath, early morning in July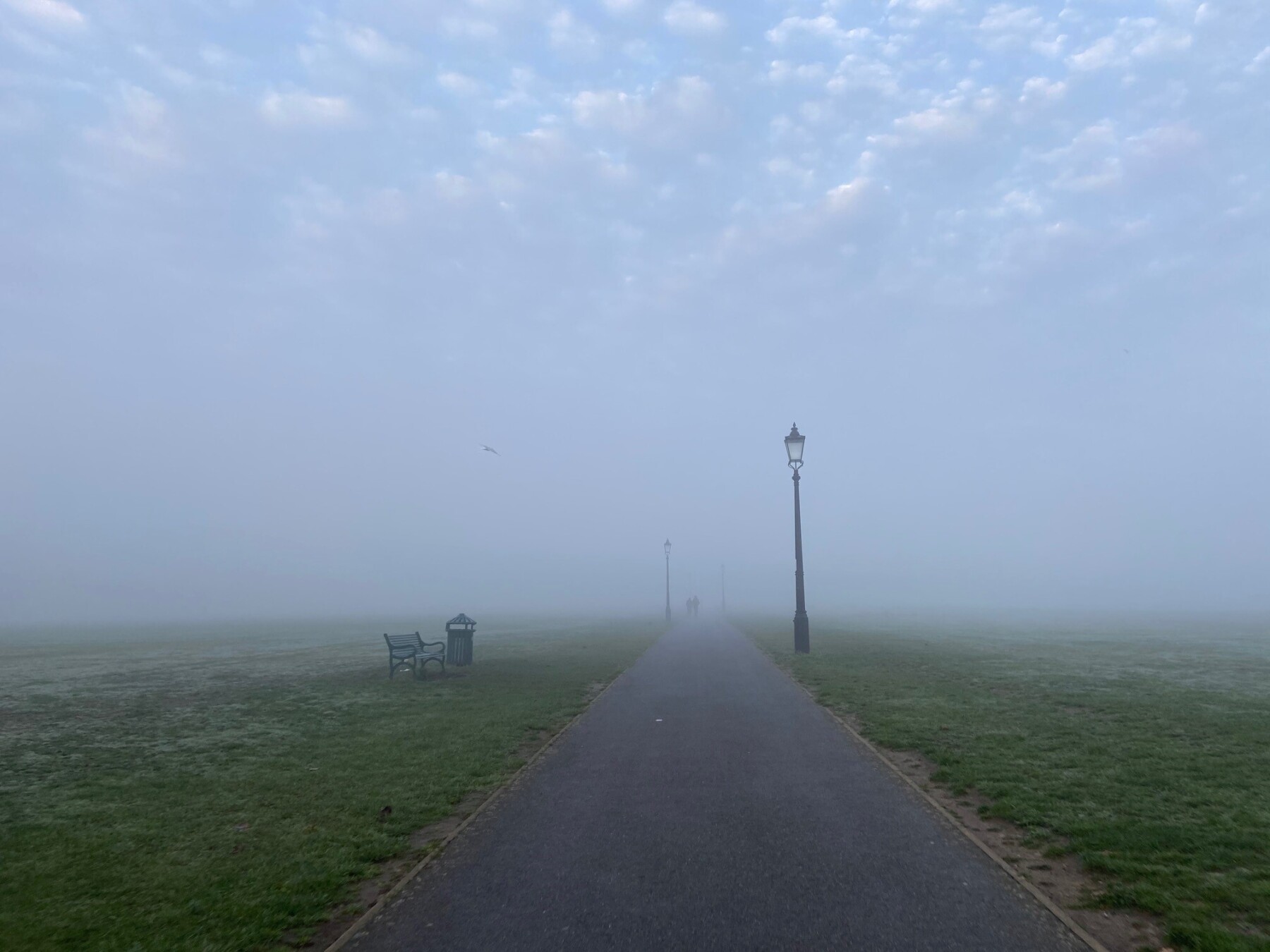 Blackheath, early morning in November