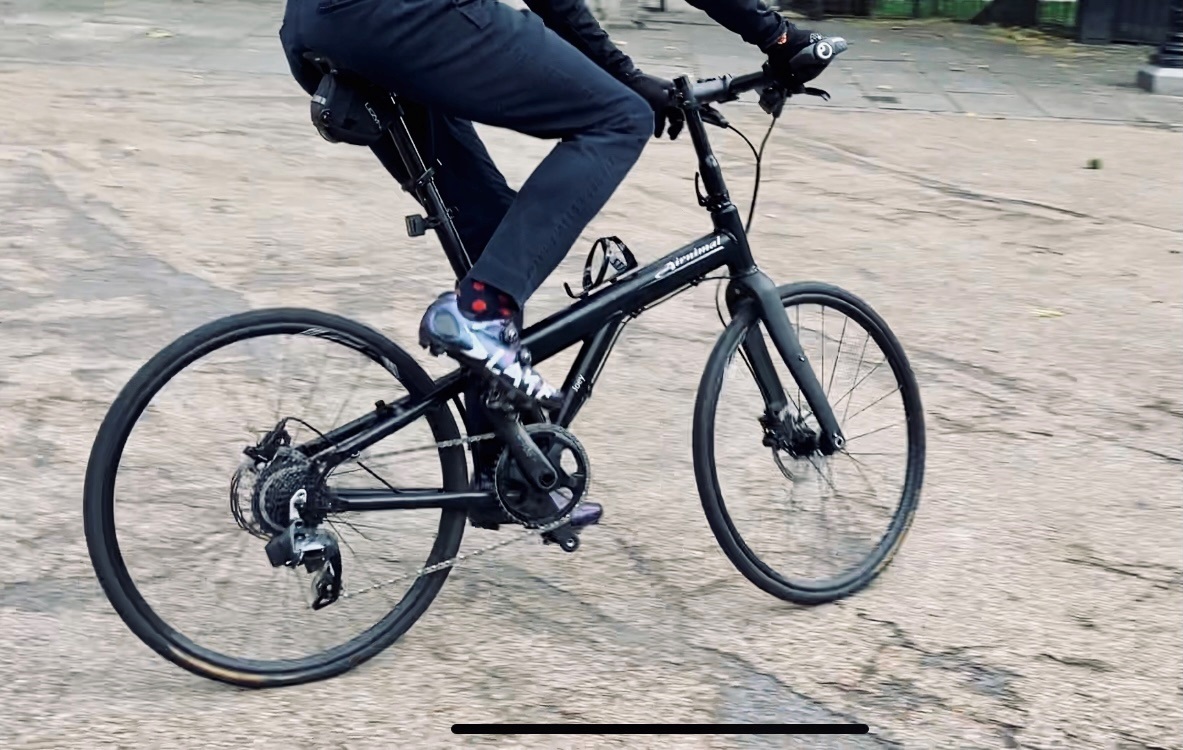 "The Universal Folding Bike Law = There exists an inverse relationship between how well a folding bike folds and how well it rides"
Landrace Piegare (pie·gà·re) - Review
Brompton is a better name than Airnimal. Can we all agree on that? Which is a shame because the Airnimal is generally a better bike than Brompton. The universal law of folding bikes, as someone who has had almost of all them runs thus:

The Universal Folding Law = There exists an inverse relationship between how well a folding bike folds and how well it rides.

It is an inevitable spectrum – riding at one end and folding at the other. Once you are a licenced Bromptoneer, the fold is quick and satisfying – the bike disappears into a space barely bigger than one of its 16" wheels. I think we have now covered all of Brompton's high points.
It is my experience that we all have a natural Brompton tolerance radius. Mine is about three miles or fifteen minutes – whichever comes first. Beyond that I have an exponential resistance to the unique notes of elastomer-laden anxiety that percolate up from the tiny wheels. I know people have ridden them around the world, raced them in criteriums (oh what japes) and successfully bobbed around Paris-Brest-Paris and good for them. Me, I always found the ride nervous and the experience something to be endured rather than enjoyed. After fracturing some ribs in front of a whole bus-queue in Russell Square, whilst in a hurry to make a train at King's Cross, I finally decided that we were incompatible. Jules then took my Brompton out of the bin I had placed it in, and used it for another six years. Nobody can argue that they are not well-made and resilient.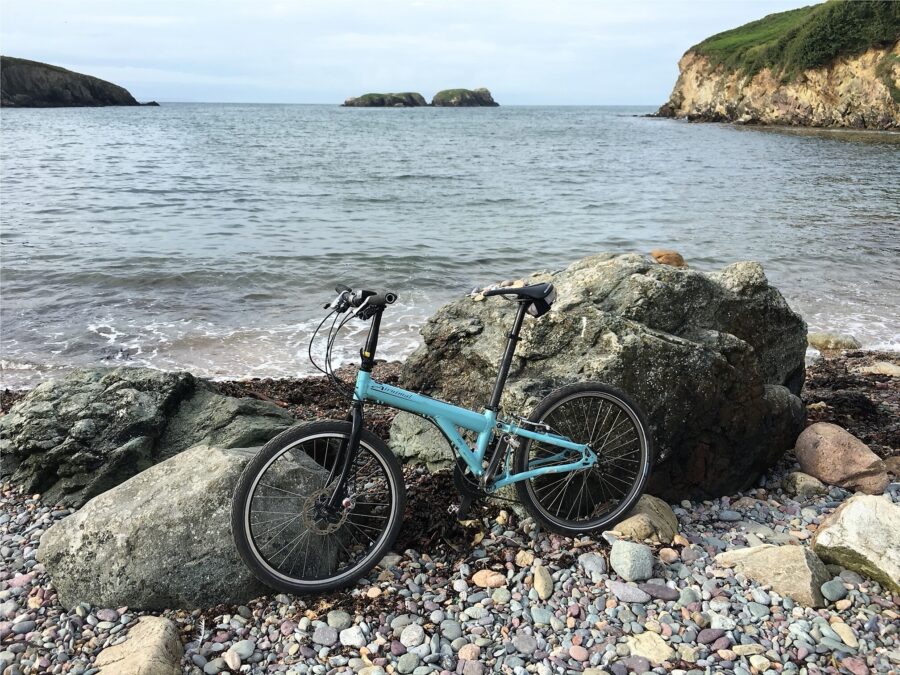 The Old Faithful Coasteering in Pembrokeshire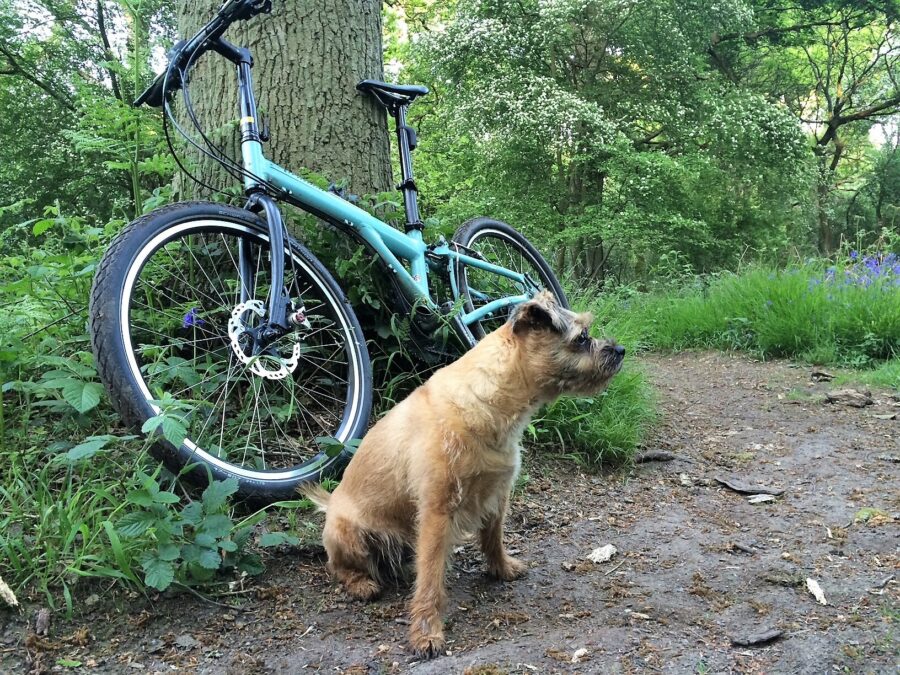 or up the woods on the trails with Van the Border-Terrier
A Post-Brompton World
ten years ago I wanted a bike that I could properly fold on the train but then forget that it was a folding bike at the other end. Literally forget. Not ride around its inadequacies, but jump on and enjoy, even if I had to ride for a couple of hours. I bought an Airnimal Joey frame and fork, from the Cambridge based company, more in hope than expectation. It was also the start of a longstanding joke at my expense from everyone else who worked at Cyclefit in the last ten years. There was a zero-tolerance policy in place of any kind of eulogising of any bike that could fold, and it was rigidly enforced in the most juvenile manner. Ahem. Which is a shame because it was and still is a hugely impressive bike (pictured). I am not sure how many thousands of miles I have ridden on my original Airnimal, but it is probably several tens of thousands. In the foulest winters, up to my hubs in snow, off-road in mud and away on holiday along cliff paths. I long ago assumed it was both indestructible and capable of riding everywhere – which if I think of it, is actually my general theory of bicycles. I never conceive of the Airnimal as a folding bike when I ride it, it never enters my mind. It is a fast, versatile and comfortable bike that I trust to ride on roads, tracks, trails, anywhere.
Just better
What is it about the Cambridge design that makes it superior in nearly every way to a Brompton?

To start with, the frame is made from dramatically over-sized 7000 series aluminium, which means that it is both lighter and stiffer than its West London cousin, which is made of very simple, but honest, brazed mild-steel. The Airnimal can also run on either 24" or 26" wheels – My original blue Airnimal (pictured above) I have always run on 24" wheels, which I then switch between Schwalbe Kojak tyres in the summer and Marathons in the winter, when I also bolt on the SKS mudguards. Which brings me to one of the things I love most about Airnimal's approach – it uses proper bike components – bars, stems, derailleurs, cranks etc – which make set-up more personal and the performance generally higher.
"It is my experience that we all have a natural Brompton tolerance radius. Mine is about three miles or fifteen minutes"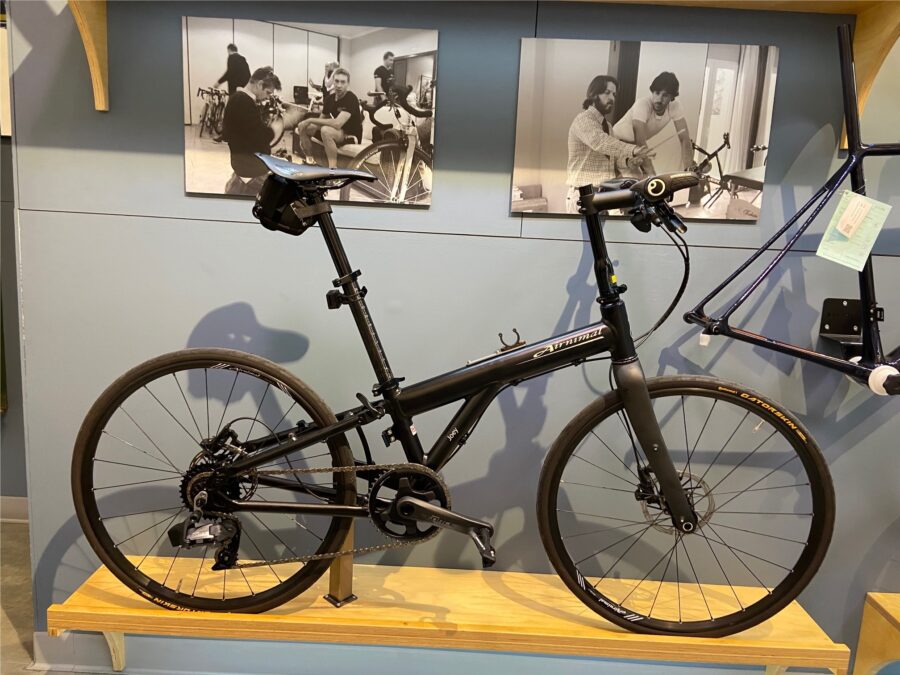 Landrace Piegare prototype by Airnimal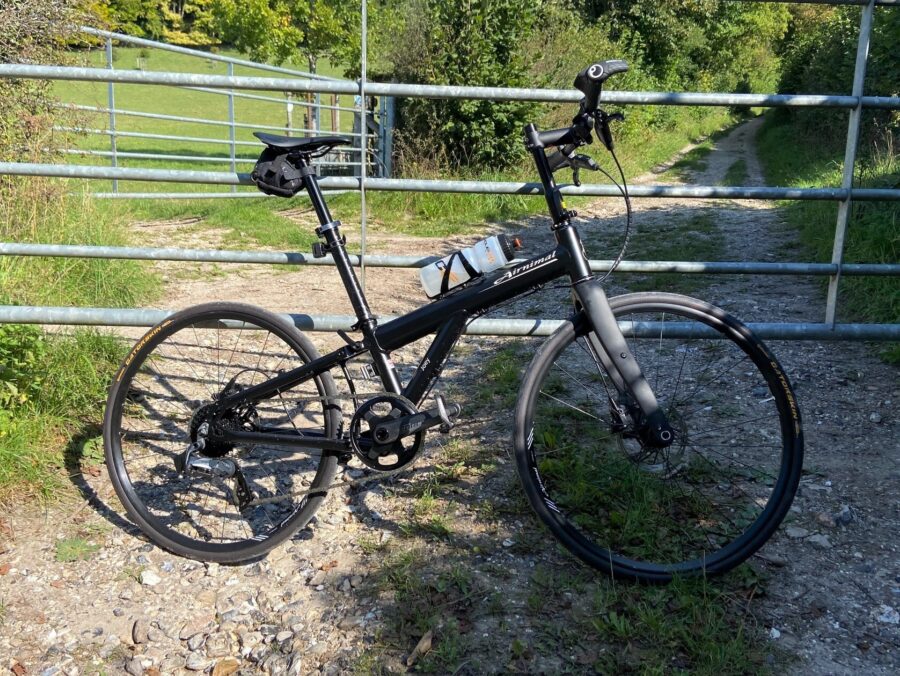 Landrace Piegare

The idea behind our Landrace Piegare was create the apotheosis ride quality for a bike that could also fold. Learn the lessons from my thousands of miles commuting on my old Airnimal to bring together the perfect blend of performance and utility.


The first decision that we made is that the bike should have the least cables as possible. Cables are folding bikes obvious point of vulnerability. Cables don't like the process of daily origami and fight back by fraying or sticking when you need it least – trying to fold quickly to catch a train, or unfolding to time-trial to a meeting. Second and most definitely linked to the first, is 1 x 12 gearing. One of my current Airnimal's few tiresome habits is that it occasionally drops the chain post-fold or fail to fold because it is on the big ring. You learn to work around these foibles, but so far, our refined Piegare seems totally immune to these idiosyncrasies, mostly by virtue of having SRAM Force AXS 1 x shifting. The whole bike is satisfyingly cable-free, other than brake hydraulics.


The second and third decisions that we made was to opt for the hopped up oversized carbon fork and lightweight 26" rims on Hope 20-hole hubs, with double-butted spokes. I was looking for a performance upgrade from my current worker-bike and both of these were obvious shortcuts. Contact points are crucial – they are where the bike ends and the body begins – power and comfort are won and lost at these vital intersections. For this bike I have used a straight carbon bar, Ergon grips, San Marco Shortfit saddle and Shimano XT pedals. You can also set your Airnimal up as a full-on road bike with drop bars and full Di2 or AXS groupsets. I am not sure why this has never tempted me – probably because I don't want to comparison to the kind of superbikes that we design and build everyday – better to set the comparative bar a bit lower – Brompton.
"The perfect folding bike rides like a top-end road-bike, uses familiar prestige componentry and seeks no excuses for its folding nature"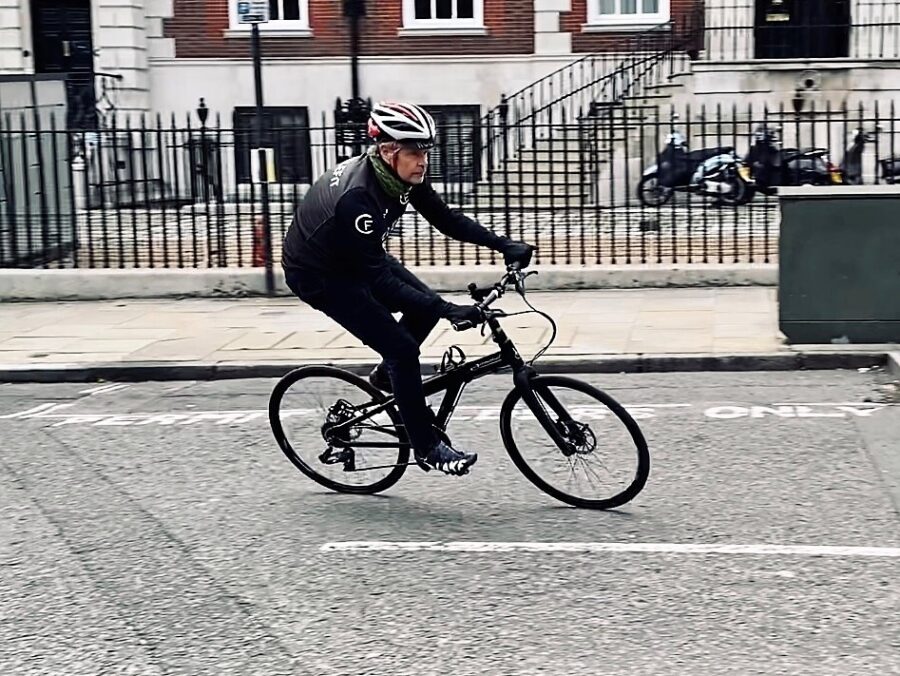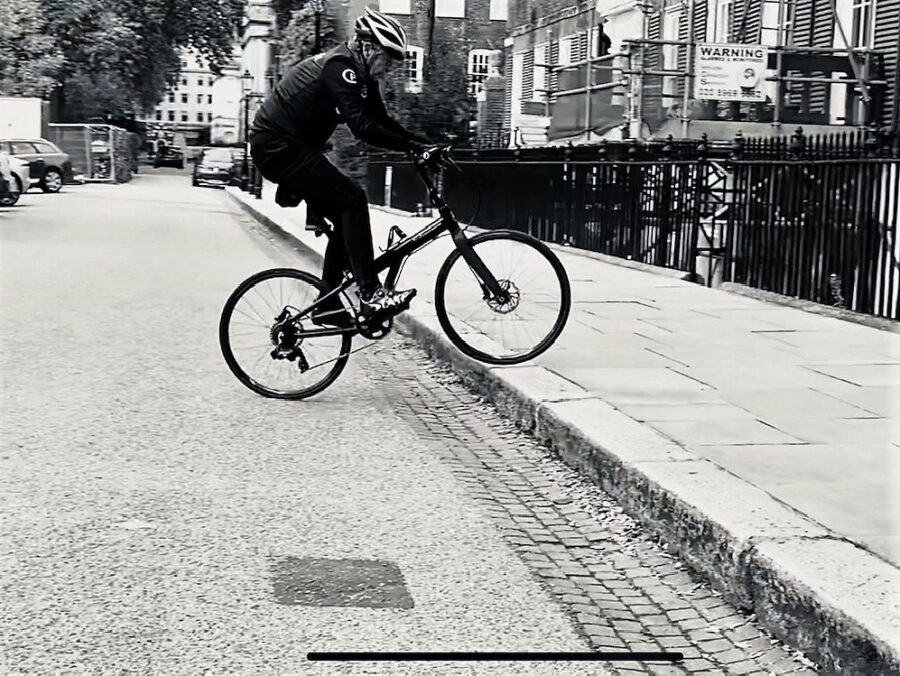 "The clock can't lie - Piegare is as fast over 15 miles as a road bike and as fast to fold as a Brompton. Job done."
Super-Commuter
Since Covid-19 lockdown, myself and Jules have both gone back to the drive/ride model of commuting. For me this means driving to RAF Northolt and then riding into Covent Garden – I don't care how flash your Brompton is – that is too damn far. On the Piegare prototype it feels no more onerous than on the Serotta or Pegoretti that I was using in the middle of summer. Looking at the data and the fastest I ever rode in on my Serotta legend Ti was fifty-seven minutes, and the fastest so far on the Piegare prototype is, fifty-seven minutes. At 9kg with pedals it gives a couple of kg to the Serotta but it brakes better, spins up almost just as quickly on the 26" wheels and somewhat bizarrely feels every bit as stiff through the drive-chain. Jules was astonished when he took the bike out for a spin. He was expecting a pumped-up Brompton, but instead got a proper performance bike with an astonishing transmission dividend. I could see he was impressed and shocked how good it felt. When you ride the Airnimal at pace you can use as much body-English as you would on a competition race-bike – out of the saddle with weight forward over the front wheel, feels very powerful and balanced.
Our primary intention was to build a folding bike where you don't have to constantly ride around its shortcomings. We routinely ride some of the finest bicycles in the world; our standards are therefore very high. And I rarely feel in the mood to sacrifice too much, just because I have to be able to fold my bike onto a train or into the back of my car. The fact that I can commute 30 miles over mixed urban and suburban terrain, without ever once having to adapt my riding style or speed, is a towering triumph. And in this guise, 1 x12 Force AXS, the ride is totally quiet - no clattering cables or squeaky pivots - just positive drive followed by hard, binary braking. I can ride no-handed, putting my water-proof on (try that on a Brompton) and push hard into apex of cut-up corners on the 28mm Conti Gatorskins (4-Seasons are my preferred choice). The Piegare is a quick bike in any company and by any measure - and then you can bust it apart in seconds, ram it into two wheel-bags and easily conceal it amongst the holiday luggage in the back of the car - in case anyone objects to you taking a bike to Cornwall. I do it every year.
The Fold
I have spent eight years unconsciously planning this bike. The filtration process has been extreme. The perfect folding bike rides like a top-end road-bike, uses familiar prestige componentry and seeks no excuses for its folding nature. To be perfect I had to wait for technology and Airnimal to catch up with my theoretical shopping list. Our Piegare build is invisibly excellent - powerful hydraulic discs, 1 x 12 AXS shifting, no cables, Hope hubs and 24-spoke 26" wheels and carbon fork. Everything I like and nothing that I don't. The fold is easy and rapid- I am as fast folding the Airnimal as I am my old Brompton - 30.42 seconds as this clip from our video blog shows. The only negative is that on this bike you have to take the front wheel off. which in truth, does bother me very occasionally, when the wheel itself is dirty and wet - but this does come with the bonus that you can then wheel your folded bike down the platform, deriving a modicum of schadenfreude looking at all the Bromptoneers clonking their bikes against their legs as the do the lopsided walk. But it should be pointed out that if you fold your bike constantly, for example going from meeting to meeting, building to building, and only ride short distances in between, then reluctantly a Brompton is probably still marginally a superior choice. If your ride is longer and you only fold a few times a day, then the Airnimal/Piegare is a world away in terms of ride quality and speed. And has the huge advantage that you can fold and then wheel it comfortably long distances.

In addition the Airnimal/Piegare is actually multiple bikes - I have learnt over the years to outfit my bike according to intended use and weather. The winter/commute outfit is; mudguard, rack, Schwalbe Marathon tyres. It is also possible to configure the Airnimal for touring or fast road-riding. I don't think there is a more versatile and better made bike on the planet? Great bike, rubbish name. Landrace Piegare is much more fitting. This prototype is ready for you to test - see how it fits into your life?
I like Brompton as a company and respect what they have achieved in keeping UK bicycle manufacturing on the map. Their bikes may be small but they are actually a very big company. Airnimal are a tiny company, which partly explains why they fly under most people's radar. Don't be put off by the name - this is a seriously well designed and well made piece of kit. and nobody understands them better than us. I have dragged Jules and Barna, kicking and screaming down the folding-bike road. But even they have had to admit that our new Piegare (pie·gà·re) rides sensationally. The clock can't lie - it is as fast over 15 miles as a road bike and as fast to fold as a Brompton. Job done.

Technical Spec
| | |
| --- | --- |
| Frame and Fork | 7005 Aluminium / Carbon fork |
| Groupset | SRAM Force AXS 1 x 12 electronic |
| Wheels | Hope hubs, Airnimal 26" 24h rims, DB Sapim spokes |
| Saddle | San Marco Shortfit |
Bar/Grips
Bontrager Carbon / Ergon
Tyres
Continental Ultra Gatorskins 28mm
Pedals
Shimano SPD XT
Complete Bike Price
£3700