"Almost bespoke all-road racer that's deeply satisfying to ride"
LANDRACE Tupelo
Landrace is the brainchild of Phil Cavell and Julian Wall, two bike-fit pioneers who founded bike-fit studio Cyclefit back in the mid-1990s. In their 50-plus cumulative years of experience, the pair have performed fits for everyday amateurs through to Fabian Cancellera, Tom Pidcock and the EF Education- EasyPost team, and it's this knowledge that has led them to develop the all-road Tupelo.


As you might imagine, correct fit is at the heart of the Tupelo's mission, so every customer is offered an extensive bike-fit at Cyclefit's London studio, along with options for pretty much any component imaginable to dial in said fit. So while frame sizes are stock, the Tupelo has a real sense of the custom about it.
Strength and weight

The Tupelo is built around a 3/2.5 titanium tubeset that combines double-butted and plain gauge
tubes, the idea being that while doublebutted tubes are lighter, plain-gauge tubes add strength in certain areas such as the chainstays.
'Pushing titanium to the very brink of what is possible in terms of weight has its risks,'
says Cavell.
'We wanted a frame that would perform everywhere, for a long time.'

Landrace lets fit and personal preference govern component choices, so while this test bike has the semi-wireless bells and whistles, a Shimano 105 mechanical Tupelo can be had for £4,850 – which is very reasonable in the titanium market.

As per most metal bikes, cabling isn't fully hidden, but that does make for easy front-end adjustability and maintenance.
Tyre clearance fits the 'all-road' billing, with the frameset accepting up to 38mm tyres, and practical
touches include mudguard mounts and an extra set of bottle bosses under the down tube.

Custom build also means custom Landrace wheels, which are handbuilt at Cyclefit and are offered with a variety of hub and carbon rim options. These wheels are designed for road – 35mm deep rims, 21mm internal width and laced to Hope Pro 5 hubs – but gravel versions are also available (38mm deep and 25mm wide).

Geometry is a predefined affair, if not without a few custom-esque quirks. Cyclefit advocates low bottom brackets, which allow riders to sit 'deeper' into the bike for greater confidence when descending and cornering.

Thus, while classic road bikes might have a 68mm BB drop, and endurance road bikes around 73mm, the Tupelo's is 80mm – more akin to a gravel bike. This lowers the rider's centre of gravity, which increases stability. Complementing this is a 63mm trail, which means the Tupelo sits at the well-mannered end of the handling spectrum on road or towards the sharper end off-road. Chainstays are 425mm, which is fairly long in one sense yet quite short given full-length mudguards can be fitted (this setup sees max tyre size drop to 32mm).

Stack is 605mm and reach 380mm (for reference this size large has a 56cm top tube), which produces a more upright position than some racier riders might like, albeit Cyclefit will argue sizing is purpose-dictated and based on fit data from thousands of clients.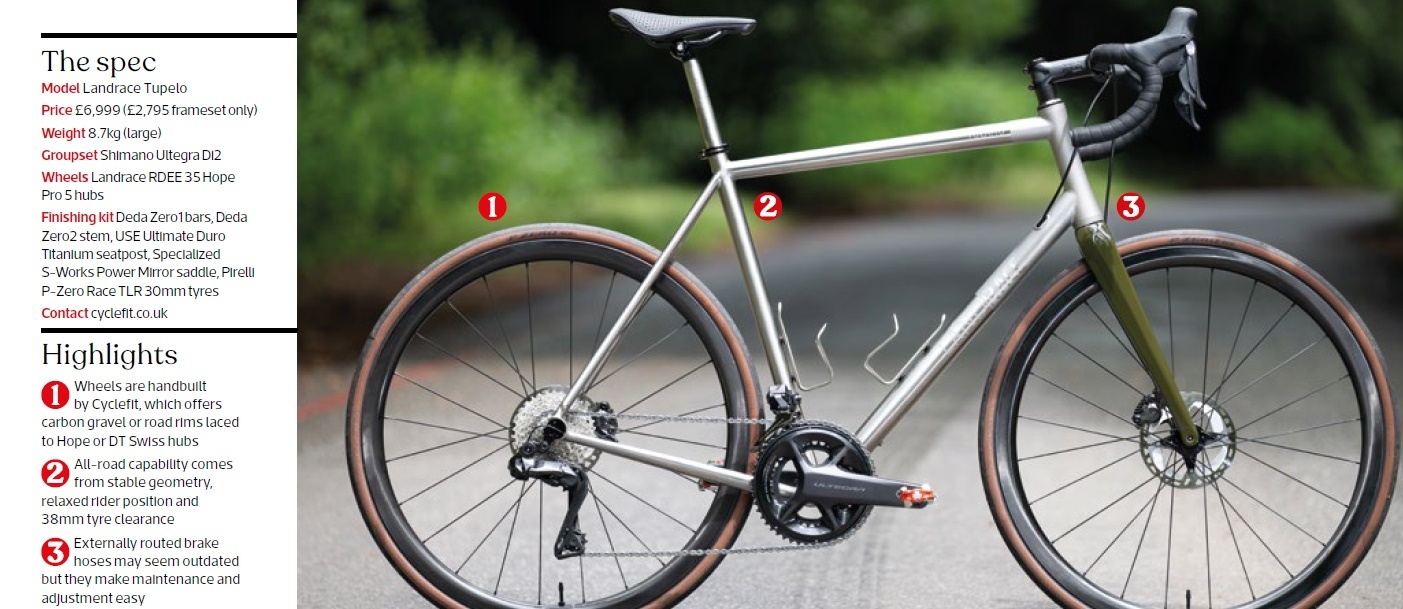 "The Tupelo sits at the well-mannered end of the handling spectrum on road or towards the sharper end off-road"
Island life

I spent a lot of time aboard the Tupelo on a recent trip to Gran Canaria. Given the amount of climbing the island serves up, I expected to eventually bemoan the extra weight the Tupelo carries over the carbon bikes that were ubiquitous on the island, but no such moment occurred. Instead, I found a rich smoothness in the ride quality, barely any noticeable road buzz – no doubt helped by the 30mm Pirellis and the delightful Specialized saddle – and a kind of glove-like comfort I really wasn't expecting.
The frame was responsive and nimble enough, and although I wasn't setting any records up the
climbs, I glided around in near-total comfort. Given this, the Tupelo was enjoyable to ride if not always exciting. Out-of-the-saddle sprints accented the stiffness of the frame without being
overtly explosive, but it was a different story when descending. Cavell warned me that such a
low bottom bracket 'often has a profound effect on a taller rider's descending', and he was right:
I've never known my tyres to feel more stuck to the road.
Then there's the position, which was comfortable but did leave me noticeably upright and stuck out in the wind. But to say any of this is an outright criticism is to miss the Tupelo's point. This is the kind of bike designed to make you feel utterly at home from the first pedal stroke, and it does.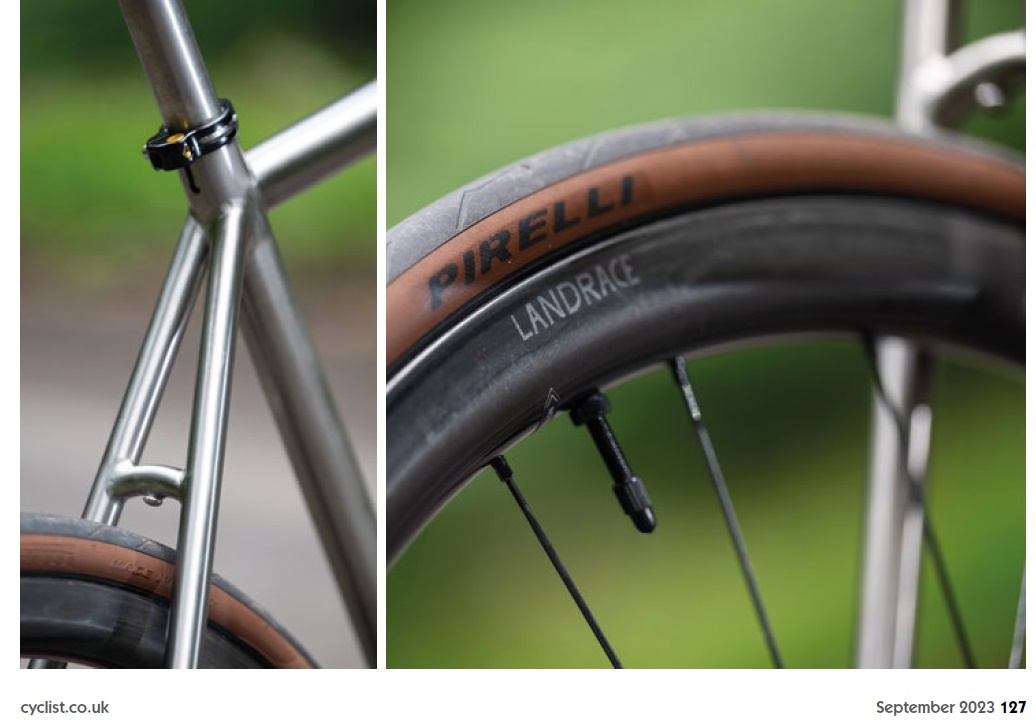 "I found a rich smoothness in the Tupelo's ride quality and a kind of glove-like comfort I really wasn't expecting"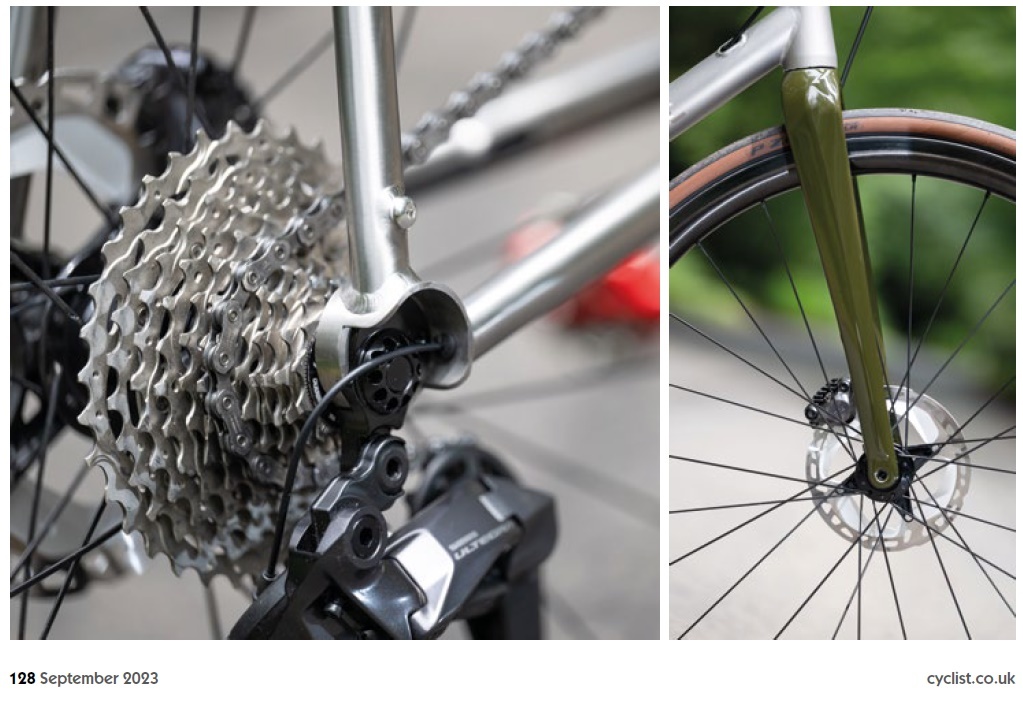 Thank you from all of us at Cyclefit.
To Cyclist Magazine and Laurence Kilpatrick
You can buy this issue of Cyclist Magazine here
Award Winning LANDRACE Tupelo