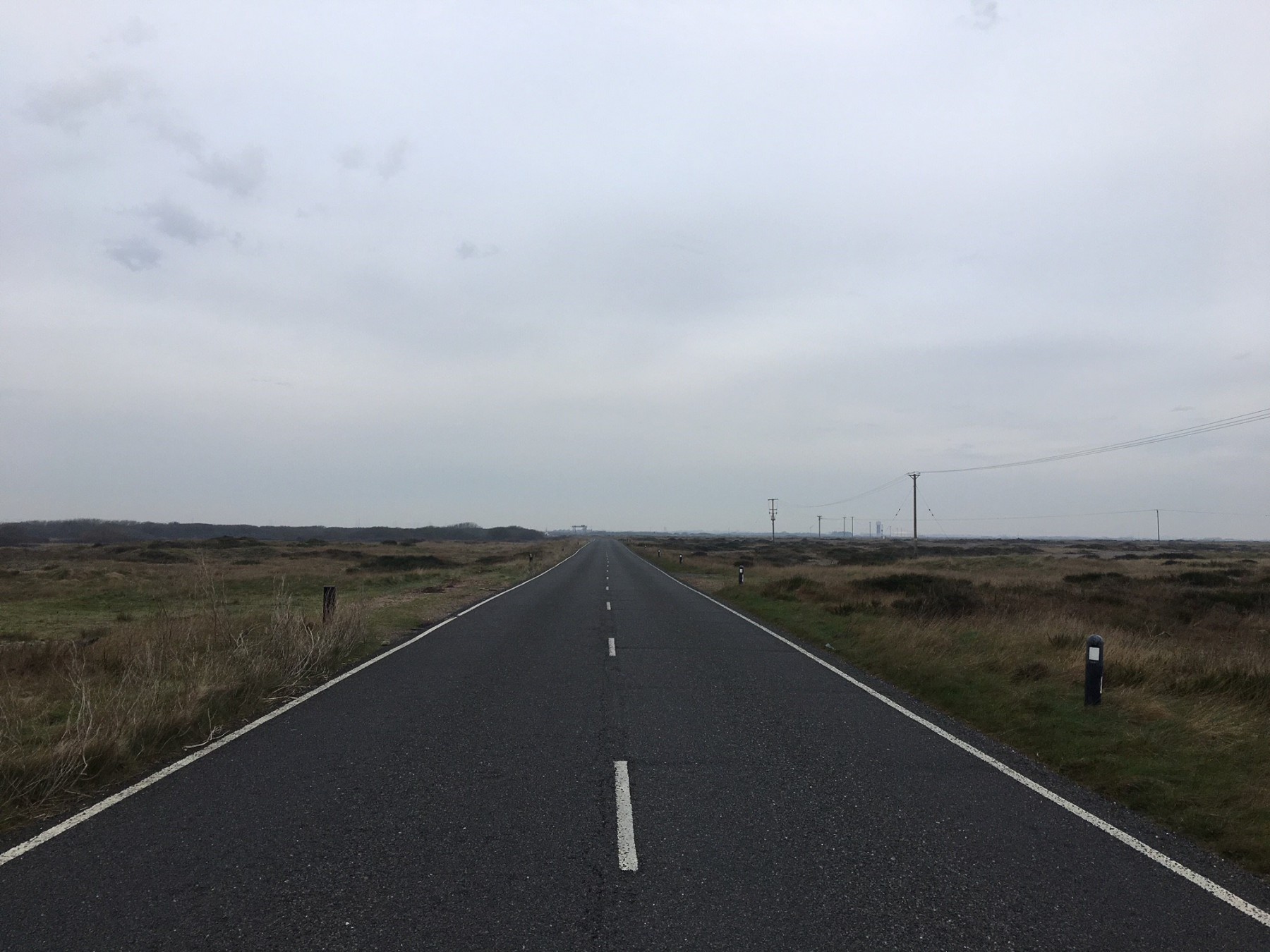 Looking for answers. On Romney Marsh. It worked for Derek Jarman
Nearly Here
Its nearly here now, only one more day until we reach the Winter Solstice - and the days finally begin to get longer. I think I've finally worked it our after fifty three years that bike riding at any intensity after the end of September doesn't really work for me. I've had several weeks off the bike and I've put on some timber during my off-season and need to start training now before Xmas arrives.
The catalyst was writing about Cyclefit's trip to ride the Strade Bianche Gran Fondo in Tuscany in March which is only three months away and 130km long over rolling hills.
At my age I need to squeeze in a little more riding each year before I kark it which is inevitable at some point, but buoyed by our first two speakers at our Midlife Cyclist talks I'm going to look after myself a little better and enjoy being out on my bike in 2018.
But it's getting a little more difficult each year. When I woke this morning in December's perpetual darkness my neck was already aching, I fumbled for the iPhone that doubles as my alarm and struggled to focus on the screen; Snooze or Stop? I found it difficult to read either command but just about remembered that the orange box at the top of the screen meant snooze. Its only Wednesday and I'm already knackered.
After the third 10 minute snooze I sort of pivoted out the bed and stumbled and limped along the landing with my stiff ankle clicking and creaking like the floorboards to the top of the stairs that I descended like a chubby Daddy Woodentop traversing a mountain slope; leading with the less worse leg at a 45 degree angle to the staircase and then shuffled off to the loo. Several minutes later when that was over I did a bit more shuffling over to the coffee machine to try and kick-start the old body in to action because in half an hour I would be in the shed on the turbo trainer doing my morning exercise, I'm too embarrassed to call it 'training' any more. Gotta keep it going!

"I wish I knew what I know now when I was younger, I wish I knew what I know now when I was stronger,"
I've picked up a few TOP TIPS from our Midlife Cyclist Lectures recently to help my cycling.
1. Pump iron - or at least go to the gym
2. Eat a little more protein
3. Fat can't be metabolised in to fat
4. Interval training is good for you - in moderation
5. Interval training (probably) won't kill you, life does
6. Get a good night's sleep
7. Alcohol will ruin your sleep pattern
8. Build your training load and condition gradually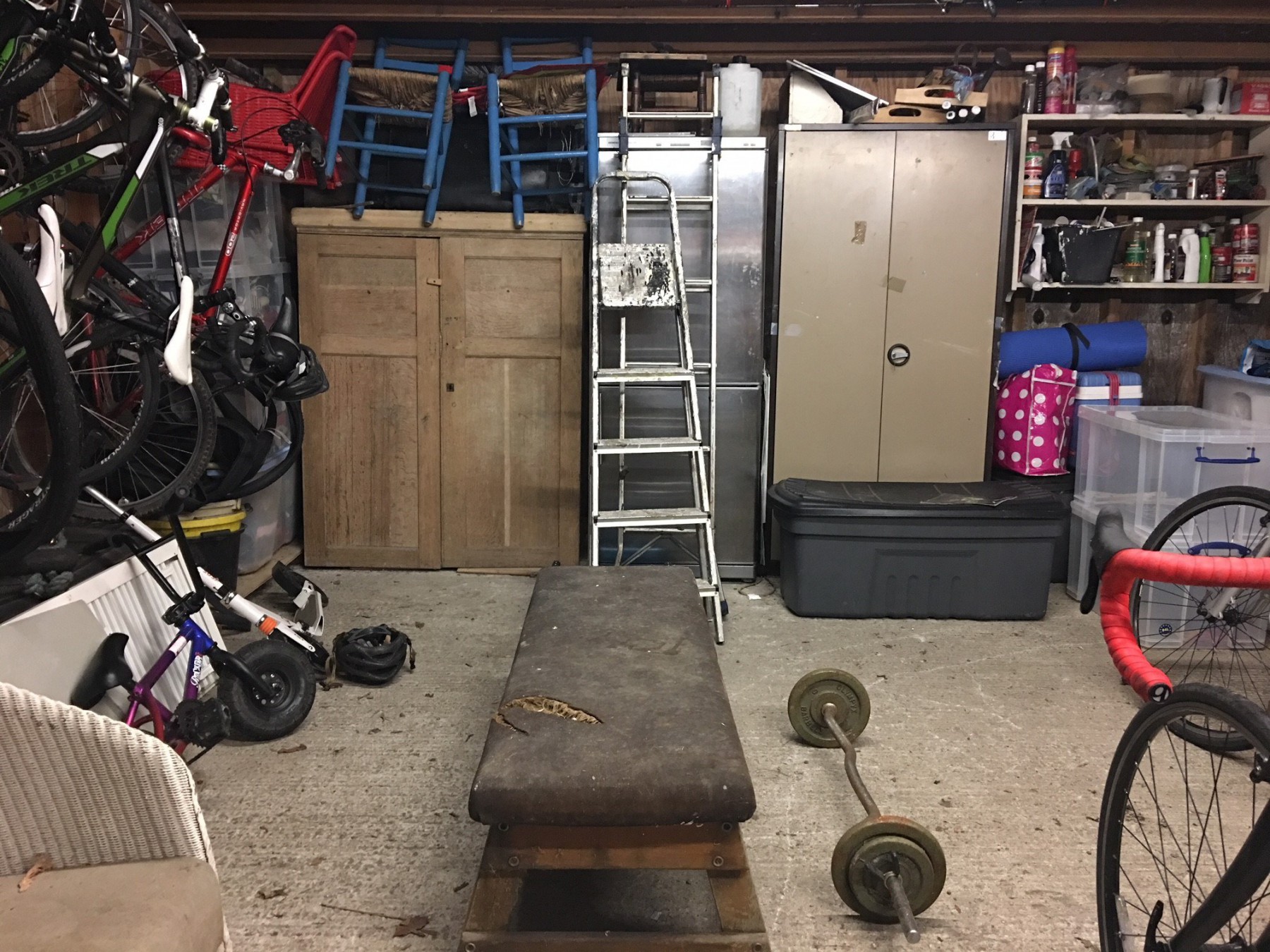 New Year, New Bike
Its more about need than want, my Trek Domane Team Issue bike is on its last legs (in my head at least) and the ten speed Shimano parts are no longer available, my Seven is now three years old and will become my training bike this winter, my Open UP is set up for riding in the woods in the spring and summer with 650B wheels and Lauf forks, that's my fun bike (yes, I have been known to have such a thing on occasions on my own in the woods, but don't tell social services).
So, I've been on the horns of Phil's Trek Trilemma for several weeks trying to work out which model road bike would suit me best, I am the Goldilocks to Trek's three bears. The first big event this season for me is the Strade Bianche Gran Fondo, it has rolling gravel roads, it can be wet and short steep climbs, followed by Roubaix or Flanders, the Eatpe du Tour in July and possibly ride London to finish off on a normal bike this time with gears.
Let's start with usage.
Goldilocks and the Three Bikes
Mummy Bear - The Domane – endurance, comfort, stability, yes, all good, disc brakes fat tyres does it fit? Nope, too short and too high for me. Can I race on it? Not really, its got a low bottom bracket and long wheel base for stability on long scary descents, I still think I'm twenty two, I want something punchy. Too big, Goldilocks whined.

Daddy Bear – the Madone – I love these frames so neat and so fast, super aero, no visible cables; rim brakes and carbon wheels, hmmm, I heard some horror stories about the Strade Bianche this year with riders wearing through their brake pads due to the fine dust on the gravel sections. The Madone will save you 30watts of effort at 40kmh but I don't often ride that fast… I heard a story the other day that the Madone is the bike of choice on the lunchtime chain-gang at Trek's Wisconsin HQ. If you found yourself losing the wheels out the back of the group, a hasty staff purchase of a Madone would find you taking your pull on the front a week later. Tyres? 28mm at a push, I need something fatter for Roubaix. Too hot, Goldilocks whined.

Baby Bear – The Emonda Disc – the most recent addition to Trek's road bike armoury arrived a little late this year in July for many to get a good season's riding in and I've been holding back until now. It's the perfect bike: Light at 6.5kg fully built, disc brakes, road bike geometry, fat (ish) tyres, perfect for mountain climbs in the Etape du Tour, punchy enough for the steep hills on the way back to Sienna in the Strade Bianche and for Paris Roubaix? Let's see, if Andre Tschmil could do it on 19mm tubulars I should be OK on my 32mm tubeless tyres and a couple of Tramadols. Last but not least custom paint too via Treks' Project One offer.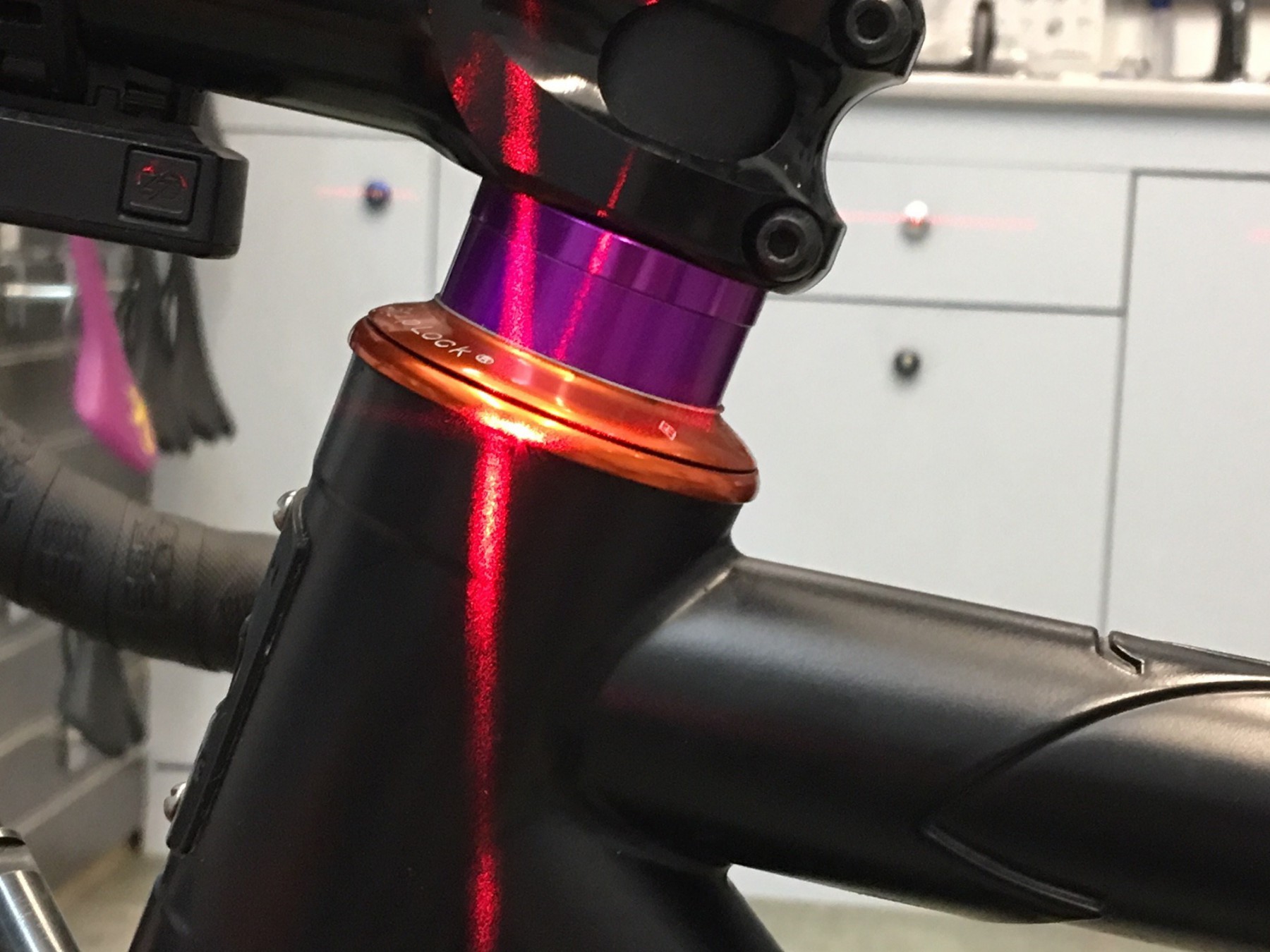 Calculating stack and reach
Let's talk about fit
Convinced with my bike model choice, I needed to check the fit and measured my Domane and Seven several times to compare stack and reach - the horizontal and vertical measurements from the bottom bracket to the top and centre of the head tube. I even had to make a chart to double check, count spacers, top cap heights etc etc. The Domane Team Issue is an H 0.5 54cm frame made for the Radioshack Team back in 2012 (a much smaller version of the bike Fabian won Flanders on) with a 10cm headtube and 55cm top tube! For the geeks out there it had extra carbon around the BB for stiffness and a solid rear mech hanger for crisper gear changing (many of the replaceable rear hangers out there are not stiff enough to control the powerful motor in Shimano's Di2 rear mechs). It also has a higher BB and shorter seat stays than the current Domane.
I have settled on the H1 52cm frame, the reach is 1cm shorter than my Seven and the stack 0.5cm lower but my stem will be a -7 degree Bontrager stem instead of a -10 degree Thomson stem so I will be within a couple of millimetres.
And it was just right, Goldilocks fell asleep (and woke with a stiff neck).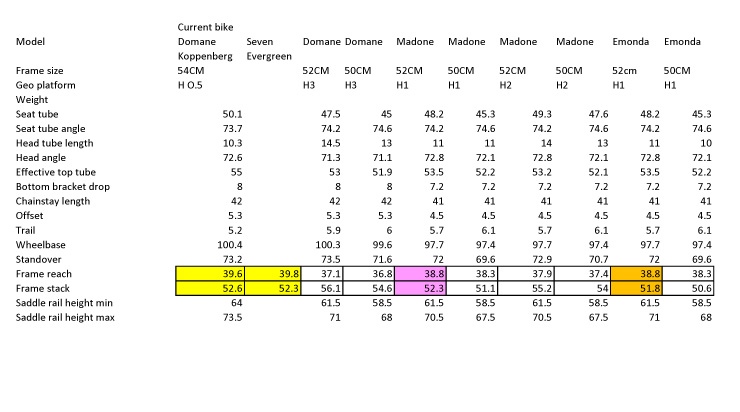 Getting the right geometry is vital
Exclusive - Cyclefit Trek Emonda SLR Disc Limited Edition!
To celebrate my final bike buying decision, Phil and I have leveraged (arm-wrestled) our close relationship with the Trek Mothership to acquire a limited number of Trek Emonda SLR H2 framesets. We have put together two complete bike options at remarkably good value using Bontrager or Enve wheels and components and SRAM's Hydro eTap wireless groupset.
Trek Emonda SLR Disc Limited Edition V1 £7,290.00 (Bontrager)
Trek Emonda SLR Disc Limited Edition V2 £8,800.00 (Enve)
Why SRAM we hear you ask?
Great value – less than Shimano Dura Ace Di2 and the brake hoods are more comfortable.
It is available now – unlike Shimano Ultegra Di2 Disc
A 32 tooth cassette option
No visible wiring
Upgraded to a Quarq powermeter you will have left and right power, better reliability than Stages, and available now - unlike Shimano's Powermeter, still!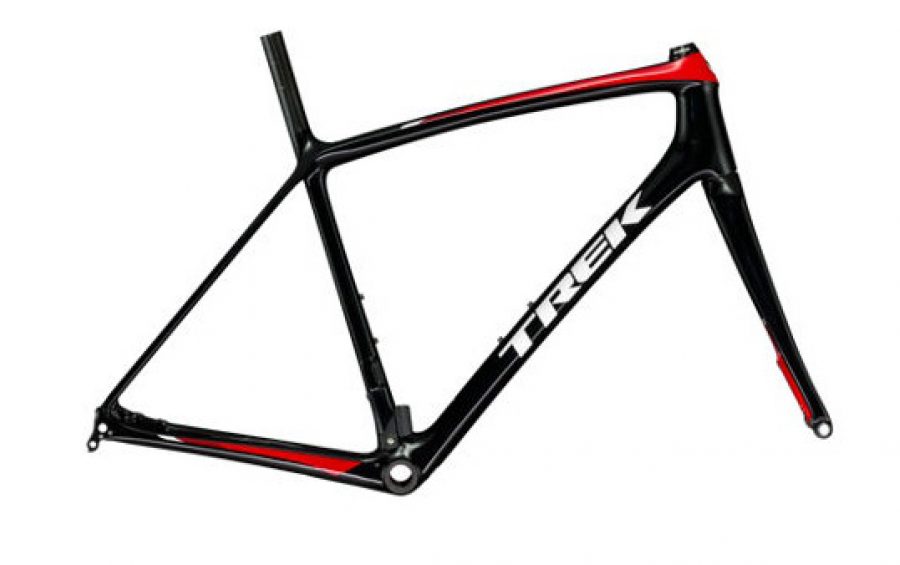 Trek Emonda SLR Disc Frameset 660g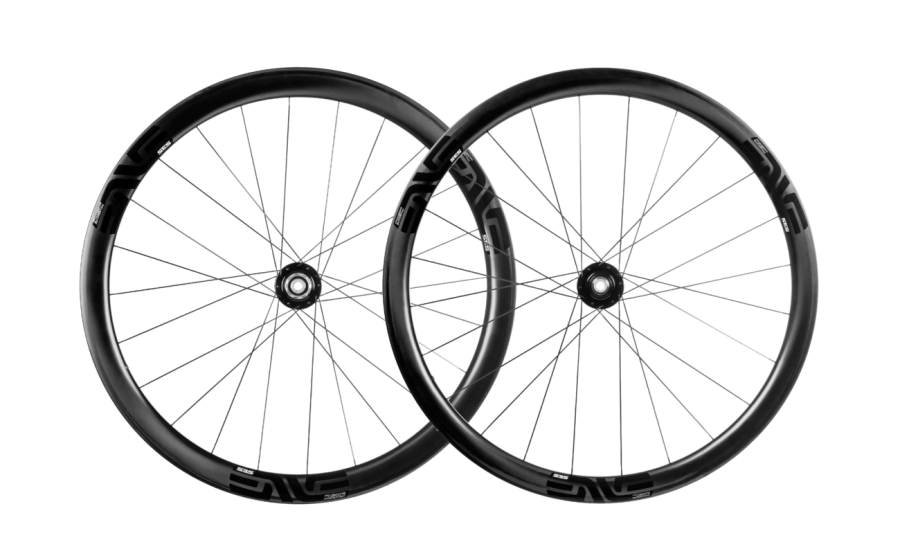 Enve SES 3.4 Disc wheelset - possibly the best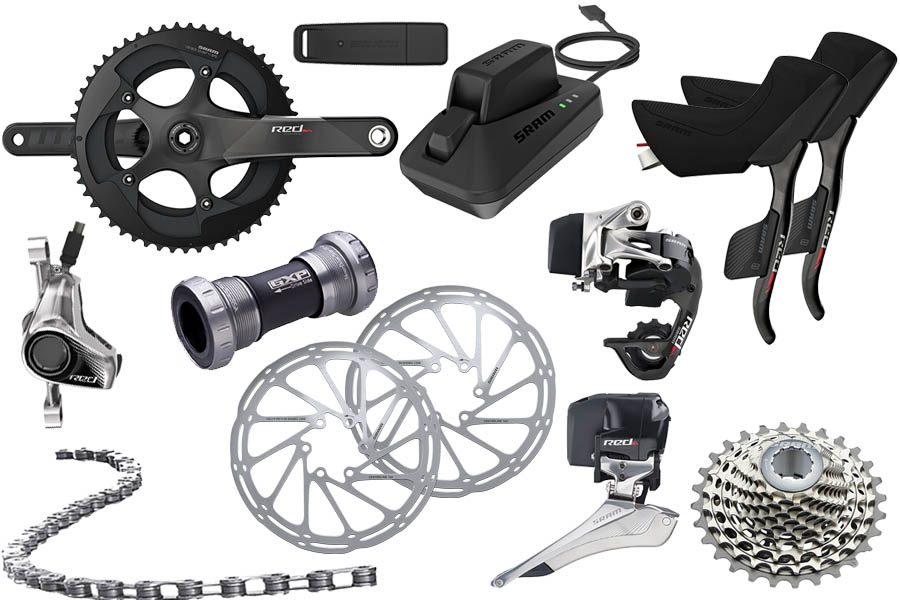 SRAM eTap Hydro Groupset - the lightest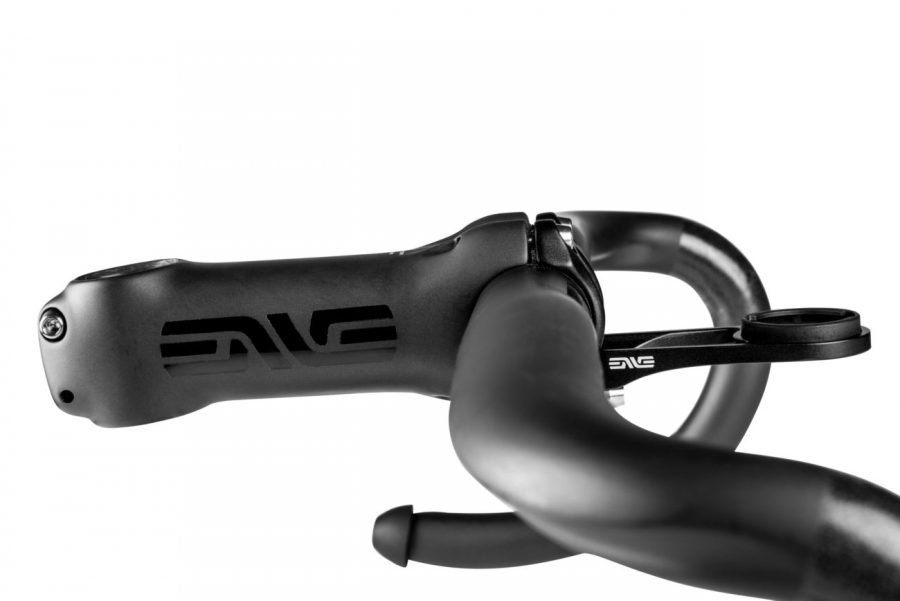 Enve carbon cockpit - light & strong