"innovated within Trek's R&D and SLR carbon division to break rules records and hearts"
Making Up The Numbers
Lighter, stiffer, more compliant. Pick all three! Data doesn't lie. And Trek's brand new Emonda SLR Disc and heavily revised Emonda SLR have been conceived and innovated within Trek's R&D and SLR carbon division to break rules records and hearts. The Inclusion of a disc version Émonda with a weight less than the previous Émonda non-disc is frankly astonishing - 665 (g) v's 690 (g).
And the new Émonda SLR frame at 640 (g) is simply the lightest frame the world has ever seen, or is likely to see for a while! The new Émonda is at the same time stiffer around the BB and headtube as well as more compliant in the Y (vertical) axis. Incredible.
What is new about the Émonda frame?
* Émonda SLR/SLR Disc uses Trek's propriety OCLV 700 Series carbon and
* All-new Émonda SLR frame is 50g lighter!
* It's stiffer and more vertically compliant than the current Émonda.
* Émonda SLR Disc receive flat-mount disc brakes. Equipped with 12mm front and rear thru-axles and 160mm rotors.
- Direct mount brakes are new to
* Émonda SLR bikes are now equipped with Control Freak cable management for a cleaner aesthetic

What do the new frames weigh?
- Émonda SLR – 640g
- Émonda SLR Disc – 665g

What do the forks weigh?
- Emonda SLR/SL – 313g
- Emonda SLR Disc – 350g
Anything else?
Stock Émonda bikes can be ordered now but supply will be limited. Émonda SLR/SLR Disc will be available on Project One from July 10th

Trek Émonda SLR 9 Preview
Trek Émonda SLR 8 Disc Preview
Trek-Segafredo Tour bikes coming soon to Project One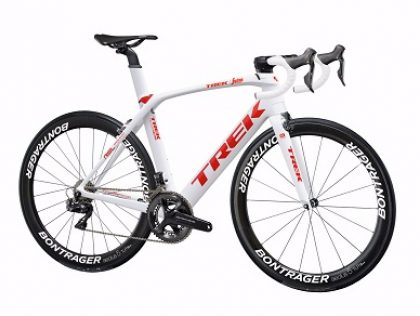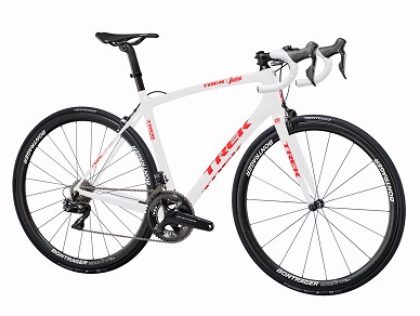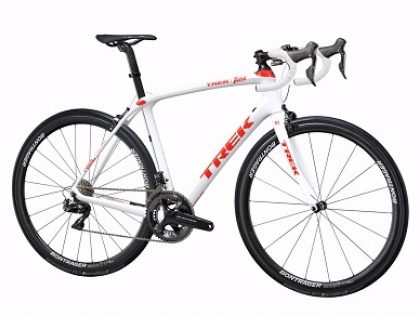 Trek Segafredo Tour Edition
In celebration of the Great race that we all love Trek has formulated a limited edition paint scheme the team will be riding in The Tour de France!
The all-new Trek-Segafredo Tour de France paint scheme will be available on Project One July 7th on Émonda SLR. Domane SLR/SLR Disc and Madone will be available on June 30.
This limited-edition design will be raced by the team through France, from the early sprint stages through the drama of the high Alps and Pyrenees.
Project One bikes purchased with this Premium-level paint scheme will be hand-painted by the same artist who creates the official team frames.
How long will the colour be offered?
This theme will be offered for a limited time only. If you like it get it now.

What colour is the new theme?
The new theme features striking Trek White and Viper Red logos with official Trek-Segafredo team marks under the clear coat
What level of paint scheme is the new white Tour theme?This new Tour theme is considered a Project One Premium paint scheme, which means it will be a £900 upgrade from a base model.

Cyclefit Trek / Segafredo Tour de France Special Offer -
In celebration of this limited edition scheme, the launch of the new Emonda SLR and SLR Disc and of course Le Tour, we will offer a free Cyclefit Pro Session (worth £450) for anyone purchasing a Project One Madone, Emonda or Domane SLR with the new Team Scheme. This offer lasts for the duration of Le Tour de France!
Vive le Tour!