Open Cycles U.P. (Unbeaten Path) Test
Working Hard to Stay Small
Have you noticed that the bigger the company the more controlling they are? Apple, Google, Facebook constantly trying to push their way into our virtual life for their own benefit. I rue the day I inadvertently signed onto both iTunes and iCloud because now I literally can't move without some sodding dialogue box popping up trying to frighten me into even more app-based outlay.
Open by Name…
Open Cycles is run by two lovely gentlemen called Gerard and Andy. They have done the big company thing (Cervelo and BMC respectively) and now want to work a little differently – "nice bikes, nice rides, nice company" is how they express it. Leaving aside the bikes for a moment, what we particularly like is the honest, open and porous nature of their dealings with the world. You are encouraged to interact with Gerard and Andy with your own good and bad feedback. Quite refreshing.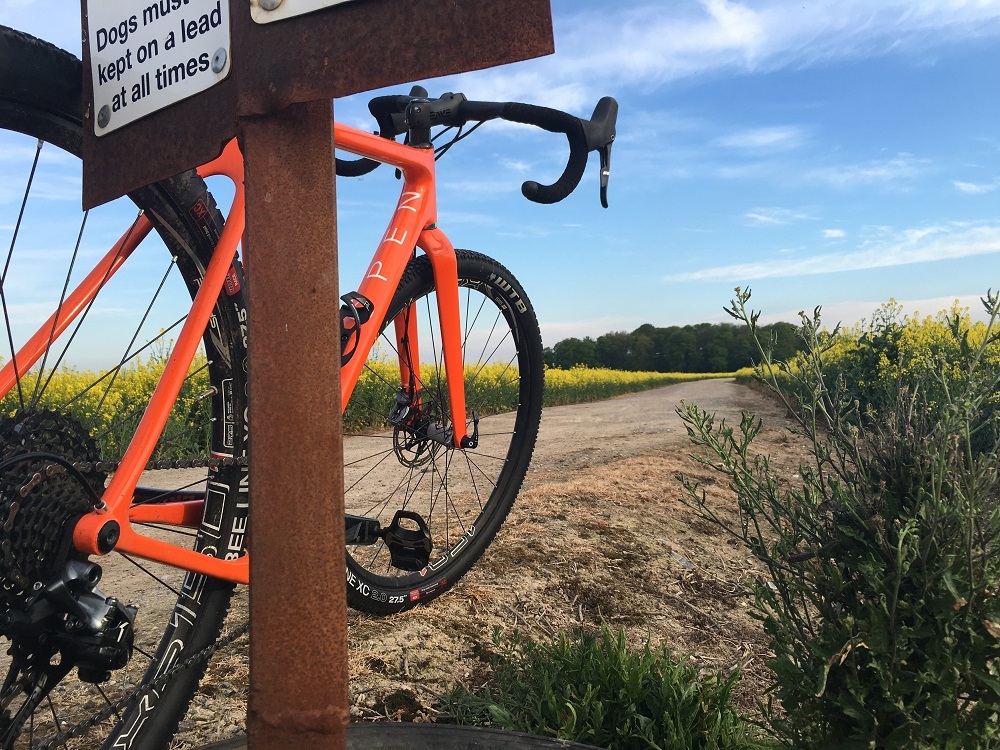 In The World. Not Rule The World
In contrast we had a meeting recently with one of the larger companies that we deal with, and one of their Product Directors asked us straight out, with no hint of shame:
"What have we got to do to capture more of your Seven business"?
"Err, engineer to perfection in a workshop in Boston, become industry leaders in the world's most recalcitrant metal, offer full custom, be dedicated to being artisans at one beautiful thing?" all of the above, we replied.
But more than that we asked him, why would they ever want to compete with Seven or take any of their hard-earned, well deserved business away?
Open Cycles Unbeaten Path
In contrast Open is tiny and dedicated to being a good neighbour - they only have two bikes in their range; a versatile MTB called One Plus and the award-winning, head-turning precious jewel Unbeaten Path
I have wanted to review the UP for over six months but the demand for the bike and the frothing feedback from press and clients means that every time we have built up a bike it is gone by the afternoon to an enthralled new owner.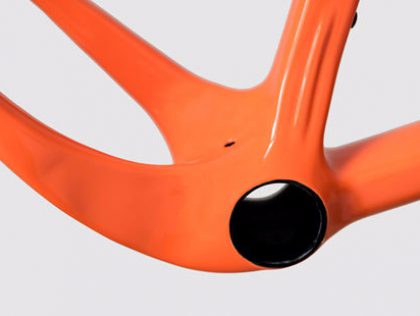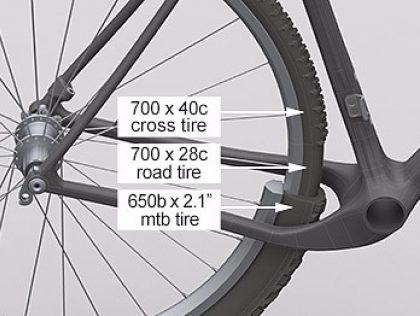 Lots of tyre/wheel options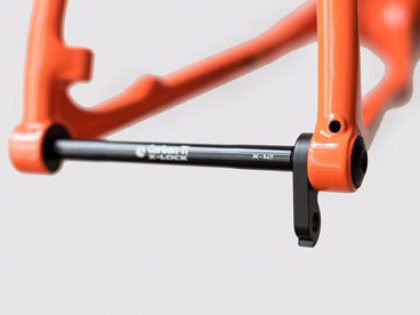 Paradigm Shift or Emperor's New Clothes?
What question is Open's U.P. answering of the cycling firmament? After all we have cyclo-x bikes, gravel bikes, MTB's already. Beyond beautiful, minimal styling, rarity, Swiss pedigree, is the U.P.adding anything else into an already crowded pot or is it all brand and no knickers?
Tech, but briefly
I don't want to go into too much technical spec, partly because it is all out there and you can do your original research using the reading list at the bottom of the page, but mostly because I can find the theory side a little dull. It either all comes together when you ride out or it doesn't. In essence Open have designed the U.P. for pure speed in all conditions based around a multi-wheel platform. You can run any road tyre you want up to 700×40c cross or you can switch out for 650b 2.1 full-treaded MTB tyres for fast but serious off-road work. Genius thinking. This is made possible by a dropping and widening the weird looking drive-side chainstay. Briefly other design concepts that should feed into the ride experience are:
Short 420mm chainstays (cross bikes generally go to 425 or 430mm)
Implausibly tiny 'Wire Stays' for back end comfort
Flat downtube for lateral rigidity
Fully internal cables and hoses. Quiet, clean, efficient
Thru-Thread thu-axle dropouts
70mm BB drop (see ride section)
86mm BB shell for drive stiffness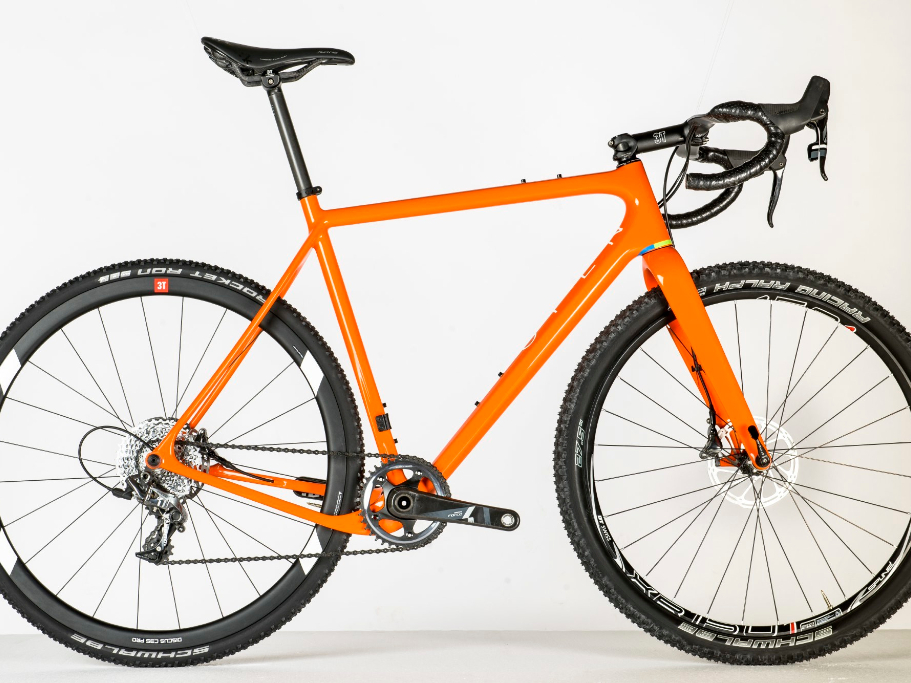 The Open U.P. built with 650b MTB wheels and 1 x 11 SRAM gears.
The Future's Orange!
The spec of our test bike is almost perfect. If I had the budget I would opt for a set of 700c wheels with 28mm Continental GP4000's for fast road riding, but if I only had the budget for one set, I couldn't resist taking Open to the outset edge of what is possible, dynamically and especially visually. There is something about this bike with those wheels and those tyres that is irresistible to everyone, but especially roadies. Going back in time, I had a foot in each camp, quite happy riding a NPS (National Point Series MTB) with Jules or rubbing elbows as a 1st cat in a criterium.
It takes about 150 yards on tarmac to realise that this is probably one of the most remarkable bike I have ever ridden. Devastating sensations of drive from the power-train and monumental directness from the fork and thru-axle. It has the acceleration of a Cervelo S5 (some linked DNA?) but with the huge surprise of torsional stiffness - from what is essentially an oversized MTB fork, that you never feel with a conventional road bike. Over the cobbles in Covent Garden after only 250 yards and total silence, total drive and back and front wheels staying in line like they are embedded in concrete! You don't realise how much slop bikes have in the system from every component and tube on many road bikes until you ride one that has absolutely none. It feels like the stiffest and most responsive bike I have ridden even though it is working through balloon like Bee Line XC MTBtyres on 27.5"semi deep-section rims.
"Having this bike for the weekend is like giving a reformed crack addict one last hit for old-time's sake"
One For The Roadies
On the way to Paddington the station and what is remarkable is how many cyclists engage with me and the bike. It encourages comment and dialogue (which is one of Andy's and Gerard's intentions). Most have no idea what this strange racer with balloon tyres is; but one rider does and one mentions the GQ article that is out this very week. Little does he know this is the very bike.
Short, Quick, Quiet - Pick 3
Off the train at Maidenhead and I take the long way home trying to avoid tarmac and it is clear that speed is not really a function of road surface. The Open tracks as fast on a trail as it does on tarmac. Hit single-track and the 650b wheels and ultra-short 420mm chainstays blend result in a bike that drops into a turn in half a synapse.
In addition there is no rock or rut invented that will shake the bike off its true line. The torsional rigidity between the wheels is absolutely the extraordinary defining riding feature of the UP,along with the quietness of purpose from internal hoses and cables and 1×11 gearing format. It is stripped, stiff and dedicated in every aspect. I love the 1×11 format and never failed to find the right gear up a rooty granny-ring track or late for work on Monday morning on the A4. It is so simple and quiet that I am not sure I could be persuaded into 2 x anything off road?
Quicker Than a Mountain Bike - More Usable Than a Cyclo-X
More direct and faster than a mountain bike and more fun and usable than a cyclo-x bike. The feeling of control, grip and fun from the Open is more akin to a top flight mountain bike. But the speed, power-transfer and directness of purpose is mixture of Cervelo S5 and next generation, yet to be innovated cyclo-x bike. You ride the Open like a mountain bike, only faster. On a cross bike you have to ride and especially descend and corner with balletic precision and control because grip, and braking are so limited. On the Open the larger tyres and tautness of chassis exchanges the clenched-arse feeling for pure confidence and fun. Factor in that the UP is about 7mm lower overall than a cross bike, which in turn lowers the combination of rider and bike centre of gravity. It is a simple fact that lower BB bikes feel more controllable, safer and can therefore be pushed harder.
In the Spirit of Open (ness)
This is the right bike but at the wrong time for me. The stark facts are even spending a few minutes on a bike, any bike, puts my damaged back into spasm. I love Open as a company and I love this bike. I love everything about it other than riding it really hurts. Last year on our training camp I threw caution to the wind and, after getting taped up by my friend and osteopath, Alex Fugallo, and an armful of pain killers, I even managed to ride Sa Colobra one last time. I had to stop a few times and it hurt like hell, but for a morning I was back in lycra and out with Jules and the bunch like old times. That kind of caper isn't possible anymore because function and pain have revised in the wrong down and up respectively. I can forget about the beauty, technology, freedom and pure joy and excitement of riding until something like Open's UP comes along.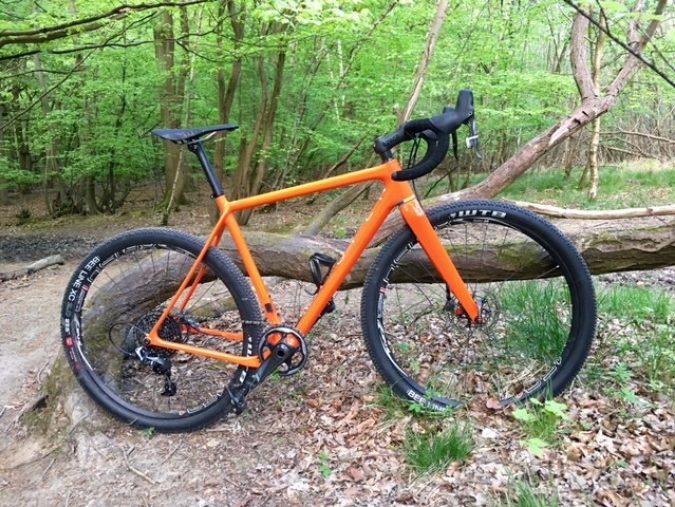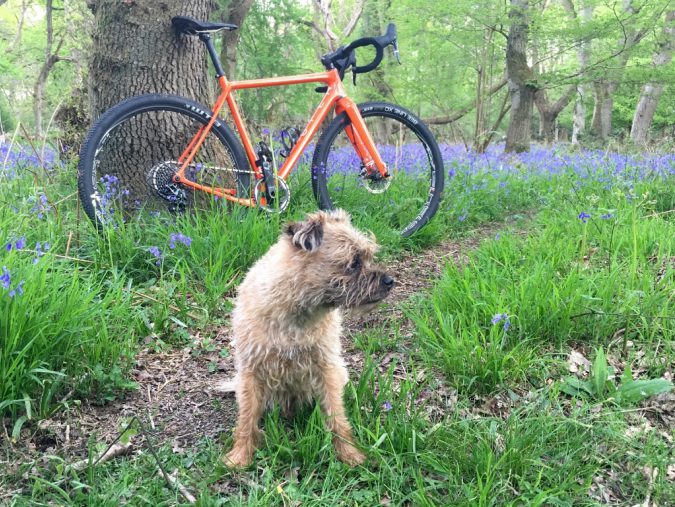 One Last Hit
Having this bike for the weekend is like giving a reformed crack addict one last hit for old-time's sake. Pre-accident I would ride with my dog, Van, off-road once a week or so. Last Sunday in the dying heat of a glorious May day, we renewed our partnership once again, both older and me considerably more broken. Van set off in front at gallop that five years ago he could have comfortably kept up for a couple of hours, but now nearly ten it was only a matter of time (twenty five minutes to be precise) until he wound down as my horrible spine wound up. We paused in a bluebell wood near home (pictured) and, forgive me whilst I anthropomorphize, shared a moment of inter-species empathy.
What's Not To Like?
It's a short list because this Open have innovated the U.P. into a paradigm shift for the industry. Not only because they have wrapped an expedition bike, road-racer, cyclo-x and gravel bike into such minimal and elegant package. But because the way the company interacts with the world in terms of their style, voice and medium of communication, is setting high standards for all of us to follow.
Back brake pull off was weak. Didn't actually drag but modulation was unmatched with the front.
Headtube is on the short side for old men with poorly backs. But same short headtube kept handling sharp in the single-track by weighting front tyre.
Frame + Fork + a headset - £2550.00
Please contact us to discuss build options and spec, complete bike prices with SRAM Force 1x11 from approximately £4,500.00.