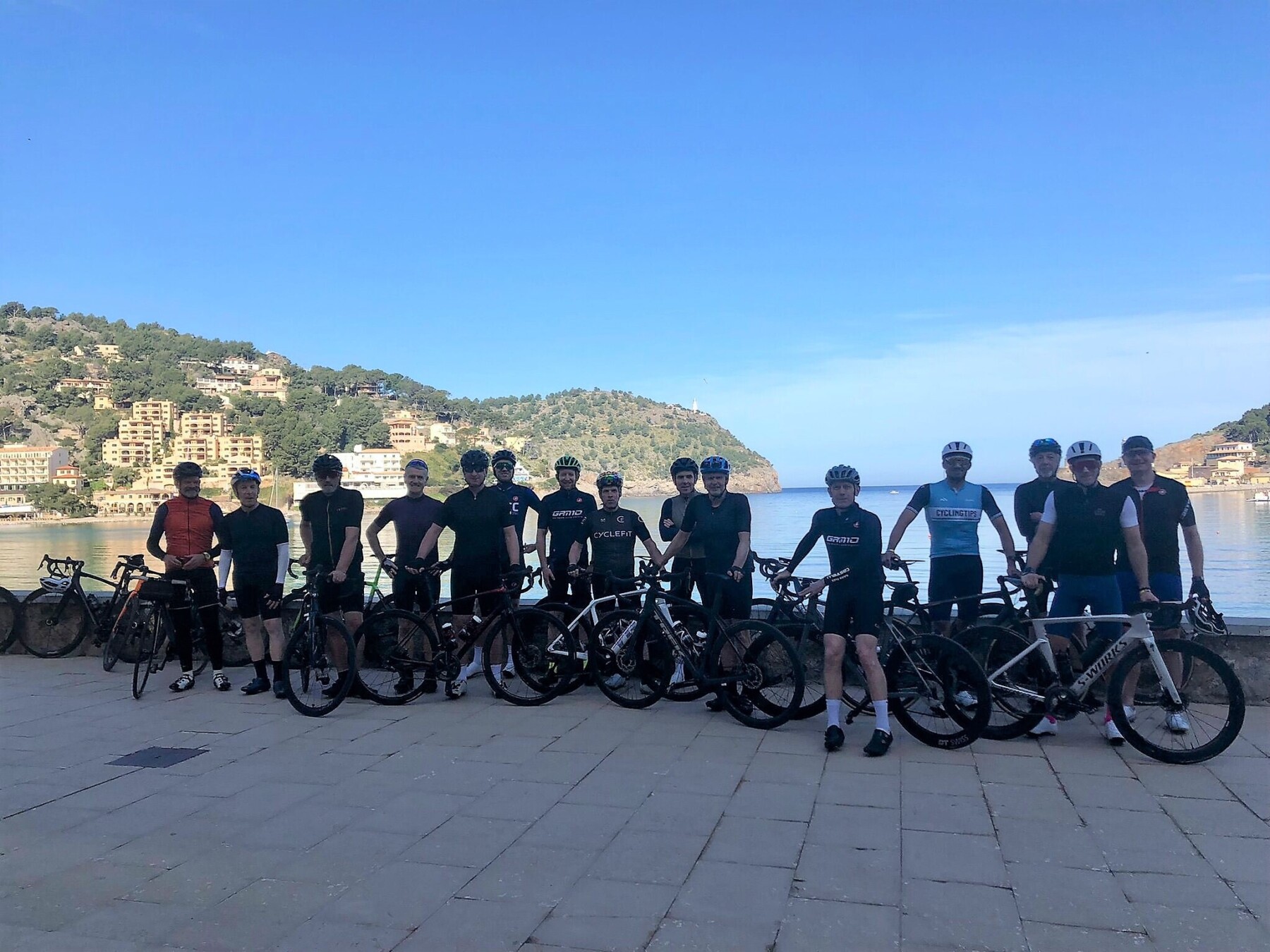 Another day dawns and another adventure beckons at The Midlife Cyclist Training Camp. Weather Report: Sunny.
Mallorca Camp Journal

The week before we were due to fly, we received repeated images from friends and clients in Mallorca – up to their hubs in rainwater and up to their necks in Rapha waterproofs and winter-snoods. It wasn't looking good. It was widely reported to be a largely unrideable spring in The Emerald Isle! We used to run regular training camps in Mallorca from the early noughties. One year we went too early and were met with snow on every climb and rain nearly every day. From that moment forward we decreed never to enter Mallorcan airspace before April.

British Airheads
The £240 we gave to British Airways to fly two bike-boxes, reassured us that we would all arrive together on the island. BA then lost the bikes and they arrived just in time for the last day – please lord give me a yoga class – and then one was provided by Esplendido – the fabulous Carol (pictured)
No matter. Soller is a traditional Mallorcan port town and Hotel Esplendido its finest hostelry. It climbs the cliff in a dramatic vertiginous fashion, culminating in a dramatic infinity swimming-pool at the summit.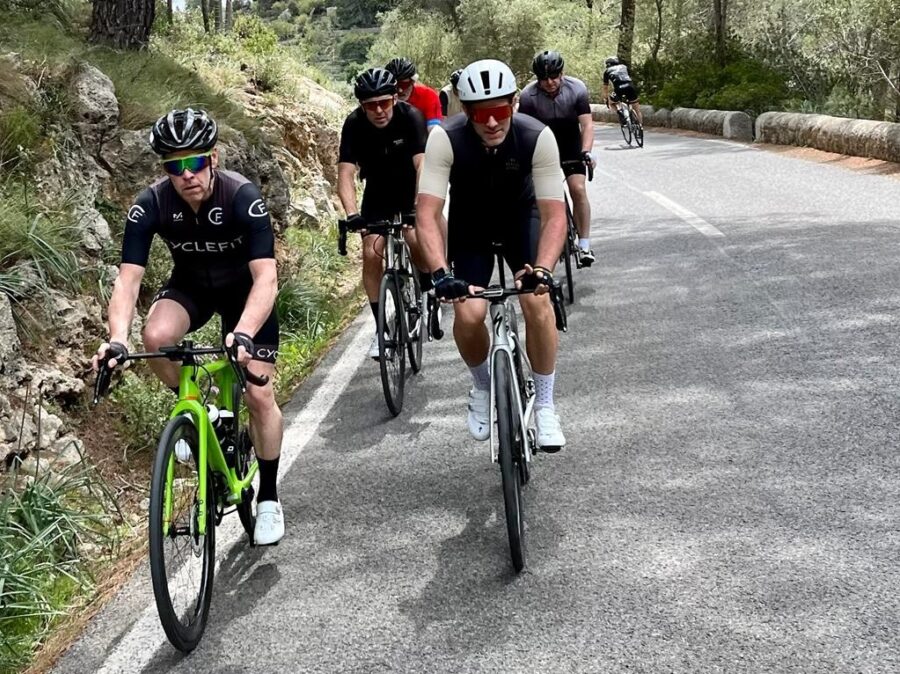 Jules and Kieran lead the group up Puig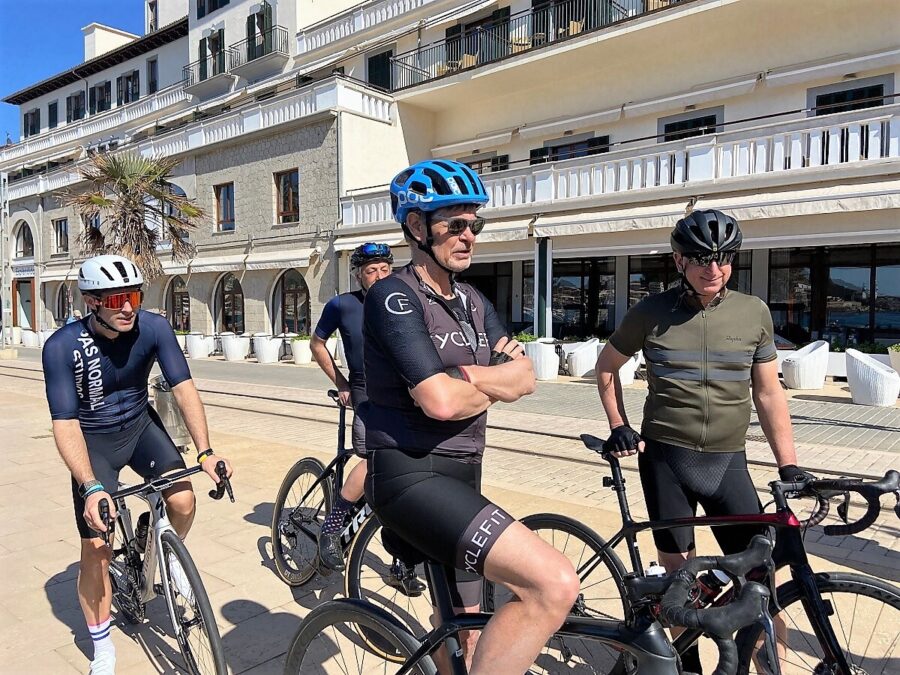 A de-rigour morning faff. Ian and Phil wait patiently
Esplendido by name and nature
The staff at Esplendido are gracious, calm and lovely to speak to. The rooms are huge and the bike-garage expansive. And from the moment we arrived the clouds cleared away to the east and the good weather blew in with us from the west. More than once we were thanked for bringing the holiday spirit with us from the UK. Thanks to BA, Jules and I had to hire a couple of Treks from Andy at Tramuntana Tours, next to the hotel. A brand new Emonda SL7 for Jules and few season-old Domane for me. Funny that.


And then the Midlifers began to arrive. It was wonderful to welcome old friends and new – Peter, Ian, Dean, Julian H., Morven, Nick, Kieran and Malcolm from the UK and Joel and Niall from the US. The GPM10 crew of Mark, Sam (Look Mum No Hands) and Allan moved around quietly in the background facilitating bike-builds, supper and making sure everything we needed was in hand. Impressive. They moved around quietly for the next four days like swans – all serene up top but probably working hard below the waterline! Mark runs a tight and calm ship. We have worked with GPM10 for over ten years now.


We went for a little leg-loosener up to Deia for a coffee and straight back - a trifling 25km and a mere 400 odd metres of climbing. Slightly disturbed to hear Ian murmur at one point, that he was up to 300 watts at the top of the climb. Yikes chaps.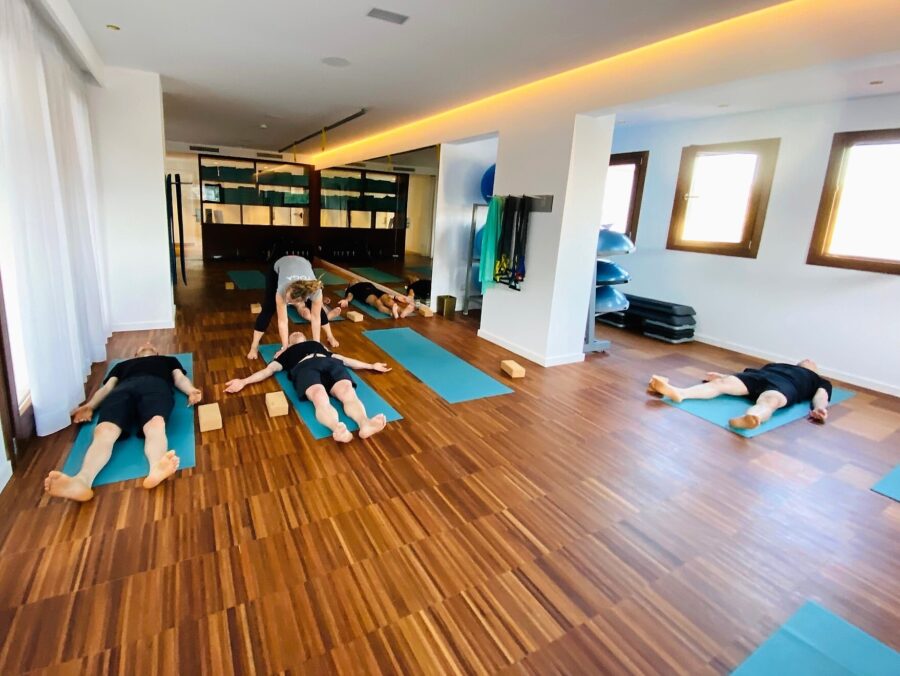 Carol works her magic on Peter's Savasana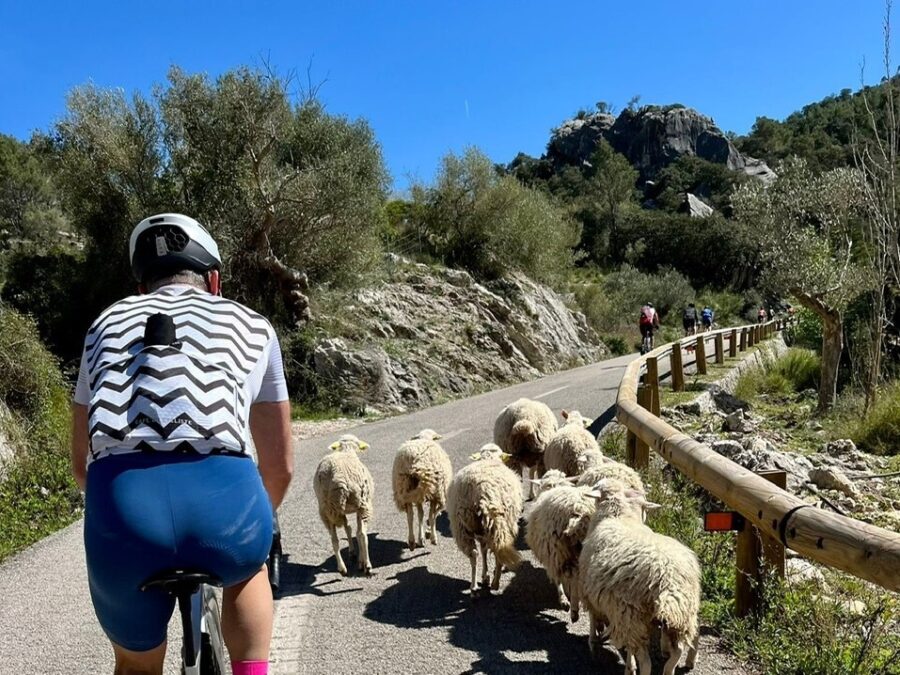 Getting overtaken by some fast Mallorcan sheep
Friday morning. Outlook sunny. Again.

Our great friend, Guy Andrews (Rouleur Founder), joined us from Palma for the ride. I was in trouble from the roll out. I felt awful up to the first roundabout before we got anywhere near to Col d'Soller. Julian H. attacked the group on the foothills and was rapidly joined by Niall (whose youthful looks caused a bit of concern amongst us older Midlifers).

Guy and Sam looked after me on the long climb and I felt more and more sluggish and low-wattage. Not a good look when there is still 90km and 1500 metres of climbing left.
The route was exquisite and featured some of my favourite roads in the world – namely through Bunyola and Alaro through the tiny valleys and switchback climbs. But my legs were dead, and it was only day one and a half!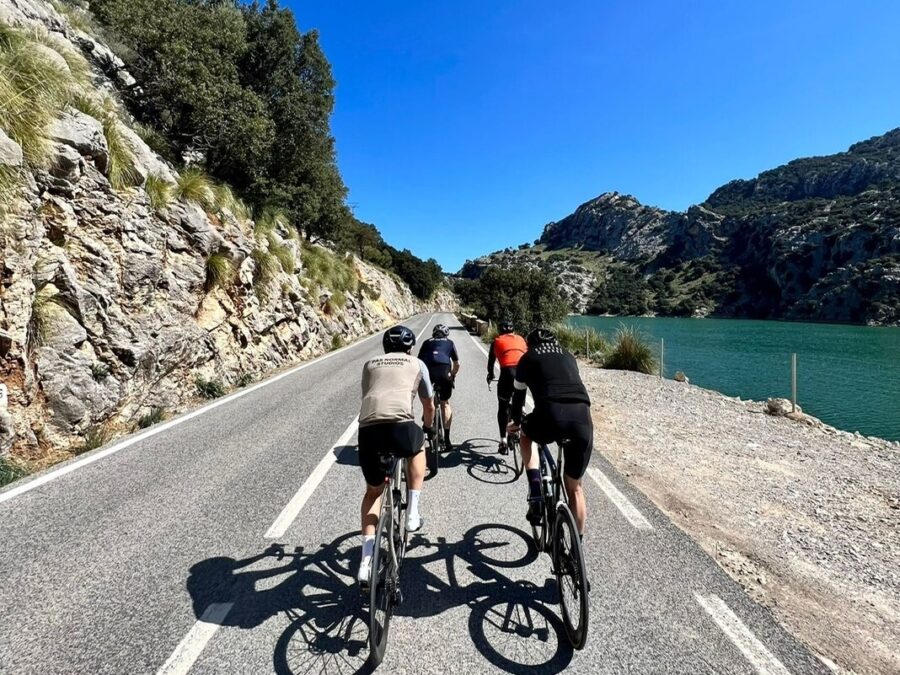 Wall to wall - perfect riding conditions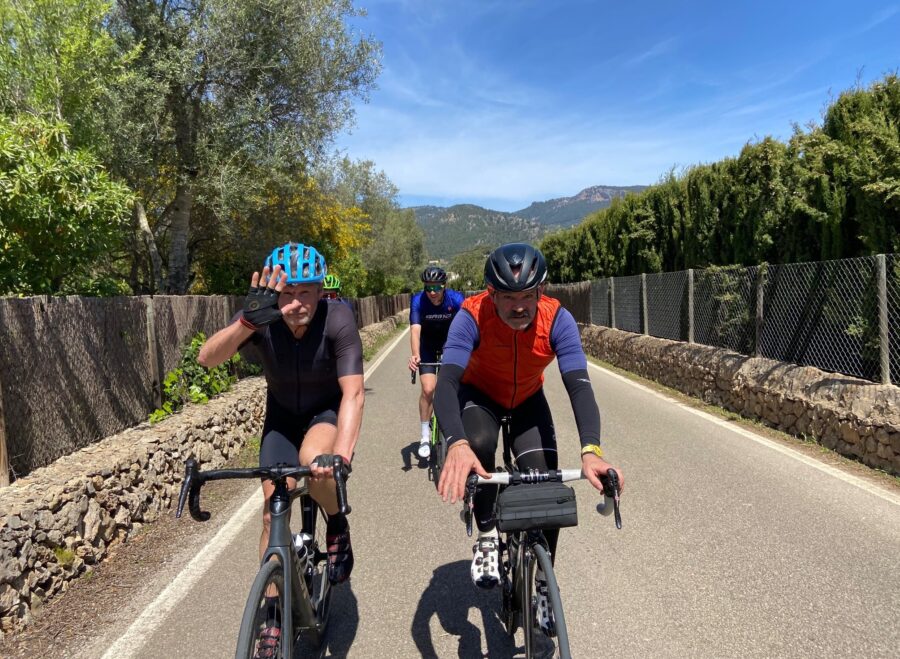 Phil and Guy - ex team-mates ride again. But slower.
Saturday morning. Outlook sunny. Again.
The one-sided headache I had for just over a week and rash on my forehead (look closely at the pictures), was now joined by another couple of weeping rashes above my right eye on my scalp (see postscript). I decided to follow my own advice in The Midlife Cyclist and not ride, but rest. The lovely staff at Hotel Esplendido gave me some locally sourced Iodine lotion that I put on the rashes for the remainder of the trip. I sat in the tranquil reception work space and finished an article that I was writing on HRT/TRT and hormone replacement for midlife cyclists for Cyclist Magazine – I got regular updates from Jules and Mark through the day about how the ride was going. Another beautiful route of 120kms and 1500 meters or so of climbing, taking in Lluc and Puig Major. It was great to wave everyone home safely at the end of the day.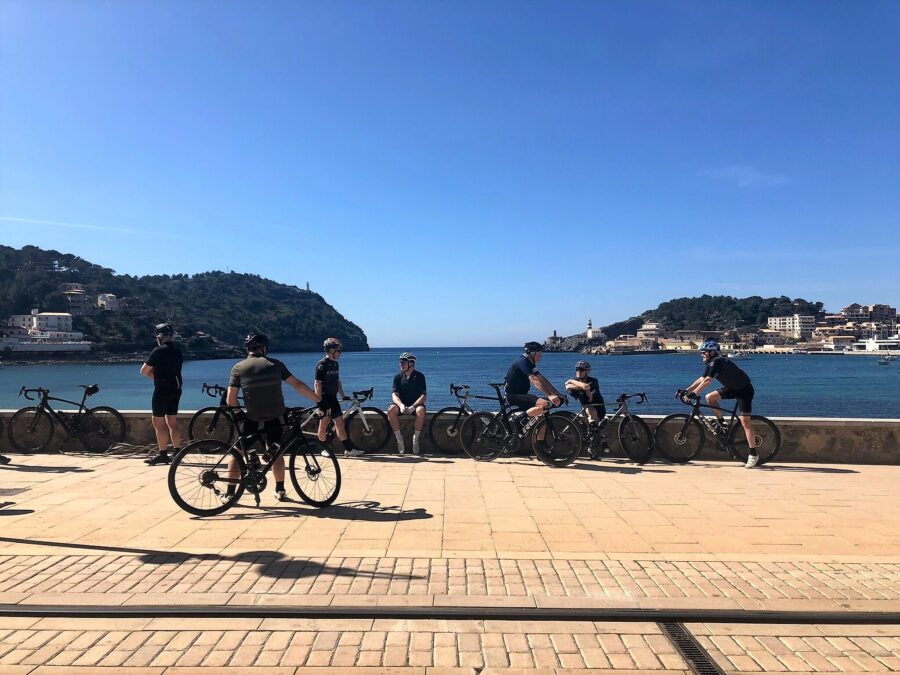 Malcolm and Ian dig in on a climb
Sunday Morning. Outlook Sunny. Again.

My rashes on my head had scabbed over (forgive the detail) sufficiently for me to put a helmet on. But I had no appetite (or legs) for the ride that was planned that day – 85km – 2200 meters of climbing, up Puig Major and down Sa Colobra and then straight back. When our friend and client Peter, had a brainwave. Get the ferry around to Sa Colobra and ride the leg home with campsite-legs! Myself, Julian, Peter, Joel and Allan all scooted down the coast to catch the early ferry around.


After a magical hour or so bobbing around in the azure Mediterranean sea, we landed, Normandy-style at Sa Colobra.


A quick pause for a picture and Joel went off on the attack on the steep on-ramp way from the sea. Jules and I had our own bikes back (thank you British airways, belatedly) – an Open UP for Jules and an Open MIND for me.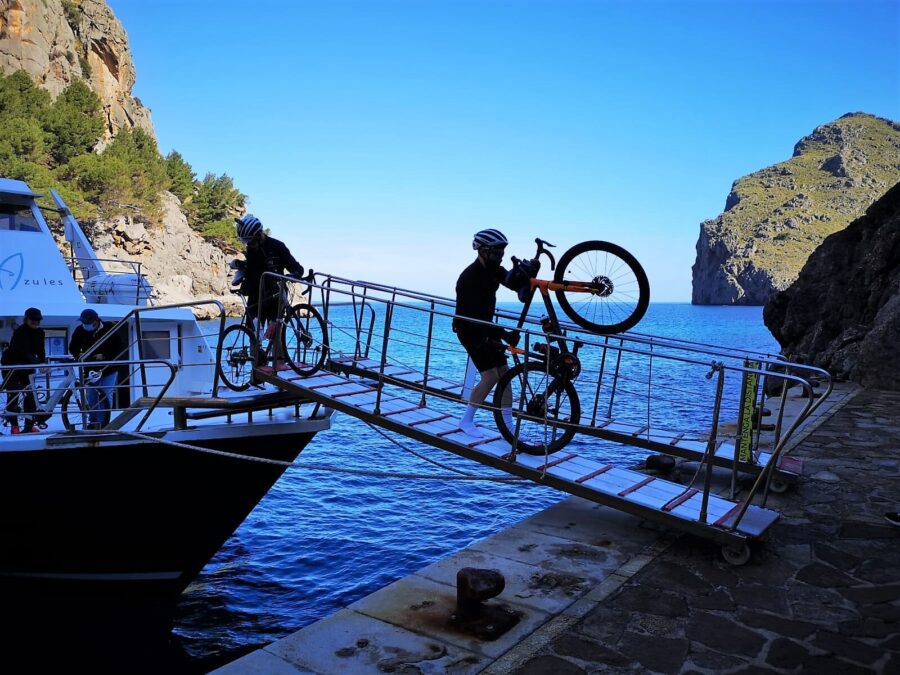 Who says bikes and boats don't mix? Docking at Sa Colobra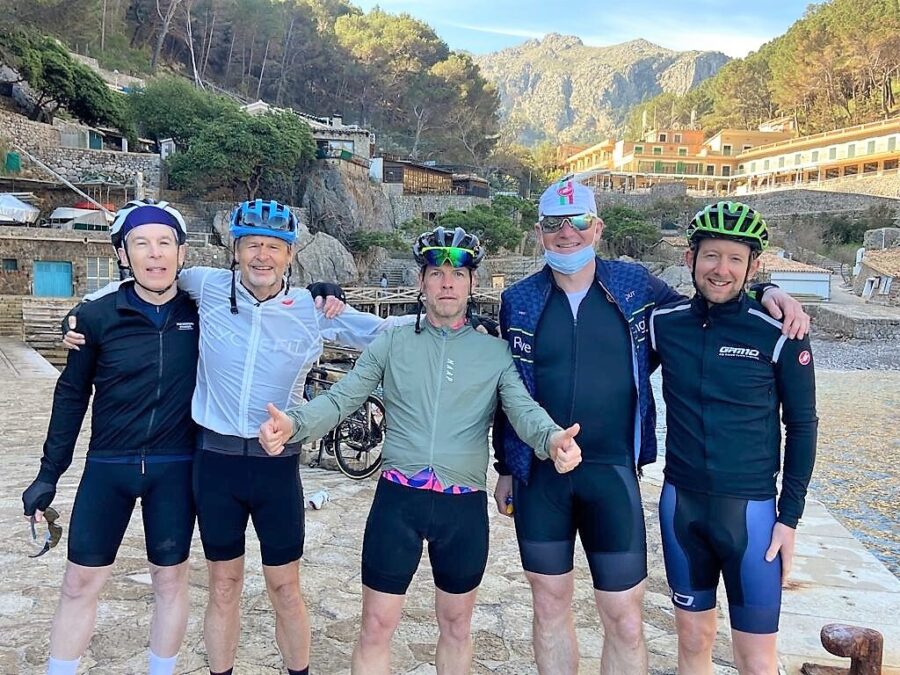 The Ferry Five - Joel, Phil, Jules, Peter and guide, Allan.
Sa Colobra
We rode at a lovely pace with Allan and Peter for the early gradient before we realised that poor Allan was twitching like a whippet puppy on a leash. After we gave him the nod and assured him that we would all be fine, he was gone with a comic-book 'puff' like Keyser Soze. He was literally out of sight before Jules and I had exchanged one meaningful sentence. Peter, meanwhile, was nursing some issues of his own, and was sensibly riding well within his own very formidable abilities. Me and Jules then climbed Sa Colbra together, on our own, for the first time in eleven years. Actually, this is first mountain we have climbed together since my crash and two subsequent surgeries.


At the top of Sa Colobra we stopped at the café and fortuitously met up with group who were fearlessly doing the full out and back ride – Dean, Ian, Kieran, Malcolm and Niall. As they dropped off the cliff to Sa Colobra, we headed up to the summit of Puig Major – all of us content with our choices I suspect.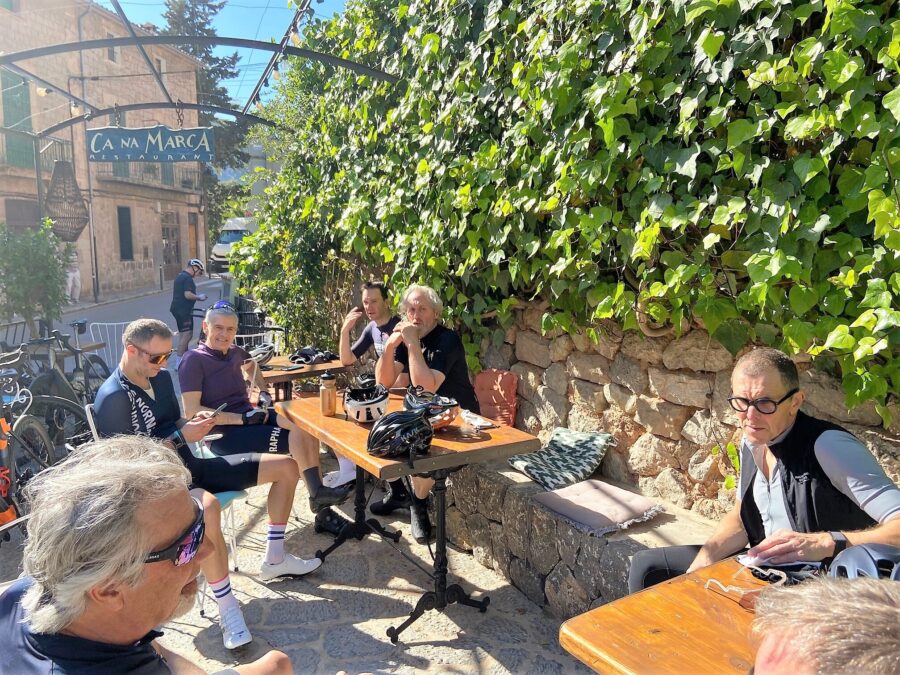 We were never far from a coffee stop. Here in Deia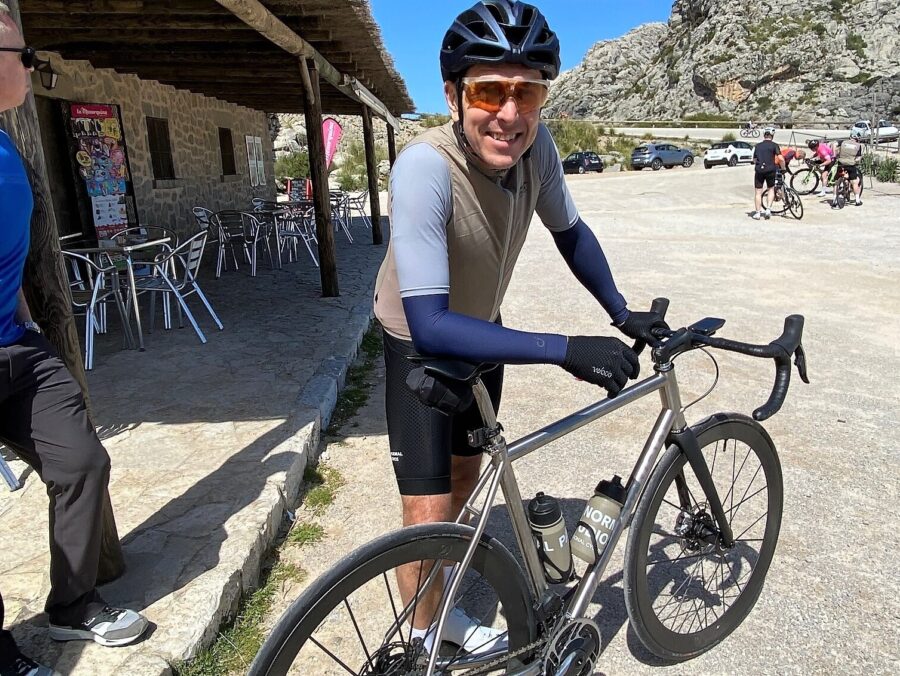 Dean - impeccably turned out - Seven Axiom XX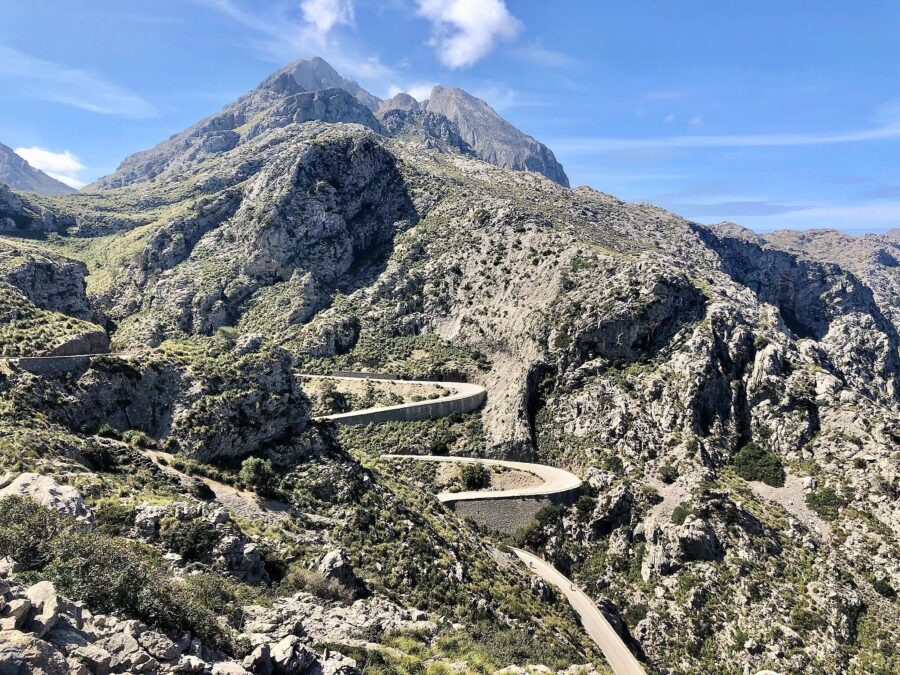 Mallorca's always iconic Sa Colobra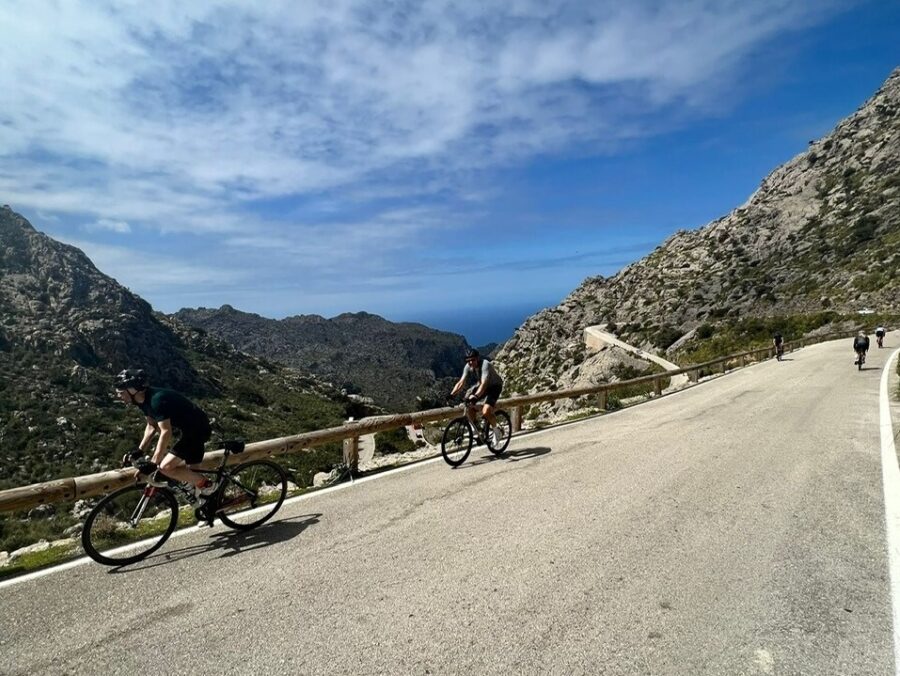 Joel and Dean summit Sa Colobra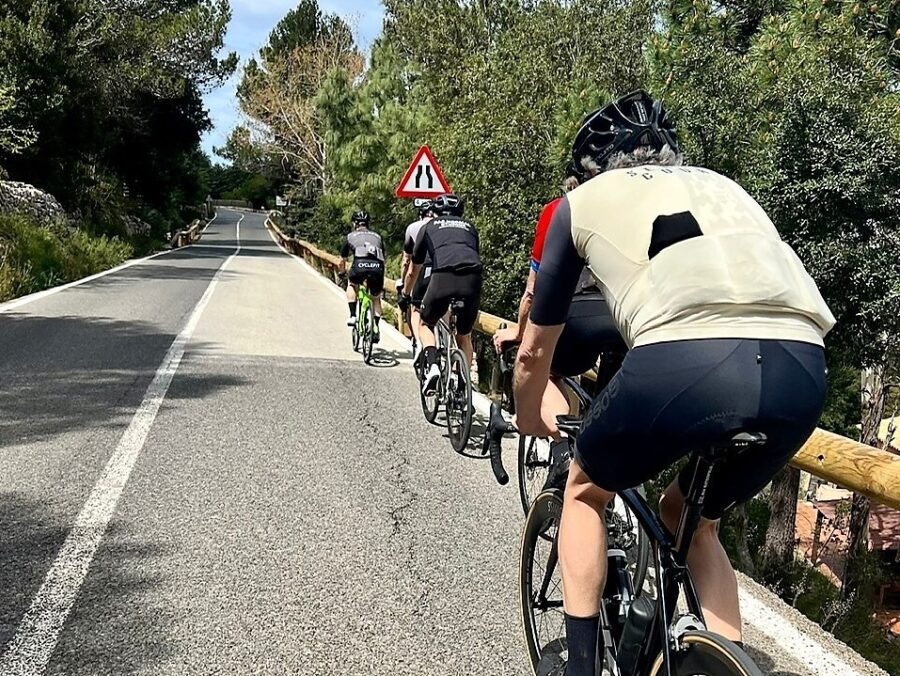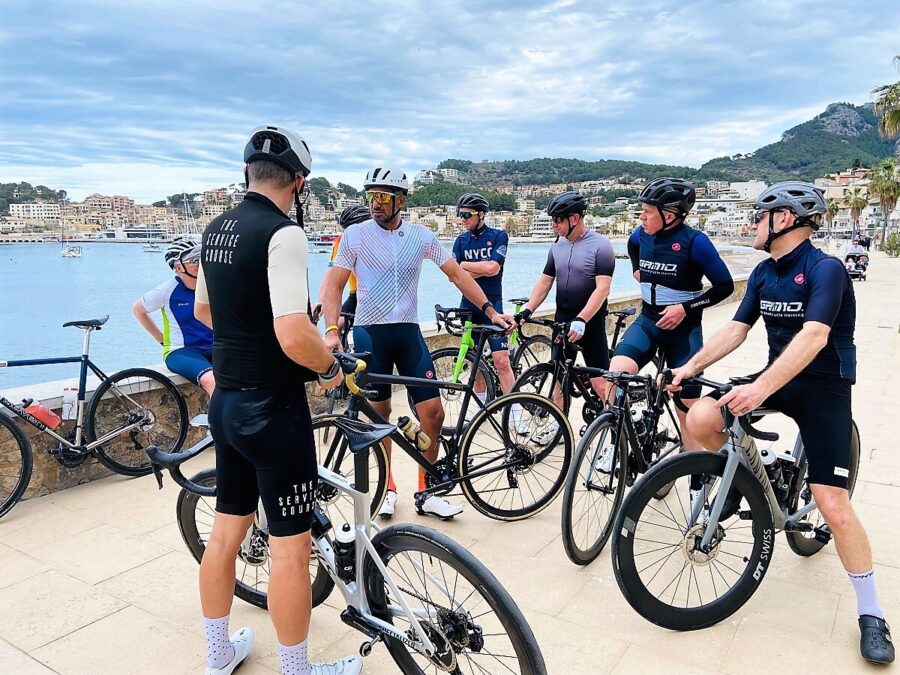 Finish on a high!

The descent of The Puig was stunning – a 1000 metres straight down to the sea with an Open MIND and set of Princeton wheels for company. I have never been the biggest fan of Vittoria tyres, I have always found it hard to judge where grip ends and road-rash starts – it must be me though as I have lots of clients and friends who love their tyres. So, I descended The Puig fast but sensibly – keeping the terminal lean angles well within tolerance. The MIND was astonishing, and the Princeton wheels felt swift to both pick up speed and change direction. They did also seem to pick up a wee bit more side-wind than the Bontrager Aeolus wheels that I was using on the Domane for the previous three days. It never felt out of control or even mildly unstable but palpable nonetheless. It could be that the Princetons are lighter, or I was using a much narrower tyre (25mm v's 32 on Domane) or that it was a windier day even?


As we rolled into the Soller it was great to finish on such a high note.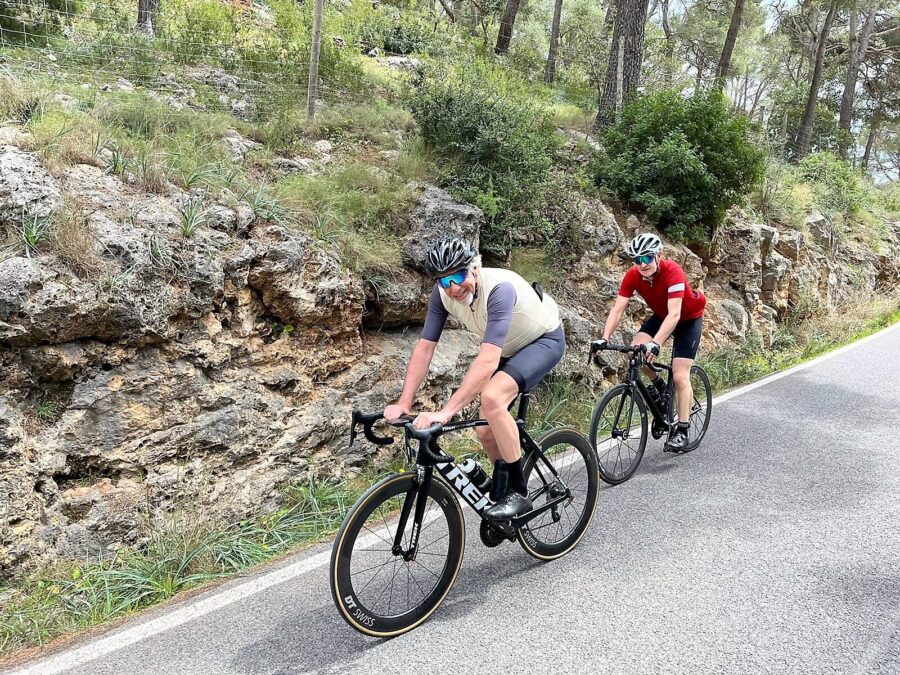 Nick & Morven climbing (optical illusion of going downhill?)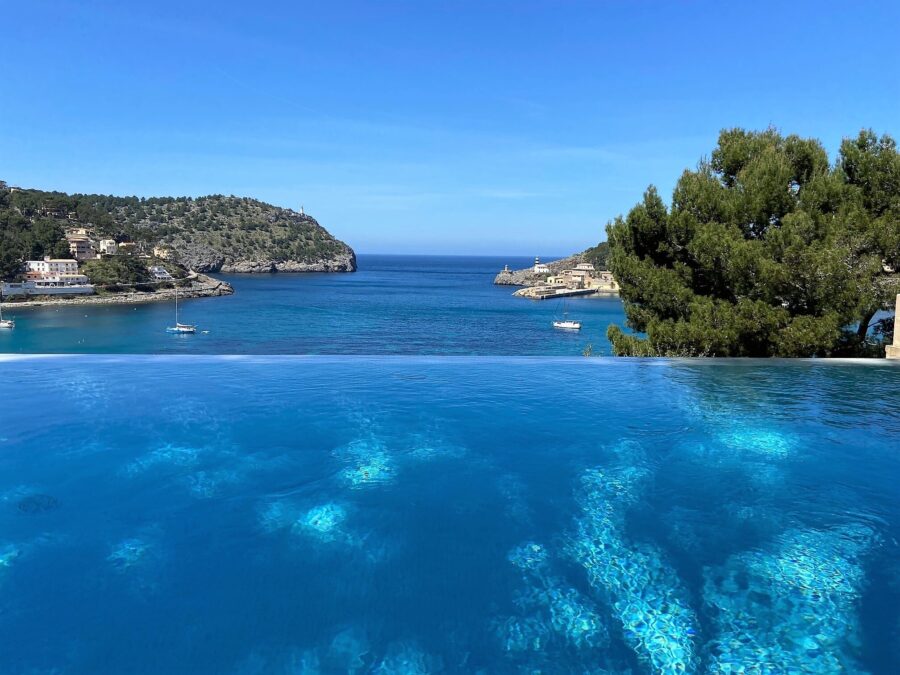 View from top of Esplendido infinity pool
Postscript - 27.4.22
I wanted to ride the Etape the year I turned 60 (i.e. this year). But it isn't going to happen. After I got back I was referred to the superb London Eye Hospital on Marylebone Road. The rashes and headaches were diagnosed as opthalmic shingles. I was put on antivirals and bed rest for at least a week. I still feel fatigued, and so resuming riding is a good few weeks off yet. Hence I have made the decision to take the pressure off myself and withdraw from Etape attempt for this year. We have heard from a couple of clients who maybe over-cooked it in Mallorca - we hope everyone has got their legs back no. Good luck everyone with the rest of the season. Maybe next year Jules?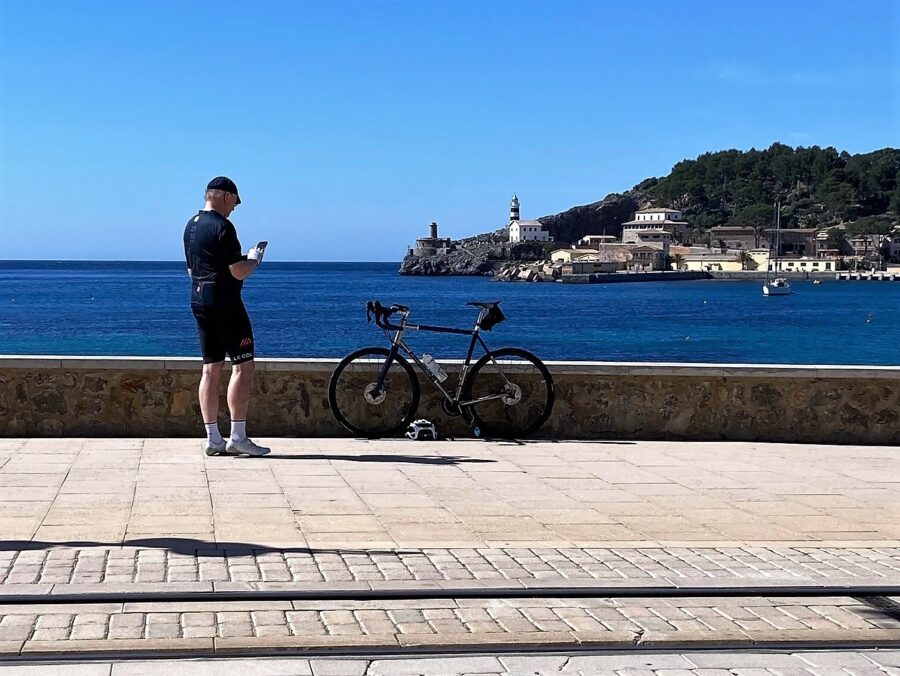 The close of camp. Thank you GPM10 crew & all Midlifers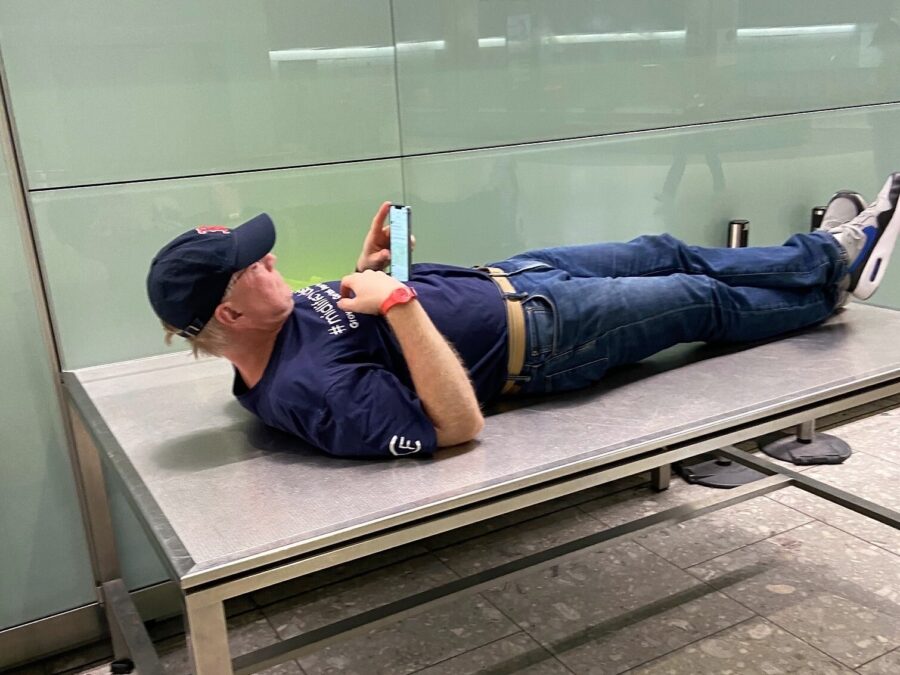 Quite a wait for our luggage. Peter displays laudable stoicism.