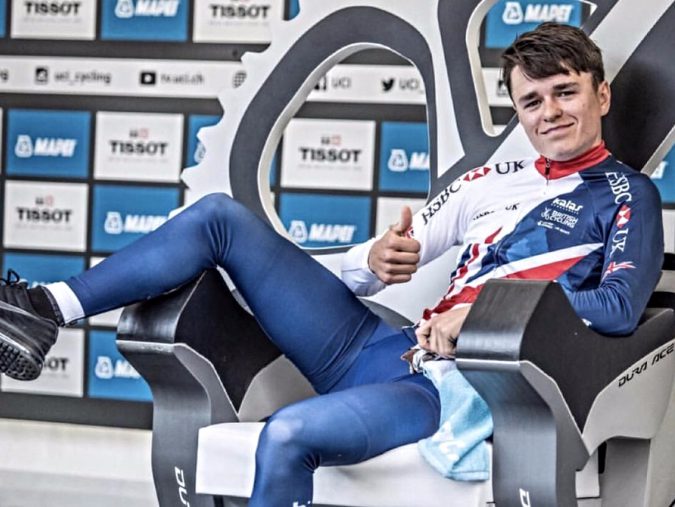 Super Tom Pidcock and a new era.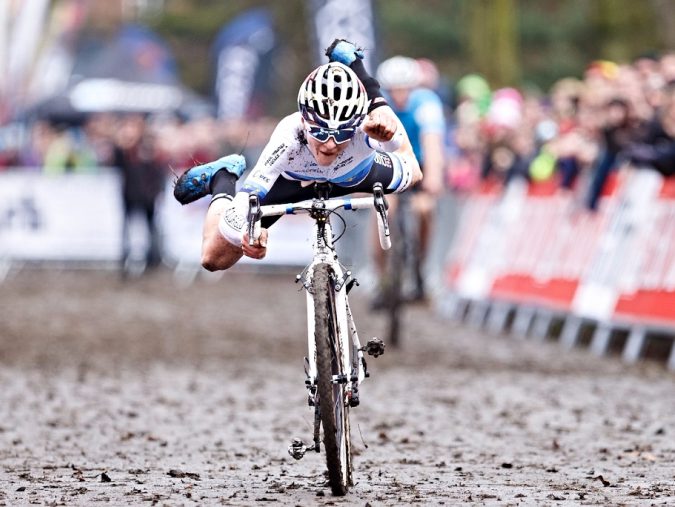 Tom Pidcock - World Junior Cyclo-X AND TT Champion
"2017 UCI World Champs - We had a quick tot up and Cyclefit has worked with over twenty of the competing athletes from nine different countries"
The Neo-Pro Cyclist – Owning Their Positions
At the time of writing we are halfway through The UCI World Championships in Norway - we had a quick tot up and Cyclefit has worked with over twenty of the competing athletes from nine different countries! And going into the weekend we are delighted to report that already a new World Champion is already among them – the magnificent Tom Pidcock – 2017 World Junior TT Champion (and existing Junior Cyclo-X world champion). When we stepped back from our embedded bike-fitters to Trek Segafredo last year, we presumed that our days routinely working with professional riders were behind us. How wrong we were, but what has changed?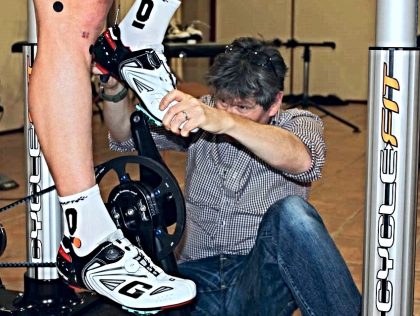 Calpe 2012, Phil dials in new shoes and pedals for Stijn or Markel. We can't be sure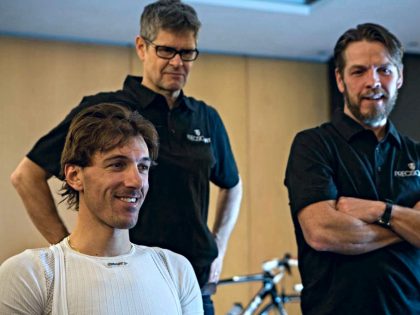 2013 - A rare moment of levity to be found in a pressure-map and motion capture screen.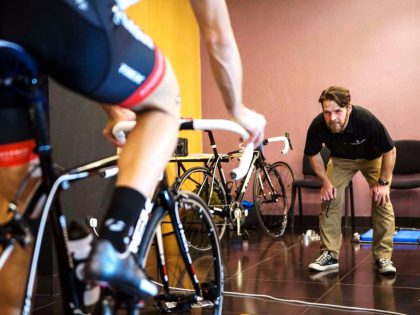 2013 - Jules puts on his fitting goggles and it's down to business. The goggles may not be lifted until 23:00 hours.
Radioshack/Trek Factory Racing / Segafredo Technical Partners – 2012-2016
We were Technical Partners to Radioshack, subsequently Trek Factory Racing/Trek SegaFredo from 2012 to 2106. Five wonderful seasons of which the highlight was being embedded within the team for The Grand Depart of Le Tour de France in 2014. We were in Yorkshire to firefight some last minute issues and make spare sets of custom insoles for those that wanted them. It was also a watershed moment when many established riders we had worked with from the beginning would retire for one reason or another. In that year alone, we attended two training camps in Spain, one holding camp in Belgium (Fabian would go onto win Flanders from that camp) and the TdF holding camp in Yorkshire. Weeks away from Covent Garden, effectively operating a mobile base from basements, courtyards, conference suites etc. It was demanding, high-stakes and therefore exciting work but we also knew that we couldn't continue it indefinitely.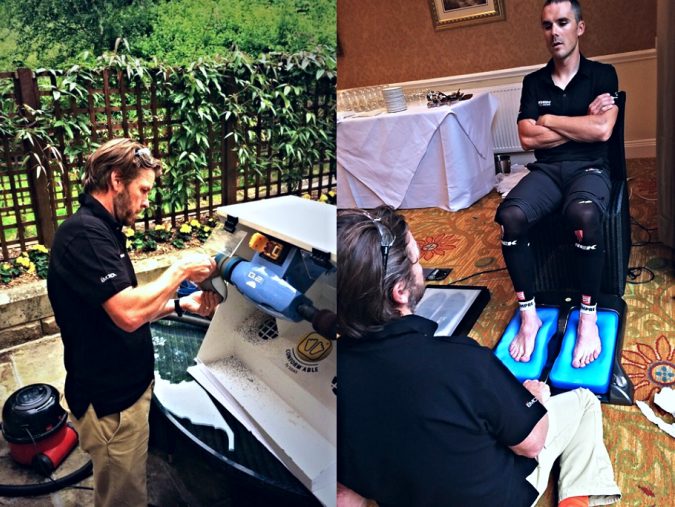 Moulding footbeds for pro riders in Yorkshire 2014 - here Jules works with Markel into the fading light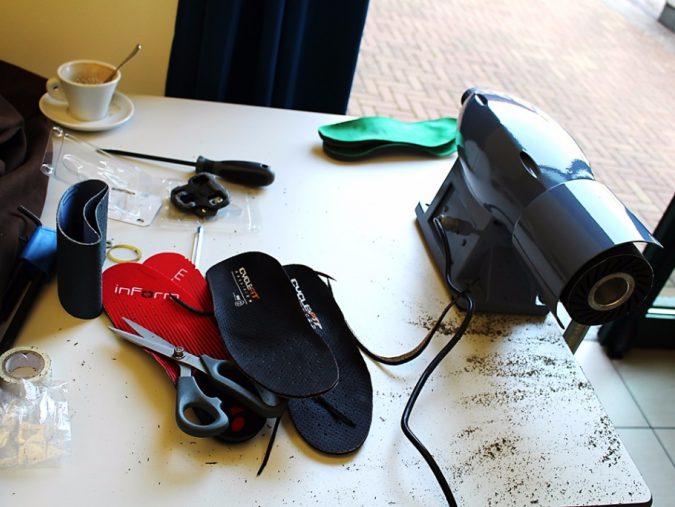 You work where you can find space on the road.
Predictive Audit and FMS
When we first started with Radioshack at the end of 2012 we introduced what at the time, was a revolutionary system of fitting. At the first camp in Spain, we produced a huge database that comprised of the whole team's; existing bike position, results of a full physio-led FMS (functional movement screen), their new bike position and most importantly where we predicted there maybe issues in the future. Only the scale of this enterprise was new to us, not the concept. This is how we have operated since 2003 here at Cyclefit with every client. For Trek and the Director Sportifs they quickly saw how Cyclefit could join the dots between the rider, medical team and mechanics. Suddenly all the relevant information about each rider meets on one giant spreadsheet. It also meant that when we got a call or a video-clip mid-season about a rider that was struggling with an injury we could go back to the audit to see if the problem was predicted or picked up in the FMS or in the Cyclefit itself.
Wafting Red Flags
Occasionally a rider would be reluctant to change something about their position in the Cyclefit, even if we were waving red-flags such as adverse saddle-pressure. This is completely understandable if their set-up has been comfortable and successful over many seasons, despite any red-flags that we might be wafting around. But the issue and Cyclefit notes would go down on the audit and therefore be usefully cross-referenced if, for example, the rider in question suddenly got saddle sores half-way round a grand tour (this is an actual case-study by the way). Not only would the risk of the incidence of saddle-sores have been flagged up but also possible solutions – change to another recommended saddle, bar-height, saddle set-back for example.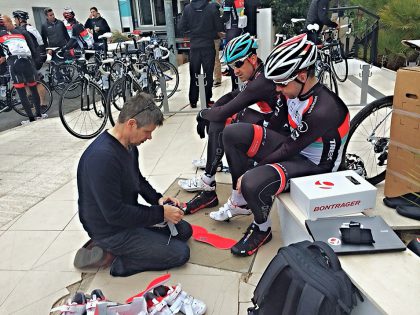 Last minute adjustments prior to group training by Phil - Jan 2013, Spain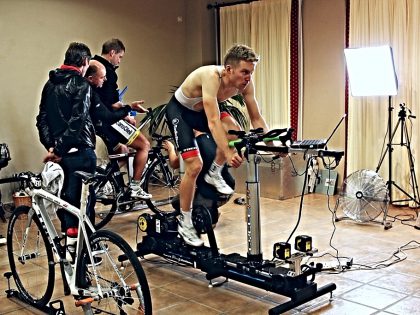 Jan Bakelants mid fit-session, Team DS, mechanic, Stijn Devolder - the organised chaos of team fitting in camp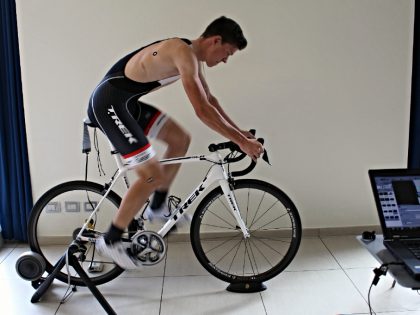 Bob Jungles in Milan 2014 being pressure-mapped by Jules and Phil before Tour of Lombardy
Slaves to Spreadsheets!
The Cyclefit FMS/Fit Audit was so successful that we became slaves to it. So where in 2012 our services at Calpe were effectively rider optional – first through the door was Fabian Cancellara, Jens Voight, Andy Schleck and George Bennett – by 2013 Cyclefit for all riders was de-facto programmed and spreadsheeted in. This created its own issues because that meant potentially 28 riders all booked in for: road fit, TT fit and custom footbeds, necessitating up to 100 of man/fit hours required in one week! Never mind the logistics of jigs, grinders, footbed-blanks, cameras…etc. It became such a huge all-embracing enterprise that it all but emptied Cyclefit of technical staff and equipment two or three times per year. So me and Jules had a bit of an epiphany. The work with the team was intense, demanding, enthralling and utterly intense in every way. But was it the best for the either Cyclefit or the indeed the individual athlete?
Entire Team Fitters to Individual Cyclefit Consultants?
We withdrew from offering team services in summer of 2016. It was with a heavy heart, because we loved the Trek team, ambience, all the riders and the opportunity to work at the highest level. Thank you Trek and Luca for trusting us with your team. But working with that ferocity in a often semi-controlled environment comes at a cost. And frequently it felt unfair to a rider to stop working because their time had evaporated. Inevitably we would tried to re-book them later in the week or after dinner, because you knew you wouldn't see them until the Spring or even later. We remember working on late into the night with Jans Bakelants with our physio Morgan Lloyd. The camp was closing around our ears as we worked on and we were all but certain to miss our flights back to the UK. But what was the alternative? Jan's career, upcoming season and possibly health depended on him being positioned comfortably and efficiently. Not only that but Jan had to buy in and agree with the changes we were proposing – this takes time. Valuable time. And we decided to give him as much as needed to take it all in. We respected Jan's careful attention to detail and never to leave a facet of his fit and performance unexplored or a question unanswered. We can always get later flights, Jan's season started in the next few weeks. No contest.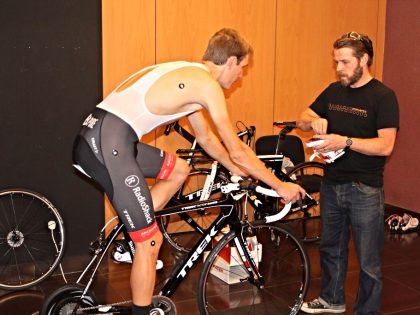 Jules works with Andy Schleck in Valencia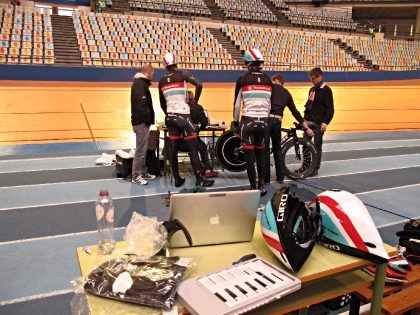 Phil and Jules with fitting at Valencia Velodrome with Fabian and Andy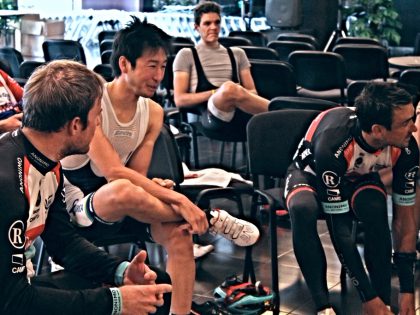 The afternoon's clients wait patiently. Always great to have an audience
"Bike-fitting is a private conversation for me to have with you. It is for me to come to you and consult you at your best in your optimal working environment. Why would I not do that?"
The New Pro Model – Own Your Position
After withdrawing from front-line Pro Tour Team duties, we expected to have a quieter time of it with professional riders. But maybe by accident or happenstance, our retirement from team duties seemed to correspond with a new prevailing attitude amongst upcoming younger riders to 'own their position'. They don't necessarily feel constrained by their existing team structure and would rather own 'their own fitting' themselves, on their own time and dime. Between July of 2016 and September 2017 Cyclefit conducted over a hundred Cyclefit sessions with professional riders! And the so the news spreads through the peloton. One exceptionally well-known rider explained: "Bike-fitting is a private conversation for me to have with you. It is for me to come to you and consult you at your best in your optimal working environment. Why would I not do that?"
We are now seeing professional riders switch professional teams and yet still keep their arrangement with us. They like the familiarity of dealing with the same people, in the same place and being able to control the entire process themselves and control their own data. They are the client. It is not unusual to see a professional three or four times per year, more if they are having orthotics from Mick Habgood. They come to the session with a list of things that they want to work on – maybe they are changing shoe or pedal sponsors or maybe they want to try a different saddle or crank length? They know Cyclefit is completely brand agnostic. We want the best technical solution for their needs, regardless of commercial considerations. For them we are an impartial laboratory, that they can control, that gives them real-time metrics and data on their position. They come with questions that they want closed off with hard facts and data. For example –
Q. "Why is that new saddle giving me uncomfortable pressure?"
A. Because you are front-loading to the tune of 1100 millibars of pressure.

There will maybe another saddle in the new sponsor's range that suits them better. Or maybe their position needs to change around a new saddle, pedal or shoe choice. Look at the little clip below with Elinor Barker working with Phil and Dan (physio). It is almost impossible to go into that much detail at any team camp, partly because of time constraints but also because of technology constraints. In this clip we are linking pedal-scanning, motion-capture and pressure-mapping, that is being assessed by Elinor, Phil and Dan, in a quiet dedicated session that lasted over three hours! The new generation of professional cyclists are choosing to view Cyclefitting as a personal and continuous consultation, not a mass participation event at a team training camp.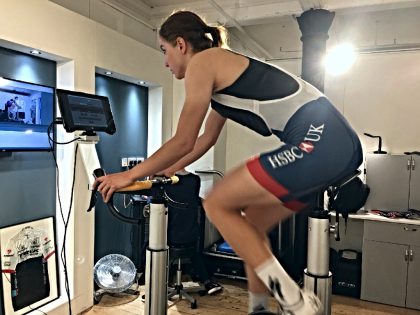 Phil works with Elinor Barker prior to 2017 World Champs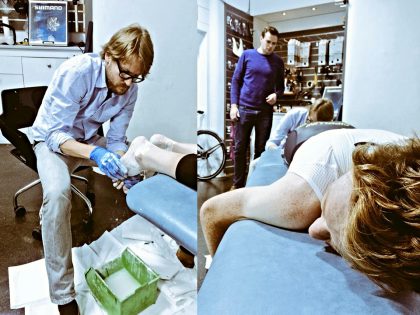 Tao Geoghegan Hart (now Team Sky) works with Cyclefit podiatrist Mick Habgood for custom orthotics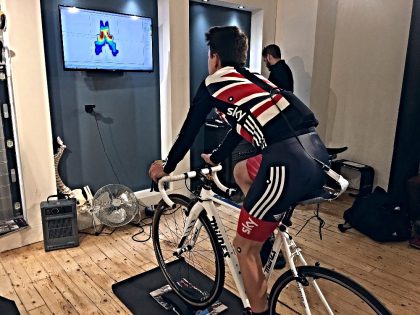 Jules works with Tom Pidcock prior to 2017 World Champs
What Can We Learn From The Professionals?
Process not event
Bike fitting is to a greater or lesser degree a process and not an event. Your bike-fitter is a trusted intermediary between your body and your equipment. Anything about either will probably require a review and report.
Fit can be aspirational
Your body is a tool and can be improved over time. A new generation of pro's know there is a binary relationship between general conditioning and tolerance to training and racing.
​Earn Your Position!
Slammed-stems, flat-backs, symmetrical pedalling, all require exceptional body conditioning and muscle-length ranges.
​Injury changes everything
Pro's increasingly understand that their body will often unhelpfully adapt around an injury. If this isn't unpicked it becomes the 'new normal' and will follow them around until it is dealt with. This is where the bike-fitter seamlessly works with an athlete's medical and strength and conditioning staff.
Phil works with Elinor Barker at Cyclefit MCR