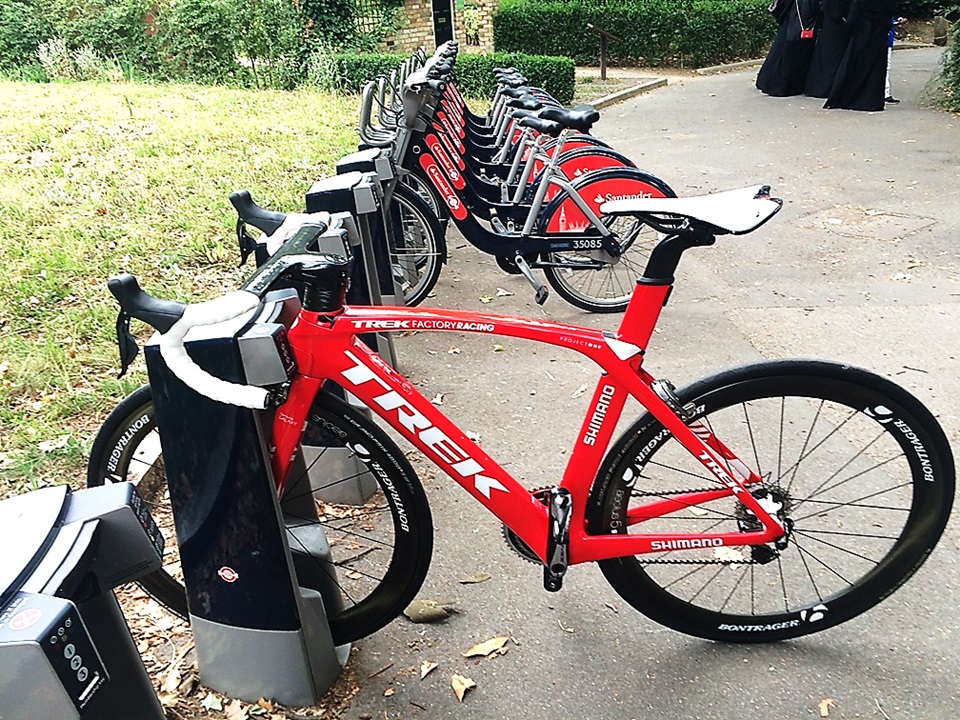 For those moments when you really need to be somewhere fast!
My Bike Is Faster Than Yours - April 2016
How precisely do I know that my bike is faster than yours? Well because I have in my possession the Trek Madone Race Shop Limited Edition in the land and it is the most aerodynamic bike ever designed and we are in love to the exclusion of all others.
If you are an early adopter, speed-freak and or tech-head the knowledge of this will electrify or depress you depending upon your economic circumstances and position within the n+1 algorithm.
A Bike - But not as we know it!
Regular readers of my middle-aged ramblings will know of my healthy ambivalence to carbon. I am quite aware of its unrivalled potential but too much rubbish has been wreaked in its name for its credentials to be completely intact. You know where you are with titanium but you rarely know where you are with carbon unless you have insight to the factory and their materials and production policies. The 2016 Madone is crafted in Wisconsin and so I know the people, have toured the estate and sampled the grapes.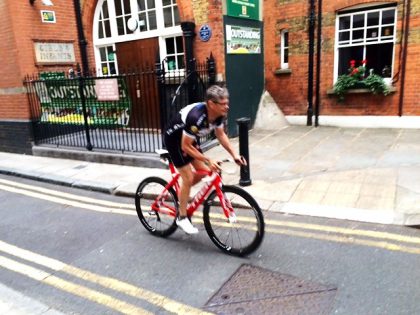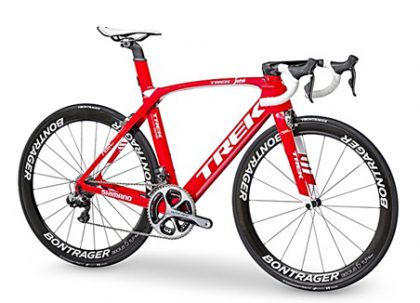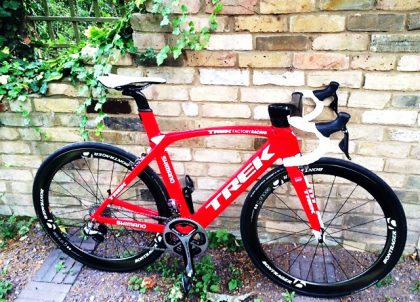 Carbon Squared
My ambivalence towards carbon is squared when applied to aero bikes. To achieve functionally meaningful aero-shapes it is necessary to move further and further from the strongest and therefore lightest tube shape - perfectly round. So designers have little choice to add material to make the frames stiff and strong enough. The result is a frame that is heavier and less sophisticated in terms of ride quality than a simple round tubed bike. All of which is a worthy trade-off if your regularly ride above 35kph. Otherwise you are just over-burdened and uncomfortable for no rational reason.
The level of technology and style integration simply makes the presence of the Madone feel more tectonic than the arrival of just another bike and more like Apple launching something shiny we didn't know we needed until we see it. First off even a non-cyclist can see that the 2016 Madone possesses beguiling paper-cut beauty. Riding through London's streets to Regent's Park car drivers and motor-cyclists were noticeably more attuned to the conceptual nature of the vertical wing Madone than they ever are over an assemblage of seven nondescript tubes. There is definitely something about this Madone that takes it out of the cycling realm and gently tilts perceptions of what a bike can be.
Tramadol Days
H1 or 'Pro' geometry wouldn't be my first choice with a spine made out of failing Mechano. That said the scalpel wing of a front-end had enough adjustment to make an hour around RP a tolerable if not pain-free experience (Tramadol required for that). I decided to ride the Madone as fast as I could - caveated by my untrained, delicate state. We know what it can do for a well-conditioned athletes like Bauke Mollema but what can it do for a physical shambles? And the answer is revelatory. The IsoSpeed de-coupler I didn't perceive to be as active as the Trek Domane 5.2 that I rode for a year (2012-2013). But equally it was active enough to easily move the Madone beyond the ride quality one would expect of a bike with this frontal silhouette. The uncluttered topline of the bike is a fresh experience when one is used to cables, stems, headsets, brakes etc. One can easily see how addictive this kind performance minimalism can become. The ride is also wonderfully quiet at speed and within that silence lies the key to the bikes devastating advantage over anything I have ever ridden. At 40kmh (I wasn't there for very long) the Bontrager Aeolis wheels and Madone chassis are palpably donating a 30 watt or so turbo boost to the whole outing. I hold this pace for a couple of laps of RP including the inner loop and that has not happened for a while.
Old Legs. New Life
My average speed when I get back to Covent Garden is 30kmh including the commute and back to Regent's Park gates. I haven't seen that kind of average in nearly five years. Some of that is down to pure excitement because that is the feeling this bike provokes, especially when it is the only one in the country! But some of it is solely down to the fact that this bike has been designed from the boots up to move through the air better than any bicycle before it, whilst at the same time giving the rider a level of ride sophistication never experienced before on an aero bike. This is also the first time in five years that I wasn't passed in a Regent's Park spin - but also to be honest it felt like 'Day of The Triffids' out there being the holidays and all. But as we used to say back in the day - "You can only beat who turns up" I will take that.