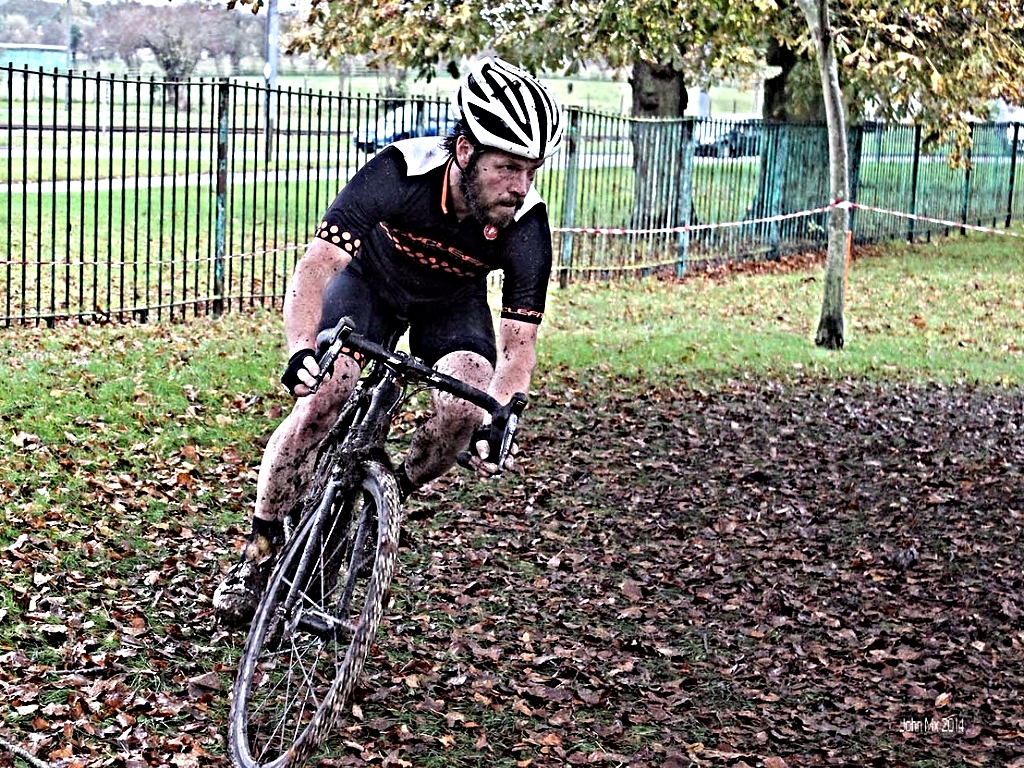 Is it called 'cross' because everyone always looks angry when they do it, discuss? Jules racing at Addington Park.
Looking For Something?
If you are looking for something to do on a Sunday that is a sort of fun, an excellent workout, sociable and improves your bike handling skills then cyclocross racing could be for you. Children can race and there are men's and women's races for all age groups held throughout the day so the whole family can take part, and many do.
Here is a brief guide give you an idea of what is involved.
What is a cyclocross race?
A cyclocross race is a high speed mass start cycle race around a taped course on grass, dirt, mud and asphalt with hurdles to jump and sometimes stairs and grassy banks to run up. Usually around a local park, farmland or anywhere the race organiser can get permission to hold his or her event.

Cyclocross racing originated as a winter training option for professional road cyclists and is now a winter sport in its own right and should be included in the winter Olympics.

The cyclocross season lasts from September to February and there are local races around the country that can be found listed on the British Cycling website. There is a National series called the National Trophy and Area Championship and Team Championship races and a National Championships Race in January.

Duration for adults is 40 minutes to one hour depending on your category.

The lap time is usually around seven minutes.
What type of bike do I need?
A cyclo-cross bike or a gravel bike or a mountain bike?
A cyclocross bike is a road bike with a few changes to its geometry, increased mud clearance and room for 32mm knobbly tyres. Now that road bikes have disc brakes the difference is much less than it used to be, you could probably change the tyres on a disc brake equipped Roubaix or Domane and get around OK.
A gravel bike is a bit like a cyclo-cross bike but it's not. Phil writes about this very subject in his recent Journal Gravel bikes, Trend or Blip
Top riders have two to three bikes (and spare wheels) and a pit crew (usually related) to clean and fix the bike if needed. Most of us manage with one bike and cross our fingers that we don't get a puncture on the first lap. Having only one bike can be a problem on muddy, grassy courses but now that most bikes are equipped with disc brakes it is less of an issue now.
The Trek Boone we sell at Cyclefit is a great option, it's not too expensive and can double up as a commuter or training bike after the racing season is over. The Open UP is another versatile option and the titanium Seven Evergreen and Mudhoney frames are super tough and last forever.
There are many component and wheel options so I'd recommend an appointment to discuss options at Cyclefit.
You'll need mountain bike pedals and shoes.
Tattoos, beards and long socks are optional
Training for a cyclocross race
As a generalisation if you aren't racing most of you ride long distance events throughout the season and taper off around September, long weekend road rides are supplemented with structured interval session on the indoor trainer or spin bike on week days and this continues throughout the winter with some mild debauchery around Christmas and New Year and then picks up again in the New year in preparation for the summer season. Racing cyclocross through the winter months will give you a new focus and also mean that you have to do less endurance training and can avoid the five hour rides in the rain on a Sunday (at least until February anyway).

The race itself is the hardest forty to sixty minutes you'll ever experience on a bike and is your best interval session of the week.

Your summer of sportive events is your base and now you must increase your speed and be able to ride at and above your threshold. The interval sessions need to become shorter and more intense to prepare yourself for the effort required..

Some riders incorporate running and weights to spice up the training and build all round strength and agility. Endurance rides can be reduced to two to three hours if there is time to do them.

The key for weekly cross racing is good recovery and taking two to three days off after a race with easy recovery rides will mean you are fresh for your mid week interval session.
Race Day
It's all about the organisation; you will need to arrive in plenty of time before your race sign-on, ride the course and warm up and say hello to everyone. I usually like around 90 minutes so that you can get everything done without rushing but you aren't there too long that you start to get nervous or too cold!

What to take
The bike.
Spare wheels if you have them
Tool kit, spares and track pump
Turbo trainer or rollers
Mini jet wash if you are super organised
Clothing
Race kit - If it is a wet day you may need a spare set of kit and shoes to ride the course.
Waterproofs – jacket and trousers and a pair of wellies
Warm clothing – both for cycling in and after the race.
Food and drink for before and after the race
Flannel, towel, wet wipes and water to wash yourself down afterwards.
A bin bag for your dirty kit and shoes.
Sign-on
Usually under a small tent somewhere… most races have timing chips for the riders. I'd recommend pre-entering as it saves time, guarantees an entry and is less work for the organisers. This can either be done via British Cycling or Rider HQ.
Ride the course at least once
It's part of your warm-up and also important to familiarise yourself with the terrain. The course is closed while the other races are on so timing your recon lap is important, one or two laps should be enough; check for the best lines through the corners and practice any challenging climbs. Watch how others tackle the obstacles for any bike handling insights. It will also help you select the correct tyre pressure for optimum traction.
Warm up
The older you get the longer you need, most riders will warm up near the course or on the road nearby but rollers and indoor trainers are increasing in popularity and provide a more controlled environment. I'd allow 15 minutes to 30 minutes for this part with some race intensity bursts so your body is ready for the upcoming effort.
Get to the start on time
Prior to your warm up you will have pinned on your number and fitted your timing chip; head to the start with ten minutes to go. The riders are gridded so the fastest riders are at the front to avoid any bunching in to the first corner. They are called up in order and everyone slots in to place, make sure you are in the right gear for the start so you can accelerate quickly and get your foot in to the pedals after the first few revs.
Now race!
Your adrenalin will be building now as the clock counts down and the start is usually signalled by a whistle, the commissare will say: "The race will start in the next thirty seconds".
Time for some deep breaths.
The next few minutes are the most painful and chaotic experiences you've had on a bike other than falling off; you will be doing a Level 5 interval for longer than ever before, the only respite will be through the corners or on a descent as you chase the riders in front. By lap two you will be asking yourself if you can keep going and want to get off and lay down; by lap three you are settling down in to time trial mode and racing the riders around you; and that's what is great about a cyclocross race, wherever you are in the field there is someone in front or behind (hopefully) who become your rivals (in a good way) and you race them until you cross the finishing line.
Once finished and you have your breath back its back to your car or van to wash down and get changed, warm down if you feel the need. Get changed in to your warm clothing, hydrate and then with that tickly post-race cough in your throat treat yourself to a cup of tea and cake.
Now you can relax, the pressure is off and you can think back through your race and how you might have been able to go faster, safe in the knowledge that the last hour you spent on your bike will make you fitter for your next race.