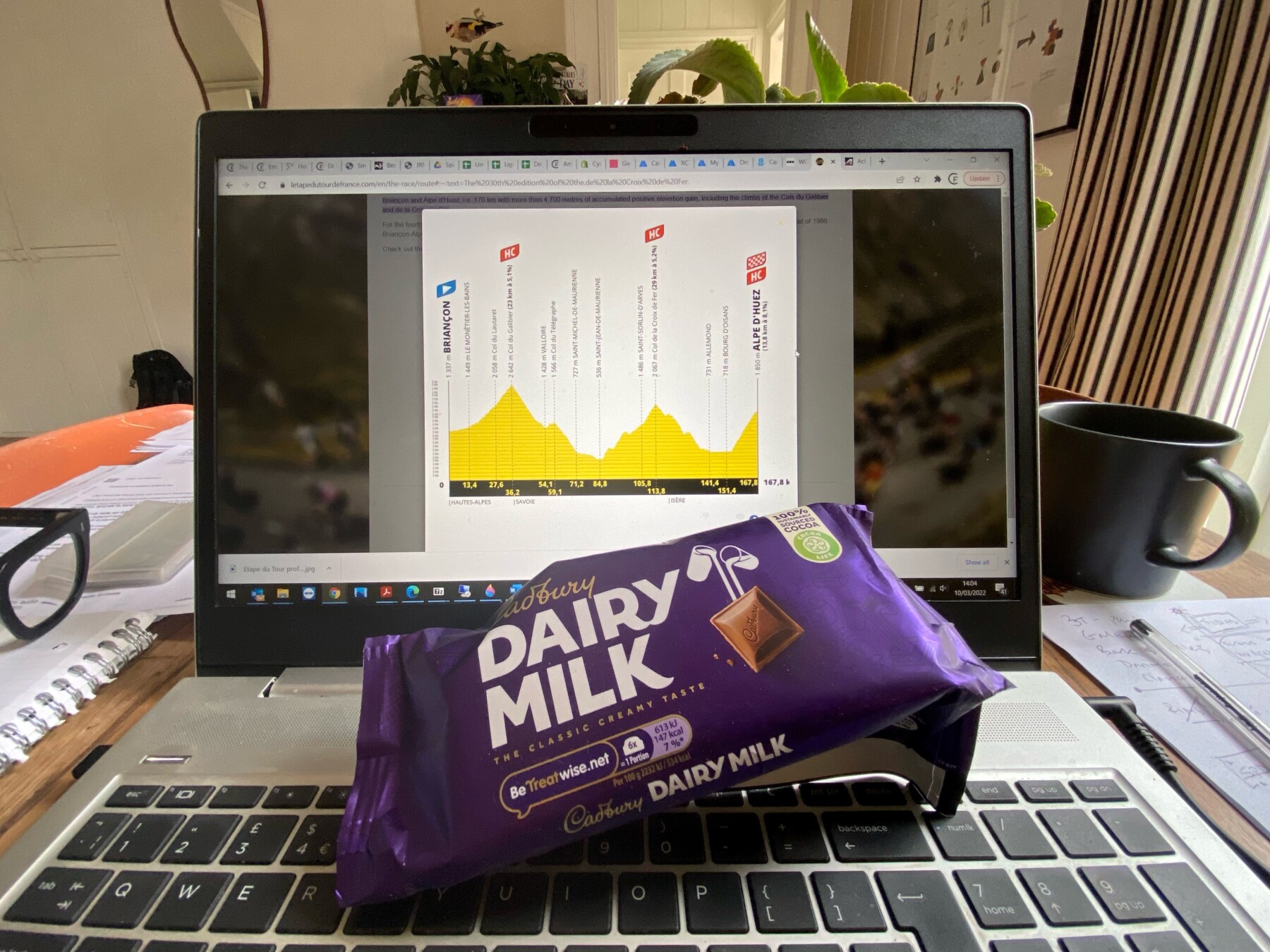 self destruction wrapped in purple
The Colour Purple
At Christmas I was a 71.5kg five foot nothing middle aged pot-bellied Toby Jug of misery and now, three months in to 2022 I'm pretty much the same and looking forward to getting my Easter Eggs. It has been harder to get going this year.
I have a chocolate addiction and I am munching on a bar right now whule researching the Etape du Tour route for this blog, chocolate pilfered from my wife's 'secret stash' that isn't that secret. She says she does it for my own good and she's right, but she's not very good at hiding it. Cadbury's Dairy Milk is my favourite and since we last met, I have been trying to eat my own body weight in chocolate, I probably have several times over.

This isn't a good idea when you pretend you are a cyclist to your customers but the winter months allow you to hide in your loose fitting athleisure wear and your Zwift Avatar always looks the same. The weather is warming up though and slipping into the lycra is going to be a challenge, more girth around the torso and less on the legs, just like my dad.

I blame it on the lockdowns and boredom, I blame most things on those enforced periods of social distancing; but it is that habitual late evening bar of chocolate and mug of tea in the kitchen while trying to make sense of the world that has most affected my cycling. In your fifties you naturally lose power and put on weight but us cycling idiots try and do the opposite; my power to weight ratio is now a problem especially when you have entered the Etape du Tour; this year is probably the hardest I have ever done with 5000m of climbing over 170km of hot mountainous roads. Combine that with minimal training and I'm in a pickle.

In a moment of early onset I entered the event in October while on antibiotics prescribed for a prolonged period of feeling shit. Feeling shit on the bike is a common topic at Cyclefit HQ these days and a lot of the blame is being put on COVID and the jabs. Maybe it was my over-training, the alcohol, lack of sleep and the chocolate but its always easier to blame something else.

Motivated by my stupidity and his own Phil has also entered the Etape to celebrate his 60th birthday.
Rather than be content with a finish this year, for some reason, actually I know the reason it's to tray and convince me that I am not getting old, I want to better my result from 2018, my last really good year of riding. The Etape du Tour route in 2018 was from Annecy to to Le Grand-Bornand, 170km long with 4,700m of ascent, similar to this years and I finished in 7.07.37. Can I better my result of 1729 overall and 191st in my category? I have done it before can I do it again?
Under the pretence of providing health and wellbeing services to the cycling community Phil and I have built a support team of experts to help us over the next few months; our most recent addition to the team is Dr Jon Baker - Performance Scientist. He will be providing consultation services at Cyclefit on all aspects of training and exercise and will be guiding me and Phil towards our judgement day on the 10th July.
Alongside Jon we have physiotherapy and S&C by Nicola Roberts, Cycling Medicine by Dr David Hulse and Cycling Podiatry by Mick Habgood and last but not least Barna and Ed to look after our bikes.
If we fail now it is our own fault!
2021 - a year to forget
In summary the summer was OK, I raced at the Beastway MTB races every Wednesday night from May to June, slightly under prepared and packing a little too much timber but gung-ho and burning the candle at both ends; getting home after the race at 11pm and back to Cyclefit in the morning for 7:30am. My races improved as the summer went on, third place was my best result in the Master Vets category - until.

I don't think riding my penultimate race with the left-overs of an earlier migraine attack helped my general health, but I didn't want to miss the best hour of the week and the sun was shining. I necked a couple of Ibuprofen and managed a top five place after an hour of racing well beyond my threshold… I think there is a chapter in Phil's book about such folly.

What really didn't help was completing a 4.5 hour MTB ride the following Saturday, even though I had no legs on the first climb I kept going, should have turned around there and then, a race the week after that and I was done for.

Would I ever listen to Phil? He has always told me that I leave my preparation too late and try to ramp up my training too quickly and that I would always pay the inevitable price - as I have done for many years.

After a summer of self-imposed rest and a slight chocolate reduction I started my new weight training programme in September with a new enthusiasm, this did improve my strength and continued up to Christmas, maybe my weight gain was due to increased muscle mass but I don't think so. I still continue with two sessions a week at home. Cyclefit's recommended ratio is between 1 hour strength and conditioning to 3 to 5 hours cycling depending on the time of year.

All went well other than a slight neck issue that meant I couldn't look where I was going comfortably on the bike and I also had neural pain down my left arm. It is bike position related due to an asymmetry and I reach a little more with the left leg, the extra stretch at 95 rpm manifesting itself in the muscles getting tighter on the left side of my neck and the vertebrae in my neck become misaligned and sticky. All down one side as we used to say! I had to put an extra 10mm spacer under my handlebars – sacrilege!

Having recently met Craig Mclean (who is handy Masters racer) when he made a podcast with renowned author Phil Cavell I took myself off to his chiro practice Chiro.London so he could have a look at me and see if my lack of mobility could be resolved.
After my initial assessment with Craig (wear and tear, your age, blah, blah, blah)and a series of appointments me neck shoulders and back are much more mobile and the 10mm spacer removed – hooray! If I start to feel a twinge I nip to their handy clinic in Mayfair for a quick loosen up and realignment.
One of the reasons I wanted to go was to see if it would work, we often have to refer clients to physios after a Cyclefit session if they have bio-mechanical issues but sometimes soft tissue manipulation and exercises may not be enough. This is a good option.
Now that I am semi functioning it is time to train and diet in earnest, I will keep you posted.
Here is my current 2022 schedule
PS – There is now a Cyclefit shop ride at Regent's Park on Fridays at 7:30am. Meet at the Zoo for some #midlifecyclist tempo laps. Duration one hour.