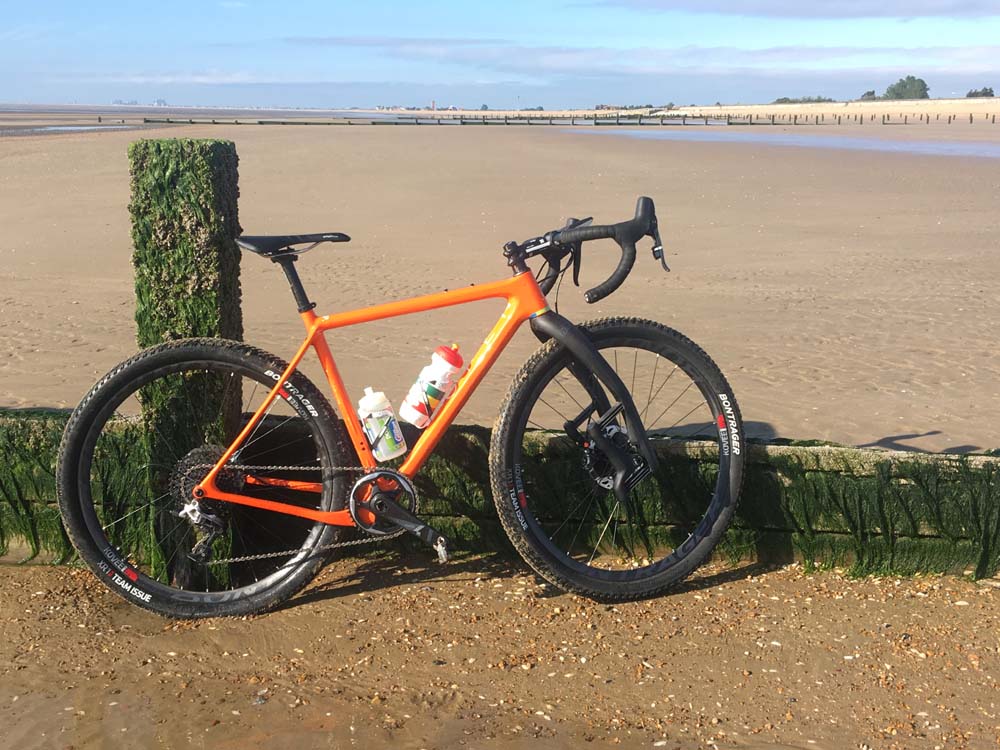 A modern classic. The apotheosis of a new genre
Codename - Frankenbike
The biggest change to my cycling routine was the purchase of a folding bike with 700c wheels that allowed me on the High Speed train in rush hour. It meant that I could ride to the station on country lanes from home and get in 20 miles each way.
The bike is a Boston Montague single speed model (codename Frankenbike) that I have adapted to replicate my road position with drop bars, zero set-back post and 165mm cranks.
It weighs in at a robust 9kg which is all good for the training and the 42x15 gear is ok until I reach the late teens on the flat but just about manageable on the small bumps between Lympne and Ashford. Most uphills are tackled at a very low cadence out of the saddle but that's my strength training; three consecutive days is enough to wear out the legs.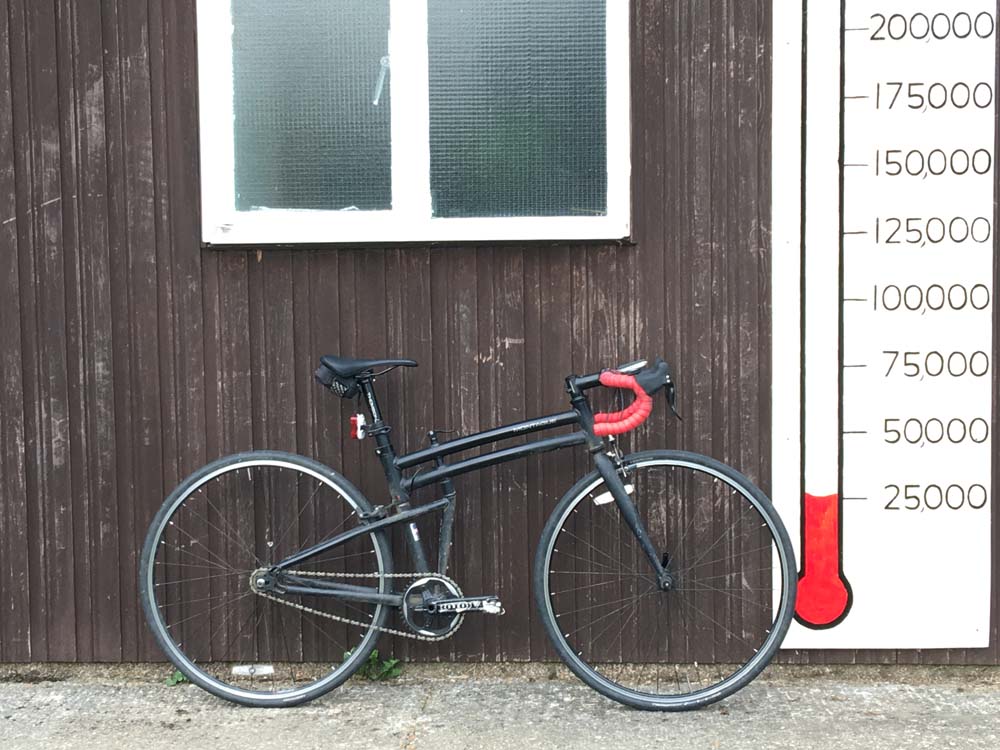 What a horrible object. The Montague Frankenbike. The graphic to the right is the approximate value in Lira. 11 Pence.
Racing Past Fifty
So that's the bulk of my week day riding, around 60 miles with a jaunt out early on a Sunday morning on the Seven Evergreen or Open UP for two to three hours mixing road and trails and dead-ends.
I've managed to slip in one and a half criteriums at Velo Park on the old Domane with a 13th place in the first one and a dnf in the second as I had to avoid a couple of lads who came together in front of me and hit the deck. Just before that I'd been pushed on to the grass in the hairpin so that was enough for me (at least until I get back after the summer holiday and I'll do a couple before the cross season begins to get some speed in the legs).
More importantly I managed to get to the Beastway MTB races at Hog Hill and race on the Open Up. It's a bit of a long evening with an hours ride to get there through East London, an hours racing and 35 minutes back to Stratford International for the journey home.
It's a hilly course and very, very bumpy down at the bottom and the rigid forks on the UP beat me up a lot; there was only one thing for it UPGRADE! So I installed Lauf suspension forks and Bontrager's new Kovee carbon 650b wheels shod with 2" tyres at 20psi. Definitely an improvement off road and on the roads not too much drag and the steering was positive - a highly recommended combo.
It didn't however it didn't stop me crashing while trying to bunny-hop a log chasing down a mountain bike and I flipped over and smacked my head on the dirt, staggering to my feet I wasn't quite sure what was going on, I started trying to straighten my bars but then realised they were straight anyway; picked up my water bottle and carried on... until I slipped off in to a bed of nettles and brambles on the next lap that hid a fallen tree that I somehow whacked my shins on, I think that hurt even more, needless to say I could only hobble to the finish.
Undaunted I returned a couple more times this time without my Oakleys on so I could see what I was doing in the darkness of the woods.
Read Phil's Review of Open U.P.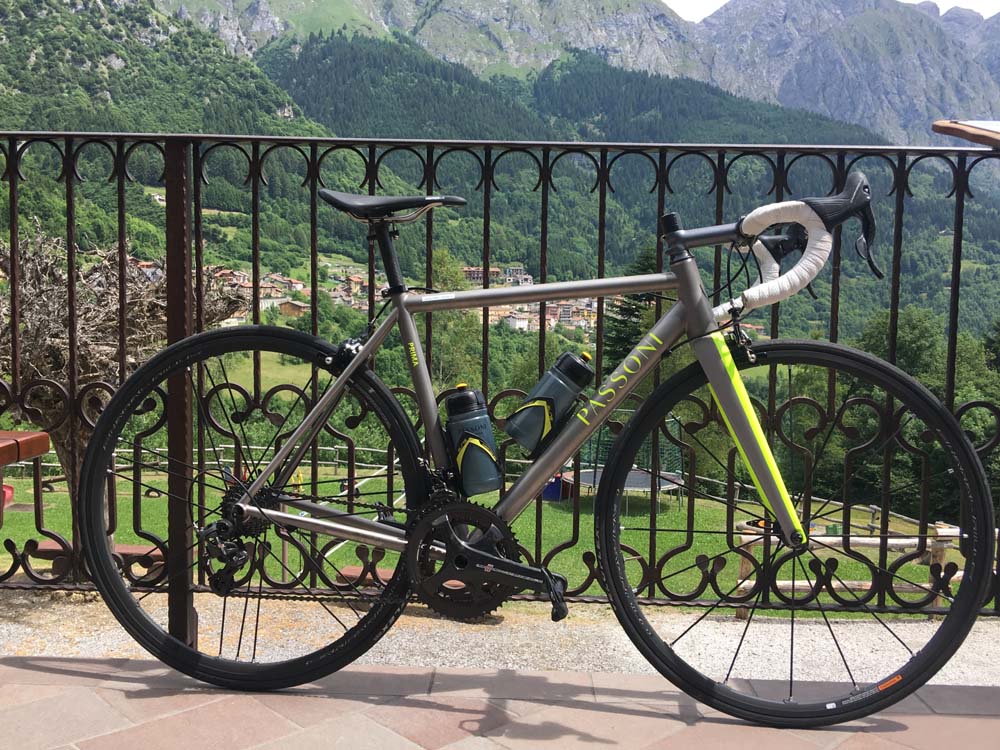 Simple, elegant, timeless. Passoni, not Jules
Montague to Fidia - From Frankenbike to Sublime
More riding and more bikes, this time in Italy on a trip to the Passoni Factory with Italy Bike Tours who looked after us very well and escorted around Lake Iseo and the local climbs over the weekend. I had the pleasure to ride Passoni's stock titanium frame the Prima equipped with Campagnolo Record (I'd forgotten how much I missed 'the double down shift') and Shamal wheels shod with Veloflex tyres. It was a delightful experience, very smooth, fast handling and surprisingly agile when climbing out the saddle; a bike to ride all day and if I didn't have so many bikes already a great option for an all-round bike.
Next day we stepped it up a gear and I rode Passoni's new Fidia carbon frame with titanium weave, the gears were upgraded to Campagnolo EPS Super Record and in amongst the final sprinkle of fairy dust were a pair of Gokiso wheels, all-in-all about eighteen thousand pounds worth of bike! Fortunately it was super quick too, not the lightest carbon frame I've ridden but the handling was good and the wheels at £7,000.00 a pair were quite astounding; I could ride up to a few bike lengths behind the group, stop pedalling and the bike wouldn't slow down due to the unique frictionless hubs.
I was quite proud of myself as I categorise myself as a micro adjuster and cannot ride a bike without tweaking the position very few days and in Italy the Passonis were both assembled with 172.5mm cranks and I normally use 165mm. My saddle height was adjusted accordingly and everything worked fine although my cadence did drop a little.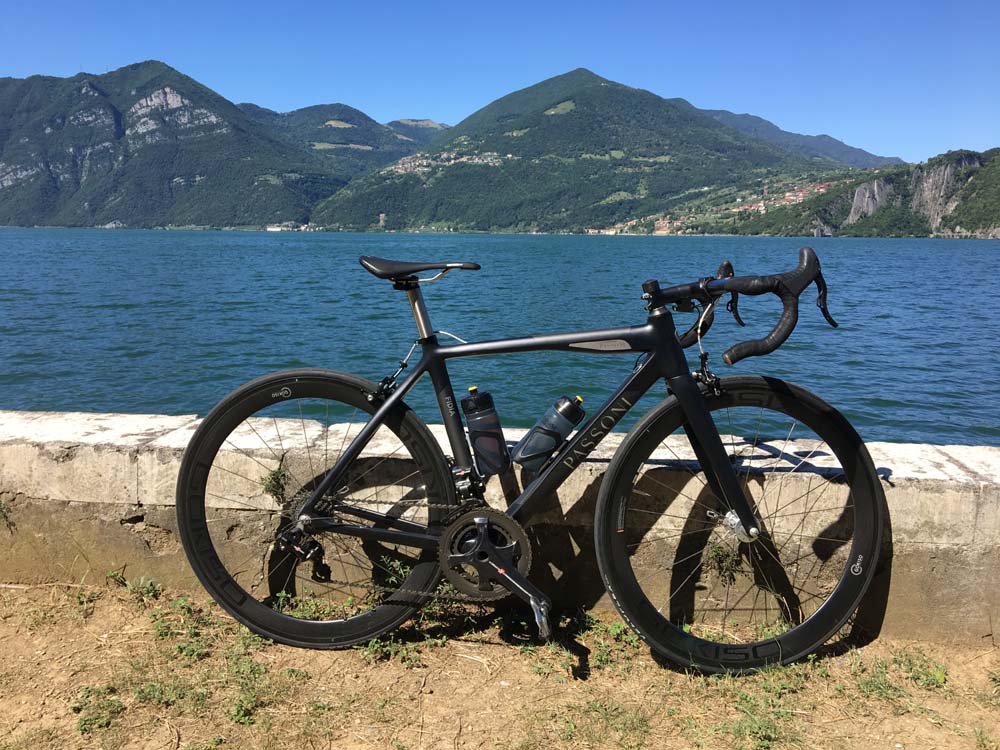 If the Montague Frankenbike sits at one end of the spectrum - there is only one occupant at the opposing end - £18,000 Fidia with £7,000 wheels!
Back to Frankenbike
On my return I jumped back on the Montague folder and on my return commute something went wrong with my neck on the right side; it was painful and tight and I couldn't turn my head - (maybe a bolt through it?)
Too many position changes maybe, too many different bikes, too old to adapt?
the obvious thing would be to rest it but my last Beastway was the next day, we were in a heatwave and it was the summer solstice an event not to be missed. I went to see Alex Fugallo who tried to help so I could race that evening and off I went and battered myself on that painfully bumpy course again.
It wasn't a good idea obviously and now I struggle to look over my right shoulder so if I pass you in the Etape and I don't turn round to say hello I'm not ignoring you.
The Etape du Tour
It is always irresistable to me especially when the finish is very near the start this year's event starts in Briancon and finishes on the Izoard with a descent back down to the Etape Village for a few beers.
This year I'm driving down (and sleeping) in the van I am avoiding hotels dissappointing buffet breakfasts and wazzy coffee and opting for some self-catering and mountain views I'm also delivering a customer's new bike in Bedouin and might try and squeeze in a climb of the Ventoux to get the legs prepped for climbing.
I'm riding my Seven Evergreen Pro bike this year, its not the lightest bike by any means but it fits my odd shape very well as I designed it myself; it's a quiet ride too, no jarring or banging over rough surfaces and I thought it deserved a big day out.
You can see in our Etape Guide that saving weight will help you climb the two mountains quicker but with my current fifty three year old flow rate every time I stop for a comfort break I will lose ten minutes before I can tuck myself back in.
And here is my plan for the day:
With a start number in the late five thousands (even though I've never finished lower than 1700, thanks ASO1) I aim to pass as many riders as I can before the two mini climbs that are going to clog up with riders all over the road and that will be annoying.
After that take it easy in the wheels on the run up to the foot of the Col de Vars and then struggle over the two big climbs.
Hydrate and eat well before the Izoard, have a stretch and then take it on.
Follow Jules on his travels