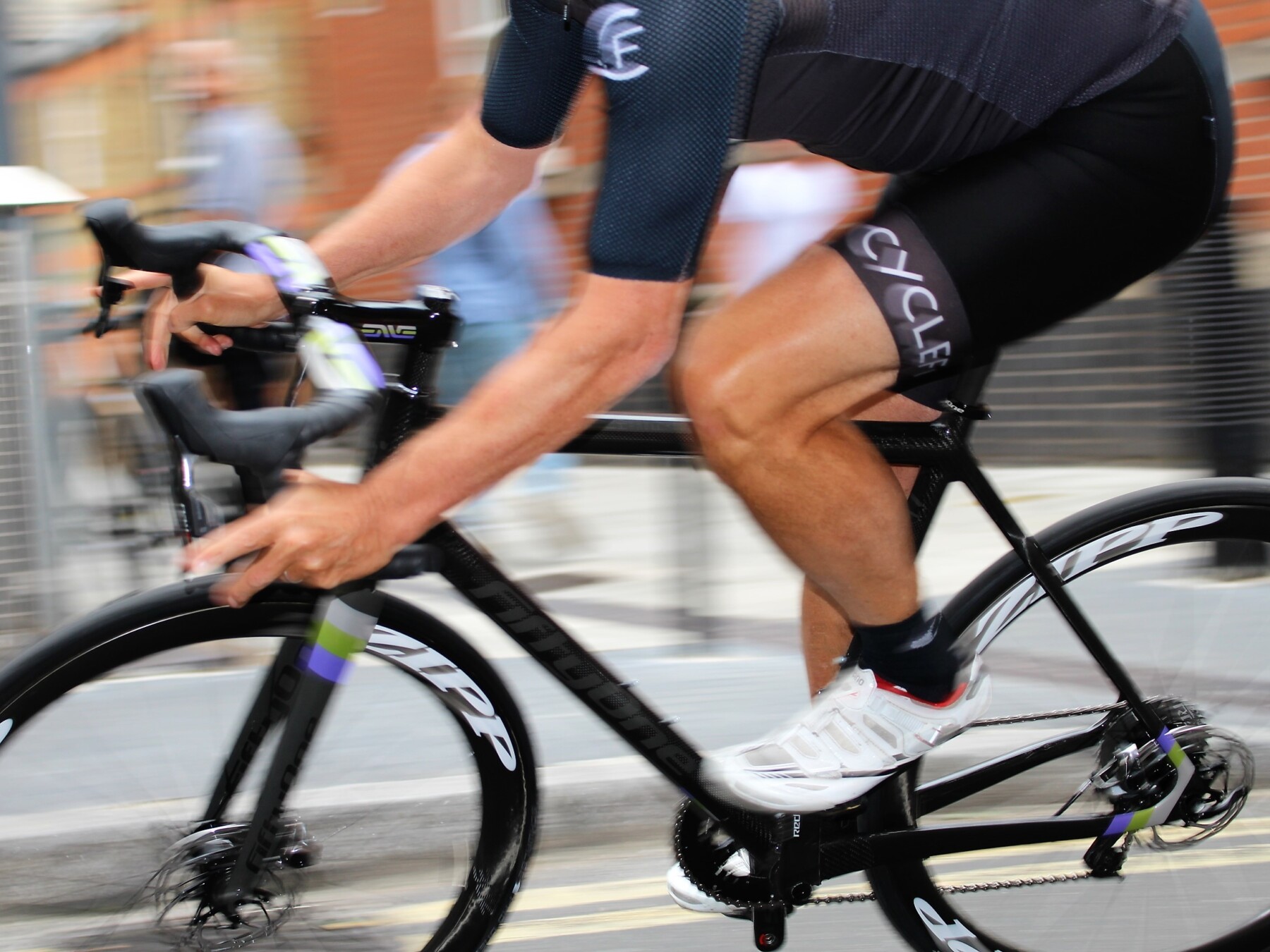 Landrace Blackstar - and an over-confident rider, who should know better
Landrace Blackstar, Saved by Discs and Hexr 3-D Printed Helmet
Braking News
Anyone out there still there not on disc-brakes? I implore you to jump right in, the water's great. The urgency underpinning this technology-shift will inevitably be a function of a few personal variables: your bike-skills to confidence ratio (the big one), your weight, age, perspective on crashing/injury etc.

I only mention this because I got caught out my second ever ride on our brand new Landrace Blackstar test-bike. We were invited on an extremely snazzy corporate ride around the steep Kent hills, to dispense bike-positioning advice and to be general good riding role-models. Somewhere around Toys or York's Hills, I got above myself and almost above the hedge-rows.

Over-Confident
Too comfortable and over-confident, I barrelled down a narrow descent way too fast, hit the apex perfectly, only to be met by an agricultural vehicle crawling up the other way. At a more modest pace I would have had an eternity to stop, swerve, maybe all the above. At the pace I was going the one chance I had was to dive on the discs with a Popeye grip – except between me and the tractor were a few esteemed guests – almost certainly CEO's of listed companies. Currently I was scheduled to hit them fractionally before I hit the tractor. Not a good look for the supposed 'expert'. I shouldn't have been able to change line at the speed I was travelling, with the front tyre buried deep into gravel-strewn ancient tarmac. With a shimmy and barely audible chirp from Schwalbe Pro One rubber I shifted line with the back wheel bouncing up and down off the road like an excited puppy. I hauled up with a couple of feet to spare, hoping my body language exuded a generalised 'nothing to see, air'.

Expert Thug!
The fact that you are reading this in a Cyclefit Journal and not page five of The Daily Mail with a headline – "Cycle 'expert' thug plays bike-skittles with blue-chip company bosses" is testament to three things – disc-brake technology, 28mm tyres and the superb design and build of our new Landrace Blackstar. There is simply no way I could have or would have stopped if I had been using caliper brakes and 25mm tyres. Not enough raw power and certainly not enough grip. The game has indeed changed. Thank god.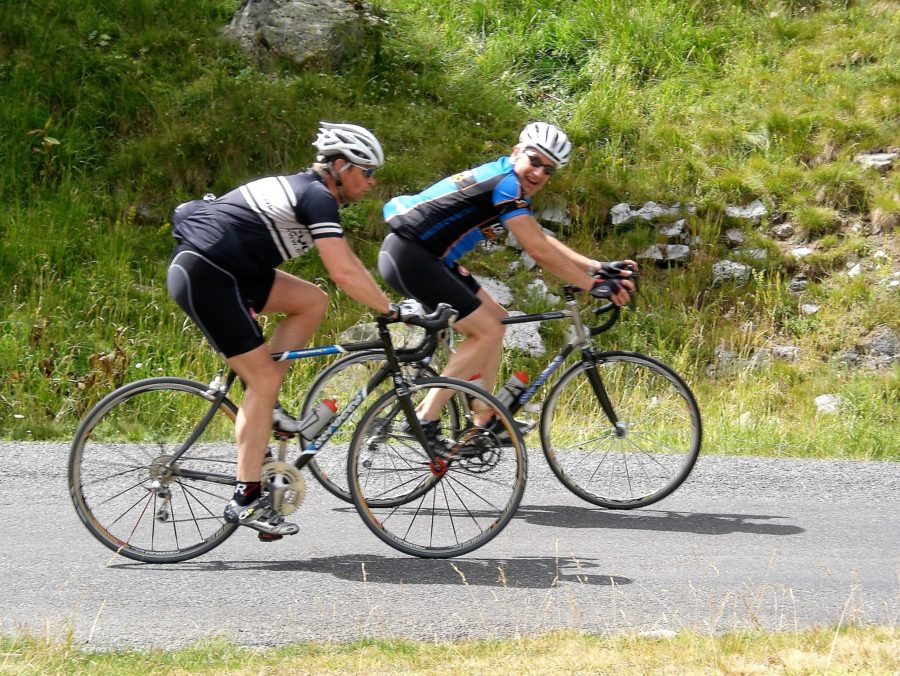 Riding with Ben Serotta on an early prototype Meivici - a major Blackstar role-model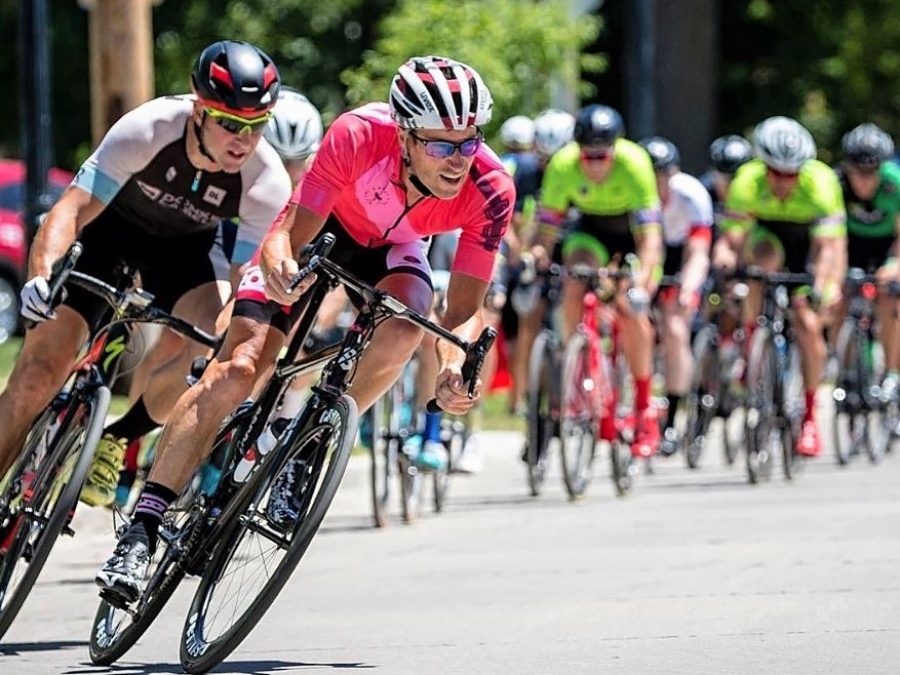 Warrick raced his Meivici at the very highest level for 10 years until this year!
"for many, a couple of hundred extra grams of hi-modulus carbon is a worthwhile trade for a micro-precise fit and rarefied riding experience"
Spirit of Meivici

The ethos of the Blackstar was to re-imagine Serotta's incredible Meivici for a modern era. The Meivici was unusual in that it was custom made using lugged carbon - but it actually rode like quixotic feather-weight steel. Meivici was the contemporary exception to carbon fragility – one bike was raced all around the world at the highest level, by ex Cyclefit bike-fitter, Warrick Spence, for over ten years (pictured). I was initially resistant to the Meivici when Ben Serotta announced it in 2005 – I loved titanium and thought was unambiguously Serotta's signature material. Ben led my volte-face by inviting me to test a prototype Meivici in the Alps (pictured) - the experience changed my mind, not only about the Meivici but also the possibilities of carbon as a material in general.

Blackstar is Born
For the Blackstar, we wanted a bike that reached all those original Serotta touch-points – custom, carbon, fast, strong, comfortable and beyond everything resilient to the stresses of life and tens of thousands of miles. But it had to be re-thought to use disc-brakes and able to made with clearances for plentiful rubber.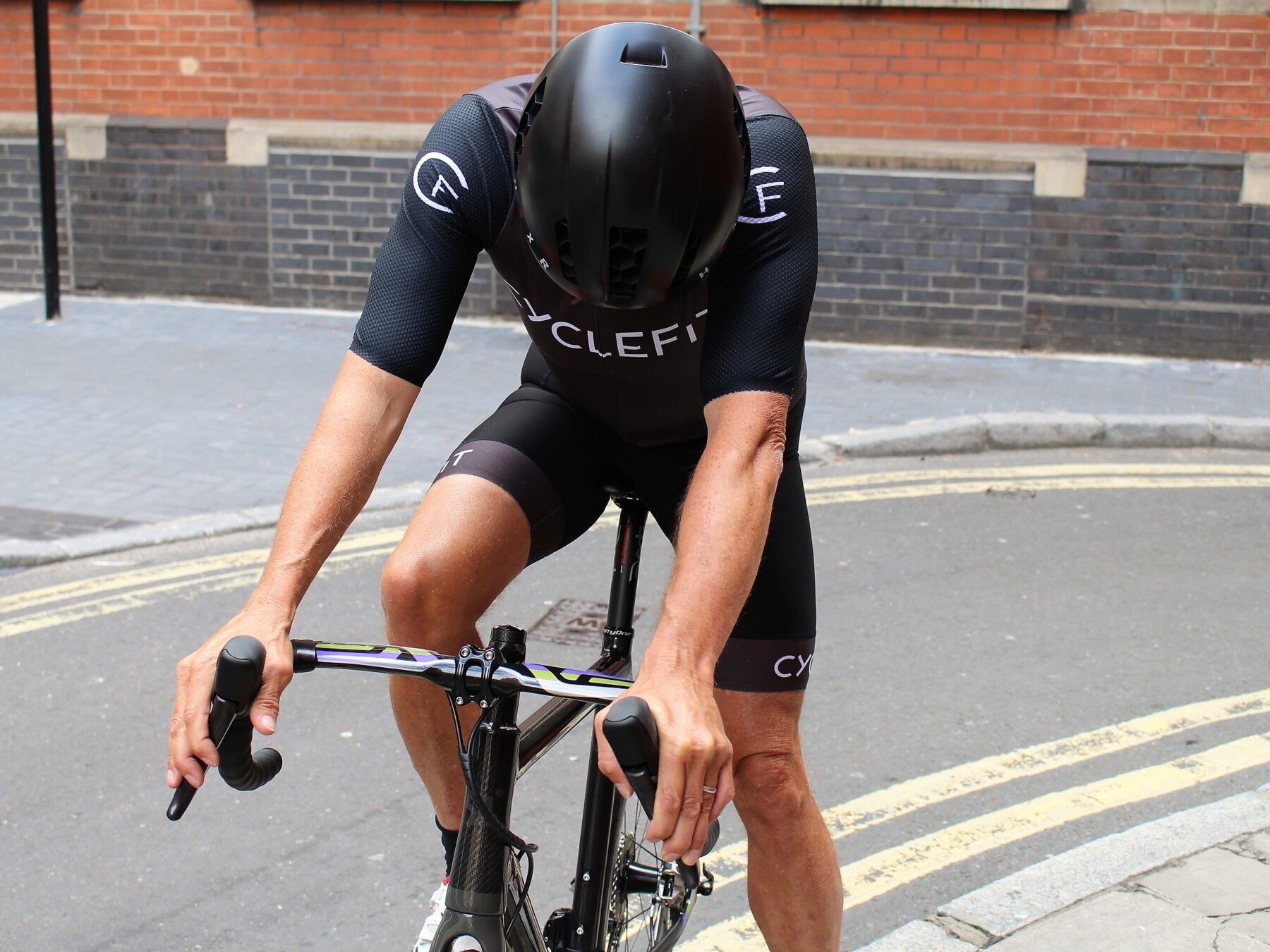 Custom Landrace Blackstar, Custom Hexr 3-D helmet. It's all about him.
"the Blackstar just feels too good too soon. The normal adaptive phase to a new bike is just completely absent"
Custom Landrace Blackstar
Blackstar has been conceived for people who want a cutting-edge carbon frame, but they also want it fully custom designed and exclusively conceived around them. Until fairly recently we had kind of assumed that custom carbon as a concept was almost a moribund category – partly because companies like Trek had improved their stock geometry choices. And partly because the lightest carbon frames in the world were no longer in the hands of tiny art-house builders, but the likes of Trek (670 grams for the Emonda SLR Disc). But we may have been a little hasty – custom carbon is having something of a renaissance – and it is not all about weight – some riders love the feel of exclusive carbon and would prefer it to be hand-tailored from the outset.

Custom and Carbon?
Custom carbon is actually a very difficult concept – it is not economic to make a mould for every client - that would be required to make a carbon monocoque (in reality few frames are ever genuine monocoques – i.e. single-shells) – the cost would be frightening. As a consequence, most custom builders opt for either a lugged construction (Serotta) or a tube-to-tube construction (FiftyOne, Parlee, etc). The advantage of lugged construction is strength – we have twelve year old Meivic's out there with 50,000+ miles on the clock and riding beautifully. The major disadvantage of lugging carbon (or any material) is that the frames are inevitably a few-hundred grams heavier than other alternative jointing methods.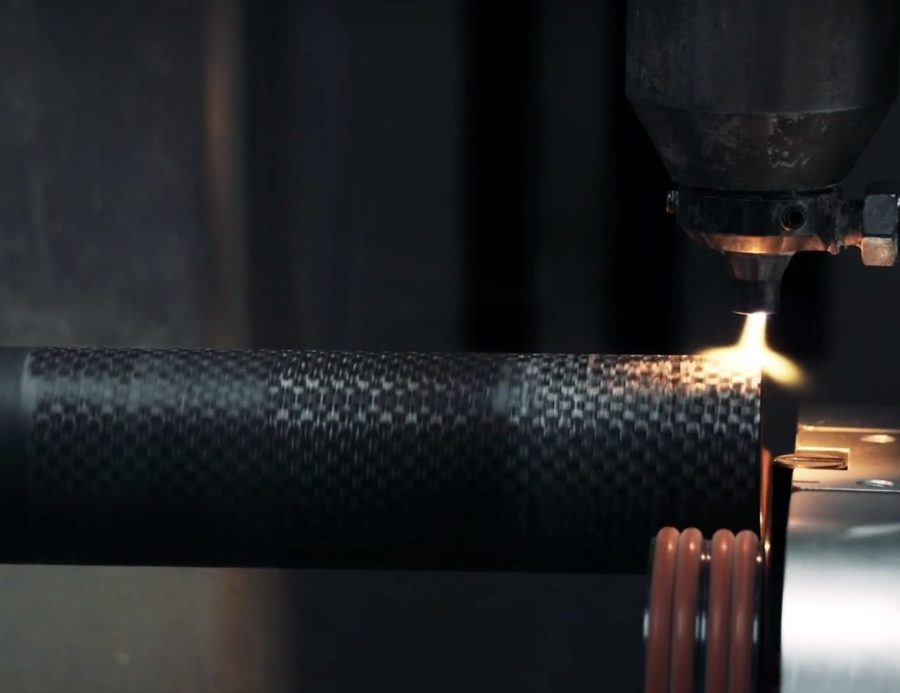 Polymer ablation process strengthens every joint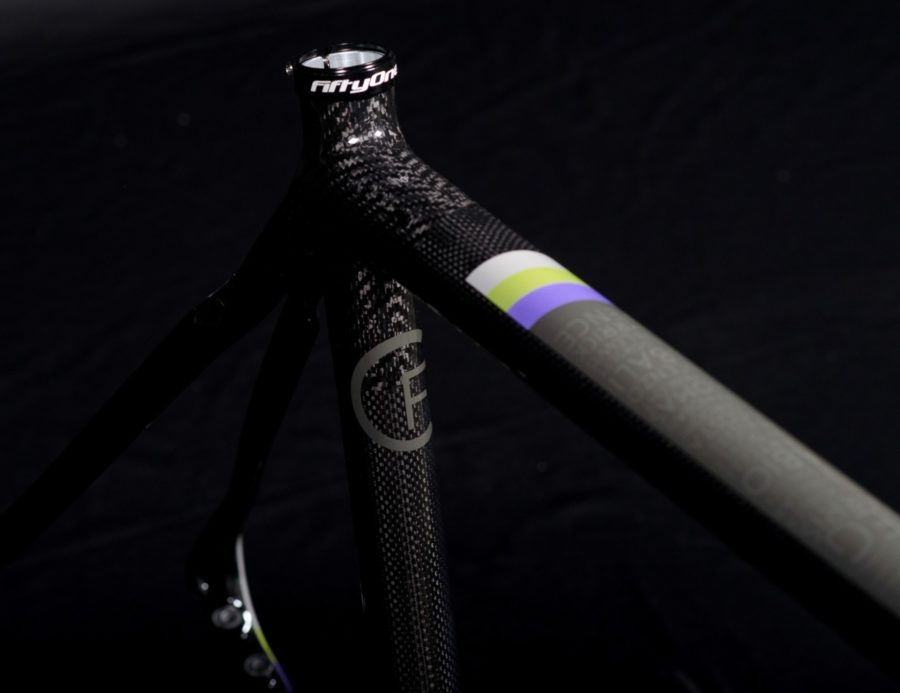 Blackstar toptube embossed with Cyclefit 'road-writing'
Made in Dublin
The Landrace Blackstar is handmade in Dublin, Ireland, by our friends at FiftyOne Bikes. FiftyOne have a history of close collaboration with Enve in the USA, who historically make all their raw carbon tubing. FiftyOne also partner with, PlasmaBound, a University College of Dublin off-shoot. PlasmaBound have developed a process called polymer ablation process (CPA), whereby the tubes are treated to a controlled plasma (high voltage + compressed air) which removes not only the top layer of epoxy but also the epoxy separating the actual surface carbon fibres to create a cleaner and 20% stronger joint (see clip below).
The founder of FiftyOne is Aidan Duff - like us he is only peripherally interested weight – it is one vital criteria in a clutch of equally important way-points to hit – strength, power-transference, comfort, beauty and character. I remember a conversation Jules and I had with Eddy Merckx many years ago about frame weight – he expanded upon his "weight is for grocers" theme to postulate that the frame itself was the most unwise place to look for weight savings. Nevertheless the Blackstar rolls out of Cyclefit at 7.8kg ready to ride, which is acceptable for a disc bike with mid-priced Zipp 302's (£1300).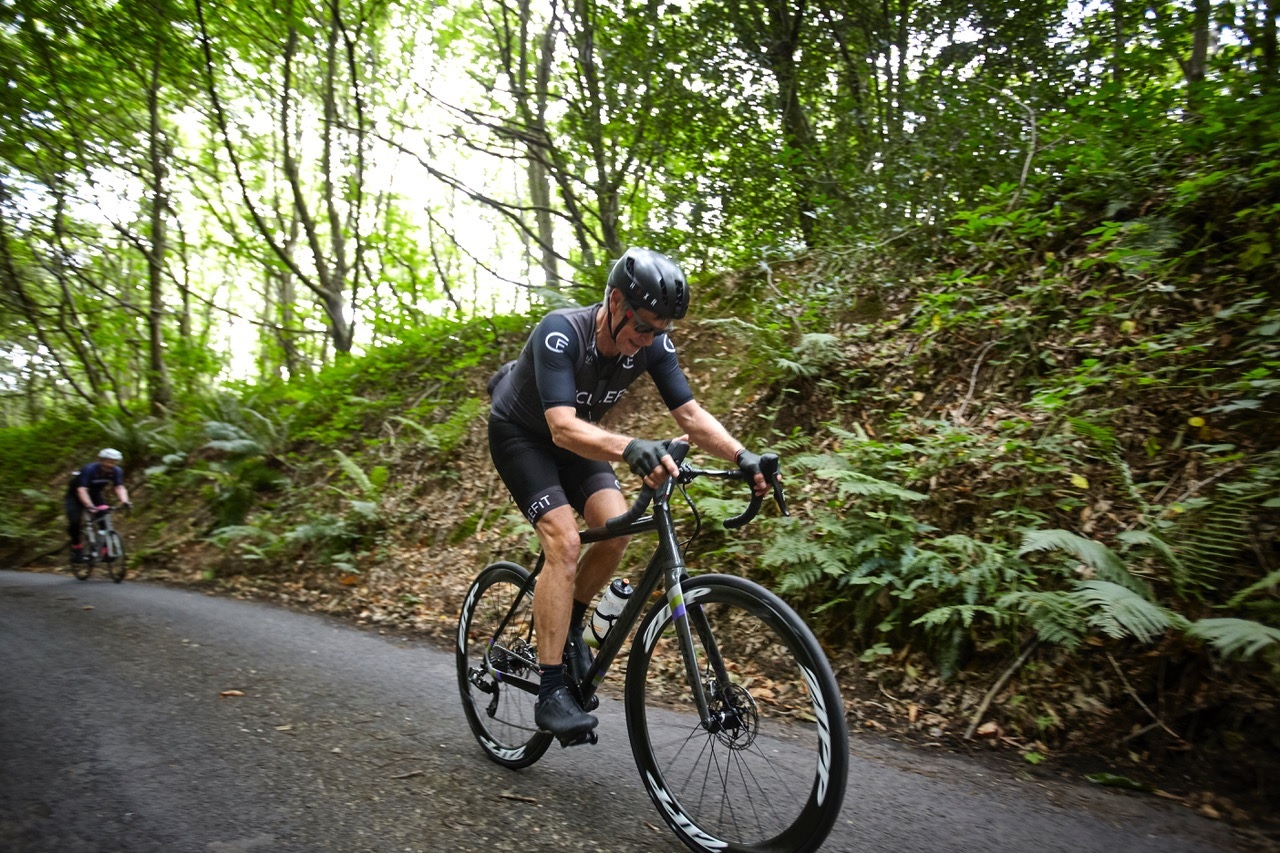 Matching bike, kit custom 3-D printed helmet - what could go wrong? Almost everything 5 minutes later (picture by Peter Drinkell)
Up Like Lazarus
I maybe over-referencing Bowie - but the Blackstar just feels too good too soon. The normal adaptive phase to a new bike is just completely absent. It is immediately completely silent, invisible and functional. I feel like I have been riding the Blackstar all my adult life. In truth Jules quietly designed the bike notionally around my morphology and XY stats - so straight away I was in a peculiarly neutral space without any excess fidgeting or contact-point searching. Even the cranks are my personal choice at 165, which keeps the hip open on the drops. The sum of all these parts is that I am riding a little too aggressively too soon – hence my schoolboy faux par above.
The 420mm chainstay length and 74 degree seat-angle are unusual – the former adds stability and confidence and the latter the power-centre to enjoy it. A 420mm chainstay also gives 4mm clearance even with a 32mm tyre. We can't really see a need for anything more than a 32mm tyre on a wide(ish) rim for the majority of fast road riding. More than 32mm and we overlap into the gravel genre (in our opinion).

Lodestar
The Blackstar really does resurrect the flattering neutrality of the prototype Serotta Meivici I threw around the Alps twelve years ago. It has been a while since I rode a custom bike and it is a pleasant shock to experience how centred and balanced I feel. The hand-assembled Enve tubing is discernibly quieter and calmer than a mass-produced monocoque. And for many, a couple of hundred extra grams of hi-modulus carbon is a worthwhile trade for a micro-precise fit and rarefied riding experience. The Blackstar, to me at least, feels markedly less fragile than the Parlee Z-Zero - the last custom carbon fuselage that I spent meaningful time on and was notionally made for me.
Brakes, Helmets and Potential Darwin Award Candidate

I am pretty sure that SRAM Hydro Disc brakes saved me from Darwin Award candidacy. I implore you to shift now if you are still on rim-brakes. Their marginal importance is of course inextricably linked to the terrain you ride in. Out in Regents Park on the Blackstar and discs were almost superfluous – pinching the front rim between finger and thumb would probably have sufficed. Out in the Kent lanes traversing 1:5 narrow descents in the rain and discs have all of a sudden started to feel a necessity for both safety and pleasure. Control equals fun, especially at 57.
Equally impressive is my new Hexr 3D printed helmet. The process of having my head scanned was exciting and fun - it isn't everyday that you get to see the inside of your head in three dimensions! My custom Hexr fits so well that I have taken off the rear retaining cradle. There is no movement of the helmet on my head at all, which is very reassuring. There is also less buffeting and drag in general at speed because of the lower profile of the custom fit. I am trying to convince James at Hexr to work with us on 3D printed custom saddles. The scanning process does however provide a few logistical challenges!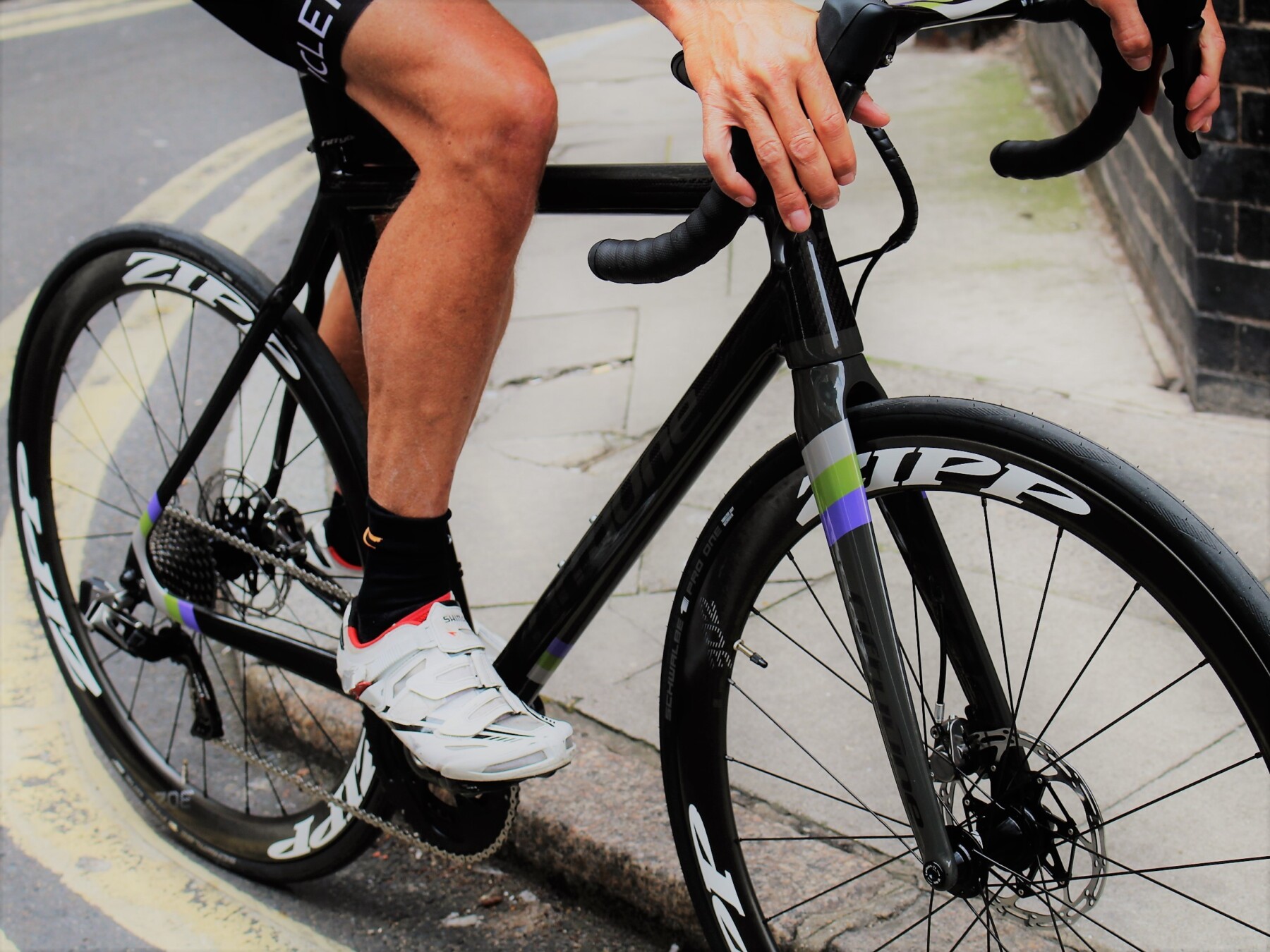 Landrace Blackstar. Made in Dublin by FiftyOne