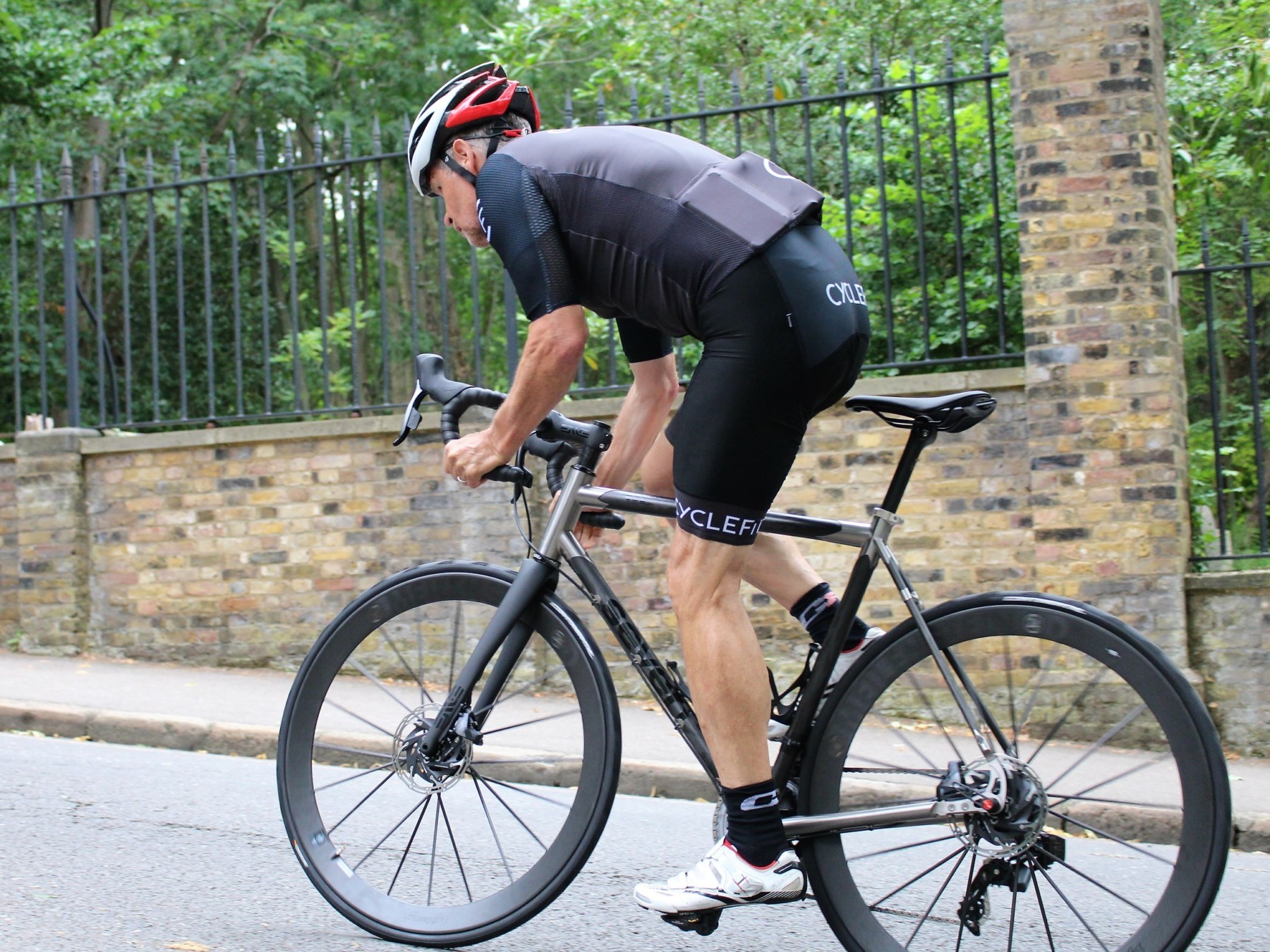 Seven 622 XX - Mixed Materials or Mixed Messaging?
Seven Cycles for all of their twenty two years have been titanium specialists, culminating in their current and uncontested status world-leaders in titanium construction and R&D. They are the company that every other titanium builder measures themselves against (whether they admit it or not). So why are Seven mucking about with carbon? What do they think the addition of fibre in the titanium diet bring to the ride performance of the bike? This is our third test 622 SLX since 2012 and our first configured around disc-brakes. It is high time for a full review of this iconic bike.
Carbon. But Not As We Know It!
The addition of carbon into a titanium fuselage is controversial for the purists (like me). The first misconception to debunk is that the carbon is predominantly utilised to save weight - when in fact the fairly minimal (100 grams or so) weight-saving of the 622 XX over the Axiom XX is mostly an unintended benefit. The primary reason that Seven have gone to such lengths to innovate a mixed material fuselage is to change the quality of the ride. By using filament wound carbon tubes, Seven are able to make the whole bike a little stiffer, whilst at the same time reduce high-frequency vibration that is transmitted back to the rider. The intention is to give an uncannily smooth and sophisticated ride experience on those longest days in the saddle.
Filament Wound - All Carbon is NOT Created Equal!
Seven have designed and innovated U.S. made filament wound tubing that comes in six distinct profile options for every single tube. This means that every custom frame's final tube-selection is rider-specific based upon: rider-weight, intended use and aesthetic preferences. No two frames are ever the same. Every frame is totally unique. Filament wound carbon tubes are horribly expensive, but are also inherently stronger than layered carbon sheeting that form the building blocks of most monocoque frames. Round tubes also behave very differently to the big-box tubes that most manufactures have defaulted to in homage the headline-grabbing populism of stiffness and lightness. The Seven play is build a bike works over a longer time-frame to help you achieve your goals, whatever they may be - in that sense longevity and comfort are much more important criteria for Seven than stiffness and lightness. Hence every tube in the 622 SLX is replaceable if it gets damaged - this is a bike that is designed to run for tens of thousands of miles for decades not years!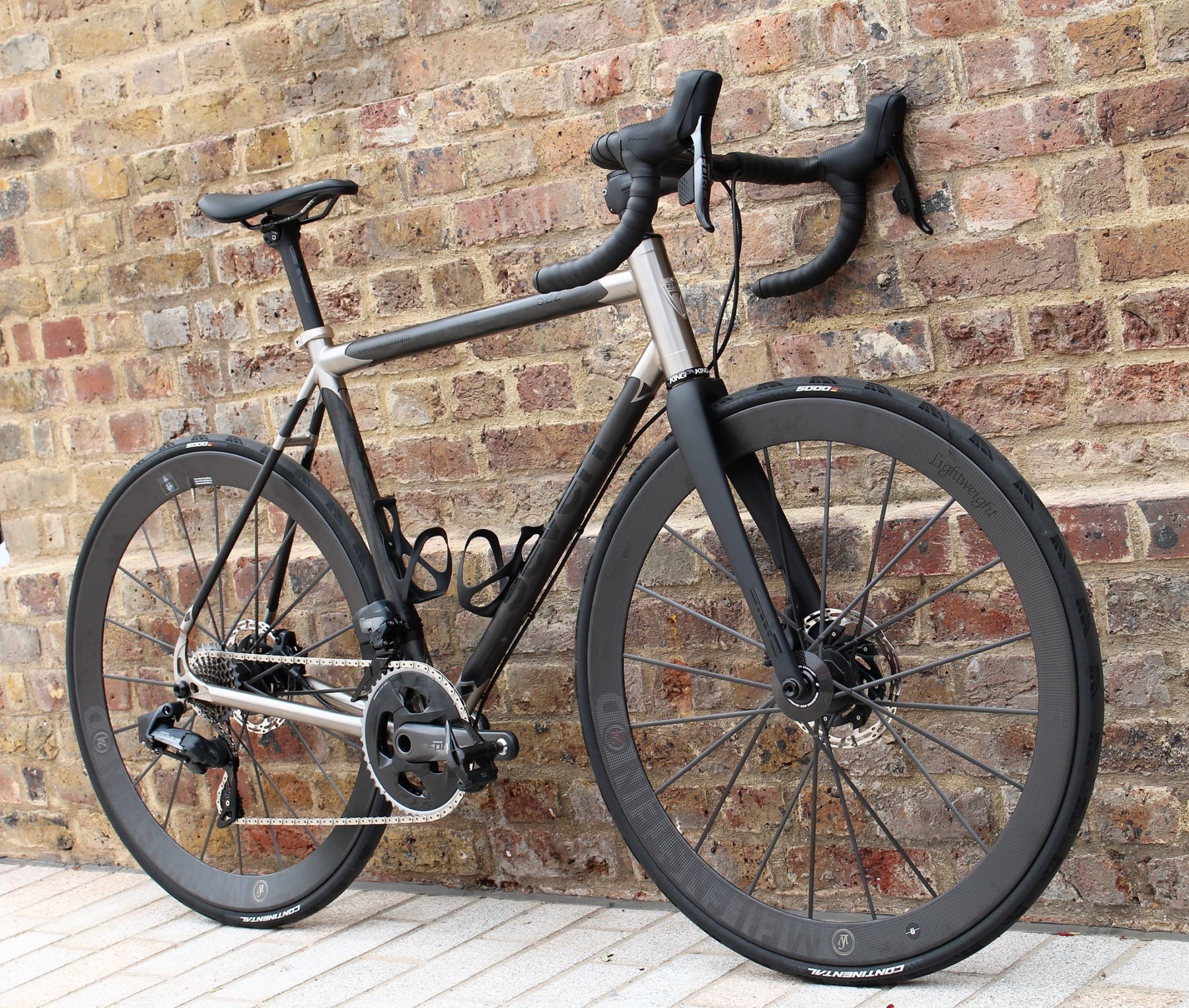 Titanium Strategically Employed
If carbon is lighter and potentially stiffer, why don't Seven take the material to the logical extreme and use carbon lugs as well?
But that that is to entirely miss the point of mixed materials - titanium is stronger and more durable than carbon and is better in vulnerable or high-load areas (bottom-bracket and headtube). Titanium is also better at absorbing bigger bumps and potholes than carbon, which is better at isolating high-frequency interference. It is worth noting here that 622 use titanium as the keystone material in drive-chain (chainstays), precisely because it yields better traction characteristics than carbon in all conditions.
XX Innovation
Seven's ground-shattering XX Programme resulted in the world's lightest titanium disc frame in the world. Without compromising ride-quality or frame longevity. It was a painstaking review and re-think of high-end titanium. Many of the innovations have trickled up into the 622 XX Disc - asymmetrical chainstays and drop-outs, segmented stays and re-engineering of the titanium lug-set, that have become progressively thinner, lighter and more sculpted.
"Round tubes also behave very differently to the big-box tubes that most manufactures have defaulted to in homage the headline-grabbing populism of stiffness and lightness. "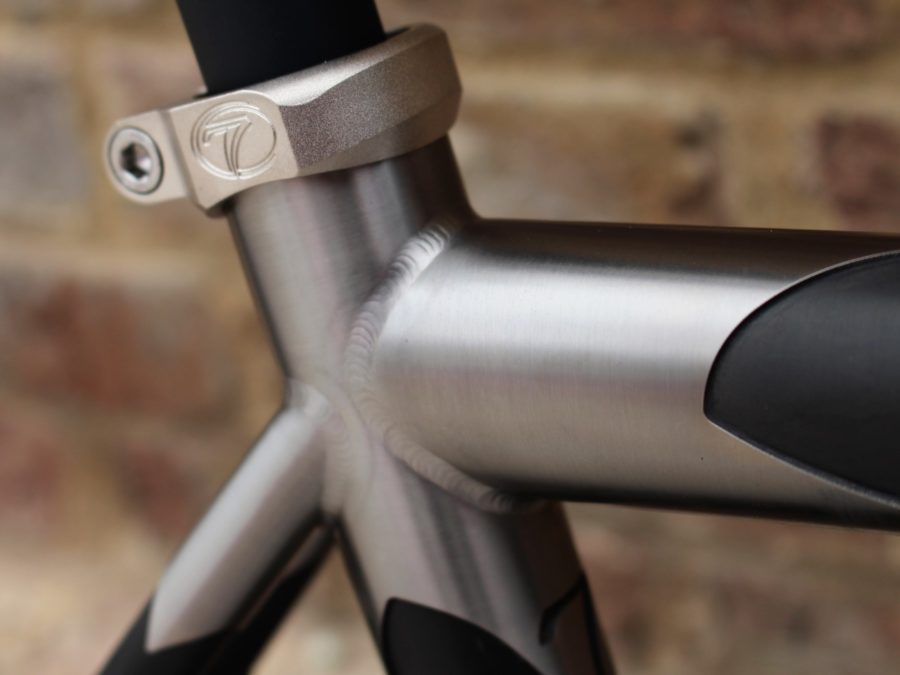 XX influenced triple-butted ti lugs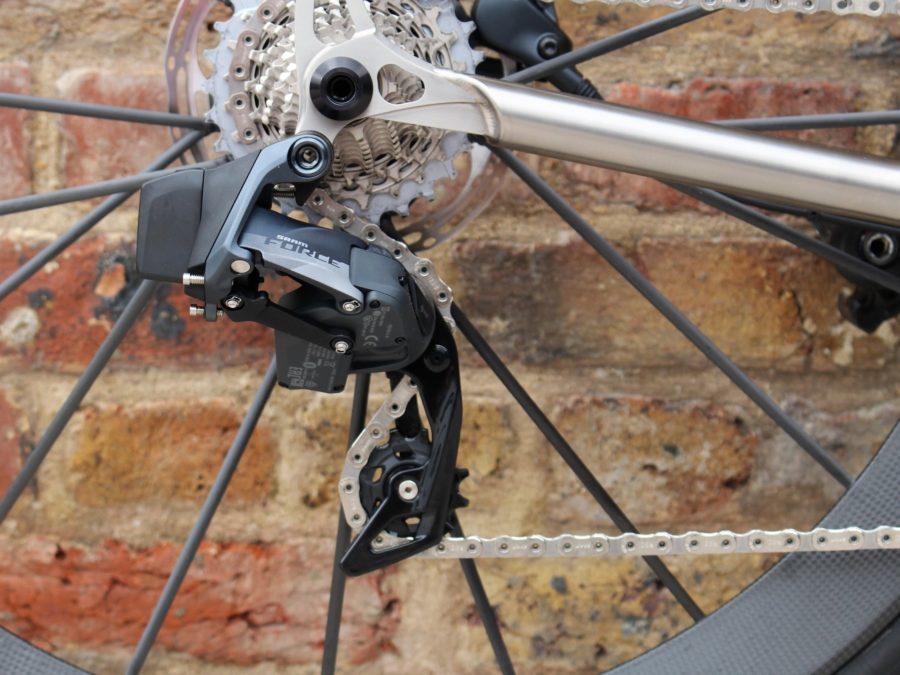 XX asymmetric drop-outs save significant weight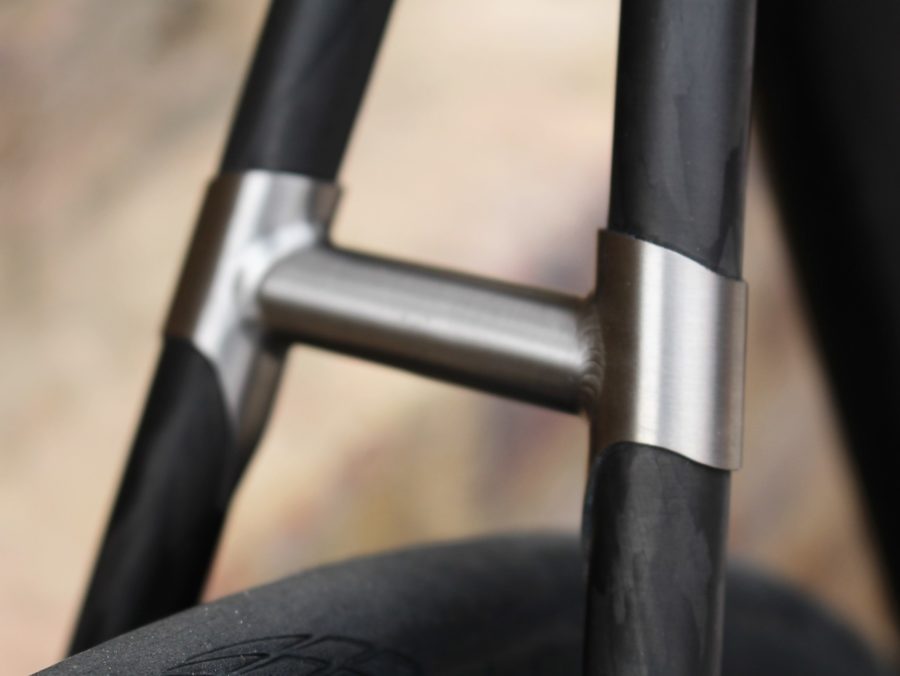 The crafted connection between titanium and carbon
Oversized triple-butted titanium in high-strength areas
The Ride
This 622 XX shares the mixed technology ethos and construction methodology with our 2012 test-bike that we tested on the cobbles in Belgium in 2014. But so much has changed in terms of iterative changes - disc-brakes, 44mm headtube, 1" chainstays etc - that we assumed the ride would be barely recognisable. We tried to normalise the comparison by running Lightweight Meilesteins on this test bike, because that is what we ran in Belgium on the previous bike.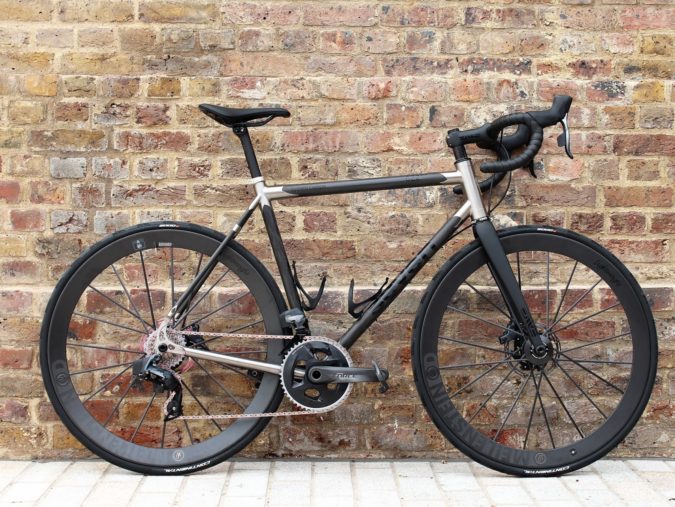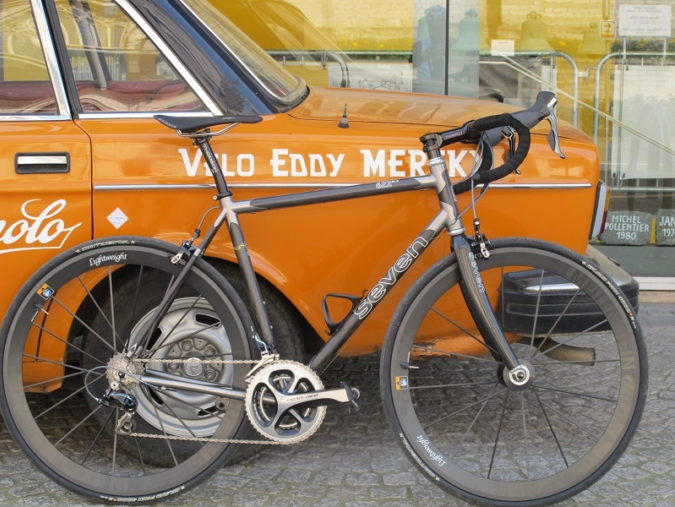 Ride Continued
The ethos of the old 622 XX and our new demo bike may well be congruent, but all other points of comparison are almost redundant. The revolutions in components now dictates modern frame design - disc-brakes, stiffer-cranks, wider rims and tyres etc, all impose additional stresses onto different areas of the bicycle frame. The massive power of disc-brakes puts the fork and headtube under radically increased load - so Seven have oversized the headtube to 44mm and increased the tubing diameters of the downtube and toptube (doubling the diameter of a tube yields an eight-fold increase in stiffness). This generalised pumping up is echoed in the bottom-bracket, future-proofed to resist cranks that are ever-more binary in their power-transference - look carefully at the art-house/comic-book 1" chainstays! Where the old 622 SLX looked delicate, sophisticated and muted, the new one has a harder and vaguely more menacing maximal aesthetic.
No surprised then that out on the pavement the 622 is an entirely different ride to the pre-disc model. Put simply it accelerates faster, stops harder and is sharper literally everywhere. Inevitably some of that reactivity conducts back up to the rider through structures that been specifically designed to resist opposing forces. 12mm thru axles locked into XX dropouts at one end and re-fashioned Enve RD fork at the other, conspire in a considerably tauter plot. But it is undoubtedly true that the filament-wound carbon weave are playing at a different frequency to whittled-down ti lugs to top-slice high-range road interference. The overall effect of the 622 is akin someone dialling down the volume of annoying white-noise. When I designed this test-bike, I just about left room in the truncated chain-stay length jam in a 28c tyre behind the seat-stay, in case we wanted to soften the ride even more. Much as I love Lightweight Meilensteins (and I do) they are a little thinner than some other rims and I have kind of gotten used to a puffed out 25 look and feel.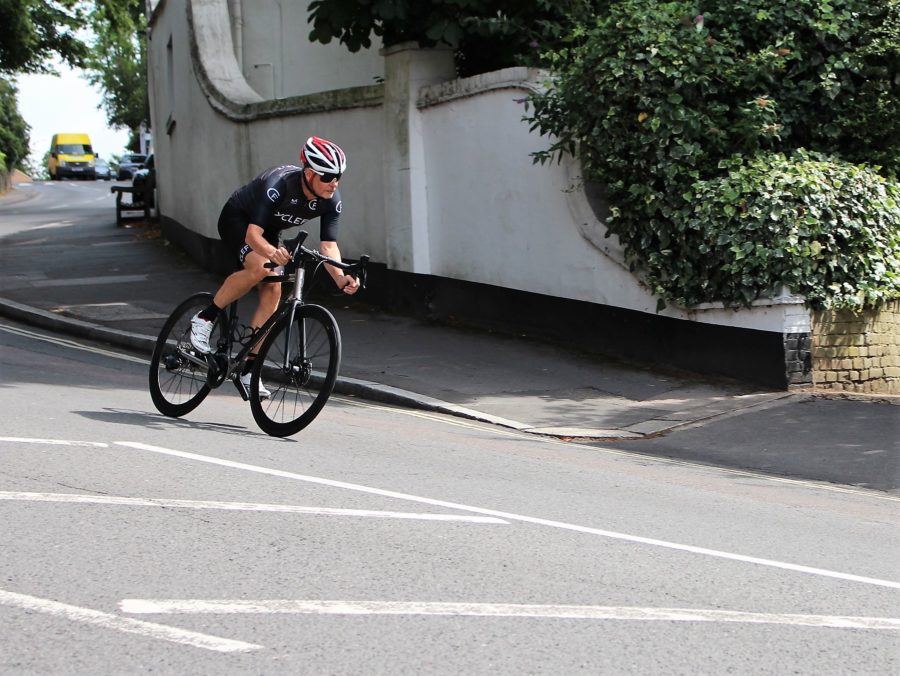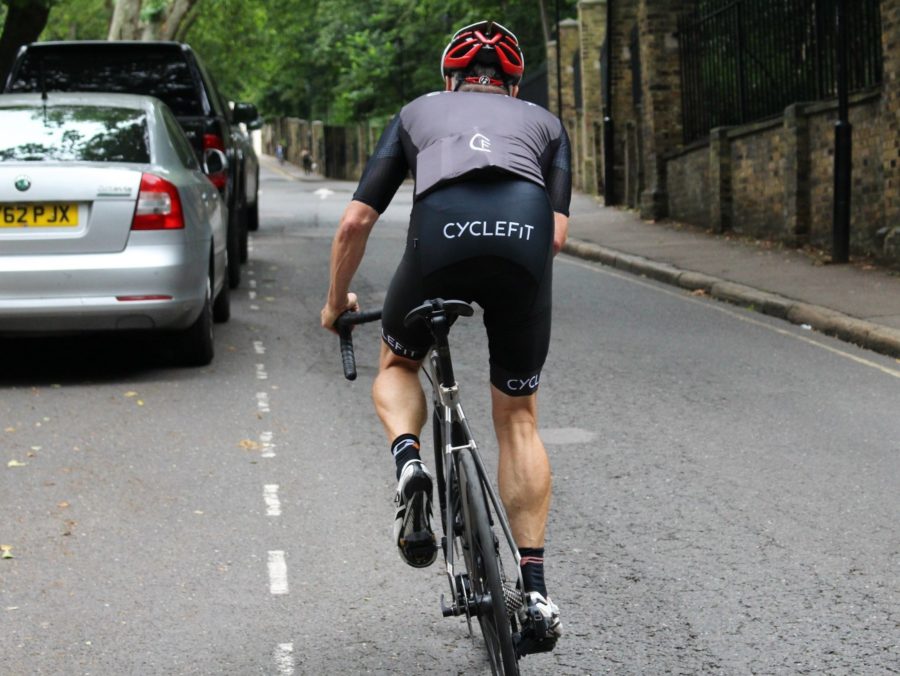 "You just know that you could take a micrometer and set of vernier calipers to the whole set up and never find anything even a micron out of place"
Sound of Silence
I think the Seven 622 XX Disc is the quietest bike I have ever ridden. We are so used to guitar-case carbon tubes amplifying every creak and crack into a barking cacophony. In contrast there are no drillings, wires or cables on the 622 - nothing to rattle, shake or whine in the wind. It feels unshakeable and reassuringly sophisticated down to its carbon hubs and spokes. You just know that you could take a micrometer and set of vernier calipers to the whole set up and never find anything even a micron out of place. Forgive me but that is exactly how I like bikes to feel. This is my second ride on SRAM's new Force AXS eTap - aside from the elongated unnecessarily and acronym laden name, the groupset itself is simple and functional. Not flashy in the least in either aesthetics or utility. The shifting is slower than Di2, despite the claims. I am not sure it is any quicker than last year's eTap either? But as long as you know that you ride accordingly and it is not a problem - you simply re-time the fractional unweighting of the pedal for your out-of-the-saddle under-load shifts. I prefer the ergonomics of SRAM eTap to Di2 and always have. But I think I would spend the extra and get Red AXS eTap, if only for the enhanced aesthetics ( I am not liking the black cassette of Force).
Digital V's Analog Braking?
Hands in the air - I was a slow adopter to disc-brakes - not because it was a solution that doesn't exist; just out of technology fatigue and inertia. I defaulted to supporting them out of sheer pragmatism, because that is the way the industry had segued. Not anymore. Disc-brakes have changed bicycle design for the better. The 622 SLX is a case in point - the old 622 was gloriously light, sophisticated and exuded custom-fabricated excellence. But the new model goes about its business in a completely different way. the lightest touch on the brakes velcro's sticky GP5000's to the tarmac in an entirely predictable and therefore repeatable way. No more jamming questionable pad material directly onto carbon rim using horse and carriage technology. The 12mm thru-axles hold the wheels tighter and in better alignment than quick-release - it is a palpable change. The entire frame has been made stronger and stiffer to accommodate ramped-up braking forces. This results in a bike that is more composed, safer and more dynamic and accomplished under all circumstances and conditions. As a consequence you enjoy riding more. It is very simple. If you have to pay 300 grams to achieve all this then to us it is a price worth paying. We are all parents, co-workers, husbands, wives etc as well as cyclists. I think Johan Bruyneel said it best on the Stage 19 Move Podcast - making the point that Julian Alaphilippe chose to ride disc-brakes because he knew he may have to make up lost time descending the Col Galibier on his rivals. He made up 20 seconds in a few minutes on the descent because he could ride harder and brake later - it was clear on the TV images.

"Weight is simply not a valid criteria to differentiate between the Axiom XX and 622 XX"
Seven 622XX Disc V's Seven Axiom XX Disc?
First off it is worth mentioning that we embark on about five ti projects with clients for every 622 XX projects.
Second point - take weight out of the equation - the 2019/20 Axiom XX Disc frame is the most innovated metal frame in the world - it gives a way very little to the 622 XX or indeed any other disc frame in terms of grams won or lost. Weight is simply not a valid criteria to differentiate between the Axiom XX and 622 XX.

I would choose a 622 XX if I had any concerns about high-frequency vibration for one reason or another. It has the reputation as the smoothest riding bike on the planet, wherever and whenever your ride. Period. 622 XX has a reputation in the custom industry - it inherited the crown of Ben Serotta's mighty Serotta Ottrott by re-thinking carbon and titanium for a new generation of riders.
Furthermore I would buy a 622 XX because I found it beautiful. This generation of 622 XX, like the last, does dramatic things to people. The more you stare, the more you love. We are drawn in by its sculpted and architectural indulgent materiality.

And finally a word from our great friend, John Lewis from Seven Cycles in Boston -
"I would buy a 622 XX if the overall smoothness of the ride was compelling to me.The Axiom XX is, despite being all titanium, packed with technology and advanced build techniques, so it is a horse worthy of similar courses, but is a bit snappier, because it has all the liveliness of metal tubing"