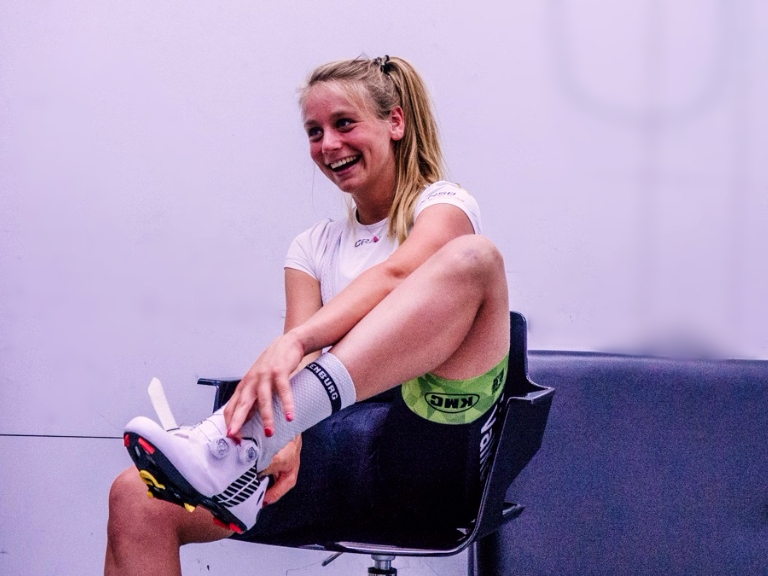 Professional Rider Eva Buurman is fitted for Bontrager XXX shoes and + Cyclefit Custom Moulded Footbeds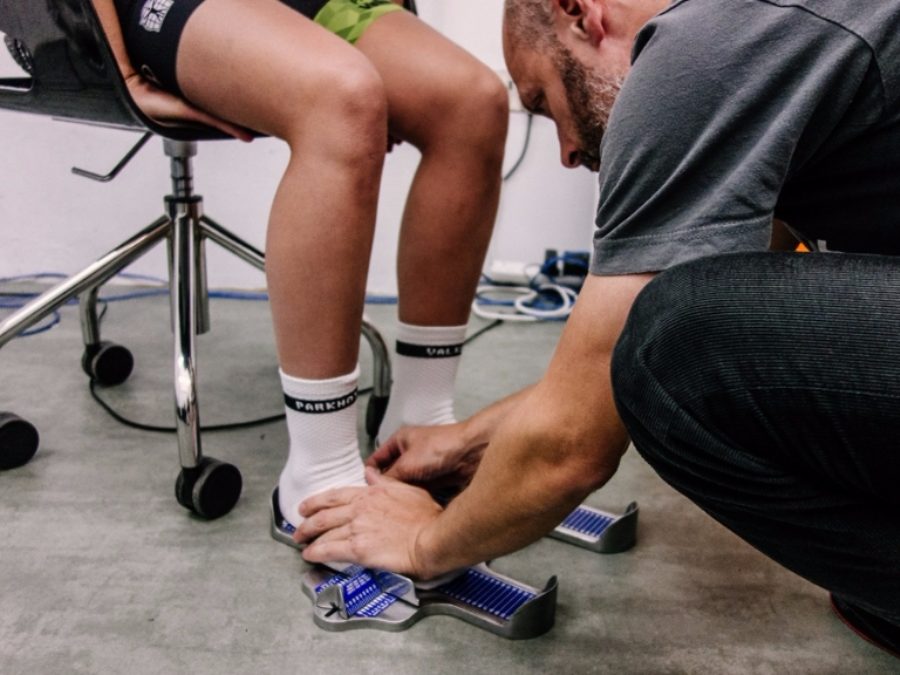 Un-weighted navicular height measurement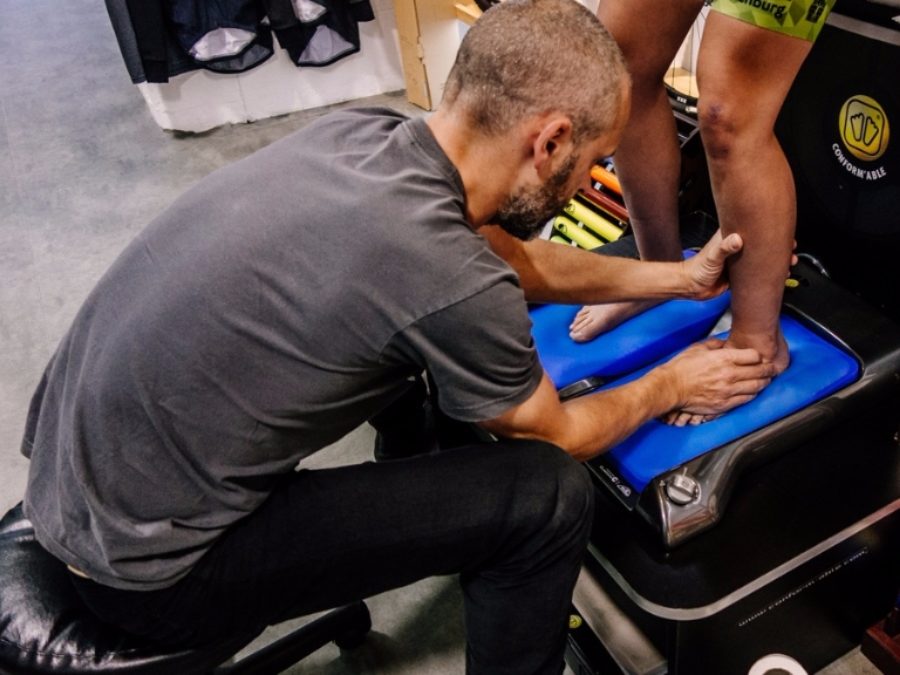 Custom Cyclefit Sidas Footbeds
In your New Cycling Shoe appointment:
Choosing the right shoe to suit your riding, foot type and size isn't easy on the internet.
We will discuss with you your requirements and recommend shoes to try on that suit from our premium brands: Lake, Shimano, Specialized, Shimano and Sidi.
Road and MTB styles with wide options in the road models.
We can use the information from your shoe fitting to choose the right shoe, the £40.00 fee is fully refundable if your new shoes are purchased from Cyclefit. Occasionally we need to order in the shoes to get the exact size.
If your feet are uncomfortable and your shoes fit there can be anatomical issues causing the pain.
Shoe fitting like bike fitting is a process, so we often have to make adjustments to the cleats and bike position to get the best results; small adjustments can make big changes.
We can recommend a footbed or custom orthotics appointment depending on the anatomical complexities presented to improve foot support or a shoe & cleat appointment or a combination of all three.
Read our Journal post about shoe design
£40.00 40 minutes (fee refundable on purchase)
Included in the Shoe Fitting
Foot measurement (length, width, arch length)
Standing and seated arch height
Foot type analysis
Trying on shoes to find the best fit
Option to have Sidas footbeds made (£120.00)
Cleats fitted (based on exisiting set-up)
Option to upgrade to shoe and cleat set-up appointment(£150.00)
Lake CX238 Road Shoe - £270.00
One of our most popular shoes for riders with wider feet. The standard show will fit E width feet, the Wide E plus.
Squarer toe box than the old CX237 which suits a squarer, semi-curved foot.
Full grain Water Resistant Premium Leather and mesh upper with hook lycra & Outlast heel lining. Helcor heel panel and rubber toe bumper helps protect the upper from scuffs and scratches. Outlast temperature regulating heel and tongue lining offers a luxurious foot feel, while maintaining a breathable, durable & firm grip to your foot.

CX/TX Carbon Competition last - not super stiff but more comfortable over longer rides. The wide shoe also has a wider last to maintain support under the 1st and 5th met.
Dual Side mounted Push/Pull IP1-S BOA lacing system with releasable lace guides
Lake CX241 Road Shoe -£295.00
The articulated forefoot adjustment on this shoe is great for wide feet and for riders with Bunions*.
Helcor Abrasion Resistant Full Grain leather. Up foam liner, custom moldable carbon heel counter. Completion Last (as CX237). Full carbon sole. Black or White. Double Boa with articulated leather upper for custom fit.
Regular: 36-50 half sizes between 40 and 47 no size 49.
Wide: Sizes from 37 to 50, half sizes between 40 and 47 no size 49.
* Bunions and painful feet respond well to increased arch and forefoot support from Mik.Fit orthoses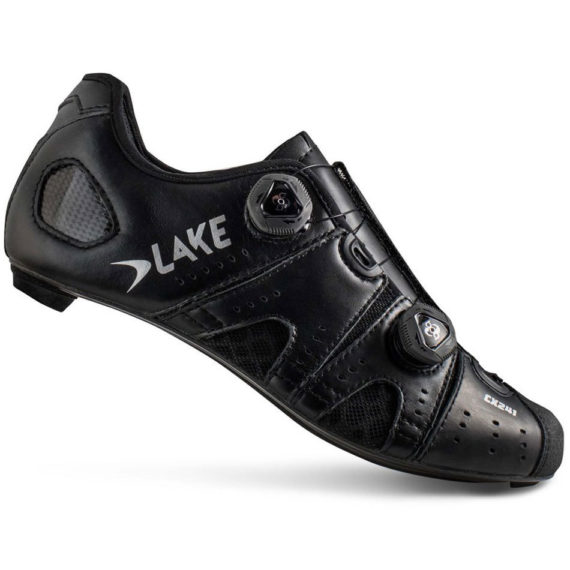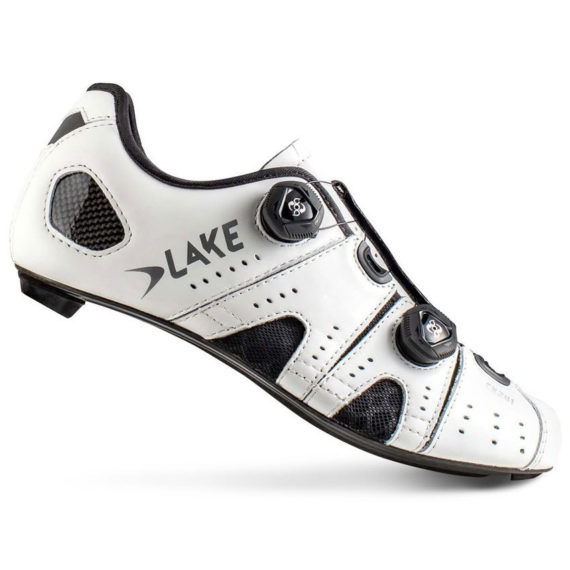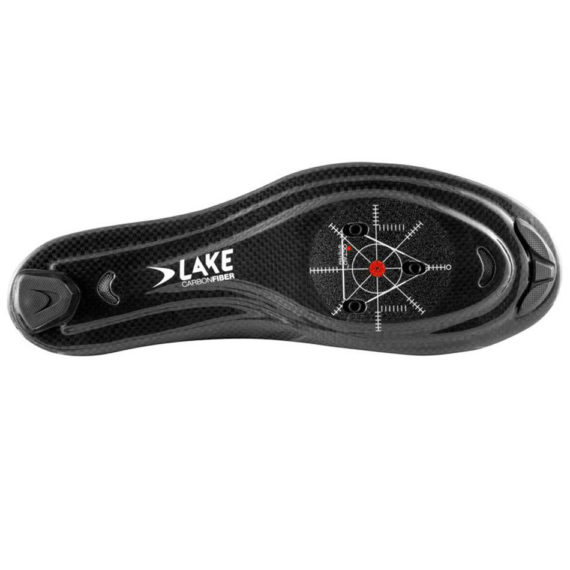 Lake CX332 Road Shoe - £350.00
More of a performance shoe from Lake with the most size options of any shoe brand; the toe box could be a little too narrow for riders with wide feet though.
Klite Kangaroo leather and mesh. Outlast temperature regulating heel & tongue liner. Internal Heat Moldable Thermaform Carbon Fiber heel counter.
Narrower heel and toe box than the cx237. Tow box is also slightly shallower so suits a smaller volume, wide foot. Extra wide fit available. Black or white, double Boa.
Lake Race 100% Carbon Fibre Sole, Lake patent Double Sole. Available in 3 hole cleat pattern or Speedplay.
Regular: 39-50 half sizes between 40 and 47 no size 49.

Wide: Sizes 39-50 half sizes between 40 and 47 no size 49.
Extra Wide: 39-50 half sizes between 40 and 47 no size 49.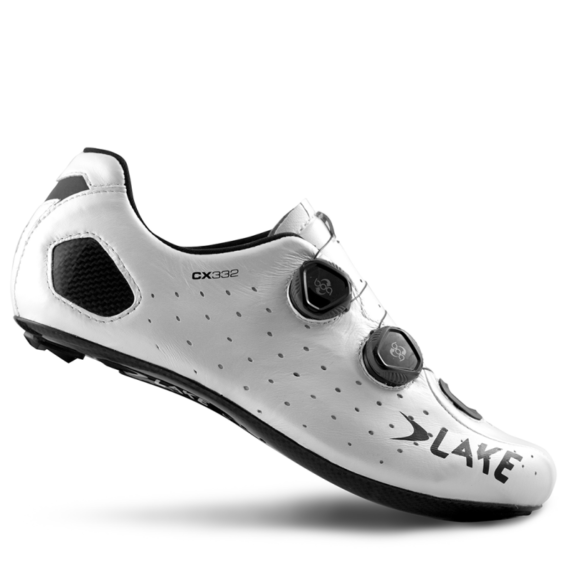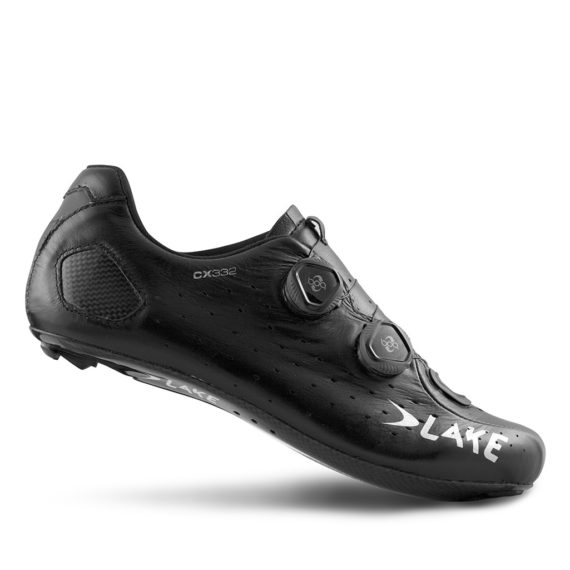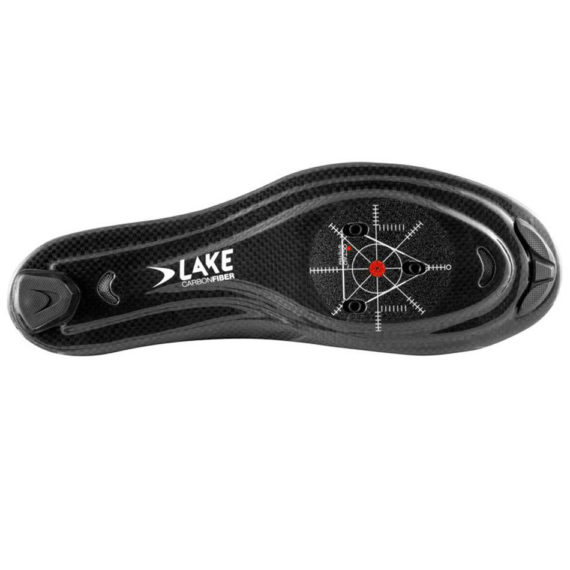 S-Works 7 Road Shoes - £370.00

A returning shoe to us at Cyclefit - we love this foot because it readily accepts our Habgood Orthotics due to its roomy toe-box. A straight last shoe that works well for many clients, especially if their foot is supinated (many of us are by the way).

The lighter and stiffer Powerline™ carbon sole is new and brought to you by the same team that developed Rider-First Engineering. Why's this special? Because it led to our lightest and stiffest carbon outsole to date.
A completely refined Padlock™ Heel, meanwhile, packs in more comfort with the same exceptional heel hold that you found in the previous iteration.
The space-grade Dyneema™ material used in the upper doesn't stretch when pulled on, making sure that your foot stays where it's supposed to.
The Longitudinal Arch, Varus Wedge, and Metatarsal Button. Each one of these features have been ergonomically designed and scientifically tested to not only boost power, but also to increase efficiency and reduce the risk of injury.
We also took luxury into account by designing the S-Works 7 to have form that complements its function, so you'll find seams that are bonded together, rather than sewn, cleaning up the lines and contouring to your foot with slipper-like comfort.
The custom CNC'd alloy Boa® dials also add some panache, but they also feature durable spring clutch internals and precise, one-millimetre micro-adjustments that let you perfectly dial in your fit.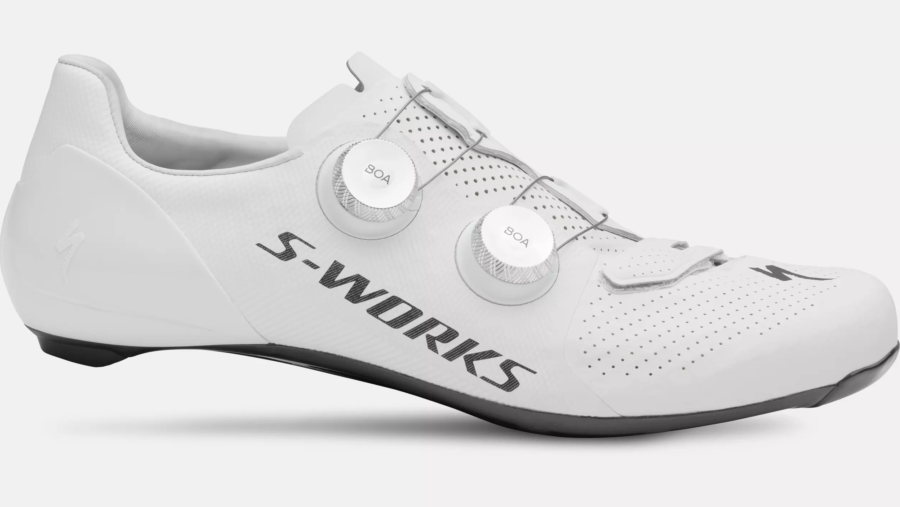 S-Works 7 Road Shoes @£370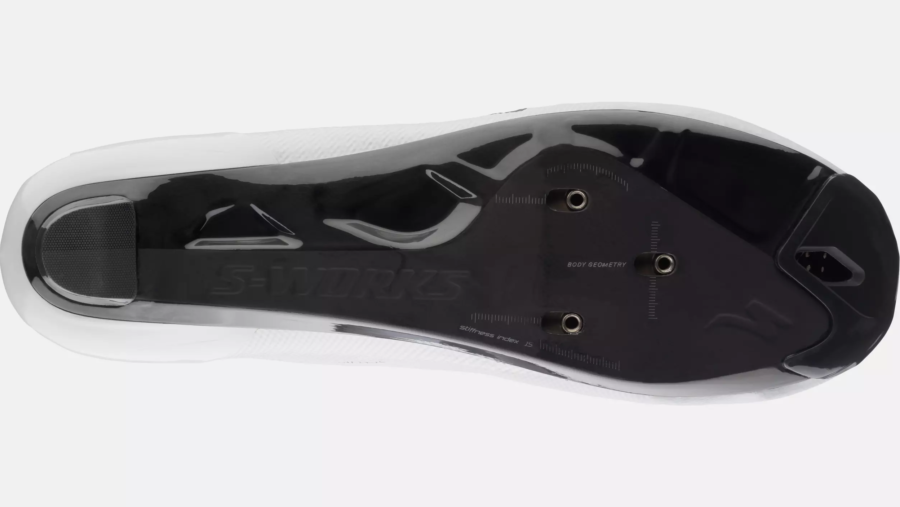 Shimano RC902 S-Phyre Road Shoe - £320.00
This is quite a technical shoe and our favourite race shoe, The last is inly 4mm thick compared to the industry average of 8.7mm and gives direct power transfer and more hip clearance at the top of the pedal stroke. Fairly shallow toe box and low heel off-set.
Material Properties - Silvadur's patented silver ion intelligent technology offers longlasting freshness. No unwanted odors or discoloration occur that might shorten a product's lifespan.


ConstructionUnibody Construction -The elimination of the traditional lasting board reduces weight and lowers the stack height between the foot and pedal to better support the foot and maximizes power transfer and efficiency.


Fastening - Dual independent Boa® IP1 dials with powerzone wire guide lacing allow quick and precise micro-adjustment while maintaining stability.


Upper - Supple, stretch-resistant and highly breathable, one-piece Teijin Avail microfiber synthetic leather limits moisture and sweat retention, features increased MicroVent holes for heat dispersion, and fits like a glove.


Foot Support - Asymmetric eyestay pattern prevents twisting of foot under high-power pedaling.


HeelRevised external curved heel cup construction minimizes foot twist and roll, stabilizes the heel, and holds the foot firmly in place.


Stack Height - Low stack height carbon midsole helps stabilize foot during the downward pedaling stroke, maximizing power transfer.


Extra 11 mm of cleat adjustment range.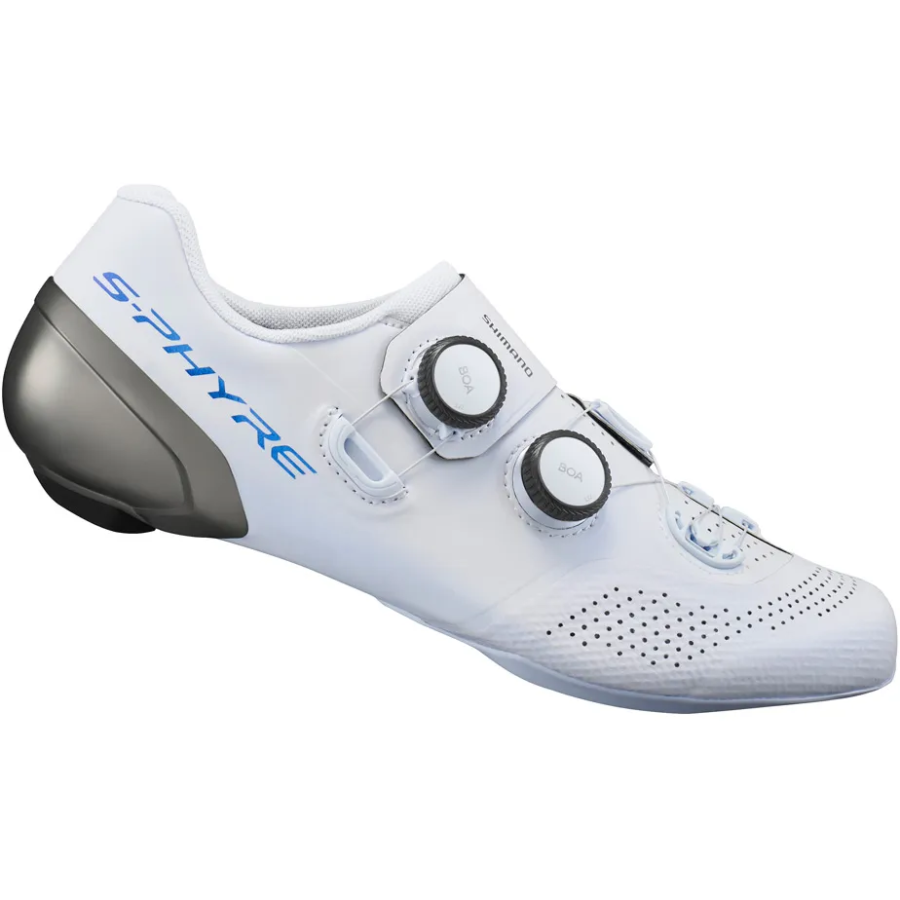 Shimano RC9 S-Phyre Road Shoe