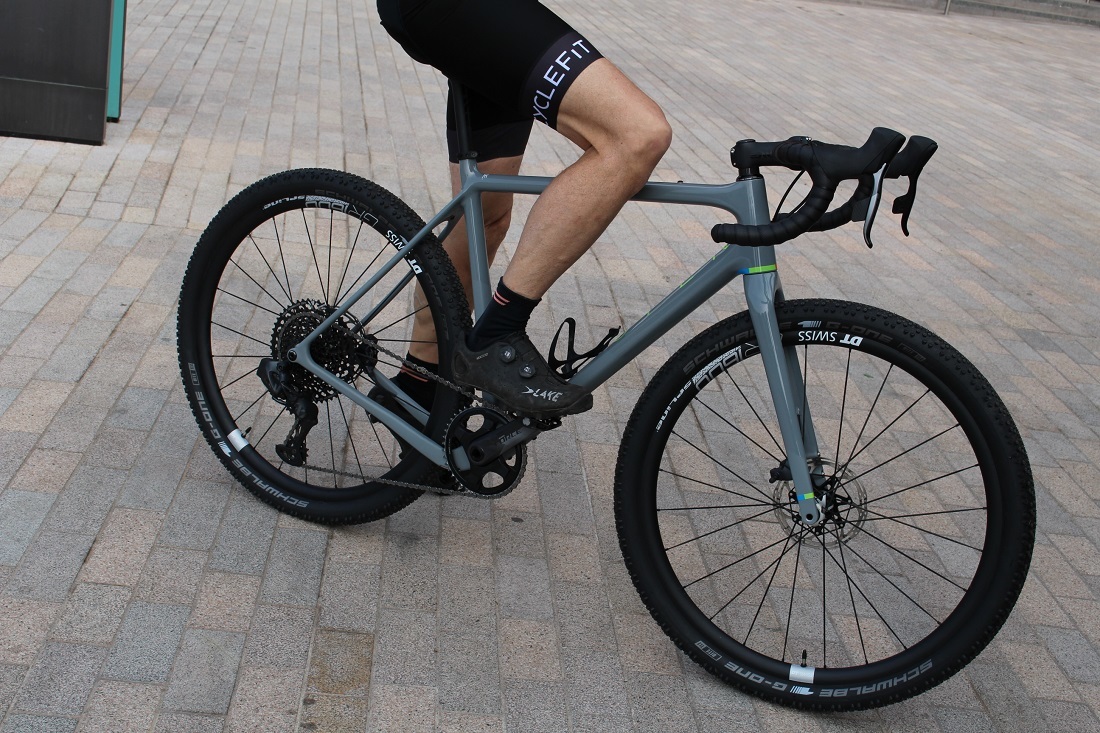 Cutting edge bike, has-been legs.
Open WI.DE. Sealed Lips.
The news embargo has been absolute. No leakages would be tolerated from the tiny Swiss company that produces the hippest bikes in the world. We met the guys at Open when they just started and loved their 1xBike ideas and attitude. They have sincerely moved the industry dial and turned every other reputable bike manufacturer into a follower and imitator. We became their first UK dealer and have been huge fans for five years.
WI.DE. (Winding Detours)
We are the first people to ride/test/review the Open WI.DE. in the UK. Anonymous brown boxes were lovingly turned into a genuine trail-blazer in Barna's loving hands. And then early one morning last week Jules and I headed out to take it for a spin.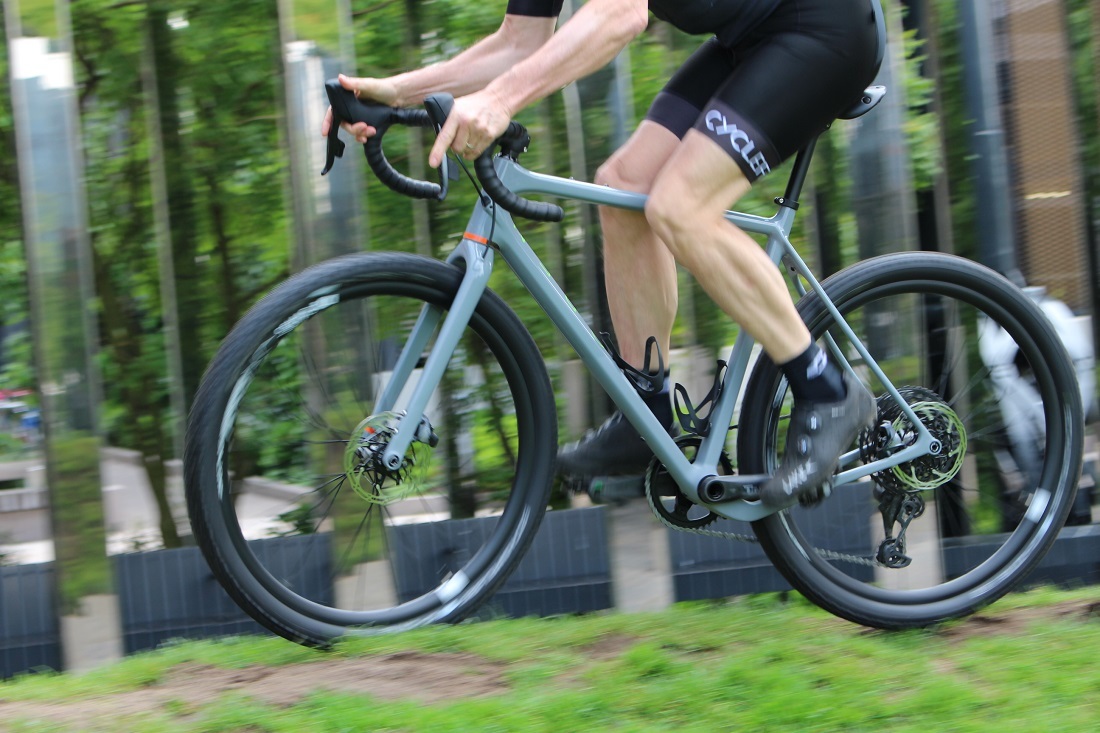 "The sheer build and finish class of the new Open gives one a lovely pre-ride glow of anticipation"
Open WI.DE v's Open U.P.
The WI.DE. dials up Open's off-road credentials. We have many clients who use their Open UPPER as a defacto fast-bunch race-bike as well as potential gravel interloper. In contrast the WI.DE. is for those clients (me actually) who want to give little away in terms of lightness/stiffness/speed, but also want geometry and clearances to facilitate more fun and control on those occasions when gravel gives way to rocks and tree-roots.
I only ever rode my Open UP in a 650bx2.1 MTB set-up. I tolerated a slightly cumbersome road experience for the pure fun of more technical single-track and more vertiginous gradients. My only reservations at the time was that the original U.P. geometry was a little aggressive for both my troublesome back and rapidly declining trail-skills. They read my mind, or at least my review, and the WI.DE. resolves all of the above with a couple of strokes of Gerard and Andy's draftsmen's pens.
The WI.DE. has clearances for up to a 650bx2.4 MTB tyre – that is enough for even me. I sense that most people will default spec their WI.DE. with a 650b MTB set-up in the same way as Gravel+ and UPPER owners naturally migrate to a 700x35ish mixed-use tyre.
I sense that the WI.DE. has a different geometry – the size L feels perfect for me - I suspect but don't know for sure that the WI.DE. has a lower bottom-bracket, and/or a longer headtube? This information is not in the public domain at the time of writing – please check back here and I will update as soon as we know more. Update Seot 2019 - WI.DE. geometry is in fact different
The other big difference between the Gravel + UP and UPPER and WI.DE. is that the latter is wired only for 1 x 11 or 12 configuration - i.e. there is no 2 x option. This makes sense to me – I only ever used my UP with 1x11 SRAM Force and it was perfect for predominantly off-road use.

WI.DE. v's U.P.

RI.DE. - Riding style Allroad, Gravel, Extreme trails, Mixed surface (off-road dominant) - U.P - Road, Allroad, Gravel, Mixed surface (on/off-road)
RI.DE. - Tyre widths 700c * 35-46mm - 27.5" * 1.9 2.4"
U.P - 28-40mm Tyre widths 1.9-2.1"
RI.DE -Drivetrain 1x only U.P - 1x and 2x
RI.DE - Geometry Tall Road - U.P. Standard Road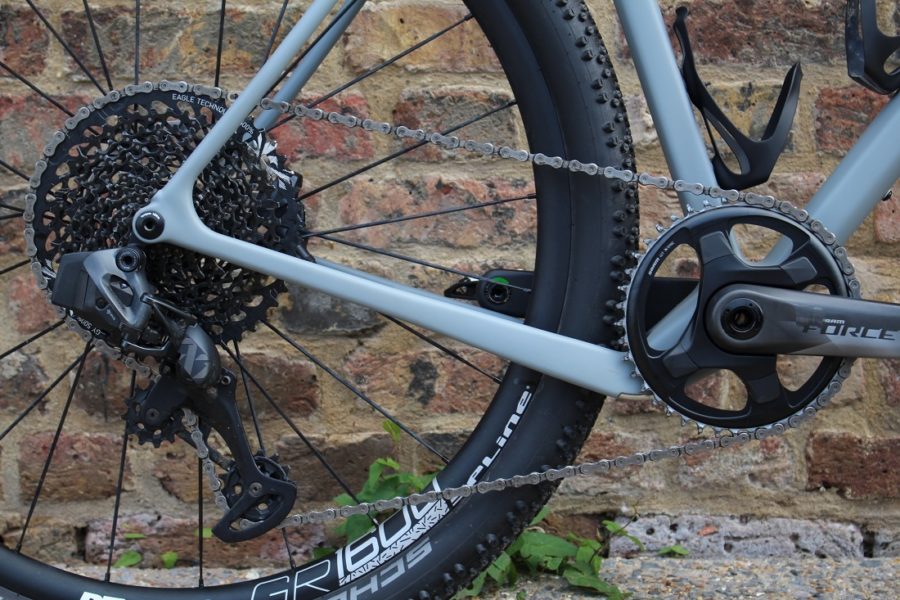 RI.DE is 1 x only reflecting off-road bias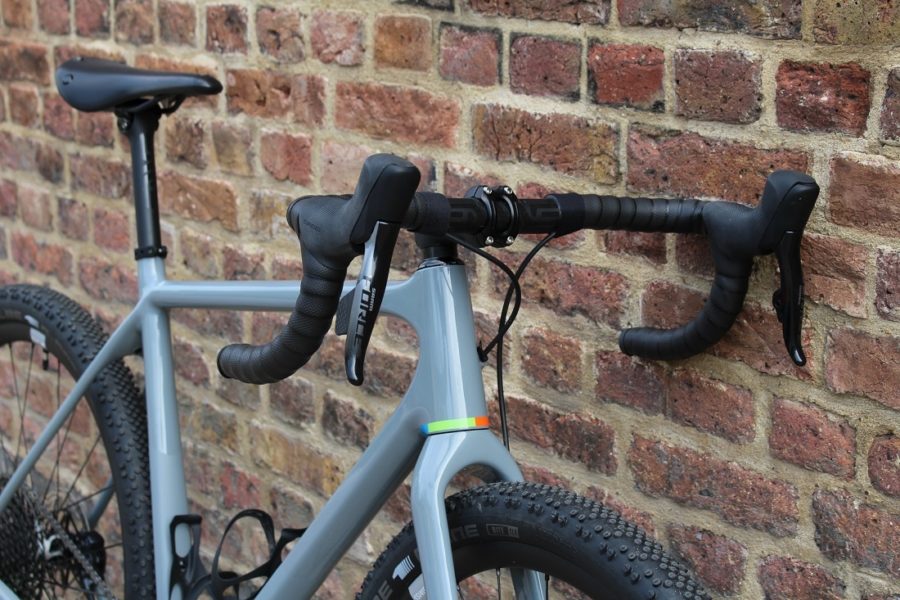 The whole bike exudes class and sophistication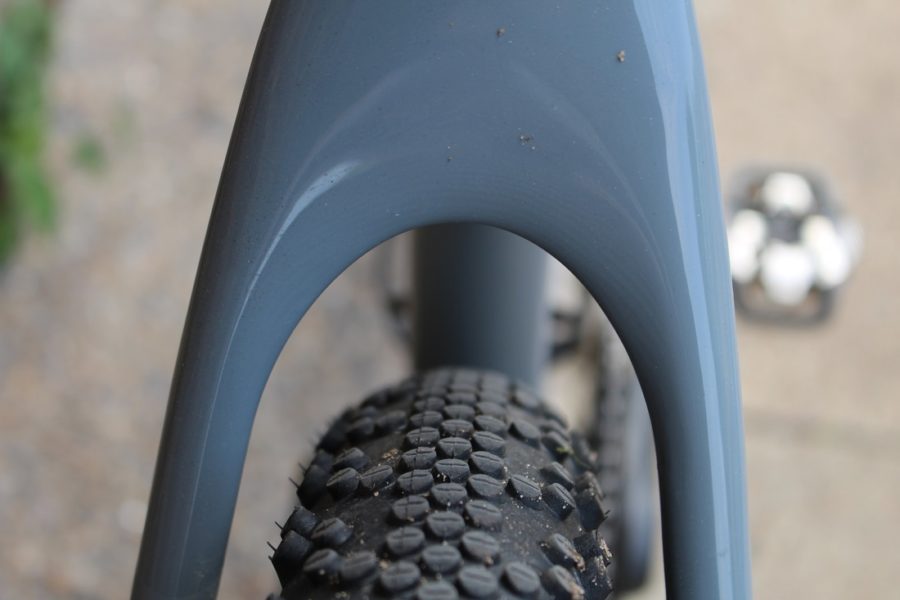 Even more clearance than UP and UPPER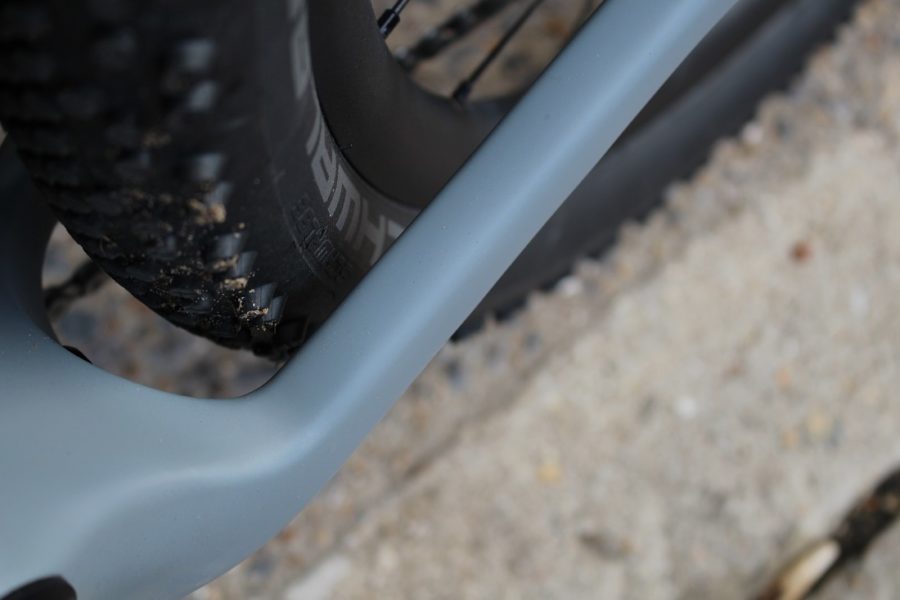 Re-shaping chainstays gives clearances for 650b x 2.4 MTB tyres
Open WI.DE – The RI.DE.
The sheer build and finish class of the new Open gives one a lovely pre-ride glow of anticipation. They are such lovely things and made more special by their rareness and originality. Our bike is made even more distinctive by featuring an as yet unavailable (ETA July) combination of Force eTap AXS levers wirelessly operating a SRAM XX1 Eagle XX rear-mech. This just has to be the set-up to go for with a 42 ring up front and an MTB 10-50 cassette at the rear. The shifts are quiet, clean and joyfully satisfying, with a seemingly perpetual line-up of genuinely useful gears whatever the gradient. Factor in an all Enve bar/stem/seatpost and a set of the new DT Swiss GR1600 Spline 650b gravel/all-raoad specific wheels and Schwalbe G-One 2.1" Bite tyres and off-road riding gets a generalised uplift in luxury, class and performance. If I had this in my garage of a Sunday morning I just couldn't see myself hopping on anything else. Why would you?
Futher info on the WI.DE is now available on the Open Cycles website here.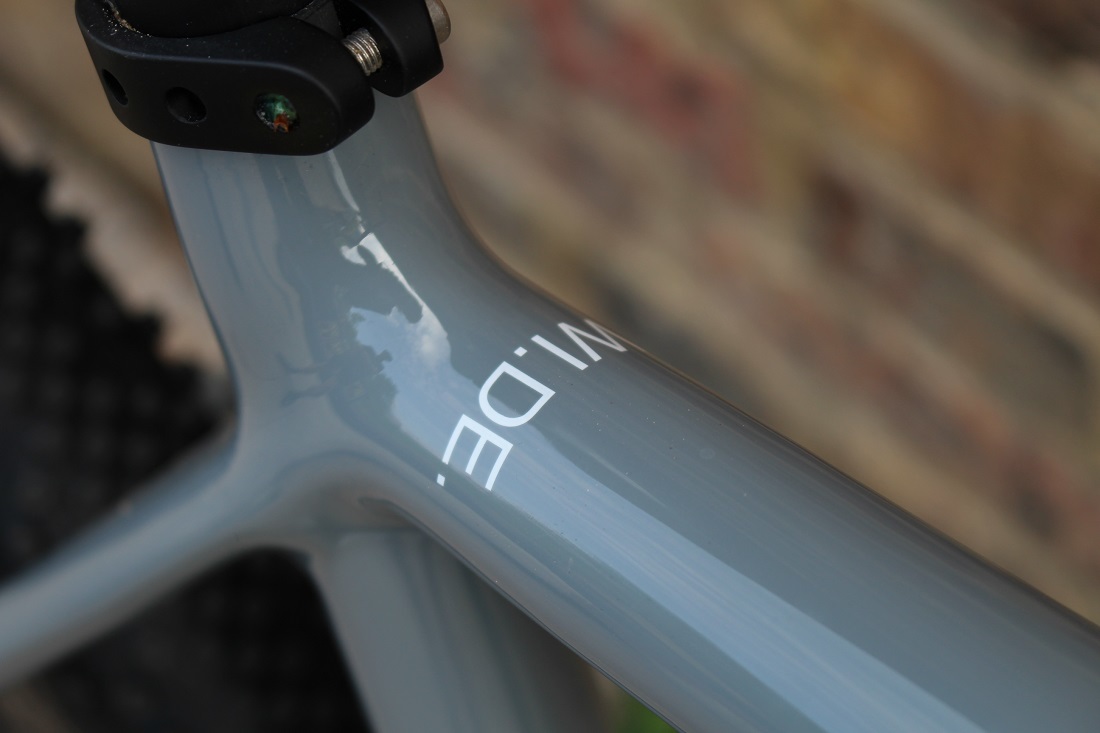 Andy from Open introduces Classic Orange on the new WI.DE.
Please call or email for build options.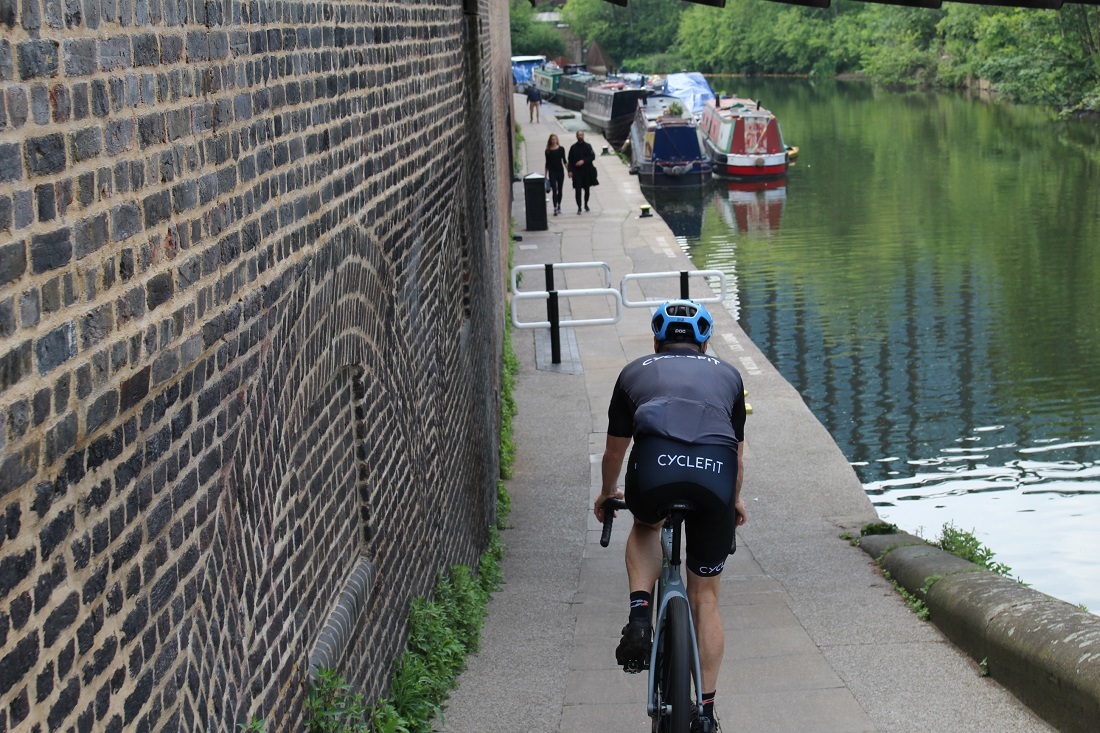 Live in peace with your bike.