"It takes a rare combination of talent and experience to work at World-Tour level, with riders whose livelihoods and reputations rely on your judgment"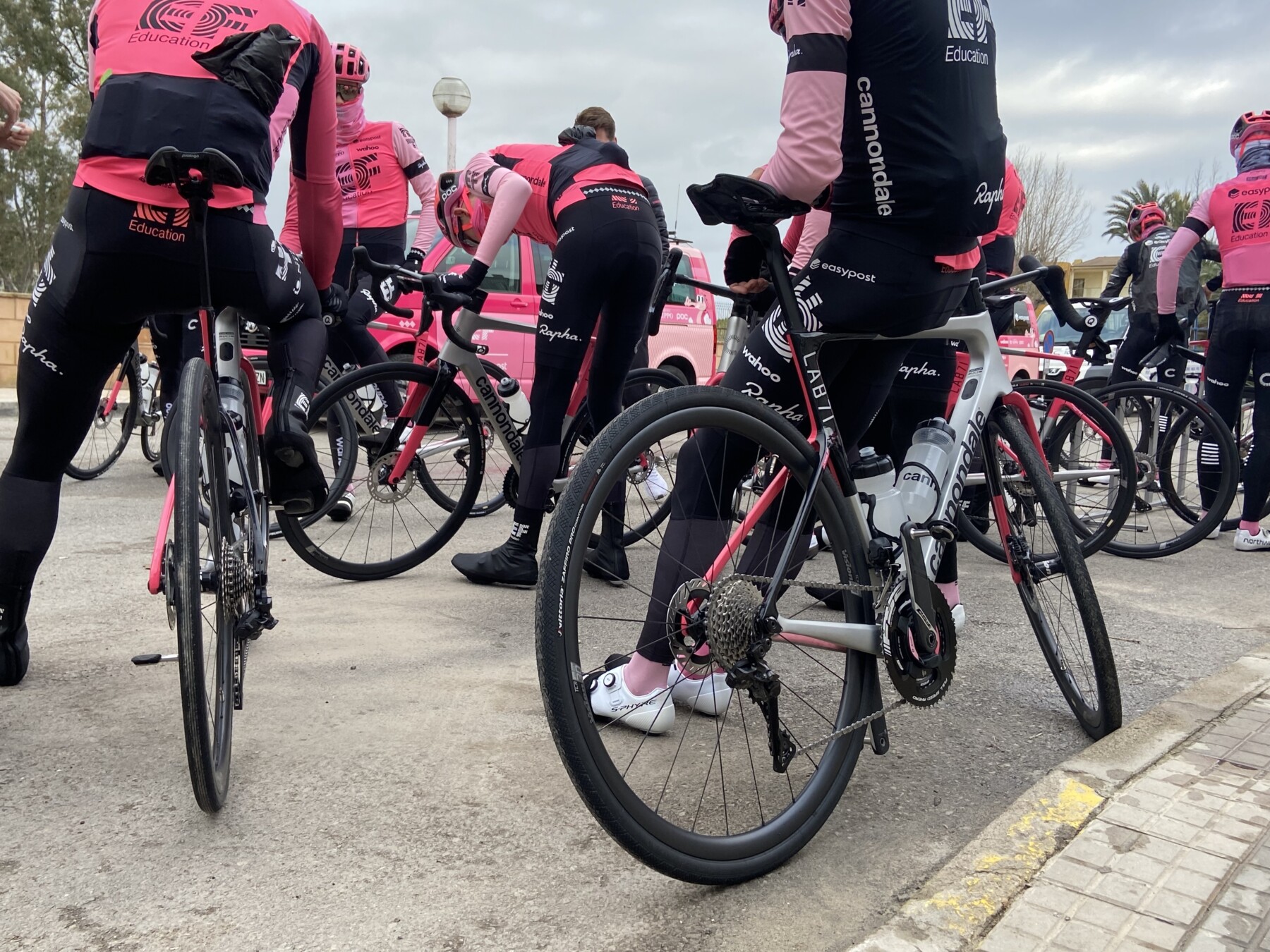 Team camps are where bike-fitters really earn their crust. Problems have to be solved before the season starts
The Elite Cyclefit Package
The complete bike fitting and orthotics package for elite and professional cyclists.
It takes a rare combination of talent and experience to work with World Tour riders, where their livelihoods and reputations rely on your judgment. And not all of us can step up and work under this pressure and intensity. But Jules and Mick can and do, with some of the brightest stars in the cycling firmament.
Julian Wall (Cyclefit co-founder) and Mick Habgood (Specialist Cycling Podiatrist) work at the highest level supporting the world's best cyclists and triathletes.
Their combined 30 years of experience working with World Tour Teams, National Teams and individual riders has created a skillset unavailable elsewhere.
The Elite Cyclefit Package consists of: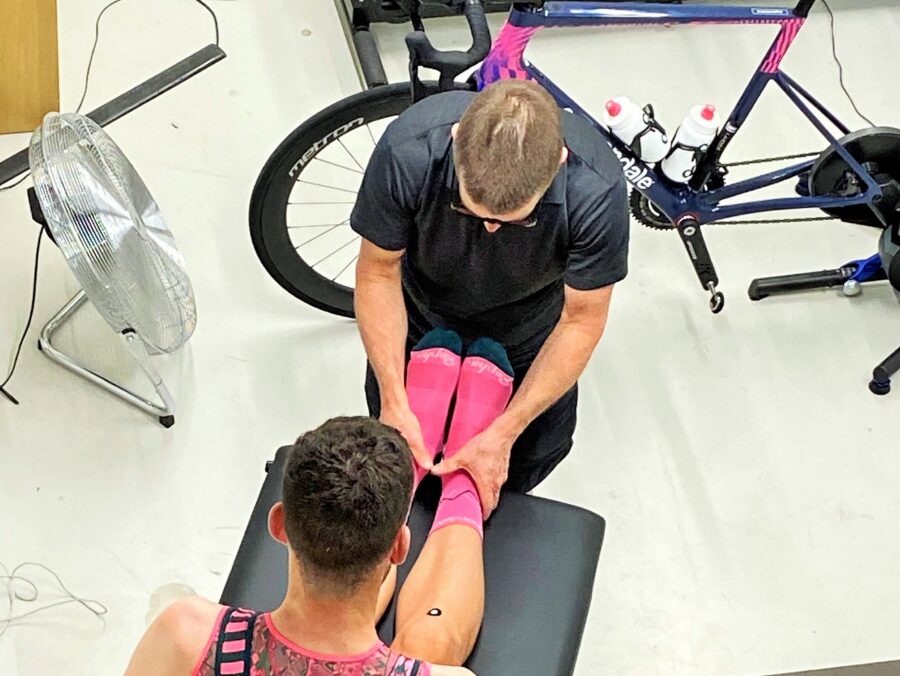 Julian working through a physical assessment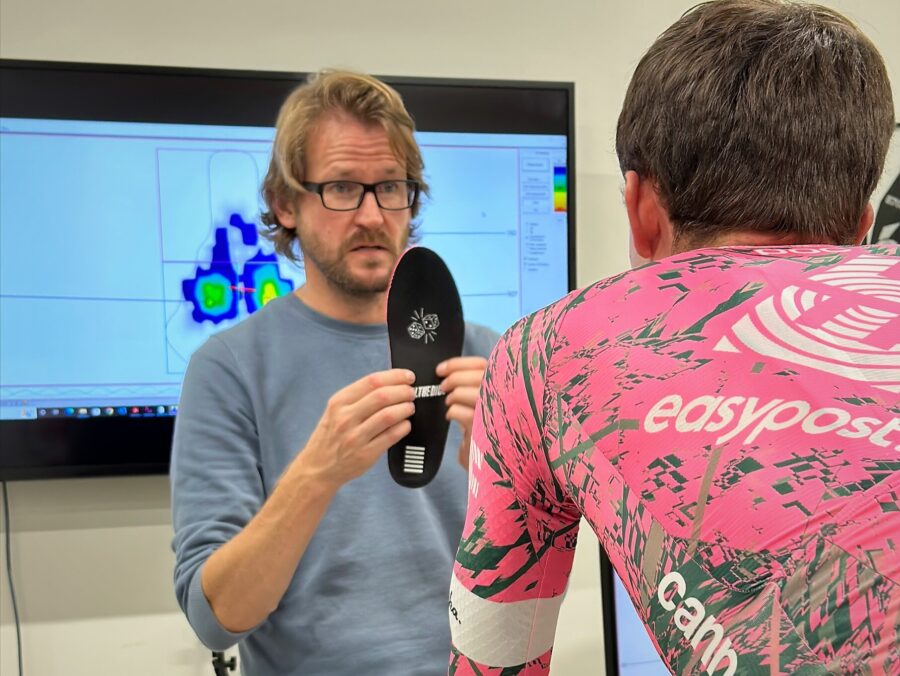 Mick explains the principles of foot control
Stage One
Initial discussion with Julian Wall and Mick Habgood to assess your requirements and the best PATH forward to achieve your goals for the new season.
Consultation for your Mik.Fit cycling orthotics: an off-the-bike assessment and examination by Mick Habgood. Understand how your feet affect your pedalling, your biomechanics and performance. A cast is made of your feet in their 'best' position for your cycling orthotics (walking orthotics may be recommended depending on your foot type and issues).
Shoe recommendations will be made based on your foot type and sponsors to provide the best fit.
The Cyclefit with Julian Wall – begins with an interview and an off-the-bike assessment to get to understand your you and your body better. Your current riding position and equipment is checked.
Your existing position is transferred to the Fit Bike and adjustments made with live feedback on the pedal stroke (using Spinscan), pedalling technique and posture. Four cameras are employed to show all aspects of movement.
If you have injuries or discomfort feedback will be provided on your current bike position and how it may be contributing.
Your current saddle is pressure-mapped to show contact points and hotspots. Alternative sponsor's saddles can be experimented with to find the best match to your pelvis.
The new measurements are recorded and compared to your current bike.
Component recommendations to include saddle, crank length, hood position, cycling shoes, cleat position.
Advice on the correct frame size (if changing teams for instance) and set-up.
For riders with chronic issues we can refer to a specialist Cycling physiotherapist and World Tour Team Doctor.
Adjustments can be made to your bike by our team of mechanics and/or we can provide the measurements for you to give to the team.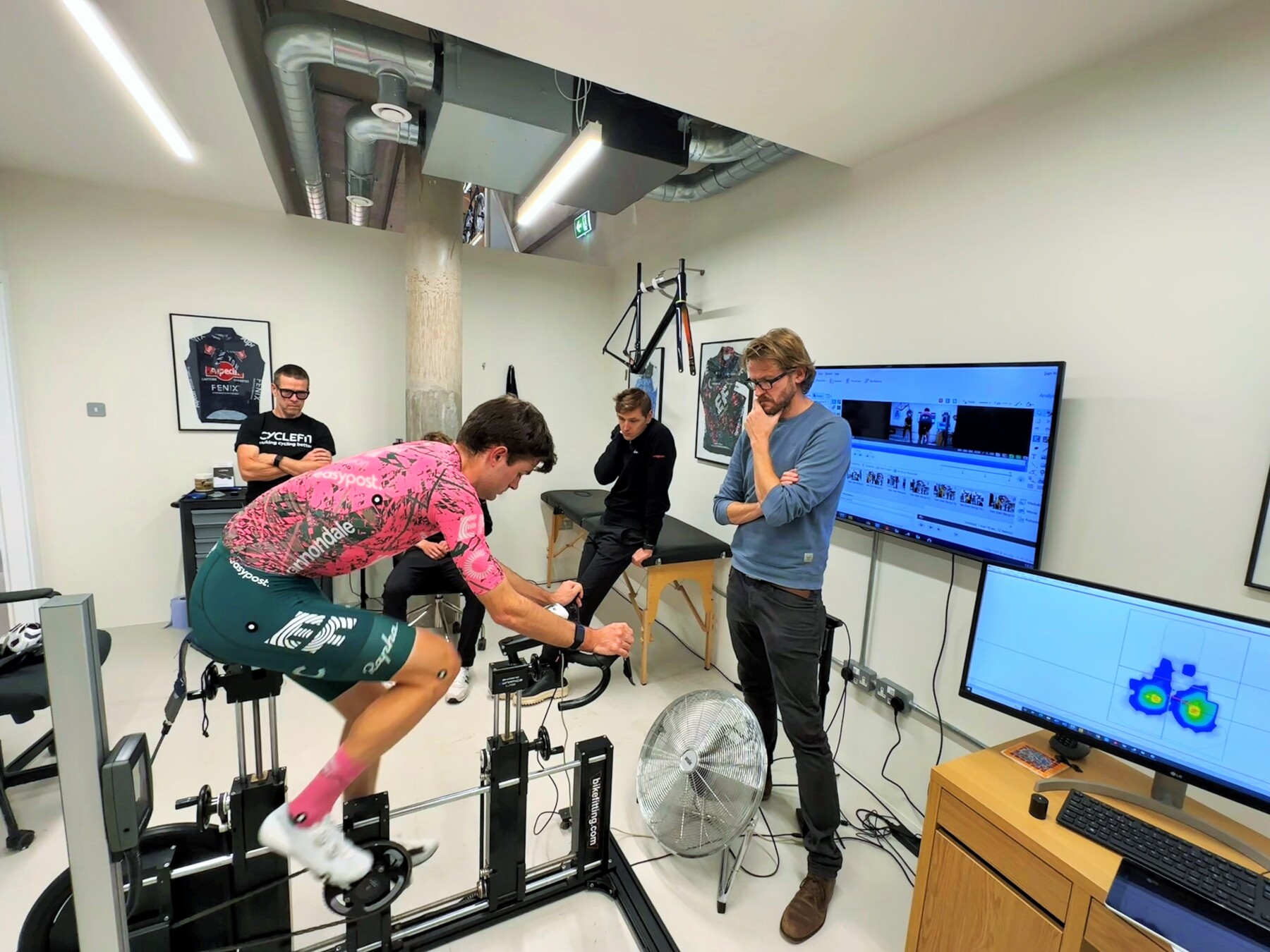 Mick and Julian have worked together at this level for fifteen years.
Stage Two (four weeks later)


Installation of orthotics into your shoes and the chance to ride with them and feed back to Mick. Adjustments are made to dial in the orthotics for optimum contact.


Position check follow-up. Adjustments to bike set-up and footwear/cleats after the installation of the orthotics if required. Components adjusted or changed based on your feedback.
Personal contact will be continued while the body adjusts to the new position.
Stage Three
The final on-line appointment is eight weeks later which is usually enough time for your body to have been able to adapt to the changes and a double check that all is well. If there are problems the appointment would be at the Cyclefit Studio to make adjustments.
Note - Extra orthotics can be ordered if required – we will provide you with the casts as the manufacturer can only store them for five months. And aero positions can also be assessed and integrated.
The Elite Cyclefit Package with Julian and Mick - £1,200.00