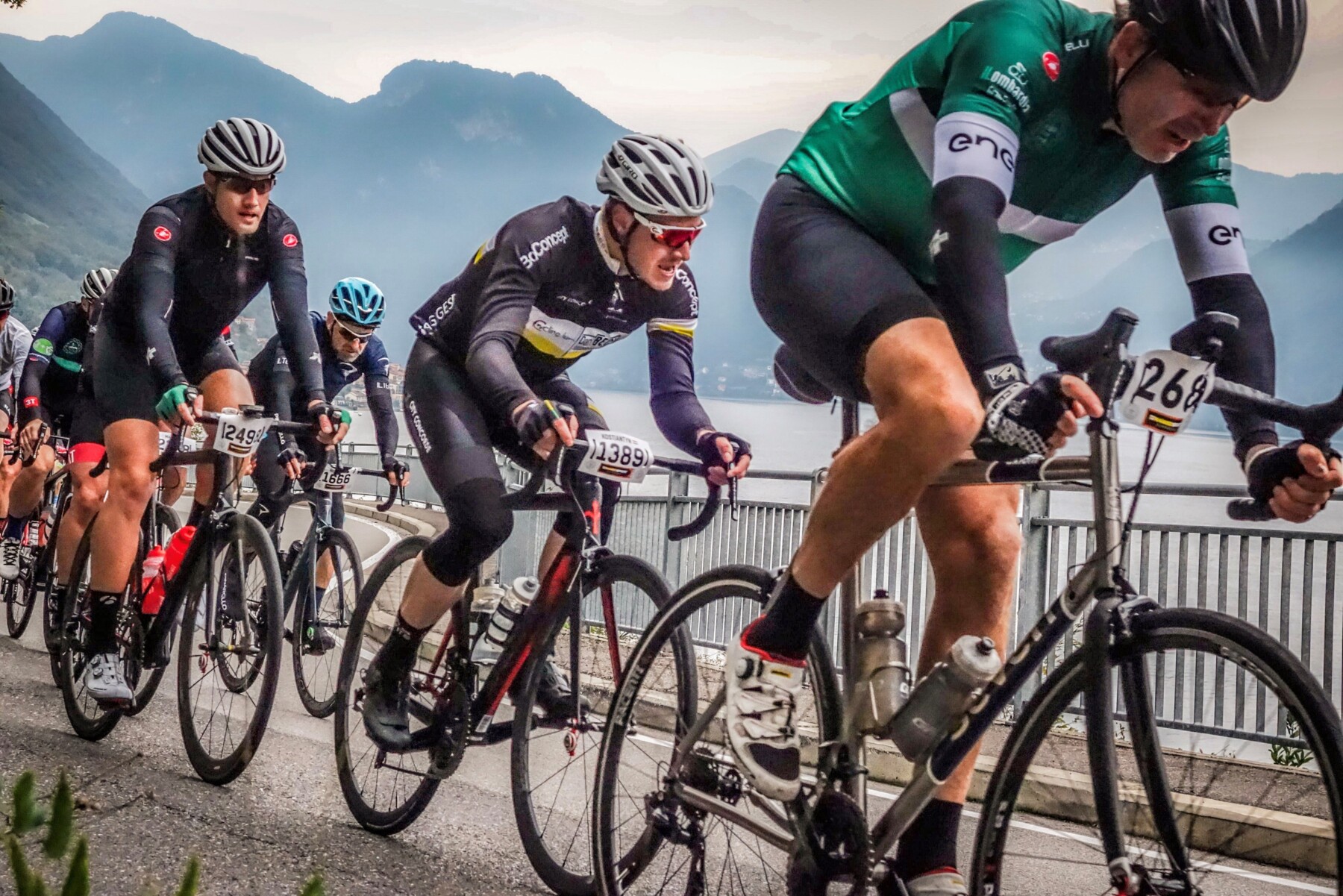 Gran Fondo Lombardia


Having missed the Etape du Tour due to injury and lack of motivation – they seem to go together – I pencilled in the Lombardy Gran Fondo to end the season. Nothing much else to report on for 2019, but I may update you as we approach Christmas.

Whithering Thighs
I'd managed to get the knee pain sorted that has been bothering me since May and curtailed my cycling with the help of Alex Fugallo of Beyond Health, it was due to the withering Vastus medialis on my right leg.
Brief history: Torn meniscus in 1994 that took until 1996 to diagnose and operate on, crap rehab and back to work too soon and the poor VMO never came back to its old self. There was no Google back then so the diagnosis took a while. The right leg has always been smaller in diameter since then due to muscle loss. Now, in my mid fifties if I take a week off the bike my quads whither and die in front of my eyes (occasionally in focus with my varifocal glasses) and my FTP drops by 30 watts. I had trouble with the leg in 2018 but thought the long cranks on the MTB were to blame.
Avoiding the issue
The unconscious part of the brain wants to protect the body if you do something that causes pain, the brain tries to stop you doing it, in my case it was pushing down on the pedal, so, unconsciously I would ease off on the right leg giving it an easy ride, maybe pulling up a little more than I should do.
At a certain point in the pedal stroke there was a peak in the pain as the crank angle, foot and knee angles combined in a perfect storm, "ouch" said my brain and to avoid damaging the knee joint it would make my foot involuntarily dorsiflex (drop the heel) to release the pressure decreasing the power put through the pedal and encouraging me to drop off the right side of the saddle. (I am now using Rotor Q-Rings on a couple of bikes and they feel much better, they move the power peak further around the pedal stroke; more about them in the next blog instalment).

The power split was always 54% left, 46% right unless under heavy load on a climb for instance.
The VMO got weaker, the hip flexor tighter, then it started hurting more and I had to get off.
I went to see Alex, the lateral quadricep the Vastus Lateralis was like wood, the VMO like a used, dried out teabag and the rec fem was oh so painful when he stuck his fingers in to it. Some manual therapy, ouch, dry needling and exercises were required.
I proceeded to do one legged squats and squats with weights and seated leg extensions, the discomfort subsided and I was able to ride again.

Now I could push down but the leg was still weak and if I didn't concentrate it would slip into its old habit of soft pedalling, get weaker and the hip flexor tighter. One of the therapies was to pedal without clip in pedals so I wouldn't pull up on one side to compensate, I modified my cleats so I couldn't pull up, that was OK until I tried to bunny hop on to pavement and my knees came up around my chin!

It's an ongoing project.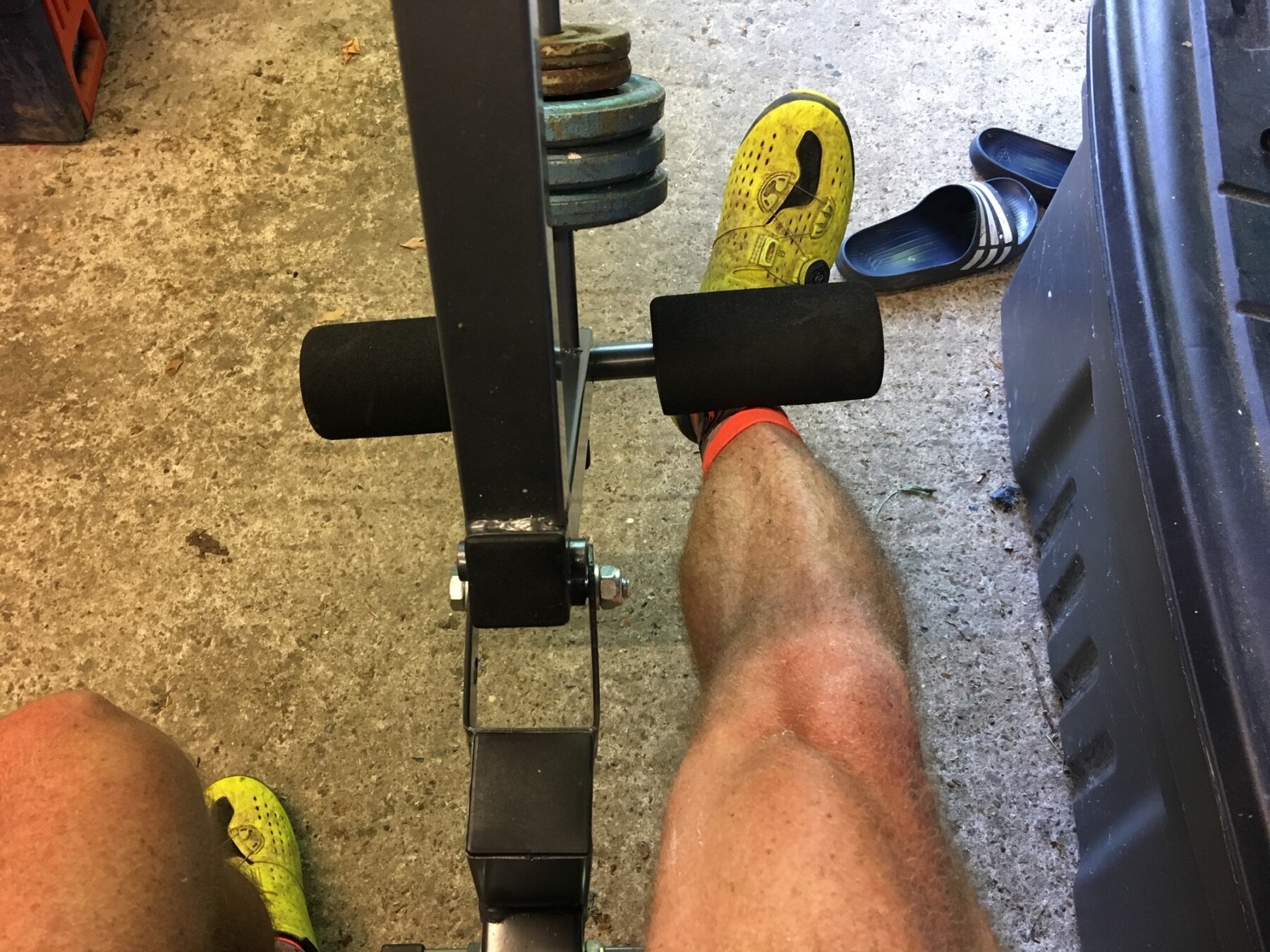 Ernie Wise on my weights bench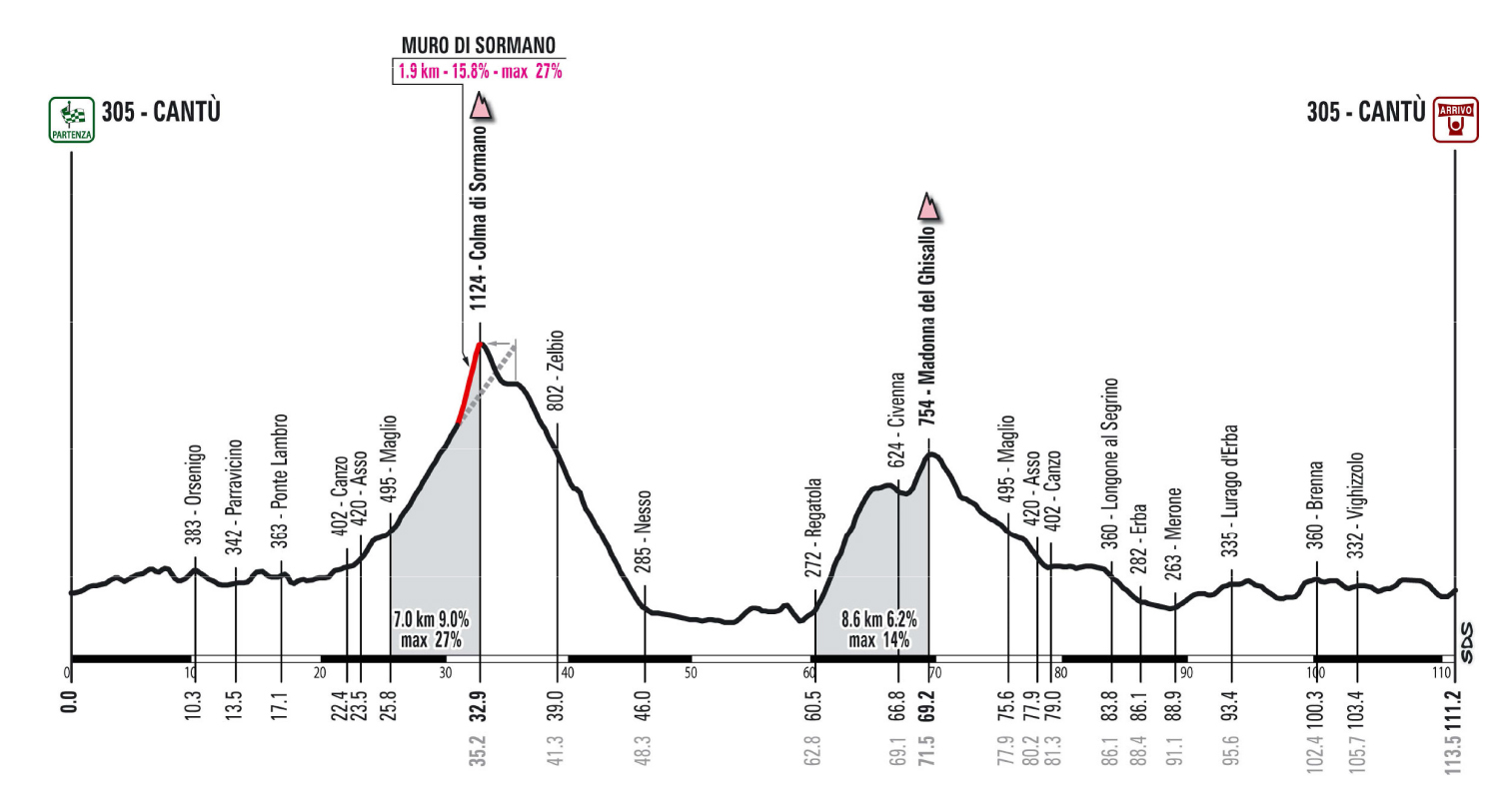 The Lombardia Gran Fondo route
Back to Lombardy though, better times. We arrived on the Thursday evening and managed to fit in three rides before the Fondo on the Sunday and I doubled my weekly mileage, if you have the opportunity to ride you've got to ride.
The first ride of 80km was on the Friday around Lake Iseo, it is smaller than Lake Como but the roads are quieter, we kept it flat and steady and put in one twenty minute climb to 'open the pipes' as they say. On the Saturday morning we did an out-and-back from Como where the Pro race finishes. We met for coffee in the centre of town for a coffee that was hectic. There were plenty of cyclists queuing for their caffeine, we were in Passoni's back yard they were there taking some of their customers out for a ride too we mingled and slpit in to two groups and headed out along the coast of the Lake. It was quite an intense ride on crappy roads and crazy drivers.
The pace was upped on the way back by our guide the modest and talented Mr John Lee-Augustyn (ex Barloworld and Sky rider whose career was ended by a hip injury) I like it when it is 'upped' but popped on the last ramp, John was still chatting on the front, looking smooth, just tapping along… I never learn, I left my Gran Fondo legs on the shores of Lake Como.
Watching John's pedalling on the road and in this video you can see that a simple intervention when he needed it most as he came back after his hip replacement may (would) have made his pedalling a lot more efficient. His damaged leg was painful when the effort went up which is understandable but the foot was unstable and he was unable to control it. Cycling specific orthoses with forefoot support would have helped so much, a stable foundation builds a stable athlete. His knees adduct in to the frame trying to drive his first met in to the shoe, his heels drop on the climb as his feet vainly look for contact with the shoe, leaking power and destabilising the pelvis.. Yet, he rode for two very high quality Pro Teams who missed the bleeding obvious and let him down. If only we could go back in time, if only. Not surprising though, we fitted one Italian rider who had been prescribed magnets in his foor to 'keep him straight'! And I still see riders in the Pro Peloton with one or both feet flapping on the pedals, losing power, falling off the saddle, losing races. Our telephone number is...
Back to Lombardy though, we got changed, got our VIP passes and headed over to the Lombardia Hospitality on the finish line, we loaded up on pasta, little cakes and Prosecco and then watched Bauke Mollema take the win. I was so very pleased for him, he is a lovely man and such a hard worker, a well deserved win for him.
An early transfer Sunday morning for the 7:30am start, we pulled up in a car park in the dark with a few hundred other Fondoista's and debated on what to wear it was chilly but getting warmer later. Arm warmers, no gilet. Nothing of note other than the gimp who came over to us rubbing his thighs like Vic Reeves and asking to borrow some embrocation!
The start, waiting, shivering, wishing I had put my clear lenses in, trying to change the screen on my Wahoo without my Varifocals on; a bit of a shuffle, shit music and then we were off, every man and woman etc for themselves, Ian belted off up the road, recently retired and full of beans. I stuck in the wheels trying to summon up some energy most of which I had used up on the previous two days. Under prepared as always.
After 10km the knee started hurting, I thought it was going to be OK, nothing could be done I had to ride it off so I kept on truckin'.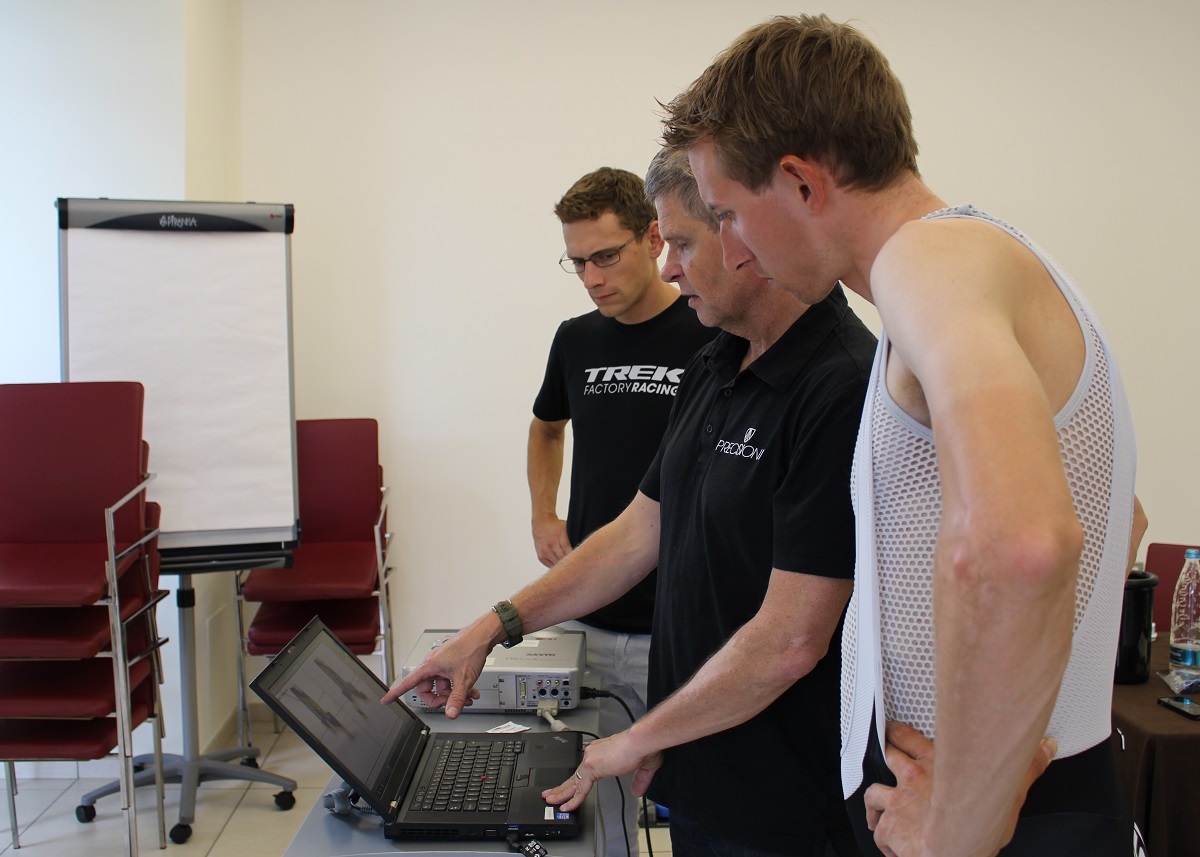 Lombardia 2014, Phil works with Bauke when he joined Trek Factory Racing from Belkin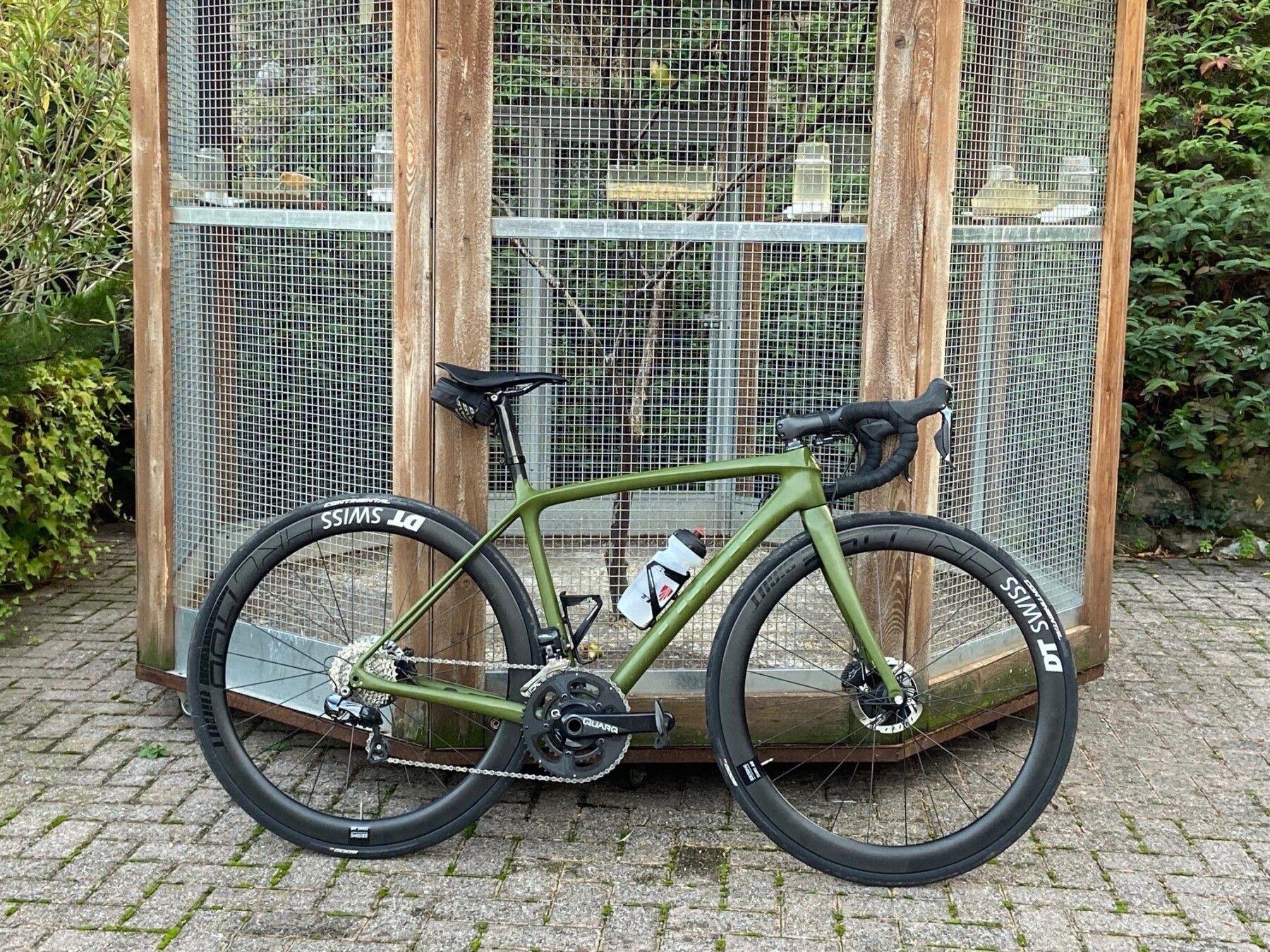 Trek Emonda SLR Disc Lomabardia Mix
My wonderful Trek Emonda now equipped with a compact chainset (34/50) for local riding and racing (I did two) and Barna had fitted a 32T cassette for me, however I kept the short reach rear mech on to stay in budget and the chain was too short so I had to be careful riding the big ring to travel too far up the cassette or there would be trouble. The 32 was nice though, I could spin up most of the climbs as they were not very steep apart from the daft Muro Di Somano steep route option that rose at 27% in some places, I had to get off twice.


Technical Spec
| | |
| --- | --- |
| Frameset | Trek Emonda SLR H1 - Olive Green Vapour Coast |
| Wheelset | DT Swiss DICUT 1400 |
| Tyres | Continental GP5000 tubeless 700 x 25mm |
| Powermeter | Quarq 50 34 Praxis chainrings |
| Shift levers, brakes & rotors | Shimano Dura Ace |
| Rear Derailleur | Shimano Ultegra |
Front Derailleur
Shimano Dura Ace
Handlebars
Zipp SL 70 carbon
Stem
Zipp Service Course carbon
Saddle
San Marco Shortfit Racing
Handlebar tape
Bontrager Cork Double Gel
My latest upgrade are Tubolito inner tubes but only for special days, I need a smaller seat pack now.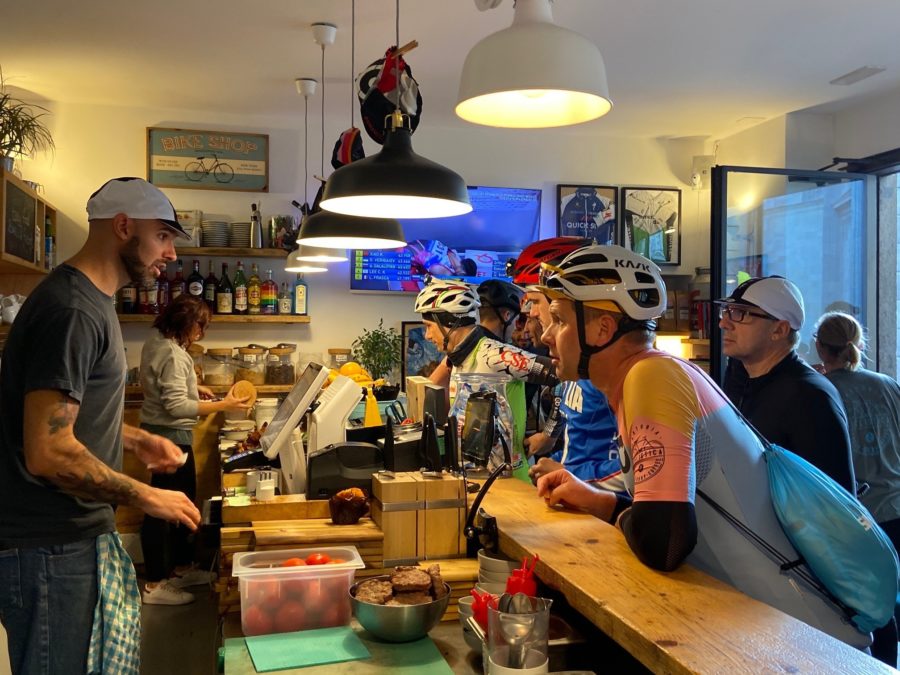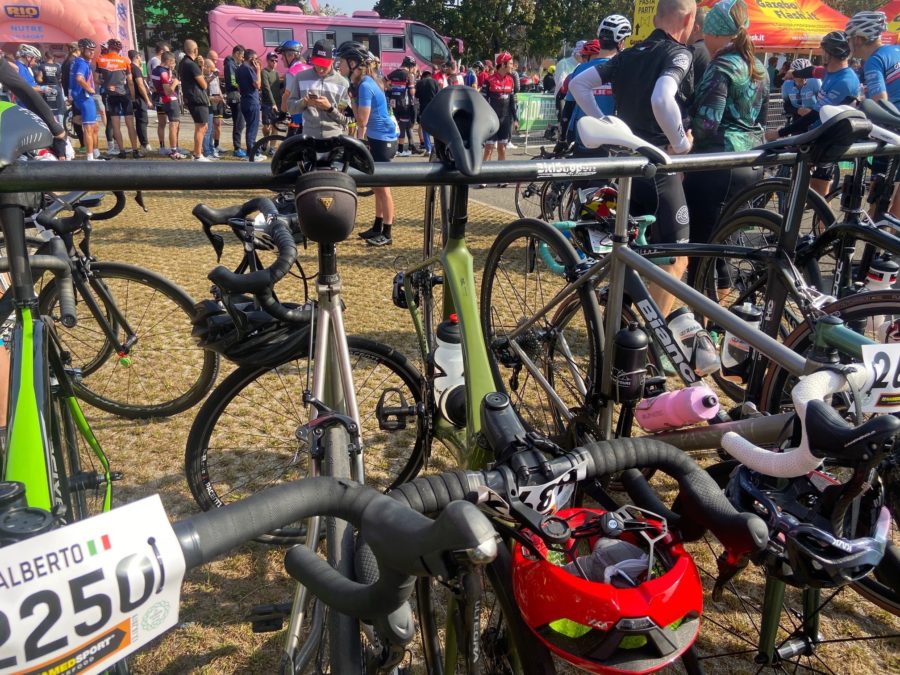 On the rack: Seven Axiom SL, Trek Emonda SLR Disc, Passoni Nova
Once over the top with my breath back the descent was spectacular, I think the road was closed as I didn't see any cars, I didn't see Richard The Flying Barrister either who decided to throw himself off the edge, only one guy wrapped in foil on a corner, maybe that was him? Fast and twisty with damp patches (the road not me) I loved it, getting a bit scared clears the head; near the bottom I found some big fellas and tucked in as they raced along the Lake Como coast road to Regatola, hanging on at the back and trying to eat. I have to mention here that despite how tasty a Veloforte bar is they are buggers to get in to at 40kmh! Those big boys were going too fast for me to take a turn on the flat; it all split up as we started to climb the Madonna Del Ghisallo, surprisingly I went past a couple of the group, they should have put 32 sprockets on I thought and sat on the back for a bit with me.
The last 50km to the finish at Cantu are flat so it was heads down to the finish. The Gran Fondo Lombardia is only 126km long and the climbs are small unlike this year's Etape du Tour which was an eight hour slog in 38 degrees up huge Alpine climbs, that sounded very grim. It means you still have some energy left later in the ride and so does everyone else; it was a chaingang all the way to Cantu, by this time the roads were shared with local traffic and the marshalls and police were indifferent to controlling anything passing through a junction, cars, busses and cyclists taking things far too seriously, it was bonkers!
Wheel sucking as I usually do for most of the way (I know its not good etiquette but I justify it by making an allowance for my age as I'm riding with some young whipper snappers and I don't train very much!), I found myself coming out of a corner chasing the group in front riding in the 50/11, I don't normally do that sort of thing for very long, it was very exhilarating as I counted down the kilometres wondering if I could hang on to the end. My one litre of water had been used up, I didn't want to stop at a feed station and lose time, I don't know why, I just don't like stopping and watching all the riders going past me, not that it made any difference as my timer stopped working on the Ghisallo and I got a DNF, according to Strava I was somewhere in the first 25% which I'll take.
Bellissimo. It was time to dehydrate even more in the Race Finish with beers and pizza.

I'm heading back to Italy in March to ride the Strade Bianchi Fondo you're more than welcome to come along.
Big thanks to Italy Bike Tours for making this so easy.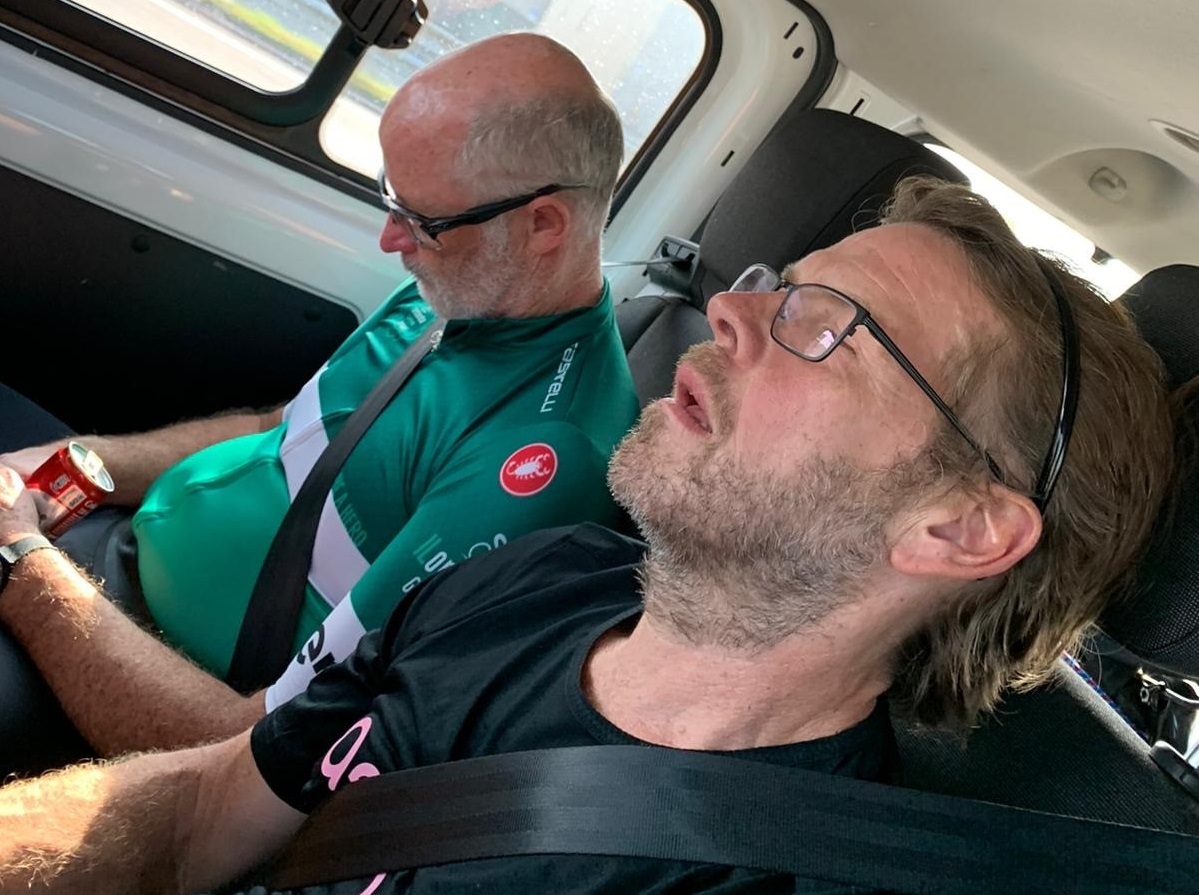 It'll be a SAGA cruise for these two next year