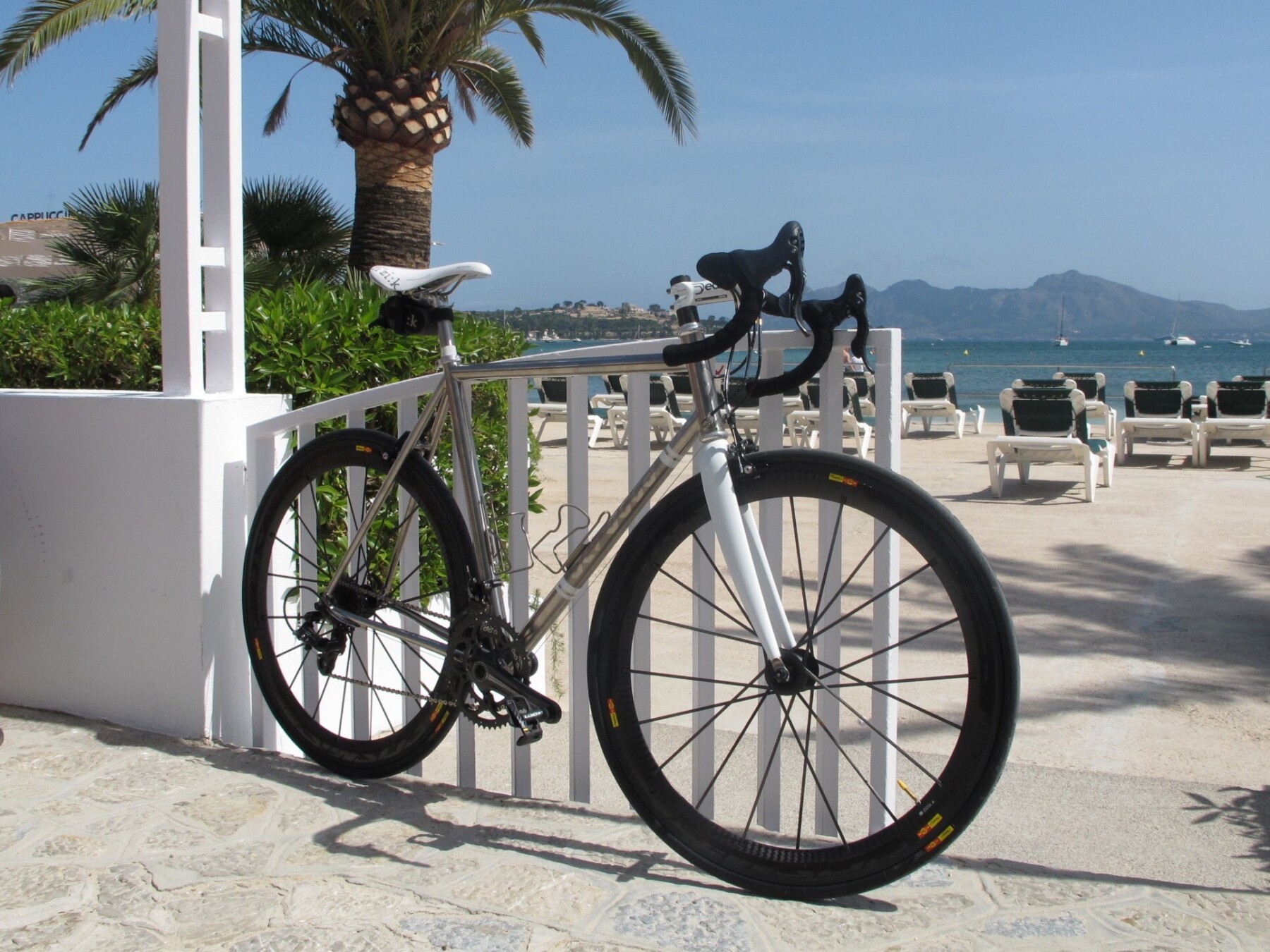 Cutting edge a decade ago. Does it cut it now?
"I originally planned this bike as a partner for tens of thousands of miles of adventures, but events conspired to turn it into a museum piece."
Time's Arrow
Covid-19 has done strange things to the concept of elapsed time. It seems to variously elongate and then compress its very essence, to the point where the normal time continuum is starting to bend around. The lockdown was such a bewildering, once in several generations event, that time seemed to both stop in the moment, and yet now taken as a block, go past with the snap of a finger. Pre-March Covid-19 life is a bygone age and the lockdown a meandering weird dream.


It is strangely allegorical of my relationship with my beloved Serotta Legend SE, which some of you may have seen high up on display at Cyclefit for the last ten years. It was designed just after my daughter was born in 2010. It was my intention to ride the brutal, 2012 Etape du Tour, with Jules; taking in the Cols du Aubisque, Aspin and Peyresourde, as well as a trot up my nemesis, the horrible (and always raining) sodding Col du Tourmalet.
It coincided with an anticipated return to racing (time-trialling), which was to start mid-October 2011 with a 2-up 40k TT. I had trained that week with my partner in Richmond park and was pleased with how my legs felt – the speed was coming back. Even Matt - twenty-five years my junior - was impressed and started to visualise that we could win on the Surrey Course. Matt was a former sub-20 minute / 10 miles junior athlete, who was returning to form himself. He was delighted to find there might be some handy reserves in the engine room to supplement his own.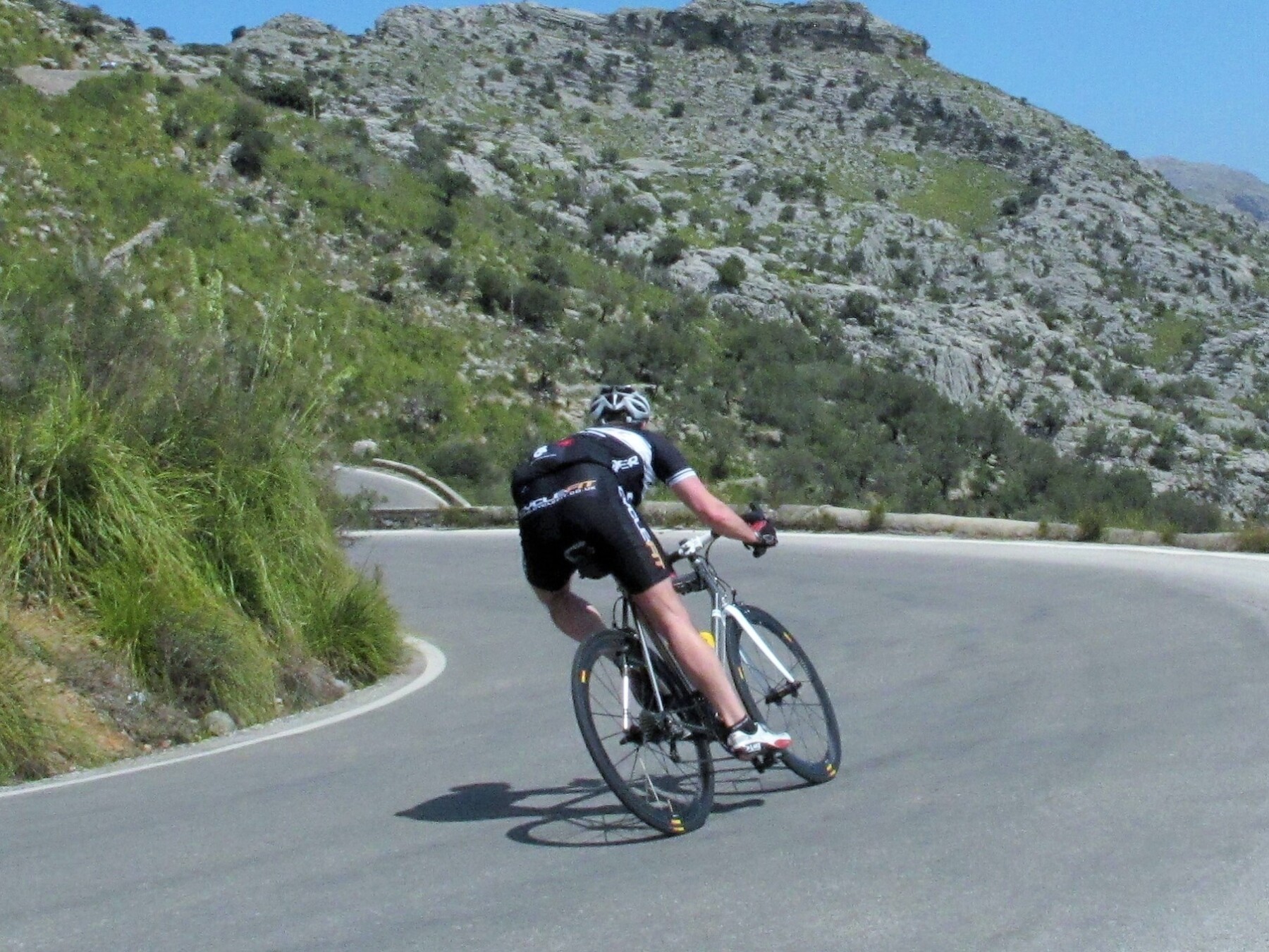 Mallorca 2011. We never know what is ahead of us. Luckily.
"overlooking the comings and goings of beautiful bikes and their proud owners, as well as a multitude of technological shifts that belied the Serotta's Dorian Grey beauty by rendering it technically obsolete."
Serotta, who? Campagnolo, who?
My Serotta Legend arrived and was built up with my favourite Campagnolo Record 10sp groupset with peerless Campag Neutron Ultra wheels. I managed one short, marvellous ride before it was all change. A great friend and client - let's call him Nigel, was reporting that his new Campag 11sp Super-Record groupset on his glorious new Serotta Meivici was entirely underwhelming. We immediately took the whole groupset off his new bike and replaced it with something else (I can't remember what – maybe even Dura Ace?). The 11sp groupset was then put on my bike for evaluation, mainly because, in the moment, we were getting no helpful information from the Campagnolo importer at all.
By way of context - up to 2010, Cyclefit was about 80% Campagnolo and 20% Shimano/SRAM. But the first iterations of Dura Ace Di2, whilst ugly because of the external battery, actually worked impressively well. Campagnolo, caught on the hop, had bought out 11sp Super-Record in 2008/9 and electronic, EPS, shifting in 2011. Both, from our perspective, were fraught with problems, and in our opinion, allowed the colossal Shimano corporation to dominate the worldwide market for road groupsets ever since. Bear in mind that for many of us, including our mechanic, Barna, the circa 2004-2008 Campagnolo Record Carbon 10sp componentry is some of the most resilient and iconic cycling componentry ever designed.

I took my new Serotta Legend SE away on a Cyclefit client trip to Mallorca without riding it with the new groupset. I then very quickly picked up two things – a cold (predictable) and also set of deep-section carbon wheels from a client's bike – he hadn't ridden them before the camp and was not a fan of how they picked up side-winds on the mountain descents. And that my friends, is how the bike is presented in most of the pictures in this Journal.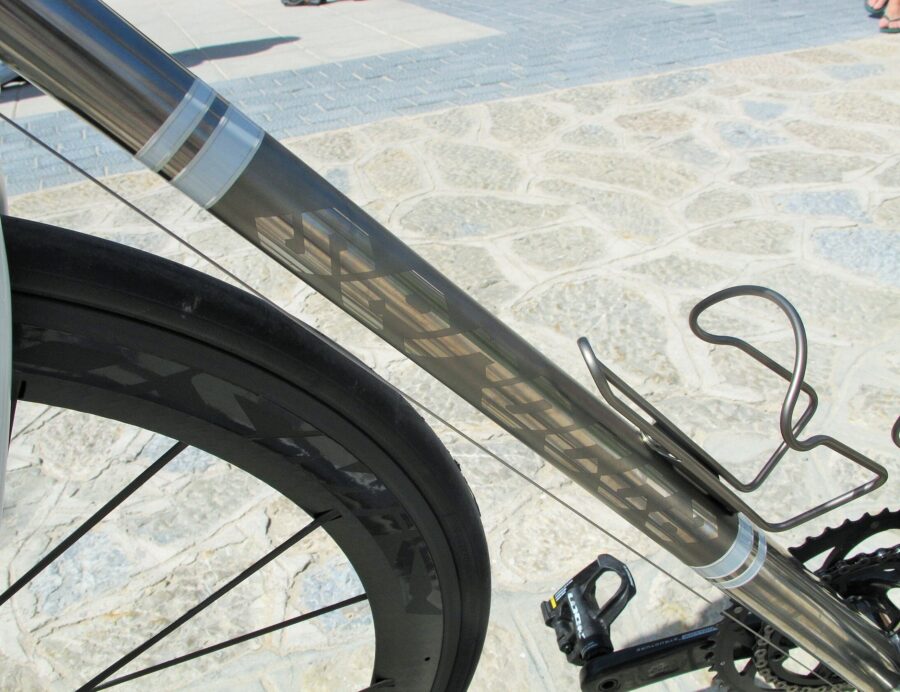 Triple-butted US-milled titanium.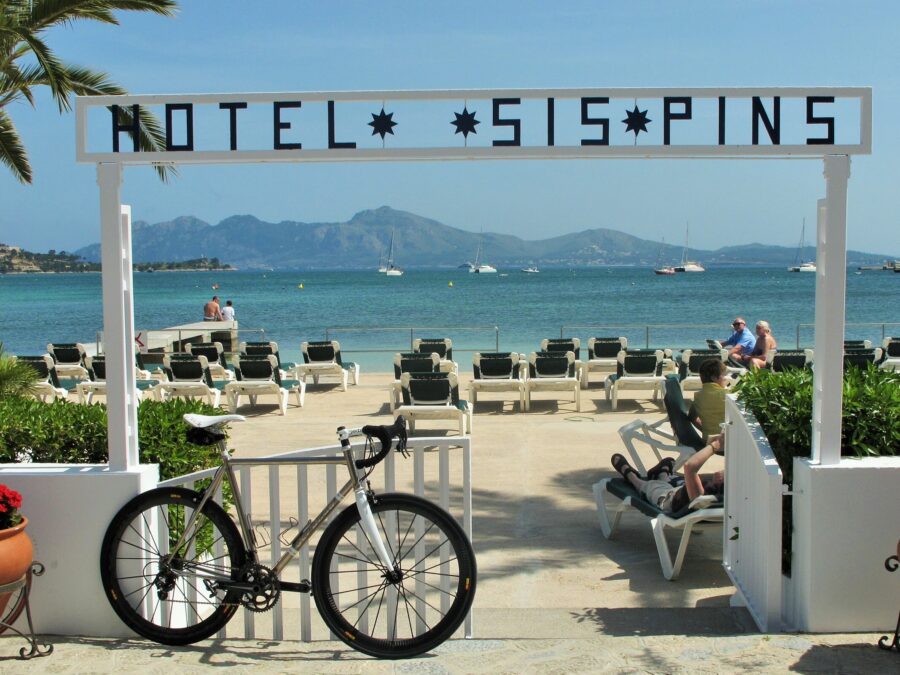 11sp SR groupset and client wheels.
"My accident in the autumn put my riding and the beautiful Legend into a deep-freeze"
My Dorian Grey Serotta
I rode a few hundred kilometeres in Mallorca - feeling better towards the end of the week as the cold faded away. The shifting on the 11sp was, as Nigel accurately reported, unfulfilling soft and vague – entirely lacking the Swiss-watch percussive staccato of the outgoing 10sp equipment. But the bike I loved. It was essentially a replica of my pink Serotta Coer d'Acier, that I rode the 2008 Etape on, with Jules. Both incorporated a -2 degree toptube slope that Jules and I liked at the time to give a quasi-classic aesthetic.

Back from the camp and we were so busy at Cyclefit that changing the groupset back on my bike back to the venerable 10sp record kit, kept sliding down the pecking order. At the end of that summer it finally got switched back – I am not sure if I grabbed one final ride in its intended state or not.

My accident in the autumn put my riding and the beautiful Legend into a deep-freeze. The latter preserved on our wall at Cyclefit for almost a decade - preserved in aspic – high up outside our office, overlooking the comings and goings of beautiful bikes and their proud owners, as well as a multitude of technological shifts that belied the Serotta's Dorian Grey beauty, by rendering it technically obsolete. It was ultimately a rather forlorn figure as it dated in plain view but mostly ignored. To start with the ultra-polish razor lines were hard for me to contemplate – the first spine surgery had failed, and I was in trouble physically, medically, and therefore also emotionally and mentally. As three years turned to five, six and seven, the Serotta became less technically relevant but also still outwardly immaculate and virtually brand new. I was never sure if it was taunting me or inspiring me in my darkest days when the outlook looked most doubtful. My eye has been drawn to the form of this bike literally thousands of times, as I climbed the stairs to my office over the last nine years. We know each other very well. The situation is given an extra dimension as Serotta ceased trading in 2013 – making mine conceivably the newest and finest Legend SE on the planet. I originally planned this bike as a partner for tens of thousands of miles of adventures and yet events had conspired to turn it into a museum piece.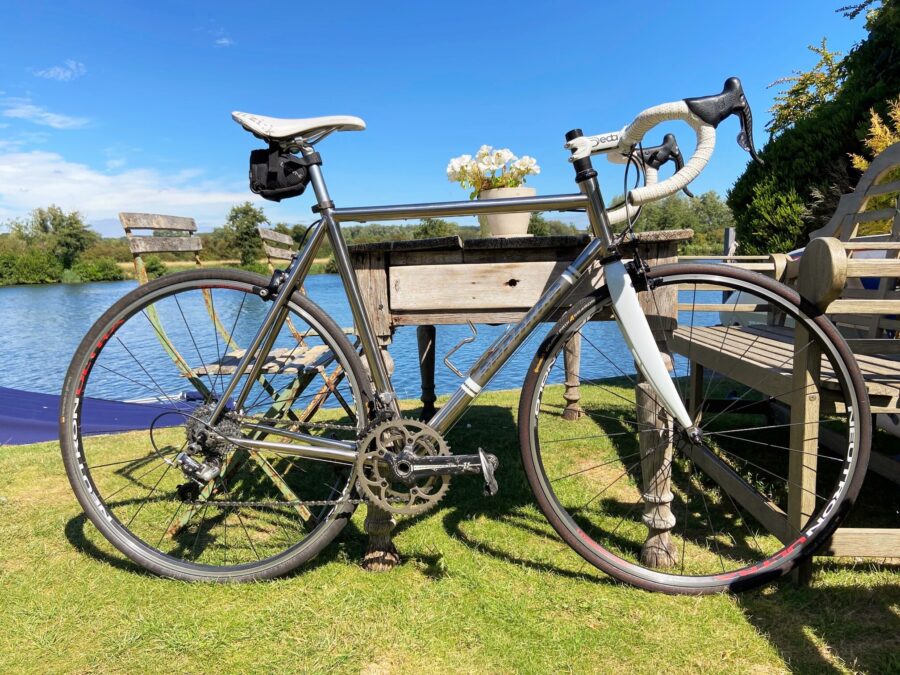 How it looks today. Low-mileage. One careful owner.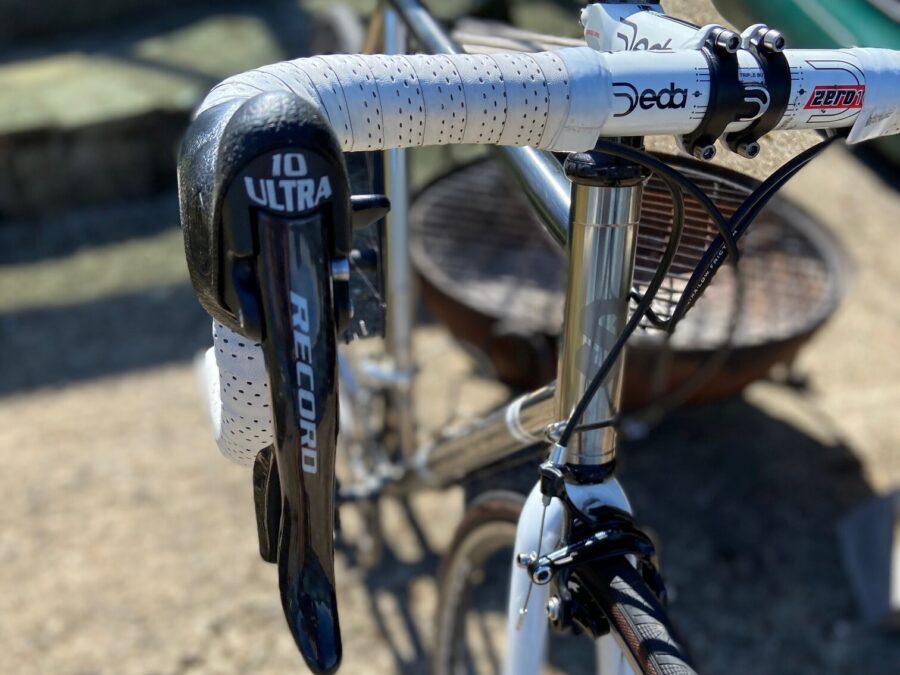 Back to how I intended - Campag 10sp Record
"Maybe enough time has passed that it has finally made the most awkward of transitions - from dated to retro."
From Dated to Retro
In 2018 it became clear that I might be able to ride again – not at the same level maybe but ride all the same. And yet I still overlooked the Legend in favour of the Landrace that we were designing with Seven Cycles, or the latest Trek with jet-fighter aerodynamics.


It took the stopping of the clock of lockdown for me to consider the Legend afresh. Maybe enough time has passed that it has finally made the most awkward of transitions - from dated to retro.


A month or so ago I finally climbed over the rail and retrieved it – still gamely gleaming under the spotlights and years of dust. I am not sure what the equivalent verb of anthropomorphise is, when directed at bicycles instead of animals, but I certainly felt it most acutely in this moment.


I am not sure what my plan was when I took it down from its high perch, but it became clear as I cleaned almost a decade of dust off the titanium. I replaced the carbon brake-pads (still in place from Mallorca), with Campag ones for the Neutron wheels. I replaced the ten-year-old 23c Conti tyres with some 2020 Four Seasons – 25c. A general service, change of saddle, addition of seat-pack and pedals, and we were ready pick up where we left off so many years ago.


A few weeks on and I have doubled the Serotta's miles on-the-clock from three hundred to six hundred. The geopolitical tectonic plates have ratcheted in so many ways in the last decade, but the Legend ride is still gloriously relevant and satisfying. It may not be as direct or single-minded as the Pegoretti MXXXXXO race-chassis that I tested recently which was mind-bendingly accurate and taut, but in isolation the Serotta is a fabulous bike that I am very proud to ride. Some of the tautness between the MXXXXCO and the Legend will be in the componentry – Campagnolo's current Record groupset is reassuringly expensive but also hardheartedly efficient and effective. And it is the same comparison is pertinent between twelve-year-old Neutron Ultra's with modern Shamal Ultra's. Ben Serotta had many wise opinions - one of his best was a warning to match any frame with similar vintage components to illicit the best feeling and performance. The MXXXXXO is specifically designed to deal with the highest performing modern components that are currently available – my Serotta had no idea what was coming down the track ten years hence so is an iteration behind.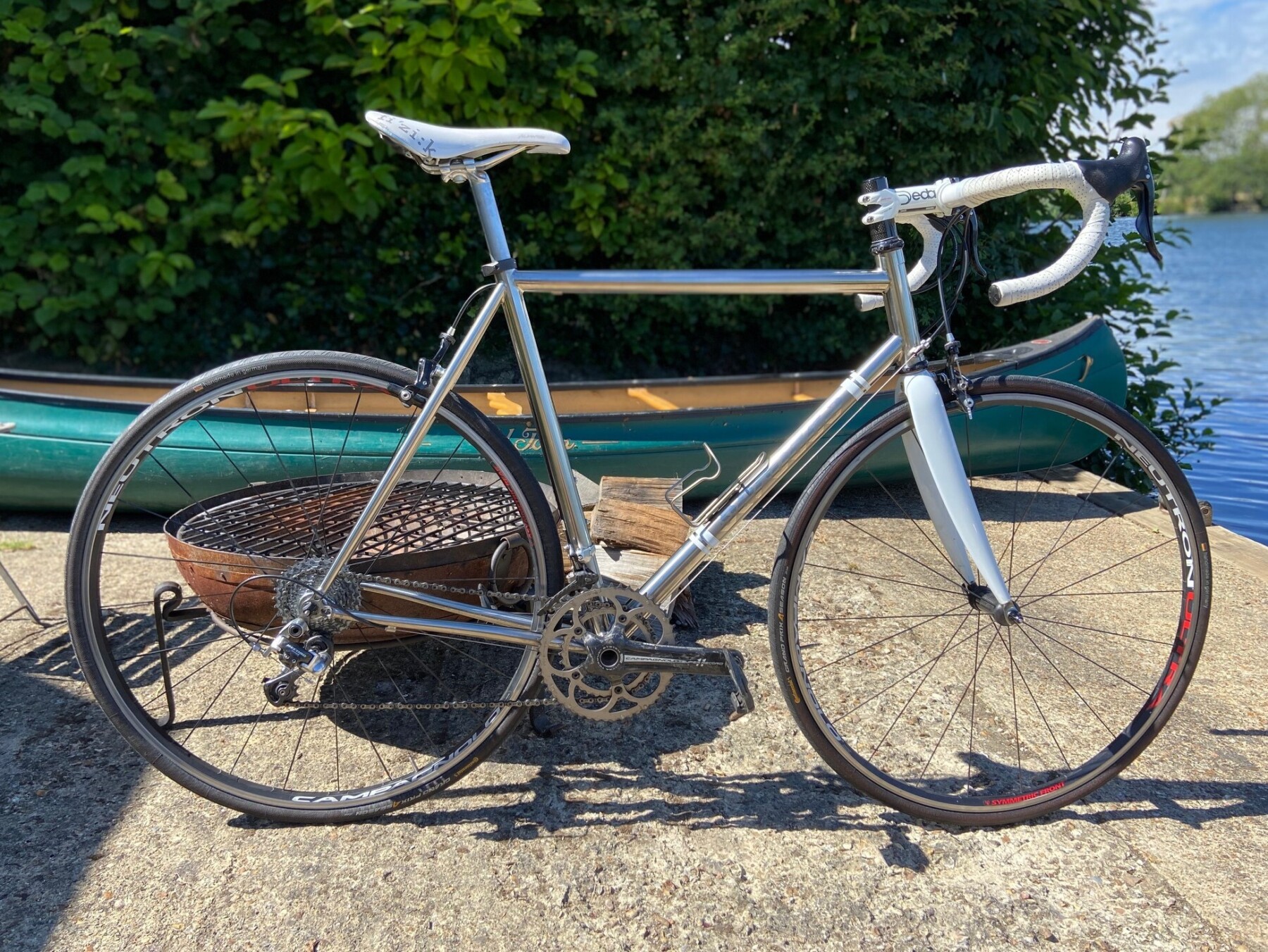 Similar vintage canoe. One has a world-weary patina. The other is other-wordly brand-new
Powerful Magic
What does the future hold for my Serotta Legend? I am really not sure. I already have an identical pink steel Serotta with rim-brakes – do I really need a replica made out of titanium – did I ever?


Right now, I am enjoying turning back the clocks and pretending it is 2011 for a moment. We are enjoying a long-promised, barely delivered, moment in the sunshine. Everything will inevitably change when the clocks go back and the nights draw in. My days of riding through the winter or in the rain with rim-brakes are firmly over. To pad that list out a little – I am also pretty reluctant to ride on carbon wheels with rim-brakes. Which limits my nostalgic stickiness to the Serotta, and every other rim-braked bike, whatever it is made of, to sunny or at least dry days. My relationship with many of my bikes transcends the prosaic, especially when they are custom built by people I know and respect. But even so I have a very complex relationship this particular bike. Not because of the adventures that we shared or necessarily will share; but because it has always been there, in my peripheral vision, bearing witness to some of the most difficult days, but also reflecting hope off dusty titanium tubes of what the future may bring.
And right now that is powerful magic indeed.