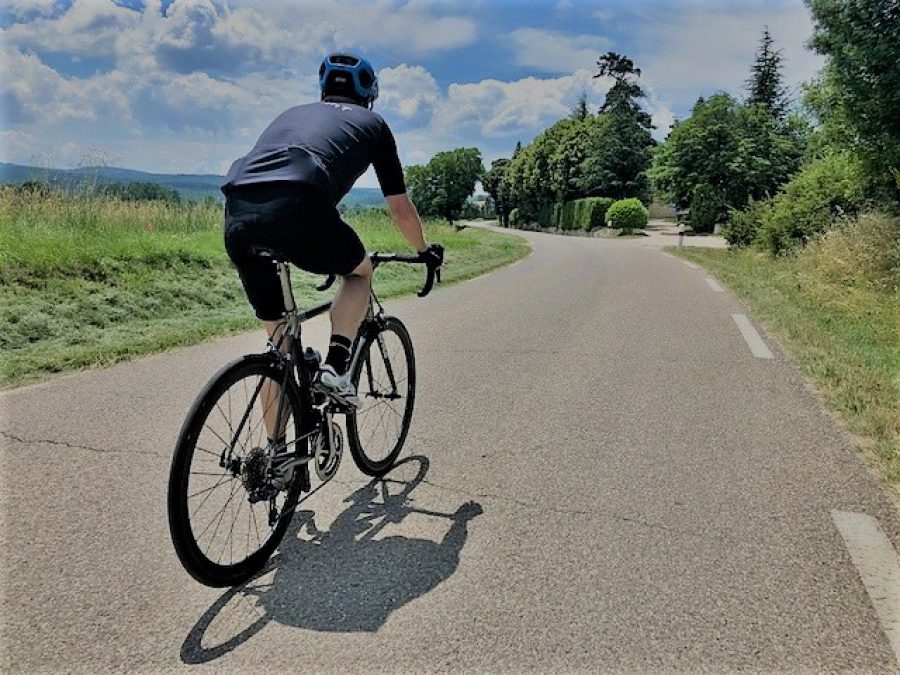 It is a long road back. But can be a beautiful one.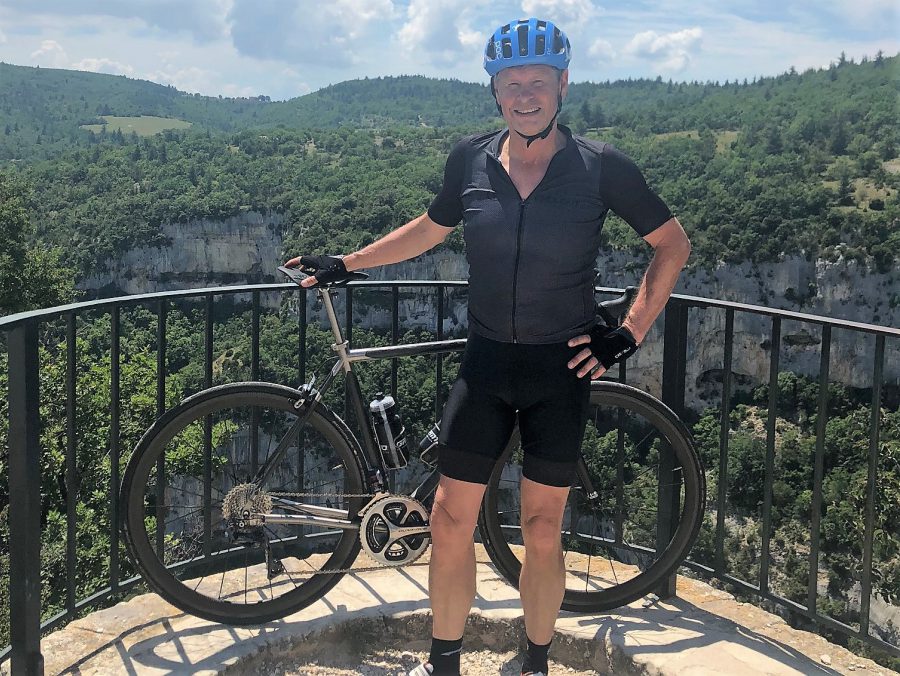 We cycle to breathe air like this. Thank you Julian Masters for picture
The First Rule of Back Club July 2018
The first rule of Back Club surely must be to know when to leave Back Club? This will be my last Journal that specifically refers to my back. I am 14 months post-surgery and recovery has naturally plateaued - however hard I try to push on to another breakthrough. Where I am, it seems, is largely where I will be. Which is better than I was in terms of pain and function. My only strategy now is to make the best of what I have. It is very interesting hearing everyone else's back-stories - I have a wonderful correspondence list that incorporates cyclists and non-cyclists of all ages. We are all linked by the avoidance, spectre, prospect, preparation for, or recovery from, surgery. A seven-letter word that carries so much hope of re-set and redemption. Please keep the contact coming. I will help and share my thoughts, where I feel it will help. Recently a friend was texting/emailing/calling several times a day, when a friend of her's went through the similar surgery. Things didn't go as planned and there were complications that left them anxious and confused. I hope I was able to provide a little context, as well as think about the questions that she could be asking the medical team. But mainly reassure that surgery is rarely binary, and good surgeons earn their stipend working through the unexpected, to achieve a good ultimate outcome for the patient. Where the medical community can be lapse is finding the right way to communicate with the patient, to keep us involved with the care pathway and make informed decisions when we need to. We are relieved to hear that this particular women is doing very well now.
"We are all linked by the avoidance, spectre, prospect, preparation or recovery from surgery. A seven-letter word that carries so much hope of re-set and redemption"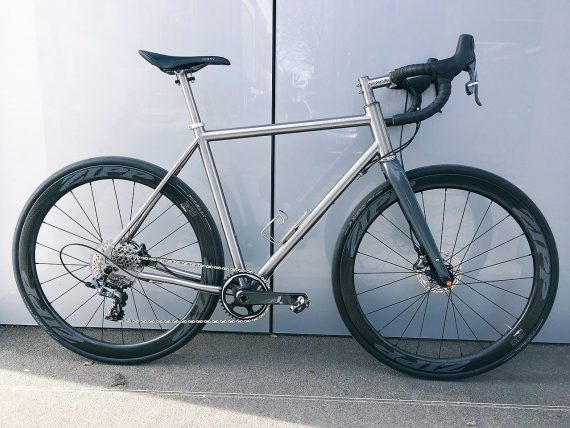 Cyclefit's Landrace - designed in London, made in Boston
Serotta steel and Trek Emonda SLR carbon. One stock, one custom, one Campag one Shimano.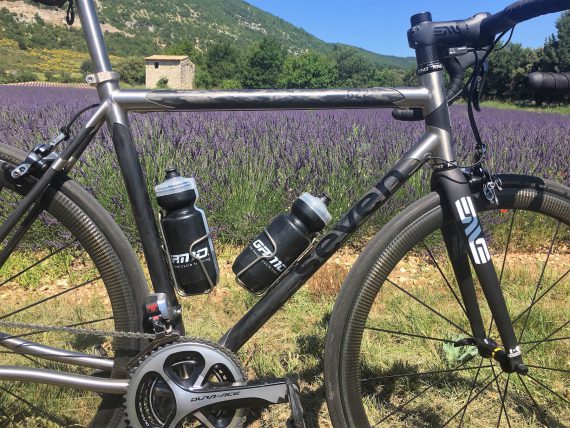 Seven's sublime 622SLX. Triple-butted titanium and filament wound carbon fibre. Homegrown in USA
Displacement Activities
The last Journal at the end of April me saw me still procrastinating, deferring and displacing; beset by an unfathomable and infuriating self-imposed stasis. The writing of my last Back Club Journal was itself a partial purgative, and I inevitably just started riding a bicycle again – first the Landrace that I co-conceived and designed with Jules, and more latterly my old steel Serotta, our test Seven 622SLX and our demo Trek Emonda SLR. Four bewilderingly different world-class bicycles to play with after a nearly seven-year absence, whilst obviously hedonistic is also academically interesting for someone who has been out of the game for so long. Think of the trends I have missed as an end-consumer – power-meters, electronic shifting, disc-brakes, 1 x, tubeless tyres etc. All these trends had visible antecedents in 2010-11, and most were developing fast, but all were still far from mainstream. As a Cycle-fitter and bike-designer I am bang up to date, devising imaginative and contemporary projects for discerning clients. But as an end consumer my personal clock stops 7:30pm, October 10th 2011. So now is the perfect time for my unredacted first impressions on the validity of this new technology.
​Shifting Landscape - We are all Shimano Now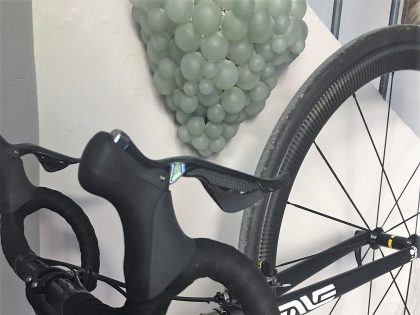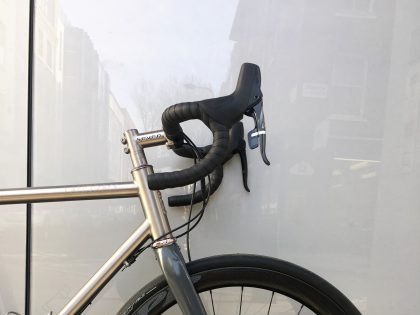 Ten years ago, Cyclefit was over 70% Campagnolo. Now we are 70% Shimano, 25% SRAM and 5% Campagnolo. A total revolution in just one decade. Back then all of Cyclefit used Campagnolo, and inevitably so did the majority of our clients. Campag Record 10sp was the finest groupset on the market (in our opinion) and it was difficult to see how it could be improved, unless or until we went to belt or shaft-drive. The ergonomics of Campag Record was sublime and the shifting tapped cogs into place with the satisfying click of an expensive Swiss watch. We recommended it to everyone. I personally bought the last 10sp record groupset available in the UK.

2010 - Campag 11sp V's Shimano Di2 - The Fight Was On!
Around the same time that Campag introduced 11sp Super Record groupset, Shimano introduced their first Dura Ace Di2 10sp groupset– the fight was really on – electronic shifting versus an extra cog. In 2009 Jules and I were invited by Trek to ride the first iteration Di2 on their current year Madone. Jules liked it and I was underwhelmed. Jules appreciated the advanced engineering new world of possibilities. I thought it a solution to a problem that didn't exist. I was also appalled (and still am) by the unnecessary close-finger shifting ergonomics, comprising minimal movement by two tiny buttons only a few millimetres apart. In long-finger winter gloves I kept mis-shifting. On a purely aesthetic level, I was unconvinced by the Di2 battery awkwardly zip-tied to any handy tube like an afterthought. It was in this context, that I thought nine years ago, Campagnolo had a fairly good chance of staying on the top step against the emergent Di2 Dura Ace. How wrong I was. The battle between first generation Di2 and 11sp Campagnolo in the end was a total mis-match, in part because some of the first iteration 11sp Super Record suffered from vague shifting and uneven calibration. I for one also thought the ergonomics and action lacked the finesse of the outgoing 10 speed Record. Campagnolo, for their part were slow to react to the issues, which left us, somewhat embarrassingly, replacing at least two 11 speed Super Record groupsets with Shimano Dura-Ace, for disgruntled clients.
The Googlisation of Shimano
Shimano's dominance was, and arguably still is, unhealthy for consumers and the industry. At one point Shimano started to look like Google. We all marched to the beat of their drum. I do like many of their products but not all are perfect – we had to send a Seven frame back to Boston in the spring to be re-made, because the very delayed Shimano Dura-Ace R9100-P power meter - when it finally arrived, featured an intrusive 7mm sensor on the left-hand crank, that fouled the titanium chainstay. A £12,000 project all turning and shifting on a year-delayed, 7mm piece of plastic.
Here is my current shifting landscape:

Serotta CDA – Campagnolo Record – 2x10sp
Trek Emonda SLR – Shimano Dura Ace (mechanical) – 2x11
Landrace – SRAM Force – 1x11
Seven 622SLX – Shimano Dura Ace Di2 – 2x11
Full Hypocrisy Disclosure
I think that Dura Ace Di2 on the 622SLX is the best, not by much but the shifting is sweeter and more clinical than the Dura Ace mechanical on the Trek Emonda. The big benefit of Di2 for me is not in the shifting but the lack of cables, which means the action is binary and therefore uniform. It works, or it doesn't. For that reason, we always recommend Di2 ride-by-wire on winter/cross/gravel bikes, where there is likely to be water/grit ingress. Di2 is definitely more stable and functional when conditions are worst.
The next best shifting is the Serotta and the 10sp Campag Record. Superb ergonomics, aesthetics and satisfyingly animated shifting mechanics – still brilliant ten years on (note to self – nostalgia may also be playing a part here). However the Campag brakes are noticeably less powerful than Dura Ace and feel dated in comparison.

Third best shifting - is the mechanical Dura Ace on the Trek Emonda SLR. But in this bikes defence, it has become my go-to bike of late. Witheringly competent everywhere. This actual bike was lent to a customer earlier in the year (his bike was held up in production). He took it to the Caucasus and rode around the roughest tracks in Georgia for two weeks. It took it all in its stride, he loved it, I love it, there is nothing not to love. Sure, the shifting feels like you are doing origami after Di2, but it is bombproof and predictable. Ride-by-wire shifting may be the future but if you haven't tried it you will never miss it.

Last place goes to the 1x11 SRAM Force on my Landrace. Competent enough in abstract but a little cheap feeling in this company. To be fair it is a very competent and a fraction of the price of both Dura Ace and Record. I like 1x11 on gravel and mountain bikes but on a road bike I still prefer the close gearing that 2x11 offers.
Shifting conclusions:
Shimano is the new Campag. And that hurts.
If you don't try electronic shifting you will never miss it
Why don't Shimano separate the up and down shift buttons?
Shimano Di2 is a more compelling proposition for winter bikes where ride-by-wire is flawlessly reliable, even in deep mud
Campag 10sp Record still feels sensational. Until you brake.
"None of the counter arguments around disc-brakes are relevant anymore. Why? Because the industry long ago decided that discs were the direction of travel."
Disc Brakes
None of the counter arguments around disc-brakes are relevant anymore. Why? Because the industry long ago decided that discs were the direction of travel. We have therefore passed 'peak innovation' on rim-brakes and rim-brake wheels. All the R&D big spend is therefore going into disc-brakes and disc-wheels. As consumers that is we really need to know. For me the big benefits of a disc frame are:
You can ride deep-section carbon rims safely in all conditions. This is major step-change for both the industry and us consumers.
12mm thru-axle technology, as well as keeping the discs central in the pads, also infuses a huge amount of longitudinal rigidity into the bike and ride. You get used to that feeling very quickly.
Braking on discs provides stronger and more consistent braking
Disc-brakes don't generate the mess all over the rims in wet conditions, that rim-brakes generate.
There are only two reasons I can think of to commission a rim-brake project right now:
It is a shorter-term weight-focused project – Marmote, Etape, Haute Route etc. It is still currently easier to build a light-weight rim than disc bike – unless your name is Jules
It is a deliberately retro-project - and this, I think, will be where we still see rim brakes. For whatever reason some folk will prefer the ride and look of rim brakes.
It is also worth mentioning that whilst disc-brakes do offer great braking power and modulation, they are not necessarily lower maintenance than rim brakes. And whilst it is easy to pop in a new set of pads or micro-adjust a caliper brake - disc brake maintenance is definitely best left to a professional.

Tubless Tyres
Another solution to a problem that didn't exist? I hate punctures as much as the same person, so it seemed a wonderful prospect when the bike industry launched tubeless tyres, promising a new paradigm of: no punctures, less rolling resistance and more comfort. So, what is the reality? Well it isn't all guff, but neither do I think it is pneumatic perfection. Yet.
I can't really feel any difference in either ride quality or indeed rolling resistance. But the prospect of less punctures is real, in the sense that most little ones will self-seal. The downside is that the ones that won't seal will be inherently more messy and harder to fix. You take your choice on that one. Personally, I will stay regular clincher and fix my flats through gritted teeth. Jules thinks the proposition changes when you go off road when tubless tyres do offer real protection from the almost inevitable multiple flats from thorns etc. Side-note - Barna (Cyclefit Mechanic) is not a fan of tubless tyres.
Power-Meters
I appreciate that power is the only honest metric. I always thought heart-rate was too variable to be anything other than distracting nonsense. Back in the day I even preferred to time-trial on feel rather than use heart-rate. I remember fellow racers using heart-monitors in criteriums? How did knowing that they were already 20 beats per minute passed their theoretical maximum, as we came into the sprint, help them in any way? But power isn't for me. I find it too intrusive right now, too didactic. I am intimidated by the prospect of constantly seeing depressing numbers. I am at least ten years adrift of being able to generate a respectable numeral and right now my mojo is fragile. I may re-think power as I ride more into the autumn/winter and start thinking about setting goals for 2019.
In Summary
Of all the technology shifts I think power is the most instantly compelling, if and only if, you are in a disciplined and goal-centred phase of your cycling career. We had brakes before disc-brakes. We had usable shifting before Di2, but power is a paradigm shift in terms of building training and racing framework. By the way, I still think they should ban power-meters and radios from professional racing - both take away from the spectacle and drama of the sport.
If you are budget constrained I would always put whatever you can into technology you will feel every pedal-stroke. Upgrade to Seven's XX Programme and you will feel the benefit in weight saved and riding finesse every mile you ride. The benefits of Di2, you could argue, you only feel when you shift? Similarly an upgraded wheelset will be noticeable every second they are turning, in terms of reduced weight and enhanced aerodynamics. And if disc-brakes do nothing else, they give all of us access to higher performing wheels, that we can use safely, more of the time.
Bicycle Tasting Notes
"Trek Emonda SLR - My go-to bike. This is bike I ride the most and fret about the least."
Seven 622SLX - A deeply complex bike - powerful but also dignified and restrained. Sophisticated flavours that take time to bed into the rider consciousness. Endlessly capable, unflappable quality that will endure for years. A bike that will retain its structure and sheer class over the years and just get better and better. Ride now or put down. Currently let down by outclassed Mavic wheels. Think Brunello di Montalcino
Trek Emonda SLR - My go-to bike. Everyday performance and function. As light, stiff and functional as anything else on the planet. Out of this world performance on a real world budget. This is the bike I ride the most and fret about the least. USA made SLR hi-modulus frame, Shimano Dura Ace group and Bontrager XXXL wheels - that crushes your palate with easy-living instant and gratifying flavour. This is a live for the day ride, that suits my mood and mediocre power right now. Ride right away, don't put it down. Think California Brazin Zinfandel
Cyclefit Landrace - A pet project of mine and Jules. A road/gravel/winter bike. In that order. I haven't got this build up right yet. I don't like the 1x11 on this bike. I am going to replace it with Ultegra Di2 x2. I also don't like the Zipp wheels. They will go in favour of Bontrager Aeolus 2's. This is a for-life n-1 bike. I am happy to put the groundwork in to fulfil its potential. Drink now. And for the rest of your life. Think broad-shouldered, robust, old-oaked-barrelled Barolo
Serotta Steel - Made from old-world Columbus Spirit, air-hardened tubes, custom butted for Ben Serotta. Now ten years old and still feels fresh and vibrant. Just settling into itself. Doesn't have the sheer power or delivery of the Trek or Seven 622SLX, but on the right day yields wonderfully lively and sophisticated flavours. A bike that I deeply worry about. I can never replace it, re-paint it or have it repaired. I take complete responsibility for this bike. Think fine-aged Gevrey-Chambertin
"Serotta Steel - A bike that I deeply worry about. I can never replace it, re-paint it or have it repaired."