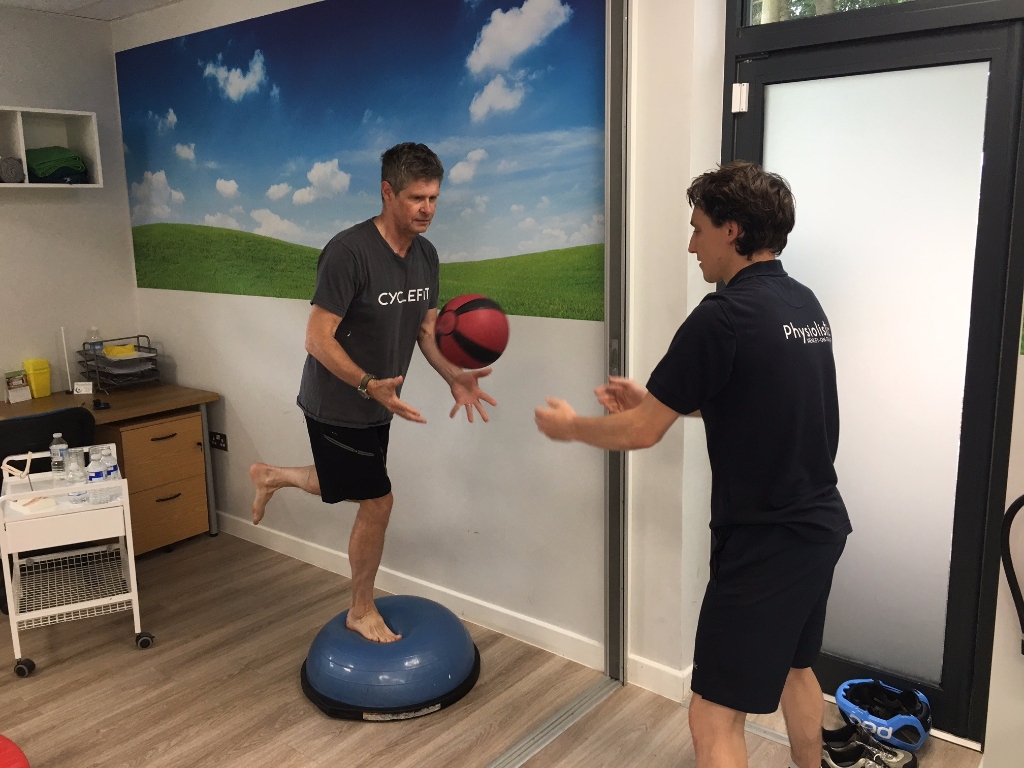 Shaun Rowse (ex-Cyclefit and now Physiolistic) works with Phil, Week 9. Has the 2018 Etape Campaign started here?
Daring to Dream?
As Jules heads off alone on an adventure driving down to Ventoux, to fit and deliver a client's Trek Emonda SLR, and then on to ride the 2017 Etape, including my favourite climb (Col d'Izoard); I admit to feeling a little conflicted. It's like Wise without Morecambe. Not funny. I love that Jules is in such great shape at 53 and flying the flag for both of us. Sidebar note to anyone riding 2017 Etape - you could do a lot worse than following his wise wheel - odds on he will get you round the course both smoothly, safely and in a deceptively quick time. He is still a classy act on a bike. But over the last six years I have inevitably missed out on so many magnificent adventures with Jules, clients and friends that until now it has been too painful to contemplate. There have been so many false dawns and dashed hopes that quite frankly I would be a bloody fool for daring to dream now, especially so early in the rehab process. But so many friends and clients have been asking me about the prospect of riding, that some internal dialogue is natural isn't it? Could Morecambe & Wise be back together on 2018 Etape du Tour?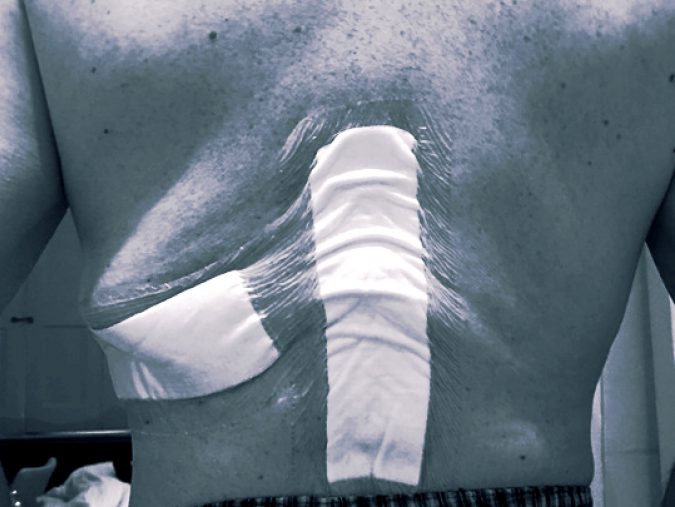 Healing well - a lumbar corpectomy requires side/back access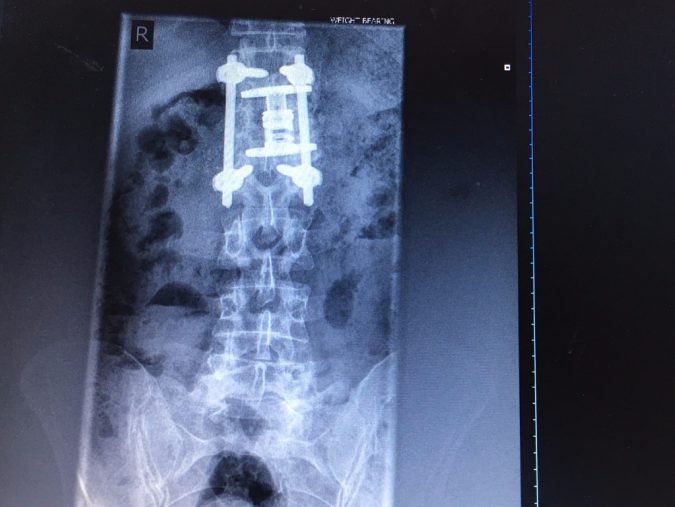 Surely there is enough structure/stability here to think about riding again?
One Step At A Time
I am getting ahead of myself. Sure it seems like surgery has gone well and the early weeks of rehab are under my belt; even the surgical scars are largely healed - Mrs Cavell helpfully removing the dressings under telephone direction from the hospital. Added to which I am now in week three of physio under the forensic microscope of Fiona Troupe (Six Physio) and my old Cyclefit colleague, Shaun Rouse (Physiolistic). Both Fiona and Shaun are challenging me in different ways - Fiona is all about obsessive detail around movement and core control. Shaun is trying to add balance and strength into my strength and conditioning diet. I am very lucky to have a great rehab team, with Alex Fugallo ready to step in if the pain ratchets up.
A Million Steps To Fusion
It is mildly gratifiying to add daily physio exercises into my mobilisation (walking) programme that I have been following since getting home from hospital. Walking is a significant component of spine fusion surgery - my surgeon, Mr Tucker went out of his way to reinforce the message that 'loaded bone is healthy bone' - and it is my job to try and walk a million steps over the next few months, to encourage the stimulation of new bone to grow in and around the cages, screws and rods (pictured). The need to move and specifically walk, leads to the logical conclusion that spring or summer is the most ideal time to have back surgery. Last time my surgery was in the autumn, and as a consequence I was trying to mobilise in winter with a growling lung infection. It was a fundamentally negative and destructive time.
Ultimately the previous round of previous surgery failed precisely because there was no bone fusion at the T12-L2 levels. And the prosaic truth of the matter is that unless I achieve post-operative fusion around the new metalwork, the thoracic-lumbar junction will not be stable enough to allow me to live without pain never mind ride a bike again. It is that simple. In truth I won't find out if there is any evidence of fusion for a few months yet, so patience is required, especially because at the time of writing I still can't bend down to put my own shoes and socks on. Only three-quarters of a million steps to go.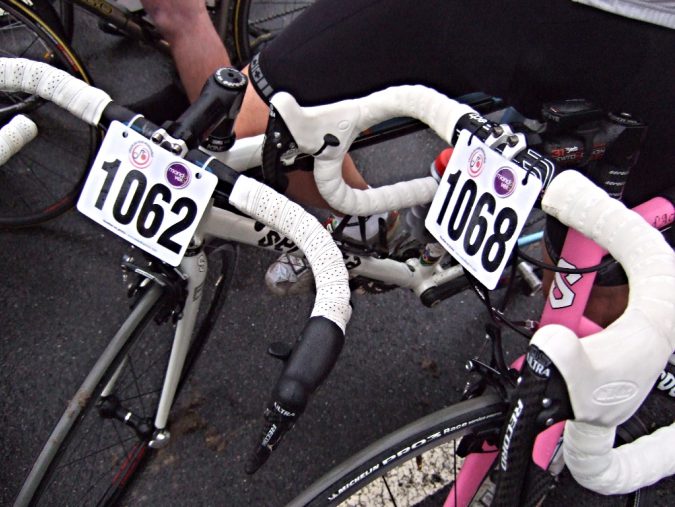 Phil and Jules lined up for 2008 Etape - the last one they rode together. Can they renew the partnership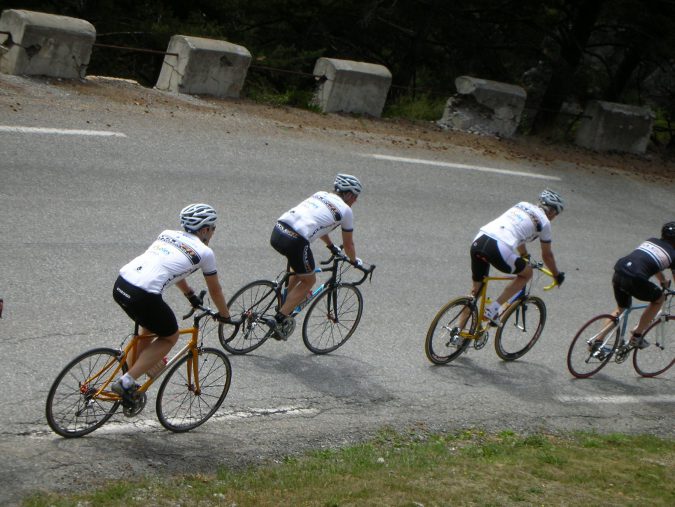 Last climb of Col d'Izoard - Jonathan, Phil, John, Jay circa 2008
A Simple Plan
So for right now the plan is to walk as much as I can everyday, do my exercises, reach my rehab way-points and calmly walk on to the next one. There is no plan B. But yes I have started to think about cycling, and not in the abstract, for the first time in four years. For the first couple of years after the accident I think I grieved the sport that I loved and all the fantastic camaraderie and scenery that flows from it. I remember a watershed meeting with a spine surgeon at John Radcliffe Hospital, called Jeremy Reynolds, where he sat me down and levelled with me about how serious the injury was and its life-changing implications for my long term health and function. My dreams of getting back to riding evaporated across that desk as we both stared at my latest MRI scans together. The stakes suddenly became much higher than whether or not I would ride a bicycle again. If I do pause to think about riding again, I realise what I love about our beautiful sport. And whilst I have missed, the equipment, the testing of your body, the mountains and speed and excitement. What I have lamented the most is the camaraderie, and being part of a group with common cause. It has unavoidably separated me, despite my best efforts and intentions, from colleagues, friends and clients and of course Jules, as everyone plans and schemes their riding goals and aims year on year. More than anything else that is why I would dearly love to be a cyclist again. Once again I need to manage expectation - before I can expect to reach the handlebars on a race bike again, I should probably master putting my own shoes and socks on. See you out there sometime.