"In some future universe there is going to a seamless synergy between analogue, human and eBike binary power"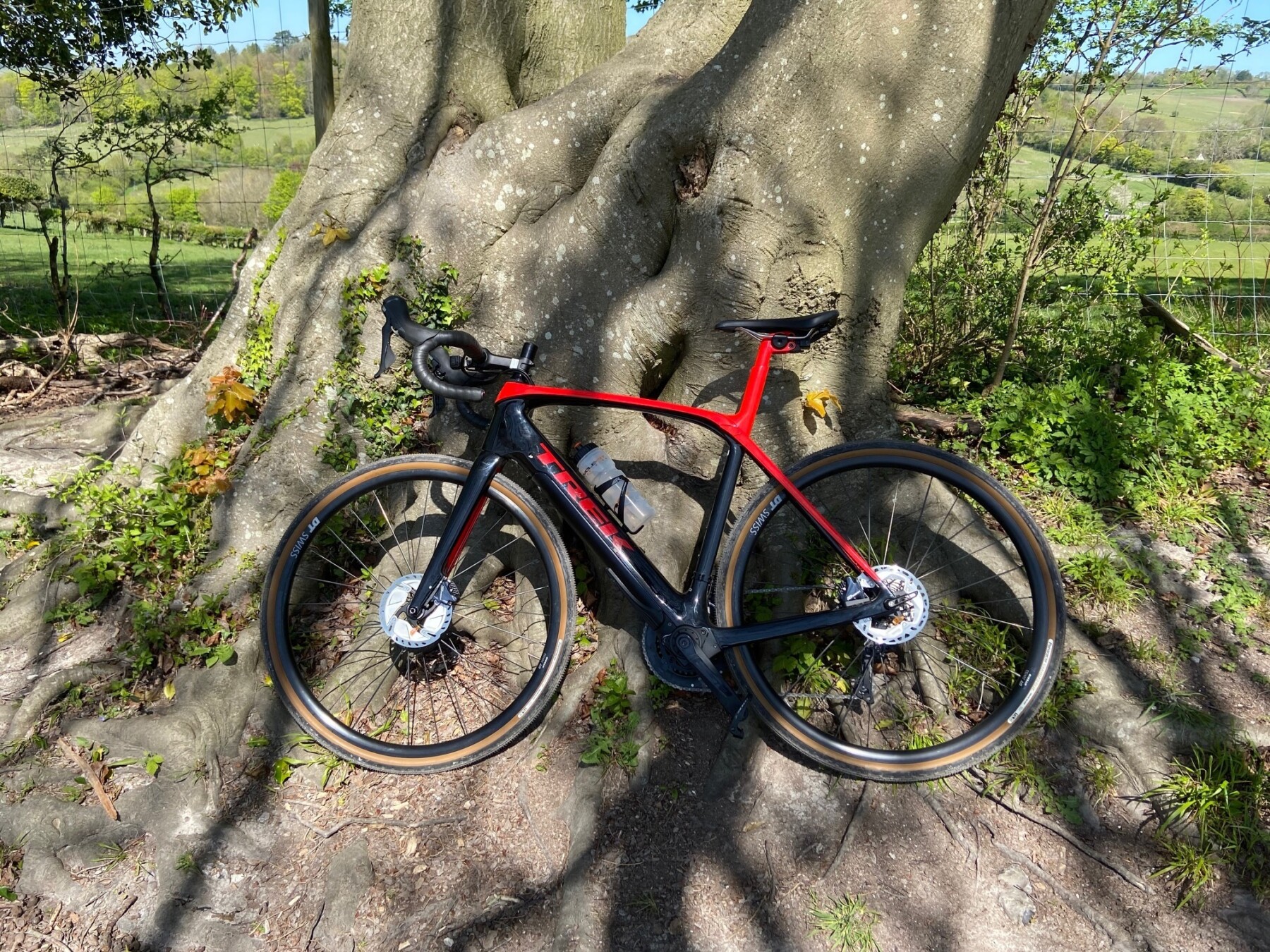 Right at home on Chilterns tracks. Up 1:5 bridle-ways in the big-ring!
Trek Domane LT+ Review
I am not sure if we have consciously avoided writing about e-Bikes or assumed our clients weren't particularly interested in them or we found them hard to place in store or in our own theoretical n+1? I As a consequence, the writing process has forced me to confront questions outside of the sheer experience of riding it - who is it for? Is it for me? How could it be improved? Where do e-bikes belong in our mixed transport panoply in a post Covid-19 world?

Electrified Fun
The last time we rode e-bikes was just over a year ago, and myself and Jules went on a full-contact test-day at Trek's test-track with a clutch of Trek Rail 9.8's long-travel full-suspension mountain-bikes and a young, enthusiastic guide, who assumed it was fine to take a pair of late-50's ex-racers over six-foot drop-offs. He was in fact right (thanks Bryn), but largely down to the phenomenal capability of the bikes we were riding. By the end of the afternoon I had squeezed my middle-aged and atrophied adrenal gland dry of the magic danger-hormone. It was just incredible fun and there was no thought about the bike's place in the world, place in my n+1 or question-mark over being limited to 25 kmh. We were either riding up the side of near vertical climbs, boosted by the huge torque of the Bosch motor, or being flung down the other side by gravity- both felt plenty fast enough.

But the Domane LT is different, and it seems to me has to justify its place way beyond middle-aged kicks? Maybe I am thinking too much?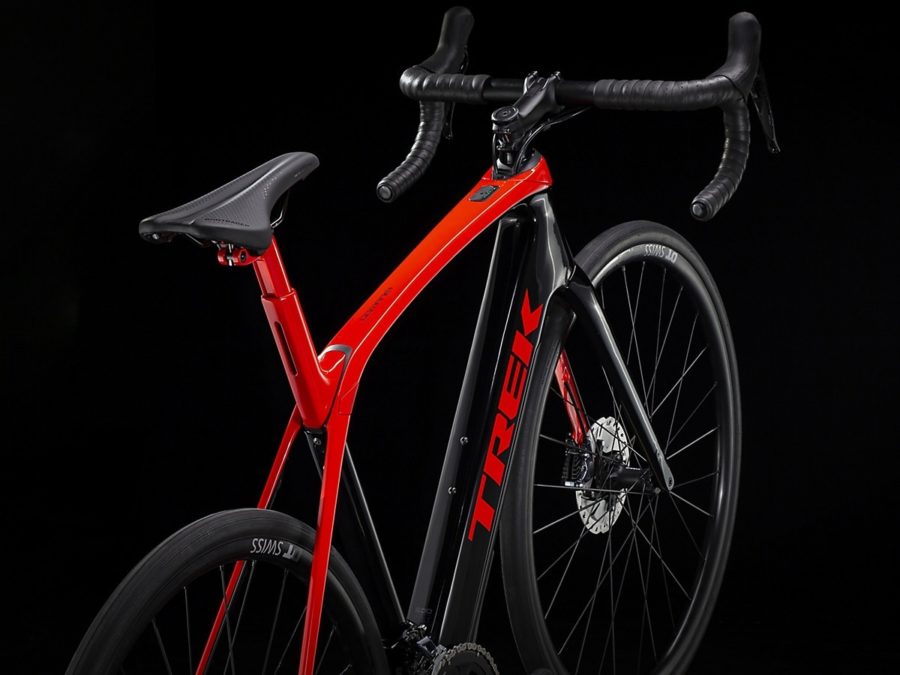 On the outside - a normal road-bike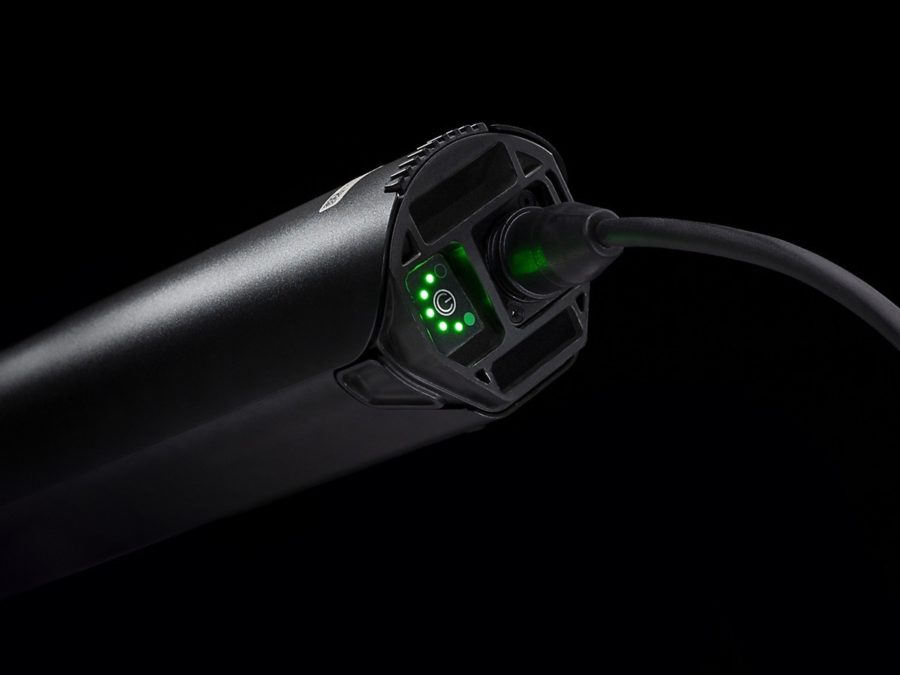 On the inside - a Fazua binary watt-factory
"ebikes are not necessarily all about a lack of fitness. In fact you could take the other view - the stronger you are the better the potential tool they are?"
Domane LT+
The LT is one of Trek's first incursions into the lightweight road e-Bike market. It is predicated on the new 2020 Domane chassis that we reviewed at the end of last year. That means it utilises the front and rear IsoSpeed De-Couplers to take out the worst effects of broken roads and trail. We loved the 2020 Domane SLR and said so in unequivocal terms – more practical than Madone and more aero than Emonda – fast versatile, beautiful – enough already, no need to re-write an already glowing review. But do we love it enough to strap an electric motor into its downtube, and for what benefit and purpose?

The Watt Factory
The electric motor in question is made by the German Fazua Company, who are based just outside of Munich. Fazua have built their house on a few precious principles, that seem to work with 'lightweight' ebikes:

The Evation motor and battery are quickly removable – so you can ride without power-assistance
Lightweight – the motor and battery pack weigh 3.3kg and the bottom-bracket drive unit 1.3kg – the whole system weights 4.6kg
The Evation drive unit is designed to unobtrusively drop-out if you go above 25kmh to give you a resistance free pedalling experience
Stepped programmes running from 100 watts through to 250 watts of power assistance.

Fazua say this is the lightest and most compact system around and we should believe them because they are German and very serious and obviously talented engineers. We are post VW emissions now aren't we? And so I believe them.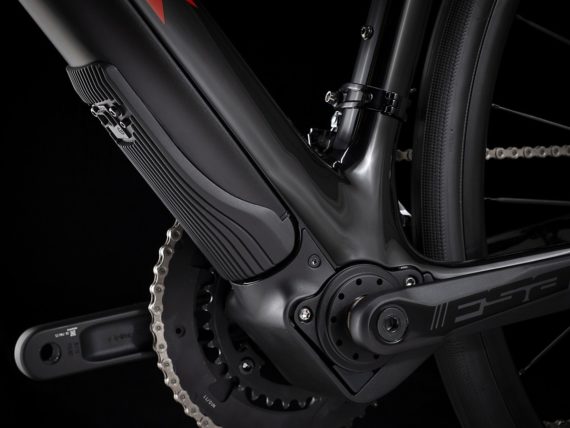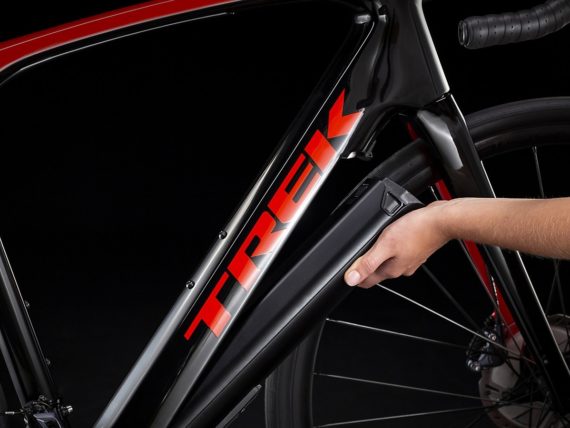 Battery pack removal for charging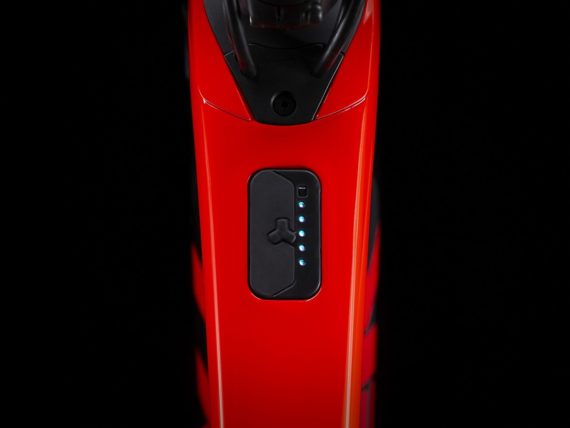 Bikes with dashboards - get used to it
Ladies and Gentlemen - Start Your Engines!
Me, Jules and Barna stroked our chin a bit on how to roll our personal Domane+ out the door. Do we go road-tyres and go for maximum speed and lightness? Or do we cram the biggest gravel tyre we can squeeze in and exploit the bikes adventure credentials? Obviously the latter (two votes against one). I am running 35c Gravelkings on the No22 I have been riding and was thus very pleased to hear that Barna had managed to tease in a set of 38's! Trek have been very clever here – the very real gravel capability of the Domane+ takes it way beyond the normal road bike or normal e-bike.

Breeze, River, Rocket - Pick One

Fazua's Evation comes with three colour-coded ride settings for the ride rider to choose from – Breeze = Green = a constant, gentle tailwind of 100 watts. Blue = River = the demand-pull setting – the harder you pedal, the more watts dividend it gives, up to 210 watts. Red = Rocket = similar to River but imbued with a steeper power-curve and increased ultimate power to 250 watts.
So, let's set some expectations – 250 watts does not amount to lighting the blue touch paper -there are no impromptu wheelies or wheelspins off the line. I largely ignore the Breeze (100 watt) setting and toggle between River (progressive to 210 watts) and Rocket (the full 250 watts). They don't actually feel a world apart in the real world - both giving a palpable uplift in pace and speed in response to moderate increased pedal torque. The shunt is clearly earlier with Rocket and slightly gentler on River, but both seem to give more dividend at quite low cadences? See Black Pepper upgrade below.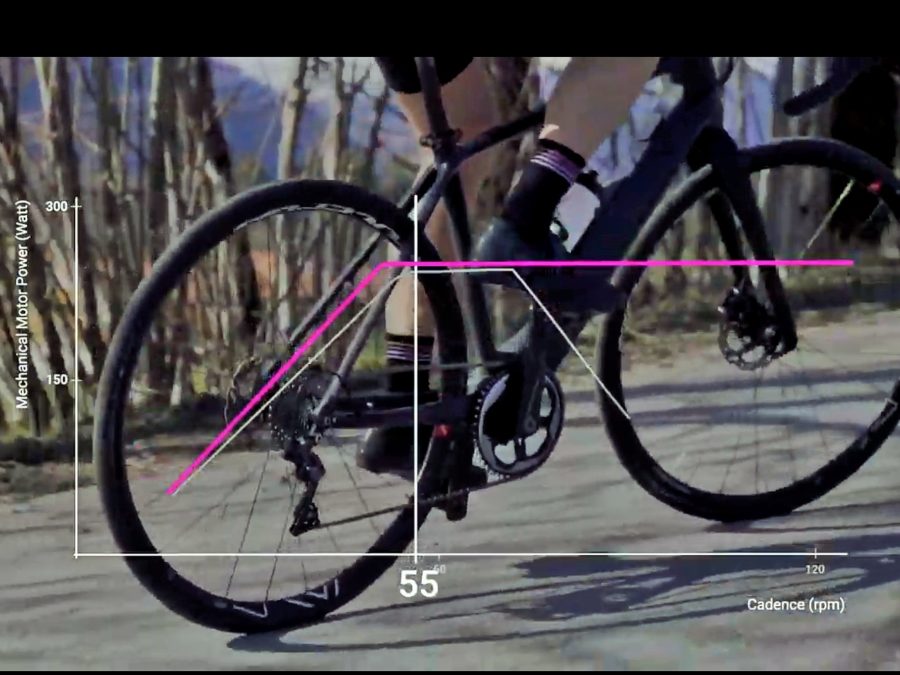 On the old software power drops off above 60rpm
With Black Pepper upgrade you can keep the power flowing
The Veil of Ignorance

I should point out here that I decided to go out and ride with just enough research to switch on the motor and toggle between settings, but not enough to prejudice the ride with a (frankly incomprehensible) manual's worth of cognitive bias. I live in The Chilterns, which is stuffed full of short, steep climbs, both on and off road that the Domane+ is clearly made for. On Rocket mode it is hard to find a climb that warrants a down shift into the little ring. Even a short 1:5 is taken in a high gear, riding the meat of the torque by keeping the cadence on the low side. Take the Fazua's 250 watts, add in your individual investment and the results is broken Strava segments, littered all around your route. My impression is that you lose the full 55 Nm of torque if you slam the pedals too hard and let your cadence ride up too fast? I am learning fast to ride different way, if I want to maximise speed. I also think that I notice a deterioration in power as I progress through the ride and the battery level visibly declines? Or I am just getting more tired? Either way there is palpably less pep as the battery drains - see Black Pepper upgrade below.
Just Add Seasoning

When I get back and do some research, and find that Fazua have released a 'Black-Pepper'
software upgrade, that specifically deals with some of the characteristics that I have observed:

Black-Pepper takes the effective cadence range of Fazua from 60 up to 125 rpm – my version drops the power off post 60 cadence – see graph

Black-Pepper also lessens the drop off in power as the battery that I noticed with my version
Black Pepper allows the user to tune their own power characteristics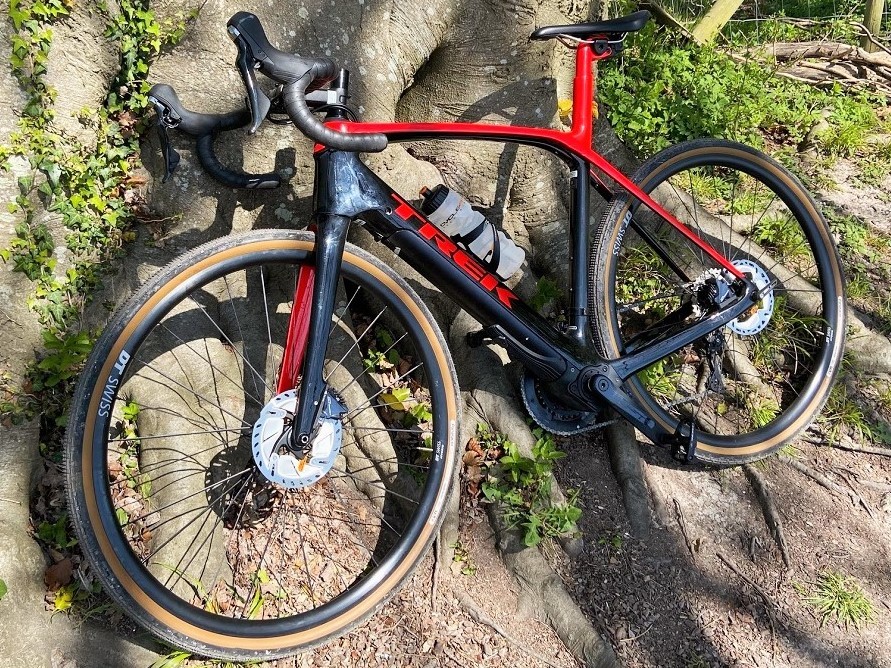 Domane LT+ ready to anywhere your imaginations chooses. 38c Gravelkings are perfect for The Chilterns
"The point here is that you are probably working physically just as hard as you would on an analogue bike – you are just travelling further and being more adventurous"
A Whole Cast of Characters

I think the Domane LT+ is a bit of a Rory Bremner impressionist - you have a whole cast of characters at your fingertips, and it will ultimately depend on your mood and riding style as to which one you dial up. Even at nearly 58 years old, I can comfortably ride above 25kmh in most conditions, even on the 38c GK tyres, without electric assistance - at that metric the Fazua has become power-neutral but also mechanically invisible. So that's no use to me, but its also no cost either. In fact riding Domane+ as a regular bike, even with the battery, is surprisingly low-effort and free-flowing, and I spend much of the time well above the 25kmh, long after the Fazua has shut up shop for the day. To be fair the low and central positioning of the Fazua into frame, keeps the dynamic demeanour of the Domane very close to the feel a regular road bike.

Strava Busting
Strava-busting punchy hills is not as addictive as one would expect and I for one quickly tired of that kind of tomfoolery. An afternoon's fun at best. No, I found my personal gold buried under the River (setting), whereby up to 210 watts is delivered intuitively in accordance with my own pedal inputs. Off road on tracks and trails I could now select single-track climbs that were previously off-limits, because they were previously unrideable with my fitness level. That meant I could go for a couple of hours ride and add in routes that I would normally avoid. Or even loop round and do a section a few times just for fun and frolics. The point here is that you are probably working physically just as hard as you would on an analogue bike – you are just travelling further and being more adventurous. And what's more you can hang out in the big hills for a lot longer, and then use the Fazua to help limp home exhausted. And Trek's brilliance here is expressing the Fazua in the Domane chassis that can handle all of this – it is both a superb road-bike and an epic gravel bike. And that's how it fits into my n+1 - as a pathfinding bike for those days when I want to explore more difficult off-road terrain than I can currently handle under my own steam – but at the same time still get exactly the same training effect.
In an Ideal World
In an ideal world the Domane + would my super-commuter at a time when I don't want to take the train into Covent Garden anymore. I live 35 miles away from Central London – if it topped out at, say, 30mph or even 25mph, then riding in and out a couple of days a week, or more becomes entirely feasible, but at 15.5mph it really is not much of a help. There are not enough hills between me and central London to make it worthwhile. None of this is Trek's or Fazua's fault by the way, that's just the law. There needs to be a simple test and licence scheme that would allow people to legally de-restrict their bikes to higher power and speed. The Fazua for example can easily be re-programmed to produce a very useful 400 watts. Add in a couple of hundred from the rider and long commutes are very realistic. And the rider would also be getting as much of a workout as they like. This is a national infrastructure and governance oversight, especially in this moment.
"I prophesise that in five years, most of us will have an eBike in our collection"
What's Not to Like?
There are a few things that I would change if I could, and for convenience I have made a little list – in no particular order:

The battery must be released by a key and very firm catch – not necessarily a problem except…
The battery needs to be taken out to charge – a Shimano Di2-esque remote charging port needed surely? What happens if you lose the key? I almost certainly will.

Any software updates or ride (see text) require the battery to be removed and inspection cover to be unscrewed (you will need a Torx 10 screwdriver). Could this not be external? I was so disappointed not to be able to try the Black Pepper upgrade

The Trek/Fazua manual is very thick and very confusing – this is new tech for a lot of folk – why not make it fun and intuitive?
The 25kmh speed limit - not Trek or Fazua's fault per se but maybe they need to get involved more in advocacy to see sensible laws and regulation, because there are neither right now.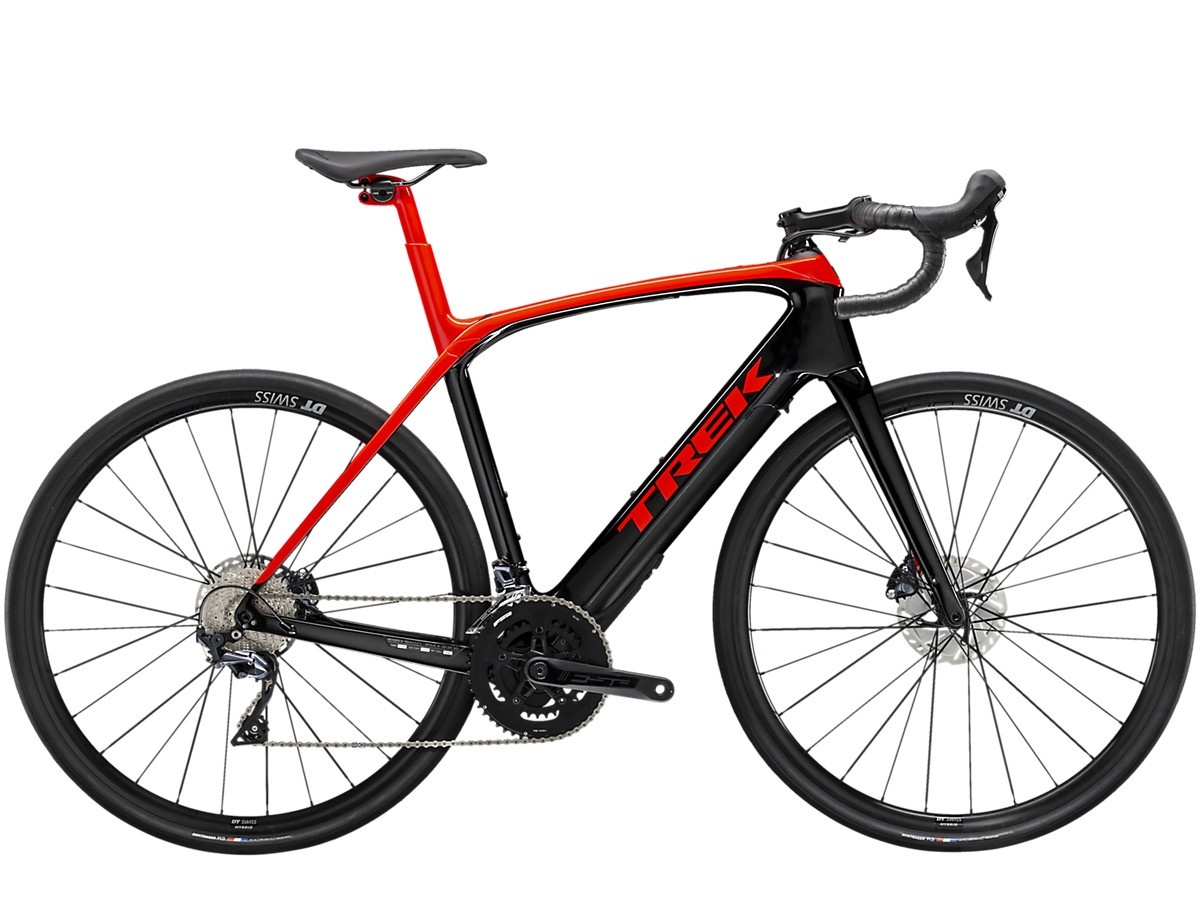 New World Solution
I get it, I really do - ebikes are not necessarily all about a lack of fitness. In fact you could take the other view - the stronger you are the better the potential tool they are? Stick a 1st cat or pro rider on an unrestricted ebike and suddenly London to Bristol is a two hour jaunt. We could evolve to the universe where the the dashboard tells you how much power you are chucking in and how much the bike contributed - train as hard as you like! A three hour ride could be a virtual motor-pace session and 120 useful miles could have been covered. In some future universe there is going to a seamless synergy between analogue, human and eBike binary power. We are all going to have to view our relationship with eBikes in a very different light in a post Covid world. The Domane LT+ with its multiple personalities is a great to start to that debate. I prophesise that in five years, most of us will have an eBike in our collection - and it won't be because of any physical deficit or frailty - it will be about pure fun and/or pure utility - making man's finest invention even more useful!
Trek Domane LT+ £4900 (By the way this test bike has been ridden for approx 300 miles and is available set up for gravel or road for £4000)