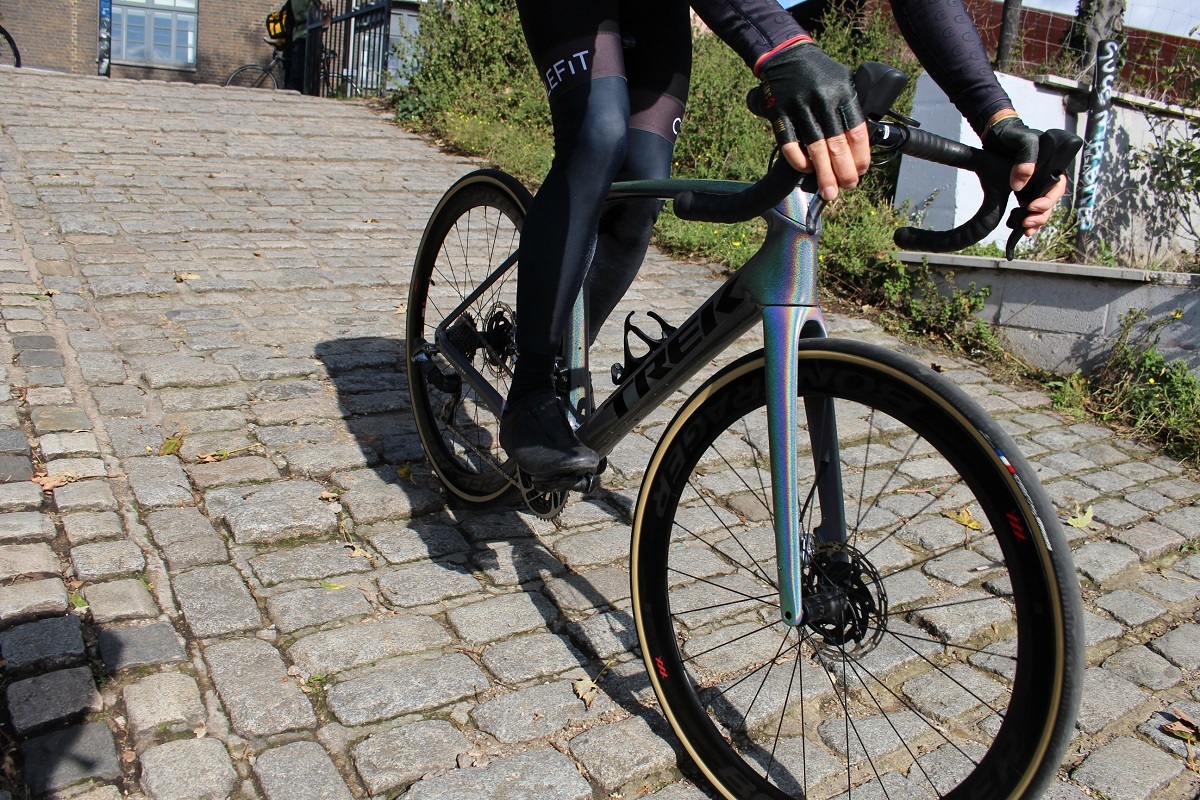 Relax and ride - virtually anywhere
"A stupendously good bike that has re-defined the genre it invented."
2020 Trek Domane SLR - Family Tree
Project Fabian
The first Domane had just been innovated around the time we were first contracted to Team Trek Factory Racing (later Trek Segafredo) in 2012. At the time we were astonished at just how engaged and passionate Fabian Cancellara was in developing the nascent Domane technology, and how it was going to advantage his little band of merry men that formed his demarcated classics squad. To the point, if I remember correctly (never a racing certainty these days), Fabian even made riding a Domane compulsory in the Spring Classics. I mention this to contextualise the roots of Domane – as a front-line race bike, designed to win classics on medieval roads and cobbles.

World Tour DNA
The linking of Fabian to the Domane project may have been expedient marketing gold, but the reality from within the team, was very different. Fabian was a truly passionate advocate precisely because he perceived it as a competitive advantage.

The other component of the Mark I Domane's success was linking the new 'Endurance' geometry platform to an innovative piece of technology, that worked beyond every cynic's expectation (including ours). Jules and I have raced mountain, cyclo-x and road-bikes on and off for over three decades, and as a consequence have seen many bonkers schemes that claim to isolate the rider from the trail/road – usually involving the word 'elastomer' somewhere. But IsoSpeed worked straight out of the box. In the same way that OCLV carbon actually worked in the mid 1990's. Trek's innate Wisconsin modesty and understatement makes them world class when it comes to R&D but thoroughly uncomfortable shouting or even talking too loudly about it – OCLV was a decade ahead of anyone but didn't take off until Lance started brashly extolling its virtues. IsoSpeed was genuinely useful technology that everyone could feel and see, embedded in a thoroughly useful geometry platform (to which we like to think we made a contribution to with our early work with Trek, ahem!).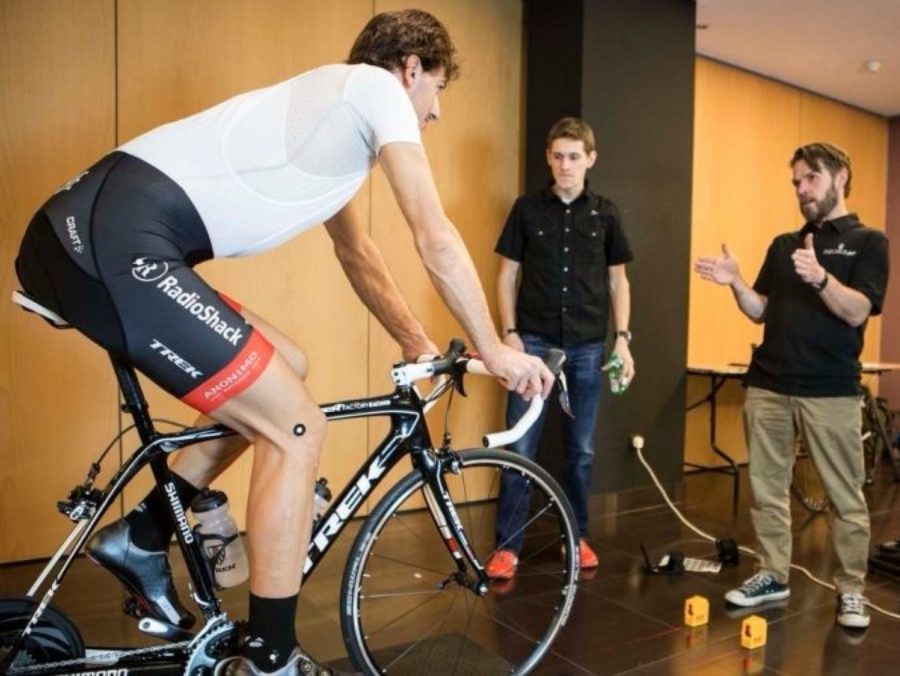 Fabian, Mark I Domane, Jordan and Jules - 2012 - Calpe Spain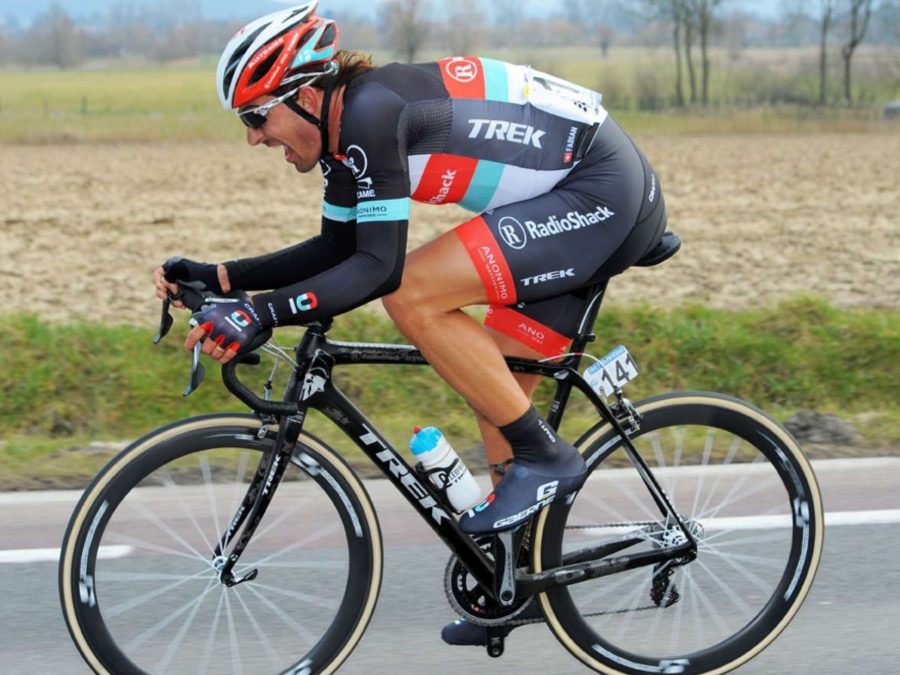 What the original Domane was bred for
2020 Foresight
We have reviewed both the original 2012 Domane and then the subsequent 2016 Domane re-design. Both grand bicycles in their own right – the former was hampered by only being 'IsoSped' at the back, so to speak, which bestowed a slight flat rear tyre experience on rough ground. The 2016 was a worthy iterative improvement, with front IsoSpeed and real-world rear IsoSpeed tuneability, which bought one's ride-life back into to balance. Mark II Domane was an impressive bike that only struggled by comparison, when Trek started making bikes that looked and performed like the 2019 Madone SLR Disc. At that point we understandably demanded a bike that echoed the Madone laminar air-flow with the all the Domane ride-credentials.
Madone RR
To be crystal clear - the 2020 bike not an iterative improvement over the Outgoing model - It is a different bike completely and should rightly be called something else. If only the nomenclature 'Domane' wasn't both the category inventor and current exemplar. In a parallel universe the 2020 Domane is called Madone RR (Rough Roads). Because that is what it is and how it rides.
"2019 Madone showed us the fundamental truth - most of the time the common enemy is wind-resistance rather than a small advocado's worth of extra weight gain"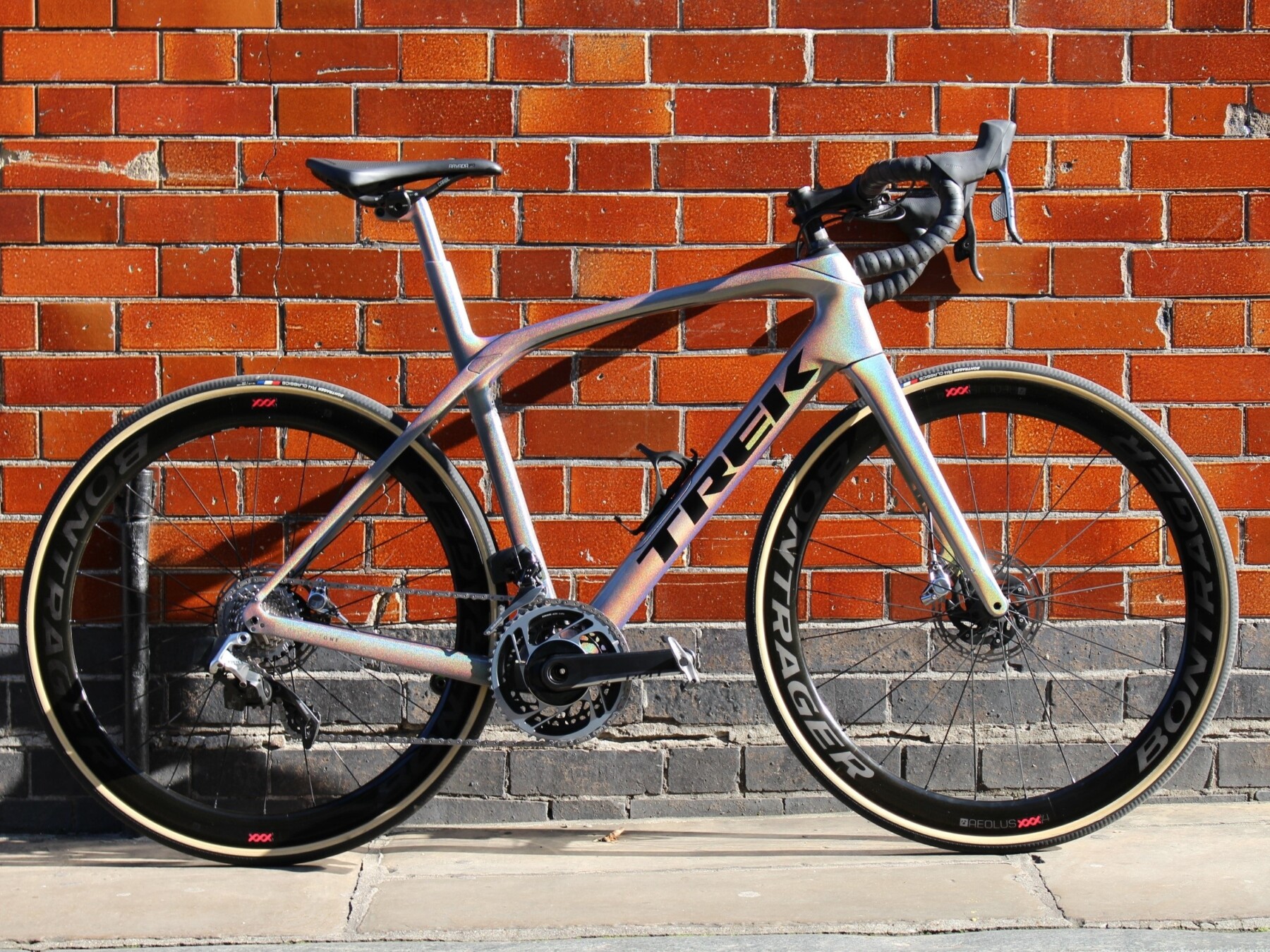 Looks fast standing still. The Madone genes are obvious
2020 Buzz-Memes - System-Integration & Aero

The two 2020 Domane buzz-memes are 'System Integration' and 'Aero'. Which is no surprise to us at all – The Trek Global Road Product Manager is an old friend of ours - Jordan (pictured with Jules and Fabian), who was our Team Liaison at Trek Factory Racing for many years. Jordan is a pure racer, whose speed-DNA was fermented at TFR into a double-helix crescendo. We loved working with Jordan at TFR – he quietly intoned velocity into every working process and product. Kept us all focused on why we were there. To make human-beings faster and more efficient on their bikes.

Madone Genome Re-Mapped & The Wednesday Worlds
The 2020 Domane borrows (steals) so much from its beautiful Madone sister-bike – including the adjustable toptube mounted IsoSpeed De-coupler and concealed cables/hydraulics. The significantly narrower profile is worth around 12 watts at 40kmh. We don't doubt these numbers and it certainly reflects how the bike feels – see below. Plus we know that Jordan and Trek engineers are obsessed with these kind of metrics – both as designers and as racers. Jordan leads a staff Wednesday Worlds ride out of Trek HQ, in Waterloo Wisconsin, where the average moving speed hovers around 50kph. Rock up with the wrong legs or the wrong fuselage and you risk being marooned somewhere deep in Jefferson County with only wolves and a headwind for company.
Back to the bike - moving the IsoSpeed to the toptube results around 27% IsoSpeed reactivity, which means the whole bike is more compliant and comfortable on hostile terrain. By the way only the SLR top-of-the -range gets this Madone-esque rear IsoSpeed – the SL model retains the seat-tube and therefore loses the dynamic silhouette of the top-flight frame.

Luggage

Elsewhere the 2020 Domane SLR gets Trek's contemporary take on 'luggage' – normally something that brings us out in hives at Cyclefit. Trek's internal storage is cleverly stashed underneath the downtube bottle-cage and retained by a functional lever. But please manage your excitement and expectation if 'storage' flies your kite – the space is relatively small and difficult to manage, however obsessive you are about your seat-pack hygiene - hard to see it is worth the effort and weight. Call me a retro-grouch.


Clearance
On a practical level we love the extra tyre clearance – 38mm with 4mm of air space = 40mm at a squeeze. That is enough for most people, most of the time.

Cable-Routing

Cable-routing is now a game of two halves – totally-hidden from the midriff back and semi-hidden up front. The function of being able to choose / remove your own bar and stem is a lovely thing if you have to pack/fly with your bike - however there were some wrinkled noses at the under-bar cable-harness, which is functional but a still decent commute from beautiful.

T47 Bottom Bracket

And best of all has to be something most of us will never see or think about – T47 threaded bottom-bracket – which finally resolves the tension between the desirable stiffness of an oversized BB and the inescapable truth that threaded bottom-brackets make THE BEST engineering sense. A round of applause Trek. Sincerely. Especially with this kind of bike and the riding punishment it can rightfully expect.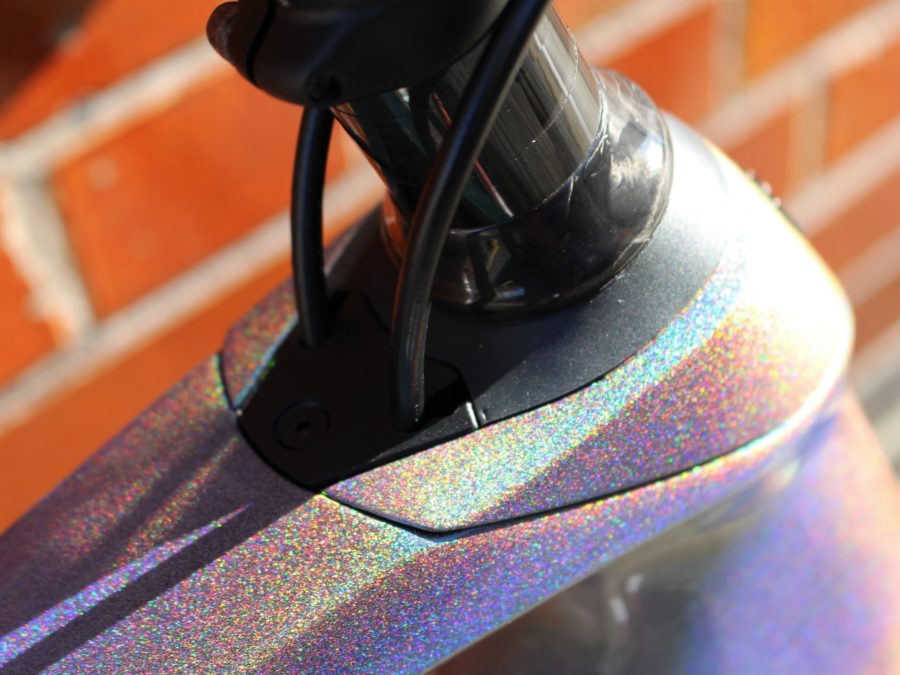 Front Ispospeed - technology you can see and feel - see video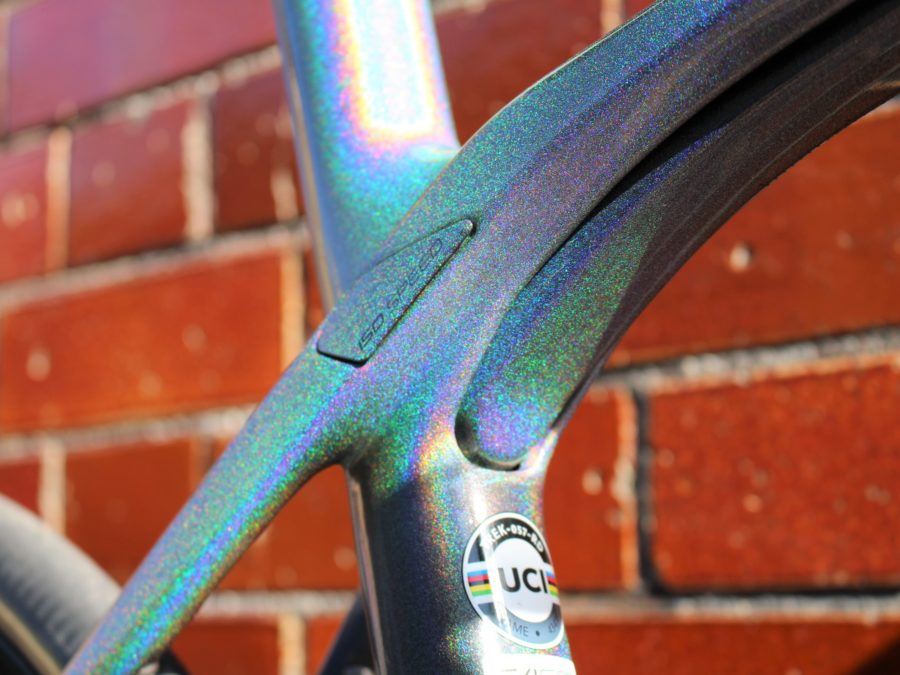 Only SLR gets the Madone-inspired downtube mounted IsoSpeed
Labrador to Lurcher
The 2020 Domane SLR is a completely different experience to the outgoing bike. The Mark II Domane, even in its SLR Sunday best, acquired over time, thoroughly laudable associations of being a venerable, functional bike. It was an honest, friendly solution with true human-kind geometry, that would safely get you home from a deluge, swamp, triathlon or Tour of Flanders. A loyal Labrador of a bike that stayed the course with you, whatever the challenge. Brilliant, but the sharp edge bestowed by Fabian was a long time blunted.

A Sharper Edge
The Domane SLR edge is back and leather-honed to a fine blade. The user experience is just a world apart. Versatility has been traded up for a modular and integrated riding horizon. Moving the SLR up to speed is a quicker and far quieter affair than the outgoing bike, despite the fact that the new bike is actually a hundred grams heavier (7.7kg with pedals). It is entirely irrelevant – Madone showed us the fundamental truth - most of the time the common enemy is wind-resistance rather than a small advocado's worth of extra weight gain. Ride fast and wind resistance is a constant drag and drain, an opportunity cost of watts saved or expended. That was the revelation of the Madone for those of us that were fortunate to experience it. And Trek have pragmatically taken that DNA and infused it back into a bike that is aimed at the every man or women (me). And the 2020 SLR is in a hurry on all kinds of terrain. It doesn't come out on the video very well but the shot of me descending and climbing the descent onto the canal was in fact steep brick-braked cobbles that most other cyclists were choosing to walk up or down. I was hitting it with as much momentum as I could muster and I floated over through in control and in relative comfort. Common sense would stop you attempting this on the Madone, despite the IsoSpeed. This is Trek's genius – they have retained much of the Madone's speed into a bike that intuitively invites a pushing of your own riding envelope. The 2020 Domane SLR will probably still get you home safely from whatever adventure you set out upon, but it's sharper, pointy profile re-focuses it more as a lurcher than Labrador. More hunter than guide-dog.

The Velopark Test
Out on Velopark's plush hi-grip tarmac and the SLR switched into a quick-shifting crit-bike, jumping in and out of corners, with only the shadow of a low bottom-bracket to interrupt the unconscious flow. Once you stand and pedal you are out of the rear IsoSpeed shock-path and hence you are working through a completely integrated power medium of an oversized BB and power-plumped chainstays. The power-transfer, is every bit as binary as the Madone or even Emonda. Similarly the front IsoSpeed is intuitively active over unsealed surfaces or even much bigger bumps; but also invisible when you need some leverage standing up and pedalling (think of the action of pulling on a wellington boot). I put in five or six 'quick' (for me) laps whilst Jules moved around the circuit taking picture and videos. The Domane invited effort and performance in a way that was an anathema to the mark I or II bikes – I don't mean that at all unkindly. It is the shadow of the Madone that is rightly currently dominating Trek's contemporary thinking and this bike is their rational exponent. This is a bike I would happily road-race or circuit race.
Middle-Aged Hyperbole
Far away from middle-aged hyperbole. The 2020 Domane is admirably capable. Two days after Velopark and I am guesting in a group-ride in The Chilterns. Commendably (read bravely) the organisers had decided to keep the ride experience fully caffeinated despite the unseasonable weather. Every climb and descent being executed on blasted back-roads that had been jet-washed with rocks and branches, to a point where intact tarmac was a scarce commodity. I backed off the rear IsoSpeed a notch or two, dropped the tyre pressures to 75psi and took to the tracks. I can genuinely say that I was the most cossetted and composed rider in the group. Obviously local knowledge helps a bit and disc-brakes help a lot, but nevertheless I felt guilty for being so damned comfortable and in control when others at times looked a little discombobulated.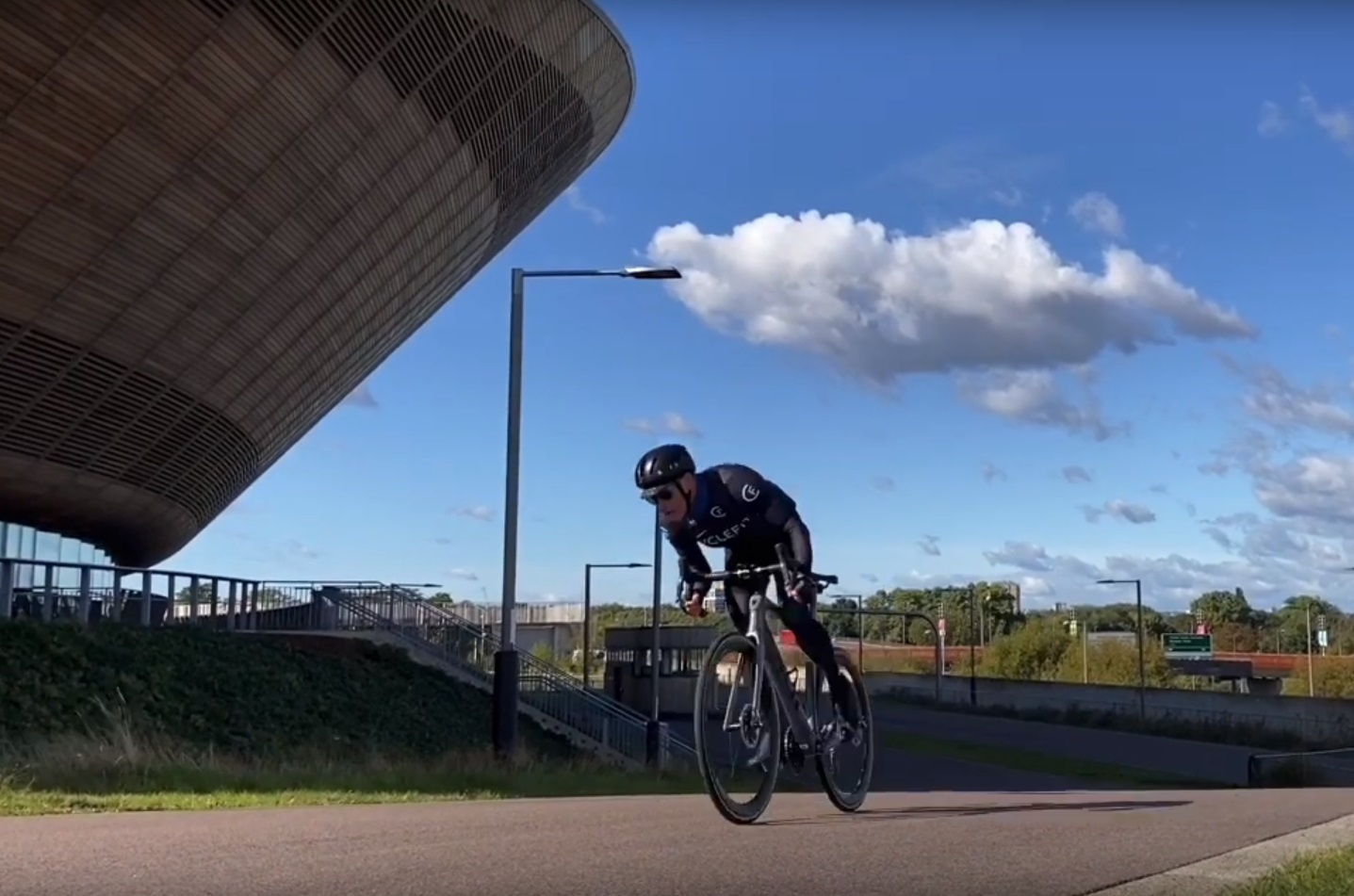 It's all coming back to him - minus the horse-power. The 2020 Domane is astonishing out here on the Velopark circuit. See Video
"a 360-degree physiological paradigm shift as human placebo intertwines with the literal laws of physics."
Chiltern Hills - Roads and Tracks
Out in The Chilterns and I started to experiment with deliberately loading up through the front-brake on steep descents, as the slight weight-transfer through the front IsoSpeed put more weight onto the front wheel. This is akin to how I was taught to ride a motorbike on the track – surfing the weight transfer onto the front wheel and almost ignoring the back brake in the set up for a corner. This kind of riding nuance is almost certainly not possible or advisable without either disc-brakes, wider tyres and probably IsoSpeed suspension. At one point we are riding over rutted gravel tracks and I felt no need to moderate my speed at all. In fact it is impossible to resist the temptation of deliberately slamming into every puddle, rut and hole in the same of research and devilment. Pop on a set of 35mm cross tyres and the Domane would make a wonderful gravel or cross-bike. It makes you wonder about the future of both Trek Boone and Checkpoint -where do they fit in the range? The 2020 bike is obviously the product of detailed and expensive R&D, which is Trek's default happy space. Smaller bike companies cannot make a Domane or Madone because the innovation is totally out of reach. The new Domane, in that sense, is impressively functional and evolved.
End of Rainbow
But is it perfect? Almost. Perfection, by definition, is end-of-rainbow stuff at Cyclefit. A journey, not a destination. So what would we do different? Our test bike had 28mm Bontrager Classic Lite tyres that punctured twice on admittedly dreadful roads. Would 32mm tyres have been more resilient? Maybe. Is it the tyres fault? Maybe not. But I do know that there is a ubiquity of alternative and wonderful rubber out there that means I don't feel the need to find out. Fixing flats is dull and to be avoided. I haven't mentioned the Bontrager XXX4 wheels or SRAM Red AXS groupset. They are both best-in-class for me. Invisibly brilliant everywhere.
Other things I should mention - I have now run up about 1000k in my custom Hexr helmet and appreciate the comfort and security that customisation brings. It is invisible. I am looking forward to my reflective shell - due in two weeks.
Also I don't often wear sunglasses when I am riding. It was my personal decision to start stocking Alba Optics - primarily because the quality of lenses is astonishing, in my opininion. And also because for those of that wear spectacles all the time and don't like contact lenses, Alba Optics also do prescription versions of their eyewear.
2020 Domane SLR Criticisms
Whilst I am wearing my critical varifocals - I would prefer a narrower bar than a 42cm on a size 54 frame – especially when Trek is now trying to project their aero credentials. And on that subject a 170 or even 165mm crank would allow a deeper drop more aero position and still maintain an open hip. Everyone else likes the luggage compartment so I will let my own reservations slide with a muted mutter about solutions to problems that don't exist. And that is it really. It is all good.
Epilogue - I Feel Fast, Therefore I Am

I feel fast therefore I am - Trek have found the formula:
Aerodynamics & system integration = more speed = more excitement.

Wrap that philosophy up in aerospace tube-shapes and Prismatic filmic paint for a 360-degree physiological paradigm shift as human placebo intertwines with the literal laws of physics. The 2020 Domane is a stupendously good bike that has re-defined the genre it invented for the rider that wants it all, no matter where they find themselves riding or racing. It aims to do everything the outgoing Domane SLR could, just at higher speed and with a more impact. A Madone for the people. The bike we tested is a very high spec Domane SLR 9 eTap and costs £9650. But I would recommend skiing off-piste and opting for Trek Project One - where for a similar budget we can tailor:

Frame geometry - Endurance or H1.5
Bar/stem/seatpost layback etc
Crank-length
Component choice - wheels etc
Colour and finish
Individualisation - e.g. name or initials.
It is a big and valuable list of customisation.
Cyclefit Trek Domane SLR Video Review
"Perfection, by definition, is end-of-rainbow stuff at Cyclefit. A journey, not a destination."