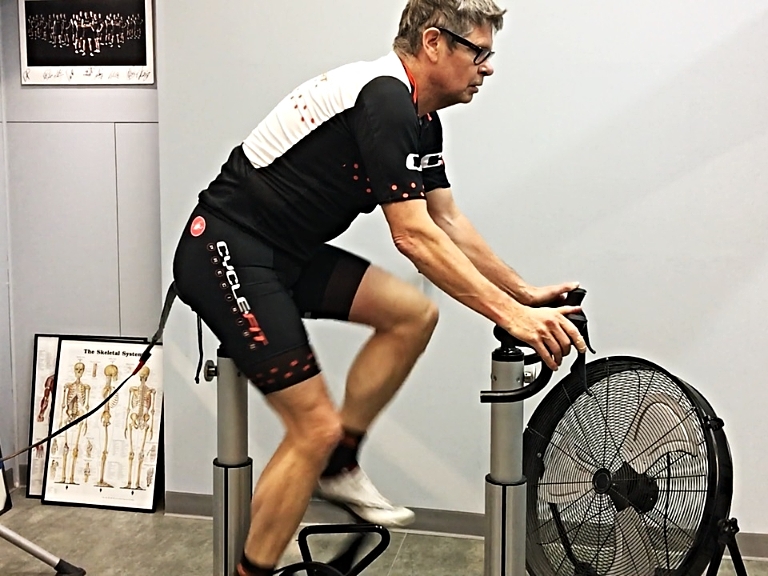 It's never easy to turn the clock back. Especially if you are not at all sure you want to.
What the bloody hell are you waiting for man?
I don't know what I am waiting for. 11 months out of surgery, I have even been given the all-clear to 'try and ride' by my surgeon, caveated by an obvious sensitivity to falling off and a sensible reliance on pain as a guide. The surgery, within its terms has gone well. It is too early to say if there is any meaningful fusion between T12-L2, even so the nascent conditions for fusion seem to exist. And yet I still hesitate. Friends and clients touchingly enquire, nudge and cajole. It is hard to understand why are after six-and-a-half years I am not exploding with pent up energy and passion for riding and training. I guess have lived vicariously through friends and clients adventures and goals for so long now that I am simply out the habit of riding myself. There it is. I actively mourned cycling after the accident for about three years. I sustained the dream of riding again right the way through the first surgery in September 2013. But then 2014 ironically became the most medicalised year of the entire process, as I dealt with a post-surgical infection. The culmination was the removal of some of my lymph nodes from my chest, a few days before xmas 2014/15. Unpleasant itself, but importantly the histology showed a deep lung infection and a post surgical auto-immune condition. My passion for cycling atrophied and withered somewhere between this diagnosis and the news that the spine surgery itself had failed in Spring 2015.
It all starts with a Cyclefit. And peer pressure.

Jules and Barna keep nagging. They implore me on a daily basis to have a Cyclefit, find out my FTP, get out and ride. They have set me up a Landrace bike that is mysteriously close to my perfect size and geometry. The stars are aligning whichever end of the telescope I am looking down - to mix my astrological metaphors.So recently I squeezed into the lycra that was mysteriously left draped over my chair, turned the clock back to October 9th 2011, and sauntered into Studio One with Fabian Cancellara's fitter of choice - our very own Jules. And of course I really enjoyed the whole process from the other chair/saddle. It is intrinsically wonderful to be the centre of attention for a couple of hours, with an experienced and insightful technician. Jules noted immediately that the instability around L1 had largely gone. The last time I tried riding in Mallorca a few years ago, on one of our training camps, my osteopath, Alex Fugallo bound me up like a Geisha Girl, with rolls and rolls of kinesio tape. Dosed to the max on pain control, I slowly climbed Sa Colobra, feeling like an imposter, but the movement at the fractured and deteriorating level apparently looked as horrific as it felt. Nobody wanted to ride behind me, except Alex, who dispassionately made notes for the day that he knew he would follow me through surgery (he was there for the whole seven hours May 5th 2017 - More)
Magic Metal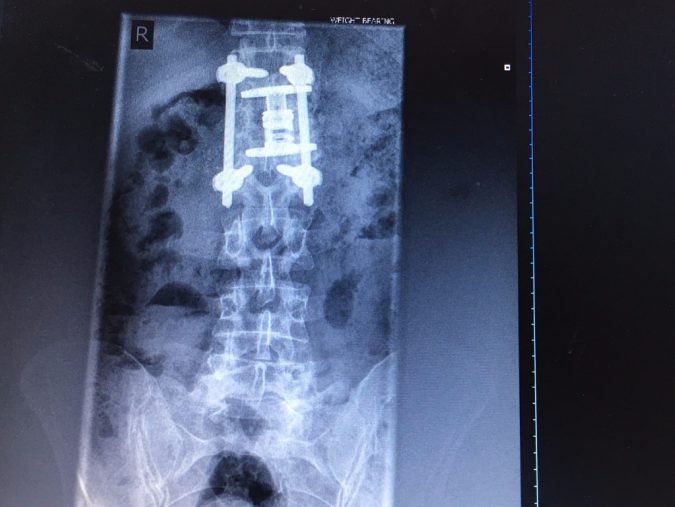 Titanium is in me. And always will be.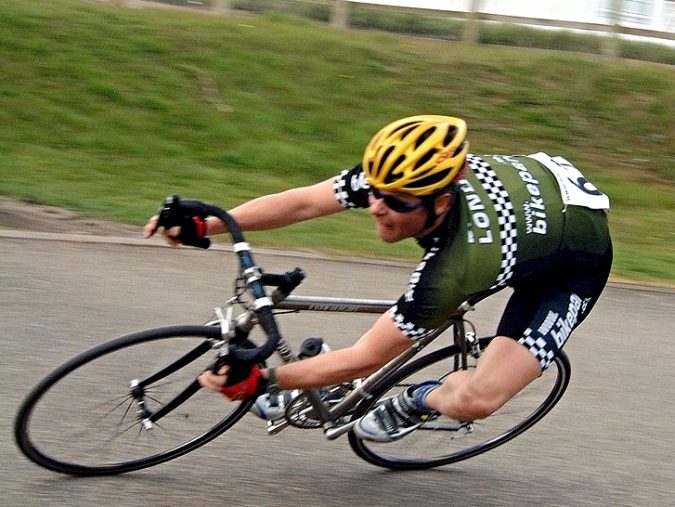 Phil on the edge at Claries Corner, Eastway Circuit - circa 2001
The Magic Metal and Me
Me and titanium have always got on well. When everyone was impaled on the horns of the aluminium v's carbon dilemma for crit racing in the late nineties and early noughties, I had already long fallen in love with this most magic metal. My riding style was to use technical corners to breakaway, and then try and time-trial to the finish line on my own or with whomever was stupid enough to come with me. Titanium did two things for me - its natural spring helped grip on the margins, as well as giving me broadcast quality feedback where the limits were. Then once I was away titanium was light, quick and comfortable enough to hang out there for a few laps on the ragged edge. It was a card I was allowed play way too many times. If that failed and I got dragged back I would pile on the pressure and lead Jules by the nose to the line, so he could unleash his rapid finish. Wonderful wonderful times.
Landrace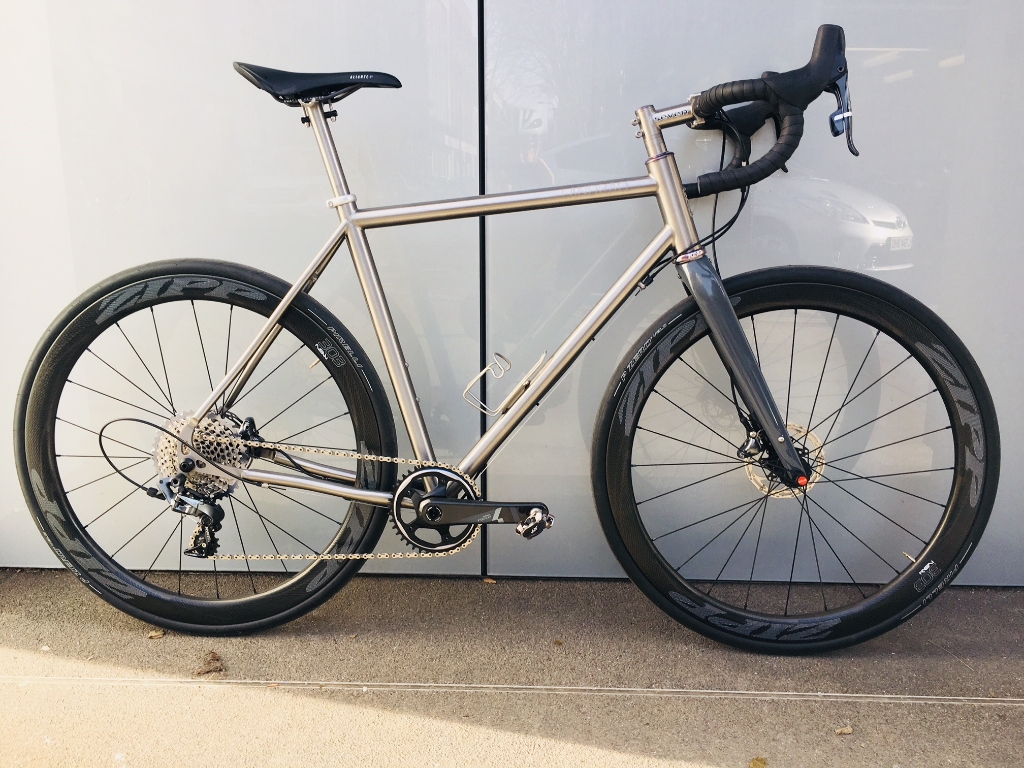 Project Landrace
With a Cyclefit completed and the data collated, it was a relatively easy step to have our demo Landrace set up to match. And what do you know it fitted as if it had been designed around a new me? And there it languished in a corner until a few photons shone through the front window. So out I headed to Regents Park with a straight (ish) back for the first time in too many years. You can read about the intellectual underpinnings of The Landrace Project in our previous Journal. Essentially Landrace is a road/gravel bike that edges the genre more towards tarmac. For the primary reason that in too many instances we have found that waving gravel credentials around, undermines a bikes core snappy-factor on the road.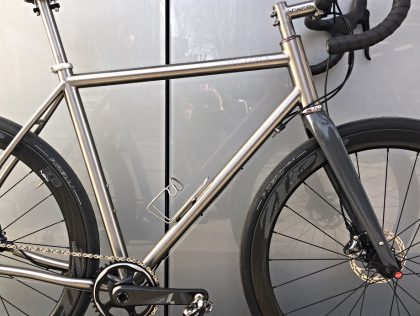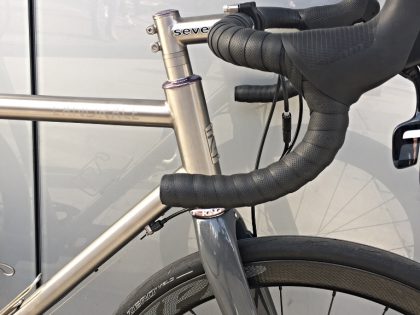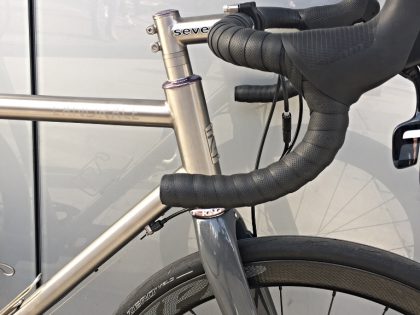 Drop the weakest-link
Jules came up with the spec of this important bike. And because his current obsession is 1 x 11, this is what our tester Landrace is bequethed. Along with a pair of new Zipp 303 Discs, ti PMP seatpost, Seven Matador fork and jaw-droppingly gorgeous Seven ti stem (£475). Losing the front mech is fine by me. There is no more disappointing, unreliable and hateful piece of cycle componentry than a front derailleur. Guaranteed to let you down and ship the chain when you need it most. The fact that Shimano venerates its binary-guided front mech is laughable. Like the medical industry still lauding lazer-guided leaches for treating open wounds in the 21st century. Victorian nonsense both. I despise front derailleurs and relish the opportunity of banishing them to the history bin. The fact that we still use derailleurs to shift gears in 2018 is a matter of collective embarrasment for the cycling industry. And what happens when one company is allowed a de-facto monopoly.
I would love to say the first ride was a watershed, a revelation, an epiphany. But in truth it wasn't. What it was, was a necessary first step interfacing dreadfully compromised biomechanics, to a flawlessly functional machine. My body was weak, irritatingly painful and disappointing. Distantly remembered muscles and motor-patterning, called from compulsory retirement, into atrophied action just one more time. What did I expect? But this is what Cyclefit does - around 50% of our clients are with us because of chronic pain and injury. We have become the fitters of last resort because of our experience and links to the medical community.
The Landrace was sharp, digitally effective and shined optimistically in underwhelming spring sunshine. Everything was in sharp contrast and shadow. Seven are a truly astonishing company. They manage to pack so much life, energy and sheer precision in to seven tubes that people like me struggle for adjectives and superlatives to communicate it. In truth so do they. They know their engineering prowess exponentially exceeds the power of communication. Their only hope is that their reputation motivates someone to test one of their bikes, and hope gets hardened into opinion and then conviction. Our experience bears this out. One Seven inexorably leads to another we have found. The experience of owning premium titanium over time far exceeds the expectation. Is there anything I didn't like about my maiden ride on a machine that was almost conceived around me? Yes I didn't like the Zipp 303 wheels. From the ridiculous 'new' decal to the intrusive and constant buffeting from very weak park breezes. And for what gain? I am weak, I am slow and I have poorly focussed resolve, so why do I need a wheel that distracts me even one synapse from the core task of frantically trying to consolidate a re-discovered regime of being a bike-rider again? Quite simply I don't. But good riddance to the front-mech. You were always hideous.