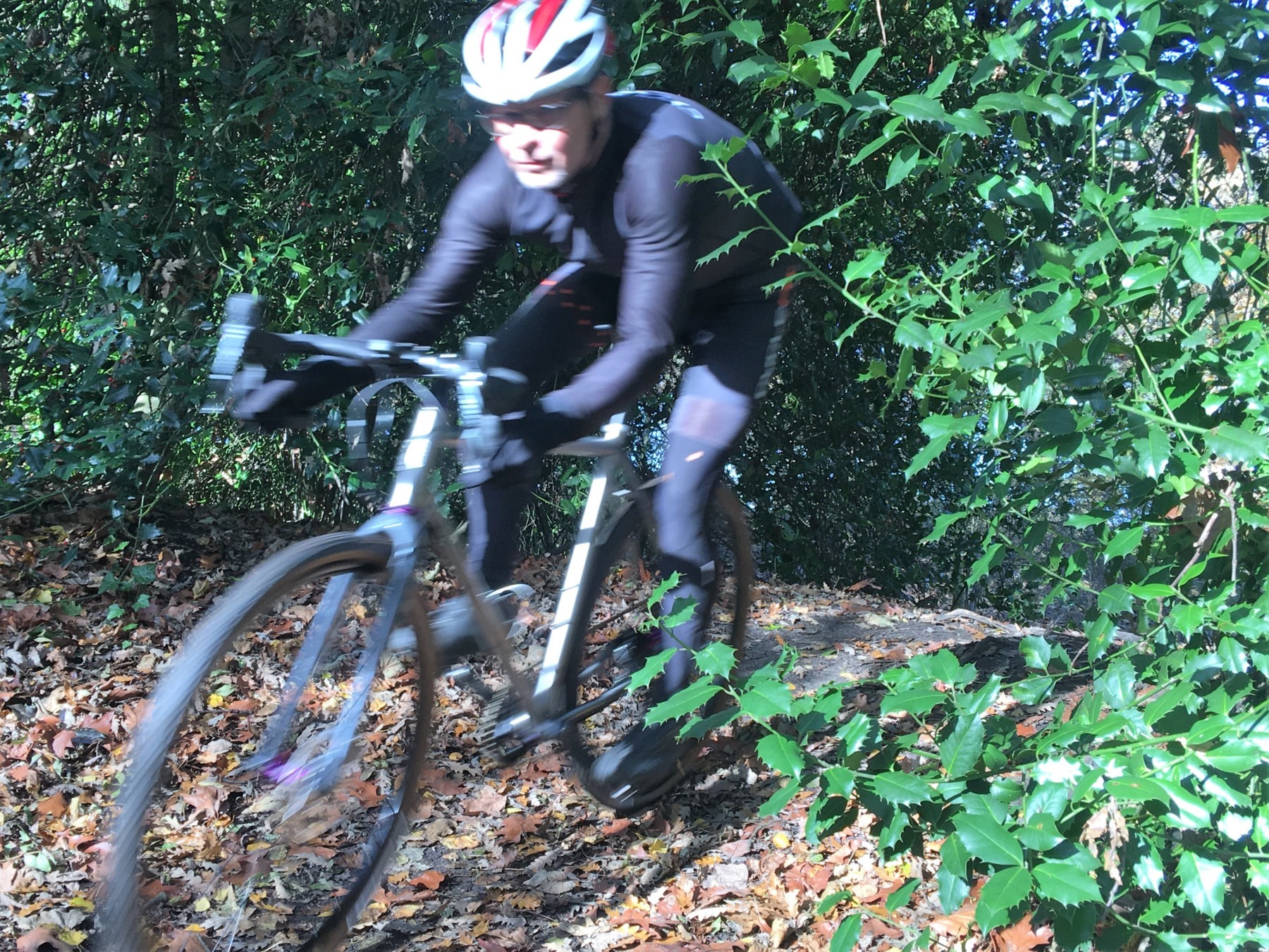 Rolling back the years. Never too old to steal a photo location. Perfect Landrace Tupelo terrain.
Designing Custom Bicycles - 2000 & Counting
Between us, Jules and I have probably designed over two thousand custom bicycles over the last sixteen years. It is the perfect blend of technical skill and soft-skill intuition. The Cyclefit analysis produces enough data to launch a satellite, but means very little without rational and empathic interpretation and application. The intuitive part assesses
An individual's technical skill?
An individual's confidence cornering and descending?
Is the person likely to get more or less fit over the next few years?
Is there a reoccurring injury or pain concern to work around?
Is the individual likely to gain or lose weight in the future?
Where will the bike be ridden for the majority of the time?

X/Y Metrics And The Movable Bull's-Eye
You can therefore have exactly the same X/Y metrics off the jig for two different athletes, but their custom frame design will be totally different, based on everything else about them. One person may want a bike that is going to actively look after them wherever they go. A calming, trusted friend that helps them build towards the day they can take both hands off the handlebars and roll down a hill. A bike that will evolve and change to a more nurturing position should it need to. A bike that will be, beyond everything stable and predictable.
Another athlete with the same X/Y metrics may want a bike that is built to excite and motivate. A bike that will move forward with them as they progress and even start road-racing or criteriums. A bike that goes, stops and steers at the blink of a synapse. A bike that lives out on the edge of what is technologically possible (see Landrace Blackstar below).
Both bikes may have the same root X/Y's but a different equilibrium that they must be able to gravitate to. How these bikes are drafted and what they are made of is the product of intuition and experience. It is a judgement call that Jules and I make every day - i.e. where is the bull's-eye? You want to try to shoot the bike, if you can, ahead of the rider's direction of travel. We have become quite good at it.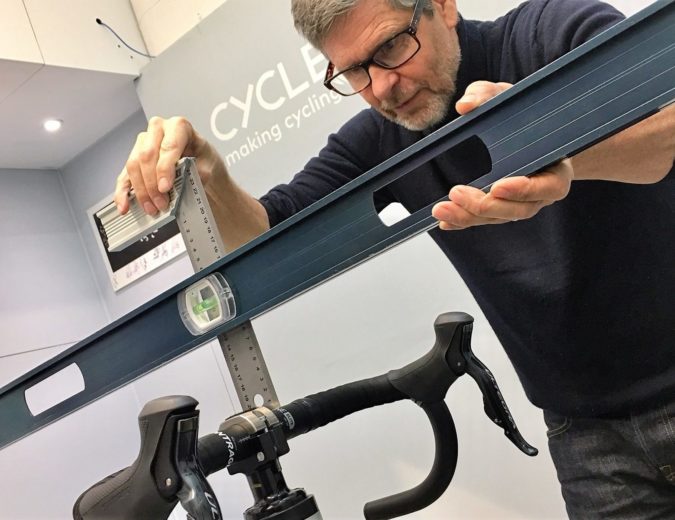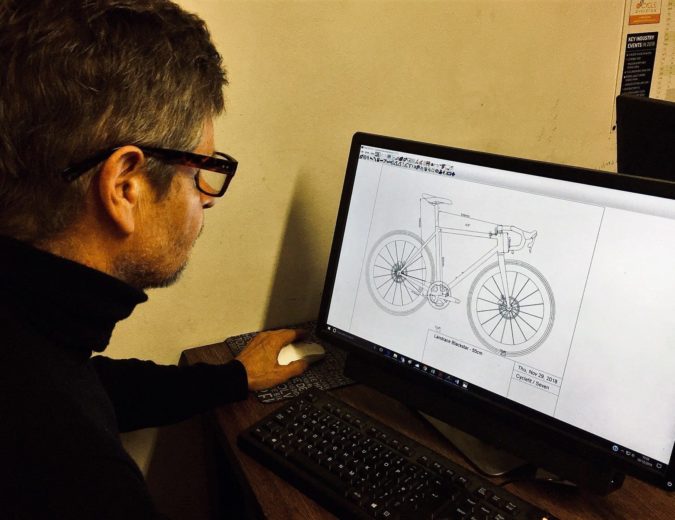 Raw X/Y data becomes something magical
"We would try and maintain the same speed across the golden-leaved hard-pack trail, as we had on the roads. Constrained only by strength, bravery and the physics of traction"
Inside Landrace Stock Geometry
Designing a stock geometry bike is all about different hypotheticals and assumptions:

• Who is the target rider?
• What kind of riding will they be doing MOST of the time?
• How do they want the bike to feel and handle?
• What features would they need – mudguard mounts, tyre-clearances etc?

However impartial one tries to be when you are conceiving a stock frame, the result will inevitably have a huge dose of your own preferences and personality. And quite honestly we think that is a wholly good thing. And our Landrace Tupelo is of course no exception. The inspiration is our own love of blurred riding lines. Nothing gave us more pleasure 25 years ago than a deviation across Epping Forest on our road bikes - Jules on his Cougar 653 and me on my Merckx Columbus SLX (hanging inside the door at Cyclefit). We would try and maintain the same speed across the golden-leaved hard-pack trail, as we had on the roads. Constrained only by strength, bravery and the physics of traction. How could we capture that elemental feel of speed and immediacy but also elongate the control and comfort? Here is what we came up with:
Decrease the bottom-bracket drop to 80mm to lower the riders overall Centre of Gravity
Increase the tyre-clearances to allow 38c tyres
Build by Seven Cycles in Boston from custom-butted USA-milled 3-2.5 aerospace titanium
12mm thru-axles and flat-mounted discs etc
Mudguard mounts for winter adventures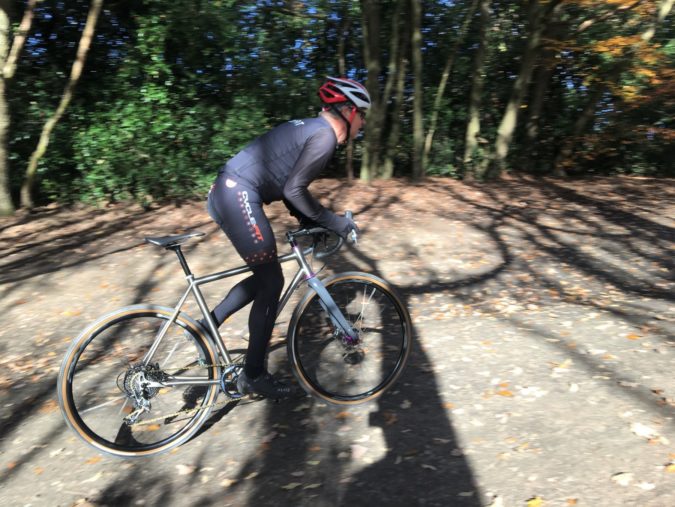 Landrace has been conceived to feel perfect in these conditions.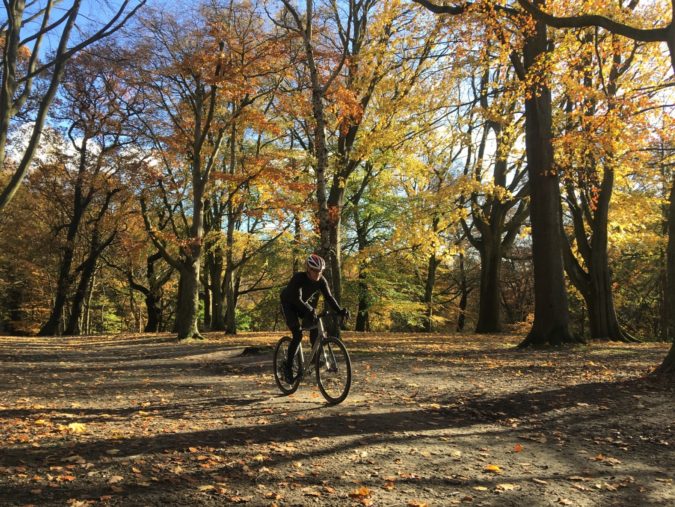 Sunshine and a carpet of golden leaves always helps.
Landrace Tupelo - The 80/20 Ride Rule


The result is our Landrace Tupelo. A bike that is more biased towards road-riding and tracks than the new niche of gravel bikes, but faster and more satisfying than most of them 80% of the time. Riding in the UK is inevitably about linking mixed terrain. And that generally means that 80% of our riding will be on roads, back-roads, tracks and trails; with only 20% on more technical trails where a 29r will always feel more settled and comfortable. So we designed a bike to feel magnificent where the majority of our miles are. Think more Volvo XC90 than Land Rover Defender, more BMW 1200 GS than KTM Paris-Dakar. I literally thought of these comparisons when we were designing the frame (I have owned and liked both). In contrast the stunning Open UP feels amazing off-road wearing a set of 650b's and 2.1MTb tyres, and pretty good with a set of 35c cross tyres on 700c wheels. But it can't double as a winter bike or summer race-bike for me for several crucial reasons:
It has no mudguard mounts
The combination of hi-modulus oversized carbon and 25/28c road tyres gives too much stiffness and directness on poor road surfaces
A 70mm BB drop leaves me too high for both challenging icy roads or cyclo-x riding - I don't have Jules finesse off-road.
We wanted to build a road bike that is up for an off-road adventure, rather than a gravel bike that could be ridden on the road. It is a subtle but important focus-shift.
"The vital aspect of Tupelo's performance is the transition from road, to poor road, to off-road - it should be a challenge accepted, motion maintained, not dreaded through clenched teeth and ground jaws"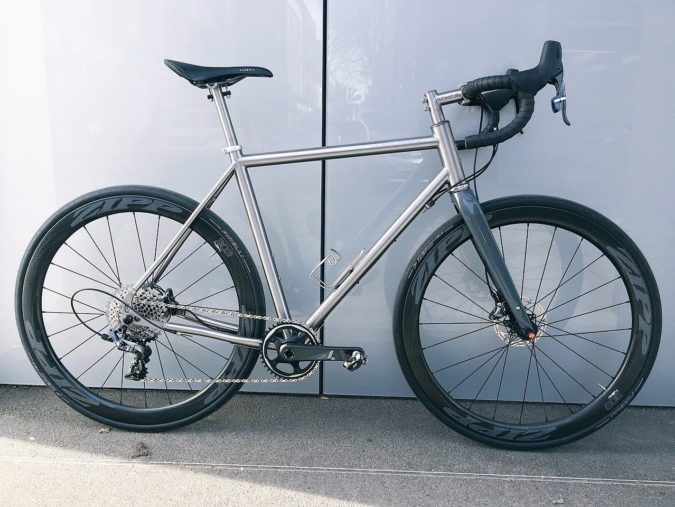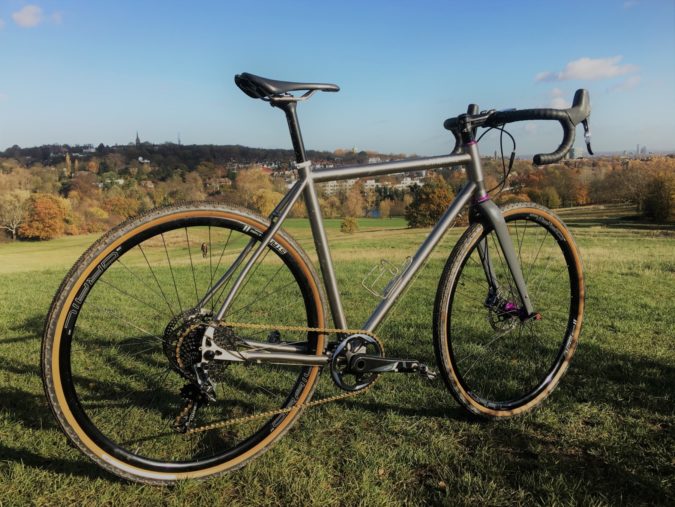 Landrace Tupelo - Sweeter Than Honey
So much for the theory and pontification. How does it ride? Our test-bike rolls out the door just north of £5899.00 all up. We have used a USA made frame (Seven cycles) with a Yorkshire made (Hope Technology) hubs and headset. The route is a blast around North London green lanes and spaces linked by 70-80% road sections.
Full disclosure
We have been very unimpressed with how many gravel bikes ride on the road (where they will inevitably spend much of their life). The big issues we dislike most about gravel bikes is they generally have floppy steering, heavily damped power-transference and a singular lack of zing in the get-up-and-go department (Open UP is an exception to this rule). the Tupelo uses shorter-than-average 420mm chainstays, which does restrict much over 35c at the back. But the ride on the road with carefully chosen Panaracer GravelKings is stunning. The perception is that little ground is being given in terms of speed and drive over the little chain-gang we temporarily join in Regents Park on our way to Hampstead Heath. Even rolling on generous 35c tyres, the overall feel is of a quick, smooth road bike, without any of the remoteness that we dislike.

Lower BB
The 80mm BB sinks you deeper into the bike than a standard road or cross bike. The lowering of your overall centre of gravity has a profound effect on the way the bike rides in terms of stability and sense of security - it just makes the bike feel a much calmer, safer, place to be. The only reason not to lower the BB is for ground clearance - either jumping logs off-road, or banked over at 45 degrees powering around a hairpin in a criterium. I don't do the latter anymore and I will remember to be circumspect about the former. In addition both Jules and I use shorter cranks now (165) so the issue of unseemly pedal/tarmac contact is partially ameliorated.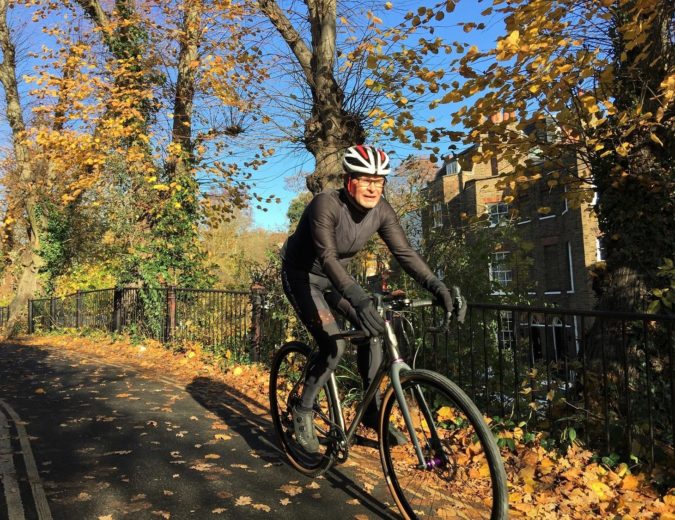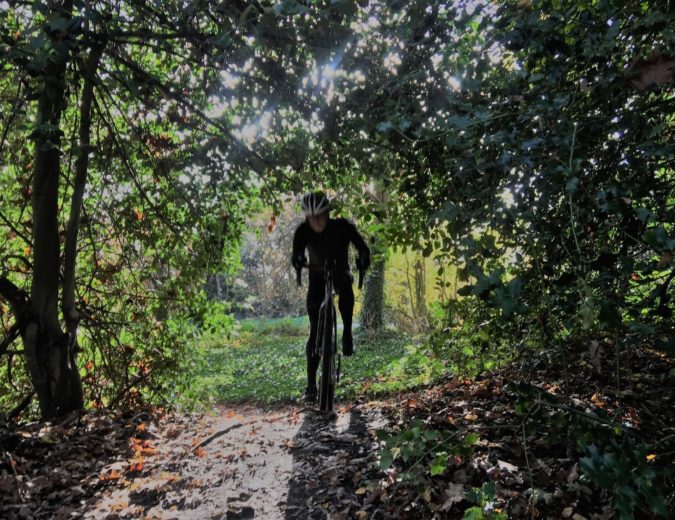 ...to here, should be seamless and natural
Road-Dirt Segue
The vital aspect of Tupelo's performance is the transition from road, to poor road, to off-road - it should be a challenge accepted, motion maintained, not dreaded through clenched teeth and ground jaws. Seven Cycles are titanium specialist impresarios, that manage to design into their frames a kinetic tension that breathes performance and sophistication into the riding experience. Most people buy more than one Seven for the simple reason that the ride sensations are so intoxicatingly rarified.

The segue from road to dirt is how I always dreamed - conscious but not conspicuous. There is no discernible deviation on my Omata as the Panaracer soundtrack goes up an octave. The sense of connectedness and control remains constant, over broken ground, single-track and gravel roads. This is testament to the inherent properties of quality titanium and thoughtful tyre-choice as it is good frame architecture, but the summation is a fun place in the woods and sun to turn up the dial. Bear in mind that Jules is behind me on his Trek Top Fuel full-suss with a few hectares of travel at each end. After a tight piece of single-track that terminates down some steps, which I take with virtually no pressure on the brakes, he pauses to ask me a concerned question: "are you not constantly thinking about your back at that speed on this terrain"? And you know I really wasn't. Not because I am the most skilled rider off-road or born-again risk-junkie, but because the sensations I am getting bike are predictable and also very familiar from my long term Seven Axiom SL. I can feel every millimetre of available traction through the natural compliance of Seven's magnificent titanium fabrication and square-block (still hard to beat off-road) GravelKings. The Landrace encourages a momentum-surfing fluent riding style on this mixed terrain - trust your instincts, load the outside leg, edge the tyre more than you ever thought possible, but keep the speed high. The steering feels quicker off road than on, precisely because the Tupelo has a shorter wheelbase than a conventional gravel bike. The short chainstay is superb when climbing off road, with the rear tyre tucked right underneath you, rewarding an out the saddle power-climb technique. You could of course, in theory, ride Tupelo absolutely anywhere, it will navigate MTB trails, drop-offs, tree-roots etc, but none of that compliments its inherent design because your speed and flow is necessarily blunted riding around a lack of suspension and relative tyre volume. That should not be considered to be a negative - the price of riding at on-road speeds up leaf-blown trails, is things will get a bit feisty of stray too far off the path.

"Tupelo should and must move seamlessly from fast road-bike, to fast back-woods bike to super-resilient winter-bike, without breaking a bead of sweat!"
The Perfect Winter Bike?
The other side of Tupelo's personality that I will be testing over xmas is as a full-dress winter bike. GravelKing's will give way to Tubeless Schwalbe Pro One 28's and a set of SKS full mudguards. I may even stay 1 x 11 and suck up the big gear jumps on the Chiltern Hills. I confidently expect Tupelo to be as fast, comfortable, safe and fun, as if this was its primary design remit. Tupelo should and must move seamlessly from fast road-bike, to fast trail-bike to super-resilant winter-bike, without breaking a bead of sweat! watch this space. You know I will tell you the unredacted truth!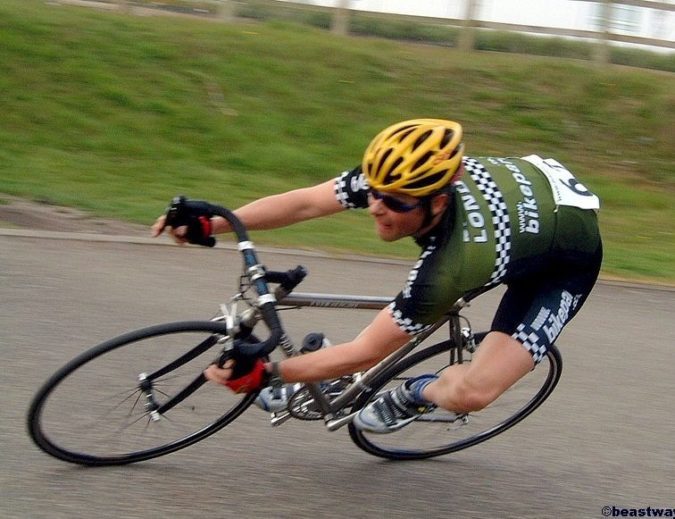 Blackstar has been designed to do this better than any titanium bike ever made. Phil at Claries Corner (Eastway) - circa 1927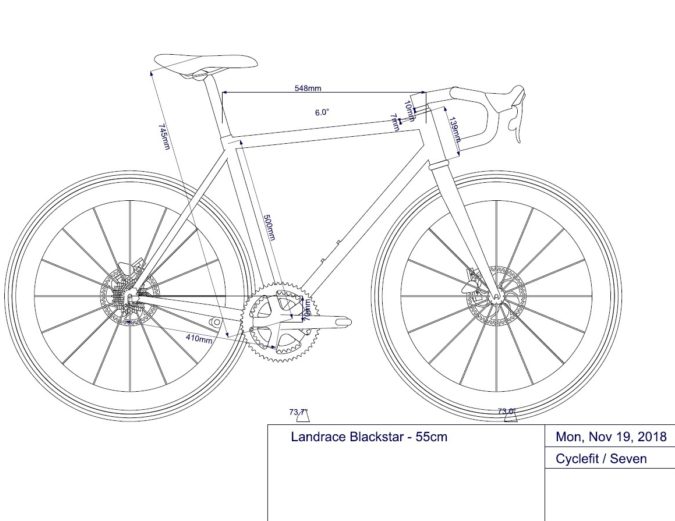 The maths has been done and a test bike is on its way from our friends at Seven in Boston
Landrace Blackstar
The Landrace Blackstar is another itch that me and Jules have to scratch. The Tupelo is a beautiful bike that will switch between three hats seamlessly. But razor-edge racing is just not one of those hats. And whilst we may not choose to live out on the ragged edge anymore ourselves, that kind of bike is part of our DNA and we just love designing and riding them. Project Landrace Blackstar design remit :
Class leading racing / performance titanium fuselage
Class leading ti/disc weight to stiffness ratios
Timeless/ageless aesthetic
Lifetime resilience and durability
Internal routing throughout
T47 BB standard
1" chainstays / Moto Seatstays
Book your test-ride for mid-January onwards.