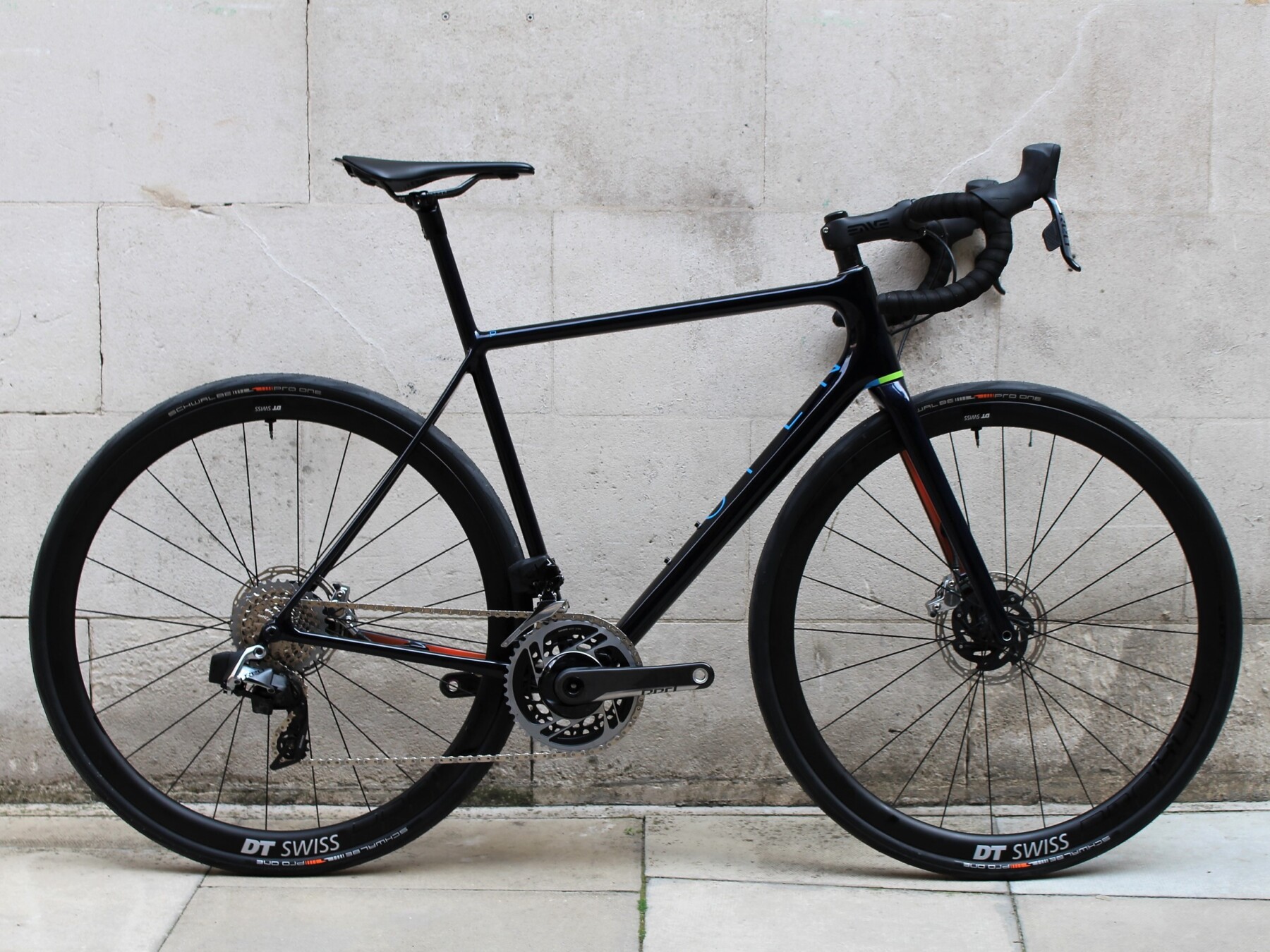 "For me, it all starts and ends with Pegoretti. Of course while Dario was alive, but still today."
Open MIN.D. Review

Jeez this bike was a long time in gestation. We first saw Open at either 2012 or 2013 Eurobike show in Germany – I can't remember which. But we were instantly transfixed and converted to Open's vision to bring bikes into the world that were limited only by our imaginations; predicated on a dropped chainstay design that bought a capability to fit 650b MTB wheels/tyres and up to 40mm cross-tyres on a 700c road wheel. Jules saw a cyclo-x bike on steroids and I saw a mountain bike for roadies everywhere. We simultaneously projected our cycling futures onto the unusual bright orange sculpted form in front of us.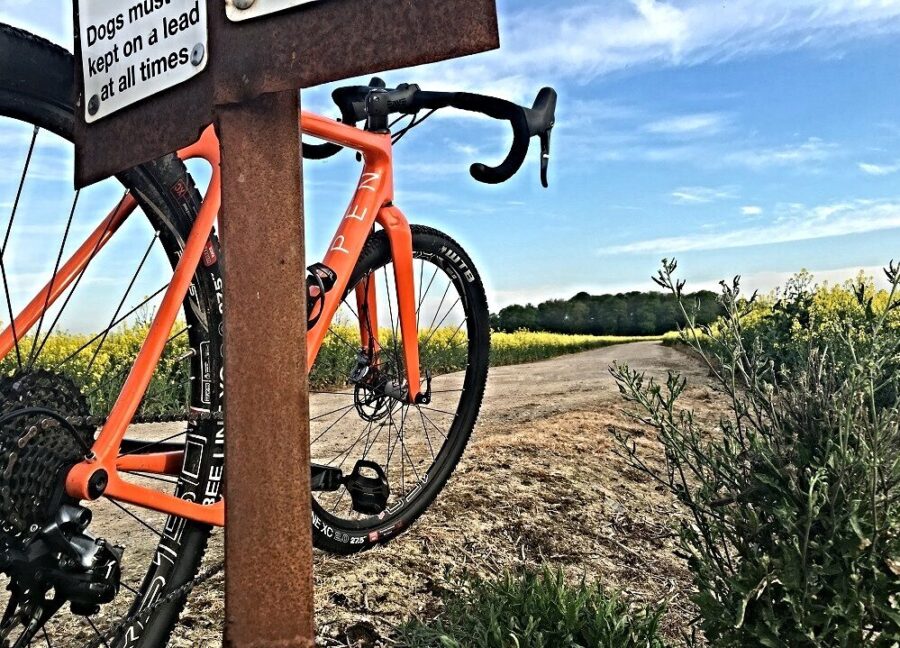 Our 2016 Open UP test-bike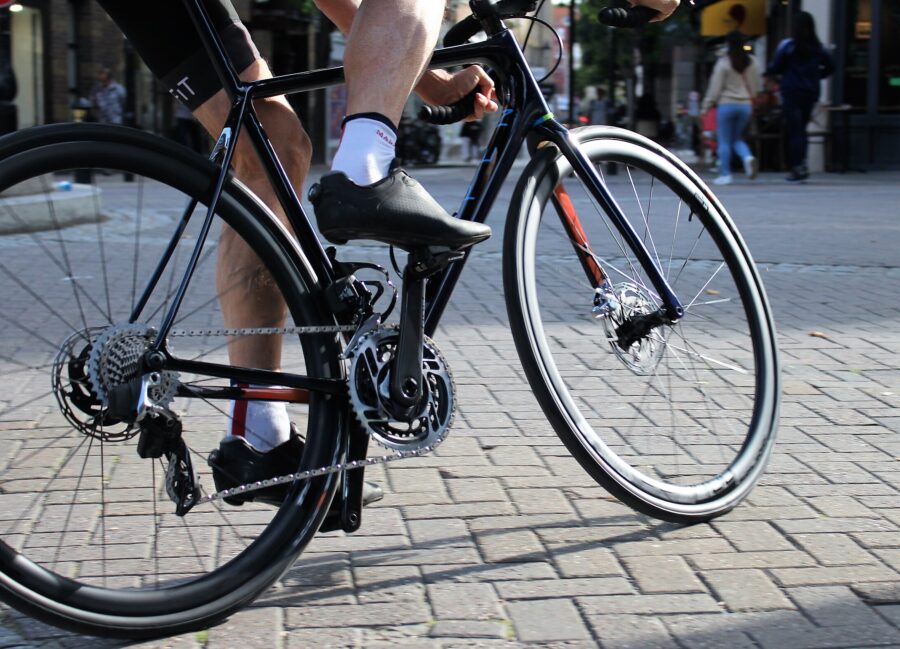 Open by Name, Open by Nature
At the time of Open's inception, we were also intrigued by the pairing of Gerard Vroomen (Cervelo founder) and Andy Kessler (ex BMC CEO) and their trenchant commitment to 'work hard at being small'. They had both done the big company thing, and it obviously hadn't worked out so well; so they built their new little house on very simple foundations – one or two models, be open, clear and porous at all times with everyone, limited marketing spend and most of all make bikes that they wanted to ride themselves – i.e. never be expedient to market-place perception.

And since those early days a road bike has notionally been on the cards. Every now and again we would ask how it was coming along – to which, to their credit, would be met with a stone-cold 'open' reply – "no not yet, but it is still on its way. We will tell you when there is more news. Please remember there are only two of us"!

In a world of bumptious fluff and flummery, it can be a little disconcerting at first how honest and direct Andy and Gerard can be – both in conversation and in their Journals and VLOGs –

"To be fair, there is not really a "need" for [MIN.D.] - an UP, UPPER or WIDE does everything a road bike does". Gerard Vroomen 2020.

Just imagine Trek or Specialized launching a bike upon the remit that there was actually no need for it? But you quickly adapt and learn to appreciate that this the way they like to deal with the world – total transparency and honesty.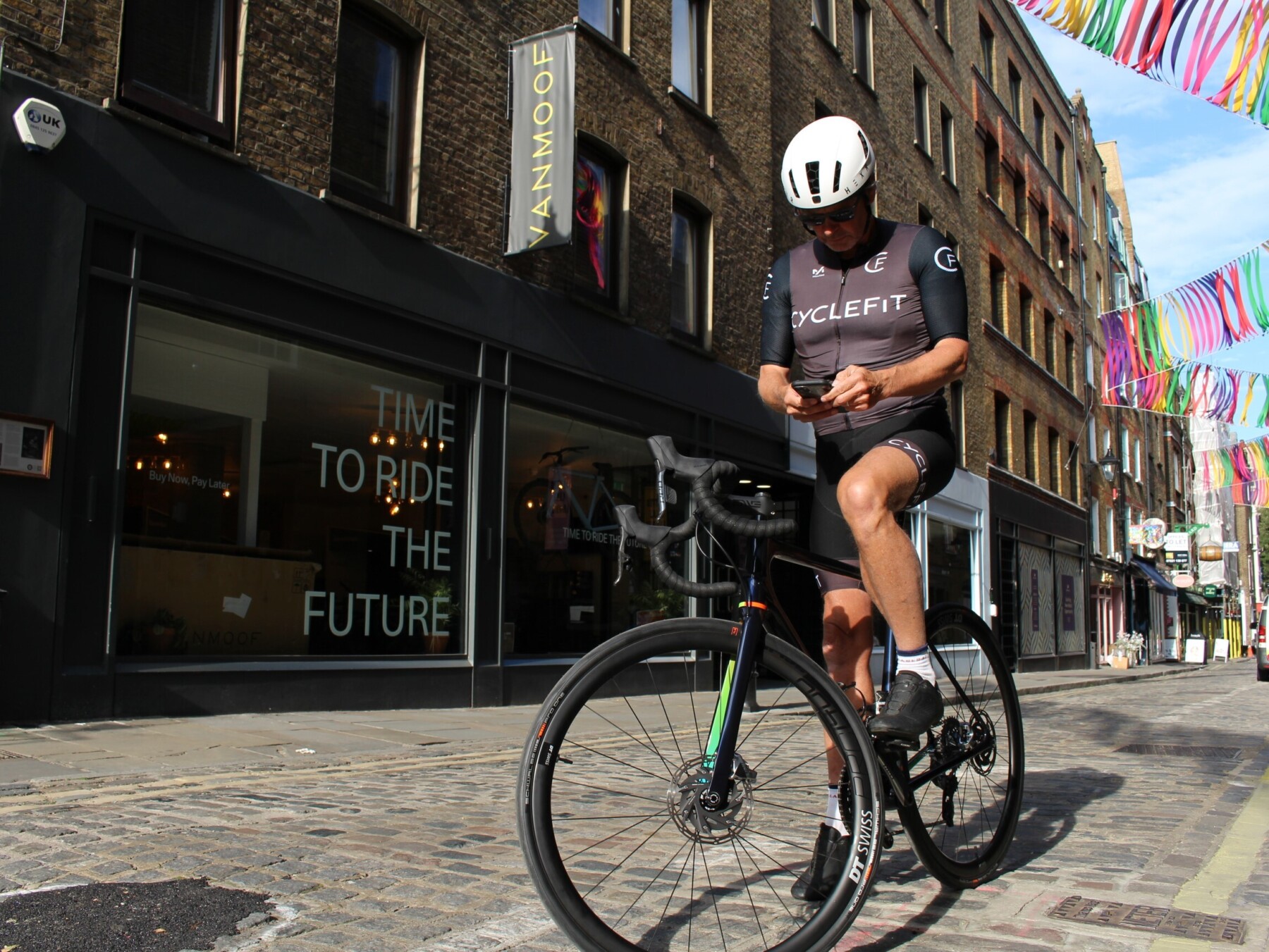 The Odd Couple
And Andy and Gerard are even more fierce and honest with each other –

"the past months have been very frustrating, even to the point that maybe for the first time, there's been some irritation creeping in between Andy and I"


I take this up with Andy when I interview him for this review:


Q. "What is it with you and Gerard – how do your personalities and roles overlap"?


A. "There is no overlap at all. We are opposite people. That is why the dynamic works so well. Gerard is a theoretical scientist. A bone fide genius. He carries the maths that underpins bike-design around in his head, all of the time. I am responsible for how our bikes then interact with the world and real people."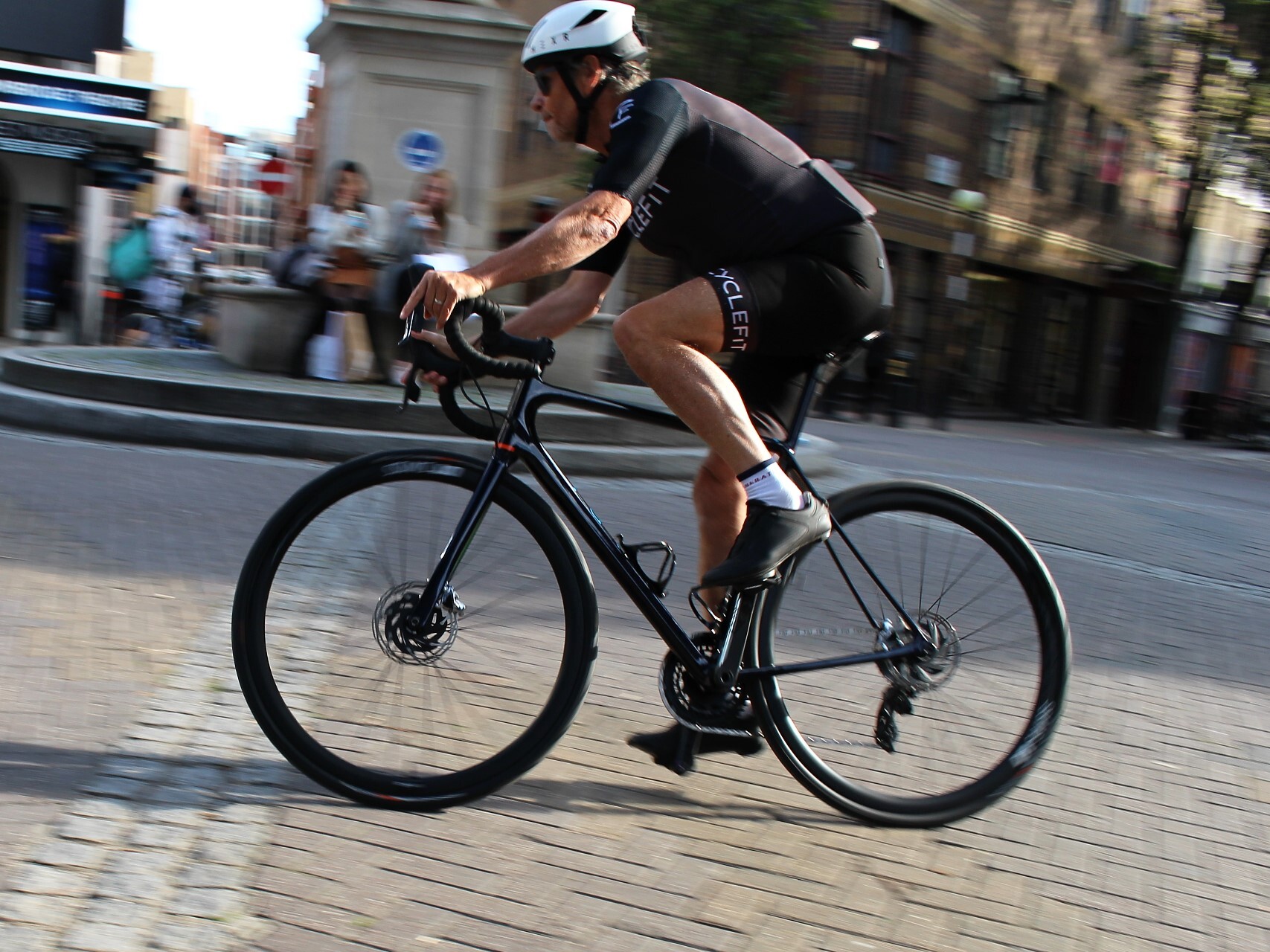 Uncomplicated and simple. Open MIN.D. also
The Other Odd Couple
This reminds me of me and Jules. We are very different people with very different skills but there is still some overlap on the venn diagram of our mutual capabilities. Jules sees the world visually and literally – he is a brilliant artist and trained as a photographer and film director. I see the world conceptually - a perpetual dynamic of reasoned ideas. These differences permeate how we approach bike-fitting and bike-design, and has meant that there is always an opportunity for each of us to instruct and learn from the other. Jules tracks the muscular skeletal system in his head as it moves in space, like a choreographer orchestrating a dance. Every client is a shape-shifting technical drawing that he uses to infer movement functionality, or lack of it. I just can't work that way, well not unless he points things out to me and shares his insights. I have to work more deductively and conceptually. Neither is right – in point of fact both are better – which is why we like to share clients and our two fit studios are open at the back. We join different dots to map our way to the same location. I have digressed – that is quite enough about me and Jules. We are practically one human being now anyway.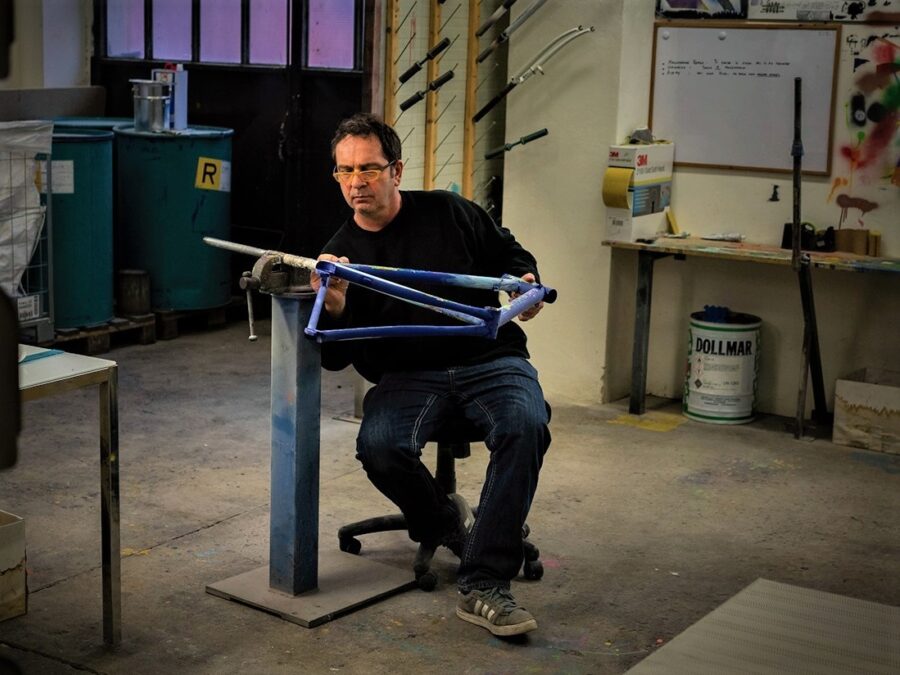 Pietro - lead craftsman at Pegoretti - Open MIN.D. main influence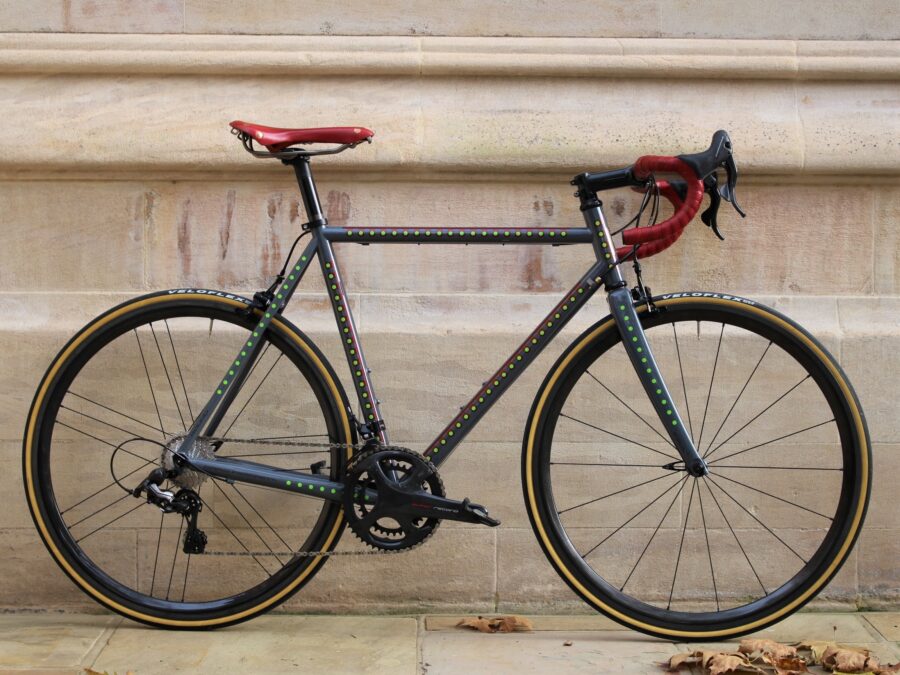 Back-Burner to Hothouse. And Back Again.
We had plenty of time over the years, as MIN.D. went back and to from hot-house to back-burner, to speculate as to what kind of bike it would be? We presumed it would be super-aero, probably 1x12 or even 1 x 13, and in ambition at least, as disruptive as the U.P. was when it was launched seven years ago. And we were wrong on all counts.
The secret brief between Andy and Gerard, was in fact controversially counter to the market trend
– 'classic' and 'simple', minimal (MIN.) design (D.) = MIN.D.
Ergo Open's first ever dedicated road-bike at the outset, neither sought to be particularly aero or stiff – this time the little Swiss company was being unintentionally rebellious by omission.

The Godfathers
Gerard Vroomen seemed to feel spiritually unconstrained when he designed MIN.D. – freed of any superlatives that end with 'est' – 'lightest', 'fastest', 'aero-est (ahem!)' etc. He just needed to clear his consciousness and design a beautiful, well-mannered road bicycle that folk love to ride more of the time. And it is a mark of the man that to do that he didn't look to what others were doing – Trek, Parlee, or even his old firm Cervelo. Instead he thought about bikes that he historically admired and for him, epitomised the perfect riding experience. And for that he looked to The Godfathers – Dario Pegoretti and Richard Sachs for their enduring work, together and separately, in setting the highest standards in hand-crafted steel.

The proclamation of his Pegoretti and Sachs influences, was enough for me to immediately place an order for a MIN.D. for personal use. Why? Because it was a confession on Vroomen's part that whilst modern carbon is brutally effective - in the sense that you can design it to achieve stellar stiffness and lightness, or even form it into extraordinary shapes to cheat the wind; it has never been the most emotionally involving material, for either the rider or the frame builder. And this is been the drum I have been banging for the last twenty years – I intellectually understand that better should mean lighter, stiffer, faster, and that these things can then be measured and therefore proven. So why do I still prefer riding a steel Pegoretti or Serotta or a titanium bike from Seven or Passoni? What is it that I am not comprehending? Is it because I am a sentimental old fool, living in the past, refusing to move forward when obvious improvement and advance slaps me round the face? Or is there some other quality that I seek and appreciate?
Maybe it's because humans are quite simple relationship machines? We interact with the world with our will and by transmitting forces, and in turn interpreting the responses that we receive back - from other people, from nature, from animals and of course from bicycles and materials? When I ride the world's finest steel and titanium bicycles, I am obviously already placebo-intoxicated because I like and trust the people who bought these beautiful things into existence. But I also revere how these materials mediate the forces placed upon them by my own exertions and the external world. Try to find the fastest line at pace, around a sight-unseen, poor surfaced double-apex, out on the back roads, and I just enjoy the process more if this is interpreted through refined steel or titanium, rather than carbon. I have more trust in the process.
"In a world of bumptious fluff and flummery, it can be a little disconcerting at first how honest and direct Andy and Gerard can be"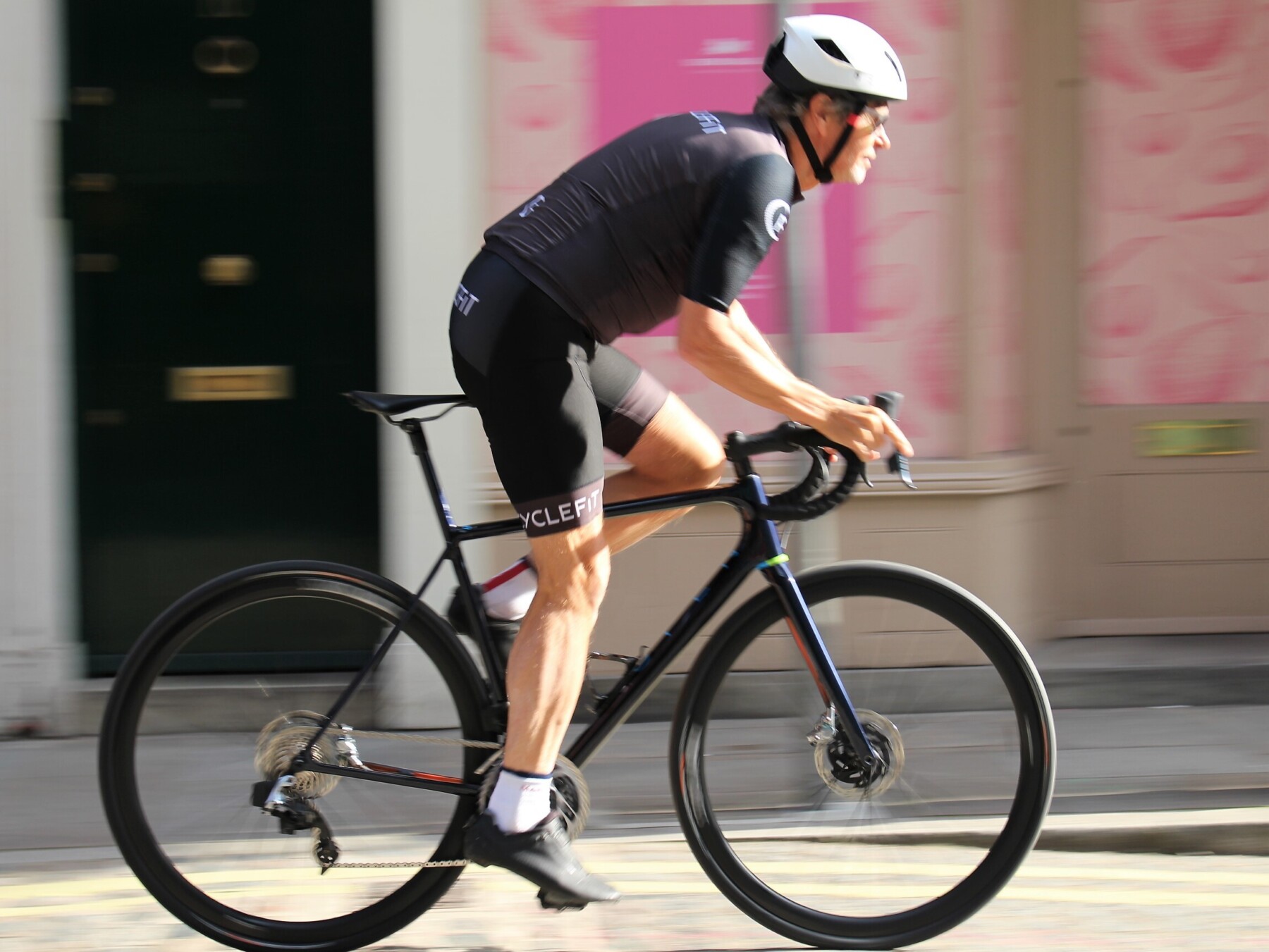 The Open MIN.D. by accident, is one of the lightest disc-brake bikes we have tested
As Little Design as Possible! (Dieter Rams)

But Open don't do artisan steel, from a tiny Bottega, populated by old masters like Richard Sachs or Pietro Pietricola. Their brand threads are not woven in mythic metals but in industrial carbon. Vroomen's challenge was therefore to create a fuselage with the nuance of fine Columbus Italian steel in a carbon wrap. Is that even possible?

It is possible once you accept that like other areas of life, you can't have your cake and eat it. It is very difficult to build a bike from any material that is light, strong, aero, comfortable, never mind other criteria such as cost and longevity. You make a frame stiffer by increasing the diameter of the downtube, bottom-bracket and chainstays. Every time you double the diameter you increase the resistance of that tube eight-fold. And that will make the bike ride a certain way. Fine if you are a twenty three year old professional, and paid to accept pain into your life. Not so fine if you are fifty with a bad back etc. Conversely designing an inherently aero shape requires more material because they are not naturally the most resistant to torsion. Adding more material and sculping an aerodynamic tube will make the frame heavier – responsiveness and ride suppleness will suffer as a consequence. All frame designers have to pick the hill they want to die on – whatever bollocks their marketing department spews up at a later date.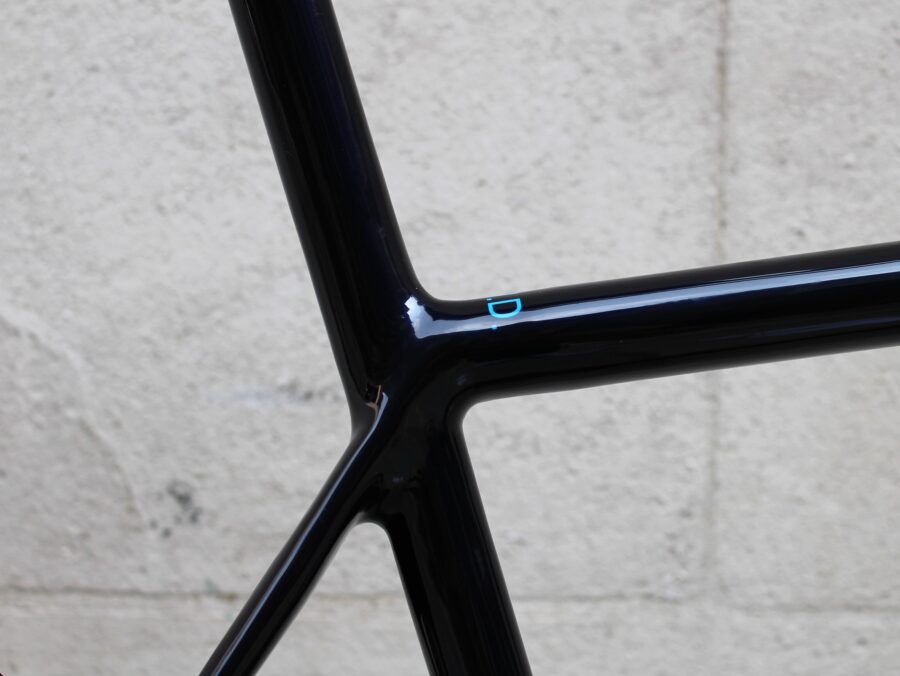 25mm continuous seatmast/seattube.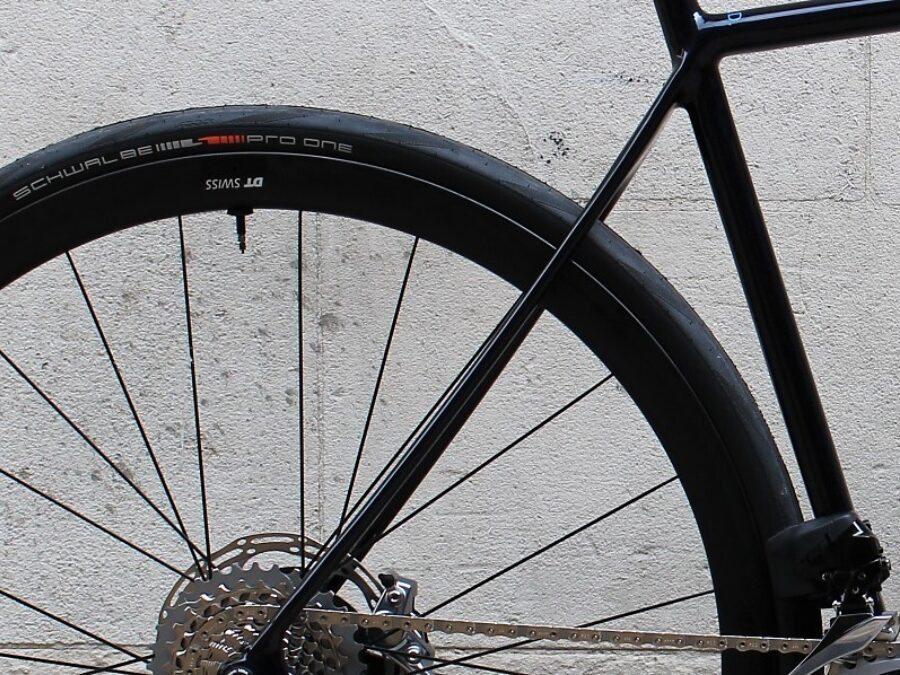 Ride Quality as a Guiding Lodestar
By focusing on ride quality as a lodestar, Gerard was able to design a bike utilising comparatively narrow tubes that also tend to being rounder in shape than the contemporary norm – narrow, round tubes are innately strong, light and comfortable – three lovely qualities to add to your shopping basket - if Rob Vandermark (Seven Founder) is reading this I know he will be nodding in agreement – his world-leading company ethos is predicated on that concept.

The cornerstone of the MIN.D. is an integrated seat-tube/seat-mast – adopted on a me-too basis a few years ago by some bike companies and abandoned soon after because of the sum of its detractions – lack of adjustability, difficulty of packing to travel, exposure to disastrous mistakes (i.e. cut the seat-mast down too much!).

Me, Jules and Barna hate integrated seat-masts, almost as much as Andy and Gerard. To anyone in the bike industry they just made no sense at all – design for the sake of it. Gerard's take on the controversial subject is an ultra-thin 25mm continuous seattube/mast, which is both incredibly strong and light but also designed to flex under load. If it was bisected by a seat-clamp at the junction of a separate seat-post, its ability to flex would have been significantly curtailed. And the funny thing is that because the continuous design is function-led, in this context, I actually find it very beautiful. Fully cognisant that accidents do happen with continuous seat-tubes, Open have devised a clever MOCT (Measure Once Cut Twice) seat-clamp, that is adjustable from 15-35mm – who says those crazy swiss don't have a sense of humour!
The Wire (seat) Stays that are tapeworm shaped - very slim from a side perspective and wide when looking from above? When a bump comes up from through the wheels, its sets up a controlled flex at both the stay and the 25mm seattube that insulates the rider from the road. The flex is vertical to the plane of transmission, which is along the chainstays, so no drive or power is lost. It was a design feature that Vroomen introduced in the early days of Cervelo, but has found its exemplar here on the MIN.D.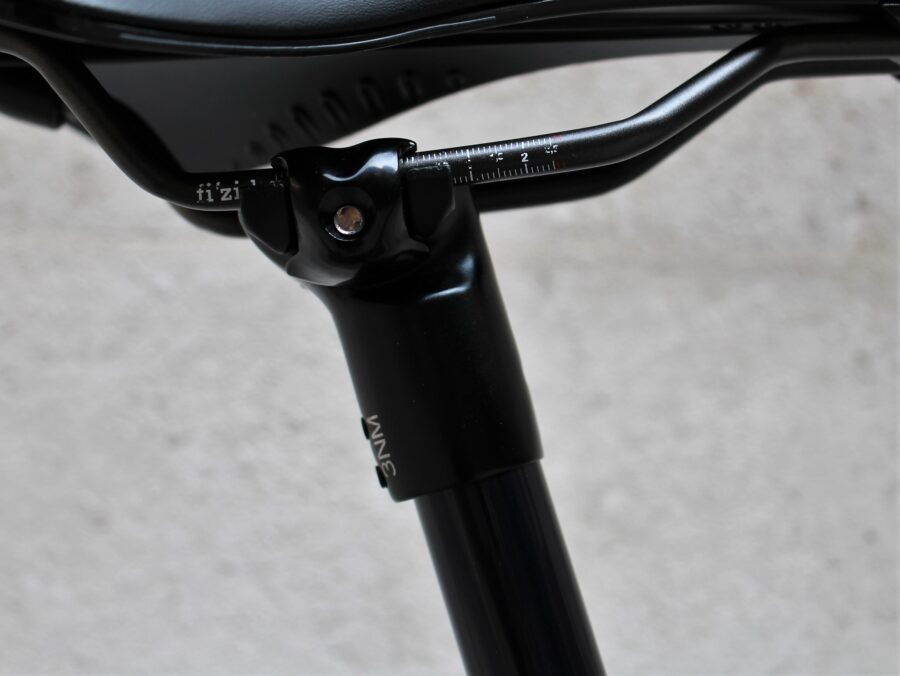 MOCT (Measure Once Cut Twice) seat clamp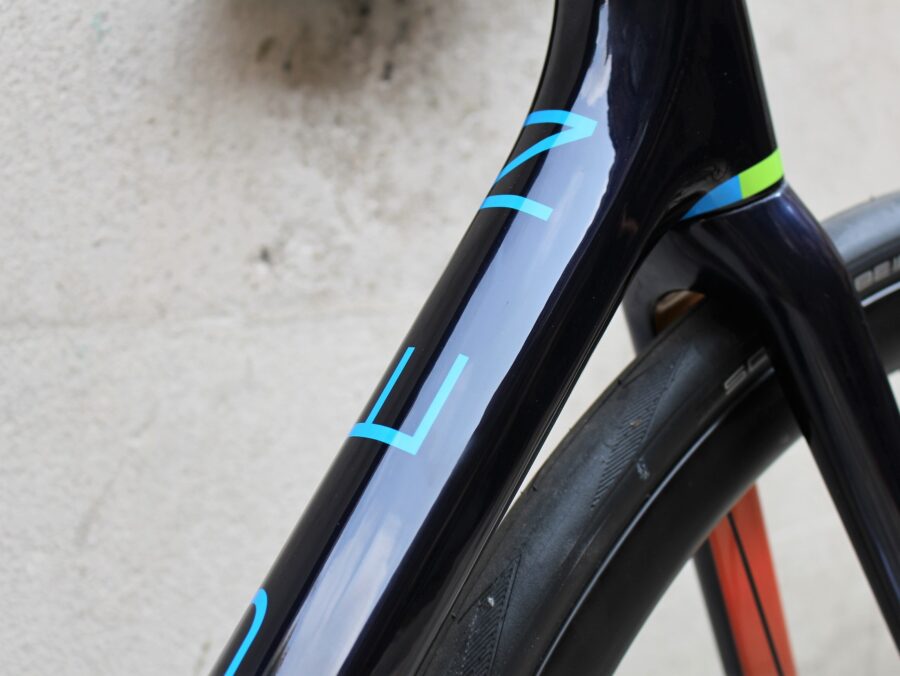 Minimal elegance everywhere you look
The Maths
The entire MIN.D. frame has a quietness and delicateness to it - there is nothing steroid-pumped or oversized, no noisy slogans or decals. It is a grown-up proposition for folk who are looking for a cultured alternative to the mainstream mass-market. Meanwhile the geometry self-selects its ideal rider – the stack and reach are variously taller and shorter than the same sized U.P. or UPPER models – 560 v's 551 – stack, and 373 v's 376 – reach.
This makes the MIN.D. a little bit lower and longer than a Trek Domane but significantly less aggressive than the new Trek Emonda H1.5 geometry. We think this is a happy space to be occupying.
Trek Domane 54 - Stack - 575, Reach - 374
Open MIN.D. M - Stack - 560, Reach - 373
Trek Emonda 54 - Stack - 541, Reach - 586

You would have bet the farm that Andy and Gerard would not be able to resist tacking on a superlong chainstay to facilitate 38mm gravel tyres, or maybe dropping the drive-side to achieve the same goal. But no, the rear-centre is proper old-school Italian racer at 405mm, which they have somehow arranged to also take a 32mm tyre? You may well ask what laws of physics they have perverted to achieve this? And the answer mostly lies in the MIND.S.' cornerstone 25mm continuous seattube again – it is so tiny that it allows more room for tyre-growth. Absolute genius.

Before we get on to how the bike rides, it is worth pointing out that one of the net effects of all this design minimalism is that MIN.D. project builds are going to be very light. Our test bike weighs in at 7.1kg with pedals and without any conscious weight loss programme. At a time when bikes have tended to roll off the stand a couple of pounds heavier than they used to a few years ago, pre-disc-brakes. Deeply impressive.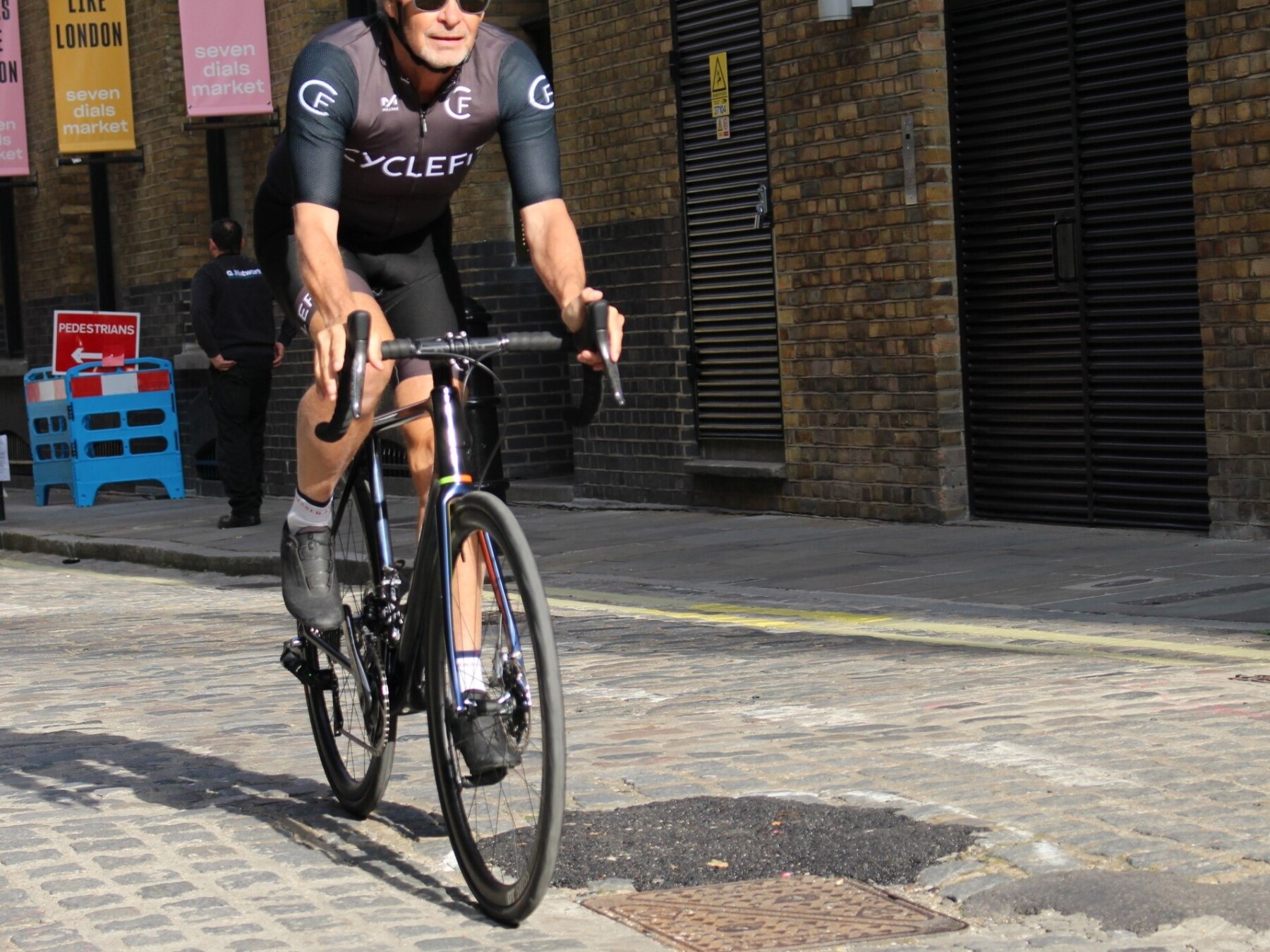 The MIN.D. is perfect on disgraceful roads
Quietude
Out on the London streets, with expectations high in the late summer, early autumn sunshine, and the MIN.D. is immediately an intuitive partner. The last few weeks I have been commuting thirty miles a day on our test Pegoretti MXXXXXO – it was the bike that I rode into Cyclefit the same day that I rode out on the MIN.D. Isn't that the very test that Gerard invited? The enduring impression of the Open is of due quietness and clarity of purpose – rolling on 30mm Schwalbe Pro One tyres, even the cobbles around Covent Garden invoked only total silence. No clatter of cables to be amplified around oversized carbon tubes. No creaking or rattling anywhere from a single component. As it should be on a brand-new bike, fresh out of Barna's Kitchen. But the quietude, it seems to me, is deeply engrained in the substrate of refined carbon tubes arbitrated through minimal and restrained design. But does all this riding luxury come at the price of outright speed? Well if your riding is mostly transacted north of 40kmh, I would have to say yes it probably does. You would almost certainly be better advised to get a 2021, 800 Series Madone and save yourself 20 or so watts at that kind of velocity. But throw in cobbled corners and unsealed tarmac, and all the other road-surface panoply that we are ever more likely to face as recession bites, and I will take a magic-carpet ride every day over trying to guide an Exocet around a chicane of deep pot-holes.
There is a lightness and precision that emanates from the Open – I love the super-short back-end that reminds me of my race-bikes of old as it kicks you out of tight corners. I also like the sharpness of the steering that comes from the 300 gram R-Turn fork acting on an unfashionably high 71mm BB drop. Lower BB bikes have their place – newer riders like that feeling of sitting deep in a bike – me and Jules design bikes like this everyday – and it is an especially neat trick for a winter bike. But the MIN.D. isn't just aimed at novices - racers tend to prefer the laws of physics acting upon a higher BB – where the bike drops into corners faster and harder.
You won't find any professional teams riding the Open MIN.D. the Tour de France or Giro. Andy and Gerard have both been down that road before - paying their way into the circus with BMC and Cervelo respectively. Neither will you find Open in many shops - they are the opposite of mass-market. The MIN.D. frames are made in tiny quantities by a company that has precisely three employees - Andy, Gerard and Sebastien. In our maximalist culture, Open are the only company brave enough to set out an alternate bike programme based on impeccable road-manners, comfort and sophistication. I see and feel the Sachs/Pegoretti influences in the disciplined lines and minimal aesthetics. It doesn't and can't ride like steel, but it is functioning technically at a superior level - if only because it is about half the weight!

This is a bike for folk who want to intrinsically enjoy every moment of riding their bike in a variety of terrain. It may be that they want to ride unplugged from Strava and an obsession with incessant number-watching? Just revel in the sensation of being in nature. But should they plug in on occasions to stretch their legs, I am going to predict that they will be shocked at how fast this bike is. Because twenty years working to make people more effective on their bikes has bought us to an incontrovertible Wall-Cavell Law - comfortable folk on light bikes ride fast. Period.
Bravo Gerard and Andy. A very brave and beautiful bicycle.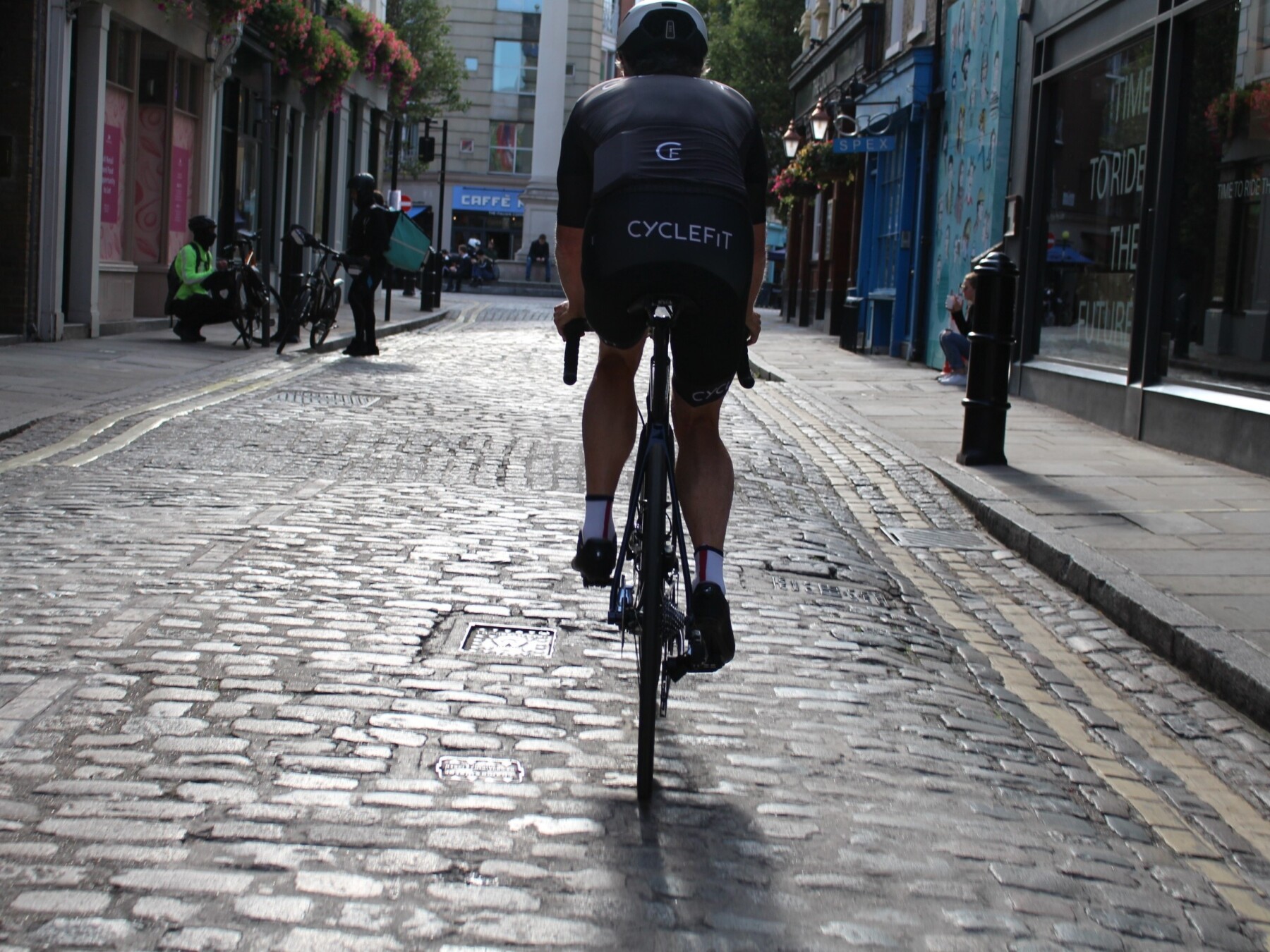 It has been worth the wait.